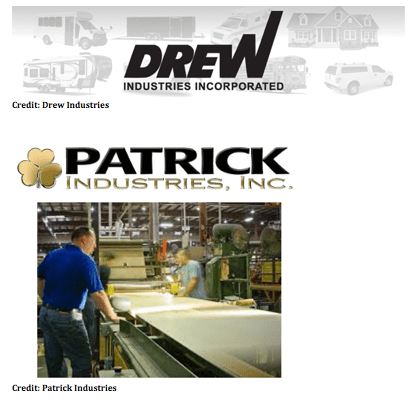 Patrick Industries (NASDAQ: PATK) and Drew Industries (NYSE: DW)  – both based in Elkhart, Indiana- made executive level moves today.
Patrick announced, effective immediately, Jeffrey M. Rodino, Executive Vice President of Sales and Chief Operating Officer, assumes the newly created position of Executive Vice President of Sales and Chief Sales Officer.
Kip B. Ellis, Vice President of Market Development, will assume the position of Executive Vice President of Operations and Chief Operating Officer.
"We continue to align our talent to maximize focus and capacity to position ourselves to most effectively serve our customer base," said Todd Cleveland, Patrick Industries CEO.
"Jeff has a proven track record of executive leadership and accomplishment in our organization and will help drive our efforts to strategically grow our overall business model and expand our customer base and product line offerings."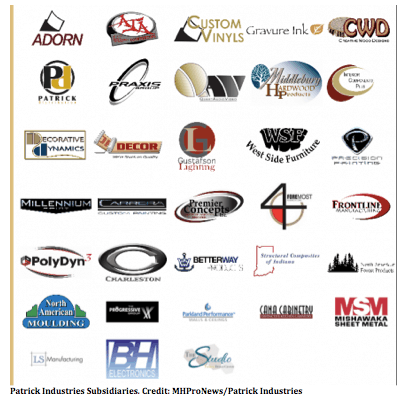 "Kip, who also has a proven track record and background in executive leadership in the industry, will work side by side with Jeff to strategically align our focus on maximizing efficiencies, cross-selling opportunities, and operating performance," said Cleveland.
Rodino joined Patrick Industries in 2007, rising to his most recent role in March 2013. Ellis joined Patrick in April of this year.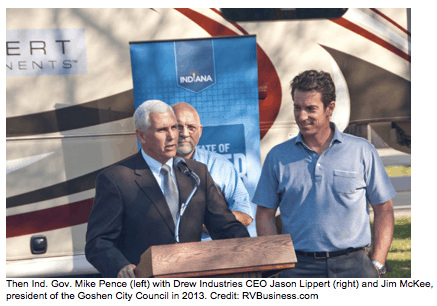 Drew Industries announced that David M. Smith, Chief Financial Officer, will be leaving the company to pursue other opportunities. Smith joined the company as CFO in September 2015, and will continue to work with the company through the end of the year to support an orderly transition.
The company also announced that Brian Hall has been names interim CFO, effective immediately. Hall will serve in the role until the Drew Board of Directors elects the departing Mr. Smiths' replacement.
Hall joined the company in 2013.
"On behalf of all of us here at Drew Industries, Lippert Components, Inc., and our Board of Directors, I want to thank David for his service during the past year and wish him the best in his future endeavors," said Jason Lippert, CEO of Drew Industries.
Both companies lead gains for the MH stock index, and recorded solid increases in stock price after the announcements. Drew Industries was up over 3% and Patrick Industries up over 4%. Both companies are part of the Daily Business News' manufactured housing industry market report.
As Daily Business News and MHProNews readers know, Patrick Industries is a leading manufacturer of building products and materials to the Recreational Vehicle and Manufactured Housing Industries in the United States.  The firm was founded in 1959. We recently featured their win at INVESTIndiana here.
Drew Industries (who finished second at the INVESTIndiana event) has also been in the news lately and supplies component parts to the manufactured housing and recreational vehicle industries across the U.S. and in Europe. ##
(Image credits are as shown above.)

Submitted by RC Williams to the Daily Business News, MHProNews.