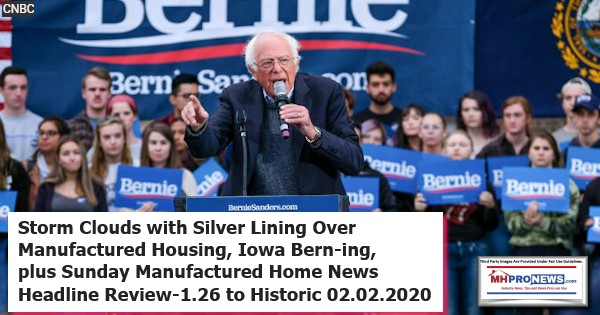 As one of our headline reports for this week-in-review below details, after ripping predatory practices, Iowa's State Attorney General Tom Miller has asked his state's legislators to strengthen their consumer protection laws with respect to manufactured housing.
Advertise with MHProNews to be seen
That announcement is a reflection of the storm clouds which had already formed in that part of MHVille. But they are far from alone, as regular readers here know.
Iowa lawmakers have already begun exploring tougher changes. One Iowa Congressional representative has asked the FTC to investigate. They are based in part on a wave of complaints from residents in manufactured home land-lease communities that happen to often be owned and operated by members of the Manufactured Housing Institute (MHI). The Hawkeye State isn't alone in their concerns. As MHProNews alone has clearly reported – distinct from the balance of this industry's purported news and views sources – so-called red states have explored legislative moves once thought possible only in deep blue states.
In some form of fashion, this trend will help or harm professional operations involved in manufactured housing. Meanwhile, what element of that has been read in any recent report from the Arlington, VA based MHI? The silence is deafening.
Such reports are the kind of nearly self-evident topic of concern that MHI cheerleaders in blogging and publishing are unlikely to admit. Why?
Perhaps because they don't want to connect the dots between which brands are doing problematic things and their relationship to MHI? So much for MHI's recently updated so-called code of ethical conduct?
But it's precisely such reality checks that brings a strong and steady stream of manufactured housing industry professionals here day-by-day. The known data makes clear that this is the runaway #1 in our industry's trade publishing.
It's also noteworthy numbers of public officials are also coming to MHProNews to learn about the candid scoop on the industry from the perspective of this platform's clear-eyed research, analysis and reports.  Here's evidence from January 2020's latest third-party Webalizer metrics, which doesn't see individual visitors, but 'sniffs' their .gov, .com, .org or other extension. Keep in mind that this is only one of a dozen+ cPanels for our professional site. Meaning, the actual totals are higher.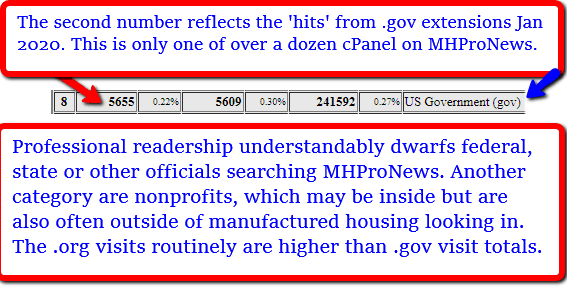 Some of the very people who compete or dislike what we publish are, per our sources, among the most dedicated readers.
Speaking of research, the progressive Nation of Change website claims that in 2016, about 1 in 10 Senator Bernie Sanders supporters voted for then candidate Donald J. Trump in the general election.
To add to the drama of the claim, they said Sanders supporters who voted for Trump made the margin of victory for the 45th president possible. Think about that ironic factoid. If not for Sanders supporters defecting to the Trump ticket, former Secretary of State Hillary Clinton would be president right now.
Manufactured housing professionals will soon know if the polling which suggests a Senator Bernie Sanders (VT-I, self-proclaimed Democratic Socialist) surge in Iowa, New Hampshire and Nevada are accurate or not. Once more – agree or disagree – many in the Democratic National Committee (DNC), party leadership and donor classes are scrambling to stop Sanders.
Blackstone CEO Jonathan Gray is part of that stop-Bernie effort. Keep in mind Blackstone now has significant holdings in manufactured home communities. Senator Elizabeth Warren are among those who have slammed the private equity giant. He's one of the wealthy donors to an Obama Administration era former Vice President Joe Biden. So says the right-of-center Breitbart site. Do you see how it pays to source insights from across the left-right political spectrum?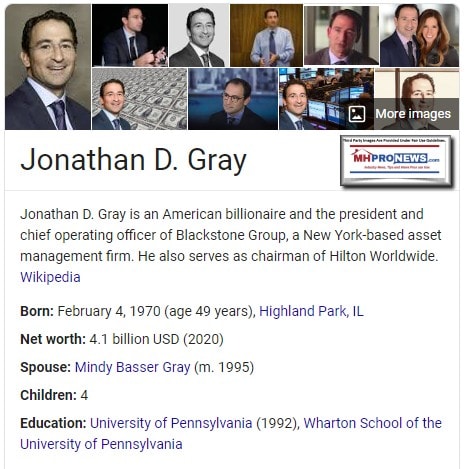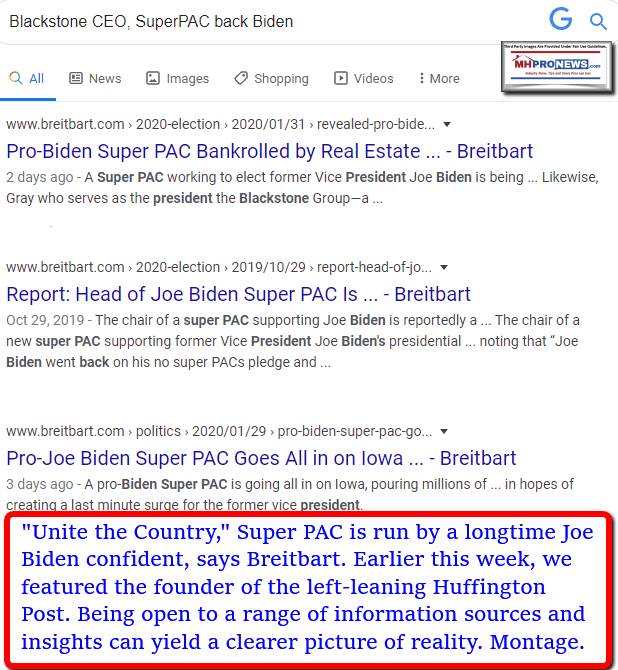 Meanwhile, billionaire and former New York City Mayor Michael "Mike" Bloomberg's deep pockets campaign is its own de facto super PAC. One can debate if the Beatles were right or wrong about money can't buy you love. Republican 2016 contender former Governor Jeb Bush discovered that big spending doesn't always translate into convention votes. That Bush got only 3 delegates at an average cost for each of some $50 million dollars, per the Hill on July 20, 2016.
But in our view, candidate Bloomberg might arguably be poised to do better. Why? Because confidence in Biden isn't that deep, if crowd size is an indication. The attempt to impeach and remove President Donald J. Trump from office made Joe Biden and his son Hunter table talk for millions. That one, we've said from the outset, isn't happening. Will see if Iowa and New Hampshire prove that prognosis right or wrong.
Sanders? Bloomberg? Millionaire Socialist vs. billionaire capitalist for the Democratic nomination? Too soon to tell, many things can happen, but it would look to be more likely now than several other Democratic 2020 hopefuls in a narrowing field.
2020 Democratic Hopefuls, President Donald Trump Hold Competing Events Tonight, Sen Bernie Sanders Campaign Spotlights Mobile and Manufactured Homes as Fight over Affordable Housing Grows
If union endorsements mean anything, Sanders just picked one up from the American Postal Workers Union.
Politics has become a tale of plausible narratives laced by pithy sound bites that hopefully appeal to a crowd in a similar manner that they worked when they were focus grouped tested.
Politics and big business are about advertising. They each involve marketing a message. To be effective, there ought to be at least some illusion that the product or candidate could perform in the advertised manner. The powers that be want to talk about this or that 'solution,' when the rationale solution is to level the playing field via the consistently applied rule of law. For example, how many 2020 Democratic hopefuls have spoken about antitrust? How many have seriously raised the issue in the House or Senate?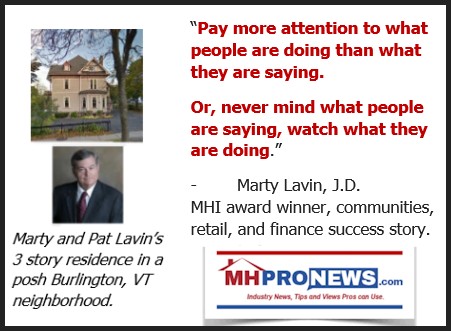 In the last few years the American people have discovered, for example, that Congress has effectively set up a sexual harassment settlement fund. So if a legislator is found to be confronted by a potentially compromising allegation, the political figure can pay the accused of with taxpayer money. What a sweet deal, huh?
There are reasons why one in ten Bernie Bros might have voted for then candidate, now President Trump. Both have said the system is rigged. So has Tom Steyer and Senator Elizabeth Warren, among others.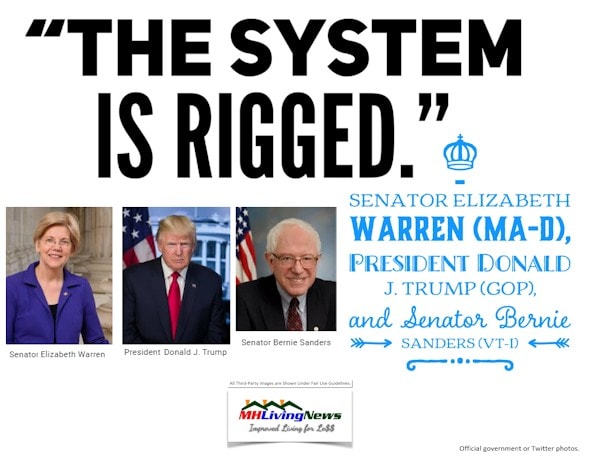 There are reasons why most 2020 Democratic hopefuls remaining may not want to mention Peter Schweizer's new book, Profiles in Corruption. Several hopefuls are named in that volume. Schweizer has said that not all corruption is illegal. But if a practice looks to be so dirty that it ought to be illegal, it will influence some voters. Would the Bloomberg, Representative Tulsi Gabbard (HI-D), or some other campaign not associated with those cover figures bother using it? Time will tell. But what is almost a given is that if any candidate on that cover appears on the 2020 Democratic nomination ticket for the general election, Brad Parscale and the Trump Campaign will find ways to use that de facto opposition research.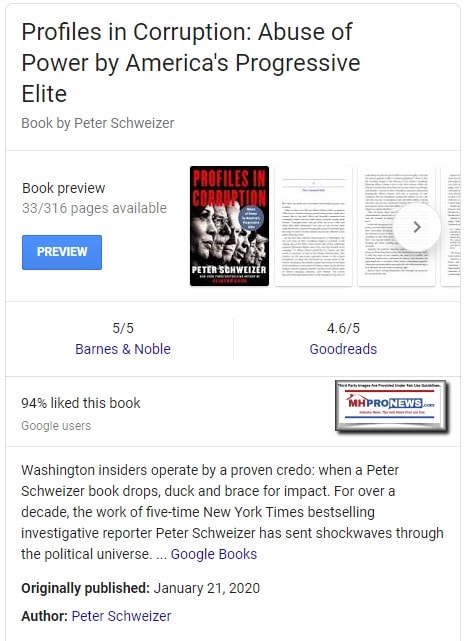 The road ahead will include the affordable housing issue. The fact that so many candidates – President Donald J. Trump and several Democratic hopefuls – have gone to manufactured home communities suggests that could be a useful micro-targeted group.
That means our industry has an opportunity that it hasn't had in years.
But for those who listen to the Omaha-Knoxville-Arlington axis, one thing is certain. You need to read each of the reports from the week that was linked below very, very attentively.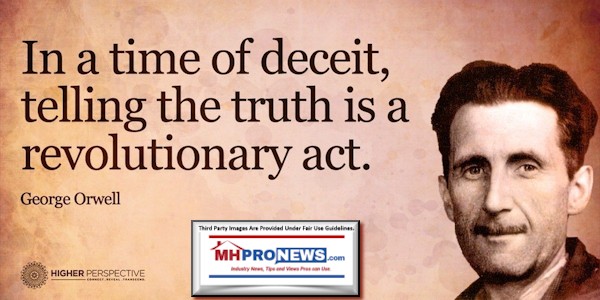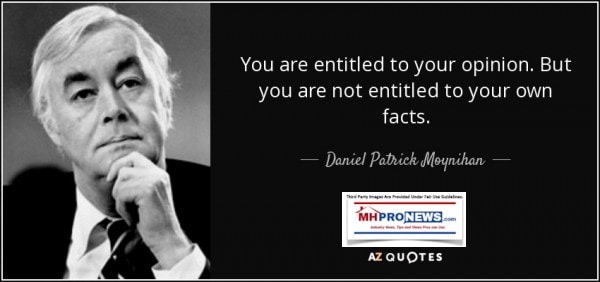 With no further adieu, let's turn to the headlines to reports published during the week that was from 1.26 to 2.2.2020.
What's New on Manufactured Home Living News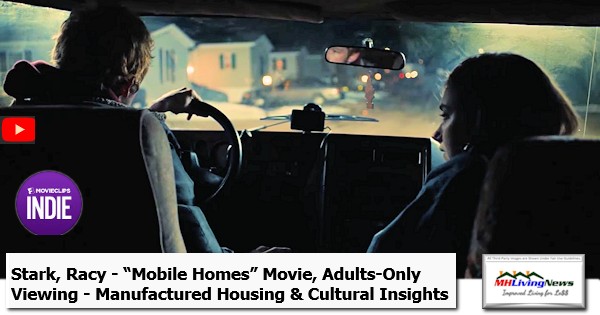 What's New from Washington, D.C. from MHARR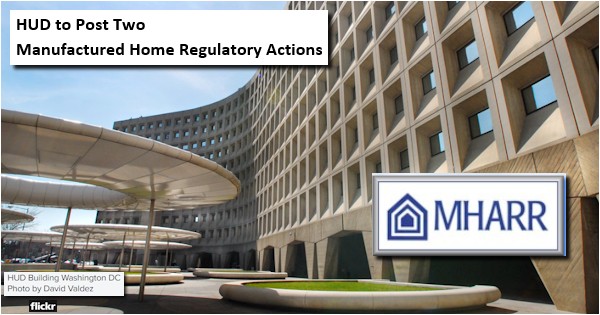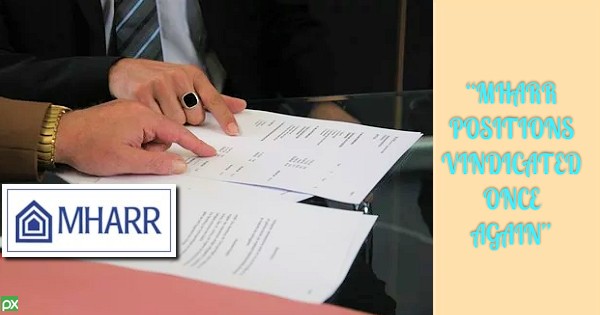 What's New on the Masthead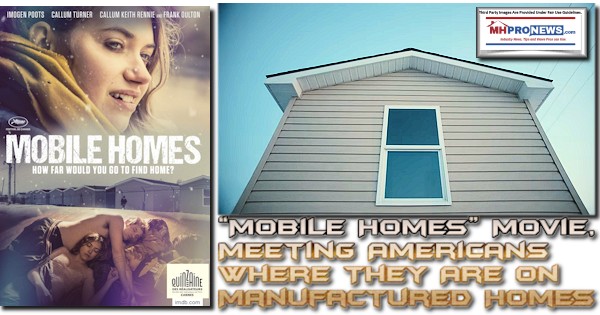 What's New on the Daily Business News on MHProNews
Saturday 2.1.2020
Warren Buffett Lieutenant Kevin Clayton Shows Off HUD Secretary Carson, Touts "CrossMod" Manufactured Housing
Friday 1.31.2020
Todd Cooper – President Berkshire's Hometown News Guild – "What an Unmitigated Mess…Mr. Buffett knows it" – plus Manufactured Housing Investing, Stock Updates
Thursday 1.30.2020
Provocative Product Placement? "Mobile Homes" Movie, plus Manufactured Home Investing, Stock Updates
Skyline Champion (SKY) Drops – Posts Sales Declines – Silver Lining with Dark Clouds, Report and Analysis
Wednesday 1.29.2020
Attorney General Tom Miller Slams "Predatory" Manufactured Home Community Operators, plus Manufactured Housing Investing, Stock Updates
White House Council on Eliminating Regulatory Barriers to Affordable Housing Requests Info, plus Manufactured Home Investing, Stock Updates
Tuesday 1.28.2020
Monday 1.27.2020
Former Federal Official Adonis Hoffman, J.D. – Debate over Antitrust Breakups, plus Manufactured Housing Investing, Stock Updates
Politics Downstream from Culture, Mad as Hell, Affordable Housing and Manufactured Homes
Sunday 1.26.2020
Advertise with MHProNews to be seen
Time Sensitive Reading = Consumers, Nonprofit Advocacy, Manufactured Home Professional Comments on HUD-White House RFI Reducing Regulatory Barriers, plus Manufactured Housing Headline Reports 1.19 to 1.26.2020
Oh yes, one way to write today's date is 02.02.2020. When done that way, sans the dots, the numbers are the same either direction, left to right or right to left. The word heard is that hasn't occurred in some 900 years. Consequential year ahead? It seems that it could be so.
What's the silver lining from the headline, you ask? Good question. Every problem is an opportunity in disguise for those who think longer term and are objective. The problems caused by black hats in manufactured housing could be an opportunity for white hats that have the chutzpah to jujitsu the problems by creating a bright line distinction. In Iowa and beyond, lawmakers and law enforcers should hold law breakers to account.  Those who aren't engaged in problematic practices ought to be leading the charge to insure that they aren't tossed under the bus with those black hats.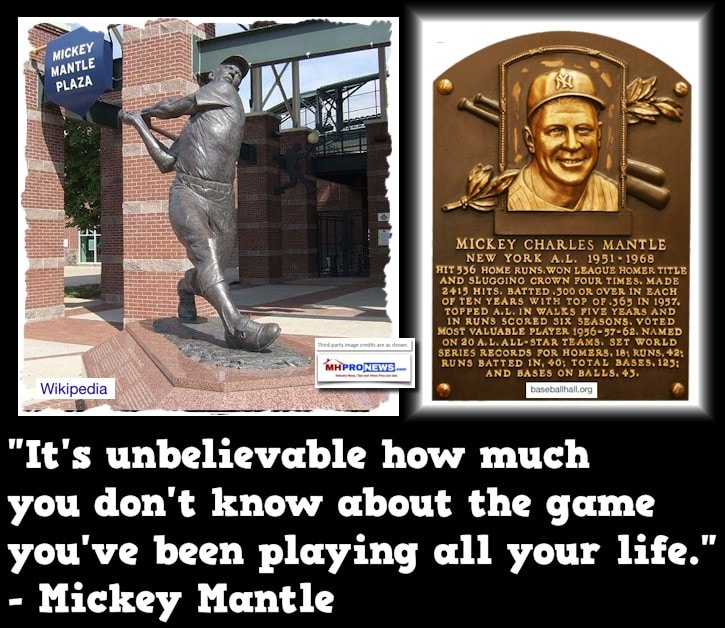 During our December 2019 meetings in person meetings in Washington, D.C. officials from both major parties found what we shared to be of interest. There is evidence that they weren't just politely spouting nice sounding words. The evidence is that numbers of readers signed up.  Plus, the engagement from the Washington metro surged, both claims per MailChimp.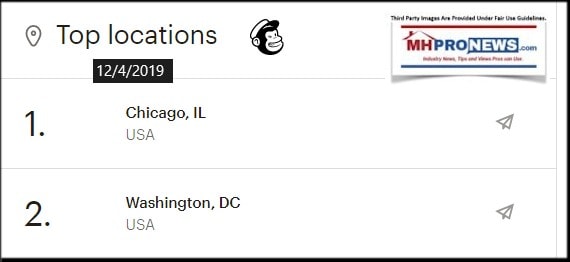 Frankly, each of the parties we met with were cordial and receptive. Some seemed deeply intrigued. But in terms of hospitality, Representative Al Green's (TX-D) office shined.  It was their idea to have the photo below, which obviously they also took for us.
There is always more to come, but that's it for now on this Sunday installment of "News through the lens of manufactured homes and factory-built housing," © where "We Provide, You Decide." © (Affordable housing, manufactured homes, week in review, reports, fact-checks, analysis, and commentary. Third-party images or content are provided under fair use guidelines for media.)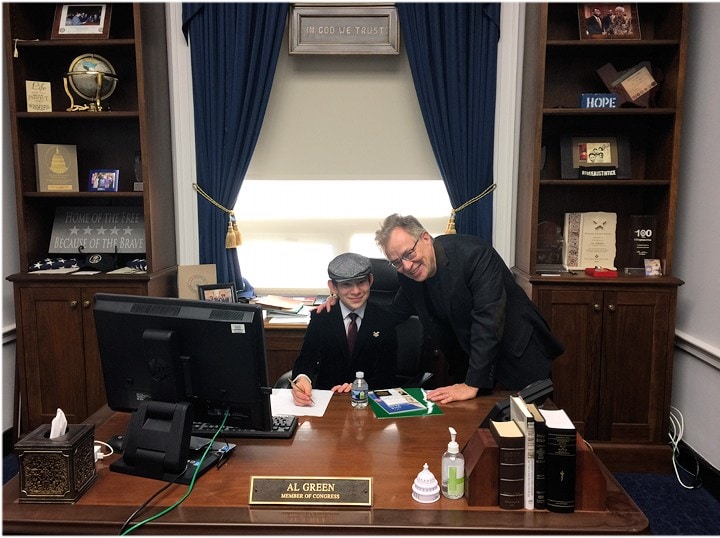 (See Related Reports, further below. Text/image boxes often are hot-linked to other reports that can be access by clicking on them.)
By L.A. "Tony" Kovach – for MHLivingNews.com.
Tony earned a journalism scholarship and earned numerous awards in history and in manufactured housing. For example, he earned the prestigious Lottinville Award in history from the University of Oklahoma, where he studied history and business management. He's a managing member and co-founder of LifeStyle Factory Homes, LLC, the parent company to MHProNews, and MHLivingNews.com. This article reflects the LLC's and/or the writer's position, and may or may not reflect the views of sponsors or supporters.
Connect on LinkedIn: http://www.linkedin.com/in/latonykovach
Related References:
The text/image boxes below are linked to other reports, which can be accessed by clicking on them.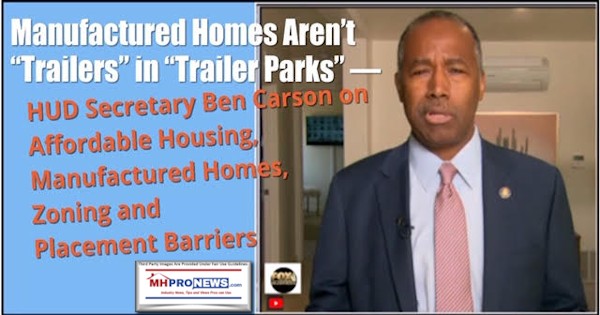 Does Misinformation Matter? Revealing But Misleading 'News' by MHInsider and the Manufactured Housing Institute?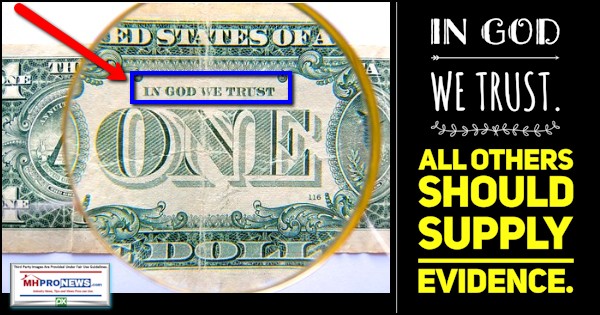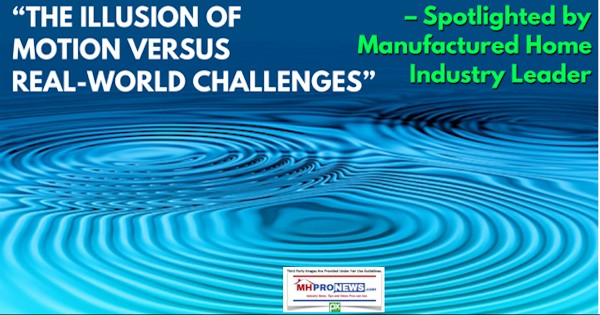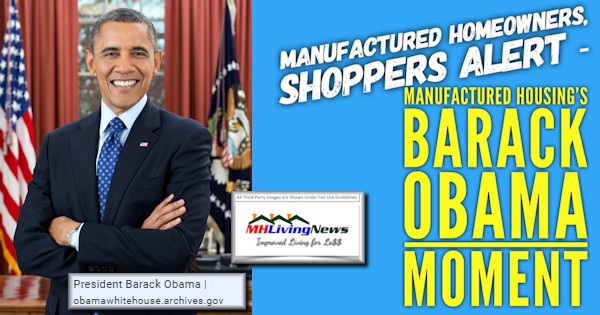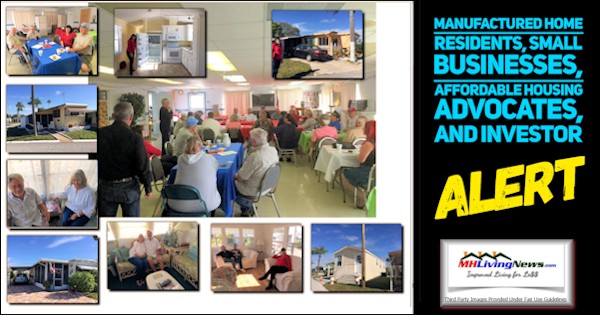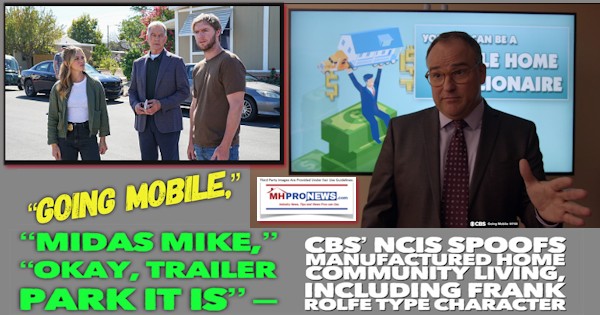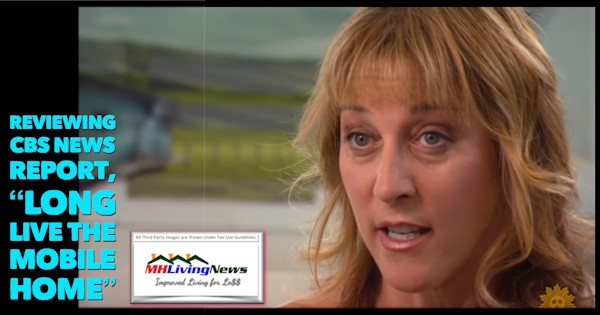 Saturday Satire and Executive Summaries for Manufactured Housing Professionals, Investors, Advocates, Researchers, Public Officials, and Investigators