This writer was made personally aware of an election-related incident that could have been a dark dream or might sound like a scene from a gangster movie. A gent involved in media and politics was approached by a big, intelligent brute. The brute went to a private residence to speak to that gent which was not the gent's home. Rephrased, the gent was followed. The brute entered and sat down with the gent. The big fellow was intelligent, not just muscle. He spoke in soft tones to the gent. The brute was accompanied by three women who waited in an adjoining room as their boss quietly spoke with the gent. The gent had been pushing clear evidence of election fraud to any media willing to listen. The mobster made it clear that continuing to do so could lead to unhappy consequences for the gent.
Mob rules?
Perhaps that incident was a one off, almost ephemeral. MHProNews is not aware of any mainstream media accounts about that incident.
But when one ponders the known historic connections between labor unions, mobsters, and big city Democratic politics, it cannot be lightly dismissed out of hand.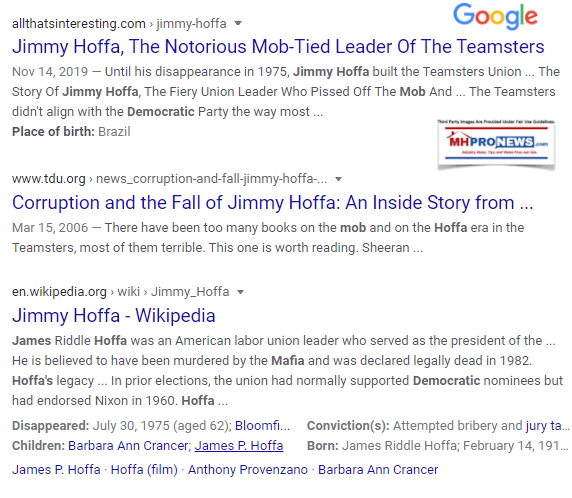 The Federal Bureau of Investigation (FBI) became a serious 'thing' in part as a response to organized crime that state and local governments seemed powerless to stop.
Following the Facts, Even When the Known Evidence Shifts
MHProNews received a significant tip with evidence that has not yet been fully processed about election related software problems, purportedly connected to election fraud. Doing some level of discernment takes time and effort. It is tempting merely to do what many in mainstream media have been doing during the Trump era, publish the tipsters' information without vetting and say "if true" as a fig leaf of a disclaimer.
A specific example from this week of how new information can – or should! – change a report follows.
Earlier this week, a manufactured housing connected report was close to complete. Several hours had already gone into it. A federal source had been contacted to gain additional information, but that agency had not immediately replied.
When a fed finally reached back, and eventually provided MHProNews with a pair of documents – one quite lengthy – those documents made parts of what was drafted inaccurate. Much of the drafted report had to be re-written in order to fit the known facts. The initial impression was significantly shifted in the light of new evidence.
This site is focused on affordable housing topics – specifically – manufactured home trade media. We dive into larger issues in as much as macro topics impact affordable housing, the economy, credit markets, energy costs, and so on.
Those macro issues could be ignored, as our so-called rivals routinely do. We could also look at what the Manufactured Housing Institute (MHI) puts out in the way of 'news' and 'alerts' to their members. MHI may at times dip into larger issues like the pre- and post-election drama that is still unfolding, or how MHI handled the 2016 election cycle that brought about the Trump Presidency. MHI with far deeper pockets proved to be incorrect, MHProNews with fewer resources proved to be accurate.
MHI and their allied 'trade media' and bloggers are arguably a manufactured housing microcosm of the gaslighting occurring on the national level. That is accomplished by publishing a mix of some facts, clever posturing, photo and video ops, accompanied by spin or statements  that are so illogical – at least to those who understand the realities of our industry – so as to defy blind belief.
Skyline Champion President, CEO Mark Yost and Manufactured Housing Institute CEO Lesli Gooch, Ph.D, in White House Photo Op Featuring President Trump and VP Pence
There is ample evidence – for those with open minds willing to examine and test common presumptions – that our industry has been undermined from within.
Tim Williams – CEO of Berkshire Owned 21st Mortgage Corp and Manufactured Housing Institute Board Member – Makes Stunning Admission
The MHProNews audience is the runaway largest in our industry. Our biggest issue, in candor, is typos. We take mild comfort noting typos on CNN and Fox, or from other mainstream media. The typo disclaimer noted anew, our platform has more engagement than any other news and information resources in our industry. Our lead is so great that a rival that previously published their article view data stopped doing so after they were repeatedly embarrassed on how lightly read their article are.
Having the largest or most-read audience and publication doesn't automatically make us correct. But it is a fact that MHProNews' readers include people who are Democrats, Republicans, minor party adherents that includes Libertarians, and those who could care less about politics or any political party. Our readers include public officials, both elected and appointed. From the mom-and-pop business in our industry to the largest firms have been and stay engaged in reading MHProNews. Why?
Because we present evidence – genuine reports based on known facts – along with expert analysis, and label those items clearly.
No analogy is perfect. But analogies and comparisons are useful to help people spot realties that might have previously been overlooked or misunderstood.
We have our fans and our foes. It is fair to say that not everyone loves MHProNews. Publishing facts that may embarrass this or that operation or the powers that be does not get your more Christmas cards. For a time, there were those who approached us to buy us out, perhaps to shut us up. As you can see, that's not occurred. Our conditions for maintaining the integrity of our reporting didn't match those deep pocket agendas. When buying us out did not work, other tactics were deployed. Thank God, we at MHProNews are still standing,
Among those tactics are the potshots taken at us by email, texts, verbally, or occasionally obliquely in their blogging. A recent example is this from a pro-MHI blogger.
"If you are not part of the solution you are part of the problem."
That quote above is apt. Using the timeless principle of separating the wheat from the chaff, it should be respected, regardless of who said it. Sadly, much that source does is little more than cover or diversionary tactics for MHI, which years before they assaulted on a regular basis for similar reasons that MHProNews has questioned that trade group. As MHProNews previously reported, a 'bargain' was struck, and that blogger made peace with MHI, and that platform has been a periodic cat's paw ever since. That noted, dipping back into a longer pull quote from that blog.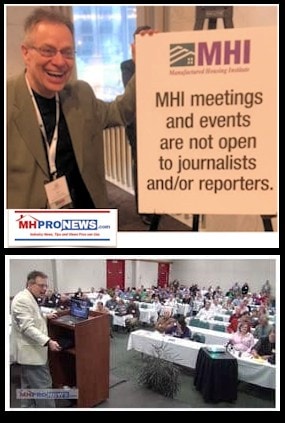 "Now, there's more I'd share with you from these [MHI] meetings; but 'years ago', MHI instituted a gag restriction on news reporters and journalists of all stripes – for good reason at the time. Remember 'YKW'? Personally, I'd like to see MHI ameliorate those restrictions on press privilege. Had that been the case now, I could – and would, have lengthened this part of the blog posting…"
"YKW" is a reference to this writer. That reference is evidence by this signage and related policy the blogger noted. See the photo at the left.
Imagine! Having MHI association policy implemented that aims to negatively impact a single member!
Finally, tiring of our reports from within their organization, MHI issued us a refund for that year of membership dues and summarily terminated us with an unsigned letter from a department source that no one claimed. So, this former elected MHI board member now relies on sources at or with MHI to provide insights from those meetings and their related published, photo, or video claims.
Imagine! MHI could not handle a single voice that politely, professionally, but publicly asked questions about failures to do the obvious or that even obliquely challenged their narrative over working for the entire industry instead of for the interests of a relatively smaller group of insiders. So much for their claim of building consensus? The MHI idea of consensus is arguably to get people to fall into line and do or say what they are told.
Which brings us back to the that analogous short point above that is 'based on a true story.'
 Hatred of Disrupters of the Status Quo
President Trump is widely hated not only by Democratic leaders but also by some in his own Republican Party (a.k.a. GOP or Grand Old Party) leaders, such as the Bush and McCain family's style of Republican politics.
President Trump is at this time the ultimate example of a national disruptor of the 'rigged system.' He was not afraid to call out the failures of Republicans like President George W. Bush and his problematic Middle Eastern policies, or Bush's trade deals, how spy agencies where used, etc. When former Florida Governor Jeb Bush ran in the 2015-2016 election cycle, many GOP insiders believed "Jeb!" would win the nomination in a crowded field hands down, due in part to his own reasonable record of achievement at the state level, but also due to the Bush-political machine behind him. Gov Jeb Bush and his PAC allies having spent some $150 million dollars in the primaries, Jeb bowed out with a mere 3 delegates for the Republican nomination won.
Of course, the Bush, McCain and Romney style of Republicans hate Donald Trump. He beat them at their own game. Outsider Trump, with no political track record to run on, did so with less money spent than his Establishment-funded rivals.
2016 candidate-turned President Trump then did the same to former Secretary Hillary Clinton (D).  She was actively supported by President Barack Obama (D). They were both supported by Warren Buffett and the left-wing billionaire class.

That included and still includes big tech, much of big media, and much of the big money class sometimes called 'Wall Street.'  It also includes what is now called the Deep State, that includes both intelligence community/law enforcement community members, but also those in governmental positions that are so embedded that they think they can do whatever, despite the administration in office.
Who makes such seemingly outlandish claims? Those voices across the left-and-right – examples Glenn Greenwald, Tucker Carlson – who are willing to call balls and strikes, based on evidence, not mere opinion.
Opinions have always been a dime a dozen. Facts trump mere opinions – no matter how common the opinion may be – pardon the pun.
Some think this 2020 election cycle is over. Time will tell. But what is certain is that President Trump has surprised and defied his opponents time and again. President Trump has said don't bet against him. Is that bluster, or is there a stealthy legal plan?
The fact that the pollsters, mainstream media, and increasingly openly biased big tech have been so wrong so often about candidate- and now President Trump are reasons enough to doubt the current prevailing narrative.
MHProNews has been preparing a report that uses several Democratic sources as well as others across the left-right divide. Suffice it to say for now, that there are several possible evidence-based legal paths for the Trump Campaign to still pull a rabbit out of the hat. There are historical and legitimate reasons why this is legally possible.
To circle back to the opening paragraph, when so many efforts are being made to shape the narrative pre- and post-election – including intimidation tactics – that alone should be a reason for people across the political spectrum to lean into this topic.
Other reasons, such as "The Great Reset," are found in the reports linked below.
Whatever the outcome of this 2020 election,
Republicans gained seats in the House, instead of losing more, as much of the mainstream media including Fox News reported for weeks.
The GOP may well hold the Senate instead of losing seats, as pollsters and much of the media projected for months on end.
Trump supporters are now chanting "Fox sucks!" much like the previously changed "CNN sucks!"
From this publication's perspective, all mainstream media has to be approached with that same 'separate the wheat from the chaff' mindset.
Long before MHProNews launched, this writer had experience working with media, academics, and politicos that revealed some keen insights.
Reports, from local, state, to national, are routinely shaped to fit a narrative. But back when there were more independent news publications, someone could compare the news from two or three local newspapers and get a reasonable idea of what actually happened. But with increased media consolidation, a mirror of manufactured housing consolidation in a different realm.
We don't ask readers to blindly accept what we write, any more than we blindly accept what media across the left-center-right produce. We sift the claims, and check it against known facts. Our readers should do the same. We then look at the logic of a scenario, based on the law and known facts, and then apply reason to shed light on an issue. Our readers should do the same.
The powers that be in manufactured housing have propped up several rivals to MHProNews. That's a back-handed compliment. They would not do so if they didn't on some level have concerns that our reports are and have been exposing their agenda.
In a similar way nationally, President Trump for months called out Fox News polling, and spotlighted problem people with thinly veiled agendas at Fox. While One America News or Newsmax clearly don't have the resources that Fox has. By periodically spotlighting those other news options, President Trump prepared his followers – those 72 million plus that voted for him, about 10 million more than 4 years ago – now reportedly 2 million downloads of Newsmax's ap have occurred. As Twitter increasingly censors the president and some media reports that don't fit the mainstream billionaire backed narrative, Parler is rising as a conservative option.
President Trump and some of his allies have been laying the groundwork for whatever is next.
This is not a one and done battle against the "establishment" powers that be in America. From the early days of the American Republic, there were efforts by the financial elites to dominate American society. There were populists leaders that rose up, not unlike President Trump. There were populist presidents such as Andrew Jackson, Abraham Lincoln, Teddy Roosevelt, and Ronald Reagan. They challenged their respective establishments. They battled the financial powers that have long tried to turn America into English or European styles of 'lords and serfs' feudalistic societies.
This election and then next one is at some level about Democrats and Republicans, but it is also not at all about the two major parties at all. It is about a rigged system that has to be routinely challenged, or else the liberties that our Constitution protects as "God given rights" will be subverted and lost.
Ronald Reagan did what President Trump did. He took on much of the GOP establishment, having left the Democratic Party. For a time, Reagan remade the Republican Party. But the establishment came creeping back. Candidate Trump toyed for years with a third party run, but ultimately decided to take on the GOP Establishment, and then take on the Democratic Establishment too.
That's not to say that President Trump is a saint. But as a black Trump supporter said, we didn't elect a pastor or pope, we elected a business man to disrupt the establishment swamp of Washington, D.C. that tilts in favor of the rich and powerful who use media, money, tech and elements within the government to stay in power.
It is an epic battle of the swamp vs. the populists Americans and America First agenda. A battle between those establishment types who rigged the system vs. those who want a champion willing to take the slings and arrows of smears in an effort to stop him.
With no further adieu, let's pivot to the headlines from the week that was, from November 8 to November 15, 2020.
What's New from Washington, D.C. from MHARR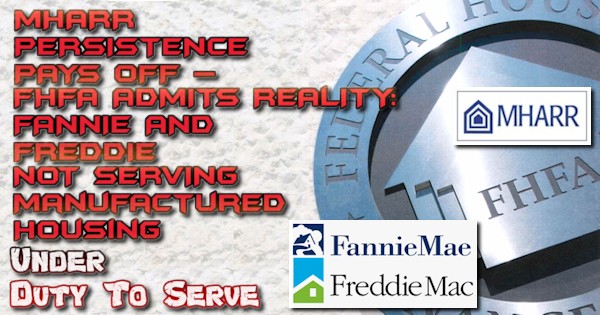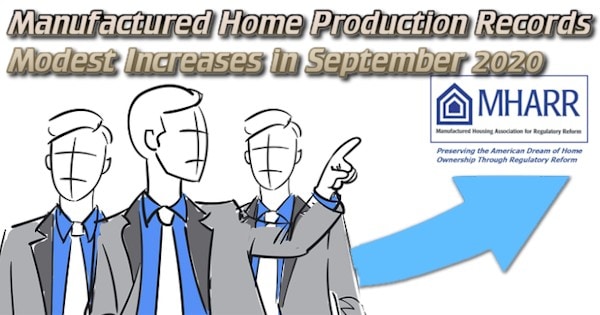 What's New on MHLivingNews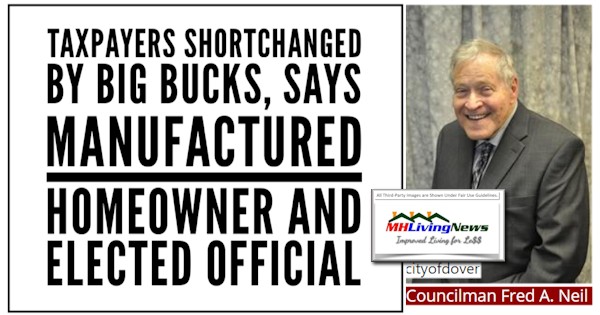 The Latest from the Masthead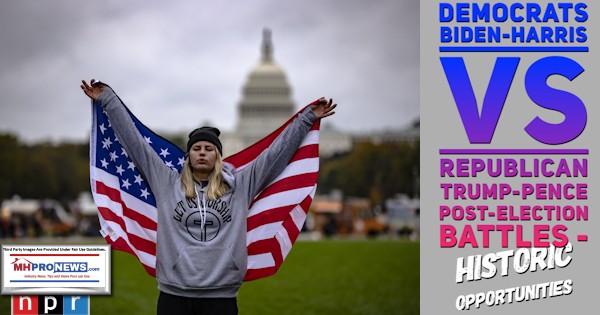 What's New on the Daily Business News on MHProNews
Saturday 11.14.2020
RBG, New York Times, BLM-Chinese Communist Bombshells Rock Democrats – Industry Impacts – plus Sunday Weekly Headlines Review
Friday 11.13.2020
HUD Manufactured Housing Update, Housing Bubble? More 2020 Election Uproar, plus Manufactured Housing Investing Stock Updates
2021 Louisville Manufactured Housing Show Canceled, Biloxi Manufactured Home Show in Doubt? Behind Scenes Added Insights
Thursday 11.12.2020
Pennsylvania Judge Ruling for Trump Campaign, Leftist Public Citizen Says, 'May Need to Take To Streets,' plus Manufactured Home Investing, Stock Updates
Manufactured Home Production, Shipments Rise September 2020, HUD Manufactured Housing Data, Manufactured Housing Association for Regulatory Reform Statement, plus Weaponized Agenda-Driven News
Wednesday 11.11.2020
Trends & Legacy Housing (LEGH) vs. Skyline-Champion (SKY), plus Manufactured Housing Investing, Stock Updates
VP Joe Biden's Pledges vs. Behavior, What the Biden-Harris Team Said and Does Pre- and Post-Election
Tuesday 11.10.2020
Possible Tax Changes Loom and Trillions in Wealth Transfer Explored by CNBC Analysis, plus Manufactured Home Investing, Stock Updates
Richard J. "Dick" Klarchek, Veteran Manufactured Home Community Leader, Pleads Guilty "USA v. Klarchek" re: Sterling Estates, Justice IL
Monday 11.9.2020
MSNBC Reveals VP Biden Logan Act Violation? Growing Post-Election Drama, Claims. HUD Secretary Carson's Illness, plus Manufactured Home Investing, Stock Updates
Celebrating Arthur "Art" J. Decio, Founder Skyline Homes "Wonderful Life"-Manufactured Home+RV "Industry Legend"–Exclusive+Extensive Insights, Videos
Sunday 11.8.2020
Labor Pains – We Hold These Truths To Be Self-Evident, Constitutionally Speaking, Get Or Keep Faith – plus Sunday Weekly Headlines Review
Postscript
This week as our postscript we will simply say, dig into each of those reports, if you have not already done so. Ask yourself, why has MHI and their surrogates ducked public debate, if they are right and we are wrong?
Manufactured Housing "Industry Debate" – What Tim Williams Said to Dozens of Manufactured Housing Industry Pros About Lesli Gooch – Mark Bowersox, plus, Manufactured Home Investing, Stock Updates
Why has the only serious public debate by a pro-MHI voice resulted in that source tossing in the towel, and making useful admissions instead?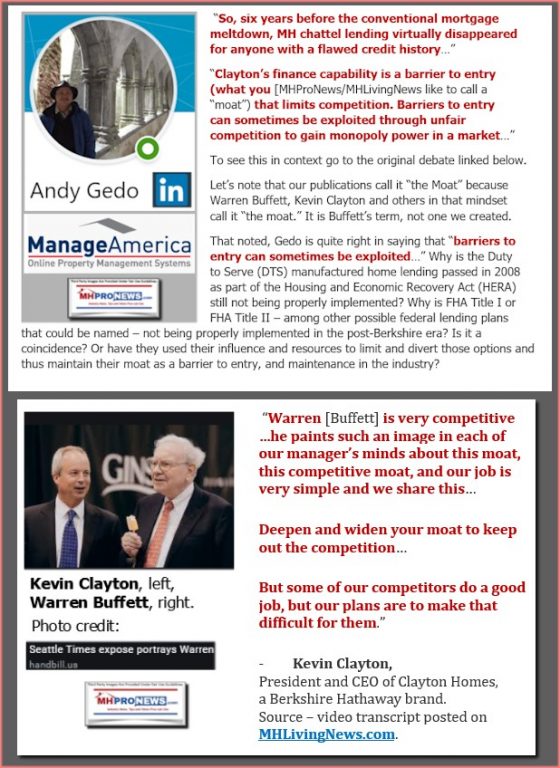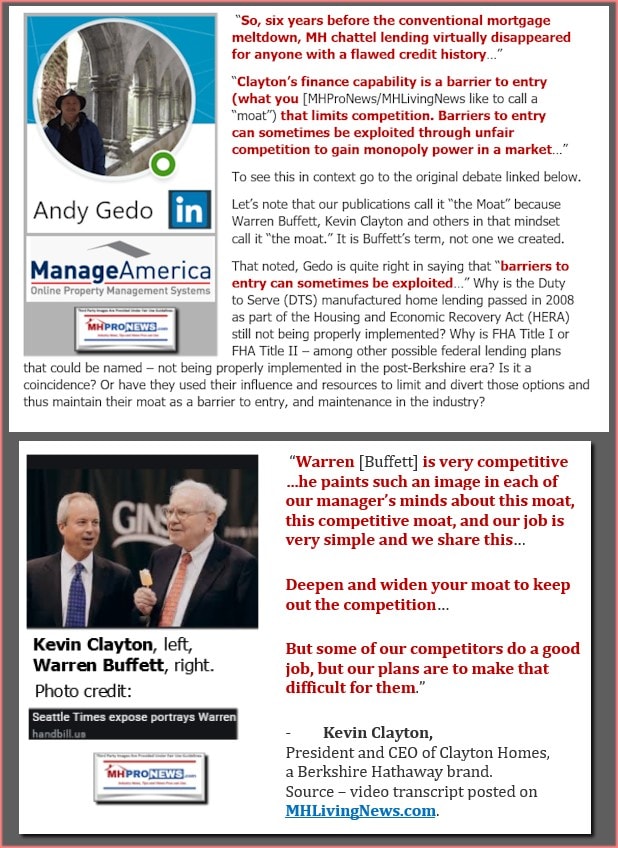 Why does MHI and their surrogates prop up bloggers or publishers who arguably like MHI have for years failed to achieve their own stated aims?
There is an affordable housing crisis. Other than MHARR and some allies, those in the Omaha-Knoxville-Arlington axis and their allies have a narrative that doesn't fit the reality that manufactured housing should be soaring. Instead it is snoring. While the industry is kept artificially suppressed, consolidation goes on. Coincidence? Or is that the plan?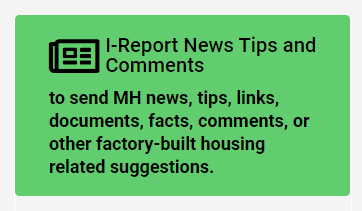 Because there is always more to know and share, keep reading to deep understanding.  You have plenty of company from professionals across the spectrum when you stay tuned here, the runaway number one source for authentic "News through the lens of manufactured homes and factory-built housing" © where "We Provide, You Decide." © ## (Affordable housing, manufactured homes, reports, fact-checks, analysis, and commentary. Third-party images or content are provided under fair use guidelines for media.) (See Related Reports, further below. Text/image boxes often are hot-linked to other reports that can be access by clicking on them.)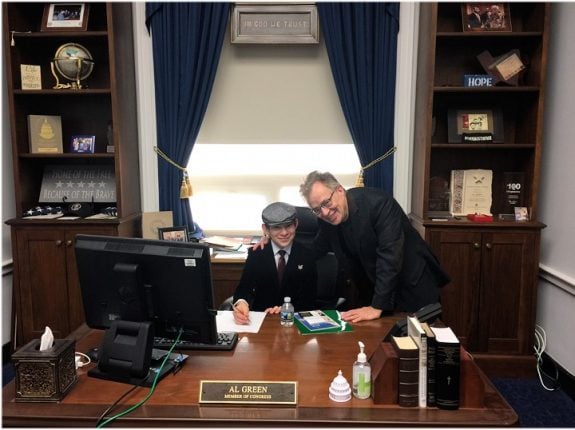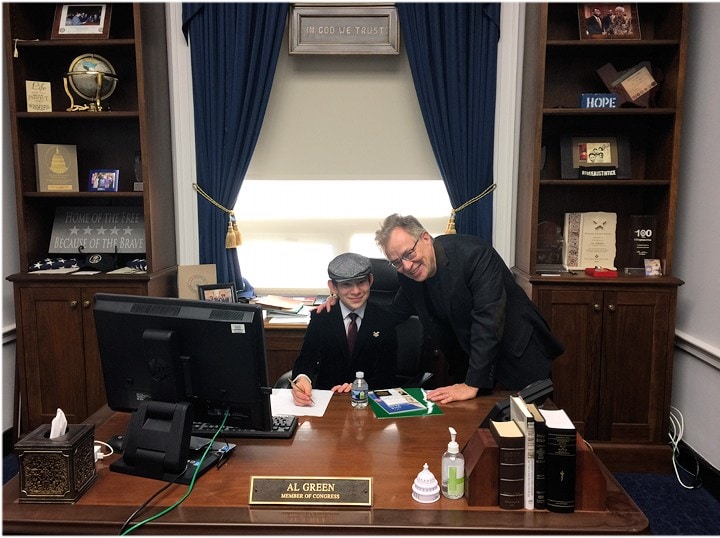 By L.A. "Tony" Kovach – for MHProNews.com.
Tony earned a journalism scholarship and earned numerous awards in history and in manufactured housing.
For example, he earned the prestigious Lottinville Award in history from the University of Oklahoma, where he studied history and business management. He's a managing member and co-founder of LifeStyle Factory Homes, LLC, the parent company to MHProNews, and MHLivingNews.com.
This article reflects the LLC's and/or the writer's position, and may or may not reflect the views of sponsors or supporters.
Connect on LinkedIn: http://www.linkedin.com/in/latonykovach
Related References:
The text/image boxes below are linked to other reports, which can be accessed by clicking on them.
White Billionaires vs Blacks, Minorities, "Uncle Tom" "Gaslighting" "Misdirection and Deception" – "Uncle Tom" Videos Review, plus Sunday Headline Recap
"Never let a serious crisis go to waste." – Rahm Emanuel, ex-President Obama Chief of Staff – Newspapers Spotlight Soheyla Kovach's Black Lives Matter Scandals Letter
Warren Buffett, George Soros, Jeff Bezos, Strategic Ally Bill Gates Rails Against "Outrageous" Free Speech from Dissenting Views to Gates Foundation, Dr. Fauci
"We are trained Marxists." – Black Lives Matter (BLM) co-founder Patrisse Cullors, "Deception and Misdirection" – Capital Research Center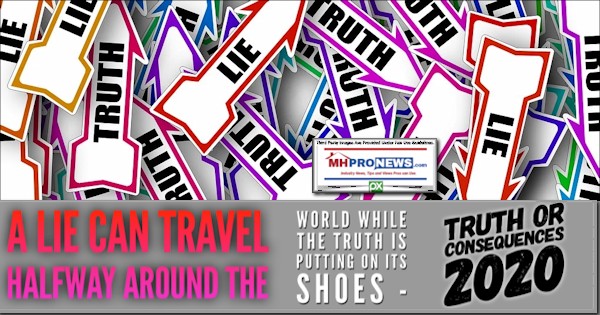 "Dark Secrets" – Warren Buffett, Racism, Eugenics, Infidelity, Ghislaine Maxwell's Father Robert Maxwell, Bill Gates, Gates Foundation; plus, Manufactured Housing Stock, Investing Updates
Leaked Secret Democratic Memo On Black Lives Matter Emerges; "Haven't Seen Sh-t Like This Before"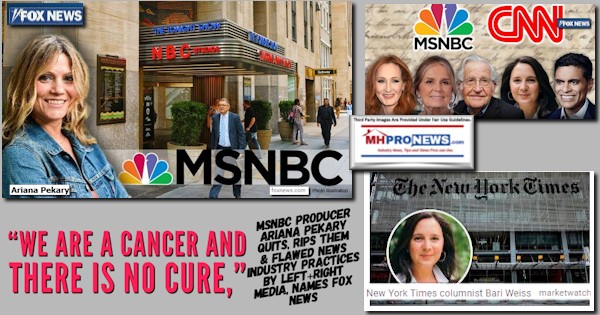 Dark Money-Billionaires Buffett, Gates, Soros Funding Black Lives Matter, Antifa – Named by AG Barr in Riots, Looting – Hijacking Peaceful George Floyd Death Racial Justice Protests
Saturday Satire and Executive Summaries for Manufactured Housing Professionals, Investors, Advocates, Researchers, Public Officials, and Investigators
New Data Surfaces on Buffett Family, Foundation Funding Sources Which Attacked Manufactured Housing, plus Manufactured Home Stock, Investing Updates
Complaints to State and Federal Officials, Agencies About Corrupt Practices in Manufactured Housing Industry Growing
Buffett/Berkshire Bust! Stunning Charges – Frank Rolfe, Dave Reynolds, Impact Communities Lawsuit Against Residents; MHAction Connection Evidence