On November 7, 2020, former President Barack Obama-era Vice President Joe Biden's Twitter feed has this pinned tweet. "America, I'm honored that you have chosen me to lead our great country. The work ahead of us will be hard, but I promise you this: I will be a President for all Americans — whether you voted for me or not. I will keep the faith that you have placed in me."
America, I'm honored that you have chosen me to lead our great country.

The work ahead of us will be hard, but I promise you this: I will be a President for all Americans — whether you voted for me or not.

I will keep the faith that you have placed in me. pic.twitter.com/moA9qhmjn8

— Joe Biden (@JoeBiden) November 7, 2020
A post on WBCK Talk Radio stated that "Joe Biden, the Democratic Party their communication people at ABC, CBS, NBC, CNN, MSNBC, New York Times, LA Times, the Detroit Free Press and the rest of the mainstream manipulative news all want you to believe that Joe will bring civility back to the Presidency.
Really?  Well, he just had his [Secretary] Hillary [Clinton] "basket of deplorables" moment.
During an event in Delaware Bucks County, Pennsylvania, (not far from his home and consisted of a few cars) Joe Biden referred to Trump supporters as "chumps."
Standing in front of some cars on a microphone Biden said:
"We don't do things like those chumps out there with the microphones, those Trump guys"
WATCH: Joe Biden calls Trump supporters in Pennsylvania "chumps" pic.twitter.com/uIEX7wEUPG

— Trump War Room – Text TRUMP to 88022 (@TrumpWarRoom) October 25, 2020
Do you really believe he will work for all Americans, even the "chumps" that disagree with the policies he is advocating for and agree with the policies of President Trump?
It appears Biden was lying once again when during the debate he said:
"I don't look at this the way he (Trump) does blue states and red states they are all United States"
Although he [Biden] did following up that statement with:
"and look at the states that are having spikes in the coronavirus they're the red states there they're the states in the midwest they're the states in the upper midwest that is where the spikes is occurring significantly"
In one sentence he states he is not like President Trump that points out blue and red states and then the very next sentence he tells us all that the "red states" have the spike in positive Coronavirus cases.  Which is not entirely true either, Michigan a blue state has a huge increase in cases, at least that is what [Governor] Whitmer tells us.
With the hateful language towards President Trump supporters Biden has been using lately there is no way Biden is going to bring "civility" back to the White House. as he believes is not there today.
It sounds like he will bring quite a bit of hate for anyone who does not believe in his extreme far-left positions he is running on."
What that WBCK post does is highlight the tension between what VP Biden is saying vs. other statements and behaviors that seem to contradict that claim.
Here is another VP Biden tweet. "When I'm speaking to foreign leaders, I'm telling them: America is going to be back. We're going to be back in the game."
When I'm speaking to foreign leaders, I'm telling them: America is going to be back. We're going to be back in the game.

— Joe Biden (@JoeBiden) November 10, 2020
Isn't that what Democrat allies went after Lt. General Michael Flynn for doing? Talking to foreign leaders?
Today, President-elect Joe Biden took part in separate congratulatory calls with the leaders of France, Germany, Ireland, and the United Kingdom. pic.twitter.com/vCyAVVF3qw

— Biden-Harris Presidential Transition (@Transition46) November 10, 2020
That's not to necessarily imply that Biden – or Lt. General Flynn – have done something wrong. It is to show the blatant hypocrisy.
Despite the posturing, the 2020 election results are weeks away from being certified. Which means that Biden is still his party's nominee, not yet 'president-elect.'
Which brings MHProNews to the next flashback from the Obama-era VP Biden, courtesy of a gem spotlighted by.
Breitbart noted that during the first presidential debate between President Donald Trump and Joe Biden, Chris Wallace of Fox News asked Biden if he would "pledge not to declare victory until the election is independently certified," to which the former vice president Biden answered, "Yes."
"Will you urge your supporters to stay calm while the vote is counted, and will you pledge not to declare victory until the election is independently certified?" asked Wallace of Biden at the first presidential debate in Cleveland, Ohio.
"And here's the deal," Biden said, "We'll count the ballots. As you pointed out, some of these ballots in some states can't even be opened until Election Day, and if there's thousands of ballots, it's going to take time to do it," added the former vice president.
From Breitbart.
Biden, however, has done nothing of the sort, as he has since carried on as if he is president-elect, promising that "we're going to get right to work," as he seemingly ignores the fact that the 2020 presidential election has not yet been independently certified.
The former vice president has also since urged all Americans to "wear a mask," insisting that the "election is over."
"The election is over," Biden claimed. "I won't be president until January 20, but my message today is to everyone — it doesn't matter who you voted… we can save tens of thousands of lives if everyone would just wear a mask for the next few months."
Biden ended up delivering his victory speech on Saturday night, four days after the election.
Meanwhile, the 2020 presidential election has yet to be certified, as members of President Trump's administration maintainthat the president may actually be reelected.
These are some of the tweets on Joe Biden's Twitter thread.
.@JoeBiden and I are ready to write the next chapter in our nation's history.

On day one, we're going to get to work building an economy that works for working families.

— Kamala Harris (@KamalaHarris) November 10, 2020
There is also this Biden's thread, a post from President Donald J. Trump's erstwhile sister, Mary Trump.
Between 2000 and 2014 over one billion (1,000,000,000) votes were cast in American elections. The number of documented cases of voter fraud? 32

And yet 70% of Republicans do not believe the 2020 election was free and fair.

We have a lot of work to do.

— Mary L Trump (@MaryLTrump) November 10, 2020
The New York Times similarly said this morning that "The president and his allies have baselessly claimed that rampant voter fraud stole victory from him. Officials contacted by The Times said that there were no irregularities that affected the outcome." That's the narrative.
It just happens to be that the Heritage Foundation has over 1000 documented examples of convictions for voter fraud. Some involve Republicans, but the bulk seem to be done on behalf of Democratic candidates. Per Heritage on May 10, 2020, there are some 1,285 such documented cases.

Restated, Mary Trump and the New York Times are flat wrong. They can repeat those statements as often as they like, the Biden Twitter feed can repeat that, but false statements said numerous times is the definition of the Big Lie at work. Repeating and amplifying a lie doesn't make it true.
The Biden camp is saying that they will get COVID19 under control.
.@KamalaHarris and I aren't wasting any time. We're ready to get COVID-19 under control so that we can reopen our businesses and schools safely, resume our lives, and put this pandemic behind us. pic.twitter.com/65C1XfR9rR

— Joe Biden (@JoeBiden) November 10, 2020
But it was Biden and other Democrats who initially thought President Trump was acting like a xenophobe for closing travel from Communist China.
We are in the midst of a crisis with the coronavirus. We need to lead the way with science — not Donald Trump's record of hysteria, xenophobia, and fear-mongering. He is the worst possible person to lead our country through a global health emergency.

— Joe Biden (@JoeBiden) February 1, 2020
While left-of-center Snopes gave its signature spin, they insightfully showed the following. "In a May 2020 speech to the Asian American and Pacific Islanders Victory Fund, a political action committee dedicated to mobilizing voters in the Asian American and Pacific Islander communities, Biden called Trump's response to the coronavirus "xenophobic." He said Trump was responsible for "a new rash of racial messages, verbal and physical attacks and other acts of hate, some subtle, some overt, against the Asian American and Pacific Islanders.""
Another tweet from the Biden Twitter feed is this from never-Trumper George Conway.
The way I look at Trump and his minions' nonsense is that they're like a bunch of drunks trying to take down a skyscraper with a blowtorch. I don't think they have the remotest chance of succeeding, but I also don't think we should allow them to start a fire while they try.

— George Conway (@gtconway3d) November 10, 2020
Other Never Trumpers are in that feed. One is 'conservative' Brill Kristol, who turned on a President who did much of what he spoke or wrote about doing for years, but never accomplished.
"If conservatives become convinced that they cannot win democratically, they will not abandon conservatism. They will reject democracy."—David Frum

— Bill Kristol (@BillKristol) November 10, 2020
To those I've triggered by expressing alarm at alarming things, I apologize. I didn't realize how uncomfortable it would make so many conservatives to be alerted to the fact that a lawless president, supported by much of his party, is seeking to overturn a free and fair election.

— Bill Kristol (@BillKristol) November 10, 2020
How is asking to investigate evidence of fraud "lawless?"
"Attorney General William Barr has launched an attack on the Nov. 3 election. It is unprecedented, highly technical and very bad." https://t.co/XDLZTVflLL

— Bill Kristol (@BillKristol) November 10, 2020
But some of these surrogates of Biden, shown on his Twitter feed, are doing what the former VP said they should not be doing.
It's time to put away the harsh rhetoric.

To lower the temperature.

To see each other again.

To listen to each other again.

— Joe Biden (@JoeBiden) November 8, 2020
Biden-backer Representative Alexandria Ocasio-Cortez (AOC) (NY-D, self-proclaimed socialist) said this.
I hope people realize that the same Republicans who are refusing to acknowledge the results of our elections also champion disastrous foreign policy claiming they're "bringing democracy" to other nations.

— Alexandria Ocasio-Cortez (@AOC) November 11, 2020
Stating the obvious, it should be note that AOC doesn't speak for the Trump Administration. What peace deals to Obama-Biden bring to the Middle East? By contrast, "Donald the Disrupter" and his team have caused 3 peace deals to be entered with Israel, and another in Eastern Europe between waring factions.
This isn't just delusional—it's dangerous. The peaceful transition of power is a cornerstone of our democracy. @JoeBiden won this election, and this administration needs to accept the results and let him get to work. https://t.co/fhF2yciJ6w

— Elizabeth Warren (@ewarren) November 10, 2020
While Biden says it is time to lower the temperature, it is precisely Democratic party leaders that are making statements – example above – that have and still are raising the temperature.
For those who think there is no evidence, it is there for people willing to look.
Labor Pains – We Hold These Truths To Be Self-Evident, Constitutionally Speaking, Get Or Keep Faith – plus Sunday Weekly Headlines Review
Our report linked above gives some examples, but here is another.
MICHIGAN.🚨

*Explosive* evidence of Trump-to-Biden vote-switching: 138K VOTES.

The precinct-level data in 4 counties show signs of an ALGORITHM re: MIT PhD @va_shiva.

Oakland County is one of the counties. It is where one reversed *glitch* earlier led to a GOP winner.😮🔽 pic.twitter.com/dEp5gLUIXW

— Kyle Becker (@kylenabecker) November 11, 2020
President Trump says he has some surprises up his sleeve with respect to the 2020 challenges of certain outcomes. Time will tell what that might be. Millions of dollars in rewards are being offered by pro-Trump voices to those who have solid evidence of voter fraud. Even without those rewards, credible evidence is being developed.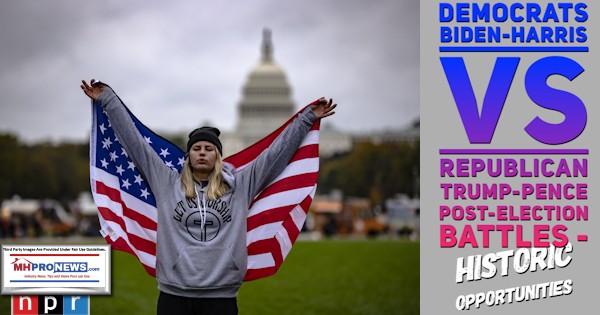 Additionally, the president has floated starting up rallies again. If so, that's smart strategy. It will keep his base – which is already motivated to see this election be thoroughly investigated prior to vote certification in the various states.
More references: pic.twitter.com/ohx99EA2jK

— Kyle Becker (@kylenabecker) November 11, 2020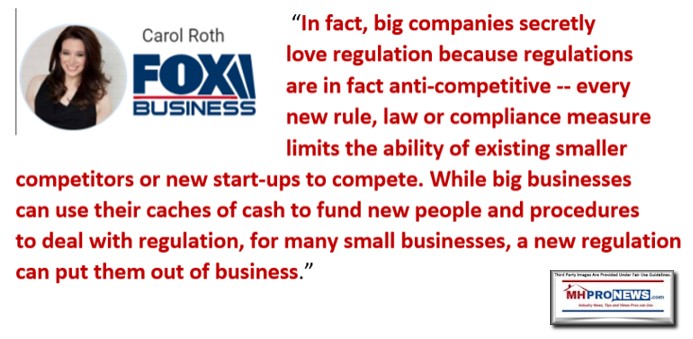 MHProNews Summary, Analysis, and Conclusion
Our industry, along with independents in many other professions, faces serious challenges if Biden-Harris do manage to get the keys to the White House. Why? Because they promise tax and regulatory changes that would benefit their oligarchic backers while harming smaller businesses.
Additionally, tens of millions of everyday Americans clearly benefited from the policies of President Trump.
If Biden-Harris truly want to 'heal' the nation, if they are putting out more than just pretty words, they should both publicly insist that concerns about voter fraud and violations of voting laws are investigated before elections are certified and they plan to 'move forward.'
Biden-Harris should be open to holding new elections in any jurisdiction in which the vote pool is so tainted by problematic of fake ballots, if improper or fraudulent ballots can't readily be pulled from a recount.
With a survey claiming that some 70 percent of Republicans saying they think the election was rigged, healing must advance the concerns of tens of millions of Americans.
Half the country, per a new poll by Scott Rasmussen cited by WBCKFM are not sure that Biden-Harris 'won' honestly.
If Biden-Harris have nothing to hide, they should push for not only full transparency, but also for steps to clean up purported voting problems in places like Georgia before the next election, including the next special election.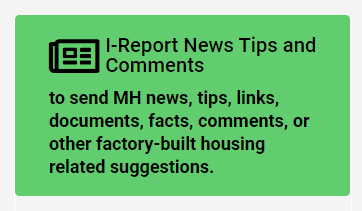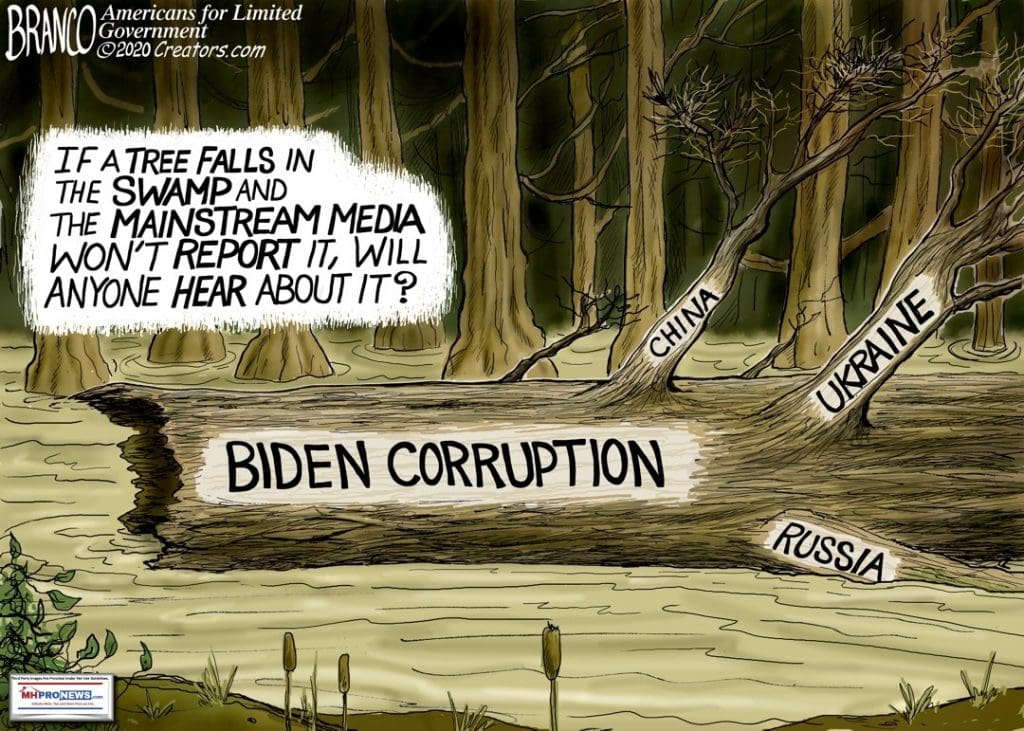 There is always more to read and more to come. Stay tuned with the runaway number one source for authentic "News through the lens of manufactured homes and factory-built housing" © where "We Provide, You Decide." © ## (Affordable housing, manufactured homes, reports, fact-checks, analysis, and commentary. Third-party images or content are provided under fair use guidelines for media.) (See Related Reports, further below. Text/image boxes often are hot-linked to other reports that can be access by clicking on them.)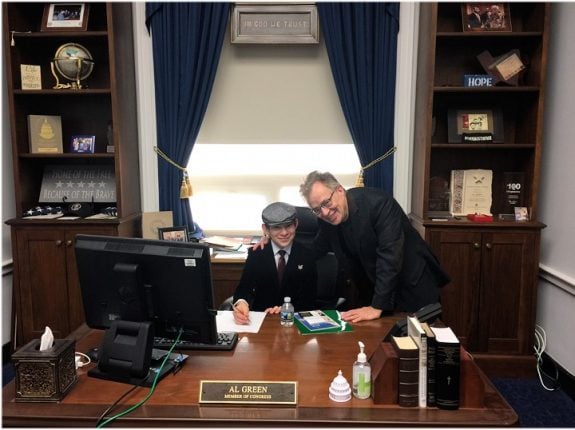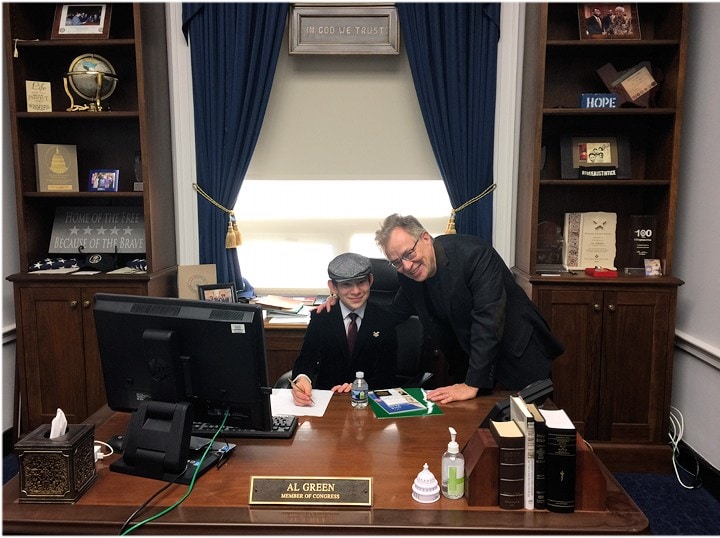 By L.A. "Tony" Kovach – for MHProNews.com.
Tony earned a journalism scholarship and earned numerous awards in history and in manufactured housing.
For example, he earned the prestigious Lottinville Award in history from the University of Oklahoma, where he studied history and business management. He's a managing member and co-founder of LifeStyle Factory Homes, LLC, the parent company to MHProNews, and MHLivingNews.com.
This article reflects the LLC's and/or the writer's position, and may or may not reflect the views of sponsors or supporters.
Connect on LinkedIn: http://www.linkedin.com/in/latonykovach
Related References:
The text/image boxes below are linked to other reports, which can be accessed by clicking on them.
Study Reveals "Total Failure" of "Education System," "Basic Dishonesty in Our Media and Popular Culture," plus Manufactured Home Investing, Stock Updates
Correcting the Manufactured Housing Industry Record – Looking Back, Looking Ahead – Plus Manufactured Home Investing, Stock Updates
Nonprofits, Falun Gong, Jews, Muslims, Evangelical Protestant Christians, Mormons, and Prior Apostolic Nuncio Letter to U.S. on 2020 Election, plus Manufactured Home Investing, Stock Updates
Warren Buffett–Joe Biden Spotlight, "Great American Recovery," 3rd Q GDP Blows Past Expectations, plus, Manufactured Home Investing, Stock Updates
Fair Warning – Prof David Faris Tells Democrats "It's Time To Fight Dirty," plus Manufactured Home Industry Investing, Stock Updates
RBG, New York Times, BLM-Chinese Communist Bombshells Rock Democrats – Industry Impacts – plus Sunday Weekly Headlines Review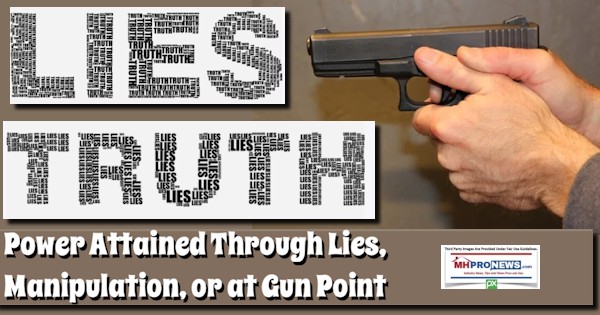 "What is Wrong is That We Do Not Ask What is Right;" Sunday Weekly Headlines Review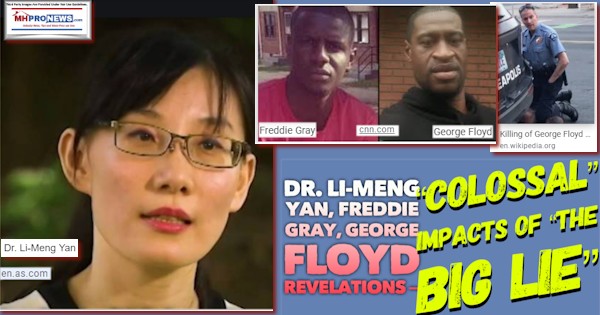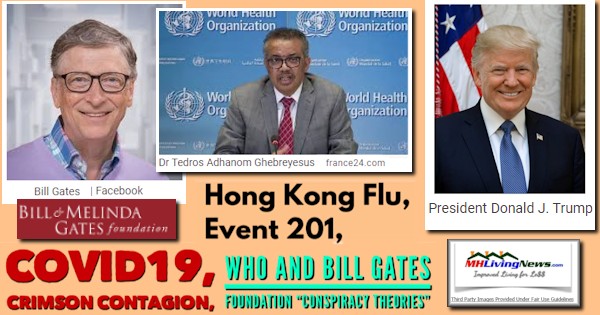 Evidence-Based State of the Manufactured Housing Industry, Fall 2020 Report – plus, Sunday Weekly Manufactured Home Headlines Review
Saturday Satire and Executive Summaries for Manufactured Housing Professionals, Investors, Advocates, Researchers, Public Officials, and Investigators
New Data Surfaces on Buffett Family, Foundation Funding Sources Which Attacked Manufactured Housing, plus Manufactured Home Stock, Investing Updates
Complaints to State and Federal Officials, Agencies About Corrupt Practices in Manufactured Housing Industry Growing
Buffett/Berkshire Bust! Stunning Charges – Frank Rolfe, Dave Reynolds, Impact Communities Lawsuit Against Residents; MHAction Connection Evidence
Epic! Creating 200,000 New MH Homesites in 4 Years; Allegations of Corruption by Fannie, Freddie, Others in Duty to Serve Manufactured Housing Law