In the topsy-turvy, upside down world of the Arlington, VA based Manufactured Housing Institute (MHI), they have notified their members of threatened legal action they are pondering in conjunction with a "coalition" of manufactured housing competitors — on behalf of renters and rental housing. But MHI fails to make a similar warning to take legal action to properly enforce existing Federal laws with respect to HUD Code manufactured homes that are widely believed would dramatically raise sales of factory-crafted manufactured housing.
That stunning but accurate statement is based on evidence from the Manufactured Housing Institute's (MHI) most recent emailed 'news' to their members and state affiliates.
That is so surreal that it may need to be restated in order for the full implications to be understood by trusting 'white hat' brands, affordable home ownership advocates, policy advocates, public officials, and sizable numbers of independents.
MHI told their members this week – quoting their 9.16.2020 email – that "MHI is in discussions with the rental housing coalition about whether legal action can successfully stop the CDC's eviction moratorium." Whether that is noble and the best approach for dealing with that serious issue – or not – is a separate topic.
NHC CEO David Dworkin Joins Manufactured Housing Institute (MHI) Demanding Action to Support Renters, Smaller Landlords, in Housing & Eviction Crisis
While it is true that some MHI member companies are involved in renting housing, purportedly far more industry companies are in the stated business of selling new HUD Code manufactured homes.
So, while the issue of the eviction crisis is quite real, it stands apart from the core mission of the nonprofit trade group. Besides, selling homes to the nation's estimated 111 million renters would help take pressure off the ever-rising cost of housing. The same principle of selling more affordable homes would likewise alleviate the rising pressures on conventional housing costs. That's according to sources such as Lawrence Yun, Ph.D., the top economist with the National Association of Realtors. So, from a variety of perspectives, the MHI rationale and behavior is odd at best if not counterproductive and harmful to the manufactured housing industry at worst.
White House Seeks Evictions Stay, Coronavirus-Fueled Housing Crisis Grows, plus Manufactured Home Investing, Stock Updates
By contrast to the proposed MHI legal action with the "rental housing coalition" members, after years of MHI letter writing and meetings, where is the evidence of a similar willingness for MHI to threaten – or actually take legal action – to enforce Federal laws that if fully enforced could usher in a new age of manufactured home industry growth?
Note as a disclosure that this firm encouraged such a step – taking legal action to enforce federal laws – some years ago while an MHI member. Tim Williams – President and CEO of Berkshire Hathaway owned 21st Mortgage Corporation – said in a member meeting that such a course of action 'may need to be considered' at some point in time, if other avenues failed to produce the desired enforcement of federal law.
Years later, where is that legal action?
The report linked below from 2019 is just one of several reports on that topic.
MHI's Growth Agenda? Rick Robinson, JD, SVP Manufactured Housing Institute, Preemption Evidence, Writ of Mandamus, and Addressing HUD Code Manufactured Home Shipment Woes
MHI entering potentially into a lawsuit with "rental housing coalition" members is mildly akin to law enforcement officers – cops – joining rioters in looting on behalf of social justice in this respect. The two groups interests are largely divergent. It isn't logical. Furthermore, where is the reciprocity by these "coalition" members in their helping get pro-manufactured housing federal laws fully and properly enforced?
The entire MHI-rental coalition exercise, when objectively considered, is absurd. How this fits into Warren Buffett "castle and moat" principle is detailed at this link here.
'Don't Bother Me With Facts…'
There are those who have experienced the pleasantries of a mixer, drinks, or meals shared at a networking opportunity at an MHI meeting who see the Arlington, VA based trade group through proverbial rose-colored lens. Those warm experiences with industry comrades have attached for numbers of professionals to MHI. Indeed, sources say that is part of the reason those functions occur.
But in doing so they may fail to see the harsher realities that several current publicly traded MHI members have made it plain in published statements that acquisitions and consolidation are at or near their top goal.
Networking can be done outside of MHI. It could also be done by a new or other trade group, MHI is simply not necessary for that pleasant function which doesn't directly move the stated agenda of the association which should be to sell more manufactured homes.
More to the point of their mission is this factoid. Right-of-center Forbes, citing the left-leaning National Low Income Housing Coalition (NLIHC) said on February 14, 2020 "Yet right now, millions of Americans lack access to a safe and stable supply of affordable housing. In fact, the United States needs a minimum of 7.2 million more affordable housing units (and potentially as many as 12 million units), according to the National Low Income Housing Coalition."
Given that some 7.2 to 12 million housing units needed – if only 10 percent of that were produced by manufactured housing – would represent 720,000 to 1.2 million HUD Code new manufactured homes that would need to be built. That would be many times the current levels of production. While it would take time to ramp up, history demonstrates that it could be done more rapidly with factory building than with conventional construction.
That mainstream media report linked above reflects that one new production center was
reportedly able to ramp up and build 60,000 homes in two years from one building center.
Along those lines of thought:
Furthermore, as the report linked here details in depth, MHI's president and CEO has for years signed a statement under penalties of perjury on IRS Form 990 that the organization claims to be working to "Improve the operating environment for the manufactured housing industry and expand the demand for manufactured homes…" Then and since, MHI and their board members have declined comment on those pragmatic and legal concerns.
Big Boy Favoritism?
Additionally, a pending Initial Public Offering (IPO) on the Toronto Stock Exchange (TSX) by former MHI Chairman and still prominent board and PAC (Political Action Committee) group leader Nathan Smith and his Flagship Communities (a.k.a. SSK Communities) makes it plain that acquisitions will be a core raison d'etre if their IPO is approved.
Co-Founders Nathan Smith and Kurt Keeney Flagship Communities Plans to Go Public, Formal & Controversial Behind the Scenes IPO Details
Alice Sparks – Sources Reveal Drama Behind SSK Communities Push to Rebrand as Flagship Communities – Nathan Smith, Kurt Keeney-Planned TSX IPO
Rephrased, there is public prima facie public evidence that MHI is working on behalf of major or favored brands and members.  Meanwhile, the association staff and top members glad hand smaller firms that are the potential targets for acquisitions.
As data published by publicly traded UMH Properties reflects, communities are being acquired at discounted valuations when considered to what the same property would earn if they were fully occupied and the industry was performing properly.
How would a Joe Biden Presidency Impact UMH Properties? UMH Investor Data Updates, Added Insights, and Analysis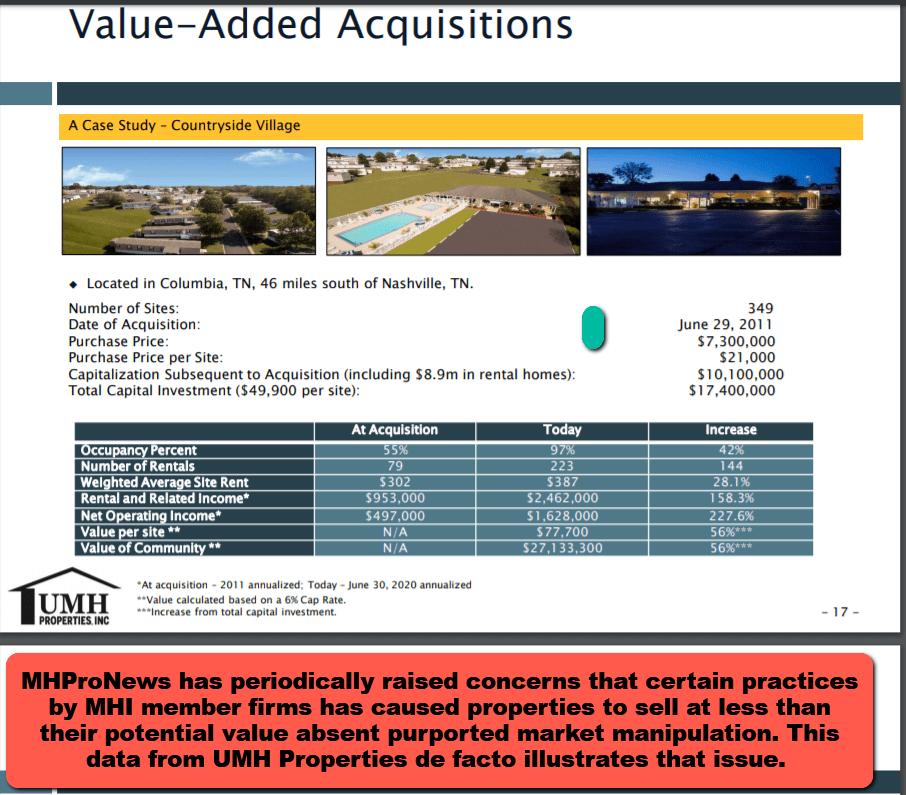 Dues paid by independents to such a purportedly predatory and arguably deceptive nonprofit are thus feeding the hand that undermines their business potential. That business potential would be several times higher than the current levels.
Who says? MHI's former president and CEO, Richard "Dick" Jennison said so publicly in a video recorded statement in front of dozens of manufactured housing industry members.
MHI CEO Dick Jennison's Pledge – 500,000 New Manufactured Home Shipments
To Neal Haney – leader of former MHI affiliate members, who along with others, quit the MHI trade group – such failure to perform issues aren't hypothetical. They left precisely because after years of MHI failing to deliver on their stated goals.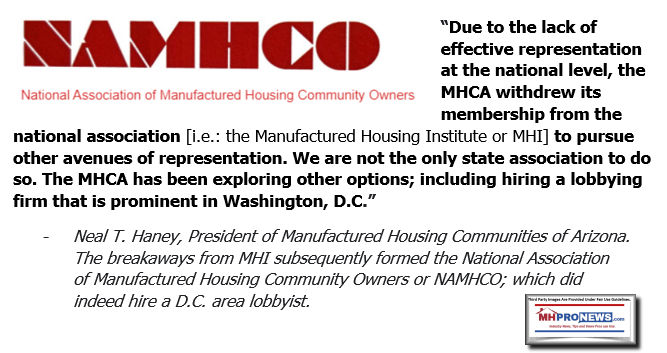 Even loyal MHI/National Communities Council (NCC) members have gripped about the failures of the organization.
Bob Crawford, former president of historic Dick Moore Housing – a firm that has reportedly sold well over 25,000 mobile and manufactured homes over their decades in business, and has been involved in retail, communities, finance, insurance and more – Crawford said that he would rate MHI a five out of ten for effectiveness in their advocacy.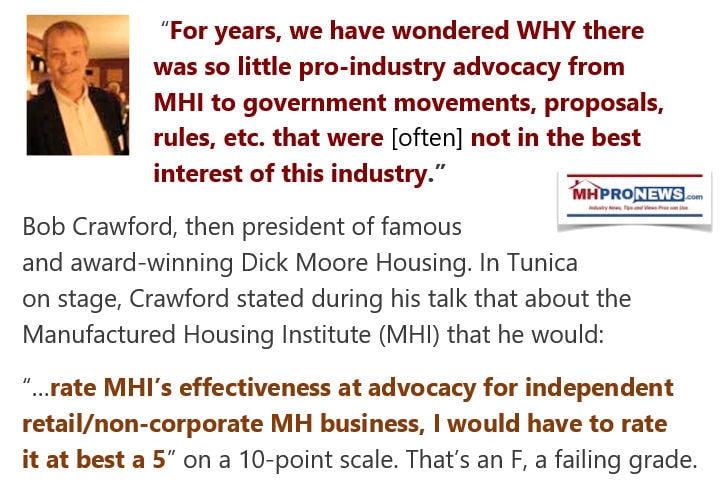 That 5 out of 10 is equal to an "F" score, which ironically mirrors the rating that the Better Business Bureau (BBB) gave SSK Communities.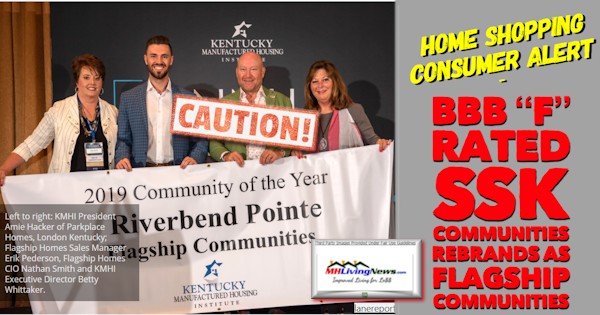 MHI award winner Marty Lavin, J.D., urged readers for years to pay more attention to what occurred rather than focus on perhaps nice sounding words which this or that person or group had uttered. That's pragmatic.

Additional Facts, MHProNews Analysis and Commentary 
When actions, inactions, and "the money trail" are followed, what emerges about MHI is an organization that postures, issues statements, and does photo or video opportunities — but fails to perform based upon their own claims. The industry's own data reflects that point.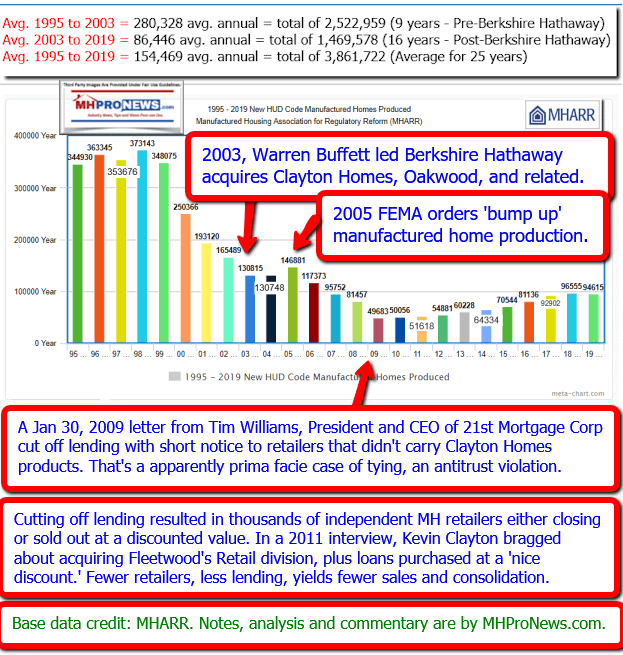 Indeed, the manufactured home industry data is so embarrassing when compare to years of MHI claims that MHI has often ignored in their "news" to member any or serious mention of how the industry year-over-year is still behind 2019 or 2018 shipment levels. Why is it that MHARR provides those facts, while MHI often tones it down or ignores it completely? Isn't that because the facts undermine MHI's 'fake news' narrative?
New Year to Date July 2020 Manufactured Home Production Data Compared to Mainstream Conventional Home Building and Post-COVID19 Housing Trends
Instead of data, like a carnival barker or a magic trick performance, MHI uses "Razzle Dazzle" per voices to MHProNews inside the Manufactured Housing Executives Committee (MHEC).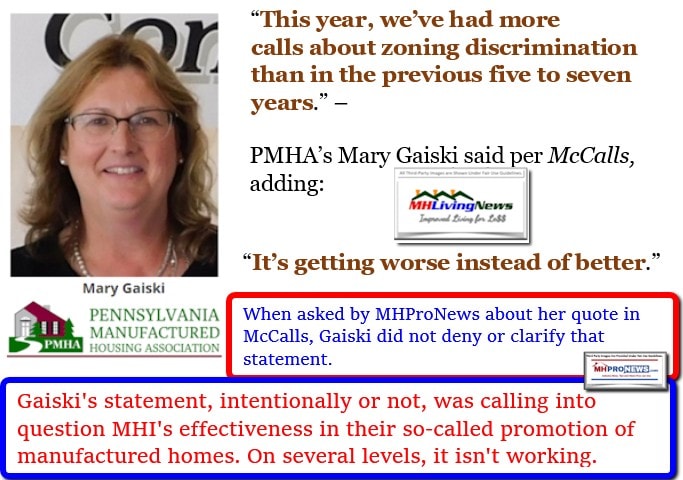 Note that Razzle Dazzle is an element to what con artists do, according to federal reports. See the linked report below for details.
National Criminal Justice Reference Service (NCJRS), Razzle Dazzle, Manufactured Housing Institute – Analyzing the Latest
That the industry could be doing more is evidenced by past performance. Former MHI vice president Danny Ghorbani, according to the RV MH Hall of Fame, led an effort to produce 200,000 new home sites in just 4 years.
Epic! Creating 200,000 New MH Homesites in 4 Years; Allegations of Corruption by Fannie, Freddie, Others in Duty to Serve Manufactured Housing Law
Each of these data points and statements, along with others, combine to illustrate the reasons why MHARR President, CEO, and attorney Mark Weiss, J.D., said that MHI track record of failures that support the cause for a new post production association.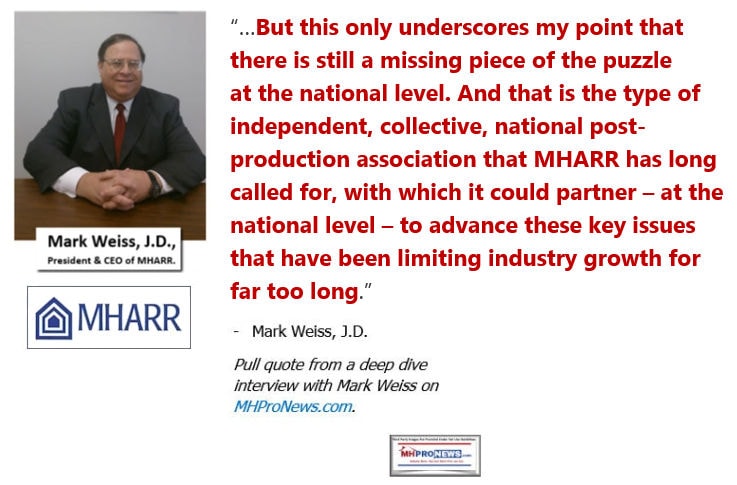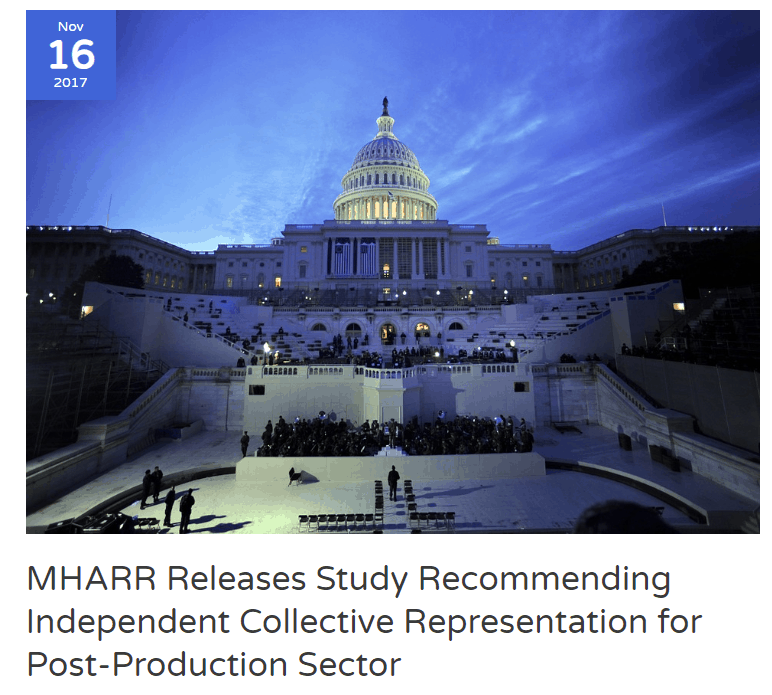 Former MHI VP Danny Ghorbani, the founding president and CEO of MHARR, has ripped the trade group based on their foot dragging at implementing Federal laws that the pre-Berkshire Hathaway era MHI and MHARR collaborated with Will Earle at the Texas Manufactured Housing Association (TMHA) to pass into law.
Danny Ghorbani Challenges Manufactured Housing Institute (MHI) Leaders on "Must-Do" Zoning, "Failed Miserably" in Placement Issues
"The Incredible Shrinking Zoning Problem."-September 2019 MHARR Issues and Perspectives
MHI leaders have repeatedly declined comment on such matters that are road-blocks to industry growth.
FHFA "Director [Mark] Calabria Must Initiate An Internal Investigation" – Danny Ghorbani Rips & Reveals Duty to Serve Problems, Solutions
Note that while MHI – on paper – makes similar arguments, they repeatedly fail to press the issue in the same manner that they are saber rattling over rental housing. By contrast to posturing to member via email, even on their own website, they have removed or masked material that once publicly promoted what they now do in public stealth mode.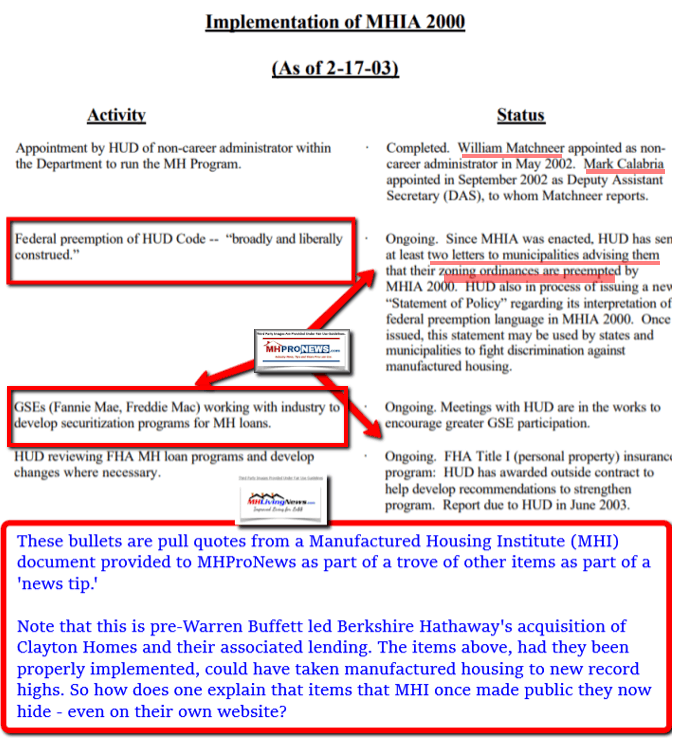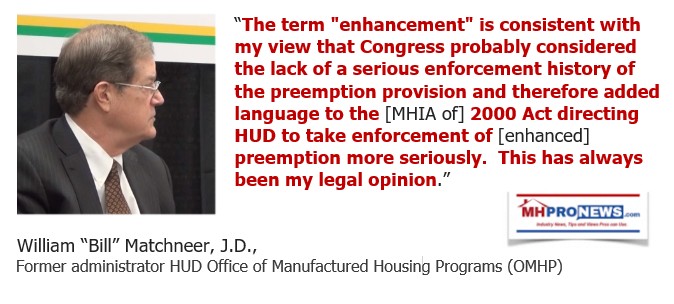 Nor will they debate their own performance publicly. Instead, they routinely pretend that MHARR, MHProNews, or MHLivingNews don't exist. That's hard to do, considering they and the leadership of their members routinely read what is published here, and have publicly praised us for years on end.
That praise from MHI, perhaps understandably, ended when the pressure to perform on their own claims after years of polite questions apparently became too uncomfortable.
Per insider information, MHI nudged Ohio Manufactured Homes Association (OMHA) to attempt to deflect criticism from MHI leaders. Williams made the patently absurd claim that Lesli Gooch was the best leader he'd ever seen. That ignores the history of pre-Berkshire era MHI president and CEO Chris Stinebert, who politely ripped the trade group he was exiting before his purported non-disclosure agreement (NDA) kicked in.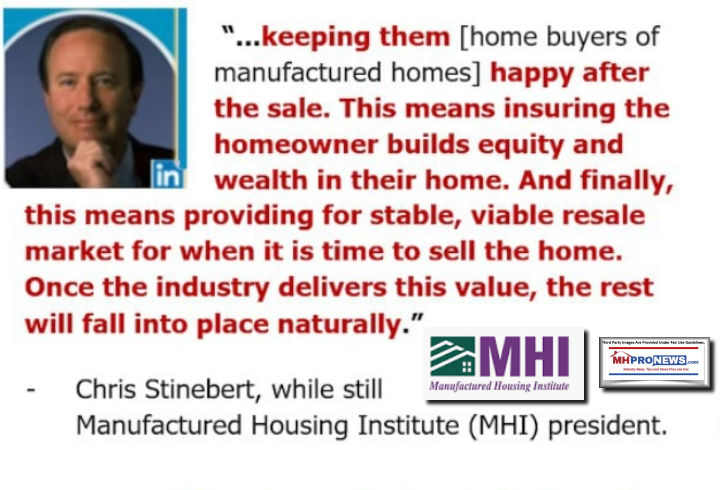 It was apparently an MHI connected source that blew the whistle on Gooch's conflict of interest. Yet, despite reams of documents – which also reflects Gooch working with non-manufactured housing conventional housing trade groups – for pay, and apparently on 'MHI's time' – MHI's big company leaders shrugged. 
Whistleblower's Documents on Lesli Gooch – Manufactured Housing Institute CEO – New Discoveries
Pro-MHI bloggers and publishers are – perhaps of necessity – focused on MHI photo opportunities and posturing. Meanwhile, they ignoring MHI's actual results. Ironically, when they do put out facts, those facts routinely support this thesis rather than their own clearly 'fake news' claims that protect the big boys who use the association as cover for consolidation of smaller industry members.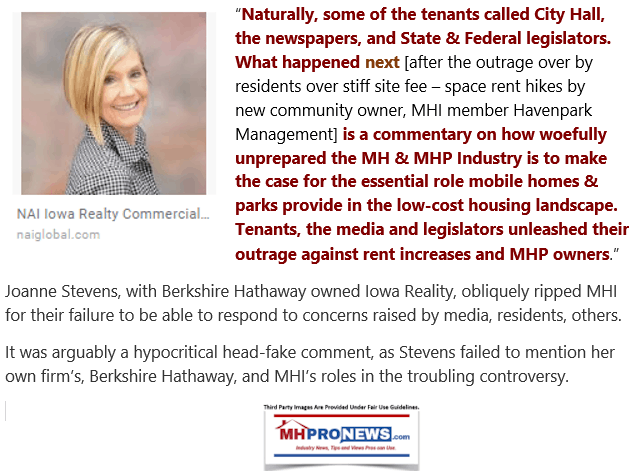 The push for consolidation, supported by verbal and published statements by several MHI members, is the de facto rationale that larger companies continue to support the trade group.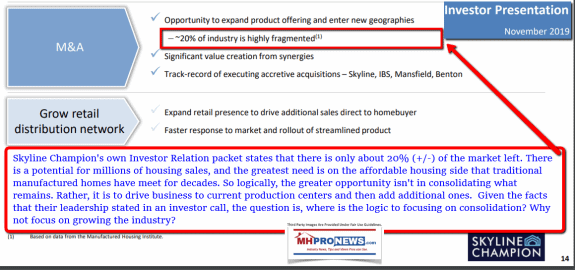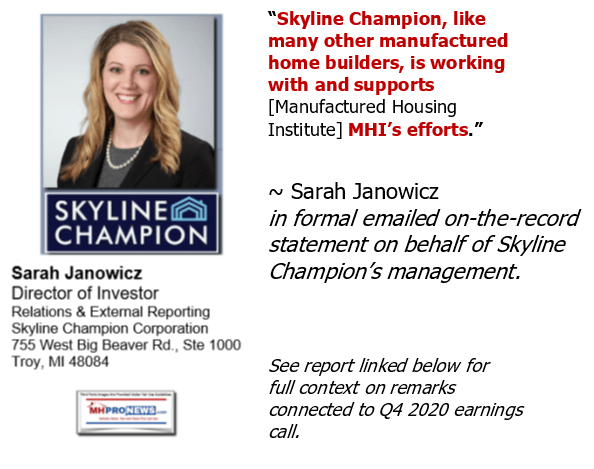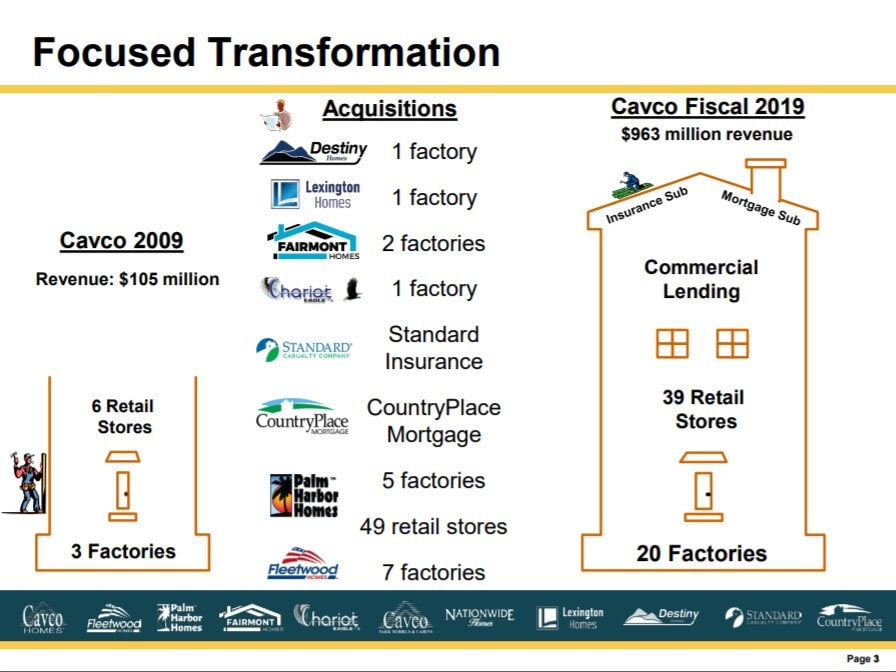 When the potential for more manufactured home sales should be measured in the hundreds of thousands of new units per year, it seems odd that so much attention is paid to consolidating production, retail, or communities. That begs several regulatory and other legal questions. But it also impacts public policy too.
Cavco Industries "Killer Acquisition," CVCO's New Controversy Tests Antitrust Resolve
A report in left-of-center Bloomberg said that "The U.S. shells out roughly $46 billion a year on affordable housing—$40 billion on means-tested programs and another $6 billion in tax" incentives.
Converting more renters to affordable homeownership would boost minority and lower income Americans. Numerous nations have higher rates of home ownership than the U.S. So, why is public policy supporting more subsidized housing when the path – in federal law – exists to provide more affordable home ownership?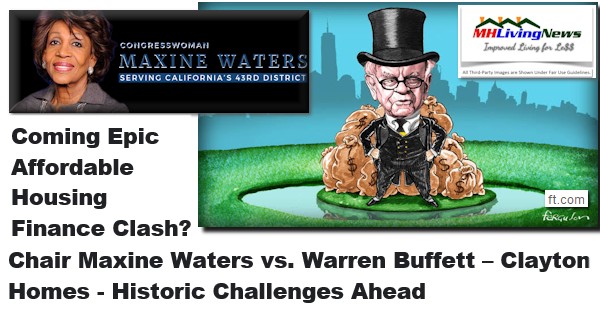 There are allegations that a former MHARR member was acquired in a possible antitrust violation of buying a business in order to close it.
Weiss has called this patterns of what can be described as years of unfulfilled promises as the "Illusion of Motion" by MHI.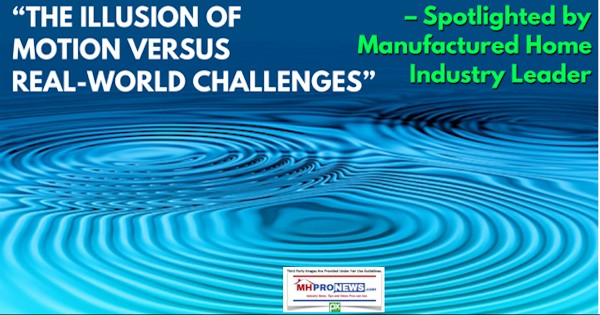 Each of these explain why MHARR's Weiss has urged the creation of a post-production association.
In the topsy-turvy world of MHI, efforts are made to support rental housing while ignoring or downplaying the logic of promoting more manufactured homeownership.
There is no need for a 'housing coalition' in order to get existing federal law supported.
It was former MHI Chairman Nathan Smith who said that the industry has to be honest with itself and admit that it has often failed in its advocacy.
The video that quote comes from includes a now even more insightful flashback, where Nathan Smith laughs and says that he wants all of the communities for himself.
One need not look beyond MHI's own past claims vs. the industry's current performance in order to see what is actually occurring. While the balance of the conventional housing, or even the RV industry, are roaring back to life, manufactured housing is still lagging.
These are all reasons to consider the sobering reality that for their own reasons, the powers that be that dominate MHI like the status quo. They want to see the industry consolidated. Both the behavior and their own statements indicate as much.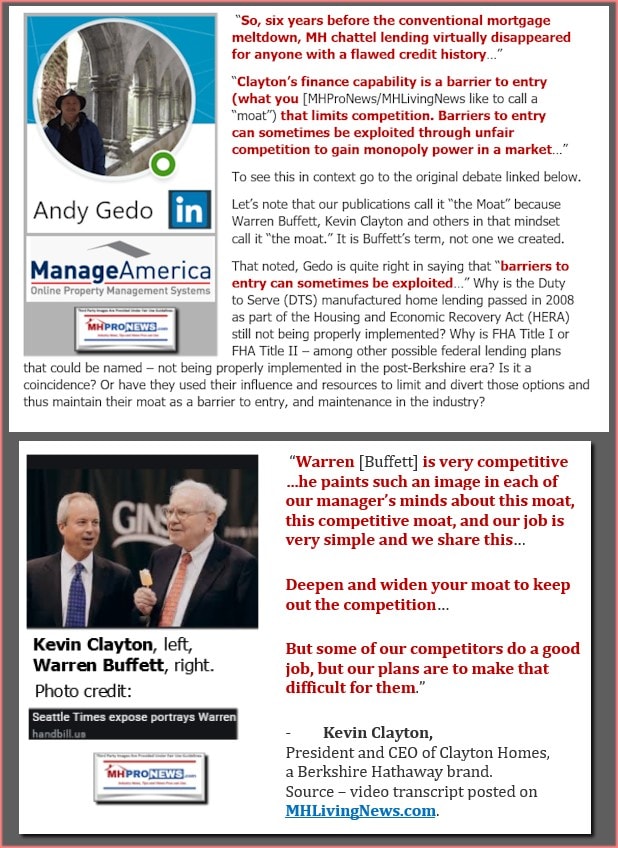 What Andy Gedo – ManageAmerica Partner, Manufactured Housing Institute Supporter – Revealed About Clayton, Cavco and Skyline Champion Manufactured Homebuilders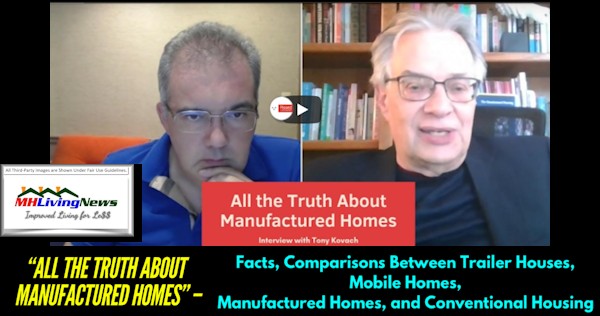 To learn more, see the linked and related reports.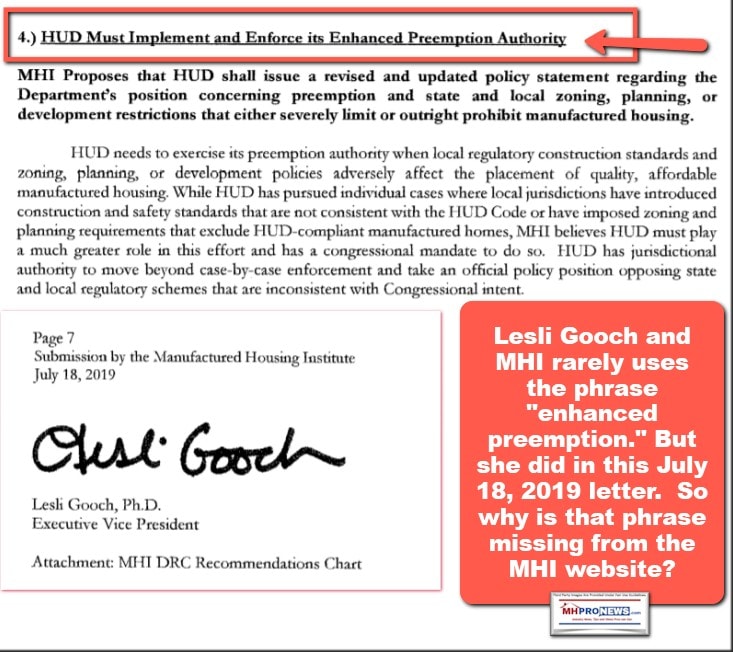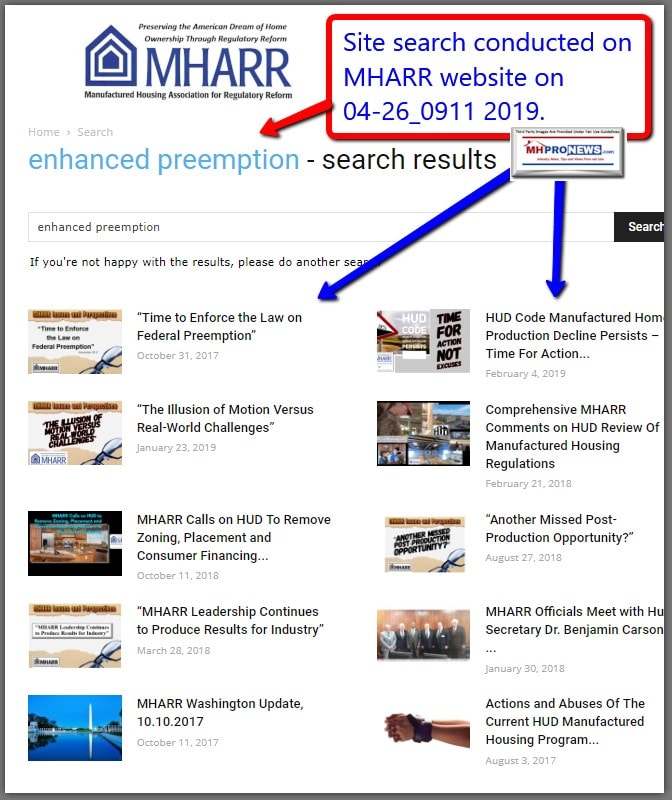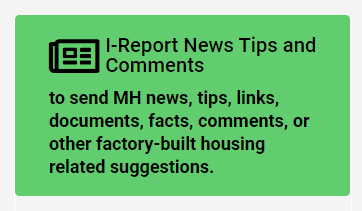 There is always more to know. Stay tuned with the runaway largest and documented number one most-read source for authentic manufactured home "Industry News, Tips, and Views Pros Can Use" © where "We Provide, You Decide." © ## (Affordable housing, manufactured homes, reports, fact-checks, analysis, and commentary. Third-party images or content are provided under fair use guidelines for media.) (See Related Reports, further below. Text/image boxes often are hot-linked to other reports that can be access by clicking on them.)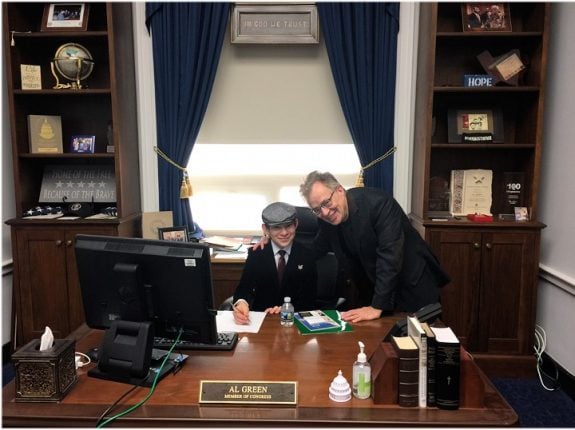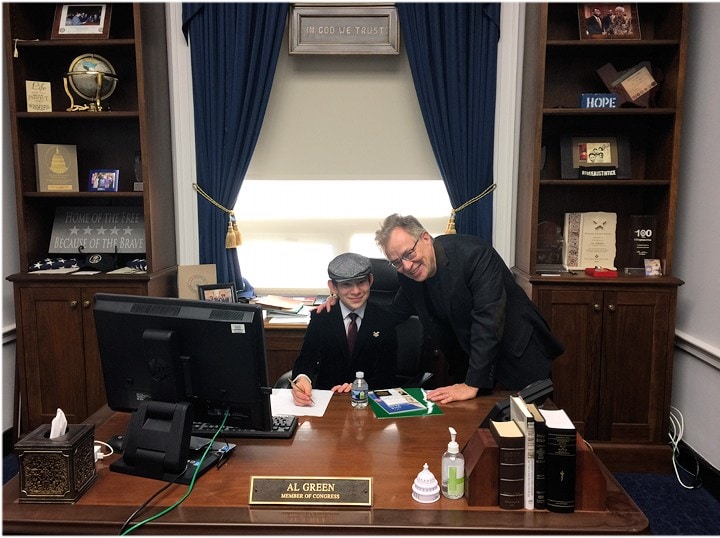 By L.A. "Tony" Kovach – for MHProNews.com.
Tony earned a journalism scholarship and earned numerous awards in history and in manufactured housing.
For example, he earned the prestigious Lottinville Award in history from the University of Oklahoma, where he studied history and business management. He's a managing member and co-founder of LifeStyle Factory Homes, LLC, the parent company to MHProNews, and MHLivingNews.com.
This article reflects the LLC's and/or the writer's position, and may or may not reflect the views of sponsors or supporters.
Connect on LinkedIn: http://www.linkedin.com/in/latonykovach
Related References:
The text/image boxes below are linked to other reports, which can be accessed by clicking on them.
Frank Rolfe Roars-COVID-19, Warren Buffett's "Castle and Moat," and Manufactured Home Communities, A.K.A. "Mobile Home Park" Investing
Grotesque Failure – Ken Cashin, Nathan Smith Revealed Manufactured Housing Institute Fear of Manufactured Housing Association for Regulatory Reform's Federal Arguments
Nathan Smith, SSK Communities, and Manufactured Housing Institute (MHI) Slam New National Manufactured Home Communities Group in Written Statement
Frank Rolfe, MHU/RV Horizons Protest by MHAction; Nathan Smith/SSK/MHI Flashbacks?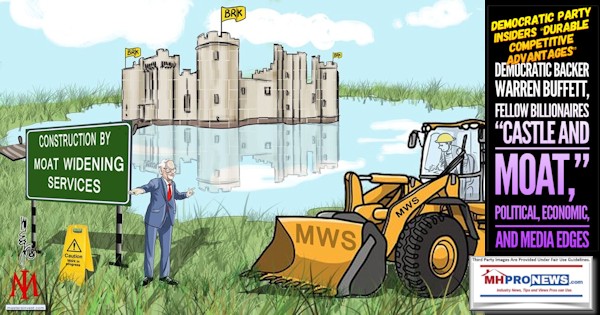 Illusions, Collusions – "Heads I Win, Tails You Lose" – "Never Let a Serious Crisis Go To Waste" – Gates, Buffett Massive Money Grabs?
Nathan & Mary Lee Chance Smith, Leaders in 'Anti-Trump Resistance,' Manufactured Housing Impact?
Communities, Assoc Exposé – Whistleblower "Leaks" – Lesli Gooch Manufactured Housing Institute (MHI) CEO and Sheila S. Dey, Executive Director Western Manufactured Housing Communities Association (WMA)
Barriers to Entry, Persistence, and Exiting in Business, Affordable Housing, and Manufactured Homes
Saturday Satire and Executive Summaries for Manufactured Housing Professionals, Investors, Advocates, Researchers, Public Officials, and Investigators
Complaints to State and Federal Officials, Agencies About Corrupt Practices in Manufactured Housing Industry Growing
Buffett/Berkshire Bust! Stunning Charges – Frank Rolfe, Dave Reynolds, Impact Communities Lawsuit Against Residents; MHAction Connection Evidence