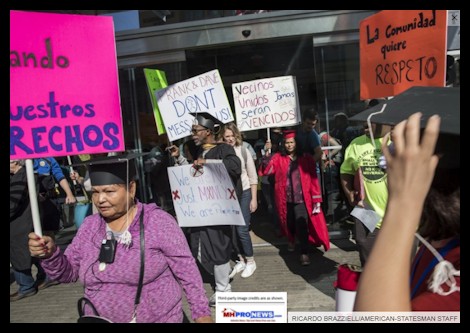 After the MHProNews exposed – via a news tip – the plan by the resident activist group MHAction to protest the Manufactured Housing Institute (MHI) annual meeting last year, MHAction organizers pivoted and apparently went to 'Plan B.'
Instead of protesting at MHI – where their element of surprise was lost, due to our coverage – MHAction organized a protest of a Frank Rolfe/Mobile Home University (MHU) "boot camp" held in Austin, TX, in late 2017.
Rolfe's group and Equity LifeStyle Properties (ELS) have been the target of MHAction previously.  Certain claims by the resident group involved were exposed and debunked in the analysis, linked below.
http://www.MHProNews.com/industry-news/industry-in-focus/paving-the-road-to-hell-mhactions-kevin-borden-a-nyccs-jonathan-westin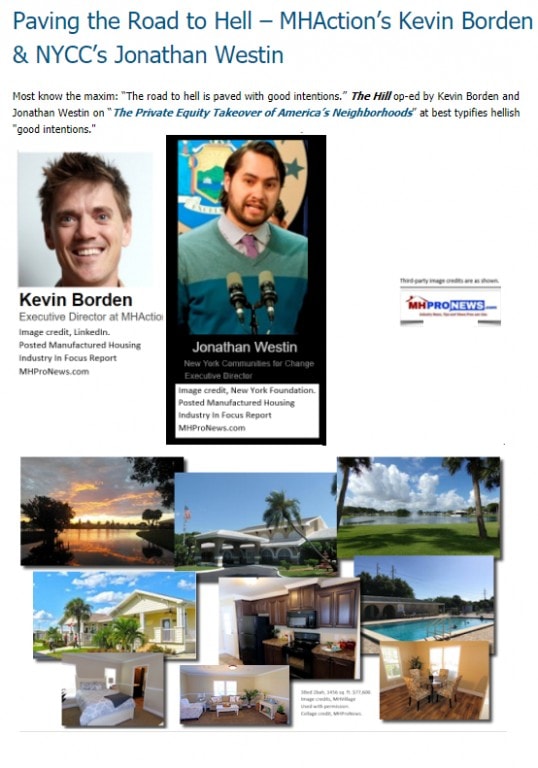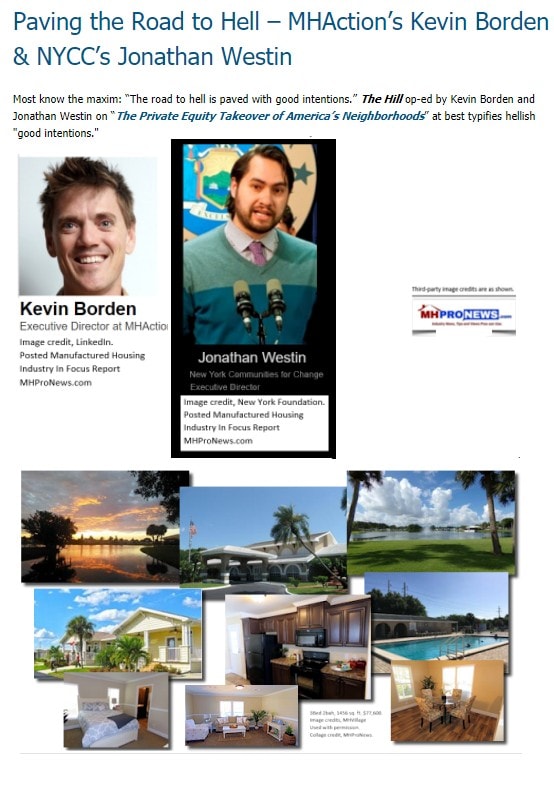 MHAction makes a shrewd use of media to get their talking points out, as the following quotes from local reports will reflect.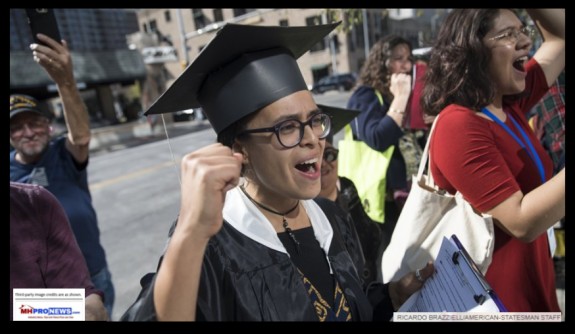 What the Mainstream Media Reported…
"Inside Austin's Westin Hotel on Friday, two mobile home investors gathered more than 100 potential park owners for a crash course in how to maximize profits owning trailer parks," opens the report from the American Statesman.
"Downstairs, protesters flooded the Westin lobby with chants and signs, then gathered on the sidewalk for a graduation ceremony mocking the course — complete with a megaphone speech from "Dr. Profit,"" continued the Statesman report.
Austin is the state capital for Texas, so noting that legislators read and watch local media would be an accurate observation.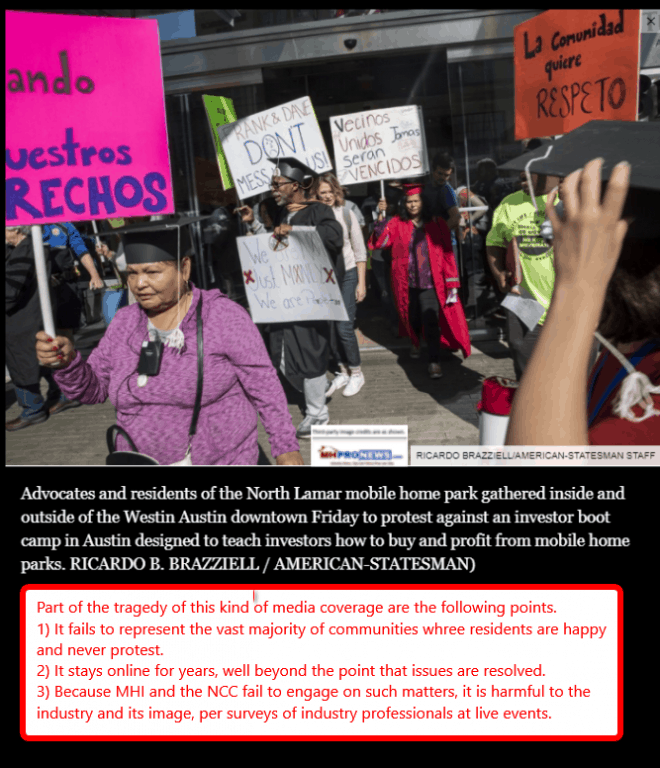 "It was the latest showdown in the tension over Austin mobile home parks [sic], where displacement of low-income residents and vanishing space has narrowed options for those who own a mobile home [sic] but must rent a site for it."

The Statesman's article wasn't all one-side against Rolfe and his colleagues.  The comments section is interesting to note as well.  Because while some torched Rolfe's group, another praised them.  Three examples.
"beachlady1890 Jan 8, 2018
These two individuals buy parks and train people to run them and their philosophy is raise rent and then do no repairs on the park or homes they own. 
The owner Frank Rolfe snubs his tenants all the while acting like he is a caring person. He brings in new homes and forces the tenants to either continue living in the molded and damaged homes or buy one of the new ones from them. The cost he pays is very low and then you are paying back triple what the home is worth. Manufactured homes depreciate the moment they come off the line at the factory. The company talks a talk but doesn't walk the walk."
—
"Liza Wood from FacebookDec 2, 2017
Wow. A boot camp to learn to become a slum lord. Just wow."
—
beachlady1890 curious to know which mobile home park you live in? I live in an RV Horizons park and I love where I live. My husband and I owned a home up north and every year our taxes went up causing our mortgage payments to go up from one year to the next. When we first moved to Texas, we moved into an apartment for 12 months. After 6 months they raised our rent and had we not opted to move into a mobile home they were going to raise it again. What's the difference? RV horizons does a lot for our community. They through the biggest Christmas party for the entire community. Santa Claus was there and RV Horizons gave every child in the community $50 cash. There was close to 200 kids atleast that got $50. It was the nicest thing I've ever seen a landlord do for residents ever.
We started off renting a home here in the community and first decided to look at local dealers when we were ready to buy. But for 10k cheaper we could buy the same house directly from the community and not have to pay the setup expenses. We got a great deal from them. RV Horizons has been wonderful To our family so back to my original question. Which community do you live in?"
Highly Edited MHAction Video…
The Daily Business News held this report to today to see what, if anything, the Manufactured Housing Institute (MHI), their National Communities Council (NCC) or other industry professionals might do or say in response. Opportunities were given for those groups to comment for this Daily Business News report.
Based upon the first few pages of Google results, their public response to the protestors?
Silence.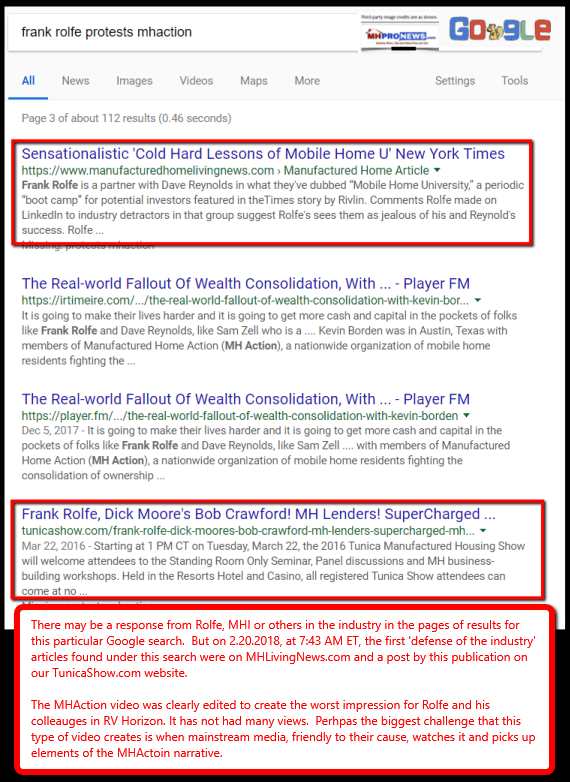 But as noted above, local media covered the protests, which were then amplified by MHAction through online posts by their network of affiliates in several states.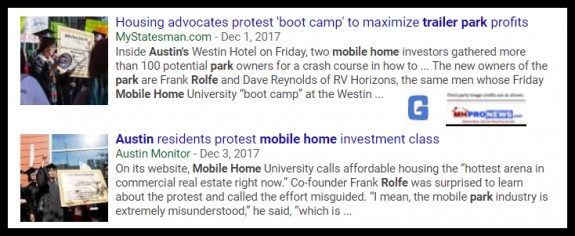 Even in a clearly biased and heavily edited video produced by MHAction – posted below – Rolfe acquits himself well.  Short statements, with soundbites that gets in Rolfe's denials of the charges these resident protestors leveled against him are evident.
But depending on the type of Google query a reporter or other researcher might make, the local media accounts – some 75 days after the event – can still be a page one search result.  The 'bad news' impact lives on.
Ironic – Nathan Smith, SSK Communities, MHI flashback
Multi-year-readers on MHProNews will recall that Rolfe blasted Nathan Smith and MHI for "hypocrisy," and the harm that they caused the industry when resident legal actions threatened to become a major class action lawsuit.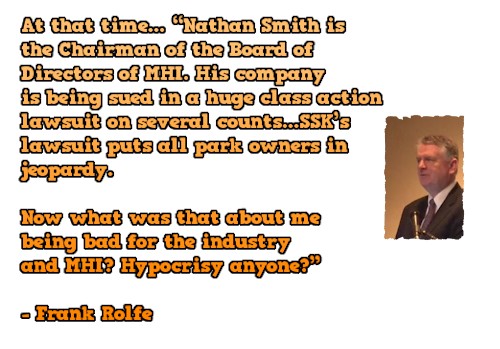 The video posted is one by a Kentucky news channel during that time frame Rolfe was complaining about, during that time-frame.
Perhaps it was coincidence, but after MHProNews published Rolfe's comments and a pair of reports that referenced the embarrassment of MHI's then-chairman being sued by residents, reports of the legal action faded away.
As industry attorneys have told the Daily Business News, once a settlement in such matters are reached, a common clause in the agreement is a stipulation not to further discuss, protest, or disclose details about the case.
Rolfe and MHC Improvements
Industry sources tell MHProNews that Rolfe and his partner Dave Reynolds operations routinely do improvements to the properties they associates acquire. The posted comments, shown above, reflects one purported resident's reflection of the same reality.
RV Horizons reportedly raises site fees (a.k.a. 'lot rent') to a market rate fairly rapidly. New homes are often brought in to fill vacant sites.
Positive details like community improvements, or mitigating facts – like moving rents to a market rate – aren't the kinds of details that grab the attention or interest of local media.  Sometimes, that local media may be grinding an agenda driven axe of their own.
So it is most-often the unhappy residents that get the focus of mainstream media coverage, rather than the often far more numerous happy residents.
According to a study by Southeast Research, a Professional Researcher Certified operation, 97 percent of the owners of new manufactured homes described their home as attractive. And 45 percent of those buyers could have purchased a conventional, site-built house, but decided to buy a manufactured home instead.
That negative spin or activist-hyped effort then may in turn feed into political, planning, and zoning related impacts — not to mention the turn-off of untold numbers of potential buyers.
MH Community developers – doing new or expanding manufactured home communities – have told MHProNews that any negative news, including those that feature Rolfe or Smith, are routinely raised at planning and zoning hearings.
Challenging Realities
It's a difficult set of realities.  Because MHI/NCC routinely fail to engage local media on such issues, as Rolfe himself has noted and complained, they often go unaddressed.
The bottom line is that the industry often ends up with a black eye from reports, be it justified, over hyped, or not. That in turn shapes public perceptions and public policy.
Perhaps it won't be until a new trade group supplants MHI/NCC on the post-production side that the industry image will recover nationally.  In the meantime, as the Daily Business News has often reported, there are those who do a good job of promoting the community lifestyle in their local markets.
Such positive local-market engagement is a strategy that almost any community owner, operator or MH retailer can engage in.
The alterative?  Is to continue to take it on the chin. ##
Related: the issue of the impact of media coverage on manufactured housing was widely overlooked in the recent Urban Institute report, see the article below, as one of several related references.
Urban Institute Ask for Correction in Analysis of their Manufactured Housing Research, "Follow the Facts," "Follow the Money"
Other Rolfe Related Reports:
"No Other Options" – Frank Rolfe's Pad, MH "Parks" Tug-of-War, Good, Bad or Meh for Manufactured Home Communities, MH Industry?
Frank Rolfe: Pressured into Silence? Manufactured Housing Industry, and Journalism
So said Equity Lifestyle Properties (ELS) Chairman and real estate legend Sam Zell to a packed auditorium of manufactured housing professionals, as Zell described previous comments he's made to potential investors.
It isn't a slam on anyone if they get blindsided. It has or will happen to us all. But to be forewarned is to allow for preparation. To ignore a sound warning is hubris, denial, wishful-thinking – or perhaps even incompetence.
"We Provide, You Decide." © ### (News, analysis, and commentary.)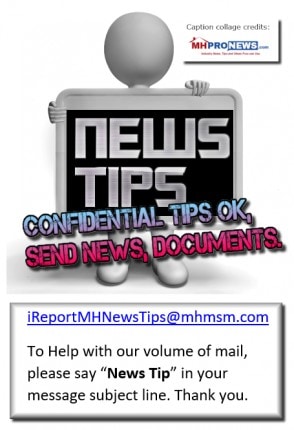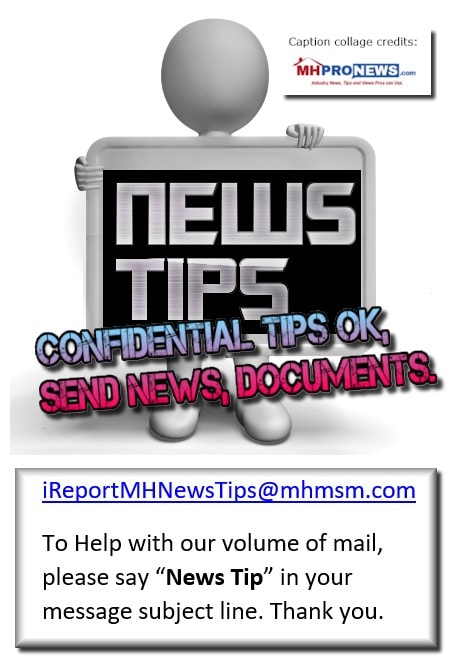 Thousands "Get It."
Sign Up Today! Click here to sign up in 5 seconds for the manufactured home industry's leading – and still growing – emailed headline news updates. You'll see in the first issue or two why big, medium and 'mom-and-pop' professionals are reading them by the thousands. These are typically delivered twice weekly to your in box.
(Third party images, and cites are provided under fair use guidelines.)
Follow us on Twitter:
ManufacturedHomes
@mhmsmcom

Submitted by Soheyla Kovach to the Daily Business News for MHProNews.com.
Soheyla is a managing member of LifeStyle Factory Homes, LLC, the parent company to MHProNews, and MHLivingNews.com.