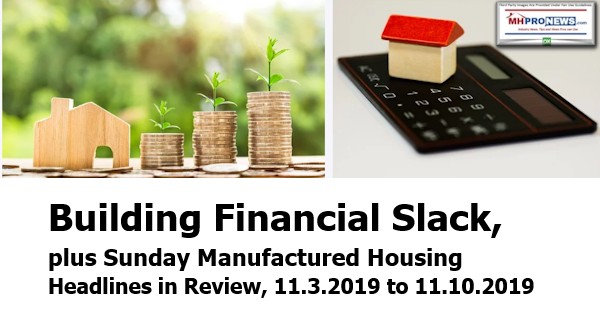 Credit Human is one of the financial institutions that serves the manufactured housing industry. From their website is this pull-quote.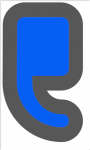 Build Financial Slack
Financial health is not about how much money you make, it's about having enough financial slack. Your income minus expenses is what we mean by financial slack. We believe dedicating yourself to a financial goal of planning and saving will help you build slack and relieve stress."
Individuals as well as businesses can benefit from having less financial or other stress.
But the flip of that statement is equally true.
The more stressed a professional or company is, the more likely someone will quit, fail, or perhaps sell out their business interests at a discounted rate. For those who lack an ethical core, understanding an industry or competitors means grasping weaknesses or potential chokepoints.
Choke Points
Target a chokepoint and a business could be crippled, killed off or forced to financially surrender to a firm with deeper pockets.  If that is done to enough businesses collectively, then a relatively small industry such as manufactured housing is today could witness thousands of businesses that fail that had previously otherwise been successful.  As the Atlantic, IBISWorld, and GuruFocus helped obliquely as well as directly document, that indeed occurred in manufactured housing.  Serious readers who follow those linked reports above and which follow can rapidly see how literally thousands of manufactured home connected companies that had previously been successful were – through choke points – arguably tipped into insolvency.
Earlier this century, manufactured housing had some 10,000 (+/-) manufactured home retailers that vanished in a relatively short period of time, simply by targeting a financial choke point. That purported action dramatically changed the demonstrably most proven form of affordable housing – see the seminal 2018 National Association of Realtor's research on modern manufactured homes – into an industry that came to be dominated on the production and retail side by Berkshire Hathaway, accomplished by deploying the strategic moat. Once more, follow the links for evidence that provides the necessary understanding to that claim.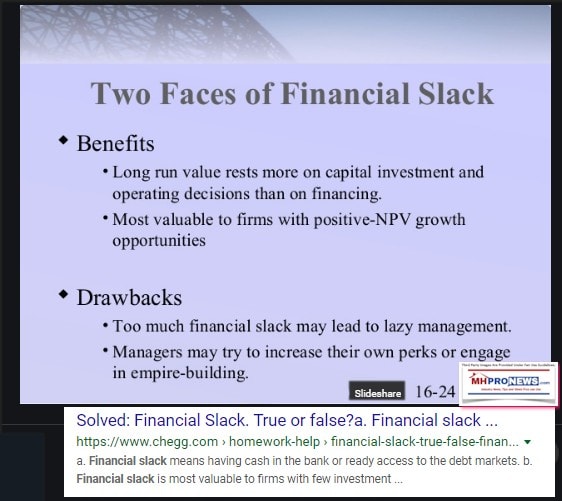 With that said, it wasn't only retail and production that was turned upside down by that financial choke point process.  Those firms that did business directly or indirectly with manufactured home retailers were also impacted. For the next few moments, we will mention others, but will focus more on the impact that had on manufactured home land-lease communities.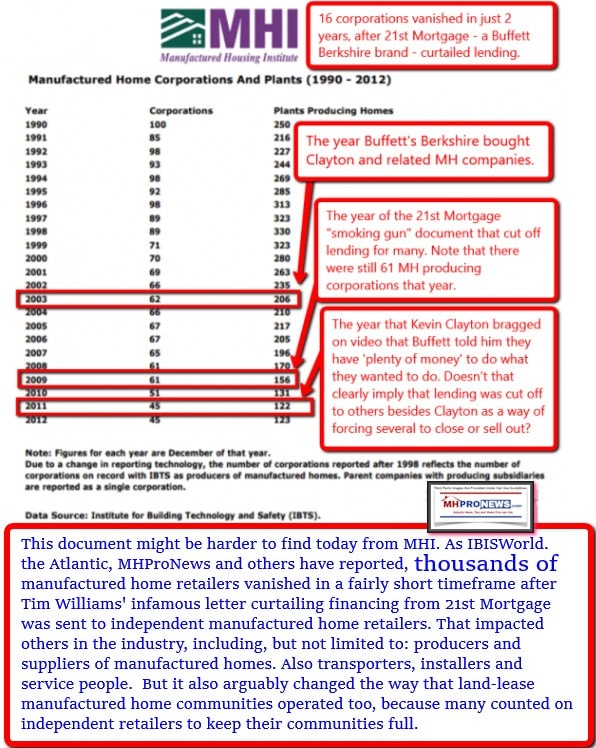 Most manufactured home (MH) communities for decades relied on manufactured home retailers (a.k.a. "dealers") – which for years dominated by independently owned firms. Those retailers sold the manufactured homes that often were delivered to buyers moving into land-lease communities.  By the later part of the 1990s, old Champion and old Fleetwood were buying up independent retailers in order to increase their market share on production. We say 'old' Champion and Fleetwood because the firms that use those names today are rebirths after bankruptcies, consolidations, mergers, etc..  That acquisition trend in the late 1990s by Champion and Fleetwood of independent retailers did not harm MH communities.  Manufactured home retailers delivered the home to privately owned home sites as well as those situations where the home buyer wanted to move into a land-lease community.
So consolidation Champion/Fleetwood style didn't totally disrupt the marketplace, another story, for another time.
But the paradigm began to shift when Warren Buffett led Berkshire Hathaway entered the marketplace in 2003. Keep in mind that had antitrust laws permitted it, Berkshire could have purchased essentially the entire manufactured home production side of the industry. Buffett preaches thinking long-term.  That is a statement one should take seriously. Buffett preaches patience, but there are other things he teaches that may not be quite so innocent.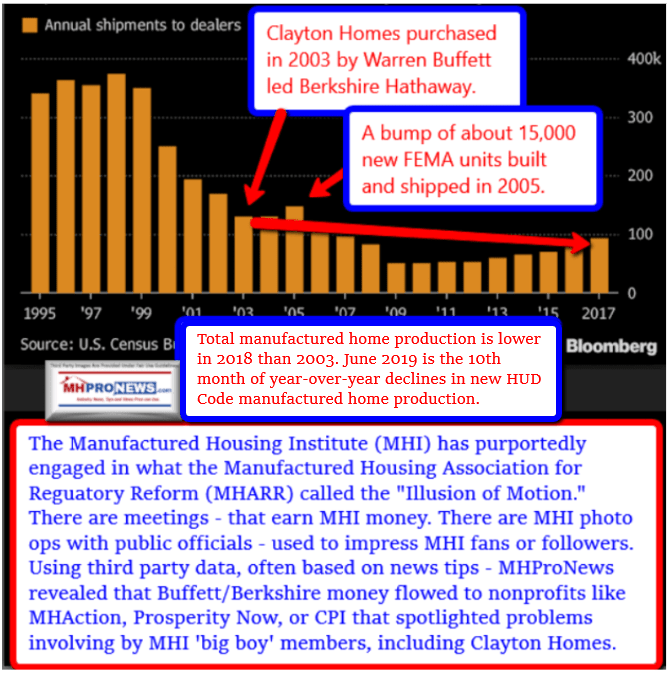 As the graphic above reflects, there was a brief bump up production following the 2003 entry of Berkshire into manufactured housing.  At the time Berkshire bought Clayton Homes, Clayton owned dozens of land-lease communities in various parts of the U.S. In fact, manufactured home communities were a significant part of the value of Clayton's business. But Buffett reportedly decided to spin off the communities, because he didn't want to be seen as 'raising the site rents on grandma.'
Thus Clayton sold those communities to what is now known as Yes! Communities.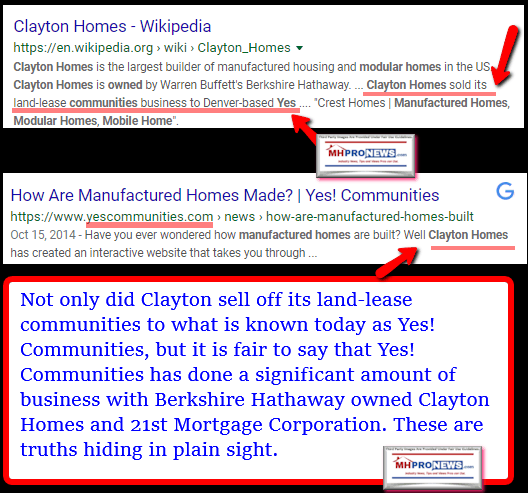 That background is sufficient to tee up the following generalized snapshot.
Lending has long been near the core of the manufactured housing industry. That is true for most any 'big ticket' item bought or sold. As Eric Belsky, then with Harvard's Joint Center of Housing Studies (JCHS), stated it as is shown in the quotation below. When he made that statement, Belsky – who has since gone on to a post in the Federal Reserve system – knew about the financing downturn that hit manufactured housing in the late 1990s.  He understood how it impacted manufactured homes.  Belsky nevertheless expected a recovery of lending, and based on his research, he believed that manufactured housing would dominate over conventional housing by 2010.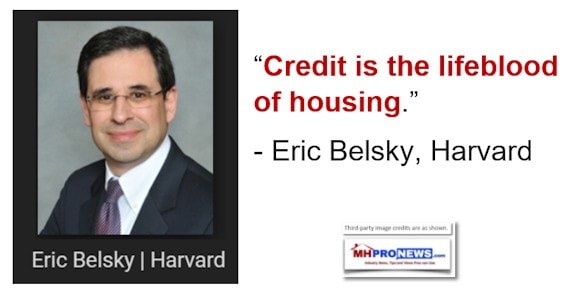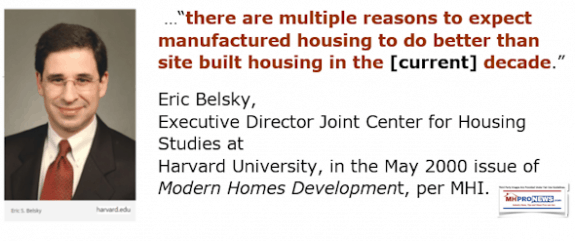 "Why Advocates Need to Rethink Manufactured Home Quality," Harvard, GSE, Genz, "High Satisfaction"
That expected recovery and surge of sales by manufactured housing clearly didn't occur as Belsky thought. Why not?  There were other third-party research reports like the one authored by Richard Genz, found at the link above. Genz did his research for the Fannie Mae Foundation. One might have thought that based on the generally glowing research by third-parties such as Genz or Belsky, manufactured housing would surge. After all, the Manufactured Housing Improvement Act (MHIA) of 2000 was passed and signed into law by then President Bill Clinton.  The industry was already being recognized for quality, the eye appeal was growing too, and the durability and safety plus added consumer protections were all about to be further improved as a result of the MHIA enactment.
For researchers or industry newcomers, it is worth noting that the MHIA was sought by manufactured housing industry leaders.  Those added consumer safeguards were desired, because the vision was not unlike what Belsky predicted. There were good reasons to believe with the huge need for more affordable housing, that manufactured housing 2.0 (after the MHIA 2000) would surge. Lending was perhaps a remaining bugaboo, but much else appeared to be coming into focus.
But appearances can be deceiving, as the graphic below reflects. When you open that image up full size, it reveals that the percentage of new housing starts as well as the numbers of units sold went into decline in the 21st century. When there were solid, third party research that demonstrated why manufactured housing had come of age, how to explain that slide backwards in sales volume? After all, in the early 1970s during the mobile home era, sales dwarfed over 500,000 units two years running. There are still industry professionals alive and kicking who recall those days and others since.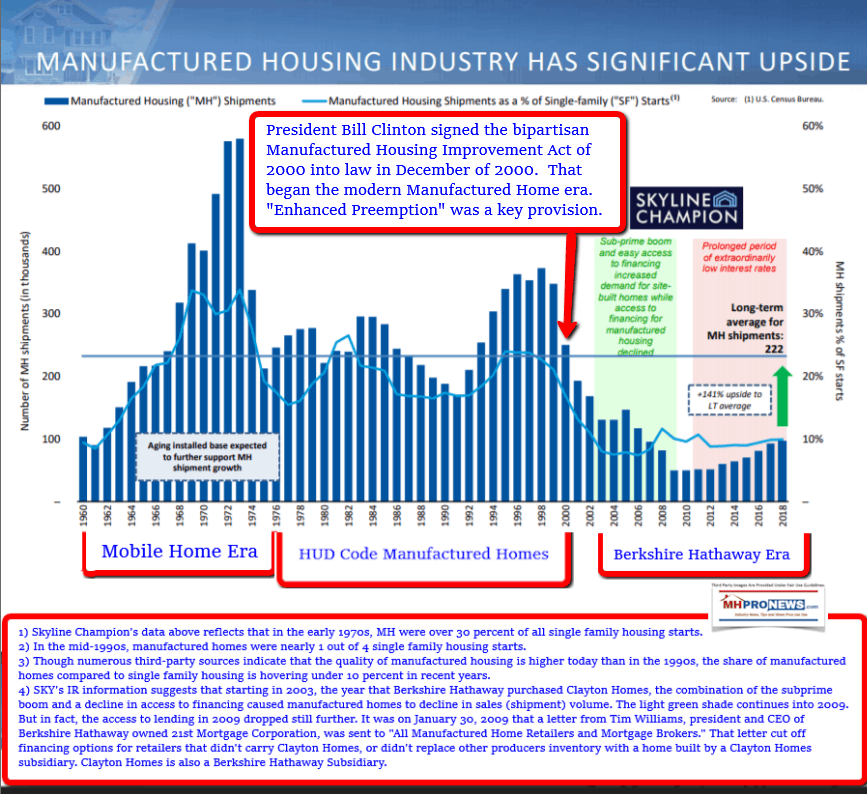 When on keeps in mind that periodic bad news hits all industries – including conventional housing, as the report below exemplifies – why is it that the periodic bad news that hits manufactured housing seem to get disproportionate attention? Is it coincidence that causes bad news to harm manufactured housing more than other industries?  A lack of vision? Something else? Hold those inquires for another time.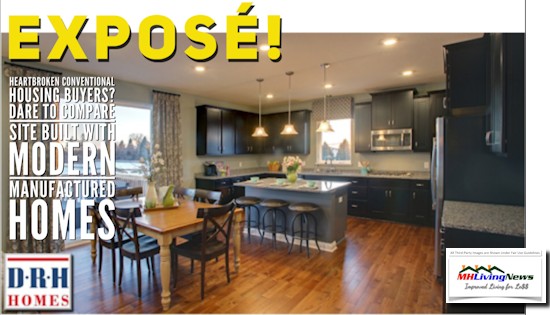 That sets the stage of a recent report about Sun Communities, where we find this comment as part of a conference call with investors.  The importance of that point will be revealed shortly.
—————————————————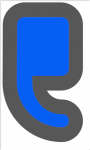 Q) Andrew T. Babin, Robert W. Baird & Co. Incorporated, Research Division – Senior Research Analyst [5]
"…Obviously, manufactured housing is probably the most practical solution available for California's affordability issues, and with the political environment the way it is, is there any more traction in potentially gaining more opportunities in that state to develop ground-up, incorporating affordable components?…"
—————————————————
A) Gary A. Shiffman, Sun Communities, Inc. – Chairman & CEO [6]
"Drew, it's Gary. There certainly is and it's certainly the West Coast, certainly right up to the Northwest is area of concentration where we feel, we can actually develop communities to a better return for our shareholders than buying them at the cap rates that they're trading at currently."
—————————————————
That's significant on several levels. Among them is this. According to the Securities and Exchanges Commission (SEC) regulations, the filings of publicly traded firms are made under penalties of perjury. A company official who knowingly states something inaccurately can face prosecution and jail time. So, one can reasonably count on the fact that Shiffman made an accurate statement. Okay, why does the accuracy of that statement matter?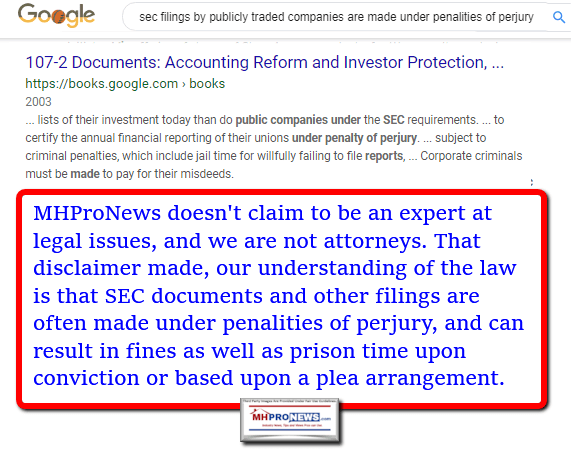 Several reasons.
First, it is additional evidence to debunk the claim advanced by Frank Rolfe and his partners, who argued that no new manufactured home communities should be built. Shiffman's statement serves in part to vindicates our analysis. See that report from the linked image and text box below.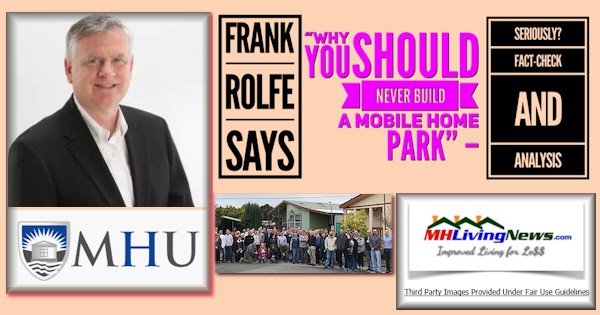 But there's more. In that same reply by Schiffman, above, he cited an example of successfully doing a development.
"…And it still was over 2 years to get a shovel in the ground as being selected and not have to go through the entitlement process. So every aspect of development is got to be thought through, it is slow, it is deliberate, and that's why we have to keep a full pipeline in order to be successful in 1 or 2 instances with the entitlement," Schiffman said.
That investor call for Financial Results for the Quarter and Nine Months Ended September 30, 2019 is dated October 23, 2019. That is months after the Manufactured Housing Institute (MHI), which Sun Communities is a member of, issued a letter that included this pull quote. The entire MHI letter is linked here as a download.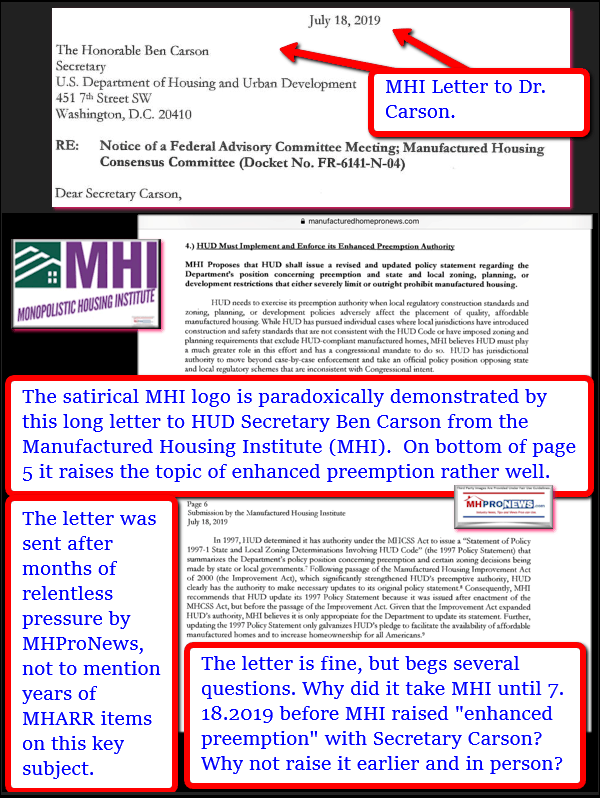 What Does Failure to Promote Enhanced Preemption Mean?
Gary Adamek is a Texas retailer who attends several MHI and Texas Manufactured Housing Association (TMHA) functions.  Adamek previously said the following to MHLivingNews during the Obama Adminstration.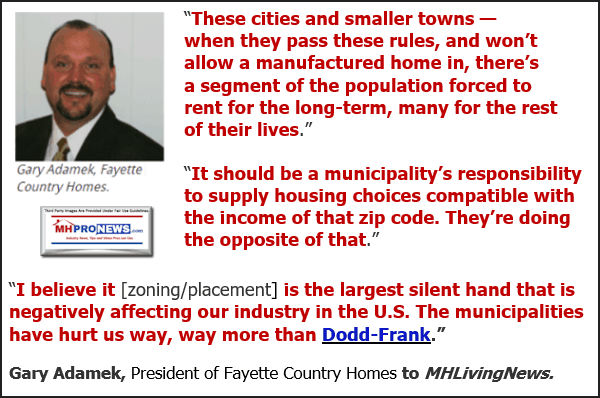 Adamek is hardly alone in that view. MHLivingNews featured a video interview with the Rev. Donald Tye, Jr. Tye owns a factory built home, is parents were in the business, and he raised his family in one that he still owns.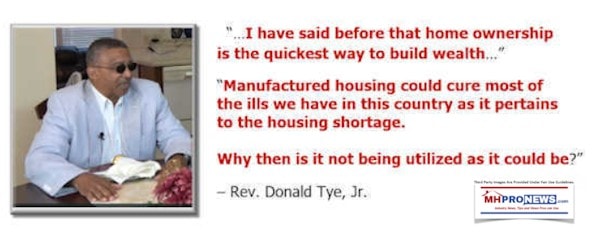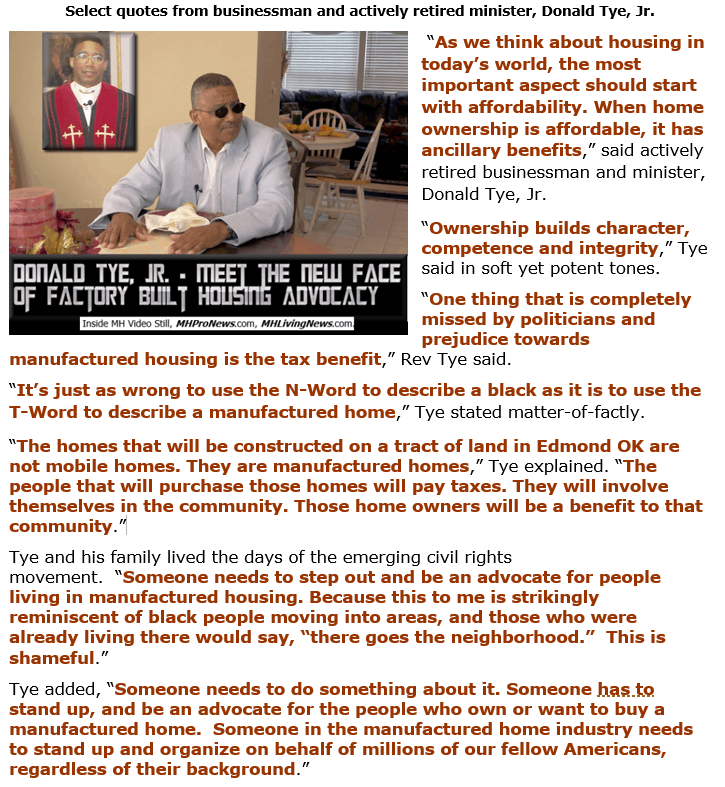 In response to some of Tye's statements, JD Harper, Executive Director of the Arkansas Manufactured Housing Association (AMHA) said the following.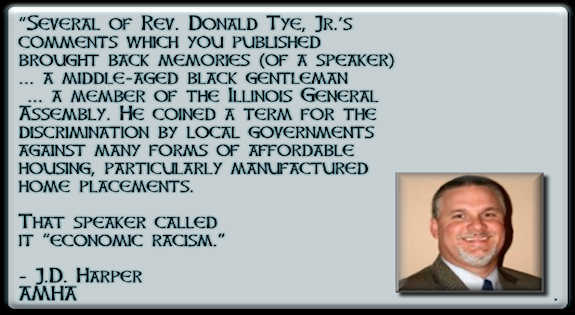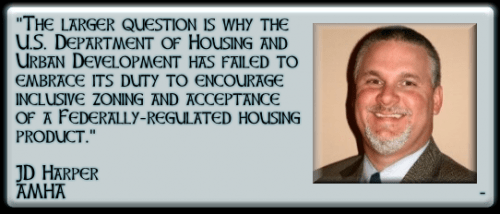 As time moved on, Harper went silent on preemption, as did other state association executives in the industry. Why?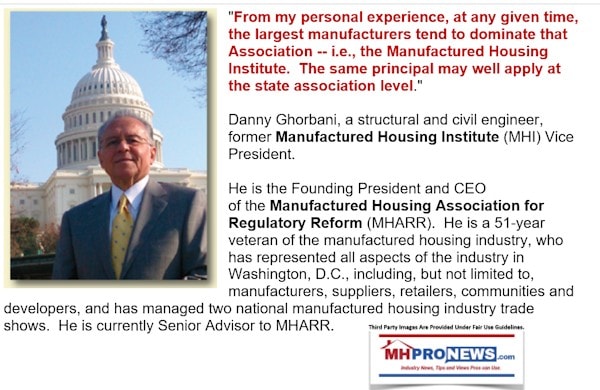 The word heard is pressure and fear for their jobs keeps state association executives in check.
When enhanced preemption isn't applied routinely and robustly, as Adamek said, the net effect is sales lost that could have been made by a private enterprise. That means that some who are renting could be owning. It also means that some who might be self-sufficient in a manufactured home need some level of public assistance to stay in rental housing. Where is the evidence?  Just ponder the implications of the NAR research, with one of several such points that could be made based upon third party data.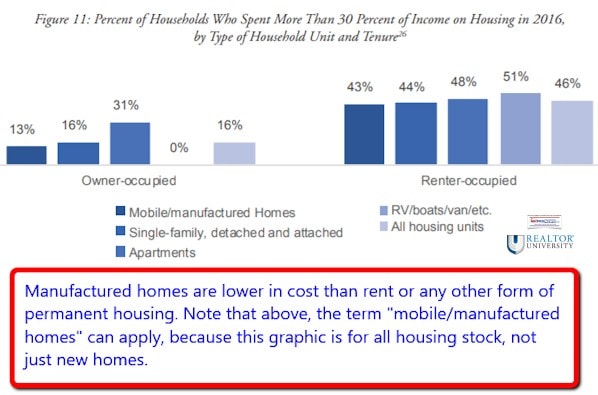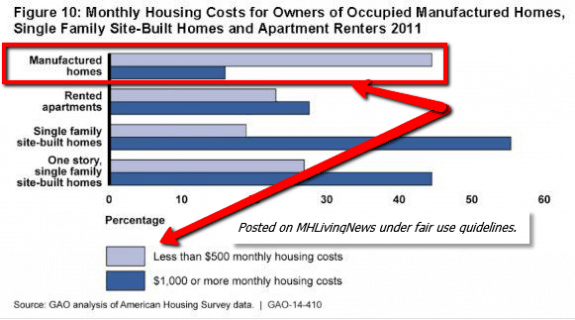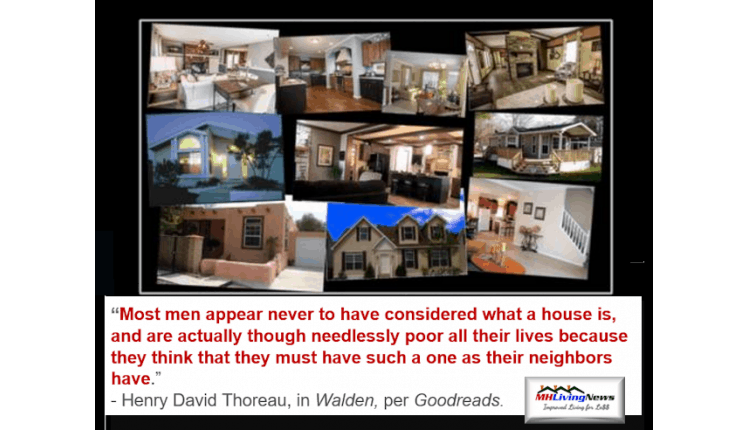 MHI and their big members can't claim ignorance of the MHIA law or its benefits. The allegation of pressure being directly or indirectly applied makes sense.
Ponder the report below, in which the Manufactured Housing Association for Regulatory Reform (MHARR) offered to team up with states – such as the AMHA – to take legal action if necessary to get enhanced preemption enforced.  The outcome from state associations affiliated with MHI? Crickets. With that backdrop, the article linked below by MHARR sheds a dark light on how the powers that be in manufactured housing are arguably manipulating the market in ways that harm the interests of independents, but also current and potential manufactured home owners too.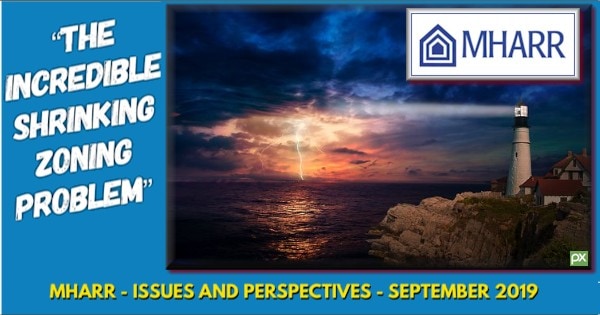 Speaking of MHARR, compare and contrast their clearly public position on enhanced preemption to that of the much larger MHI.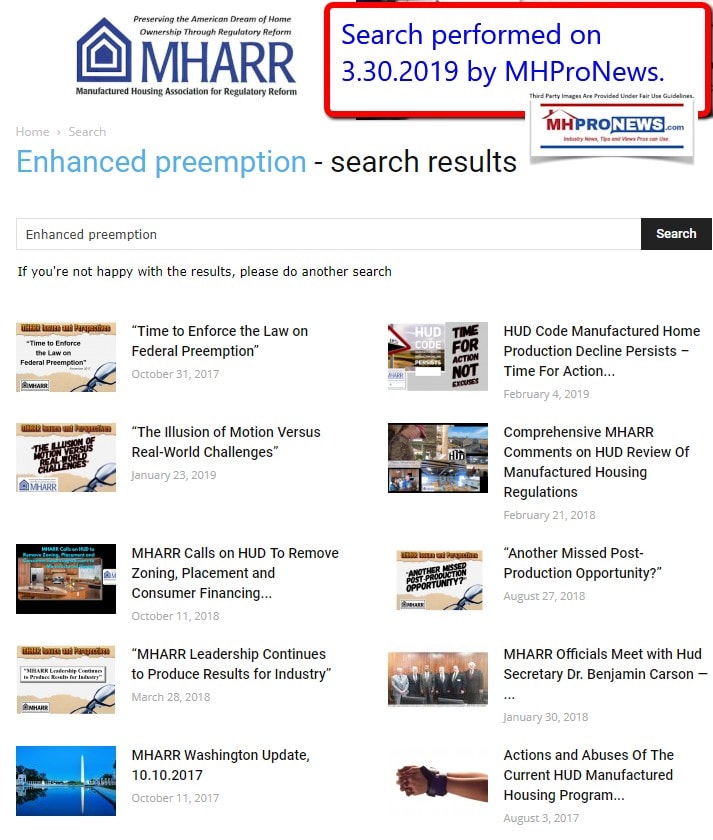 Then consider why these topics matter, as Mark Weiss, J.D., president and CEO of MHARR explained it.  The graphic is by MHProNews, but the statements are those of Weiss.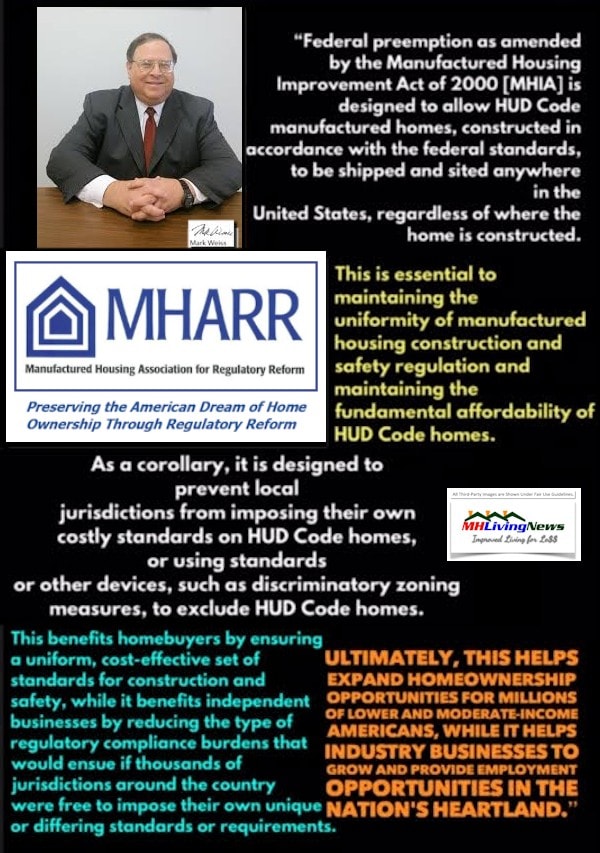 How this Relates to Sun or Other Larger MHI Member Firms
First, MHProNews know from a variety of ways – including tips from inside MHI or the companies involved – that each of the major companies routinely monitors what we publish. MHI has hired an outside attorney that put in writing that their firm was hired to monitor our publication. MHI and their larger members are hard pressed to deny their knowledge of the MHIA and enhanced preemption law. Why does it matter? But a second question might be, why threaten a pro-growth trade publication – MHProNews – when our goal is to see consumers treated fairly and honorably and to see the industry grow?
As noted, publicly traded firms are required to be full disclosure.  Statements to the SEC and investors are purportedly provided under potential legal penalties if they aren't accurate.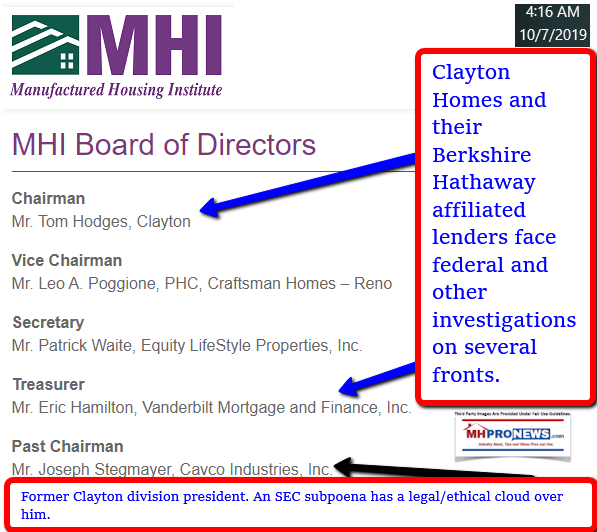 Furthermore, if a publicly traded company's official is communicating misleading information to investors or potential investors via the U.S. Mail, that could result in additional federal charges. Then, if inaccurate information is being conveyed to actual or potential investors via a phone call, a fax, or email, those are under federal laws known as "the wires," and that can result in still other additional felony charges under RICO and/or other laws.
Now as a disclaimer, the publishers of MHProNews are not attorneys. But two different attorneys, according to our understanding of those conversations, agreed with that SEC point and one mentioned still other possible charges, such as deceptive trade practices which could be brought by federal and/or state officials.
Additionally, as Cavco Industries has been brutally reminded, just over a year ago their announcement of the SEC subpoena of their firm and now former Chairman, President, and CEO Joe Stegmayer has resulted in numbers of plaintiffs attorneys doing 'investigations' for harm done to shareholders, Cavco's (CVCO) own filings reflect that has cost the firm millions of dollars. An insider told MHProNews it was a "debacle."
Manufactured Housing Institute on Cavco Industries, ex-Chairman Joe Stegmayer SEC "Debacle"
It isn't only publicly traded firms that are arguably at risk. Even some nonprofits may have cause for alarm too. After all, nonprofits sign IRS paperwork under penalties of perjury too. If they are not accurately representing themselves to members, donors or the public, some of those same charges noted above might apply to anyone foolish enough to have signed such forms that were knowingly in error.
But there's potentially more.
What if someone signs a form innocently enough, but then later discovers – perhaps by reading here on MHProNews and/or being told by a reader of certain problematic issues – then what? There is an arguable need to retroactively amend filings or potentially face charges, per our sources.
Racketeering and Corrupt Practices 
There are a variety of ways that someone can run afoul of the law in civil and or criminal ways.
Ignorance of the law is often no defense, and failure to do the proper due diligence is another issue.
Among the reports below is one from last week that mentions factory-built housing paired with the classic Paramount movie tale that is based on a true story, named Tucker. It is a good film that reminds professionals and others that corruption that can connect businesses – usually bigger businesses – with public officials in ways that rigged the system against the little guys is not new.  It happened during the Gilded age/Robber Baron epoch too.
U.S. Gilded Age – Politics, Monopolies, Corruption, Historic Insights, Lessons Learned?
There is a planned special report, the next of a periodic series that includes facts from publicly traded company information made under penalties of perjury that could shake boardrooms in manufactured housing from coast-to-coast. Watch for that and much more.
But let's look now at recent comments from senators from both sides of the two party system.
"The Republican Party must defend America's working and middle class against "concentrated corporate power" and the monopolization of entire sectors of the United States' economy," Sen. Josh Hawley (R-MO) said in an recent The Realignment podcast.
Senator Elizabeth Warren said in a recent campaign email, "The wealthy and well-connected will always protect each other at the expense of everyone else, and it's going to take a grassroots movement to stop them." MHProNews could line up quotations from President Donald J. Trump, Senator Bernie Sanders or others on either side of the left-right divide that would both point to a 'rigged system.'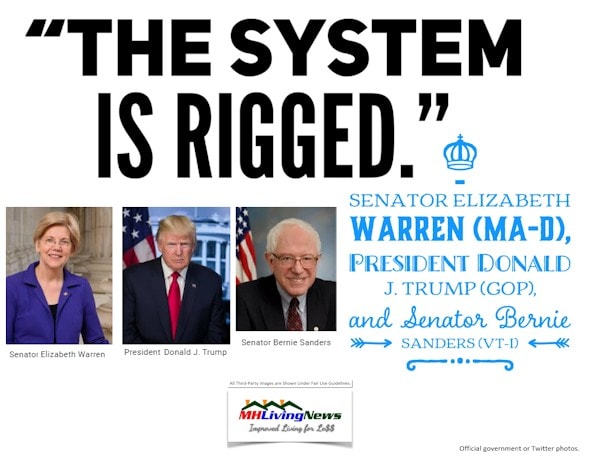 Who involved in manufactured housing can be credibly accused of rigging the system in a fashion that has harmed independents as well as consumers, taxpayers and the public at large? Ponder this quotation.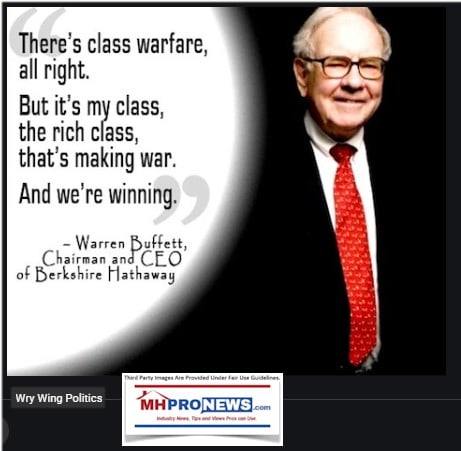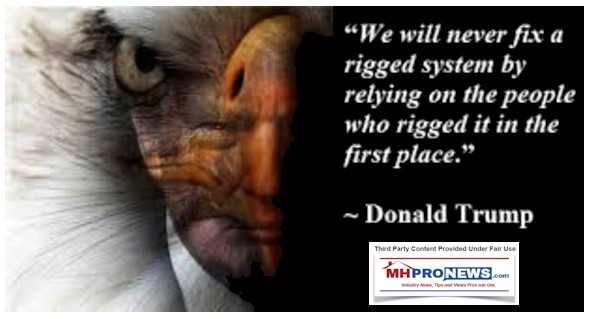 If the truth seems stranger than fiction, never forget the lessons of history or huge scandals that went on for years, such as the Bernie Madoff rip-off of billions of dollars. While there are differences between what is occurring in manufactured housing and what occurred with Madoff, one similarity is this. Both are examples of the truth hiding in plain sight.
Thousands of businesses and potentially millions of actual and potential manufactured homeowners have been harmed by what is arguably occurring in manufactured housing. To learn more, see some of the stories that follow, and most important, circle back to the linked reports above.
Slack has more than one face to it. So too with choke points. Don't miss MHARR's report on DTS and the GSEs, below. It put an interesting dot on the i of the lack of manufactured home lending, despite all the supportive evidence. Who benefits from that lack of lending? Would anyone be surprised if it is the largest two Berkshire Hathaway lenders?
With no further adieu, here are the headlines for the week that was from 11.2.2019 to 11.10.2019.
What's New on MHLivingNews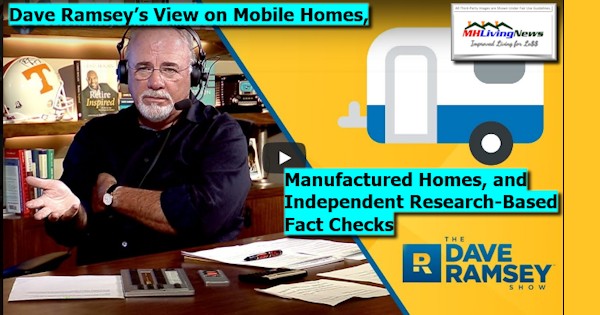 What's New from Washington, D.C. from MHARR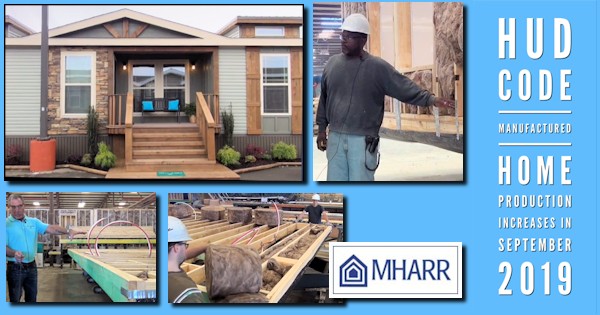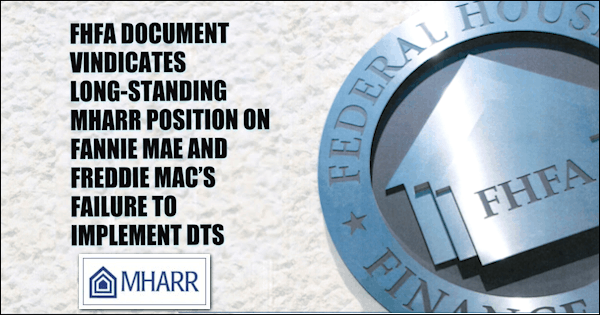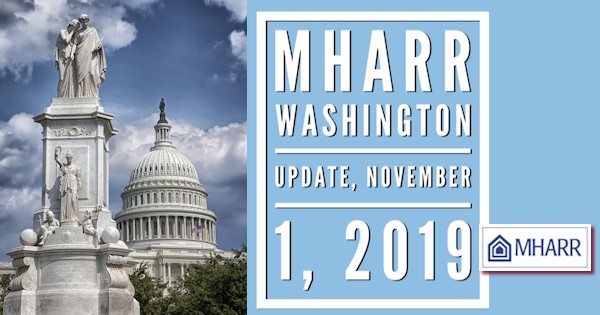 What's New on the Daily Business News on MHProNews
Saturday 11.9.2019
Factoids About Manufactured Housing Professional News Engagement Reveal Federal, Regulatory, Corporate, and Investor Interest
Friday 11.8.2019
Black Voices for Trump Rally Launches Renewed 2020 Game-Plan, plus Manufactured Home Investing, Stock Updates
Historic-Factory Built Homes, Revolutionary Tucker Automobile, Lessons Learned for Modern Manufactured Housing Professionals, Investors, and Advocates
Thursday 11.7.2019
Markets Rise on China-U.S. Trade Hopes, ex-Mayor Mike Bloomberg's Toe in 2020 Waters, plus Manufactured Home Investing, Stock Updates
Senate Testimony on Manufactured Housing, Related Letters, and Statements
Results Are In! The Next President and CEO of the Manufactured Housing Institute Is…
Wednesday 11.6.2019
Warren Buffett Buddy Bill Gates Says, 'I Made a Mistake' Meeting Convicted Sex Criminal Jeffrey Epstein, plus Manufactured Home Investing Stock, Updates
Equity LifeStyle Properties (ELS) Data, Investor Transcript – Manufactured Home Community Facts, Sales, and Analysis
Comparing Equity LifeStyle Properties (ELS) with Sun Communities, IR and Other Manufactured Home Communities Related Insights, Analysis
What New Federal Data Reveals About Manufactured Home Sales Prices by Size, Nationally and by Regions, Analysis
Tuesday 11.5.2019
Concerns Raised by Experts About 2020 Polling Accuracy, plus Manufactured Home Investing, Stock Updates
Mixed Bag in September 2019 Manufactured Home Production, Shipment Data
"Read the Transcript," Proclaimed Trump Supporters' Tee Shirts As Key Campaign Votes Loom
CBS Spotlights Manufactured Home Community Leader Video Interview
Monday 11.4.2019
Patrick Industries (PATK) Latest Quarterly and Investor Data Unpacked for Manufactured Home Insights
Macro-Economic Outlook Good, Stocks Set New Records, plus Manufactured Home Investing, Equities Updates
Manufactured Home Community-Connected Professional Sounds Alarm, Impact Communities, Frank Rolfe, Dave Reynolds, and Looming Rent Control
Where Left, Right Can Agree? "It's Time to Fight Back" – Senator Elizabeth Warren, Matt Stoller, Jason Johnson, President Trump
Sunday 11.3.2019
Lesli Gooch's Award-Winning White House Manufactured Housing Meeting, plus Sunday Morning Manufactured Home Pro Headlines in Review-10.27 to 11.3.2019
The lady that handles this normally has this Sunday off, but ladies and gents, don't worry.  We'll have her back at it before dawn thirty tomorrow morning with another one of her fine reports.  Don't miss it.
That's all for now, thanks for making us the manufactured housing industry's runaway most-read source for manufactured housing "Industry News, Tips, and Views Pros Can Use," © where "We Provide, You Decide." © (Weekly headline news recap, affordable housing, manufactured homes, lifestyle news, reports, fact-checks, analysis, and commentary. Third-party images or content are provided under fair use guidelines for media.)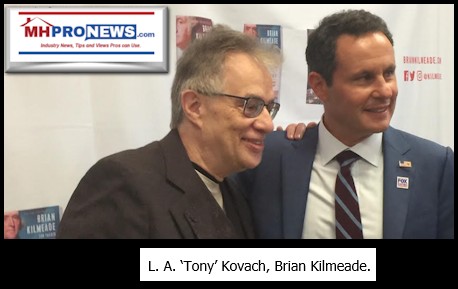 (See Related Reports, further below. Text/image boxes often are hot-linked to other reports that can be access by clicking on them.)
By L.A. "Tony" Kovach – for MHLivingNews.com.
Tony earned a journalism scholarship and earned numerous awards in history and in manufactured housing. For example, he earned the prestigious Lottinville Award in history from the University of Oklahoma, where he studied history and business management. He's a managing member and co-founder of LifeStyle Factory Homes, LLC, the parent company to MHProNews, and MHLivingNews.com. This article reflects the LLC's and/or the writer's position, and may or may not reflect the views of sponsors or supporters.
Connect on LinkedIn: http://www.linkedin.com/in/latonykovach
Related References:
The text/image boxes below are linked to other reports, which can be accessed by clicking on them.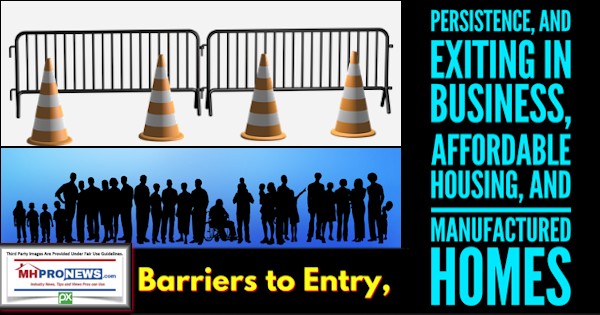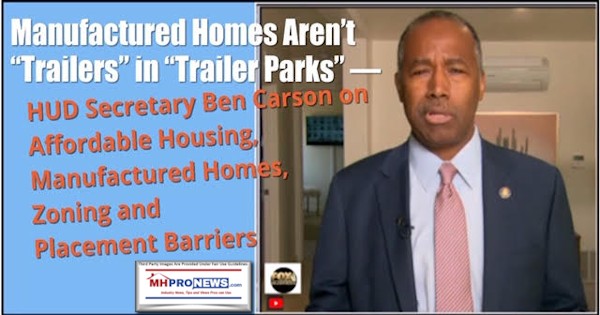 Does Misinformation Matter? Revealing But Misleading 'News' by MHInsider and the Manufactured Housing Institute?