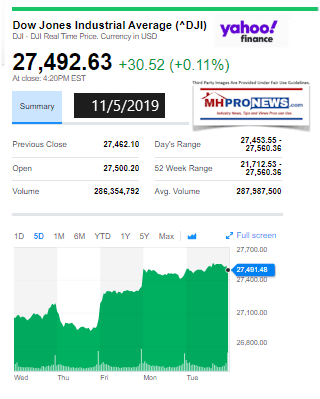 Markets closed mixed, modestly up or down today, following and/or adding to record highs. Those numbers and our nightly recap of manufactured housing connected stocks are all spotlighted further below. But our focus report tonight will be on political polling, trashed by many following the 2016 election cycle, but often quite accurate in the 2018 midterm races. President Donald J. Trump has pushed back hard on polling, but even right-of-center Fox News has defended the methodology of their surveys. On a night when races in several states may provide clues as to how 2020 is shaping up – and how close or off opinion polling is not, Manufactured Home Pro News (MHProNews) will look at several items that come from mostly left-of-center media and political sources, to see what light they shed on this topic.
Regular readers please note there are a few tweaks to some of the standard portions of our evening market/investing report. Read carefully as some changes of the 'standard text' that follows before our left-right headlines and also in other features near the end of tonight's reports.
Every evening our headlines that follow provide snapshots from two major media outlets on each side of the left-right news spectrum that reflect topics that influence or move investor sentiment. In moments on this business evening report, you can get 'insights-at-a-glance.'
This report also sets the broader context for manufactured housing markets, in keeping with our mantra, "News through the lens of manufactured homes and factory-built housing" ©.
We begin with headlines left-of-center CNN followed by right-of-center Fox Business. We share closing tickers and other related data courtesy of Yahoo Finance, and more. 5 to 10 minutes reading this MHProNews market report every business night could save you 30 minutes to an hour of similar reading or fact-gathering elsewhere.
Perhaps more important, you will get insights about the industry from experts that care, but also dare to challenge the routine narrative that arguably keeps manufactured housing underperforming during an affordable housing crisis.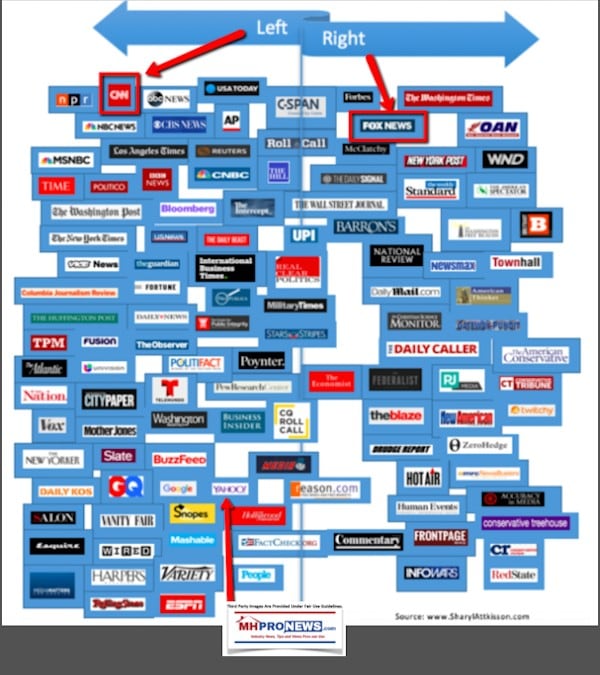 Newsy, Peeling Back Media Bias, Manufactured Housing Sales, Investing, Politics, and You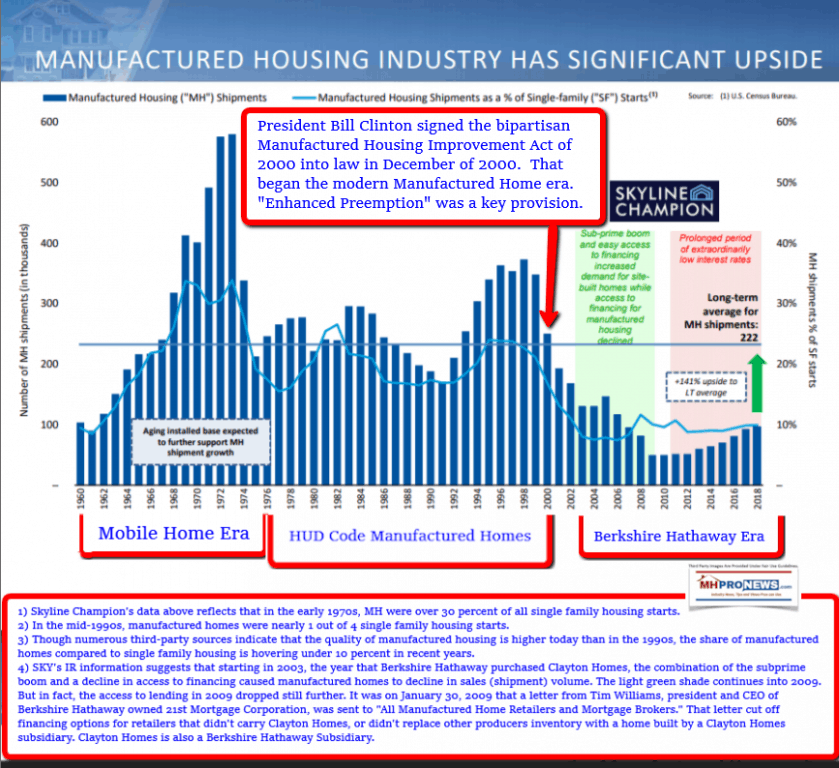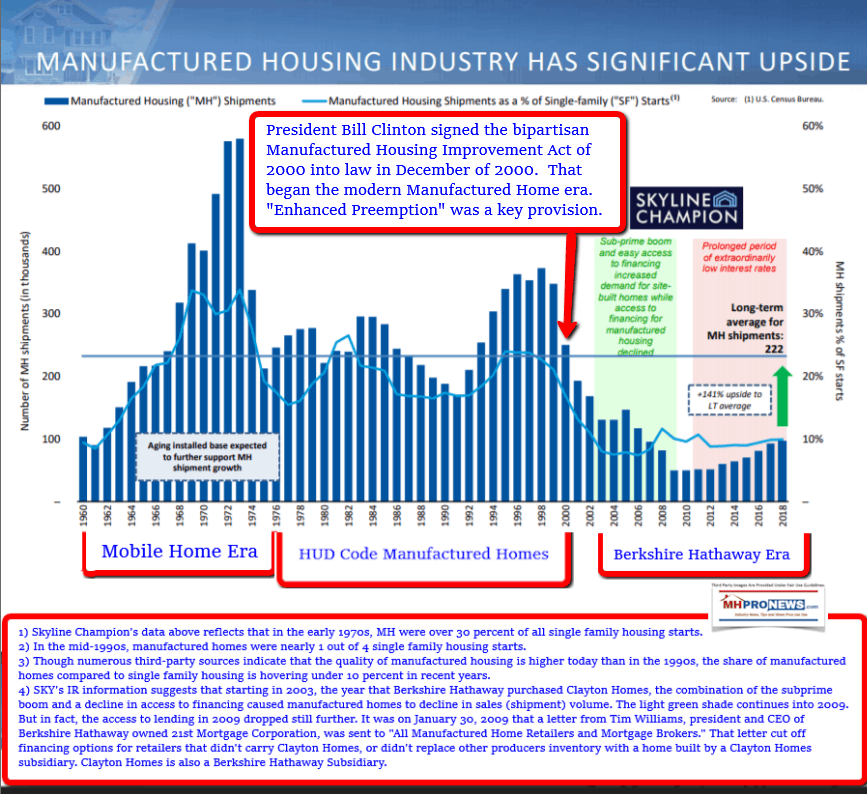 Headlines from left-of-center CNN Business.
Walgreens stock pops
It's one of the Dow's worst performers this year, but shares climbed on a report it may go private
Boeing's CEO is taking a massive pay cut
Dow and Nasdaq hit new records for second day in a row
Extreme greed reigns on Wall Street. Here's why investors are so confident
The presidential election is in one year. Here's what that means for stocks
Recession is not right around the corner, Fed official says
Fracking pioneer Chesapeake Energy is drowning in debt
Papa John's is still haunted by its founder using the n-word
Opinion: WeWork is a cautionary tale about golden parachutes and CEO pay
G/O Media's editorial director resigns after fall of Deadspin
Lamborghini's newest breakthrough could forever change electric cars
What can you do now to financially prepare for a layoff?
Why January 2 will be the busiest day of the year for UPS
FOR THE CORDCUTTERS – What you should know about the new wave in streaming
NBA releases streaming service for live games
A side-by-side comparison of the streaming platforms
Here are the movies and shows coming to HBO Max
World's largest movie theater chain gets into streaming
We spent a day shadowing Google interns. Here's what it's really like
What it takes to be a $200,000-a-year nanny
CEOs in love: How power couples make their lives work
ADHD isn't a career killer. Just ask these executives
A real life Schitt's Creek: What it's like to own a whole town
Headlines from right-of-center Fox Business.
PG&E and California Gov. held intense closed-door meeting over fires, blackouts
Newsom also reiterated the state would consider a potential takeover of the utility if the bankruptcy is not resolved by June 30.
Dow closes at record high as killer streak for stocks continues
US-China trade war's tit-for-tat retaliation abating: Goldman Sachs
FCC approves T-Mobile-Sprint merger
Don't blame big tech for California's housing crisis — here's the real culprit
US sued over car crash involving federal agent, Anthony Scaramucci's wife
The shocking reason San Francisco may have more dogs than children
Bed Bath & Beyond bucks trends, tradition to open on Thanksgiving
SEE PICS: Ford rolls out new Bronco
What it costs to go to the top 5 business schools in America
Spanx founder buys 'Grease' pants made famous by Olivia Newton-John
US cities with the most expensive commute
Woodworker's 'thin blue line' flag sparks controversy
Facebook's new logo is getting trashed online
Uber's 'self-driving' cars crashed 37 times in 18 months with one fatality
Porsche turns to the speedway to lure more customers
Fallout from fired McDonald's CEO's relationship with employee continues
How much AT&T will pay to settle claims it misled customers
Tesla's survival facing $50 billion threat
HEAR IT: ABC News anchor caught on mic making bombshell Epstein claim
Taxpayers shelling out millions to chauffeur election officials around in black cars
Need an easy family vacation for the holidays? This CEO has an obvious suggestion
Buttigieg leads 2020 Dems in support from this industry
Medical marijuana becoming available, but doctors say there's a problem
Why humble CEOs make a better investment than their narcissistic counterparts
Instagram CEO, family faced online attack that became all to real
5 US cities with the most million-dollar homes
Are millennials actually being smart about paying for housing?
The worst flame outs and greatest successes of bosses dating their employees
Crocs sales soar after Post Malone, Luke Combs collaboration, designer partnerships
WATCH: RNC chairwoman's prediction about battleground states in 2020 election
'Goodness and humor' celebrated as 'Sesame Street' turns 50
Number of US job openings slips, but latest labor report isn't all bad news
US trade deficit falls to lowest level in five months
Why these shoppers will shun US brands on busiest shopping day
How fast food chains are feeding on healthy diets
Avoid flying on these days during the year
Aramco aside, US rivals Saudi Arabia for oil domination
When you'll be able to get your hands on Dunkin's Beyond Sausage sandwich
Bankruptcy filings in this state reach highest level in 5 years
Stella Artois releases first-ever limited-edition seasonal brew
NBA TV available in direct-to-consumer offering
WATCH: Mike Huckabee says Trump has done more for GOP 'than any other president'
Hundreds of Google employees demanding this from company
Seattle woman suspected of Capital One hack granted bond
'Spinal Tap' creators finally settle lawsuit over rights to soundtrack
US teen vaping numbers climb, fueled by Juul and mint flavor
College basketball officials on the offensive amid NCAA allegations
10 Market Indicator Closing Summaries – Yahoo Finance Closing Tickers on MHProNews…

Focus/Featured Report – Markets/Political/Big Picture/Stock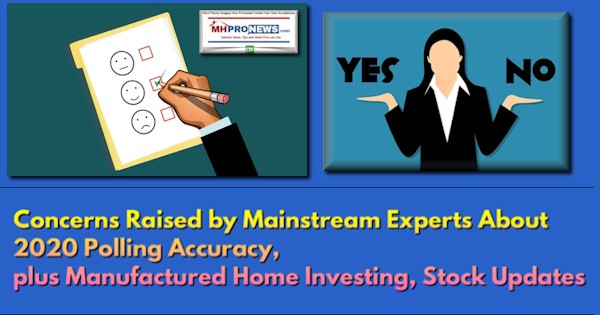 CNN and NBC News, both left-of-center news sources that are generally viewed as anti-Trump media outlets, are among the mainstream media sources that sent reporters to key battleground states to see how support for President Donald J. Trump is holding up.
What they found was surprising. Despite the largely negative media coverage from those same news sources, not to mention others, they were hard pressed to find Trump supporters who changed their minds about their dedication to the 45th president. Furthermore, even some Democrats felt the impeachment process was largely political, rather than based upon some tangible offense.
Democrat and former San Francisco Mayor Willie Brown, seen as a mentor to Senator Kamala Harris (CA-D), and respected by many of his party's faithful, wrote days ago in an op-ed that impeachment will be a failed strategy.
Brown isn't alone. NBC/MSNBC's F. Chuck Todd, likewise known for strong anti-Trump views, is doubting that this Democratic play for making impeachment in the House a key to their 2020 election plans is a winning strategy. Indeed, colleague Tom Brokaw expressed similar doubts recently.
Longtime NBC Anchor Tom Brokaw's Stunning Impeachment Reveal, plus Manufactured Home Investing, Stock Updates
But those factoids aren't a one-for-one tie-in to the report below, but rather a broader context for what follows from former CNBC producer Jake Novak. Novak is described as a political and economic analyst in an article today for that media outlet.
Novak's article for left-of-center CNBC focused instead on the polling process.
He raised some concerns akin to what MHProNews noted in the run-up to the 2016 voting. Ours was one of those minority media outlets in 2016 that believe that there was a path for a Trump win in the weeks before the election, despite polling that overwhelmingly predicted a former Secretary of State Hillary Clinton victory. MHProNews did so in part by using mainstream polling, but adjusting for internal skewing of data, or cross-references to other mainstream polling in key battleground states.
Rephrased, by adjusting for nuances in the data, we were able to correctly project several of the battleground states that ended up going for Donald J. Trump, giving him the victory on election night in 2016.
The left-of-center New York Times, in a recent report, made a similar case just days ago. Specifically, they said that when viewed on a state-by-state basis in key battlegrounds where the 2016 election was decided, President Donald J. Trump – despite national polls – is actually poised a year out to the 2020 election to not only repeat those victories, but potentially to increase his margin of victory in other battleground states.
Given that the election will impact markets and the economy, for good or ill, it is prudent for professionals, investors, and others – as many already do – to follow those trends.
CNBC said today that investor Paul Tudor Jones believes that the S&P 500 would plunge some 25% if Senator Elizabeth Warren were elected, but jumping another 15% should President Donald J. Trump would win re-election.
Jones isn't alone in his concerns. Former Senator Bill Nelson (FL-D), said that if Warren is the nominee, because of her healthcare and other policies, the party will lose in 2020. Nelson backs more moderate Joe Biden.
The video with Paul Tudor Jones is posted below.
With that tee-up, here are some pull quotes from the analysis by Novak
In reporting about the 2020 presidential contest, it's likely that at least some of those stories quote nationwide polls.
Yes, there are some reports on the statewide contests between the Democrats and versus President Trump. But the lion's share focus on the national picture.
That's what we saw Tuesday, with the major headlines coming out of the ABC News/Washington Post poll showing President Trump trailing five different Democratic candidates nationally. Publicizing polls like that may sound innocent enough, but here's the problem: that's not how we play this game.
Hopefully most Americans have figured out that both the primary elections to choose a presidential nominee and the general election to choose the president are state-by-state contests.
The simple solution to all of this undue focus on national polls is to simply focus more on the state-by-state polls, right? That's what The New York Times did earlier this week with a special focus on the polls in six battleground states.
That makes sense in theory, but presents a new problem: statewide polls are much less reliable than nationwide surveys. Americans found that out on Election Night in 2016, when polls predicting victories for Hillary Clinton in the key swing states of Michigan, Pennsylvania, and Wisconsin all turned out to be wrong.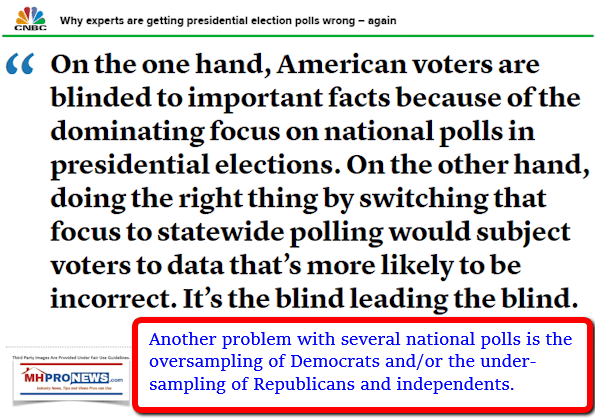 It is worth noting several mainstream reports that former HUD Secretary Julian Castro and Senator Kamala Harris (CA-D) are cutting back on campaign staff. That is often a precursor to a last ditch, do or die, effort in Iowa – where both candidates are currently well behind the front runners.
See the related reports below for more on the evolving 2020 contest, and how it may impact the manufactured home industry and the broader economy.
Related Reports:
Where Left, Right Can Agree? "It's Time to Fight Back" – Senator Elizabeth Warren, Matt Stoller, Jason Johnson, President Trump
"Read the Transcript," Proclaimed Trump Supporters' Tee Shirts As Key Campaign Votes Loom
Senator Elizabeth Warren Releases How-to-Pay 'Medicare for All' Plan, Ripped by Former VP Joe Biden, plus Manufactured Home Investing, Stock Updates
MHARR Rips FHFA, GSEs on "Gutted" DTS; Warns MHCC Being Undermined by HUD Manipulation
Manufactured Housing Industry Investments Connected Closing Equities Tickers
Some of these firms invest in manufactured housing, or are otherwise connected, but may do other forms of investing or business activities too.
NOTE: The chart below includes the Canadian stock, ECN, which purchased Triad Financial Services, a manufactured home industry lender
NOTE: Drew changed its name and trading symbol at the end of 2016 to Lippert (LCII).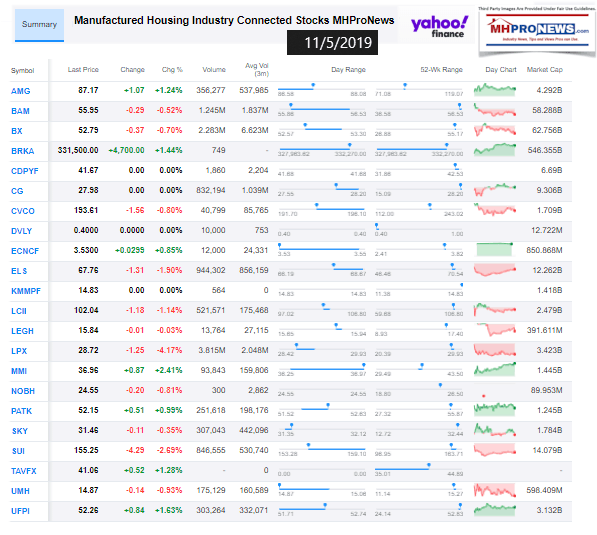 Updated for Fall 2019…
Berkshire Hathaway is the parent company to Clayton Homes, 21st Mortgage, Vanderbilt Mortgage and other factory built housing industry suppliers.
· LCI Industries, Patrick, UFPI, and LP each are suppliers to the manufactured housing industry, among others.
· AMG, CG, and TAVFX have investments in manufactured housing related businesses.
For insights from third-parties and clients about our publisher, click here.
Enjoy these 'blast from the past' comments.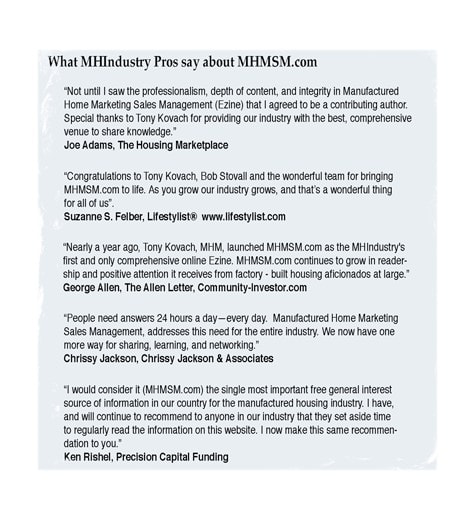 Celebrating 10 Years of Goal- and Solution-Oriented Manufactured Home Industry Innovation Information, and Inspiration for Industry Professionals
· For expert manufactured housing business development or other professional services, click here.
· To sign up in seconds for our industry leading emailed headline news updates, click here.
Disclosure. MHProNews holds no positions in the stocks in this report.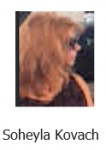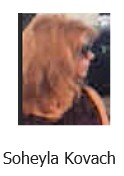 "We Provide, You Decide." © ## (News, analysis and commentary.)
(Image credits and information are as shown above, and when provided by third parties, are shared under fair use guidelines.)
Submitted by Soheyla Kovach, co-managing member of LifeStyle Factory Homes, LLC and co-founder for MHProNews.com, and MHLivingNews.com.