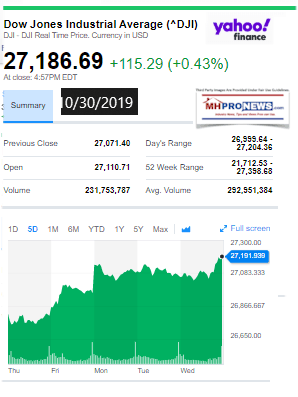 With the Fed cutting rates, Apple declaring they have over $200 billion in cash on hand, and GDP estimated as having slowed to 1.9 percent, none of those will be our feature tonight. Impeachment mania has seized the much of the news cycle, with barely a pause when the top two ISIS leaders will bagged, and California fires a distant second. With politics driving D.C., and often the markets, NBC's former anchor Tom Brokaw's insight will be our feature this evening.
Regular readers please note there are a few tweaks to some of the standard portions of our evening market/investing report. Read carefully as some changes of the 'standard text' that follows before our left-right headlines and also in other features near the end of tonight's reports.
Every evening our headlines that follow provide snapshots from two major media outlets on each side of the left-right news spectrum that reflect topics that influence or move investor sentiment. In moments on this business evening report, you can get 'insights-at-a-glance.'
This report also sets the broader context for manufactured housing markets, in keeping with our mantra, "News through the lens of manufactured homes and factory-built housing" ©.
We begin with headlines left-of-center CNN followed by right-of-center Fox Business. We share closing tickers and other related data courtesy of Yahoo Finance, and more. 5 to 10 minutes reading this MHProNews market report every business night could save you 30 minutes to an hour of similar reading or fact-gathering elsewhere.
Perhaps more important, you will get insights about the industry from experts that care, but also dare to challenge the routine narrative that arguably keeps manufactured housing underperforming during an affordable housing crisis.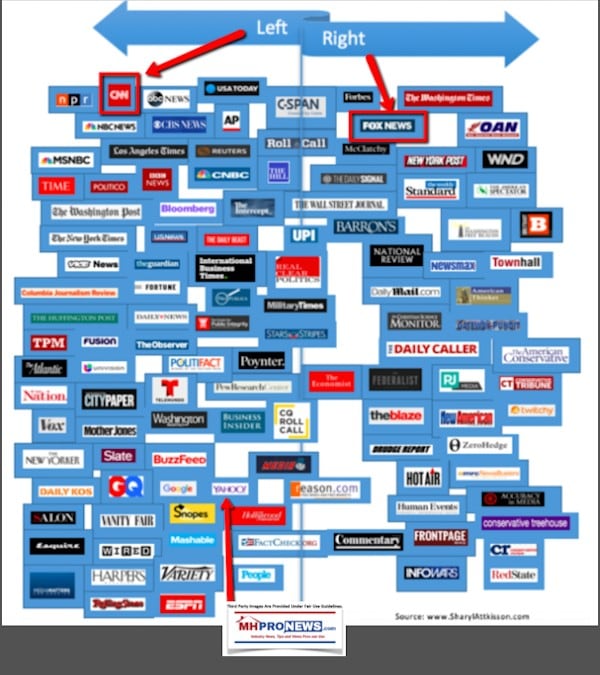 Newsy, Peeling Back Media Bias, Manufactured Housing Sales, Investing, Politics, and You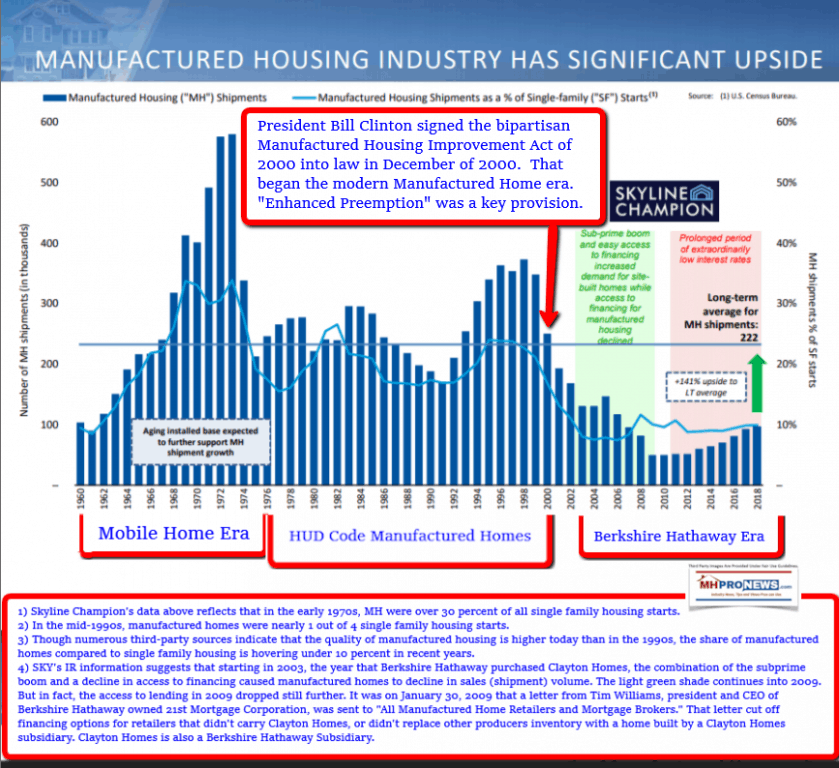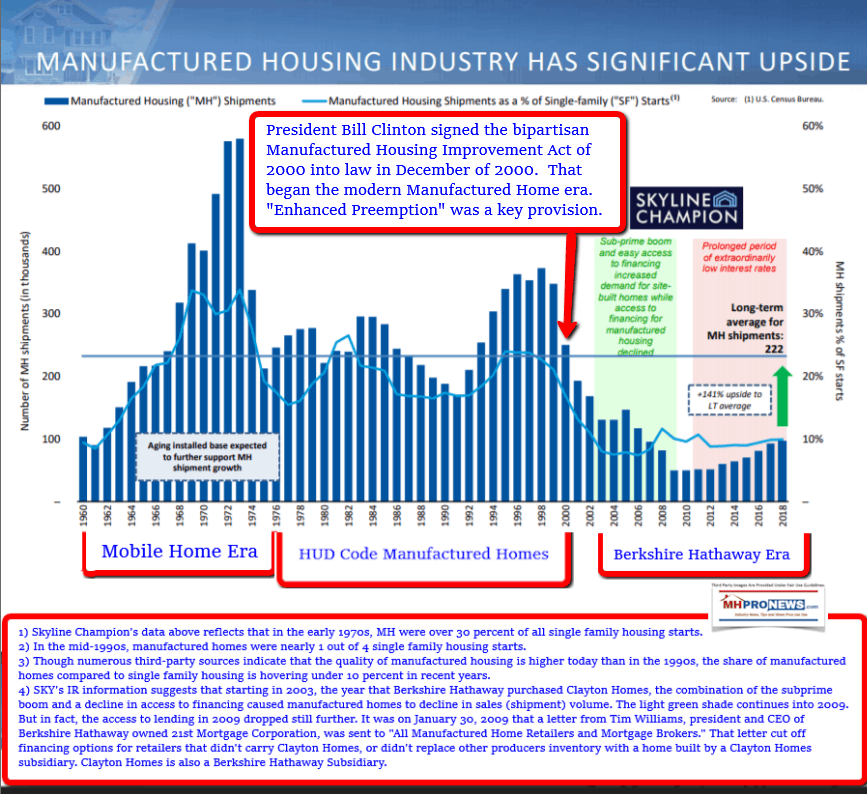 Headlines from left-of-center CNN Business.
Mark Zuckerberg defends political ads
Facebook's CEO adamantly supports the decision to keep running the ads on its platform
Facebook let a fake page posing as the Trump campaign run political ads
He's running for governor to run false ads on Facebook. Now Facebook is stopping him
Twitter will stop accepting political ads, Jack Dorsey says
iPhone sales are in a slump. But other revenue streams keep growing
Fed cuts rates for the third time as US economy slows
Worried about a recession? America's consumers say they aren't
Deadspin staffers quit in solidarity with ousted editor
Facebook executive responds after inclusion of Breitbart, a site known for misinformation, in news tab sparks uproar
NBC News Digital staff announces plan to unionize
Why supermarkets are building 'dark stores'
3-underscored airpods pro
4 things you should know about the AirPods Pro launching today
Guests hold glasses of beer during a reception following the official opening event of the Molson Coors Canada Fraser Valley Brewery in Chilliwack, British Columbia, Canada, on Tuesday, Sept. 17, 2019.
Molson Coors changes its name and will cut up to 500 jobs
Carlsberg is working on beer bottles made of paper
Craft breweries are changing South Africa's beer industry
Bud Light maker says rival has top secret recipe
How a 500-year-old German brewery started an eco-friendly beer trend
How the maker of Skittles and M&Ms gets ready for Halloween
Watch how Skittles are made
Burger King is selling a 'Ghost Whopper' for Halloween
Chipotle's $4 Halloween 'Boorito' deal is back
Here's a grown-up treat: Chocolate beer
The new 760 Horsepower Ford Shelby GT500
Ford Shelby GT500 is track ready but road friendly
How the world's largest candy company prepares for Halloween
See Apple's new AirPods Pro
Here's a first look at the new HBO Max
The United States Air Force announced its mysterious X-37B space plane landed on October 27, 2019, after 780 days in space.
Mysterious space plane lands after 780 days in orbit
Your home may not be a mansion. But you might still have to pay a 'mansion tax'
How managers can work well together, even when they don't agree
Lloyd Blankfein fears Elizabeth Warren wants 'cataclysmic change' for US economy
Why CEOs are paid so much
Woman with iPhone 5s checking all time his smartphone with internet connection. Internet addiction.
Apple warns some iPhone users: Update your phone or lose internet
This company turns emissions into fuel
Sony is shutting down PlayStation Vue live TV service
States ask internet search rival for evidence in antitrust probe of Google
Hong Kong falls into recession after a decade
Streaming wars scorecard: What to watch and how much it will cost
HBO Max goes 'all in' on its big genre-driven streaming bet
Deadspin revolts and editor fired over 'stick to sports' mandate
Taxing college athletes' scholarships? Here's how it could work
Burr hasn't released details but the proposal has already raised a host of concerns.
Headlines from right-of-center Fox Business.
NCAA votes to let student athletes profit from their names, images
EXCLUSIVE: Wall Street warms up to Elizabeth Warren as she rises in polls
KEYSTONE SPILL: Pipeline shut down as officials work to contain oil leak
Ron Paul: Here's the Fed's latest bad idea, and why it's none of their business
What you need to know about the Web.com data breach
The most dangerous cities for trick-or-treaters across US
Fed cuts interest rates for third time this year, but signals pause in easing
Twitter bans political ads ahead of 2020 election
Stocks rally to record as Fed's Powell indicates rate hike not coming soon
Why filmmaker Oliver Stone is praising Vladimir Putin
This restaurant is offering wings for a quarter each, but there's a catch
This airline is holding 'Monster Sale' with prices so low it may scare you
Kanye West made $115M in 2018, but still racked up huge debt
FedEx Ground manager accused of massive corruption
Taylor Swift lands in the middle of US-China firestorm
How Reagan library was protected as monster fire came within feet of property
Number of uninsured kids takes a surprising turn
Apple shares rise on strong quarter as AirPod Pro, Apple TV+ launch
'Shark Tank' star O'Leary opens up on wife boating crash that caused death
Porn website offering free membership to anyone who does this
Is private equity to blame for health care price gouging?
Major US city takes big step toward banning this delicacy after outcry from animal lovers
Here's your next great investment
UN climate chief says exploring options for hosting climate talks after Chile withdraws
Apple CEO's handling of trade war has helped buoy shares, investors say
Attention Walmart shoppers! Streaming service Vudu for sale?
Hedge fund billionaire Bill Ackman says WeWork has 'high probability of being a zero'
The American steakhouse isn't dead, chef says
These are the most dangerous US cities for trick-or-treating
Animal startups making it rain cats and dogs as spending rises
More bad news for jailed pharma bro Martin Shkreli
Is it too soon for holiday shopping?
Facebook agrees to pay fine over Cambridge Analytica scandal
Congress torches Boeing CEO's $30M salary after 737 Max crashes
Arena Football League's future in doubt, suspends team operations
These are the most surprising causes of death in all 50 states: report
Chile drops out of hosting major global summit as riots shut down country
Melania Trump travels to South Carolina school to learn about emergency preparedness
Struggling cranberry farmers look to save business with Hail Mary to the sky
Varney: California wildfire chaos may bring the political change it so desperately needs
The last US president you'd suspect has a fragrance out
Here's one of the most unexpected perks for fans if colleges pay athletes
Juul denies ex-executive's claim that it sold 1M contaminated e-cigarette pods
Getting threats your Social Security number will be suspended? It's a scam, IRS says
Trump's Rust Belt revival is fading. Will it matter in 2020?
Rex Tillerson takes the witness stand at Exxon Mobil fraud trial
Smart bike locks: How cyclists and bike sharers are using tech to fight theft
Billionaire Harry Macklowe, ex-wife Linda feud over nearly $1B art collection
Is Jeff Bezos a men's fashion icon? These sales figures say yes.
Women CEOs find double standards extend beyond the glass ceiling: Study
10 Market Indicator Closing Summaries – Yahoo Finance Closing Tickers on MHProNews…

Focus/Featured Report – Markets/Political/Big Picture/Stock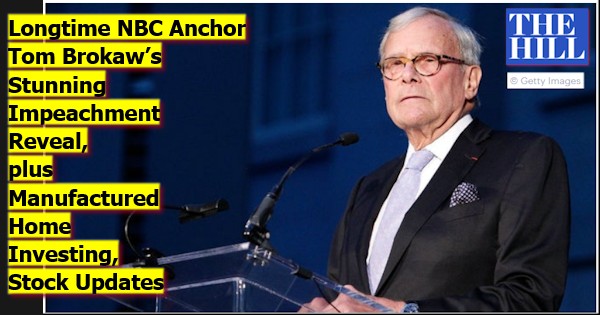 Tom Brokaw's Surprising Word for Democrats
Joe Concha, writing on the modestly left-of-center The Hill was one of a range of media that underscored former "NBC Nightly News" anchor Tom Brokaw on-air statement that Capitol Hill Democrats still don't have "the goods" on President Trump with "the same kind of clarity" that the party did in the 1970s with Richard Nixon and that impeach probe.
Brokaw isn't the first to say something like that, as there are a host of voices on the political right that say that the impeach probe is just another partisan hatchet job.
But when Brokaw said that to left-of-center MSNBC's Andrea Mitchell Tuesday afternoon, it must have sent a shock wave through that studio, and beyond.
"The big difference [between the Nixon and Trump scenarios] is … they [the Democrats] still don't have what you would have the goods on this president in terms of breaking the law and being an impeachable target for them," Brokaw told MSNBC's Mitchell.
"They're going to start the process but they don't have the same kind of clarity that the people who were opposed to Richard Nixon had because it was so clear that these were criminal acts he was involved in,"  Brokaw said.
"The smoking gun tape, the Oval Office tapes, that kind of hard evidence of criminality to bring down a president who was successful in the Middle East, who was successful with the breakthrough to China, Vietnam is a whole other issue," Mitchell noted in reply.
"And don't forget about the first Russian SALT talks, you know, ones he opened up and got them going," Brokaw said, adding, "There are no more taping systems in the Oval Office."
"That we know of," Mitchell replied. "That we know of," Brokaw echoed. Indeed, would anyone be surprised if there was a recording system in place in the Oval Office?
House Democrats announced Tuesday they were moving into the next phase of their impeachment inquiry by establishing a process that at least appears more balanced, although Republicans deny that it provides President Trump the same rights as Presidents Nixon or Bill Clinton enjoyed.
But what Concha didn't mention is this. Even if there was a quid pro quo, its likely irrelevant in a legal sense. Every foreign aid deal is tied to conditions. Conditions – one party giving this in exchange for another party doing that – are by definition a quid pro quo.
It's another round of Russia collusion, with this similarity. It is dependent on partisans blindly following the allegations, and those who are under-informed being gaslighted.
Is it any wonder, with this political climate, that the GDP numbers have slipped, and consumer confidence is modestly dipping too? That may well be the point, along with the goal of making President Trump a one term holder of his office.
The president and his supporters are pushing back. Stay tuned for more D.C. kabuki theater.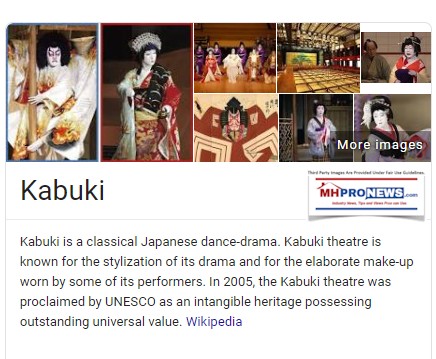 Related Reports:
Ukraine's Historic Gift to America, "Quid Pro No" – VP Biden, POTUS Obama, Trump and Lessons Learned
Bloomberg, Hillary In? Dem 2020 Hopeful Rep Tulsi Gabbard Has Wall Street Meeting, plus Manufactured Home Investing, Stock Updates
Manufactured Housing Industry Investments Connected Closing Equities Tickers
Some of these firms invest in manufactured housing, or are otherwise connected, but may do other forms of investing or business activities too.
NOTE: The chart below includes the Canadian stock, ECN, which purchased Triad Financial Services, a manufactured home industry lender
NOTE: Drew changed its name and trading symbol at the end of 2016 to Lippert (LCII).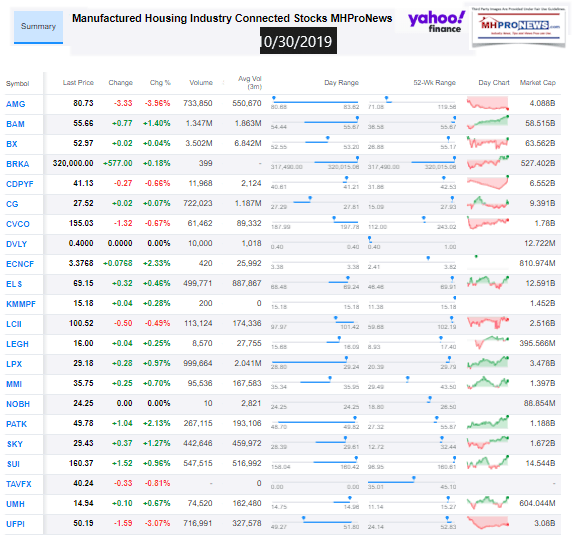 Updated for Fall 2019…
Berkshire Hathaway is the parent company to Clayton Homes, 21st Mortgage, Vanderbilt Mortgage and other factory built housing industry suppliers.
· LCI Industries, Patrick, UFPI, and LP each are suppliers to the manufactured housing industry, among others.
· AMG, CG, and TAVFX have investments in manufactured housing related businesses.
For insights from third-parties and clients about our publisher, click here.
Enjoy these 'blast from the past' comments.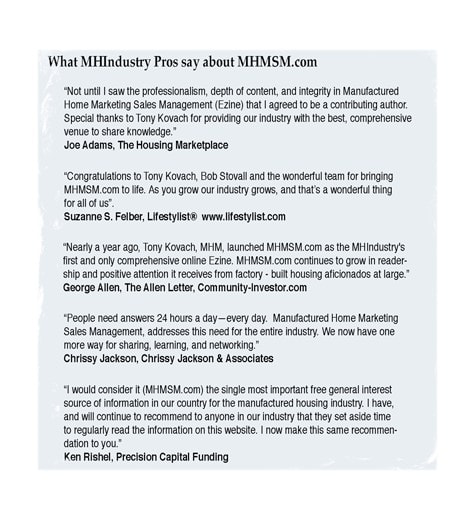 Celebrating 10 Years of Goal- and Solution-Oriented Manufactured Home Industry Innovation Information, and Inspiration for Industry Professionals
· For expert manufactured housing business development or other professional services, click here.
· To sign up in seconds for our industry leading emailed headline news updates, click here.
Disclosure. MHProNews holds no positions in the stocks in this report.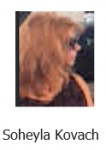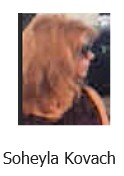 "We Provide, You Decide." © ## (News, analysis and commentary.)
(Image credits and information are as shown above, and when provided by third parties, are shared under fair use guidelines.)
Submitted by Soheyla Kovach, co-managing member of LifeStyle Factory Homes, LLC and co-founder for MHProNews.com, and MHLivingNews.com.