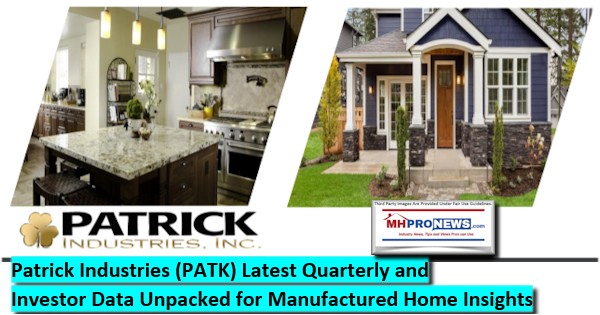 According to their investor relations package, Patrick was "Founded in 1959 as a Manufactured Housing Supplier." But, "Today, [Patrick] operates as a key component manufacturer and supplier to the RV, Marine, Manufactured Housing and Industrial Markets."
It has been a while since we caught up on the word from Patrick, beyond their inclusion in our evening stocks and equities market report. As a significant supplier to the manufactured home industry, their data sheds light on the industry that is supposed to be, per SEC regulations, based upon factually accurate information plus proper disclosures.
Rephrased, the PATK data – or that of other publicly traded firms – isn't supposed to be based upon mere whim or opinion.
Headquartered in Elkhart, Indiana, Patrick operates coast-to-coast in 22 states in the U.S. and in Canada, China and the Netherlands, according to their most recent Investor Relations (IR) package.
Here is the snapshot of their 1 year and 5 year stock performance, per Yahoo Finance.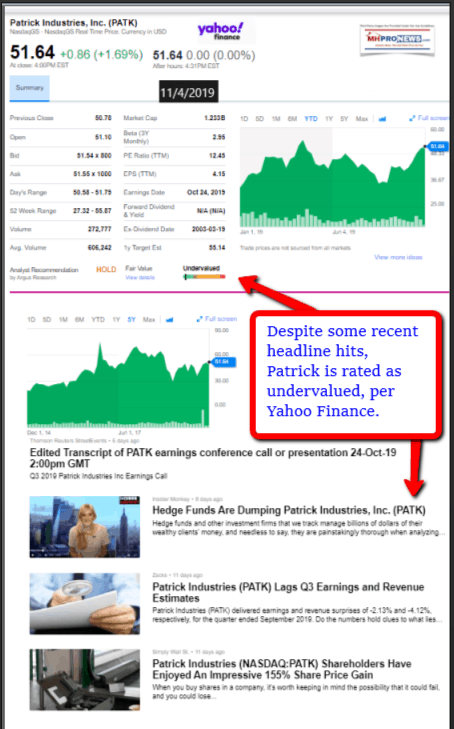 The following will be pull quotes, per the dates and sources as shown. We'll skip straight to the manufactured homes and housing portion of the report.
Q3 2019 Patrick Industries Inc Earnings Call
ELKHART Oct 29, 2019 (Thomson StreetEvents) — Edited Transcript of Patrick Industries Inc earnings conference call or presentation Thursday, October 24, 2019 at 2:00:00pm GMT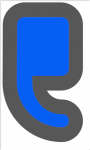 "…Now turning to the housing and industrial side of our business. Our manufactured housing sales represent 19% of our total revenues in the third quarter and increased $41 million or 61% over the third quarter of 2018. This compares to 12% of our revenues from the third quarter of 2018 and reflects an estimated 1% decrease in wholesale unit shipments. Our content per unit is up an estimated 65% in the MH market. While weather again impacted these markets due to flooding in the Southeast in the first half of 2019, causing the inability to set homes, the demographic trends consistent with our leisure lifestyle markets indicate strong expected demand patterns as we are seeing both growth in population of first-time buyers and the older generation looking to downsize into multifamily housing from rural to more urban areas. In addition, 71% of MH residents cite affordability as the key driver of choice for owning a manufactured home and 62% of all MH residents anticipate living in manufactured housing over the next 10 years.
Despite a slow start to the year due to the factors described, we are currently anticipating low to mid-single-digit growth in MH wholesale units for the back half of 2019 as we continue to see and feel the tailwinds in the MH space and remain excited about the overall long-term prospects in both stick-built and manufactured housing.
Revenues in our industrial business, which represented 13% of our overall sales mix in the third quarter were relatively flat compared to the prior year against a backdrop of new housing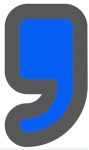 starts, which were up 4% in the quarter. Our products are generally the last to go into a new unit and generally trail new housing starts by 4 to 6 months. Single-family housing starts were up 4% in the quarter while multifamily housing starts rose 6%, with most of the growth in multifamily coming from the Midwest and Northeast regions at 10% and 19%, respectively…"
The entire PATK IR packet is found at this link here.
###
Let's unpack that for a few moments.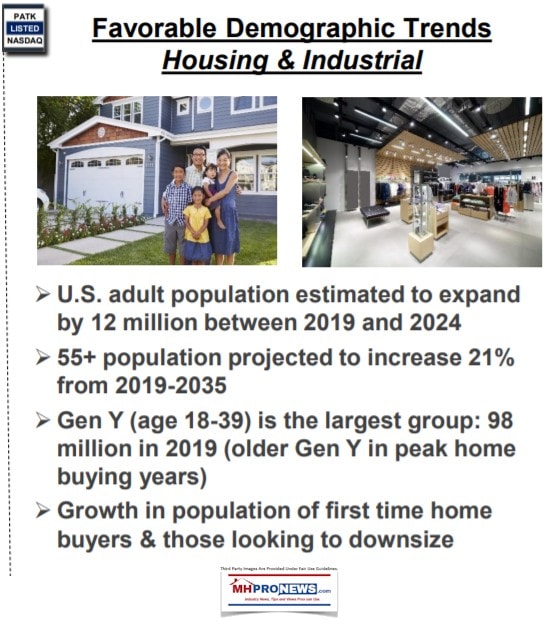 With no disrespect to Patrick and their management, which may be relying on data and claims from the Manufactured Housing Institute (MHI), their own statement from their conference call above is contradictory in this respect. Sales are up on single family site-built and multifamily housing – which are more impacted by weather than factory-built housing – but they say that manufactured housing is down due to weather?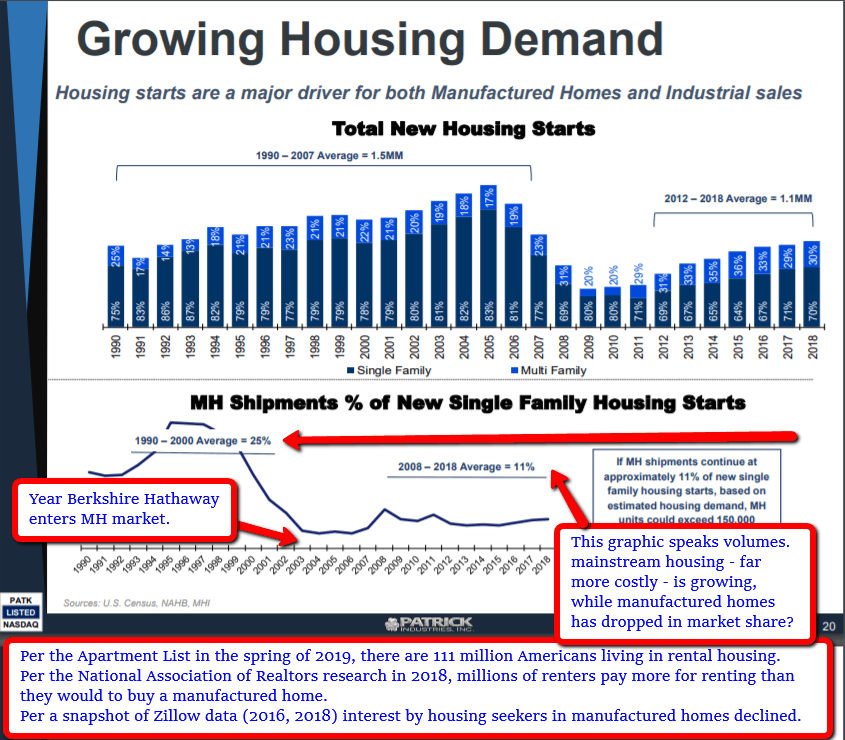 That statement by Patrick's conference call compared to their own IR packet is not logical or consistent with the facts. Weather impacts manufactured home construction less than conventional housing. It's a given that has been an industry talking point for decades.  Thus, there is an apparent disconnect, perhaps based upon reliance on MHI data, or for other possible causes.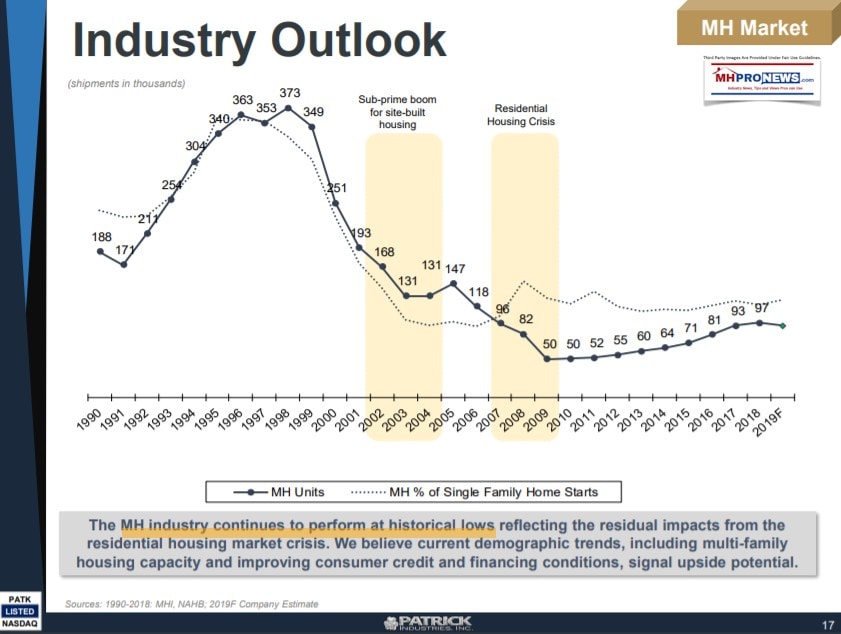 But regrettably, too many are still apparently 'trusting' MHI for data and such claims, when there is arguably a growing list of reasons to distrust them as a source, including, but not limited to, the errors they overlooked in MHI's part of the National Association of Realtors (NAR) research on manufactured homes.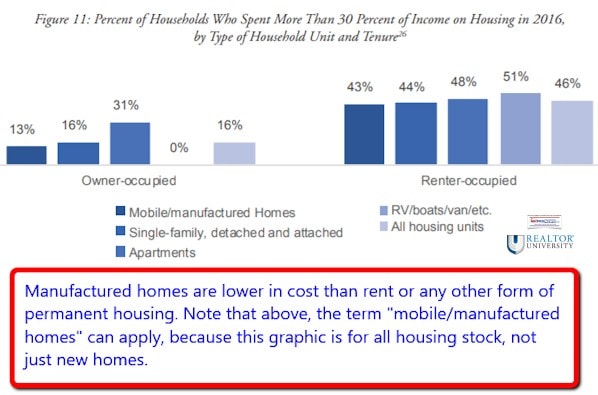 The Patrick data still reflects a decline in RV shipments, but there is no affordable RV crisis. The RV industry represents a discretionary income item for most buyers, as are marine sales. By contrast, manufactured homes – housing – is a necessity.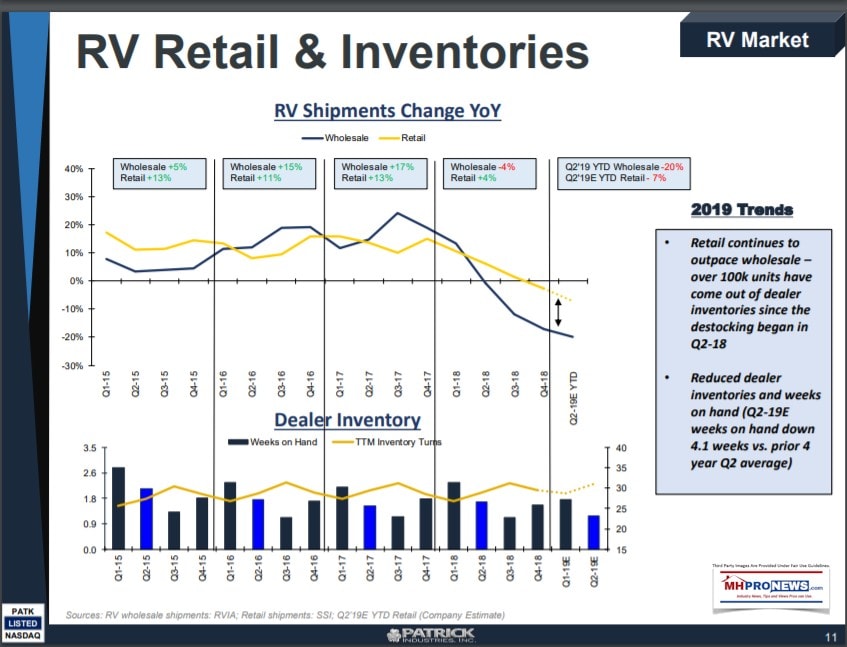 So, when RVs are outselling manufactured homes by some 5 to 1 vs trailing manufactured home sales in the last MH peak in 1998 by 3 to 2, that speaks volumes to clear thinking observers.
While there are causes to the manufactured home industry's struggles that evidence reported by MHProNews and MHLivingNews or other media suggests are arguably often internal, that should not be construed to mean that the industry's potential is now missing.
That potential is as great as ever, but it requires professionals and investors working around the problems that are otherwise hobbling the sales, and thus the production and shipments, of new HUD Code manufactured homes. Who says?  How about the graphical data from Sun Communities?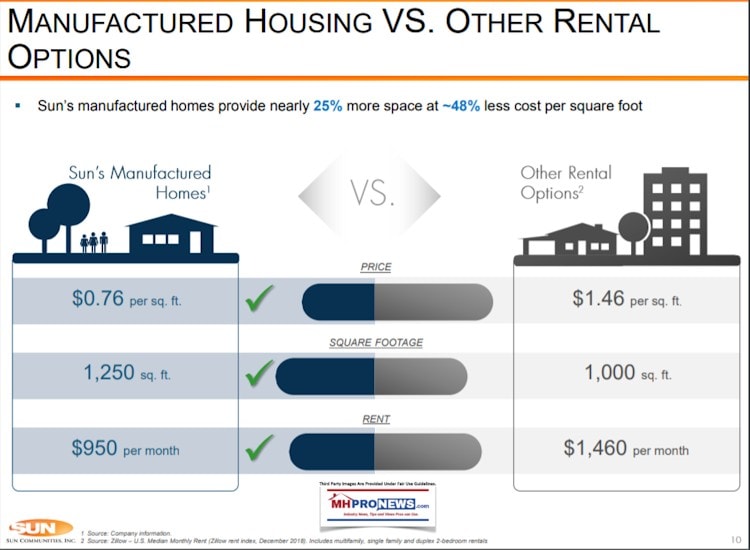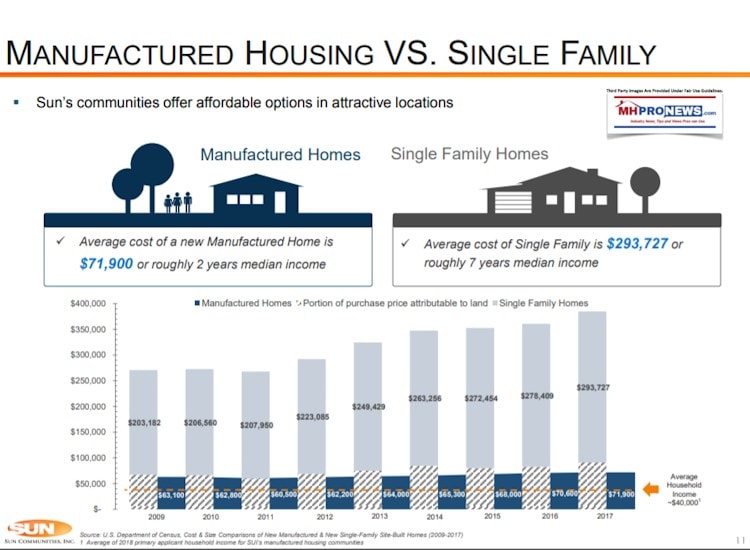 There are numerous reasons why the industry should be preforming much better, as PATK themselves have stated.  But too many are apparently willing to turn a blind eye as to the industry's internal causes for this failure to perform. Many lead back to three letters. M.H.I. and some of their key members.
Manufactured Home Community-Connected Professional Sounds Alarm, Impact Communities, Frank Rolfe, Dave Reynolds, and Looming Rent Control
That's today's almost midnight installment of manufactured home "Industry News, Tips, and Views Pros Can Use" © where "We Provide, You Decide." © ## (News, analysis, fact-checks, and commentary.)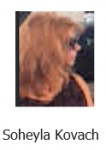 Submitted by Soheyla Kovach for MHProNews.com.
Soheyla is a managing member of LifeStyle Factory Homes, LLC, the parent company to MHProNews, and MHLivingNews.com. Connect with us on LinkedIn here and and here.
Related Reports:
Click the image/text box below to access relevant, related information.
MHARR Rips FHFA, GSEs on "Gutted" DTS; Warns MHCC Being Undermined by HUD Manipulation
'All Hat, No Cattle,' Significant Risk to Financial System – FHFA Director Dr. Mark Calabria Address to MBA
FEAR, Prudence, or Courage? Manufactured Housing State Association Execs Fight Back, Lay Back, or Go With the Flow – Plus HUD Brian Montgomery Whispers
HUD-Corporate-Nonprofit Triangle – MHI's Lesli Gooch Surprising Letter Drops, Places HUD-GSE-Nonprofit Exec in Crosshairs
Fannie Mae, Freddie Mac, Prosperity Now, "Following the Money" on Manufactured Home Lending Options
"Take the MH Advantage Challenge – Can You Tell the Difference?" Fisk of Sarah Edelman, Director of Duty to Serve, Single-Family Mortgage Business for Fannie Mae
Chairman Hensarling, Fannie Mae's Latest "Backdoor Schemes," Illegalities? MH Connections, Implications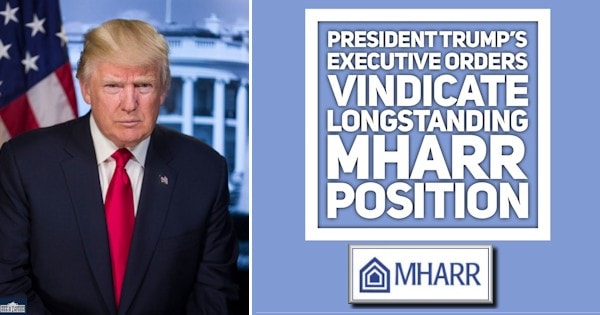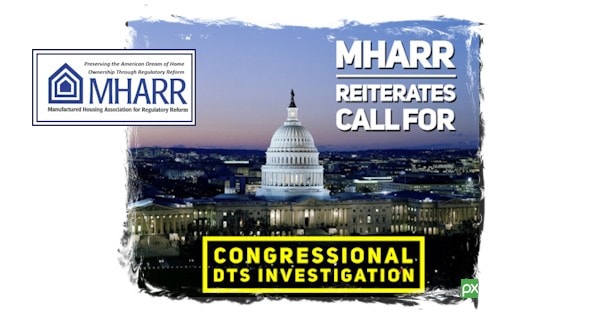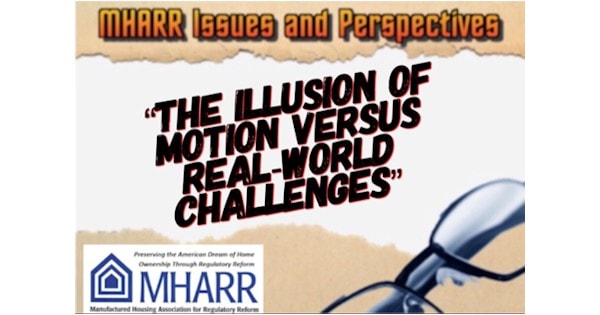 A Tale of Two Cities, Affordable Housing, Manufactured Homes, and You