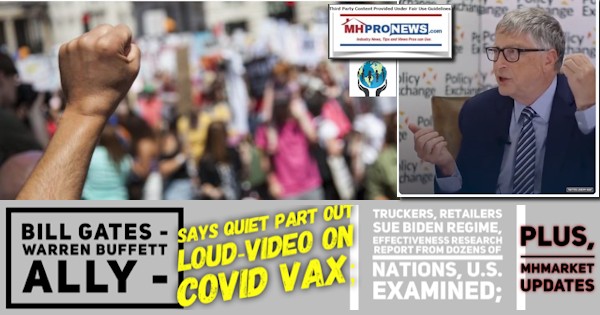 It would be hard to argue that how COVID19 has occurred and been dealt with by governments has been as or perhaps more disruptive as the housing/financial crisis of 2008. For a range of reasons, much of what mainstream sources say about the COVID19, vaccinations, or other treatments are connected to official pronouncements made by the Centers for Disease Control (CDC) or the World Health Organization (WHO). That noted, regardless of what someone believes about what has been labeled as safe and effective vax treatments that aims to prevent the spread of COVID19, few would argue that William "Bill" Gates III has been a big proponent of this mRNA vaccination methodology. Vaxxed or not, what follows is eye opening. As one headline from a different source that the report posted below put it, "With 7.4 Billion COVID Shots In Arms, Bill Gates Admits The Quiet Part Out Loud." This is a topic that obviously blurs political lines.
It should.
This report will provide the following elements.
The Gates-connected report follows the one provided below by Dr. Mercola's website to MHProNews. Mercola's report lays out facts from dozens of countries and from here in the U.S. It is a perfect lead into what Gates is shown saying in a video posted further below.
From the WND Newscenter, there is a report about how truckers and retailers are pushing back against the imposition of mandates in order to work. Note that MHProNews has previously reported that litigation is already underway, and a judge has issued a temporary stay on the mandates. That said, the Biden White House is not taking that ruling lying down. Don't assume that this battle is over. It's obviously not. As the report about Cavco linked below makes clear, supply chains and labor are key issues for producers and others.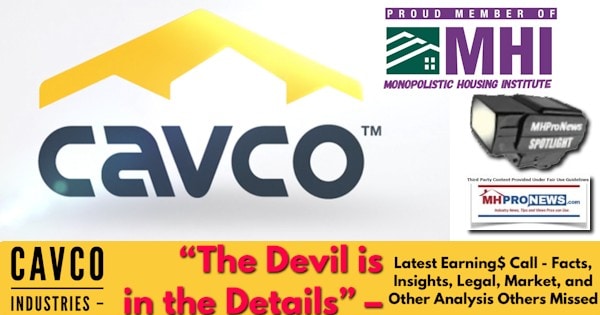 For those who want to know how they can legally push back on these 'mandates,' there is a tool kit of linked legal tips from the CHD website. It includes a highlighted item contact tool to your local, state, and federal officials.
Our business daily MHProNews left-right headlines and the market snapshots for 11.11.2021 follow the COVID19 related topics.
COVID Vaccines Do Not Impact Infection Rates
Analysis by Dr. Joseph Mercola Fact Checked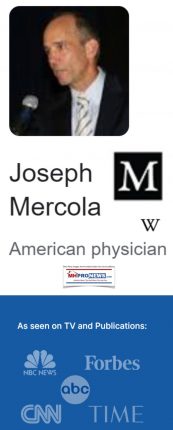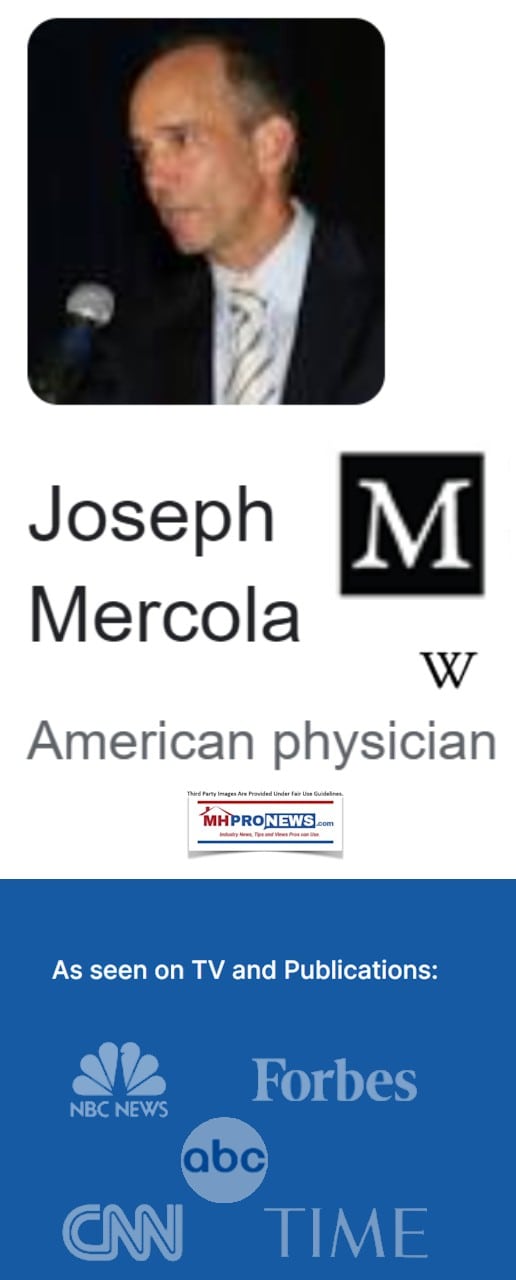 STORY AT-A-GLANCE
Research shows increases in COVID-19 cases are completely unrelated to levels of vaccination in 68 countries worldwide and 2,947 counties in the U.S.
The data from U.S. counties showed similar trends, with new COVID-19 cases per 100,000 people being "largely similar" regardless of the vaccination rate
Of the five U.S. counties with the highest vaccination rates — ranging from 84.3% to 99.9% fully vaccinated — four are on the U.S. Centers for Disease Control and Prevention's "high transmission" list, while 26.3% of the 57 counties with "low transmission" had vaccination rates under 20%
Iceland and Portugal, both of which have more than 75% of their populations fully vaccinated, have more COVID-19 cases per 1 million people than Vietnam and South Africa, where only 10% or so of their populations are fully vaccinated
CDC data show rates of hospitalization for severe illness among the fully vaccinated went from 0.01% in January 2021 to 9% in May 2021, and deaths went from 0% to 15.1%. If the shots actually worked, these rates should have remained near zero
Considering the scale of the mass vaccination campaign against COVID-19, if the shots were working as advertised, we'd have vaccine-induced herd immunity already. As of October 28, 2021, 6.94 billion doses of COVID-19 jabs had been administered, equating to 49% of the world population having received at least one dose.1
Add to that the fact that we have widespread natural immunity, and COVID-19 really ought to be a non-issue at this point. Rarely does a pandemic last more than 18 months. Still, COVID-19 allegedly persists. Clearly, the mass injection effort isn't working.
A study2 published in the European Journal of Epidemiology at the end of September 2021 confirms this, showing that increases in COVID-19 cases (i.e., positive cases based on PCR testing) are completely unrelated to levels of vaccination in 68 countries worldwide. Ditto for 2,947 counties in the U.S. In the Peak Prosperity video above, Chris Martenson, Ph.D., reviews the details of this paper.
Data Show the COVID Jabs Have No Impact on Infection Rates 
While the official COVID narrative continues to blame the ongoing pandemic on the unvaccinated, data show that areas with high vaccination rates, like Israel, continue to have significant COVID-19 spread. As noted by S.V. Subramanian, from the Harvard Center for Population and Development Studies and a colleague in the European Journal of Epidemiology:3
"Vaccines currently are the primary mitigation strategy to combat COVID-19 around the world. For instance, the narrative related to the ongoing surge of new cases in the United States (US) is argued to be driven by areas with low vaccination rates.
A similar narrative also has been observed in countries, such as Germany and the United Kingdom. At the same time, Israel that was hailed for its swift and high rates of vaccination has also seen a substantial resurgence in COVID-19 cases."
Using data available as of September 3, 2021, from Our World in Data for cross-country analysis, and the White House COVID-19 Team data for U.S. counties, the researchers investigated the relationship between new COVID-19 cases and the percentage of the population that had been fully vaccinated.
Sixty-eight countries were included. Inclusion criteria included second dose vaccine data, COVID-19 case data and population data as of September 3, 2021. They then computed the COVID-19 cases per 1 million people for each country, and calculated the percentage of population that was fully vaccinated.
According to the authors, there was "no discernable relationship between percentage of population fully vaccinated and new COVID-19 cases in the last seven days." If anything, higher vaccination rates were associated with a slight increase in cases. According to the authors:4
"[T]he trend line suggests a marginally positive association such that countries with higher percentage of population fully vaccinated have higher COVID-19 cases per 1 million people."
As noted by Martenson, this flies in the face of the official narrative, which claims the shots are highly effective at preventing symptomatic infection. Wikipedia goes so far as to claim "A COVID-19 vaccine is a vaccine intended to provide acquired immunity against COVID-19,"5 when in fact it does no such thing at all.
Even the developers admit the shot cannot prevent infection. It only reduces symptoms of infection. That just goes to show how utterly unreliable Wikipedia is. It's biased to the point of being disinformation.
Higher Vaccination Rates Linked to Higher Caseloads
If there were any doubt for the need to seriously question the worldwide mass injection campaign, this should put it to rest: Iceland and Portugal, both of which have more than 75% of their populations fully vaccinated, have more COVID-19 cases per 1 million people than Vietnam and South Africa, where only 10% or so of their populations are fully vaccinated.6
Israel is another example. With more than 60% of its population fully vaccinated, it had the highest number of COVID-19 cases per 1 million people in the seven days leading up to September 3, 2021.7
The data from U.S. counties showed similar trends, with new COVID-19 cases per 100,000 people being "largely similar" regardless of the vaccination rate. "I'm pretty sure this is not how it's supposed to be working," Martenson says.
He points out that President Biden recently issued a statement saying health care workers need to be fully vaccinated because then they "cannot transmit COVID-19 to patients." "That doesn't make sense though," Martenson says, "because here we're not seeing that association, which ought to be, the more vaccinated [a population is], the lower the transmission rate."
The authors of the study further note there's no evidence at all that cases are declining as vaccination rates rise. "There also appears to be no significant signaling of COVID-19 cases decreasing with higher percentages of population fully vaccinated," they write.8
Notably, out of the five U.S. counties with the highest vaccination rates — ranging from 84.3% to 99.9% fully vaccinated — four were on the U.S. Centers for Disease Control and Prevention's "high transmission" list. Meanwhile, 26.3% of the 57 counties with "low transmission" had vaccination rates under 20%.
The study even accounted for a one-month lag time that could occur among the fully vaccinated, since it's said that it takes two weeks after the final dose for "full immunity" to occur. Still, "no discernable association between COVID-19 cases and levels of fully vaccinated" was observed.9
High Time to Change Strategy
The study summed up several reasons why the "sole reliance on vaccination as a primary strategy to mitigate COVID-19" should be reevaluated. For starters, the jab's effectiveness rapidly wanes.
A report from Israel's Ministry of Health showed that Pfizer-BioNTech's injection went from a 95% effectiveness in December 2020, to 64% in early July 2021 and 39% by late July, when the Delta strain became predominant.10,11
"A substantial decline in immunity from mRNA vaccines six months post immunization has also been reported," the researchers noted, adding that even severe hospitalization and death from COVID-19, which the jabs claim to offer protection against, have dramatically increased.
U.S. Centers for Disease Control and Prevention data show rates of hospitalization for severe illness among the fully vaccinated went from 0.01% in January 2021 to 9% in May 2021, and deaths went from 0% to 15.1%.12,13 If the shots work as advertised, why are these rates rising? They should have remained near zero.
The researchers also noted that immunity derived from the Pfizer-BioNTech vaccine is not as strong as immunity acquired through recovery from the COVID-19 virus.14 For instance, a retrospective observational study published August 25, 2021, revealed that natural immunity is superior to immunity from COVID-19 jabs. According to the authors of that study:15
"… natural immunity confers longer lasting and stronger protection against infection, symptomatic disease and hospitalization caused by the Delta variant of SARS-CoV-2, compared to the BNT162b2 two-dose vaccine-induced immunity."
The fact is, while breakthrough cases continue among those who have gotten COVID-19 injections, it's extremely rare to get reinfected by COVID-19 after you've already had the disease and recovered.
This was demonstrated in an Irish study,16 which looked at data from 615,777 people who had recovered from COVID-19, with a follow-up of more than 10 months. The absolute reinfection rate ranged from 0% to 1.1%, while the median reinfection rate was just 0.27%.17,18,19 As noted by the authors, "Reinfection was an uncommon event … with no study reporting an increase in the risk of reinfection over time."
Another study revealed similarly reassuring results. It followed 43,044 SARS-CoV-2 antibody-positive people for up to 35 weeks, and only 0.7% were reinfected. When genome sequencing was applied to estimate population-level risk of reinfection, the risk was estimated at 0.1%.20
After seven months, there still was no indication of waning immunity. According to the authors of that study: "Reinfection is rare. Natural infection appears to elicit strong protection against reinfection with an efficacy >90% for at least seven months."21
All Risk and No Reward
The purpose of informed consent is to give people all of the available data related to a medical procedure so they can make an educated decision before consenting. In the case of the COVID-19 jab, very little data were initially available, given their emergency authorization.
However, as serious side effects became increasingly apparent, attempts to share them publicly were silenced. Medical professionals and scientists were censored and deplatformed simply for sharing well-founded concerns.
In August 2021, a large study from Israel22 revealed that the Pfizer COVID-19 mRNA jab is associated with a threefold increased risk of myocarditis,23 leading to the condition at a rate of 1 to 5 events per 100,000 persons.24 Other elevated risks were also identified following the COVID-19 jab, including lymphadenopathy (swollen lymph nodes), appendicitis and herpes zoster infection.25
With a program this size, anything over 150 deaths would be an alarm signal. The U.S. hit 186 deaths with only 27 million Americans jabbed. ~ Dr. Peter McCullough
Dr. Peter McCullough, an internist, cardiologist and epidemiologist, is among those who have warned that COVID-19 injections are not only failing, but putting lives at risk.26 According to McCullough, by January 22, 2021, there had been 186 deaths reported to the Vaccine Adverse Event Reporting System (VAERS) database following COVID-19 injection — more than enough to reach the mortality signal of concern to stop the program.
"With a program this size, anything over 150 deaths would be an alarm signal," he said. The U.S. "hit 186 deaths with only 27 million Americans jabbed." McCullough believes if the proper safety boards had been in place, the COVID-19 jab program would have been shut down in February 2021 based on safety and risk of death.27
However, by intentionally suppressing information, the media and Big Tech have made informed consent impossible. You simply cannot make an informed decision when only one side is allowed to speak and share information. Making matters worse, there's evidence that the agencies we depend on to ensure drug safety and safeguard public health are manipulating statistics and carrying on their own cover-up to boost vaccine uptake.
Now, with data showing no difference in rates of COVID-19 cases among the vaxxed and unvaxxed, it appears more and more likely that the injections have a high level of risk with very little reward, especially among younger people, whose risk of serious COVID-19 infection is vanishingly small.
Children Are Put at Grave Risk
Due to the risk of myocarditis, Britain's Joint Committee on Vaccination and Immunization (JCVI) recommended against COVID-9 injections for healthy 12- to 15-year-olds.28
Meanwhile, the U.S. FDA not only gave the green light to teens but also OK'd the Pfizer shot to children aged 5 to 11,29 despite strong objections from qualified doctors and scientists. As reported by The Defender:30
"Experts raised concerns over the lack of safety and efficacy data presented by Pfizer for use of its COVID vaccine in younger children, and they pointed to increasing safety signals based on reports to the Vaccine Adverse Event Reporting System (VAERS). They also questioned the need to vaccinate children — whose risk of dying from COVID is "almost nil" — at all.
According to Dr. Meryl Nass, member of the Children's Health Defense Scientific Advisory Panel, Pfizer once again did not use all of the children who participated in the trial in their safety study.
'Three thousand children received Pfizer's COVID vaccine, but only 750 children were selectively included in the company's safety analysis,' Nass said. 'Studies in the 5-11 age group are essentially the same as the 12-15 group.
In other words, equally brief and unsatisfying, with inadequate safety data and efficacy data, with no strong support for why this type of immuno-bridging analysis is sufficient … All serious adverse events were considered unrelated to the vaccine' …
Dr. Jessica Rose, viral immunologist and biologist, told the panel EUA of biological agents requires the existence of an emergency and the nonexistence of alternate treatment. 'There is no emergency and COVID-19 is exceedingly treatable,' Rose said.
In a peer-reviewed study31 co-authored by Rose, myocarditis rates were significantly higher in people 13 to 23 years old within eight weeks of the COVID vaccine rollout. In 12- to15-year-olds, Rose said, reported cases of myocarditis were 19 times higher than background rates …
Rose said tens of thousands of reports have been submitted to VAERS for children ages 0 to 18. Rose explained: 'In this age group, 60 children have died — 23 of them were less than 2 years old.
It is disturbing to note that 'product administered to patient of inappropriate age' was filed 5,510 times in this age group. Two children were inappropriately injected, presumably by a trained medical professional, and subsequently died.'"
In an October 20, 2021, article,32 Paul Elias Alexander, Ph.D., a former assistant professor of evidence-based medicine and research methods, called the plan to vaccinate young children "absolutely reckless" and "dangerous based on lack of safety data and poor research methodology."
We've also discovered that the FDA is ignoring and burying data on children who were seriously injured in the vaccine trials,33 which further erodes confidence in what little trial data there is. Meanwhile, data suggest no child has died from COVID-19 who did not have a serious underlying health condition. Alexander reviews that data in his article.
Mass Vaccination Drives Creation of Variants
Making matters more problematic, there's evidence suggesting the shots are driving the creation of mutations resulting in variants with enhanced infectivity and antibody-evading capabilities. Aside from waning effectiveness, this helps explain why rates of serious infection among the fully vaccinated keep rising.
For example, a study34 posted August 23, 2021, on the preprint server bioRxiv warned the Delta variant "is posed to acquire complete resistance to wild-type spike vaccines."
According to the authors, when four common mutations were introduced into the receptor binding domain of the Delta variant, Pfizer vaccine antibodies could no longer neutralize the virus. They also found it had enhanced infectivity. This could essentially turn into a worst-case scenario that sets up those who have received the Pfizer shots for more severe illness when exposed to the virus.
A Delta variant with three of the four mutations has already emerged,35 which suggests it's only a matter of time before a fourth mutation develops, at which point the virus would be completely resistant to the Pfizer jab.
Many have in fact warned about immune escape due to the pressure being placed upon the COVID-19 virus during mass vaccination.36 Another study37 — this one based on a mathematical model — found that a worst-case scenario can develop when a large percentage of a population is vaccinated but viral transmission remains high.
This represents the prime scenario for the development of resistant mutant strains,38 and that's precisely the situation the U.S. and many other parts of the world are in right now. It's time to acknowledge that the COVID shots aren't the answer. Natural immunity is. As the European of Journal of Epidemiology researchers noted:39
"Stigmatizing populations can do more harm than good. Importantly, other non-pharmacological prevention efforts (e.g., the importance of basic public health hygiene with regards to maintaining safe distance or handwashing, promoting better frequent and cheaper forms of testing) needs to be renewed in order to strike the balance of learning to live with COVID-19 in the same manner we continue to live a 100 years later with various seasonal alterations of the 1918 Influenza virus."
Do Your Own Risk-Benefit Analysis
Indeed, at this point, we know there's no reason to fear COVID-19. Overall, its lethality is on par with the common flu.40,41,42,43,44 Provided you're not in a nursing home or have multiple comorbidities, your chances of surviving a bout of COVID-19 is 99.74%, on average.45 It truly doesn't get much better than that, unless you expect mankind to suddenly achieve immortality.
Should you develop symptoms, remember there are several effective early treatment protocols to choose from, such as the Frontline COVID-19 Critical Care Alliance I-MASK+46 protocol, the Zelenko protocol,47 and nebulized peroxide, detailed in Dr. David Brownstein's case paper48 and Dr. Thomas Levy's free e-book, "Rapid Virus Recovery." Whichever treatment protocol you use, make sure you begin treatment as soon as possible, ideally at first onset of symptoms.
The reported rate of death from COVID-19 shots in the national Vaccine Adverse Events Reporting System (VAERS), on the other hand, exceeds the reported death rate of more than 70 vaccines combined over the past 30 years, and if you are injured by a COVID shot and live in the U.S., your only recourse is to apply for compensation from the Countermeasures Injury Compensation Act (CICP).49
Compensation from CICP is very limited and hard to get. In its 15-year history, it has paid out just 29 claims, fewer than 1 in 10.50,51,52 You only qualify if your injury requires hospitalization and results in significant disability and/or death, and even if you meet the eligibility criteria, it requires you to use up your private health insurance before it kicks in to pay the difference.
There's no reimbursement for pain and suffering, only lost wages and unpaid medical bills. This means a retired person cannot qualify even if they die or end up in a wheelchair. Salary compensation is of limited duration, and capped at $50,000 a year, and the CICP's decision cannot be appealed.
To get an idea of what the real-world risks actually are, consider reviewing some of the cases reported to nomoresilence.world, a website dedicated to giving a voice to those injured by COVID shots.
Lastly, if you or a head of your household is considering the jab, review the family financial disclosure form created by The Solari Report, for the purpose of ensuring that an adverse event or death does not translate into financial destruction for the entire family.
Sources and References
From the WND Newscenter to MHProNews is this report on Buffett ally, Bill Gates' recent reveal.
Surprise! Watch Bill Gates reveal truth about COVID shots
'We didn't have vaccines that blocked transmission'
By Bob Unruh
Published November 10, 2021 at 4:31pm
Ever since the "shot" became available in the government's COVID arsenal, there's been discussion and argument about whether it helps.
Many people have developed so-called "breakthrough" cases of COVID-19, that is, they got the virus even though they'd been vaccinated. Others say the shots absolutely prevent damage.
Now Bill Gates, a longtime vaccine activist although he's no doctor, has openly admitted the mRNA shots being used today don't help prevent transmission.
Bill Gates just admitted that the Pfizer and Moderna mRNA vaccines don't work well. pic.twitter.com/6GQ3DQk8aN

— Ezra Levant 🍁 (@ezralevant) November 9, 2021
He was interviewed recently on the topic of COVID and vaccines, and said, "Economic damage, the deaths, it's been completely horrific and I would expect that will lead the R and D budgets to be focused on things we didn't have today."
He continued, "You know, we didn't have vaccines that blocked transmission. We got vaccines that help you with your health, but they only slightly reduce transmission."
A commentary at Rebel News blog pointed out Gates said the nation needs "a new way of doing things."
The commentary said, "Gates has helped to fund and promote vaccine passports globally. He has promoted and defended authoritarian lockdowns. He has aggressively pushed for these vaccines to be injected into every man, woman and child. But now, Gates acknowledges — and publicly states — that the current COVID shots are not effective at stopping transmission."
Another blog posting noted that Twitter, ironically, fact-checked the statement as "misleading," but what was significant about that was that the statement was allowed to remain on social media.
Most of those giant corporations are censoring anything that diverges from the politically correct line regarding COVID and the shots.
Wow. Is Bill throwing shade at mRNA here?! Bill Gates admits one of the key failures of the vaccines: they don't stop transmission. Looks like he's ready to move on to the next pandemic and virus! https://t.co/bUMKiMjxO7 pic.twitter.com/0Cat4D5bSl

— Justin Hart (@justin_hart) November 9, 2021
WND EDITOR'S NOTE: Last year, America's doctors, nurses and paramedics were celebrated as frontline heroes battling a fearsome new pandemic. Today, under Joe Biden, tens of thousands of these same heroes are denounced as rebels, conspiracy theorists, extremists and potential terrorists. Along with massive numbers of police, firemen, Border Patrol agents, Navy SEALs, pilots, air-traffic controllers, and countless other truly essential Americans, they're all considered so dangerous as to merit termination, their professional and personal lives turned upside down due to their decision not to be injected with the experimental COVID vaccines. Biden's tyrannical mandate threatens to cripple American society – from law enforcement to airlines to commercial supply chains to hospitals. It's already happening. But the good news is that huge numbers of "yesterday's heroes" are now fighting back – bravely and boldly. The whole epic showdown is laid out as never before in the sensational October issue of WND's monthly Whistleblower magazine, titled "THE GREAT AMERICAN REBELLION: 'We will not comply!' COVID-19 power grab ignites bold new era of national defiance." ##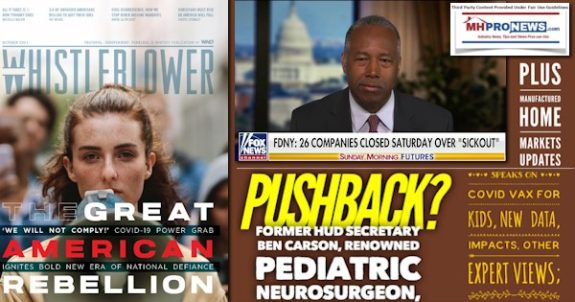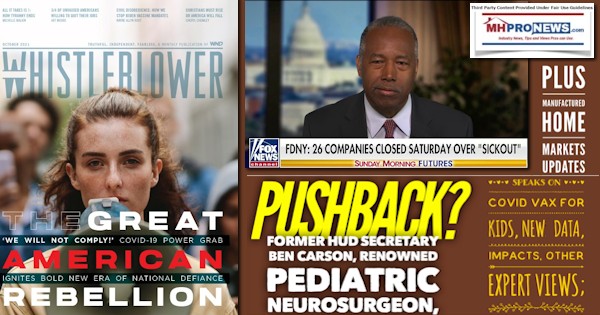 Also from the WND Newscenter to MHProNews is this report.
SHOT HURT 'ROUND THE WORLD
Truckers, retailers join forces to sue Biden over vaccine mandate
'Irreparable harm of losing employees, incurring substantial and unrecoverable compliance costs'
By WND News Services
Published November 10, 2021 at 5:30pm
By Harry Wilmerding
Daily Caller News Foundation
National groups representing retail, truckers and independent businesses sued the White House over its vaccine mandate Wednesday.
The American Trucking Associations (ATA), the National Federation of Independent Business and the National Retail Federation filed the lawsuit in the U.S. Court of Appeals for the Fifth Circuit on Wednesday.
"This is not a case about the efficacy of COVID-19 vaccines, which are a marvel of modern medicine … This is a case about American businesses that do not want to face the immediate irreparable harm of losing employees, incurring substantial and unrecoverable compliance costs, and worsening already fragile supply chains and labor markets," the groups wrote in the court filings.
The American Trucking Associations along with the Mississippi Trucking Association and the Texas Trucking Association said that the mandate "could have devastating impacts on the supply chain and the economy," and that the administration has "unfortunately, chosen to move forward despite those warnings," ATA president and chief executive Chris Spear said in a statement.
"We are asking the court to stay implementation of the mandate because we believe the Occupational Safety and Health Administration did not satisfy the statutory requirements for issuing this Emergency Temporary Standard instead of going through the proper rulemaking process," Nicholas Geale, ATA vice president of workforce policy said in a statement.
National Retail Federation president and chief executive Matthew Shay said in a statement that the December deadline to show proof of workers vaccination status along with the January deadline to start testing employees is "both unworkable and virtually impossible."
The National Federation of Independent Business said in a statement that the mandates restricted the freedom of small business owners and called the mandate a "clear example of administrative overreach."
White House principal deputy press secretary Karine Jean-Pierre told reporters Tuesday that the mandate would help to prevent labor shortages by preventing employees from becoming sick, CNBC reported.
This story originally was published by the Daily Caller News Foundation. ##
Let's briefly note these related MHProNews reports. NFIB and Job Creators Network (JCN) are both nonprofits focused on defending smaller businesses across a range of industries, not just manufactured housing.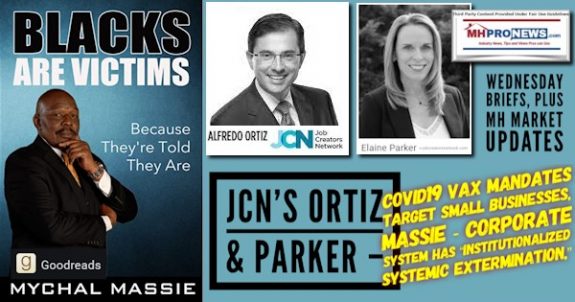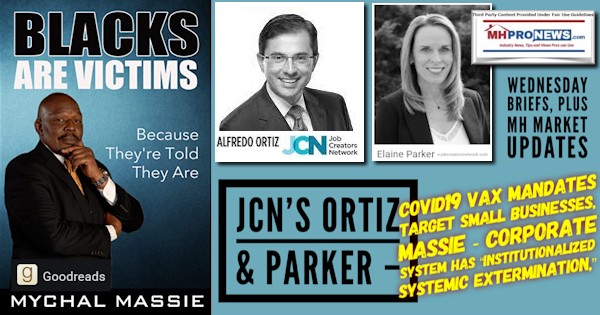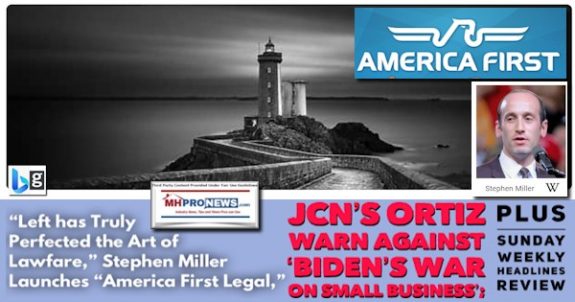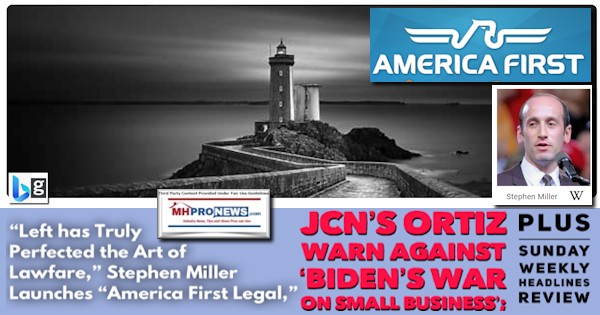 Next up, attorney Robert F. Kennedy Jr. led CHD toolkit and information for pushing back against vax mandates.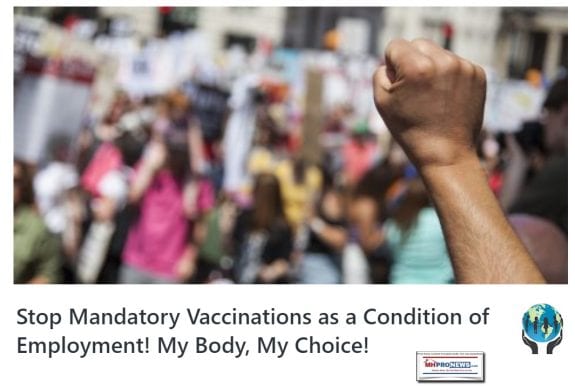 Tell Your Elected Officials NO MANDATES!  Tell Them: My Body, My Choice!
Other Mandates
No one should ever be coerced into a medical procedure for any reason including a condition of employment. Tell them "My Body, My Choice!"
With one click, send a letter to your Federal officials, Governor, State legislators, Mayor and City Council Members
Employer Mandates Resources to Help You:
Examples of Fighting Back
If you are an employee and are being told that you will be mandated to take the COVID vaccination(s) or will be fired, and are not being provided an alternative accommodation, you are not alone. Here are examples of groups fighting back.
United Healthcare Workers. Michigan Healthcare System. "It's time healthcare workers across the state band together and say, enough is enough."
Houston healthcare workers push backand are appealing their case.
Arizona – June 15 Governor Doug Ducey issues Executive Order, against Mandatory Covid-19 Vaccinations among ASU (Arizona State Universities) (Download PDF, 1.26 MB)
FDA petition: On May 16, Robert F. Kennedy, Jr. and Meryl Nass, MD, on behalf of Children's Health Defense (CHD), took a landmark step in the COVID crisis that has irrevocably changed billions of lives around the globe by filing a Citizen Petitionwith the U.S. Food and Drug Administration (FDA) to withdraw COVID-19 vaccines from the market.
Other Useful Information
Examples of "Vaccine Failure"
Connect
"Stop Mandatory Vaccinations as a Condition of Employment! My Body, My Choice! • Children's Health Defense (childrenshealthdefense.org) © [AUGUST 26, 2021] Children's Health Defense, Inc. This work is reproduced and distributed with the permission of Children's Health Defense, Inc. Want to learn more from Children's Health Defense? Sign up for free news and updates from Robert F. Kennedy, Jr. and the Children's Health Defense. Your donation will help to support us in our efforts. ## 
Related reports before diving into our media and market snapshots for 11.11.2021.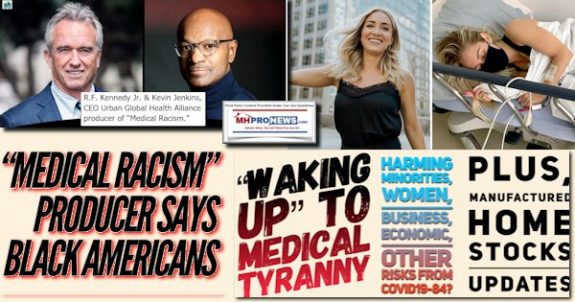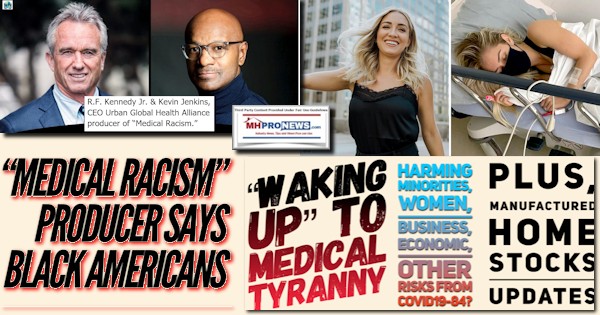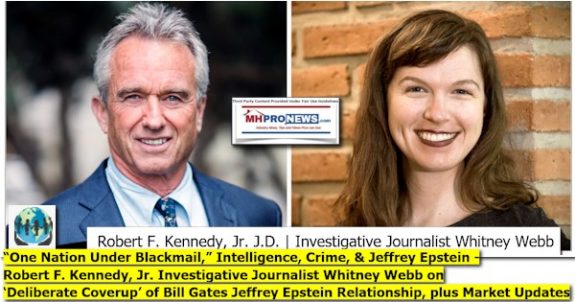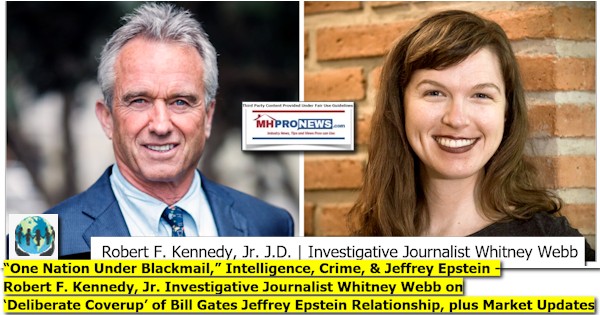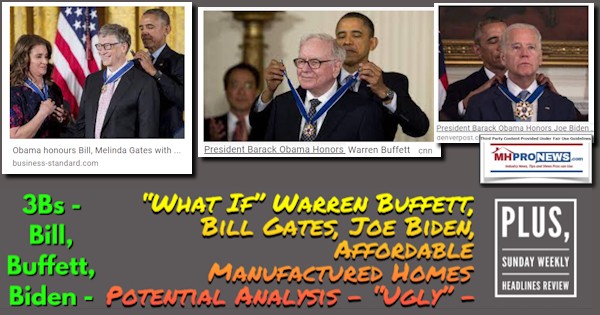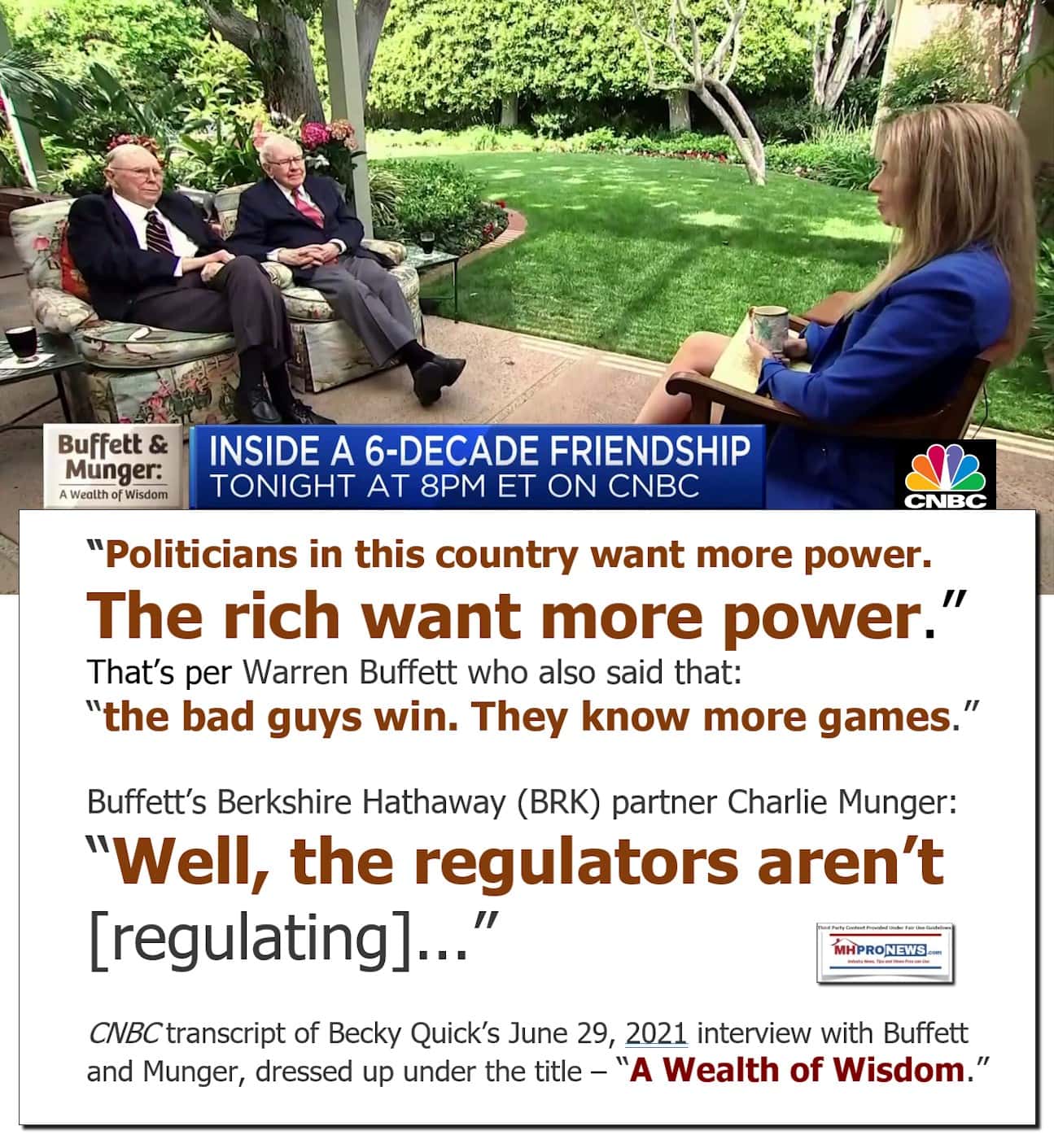 Next up is our business daily recap of yesterday evening's market report, related left-right headlines, and manufactured housing connected equities.
The Business Daily Manufactured Home Industry Connected Stock Market Updates.  Plus, Market Moving Left (CNN) – Right (Newsmax) Headlines Snapshot. While the layout of this daily business report has been evolving over time, several elements of the basic concepts used previously are still the same. For instance. The headlines that follow below can be reviewed at a glance to save time while providing insights across the left-right media divide. Additionally, those headlines often provide clues as to possible 'market-moving' news items.
Market Indicator Closing Summaries – Yahoo Finance Closing Tickers on MHProNews…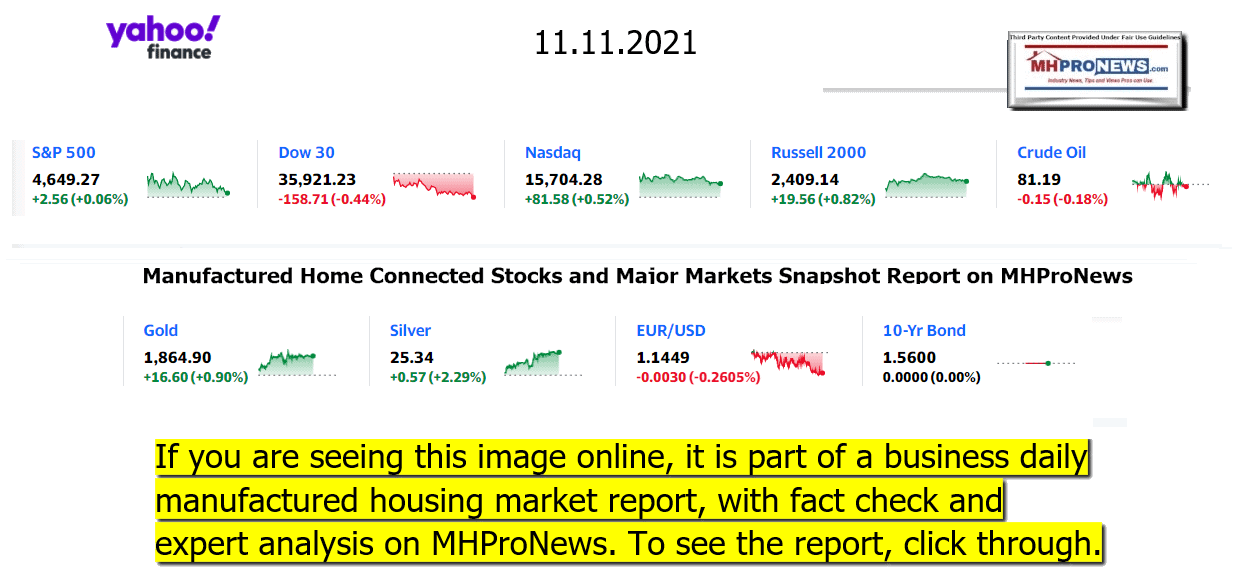 Headlines from left-of-center CNN Business – from the evening of 11.11.2021
Disney+ needs a hit
(L-R): Hawkeye/Clint Barton (Jeremy Renner) and Kate Bishop (Hailee Steinfeld) in Marvel Studios' LOKI, exclusively on Disney+.
The streaming service is slowing down. Wall Street is getting worried
US Chamber: Trump is 'wrong' on infrastructure bill
Surging inflation sets up high-stakes fight in Washington
Analysis: Buckle up, Elon Musk. Rivian's coming in hot
Elon Musk just sold $5 billion worth of Tesla stock
Singles Day stock tip: Forget Alibaba and look at JD
In Portugal, it's now illegal for your boss to call outside work hours
Americans are ditching knock-off brands: Pampers and Hefty are back
Here's why groceries keep getting more expensive
Financial planning is different for members of the military. Here's what you need to know
If you use Venmo or other payment apps this IRS rule change may affect you
Share your story: Have you recently left your job?
Apartment buildings in the Upper West Side neighborhood of New York, U.S., on on Monday, July 5, 2021.
Manhattan rents are climbing back to pre-pandemic levels
DJ Khaled is selling chicken wings in partnership with Reef.
A Subaru Corp. Solterra electric sport utility vehicle (SUV) during an unveiling event in Tokyo, Japan, on Thursday, Nov. 11, 2021. Subaru premiered its first all-electric SUV jointly developed with Toyota Motor Corp. as the smaller automaker plays catchup with its larger peers in electric cars.
Subaru unveils the Solterra, its first all-electric car, developed with Toyota
BUSINESS OF FASHION
A holiday shopper looks through clothes racks at the H&M store on W. 34th St.
OPINION
The RealReal CEO: Fashion is polluting our planet. We need regulation
Levi's says casual comfort is our new normal
T-shirts and jeans may get more expensive
The mysterious fashion app that's as popular as Amazon
ANALYSIS Xi's pledge to redistribute wealth brings back bad memories for luxury brands in China
WEALTH COACH
This is one of the best ways to get tax-free retirement savings
How to handle finances after the death of a loved one
Expecting a baby? Here's how to get your finances ready
This is the best financial advice you ever got
You might be able to retire earlier than you think. Here's how
Headlines from right-of-center Newsmax – evening of 11.11.2021
Port Industry Leader: Supply Chain Woes Could Worsen Under Biden's Vax Mandate
Shipping containers are seen reflected in a pond at the Port of Savannah in Georgia. The supply chain crisis has created a backlog of nearly 80,000 shipping containers at this port, the third-largest container port in the United States, with around 20 ships anchored off the Atlantic coast, waiting to offload their cargo. A shortage of truck drivers to transport goods from warehouses to retailers has caused shipping containers to be backed up.
Pacific Maritime Association President James McKenna told Bloomberg Law he was concerned that some unvaccinated workers won't report for duty with a mandate in place. "Probably the worst thing that could happen to us is to have less bodies available to man these terminals," he said. [Full Story]
Newsmax TV
Babin: Vets Shouldn't Lose Benefits Over Mandate | video
Fallon: Honor Vets by Being 'Best American' | video
Ric Grenell: Visited Kosovo-Serbia to Express Agreement Concerns
Baird: Nation's Changing Attitude on Veterans 'Exciting' | video
Nunes: Russia 'Hoax' a Narrative 'Paid for' by Clinton Campaign | video
Ben Carson: 'Experimental' COVID-19 Child Vaccines Not Really Needed | video
Crawford: Piles of Cash Won't Fix Supply Chain | video
More Newsmax TV
Newsfront
US Appeals Court Temporarily Halts Release of Trump Docs to 1/6 Panel
A U.S. appeals court on Thursday put on hold a lower court ruling allowing congressional investigators to obtain former President Donald Trump's White House records relating to the Jan. 6 attack on the U.S. Capitol.Trump's lawyers had asked the U.S. Court of Appeals for the…… [Full Story]
Related Stories
Trump Seeks 'Administrative' Injunction to Block Records Release to Jan. 6 Panel
6 Panel Subpoenas 6 More Trump Associates
House 1/6 Panel Subpoenas 10 More Ex-Trump Admin Officials
Prosecutor in Rittenhouse Murder Trial Tangles With Judge
The lead prosecutor in Kyle Rittenhouse's murder trial in Wisconsin [Full Story]
Related
Dem Rep Scrutinized for 'Lock Up' Rittenhouse Tweet
Judge Schroeder Admonishes Rittenhouse Trial Prosecution
Texas Concert Death Toll Rises as Student, 22, Succumbs to Injuries
The death toll in the Astroworld Festival stampede rose to nine with [Full Story]
US Concerned About Russian Military Activity Near Ukraine
As the U.S. expresses concern about Russian military activity near [Full Story]
Rob Carson Show Adds 3 New Radio Affiliates
Newsmax Radio announced this week that "The Rob Carson Show" radio [Full Story]
Scores of Service Members Spend First Veterans Day Back Home
For the first time in 20 years, America's post-wars posture is [Full Story] | Platinum Article
Related
Legislation Targets Historic GI Bill Racial Inequities
Biden Announces Effort to ID Toxic Air Issues in Veterans
Ronna McDaniel: GOP Offers Supply Chain Solutions as Democrats Disappoint
America has a supply chain crisis, and President Joe Biden is failing [Full Story]
Related
Ted Cruz Slams Biden On Inflation, Immigration
RNC Chair McDaniel: Biden, Dems 'Out of Touch' With Reality of Inflation
Surging Gas, Food Prices Fan Inflation & Erode Wages
US Consumer Prices Soared 6.2 Percent in past Year, Most since 1990
Manchin: Congress Can't Ignore 'Pain' Caused by Rising Inflation
Biden: Reversing Inflation a 'Top Priority'
Seattle So Dangerous They Will Escort Public Workers Out of City
King County will begin escorting public sector workers based in [Full Story]
Former Obama Ethics Chief Slams WH Hiring of New Adviser as Unethical
Walter Shaub, the ethic chief under former President Barack Obama, on [Full Story]
Miami to Grant 'Bitcoin Yield' to Citizens
Miami Mayor Francis Suarez announced on Thursday that the Florida [Full Story]
Oklahoma Gov. Stitt Signs Executive Order Banning Nonbinary Birth Certificates
Oklahoma Gov. Kevin Stitt, this week ordered the Oklahoma State [Full Story]
Port Industry Leader: Supply Chain Issues Could Worsen Under Biden Vaccine Mandate
President Joe Biden's COVID-19 vaccine mandate could worsen the [Full Story]
Aaron Rodgers' Integrity Questioned After Vaccine Status Controversy
Green Bay Packers quarterback Aaron Rodgers' cleverly crafted [Full Story] | Platinum Article
DeSantis: I'll Send Migrants to Delaware
Florida Gov. Ron DeSantis is threatening to bus illegal migrants sent [Full Story]
Subway Tuna Lawsuit Now Says Chicken, Pork, Cattle DNA Detected
A new version of a lawsuit accusing Subway of deceiving the public [Full Story]
New 'Rocket Docket' for Migrant Families Raises Old Concerns
The average time for U.S. immigration cases to be resolved is nearly [Full Story]
Mayor-Elect Adams Vows NYPD Gun Unit Return Despite BLM 'Bloodshed' Threats
New York City Mayor-elect Eric Adams refused to back down from his [Full Story]
Palace: Queen Elizabeth II Will Attend Remembrance Service
Queen Elizabeth II, who has canceled recent public appearances on her [Full Story]
CIA Wants Young Recruits, Doesn't Care About Social Media Presence
The CIA is looking for Gen Z applicants for agency jobs and says it [Full Story]
More COVID Home Test Kits Recalled Over False Positive Results
A recall of Ellume at-home COVID-19 test kits has been expanded to [Full Story]
US Chamber of Commerce: Reconciliation Bill 'Gimmicks' Hide $1T in Spending
The U.S. Chamber of Commerce, the country's largest lobbying group, [Full Story]
Trump Seeks 'Administrative' Injunction to Block Records Release to Jan. 6 Panel
Former President Donald Trump has asked the U.S. Court of Appeals for [Full Story]
Trump Slams Biden for Ignoring Kosovo-Serbia Agreement
Former President Donald Trump issued a statement Thursday saying that [Full Story]
DOJ, FBI Had Defended Steele Dossier Source Accused of Lying
The Department of Justice and the FBI gave cover to Igor Danchenko, [Full Story]
Baird to Newsmax: Nation's Changing Attitude on Veterans 'Exciting'
Jim Baird, who lost his left arm fighting in the Vietnam War, [Full Story] | video
Corps Won't Discipline Marine for Appearing With Trump
Lance Cpl. Hunter Clark will not be punished by the Marine Corps for [Full Story]
Hunter Biden Avoids Answering Laptop Question After Art Gallery Party
Hunter Biden snapped a retort Wednesday after being asked whether his [Full Story]
Postmaster DeJoy: USPS Ready to Deliver on Time This Year
Postmaster General Louis DeJoy, a year after the U.S. Postal Service [Full Story]
GOP Strategists: Trump Attacks on McConnell Signal 2024 Run
Former President Donald Trump is continuing verbal attacks on Sen. [Full Story]
Chris Stapleton Wins Big at CMA Awards
Fiery performances and nods to diversity gave the 55th Annual Country [Full Story]
After Twitter Poll, Tesla CEO Musk Sells Off $5B in Shares
After making a promise on Twitter, Tesla CEO Elon Musk has sold about [Full Story]
More Newsfront
Finance
US Shoppers Outspend Chinese to Restore Luxury Market
The personal luxury market of high-end accessories, leather goods and apparel has snapped back to pre-pandemic levels as U.S. shoppers outspent those in China in pursuit of the latest fashion trends, according to a study released Thursday by the Bain consultancy…. [Full Story]
'Rust' Tragedy, Labor Climate Frame Hollywood Contract Vote
Spotify Bolsters Audiobooks Business With Findaway Buy
Facing a Boom Without Workers, Australian Employers Deploy Bonuses & Raises
Trevor Gerszt: Rising Prices Boost Gold and Silver
More Finance
Health
New Law Provides Service Dogs for Veterans Suffering From PTSD
Approximately 11% to 20% of veterans from the Iraq and Afghanistan wars suffer from post-traumatic stress disorder (PTSD) in any given year, says the Department of Veteran Affairs. PTSD is a leading cause of impaired quality of life and daily function among veterans. Now,…… [Full Story]
Biden Announces New Lung Health Program for U.S. Veterans
Eating an Anti-inflammatory Diet May Ward Off Dementia
Too Much Sitting May Be Bad for Your Mental Health
'Science and Solidarity': Why Puerto Rico Leads US in COVID Vaccinations
Manufactured Housing Industry Investments Connected Equities Closing Tickers
Some of these firms invest in manufactured housing, or are otherwise connected, but may do other forms of investing or business activities too.
NOTE: The chart below includes the Canadian stock, ECN, which purchased Triad Financial Services, a manufactured home industry lender
NOTE: Drew changed its name and trading symbol at the end of 2016 to Lippert (LCII).
NOTE: Deer Valley was largely taken private, say company insiders in a message to MHProNews on 12.15.2020, but there are still some outstanding shares of  the stock from the days when it was a publicly traded firm.  Thus, there is still periodic activity on DVLY.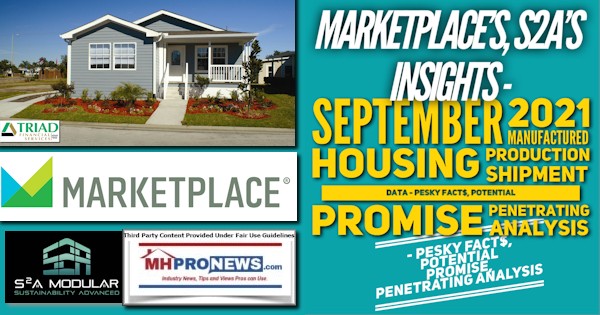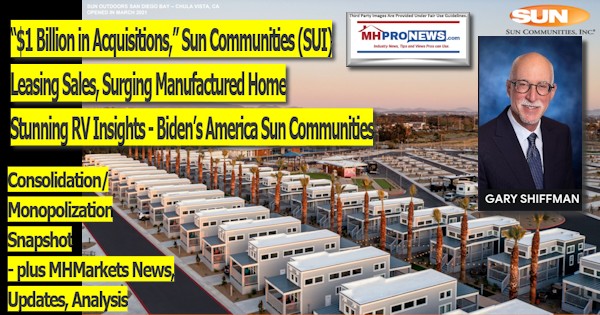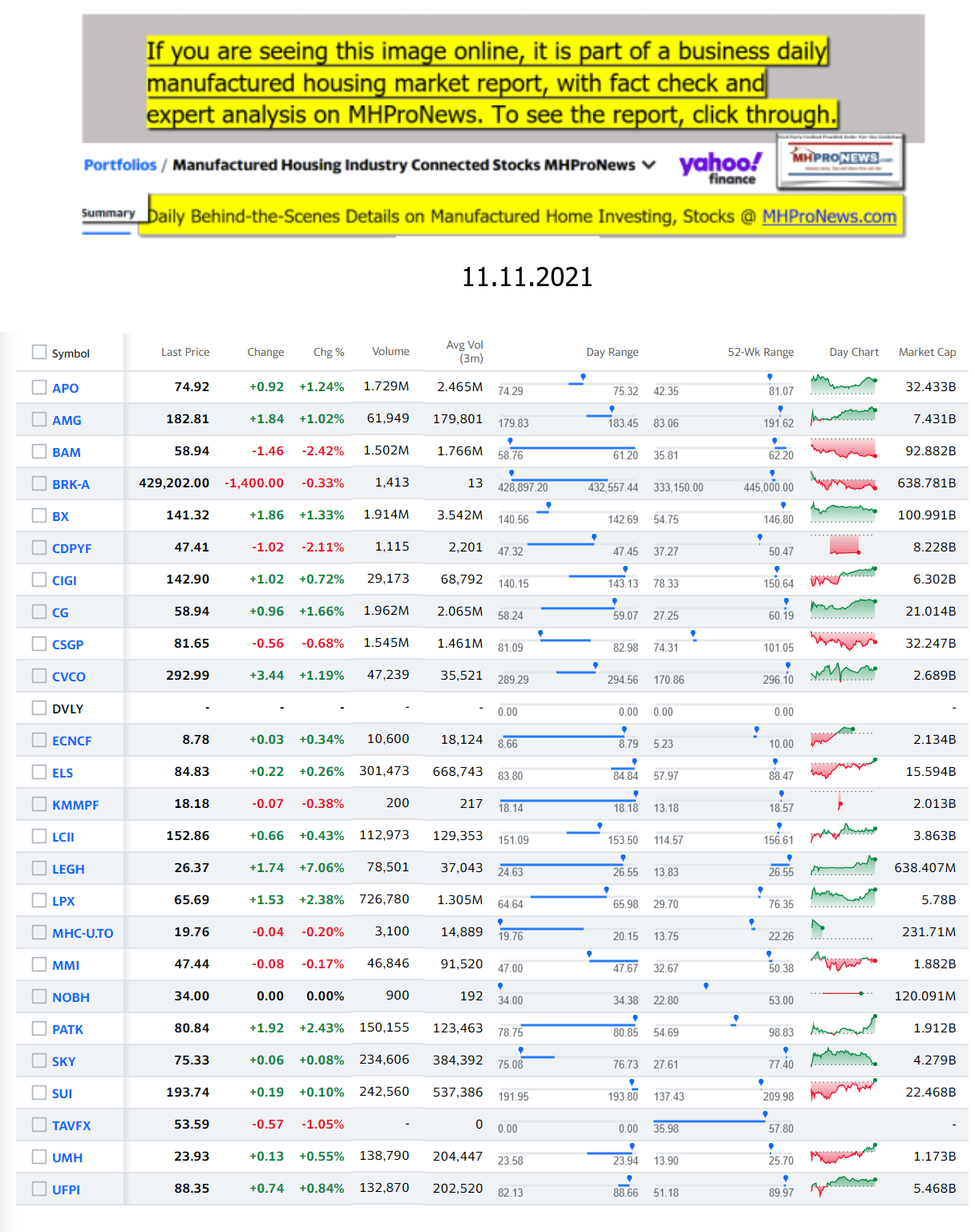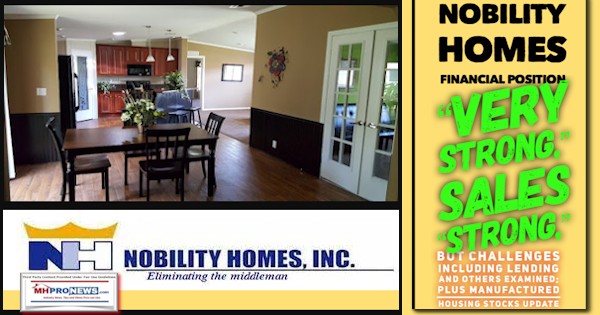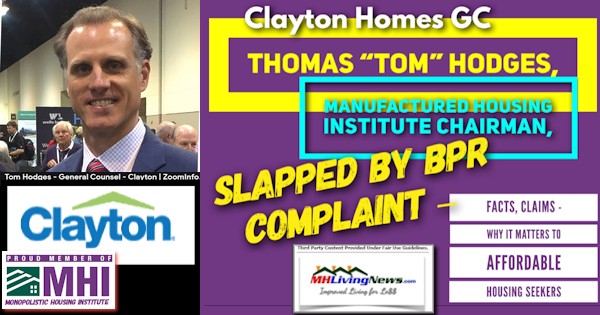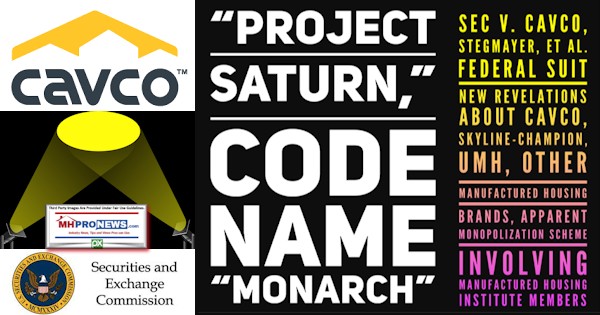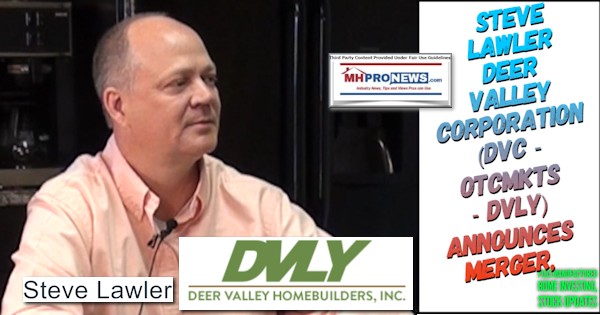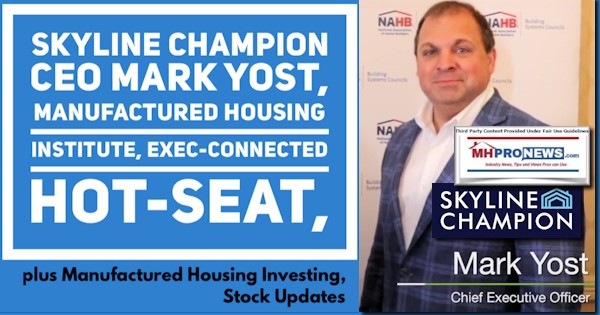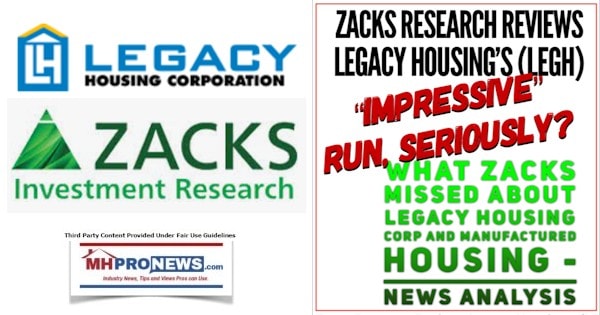 As the Summer of 2021 draws to a close…
Berkshire Hathaway is the parent company to Clayton Homes, 21st Mortgage, Vanderbilt Mortgage and other factory built housing industry suppliers.
· LCI Industries, Patrick, UFPI, and LP each are suppliers to the manufactured housing industry, among others.
· AMG, CG, and TAVFX have investments in manufactured housing related businesses. For insights from third-parties and clients about our publisher, click here.
Enjoy these 'blast from the past' comments.
MHProNews. MHProNews – previously a.k.a. MHMSM.com – has celebrated our 11th year of publishing, and is starting our 12th year of serving the industry as the runaway most-read trade media.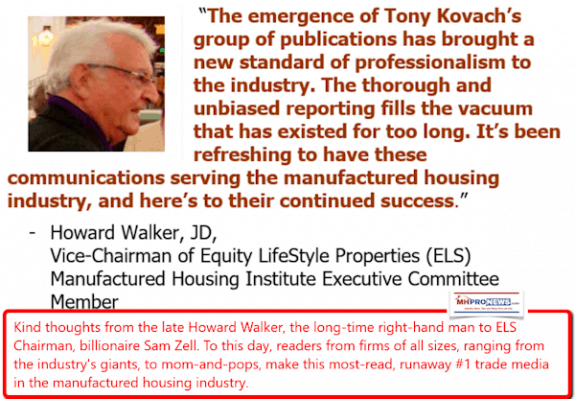 Sample Kudos over the years…
It is now 11+ years and counting…
Learn more about our evolutionary journey as the industry's leading trade media, at the report linked below.
· For expert manufactured housing business development or other professional services, click here.
· To sign up in seconds for our industry leading emailed headline news updates, click here.

Disclosure. MHProNews holds no positions in the stocks in this report.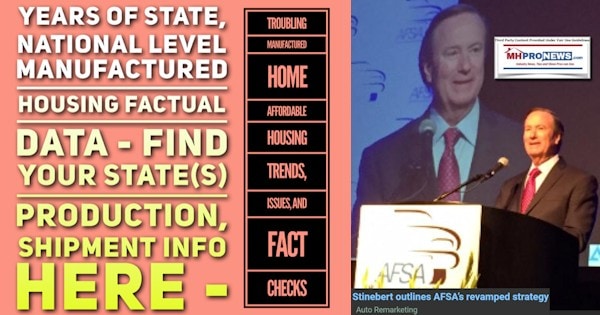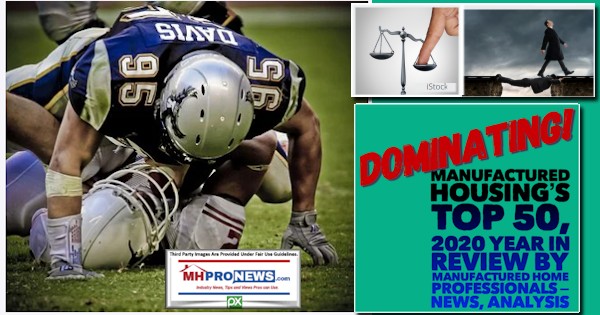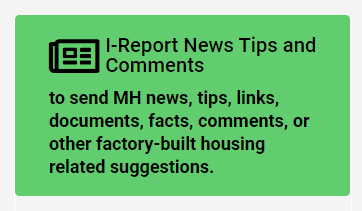 That's a wrap on this installment of "News Through the Lens of Manufactured Homes and Factory-Built Housing" © where "We Provide, You Decide." © (Affordable housing, manufactured homes, stock, investing, data, metrics, reports, fact-checks, analysis, and commentary. Third-party images or content are provided under fair use guidelines for media.) (See Related Reports, further below. Text/image boxes often are hot-linked to other reports that can be access by clicking on them.)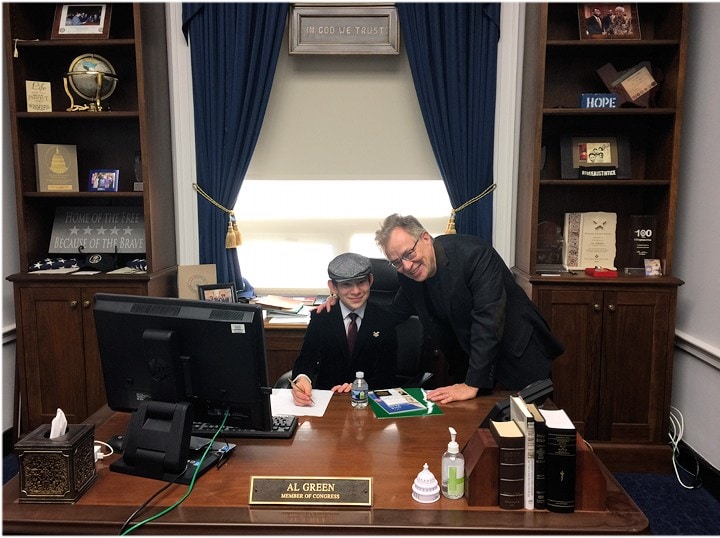 By L.A. "Tony" Kovach – for MHProNews.
Tony earned a journalism scholarship along with numerous awards in history. There have been several awards and honors and also recognition in manufactured housing. For example, he earned the prestigious Lottinville Award in history from the University of Oklahoma, where he studied history and business management. He's a managing member and co-founder of LifeStyle Factory Homes, LLC, the parent company to MHProNews, and MHLivingNews.com. This article reflects the LLC's and/or the writer's position, and may or may not reflect the views of sponsors or supporters.