"The chains of habit are too light to be felt until they are too heavy to be broken," said Warren Buffett.
That's based on the following that Quote Investigator said was penned by dictionary maker Samuel Johnson in 1748. "The chains of habit are too weak to be felt until they are too strong to be broken."
There are those who could be confronted with a mountain of evidence, but who would refuse to look at it for a variety of reasons. News, fact checks, and analysis exists for those who are objective enough to look at the facts and can think independently, even if it means changing a previously held view.

"Facebook announced on Wednesday they will be "reducing" the spread of the new New York Post story about Hunter Biden, which claims new emails and photos shed light on his foreign business dealings, as it undergoes a review by "third-party fact checking partners." So said right-of-center Townhall earlier today.
While I will intentionally not link to the New York Post, I want be clear that this story is eligible to be fact checked by Facebook's third-party fact checking partners. In the meantime, we are reducing its distribution on our platform.

— Andy Stone (@andymstone) October 14, 2020
 Townhall continued, "The announcement was made by Andy Stone, who currently works as Policy Communications Manager for Facebook. In his tweet, he made it a point to not link to the Post's story, adding, "I want be clear that this story is eligible to be fact checked by Facebook's third-party fact checking partners. In the meantime, we are reducing its distribution on our platform."
Millions 'get' their news from Facebook and Twitter. Right-of-center Breitbart, Townhall, and others are accusing those social media giants of 'election tampering.'
American are racing toward a deadline with history on November 3, 2020. Shut Down DC is one of scores of leftist groups preparing for an "uprising" on and after November 3, and evidence reflects they were funded by "philanthropists" billionaire Bill Gates, Warren Buffett, and George Soros.
"Shut Down DC" – November Revolution Across USA Plan Exposed, Billionaires Warren Buffett, Bill Gates, George Soros, Backing, "There is No Plan B"
Also 2020 election related is this exchange with left-of-center CNN and House Speaker Nancy Pelosi (CA-D).
This is such a disgusting display by Pelosi who denigrates @wolfblitzer for pushing her on why exactly she won't do a deal w/ The White House on stimulus

Props to Wolf for speaking up for the millions of unemployed, the hungry, and those on the brink pic.twitter.com/FKAUDVXGkW

— Saagar Enjeti (@esaagar) October 13, 2020
Sources indicate that there is increasing pressure on Pelosi from Democrats to make the deal with the Trump administration, for the sake of millions of Americans who need the relief.
That noted, let's pivot back toward the headline story, which will be our featured focus tonight. As usual, the featured focus follows tonight's quotable quotes, left-right headlines, and two of our three market snapshot graphics at the closing bell today. The final market graphic that summarizes over a dozen manufactured housing industry connected stocks at the closing bell follow the featured focus, recent and related report links.
Quotes That Shed Light – American Social, Industry, National Issues..
Headlines from left-of-center CNN Business
The world is waiting
A health worker wearing a protective mask works in a lab during clinical trials for a Covid-19 vaccine at Research Centers of America in Hollywood, Florida, U.S., on Wednesday, Sept. 9, 2020. Drugmakers racing to produce Covid-19 vaccines pledged to avoid shortcuts on science as they face pressure to rush a shot to market.
But don't buy the stock market hype around coronavirus vaccine and treatment companies
Elizabeth Warren slams Disney for layoffs and fat executive pay packages
LIVE UPDATES Stocks slide
Who cares about credit ratings? Italy can borrow money for free
Justin Bieber's footwear collaboration overwhelms site
MISINFORMATION WATCH Facebook will stop allowing anti-vaccine ads
The alarming reason people aren't going to drug stores as often
How Walmart is trying to avoid Black Friday crowds this year
Plexiglass shields are everywhere. Do they help?
Solar power could be 'the new king' as global electricity demand grows
Forget silicon. This material could be a game-changer for solar power
This food delivery company doubled sales in Canada. Next up is the US
How investigators found a jet engine under Greenland's ice sheet
Why NBC is getting lots of grief about its Trump town hall
Fox News portrayed it as one of the biggest scandals in American history. Then it fell apart
In this image from video made available by Blue Origin, the New Shepard rocket lifts off from its launchpad in Texas, to test new lunar-landing technology for NASA that could help put astronauts back on the moon by 2024.
Jeff Bezos' rocket company launches first test of its tourism spaceship in a year
A person uses a laptop computer while working from home in an arranged photograph taken in Tiskilwa, Illinois, U.S., on Tuesday, Sept. 8, 2020. Coronavirus cases in the U.S. increased 0.4% as compared with the same time Monday to 6.32 million, according to data collected by Johns Hopkins University and Bloomberg News.
It's open enrollment season. Here's what you should do differently this year
Mario Kart Live: Home Circuit
Soon you can drive a real-life Mario Kart around your home using the Nintendo Switch
MARKETS
BANK EARNINGS SEASON
Jamie Dimon, chief executive officer of JPMorgan Chase & Co., poses for a photograph on the sidelines of the JP Morgan Global China Summit in Beijing, China, on Wednesday, May 8, 2019. Dimon put the odds of the U.S. and China reaching a trade deal at 80 percent, sounding a note of optimism even after the rising specter of tariffs roiled global markets.
Jamie Dimon: Double dip recession would cause 'pain and suffering'
JPMorgan unexpectedly grows bottom line
Wells Fargo is still in turmoil as profits plunge
Goldman Sachs posts big jump in profits
BlackRock gets even bigger during the pandemic
Headlines from right-of-center Fox Business
SOCIAL MEDIA
Facebook & Twitter reduce distribution of NY Post Hunter Biden story
Social media site says it will rely on its fact-checking partners to determine the story's legitimacy
Joe Biden's alleged links to Burisma 'as damaging as can be,' Giuliani says
POLITICS
LIVE UPDATES: ACB faces another round of fiery questioning on Day 3 of hearings
WATCH LIVE: Judge Amy Coney Barrett's Supreme Court confirmation hearing
MARKETS
Stocks tumble for second day as stimulus hopes fade
POLITICS
Pelosi says Trump wants more stimulus checks just to boost election odds
Pelosi spurns Trump's $1.8T stimulus offer in contentious interview with CNN's Blitzer
OPINION
Tax-addicted progressives are set on crushing big city's once-booming economy
Georgia Democrat Vernon Jones rips Kamala Harris as 'dangerous'
POWER HUNGRY
POLITICS
Dem says Kamala Harris is 'dangerous' for minority community
STIMULUS STALLED
POLITICS
Are Dems afraid a stimulus bill would boost Trump in the polls?
TRUMP BUMP
ECONOMY
Trump teases 'big middle-income tax cut,' reduced rates for businesses
CONFLICT CONCERNS
MEDIA
NBC News in spotlight over staffer's appearance in Chase promos
HEY BUD, LET'S PARTY
LIFESTYLE
Los Angeles home featured in classic 80's film on sale for $740G
BETTER HAVE MY MONEY
LIFESTYLE
From sexiest woman alive to this latest title, Rihanna joins another list
PLACING BETS
POLITICS
Wall Street rolls the dice on Joe Biden-Kamala Harris ticket
SCAM ARTISTS
CRIME
How this Indiana couple says they stole over $1 million from Amazon
PIECE OF ROCK 'N' ROLL HISTORY
MONEY
Eddie Van Halen's guitar patent up for auction
LIFESTYLE
Nearly 40% of Americans plan to reduce cell phone costs, citing coronavirus
LIFESTYLE
Uber, GE partner on aerial ride-sharing program in bid to reimagine post-pandemic aviation industry
LIFESTYLE
Amazon adds augmented reality experience to boxes
LIFESTYLE
Encore at Wynn Las Vegas scaling back to 5-day/4-night schedule as tourism remains low
HEALTHCARE
FDA faults quality control at Lilly plant making Trump-touted COVID drug
LIFESTYLE
Luxury real estate sales continue to surge during pandemic
TECHNOLOGY
Why Ted Cruz singled Google out as the 'the worst' of major tech companies
LIFESTYLE
Airline pivots from Atlantic flights to athleisure clothing
ECONOMY
World's largest furniture retailer launches 'Buy Back' program
ENERGY
Tens of thousands brace for potential blackouts as officials prep for wildfire
TECHNOLOGY
New iPhone lineup unveiled, featuring fresh design and 5G connectivity
REAL ESTATE
New kids on the block: Florida's age-restricted The Villages looks to attract younger residents
MARKETS
Wells Fargo swings to profit as coronavirus blow softens
MARKETS
Goldman Sachs rides trading, dealmaking to record earnings
MEDIA
To think CNN is 'in the pocket' of Trump is 'insane,' Sean Spicer says
REAL ESTATE
Exodus leads to massive rent declines in expensive cities
MEDIA
Netflix making big change to free trial policy
MARKETS
Walmart extends Black Friday sales as spending habits change: What to know
MARKETS
Ford moves Escape SUV production to next year
MARKETS
FOX Business enhances portfolio tracker, real-time market data
Market Indicator Closing Summaries – Yahoo Finance Closing Tickers on MHProNews…
Featured Focus –
Where Business, Politics and Investing Can Meet
What right-of-center Fox News said tonight on Special Report is that the computer that had the bombshell emails, texts, and photos that are purportedly those of Joe Biden's son Hunter Biden with a Ukrainian with controversial Burisma has been in the FBI's hands since December 2019.
Some messages reportedly from that laptop seem to point to influence peddling by Hunter leveraging his father Joe, then Obama's vice president with charge of the Ukraine for the Obama White House.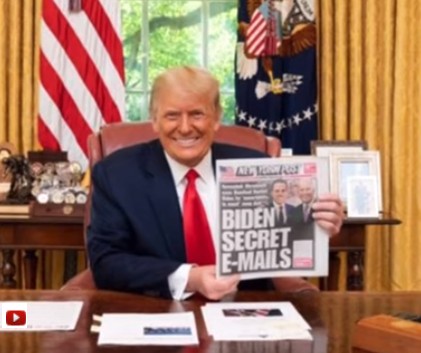 What Fox didn't mention is the context of that timeframe when the laptop was turned over to the FBI. It was during the Democratic impeachment of President Trump for a phone call the commander in chief called "perfect" and the transcript of the call with Ukraine's president being rapidly released by the White House at that time. The benign transcript didn't change Democrats minds.
Former White House chief strategist Steve Bannon discusses new updates on Hunter Biden and Joe Biden's potential ties to the Ukraine.
The bombshell 'October Surprise" 10.14.2020 New York Post story ended with this.

Last December, Joe Biden also lashed out during a Democratic primary town hall event in Iowa, where a man accused him of sending Hunter to Ukraine "to get a job and work for a gas company, he had no experience with gas or nothing, in order to get access to . . . the president."
"You're a damn liar, man. That's not true and no one has ever said that," Biden fumed.
Biden then continued berating the man as he stepped forward, called the man "fat" and challenged him to "do push-ups together, man."
The FBI referred questions about its seizure of the laptop and hard drive to the Delaware US Attorney's Office, where a spokesperson said, "My office can neither confirm nor deny the existence of an investigation."
Hunter Biden's lawyer refused to comment on the specifics but instead attacked Giuliani.
"He has been pushing widely discredited conspiracy theories about the Biden family, openly relying on actors tied to Russian intelligence," the lawyer, George R. Mesires, said of Giuliani.
Pozharskyi and the Joe Biden campaign did not return requests for comment. Hochstein could not be reached."
##
Townhall and Breitbart are among those who say that social media giants are de facto interfering with the election by restricting access to this story. Early voting is underway.  Would Biden have a chance if there were straight reporting, instead of a high degree of spin and agenda driven mainstream media?
See the related reports.
Related, Recent, and Read Hot Reports
"Rising China is a Positive Development" – Joe Biden, "Riding the Dragon" Exposé "The Bidens Chinese Secrets" Video Documentary
U.S. Senate Homeland Security and Governmental Affairs Report Obtained, Purported Corrupt and Illegal Acts by Bidens, plus Manufactured Housing Investing, Stock Updates
AEI's Edward Pinto, Fortune – Housing Flips Recession Script, But Trouble Looms Just Ahead – Manufactured Housing Insights
"Let This Moment Radicalize You," FBI Raids Manufactured Home to Foil Radical Plot, Gov Whitmer Blames President Trump
Fake News, Fake Debates, Fake Science, Fake History – VP Mike Pence + Senator Kamala Harris Debate, plus Manufactured Home Investing, Stock Updates
Wall Street Backing, Black Americans Platinum Plan, KKK & Antifa Branded "Terrorist Organizations," plus Manufactured Housing Investing, Stock Updates
"More Punitive Regulatory" Regime Looms Warns New Manufactured Housing Industry Insider
White Billionaires vs Blacks, Minorities, "Uncle Tom" "Gaslighting" "Misdirection and Deception" – "Uncle Tom" Videos Review, plus Sunday Headline Recap
Attorney Jamie Smith – RBG Fan – Explains Joining Satanic Temple; Judge Amy Coney Barrett Connection, plus Sunday Weekly Headlines Review
"We are trained Marxists." – Black Lives Matter (BLM) co-founder Patrisse Cullors, "Deception and Misdirection" – Capital Research Center
U.S. Revolutionary Communist Leader Bob Avakian Endorses Democrat Joe Biden for President, plus Manufactured Housing Investing, Stock Updates
Trevor Loudon's "Who's Who of House Pro-Socialists…Is Your Representative On The List?" Plus, Manufactured Housing Investing, Stock Updates
Dark Money-Billionaires Buffett, Gates, Soros Funding Black Lives Matter, Antifa – Named by AG Barr in Riots, Looting – Hijacking Peaceful George Floyd Death Racial Justice Protests
'Dawn of the New Middle East,' says President Trump After Signing Peace Deal with Bahrain, UAE, Israel – Why It Matters – plus Manufactured Home Investing, Stock Updates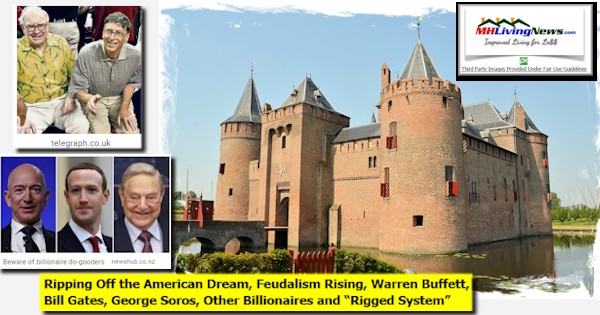 "Strong Horse" Post-Debate Surge? Hunter Biden, Blacks, Hispanics, Other Debate Insights Plus Manufactured Housing Investing, Stock Updates
Manufactured Housing Industry Investments Connected Closing Equities Tickers
Some of these firms invest in manufactured housing, or are otherwise connected, but may do other forms of investing or business activities too.
NOTE: The chart below includes the Canadian stock, ECN, which purchased Triad Financial Services, a manufactured home industry lender
NOTE: Drew changed its name and trading symbol at the end of 2016 to Lippert (LCII).
Fall 2020…
Berkshire Hathaway is the parent company to Clayton Homes, 21st Mortgage, Vanderbilt Mortgage and other factory built housing industry suppliers.
· LCI Industries, Patrick, UFPI, and LP each are suppliers to the manufactured housing industry, among others.
· AMG, CG, and TAVFX have investments in manufactured housing related businesses. For insights from third-parties and clients about our publisher, click here.
Enjoy these 'blast from the past' comments.
MHProNews. MHProNews – previously a.k.a. MHMSM.com – has celebrated our tenth anniversary and is in year 11 of publishing.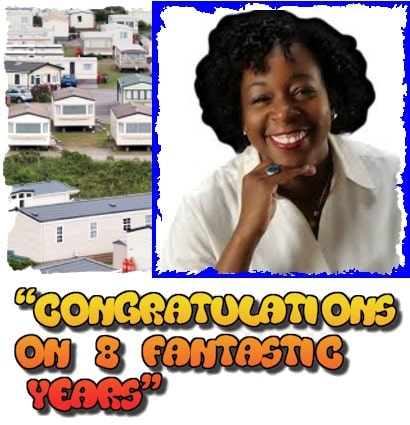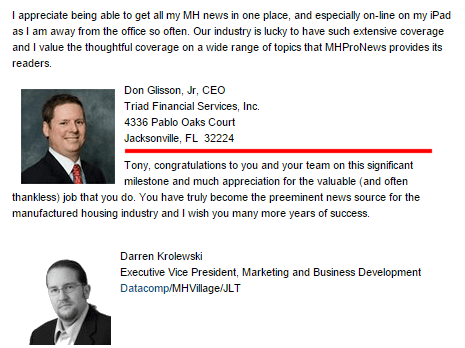 Learn more about our evolutionary journey as the industry's leading trade media, at the report linked below.
· For expert manufactured housing business development or other professional services, click here.
· To sign up in seconds for our industry leading emailed headline news updates, click here.

Disclosure. MHProNews holds no positions in the stocks in this report.
2019 Year-End Totals Reveals Decline in New HUD Code Manufactured Home Production, Shipments vs. 2018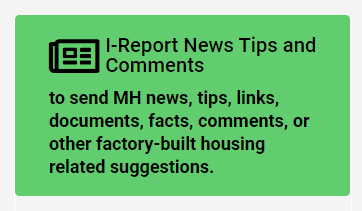 That's a wrap on this installment of "News Through the Lens of Manufactured Homes and Factory-Built Housing" © where "We Provide, You Decide." © (Affordable housing, manufactured homes, stock, investing, data, metrics, reports, fact-checks, analysis, and commentary. Third-party images or content are provided under fair use guidelines for media.) (See Related Reports, further below. Text/image boxes often are hot-linked to other reports that can be access by clicking on them.)
By L.A. "Tony" Kovach – for MHLivingNews.com.
Tony earned a journalism scholarship and earned numerous awards in history and in manufactured housing. For example, he earned the prestigious Lottinville Award in history from the University of Oklahoma, where he studied history and business management. He's a managing member and co-founder of LifeStyle Factory Homes, LLC, the parent company to MHProNews, and MHLivingNews.com. This article reflects the LLC's and/or the writer's position, and may or may not reflect the views of sponsors or supporters.