Equity Lifestyle Properties (ELS), Sun Communities (SUI), The Carlyle Group (CG), Brookfield (BAM), Blackstone (BX), Apollo (APO), Dave Reynolds and Frank Rolfe, Clayton Homes, 21st Mortgage Corporation, Vanderbilt Mortgage and Finance (BRK brands), and Legacy Housing (LEGH) were all mentioned in a raw dollars and cents style evaluation of manufactured housing industry consolidation. Vishesh Raisinghani via Yahoo Finance said, "Corporate landlords are gobbling up mobile home parks and quickly driving up rents — here's why the space is so attractive to them." Several items as well as companies were missing from Raisinghani's romp through MHVille as he sang the glorious benefits for investors of consolidation. This MHProNews report and analysis will share Motley Fool's bio of Raisinghani, and then share the Yahoo finance version of his article. An MHProNews analysis and commentary in brief will follow. Today's article will wrap up with a look at the market moving headlines from CNN Business (left) and Newsmax (right), plus the macro and manufactured home industry specific equities tracked following every business day on this site.
Here is what the Fool's bio in brief says about the referenced author: "Vishesh is the founder of Sharpe Ascension – a financial content marketing agency based in Toronto. His investments and research are focused on FinTech, Bitcoin, AI, EVs, SaaS, green energy and telehealth stocks." So, Raisinghani is a financial content marketer, per the Fool.
Here is what Yahoo Finance provided under the headline as shown. Yahoo provided this disclaimer at the end: "This article provides information only and should not be construed as advice. It is provided without warranty of any kind."
Corporate landlords are gobbling up mobile home parks and quickly driving up rents — here's why the space is so attractive to them

Vishesh Raisinghani
Wed, September 7, 2022 at 7:30 AM·4 min read

Corporate landlords are gobbling up mobile home parks and quickly driving up rents — here's why the space is so attractive to them
The hunt for yield has pushed private equity firms and professional investors into new segments of the real estate market.
In recent years, sophisticated investors have snapped up multi-family units and single-family homes. Now, corporate landlords are targeting the most cost-effective segment of the real estate market: mobile home parks.
The most affordable U.S. housing option
Manufactured homes or mobile homes are considered the most affordable non-subsidized housing option in America. That's because the owners own only the prefabricated unit and not the land under the home. The land is usually leased from the landlord of a trailer park.
The average monthly rent for a mobile home in 2021 was $593. That's significantly lower than the average one-bedroom condo rental rate of $1,450. The mobile park rental also often includes utilities and insurance.
Rents typically rise 4% to 6% annually and renters have the flexibility to move their housing unit to another park. These factors make the manufactured home highly attractive to low-income households.
As of 2020, nearly 22 million Americans lived in mobile homes. That's 6.7% of the total population or about one in 15 people across the country. However, the economic inefficiencies that make these manufactured homes affordable also make them attractive to professional investors.
Investing in mobile home parks
Factors such as below-market rents and disrepair make mobile home parks attractive for investors seeking to add value. The typical mobile home park lot costs $10,000, which means 80 lots would be worth $800,000 on average.
Put simply, the entry price for these parks is much lower than multi-family apartments and condo buildings across the country.
Professional investors can also raise rents significantly to improve the valuation of the property. Attracting tenants with higher incomes or improving the park's amenities and infrastructure are other value-add strategies that make this asset class appealing.
The fact that moving a typical mobile home costs between $3,000 to $10,000 also means that most tenants are unable to afford the move. This gives landlords immense pricing power.
Meanwhile, the yield is much higher. The capitalization rate (the ratio of net operating income to market price) could be as high as 9%, according to real estate partners Dave Reynolds and Frank Rolfe, who together are the fifth-largest owner of mobile home parks in the U.S.
The largest mobile park landlord is real estate veteran Sam Zell. Zell's Equity LifeStyle Properties (ELS) owns 165,000 units across the country and the asset is a key element of his $5.4 billion fortune.
In recent years, larger investors such as Singapore's sovereign wealth fund GIC and private equity firms such as The Carlyle Group, Brookfield, Blackstone, and Apollo have also added exposure to this asset class.
Even Warren Buffett is involved. His firm's subsidiary, Clayton Homes, is the largest manufacturer of mobile homes in the U.S., and also operates two of the biggest mobile home lenders, 21st Mortgage Corp. and Vanderbilt Mortgage.
You can invest too
Retail investors looking for exposure to mobile home parks have plenty of options. Acquiring a park is, perhaps, the most straightforward way to access this asset class. However, publicly-listed stocks and real estate investment trusts offer exposure too.
Sam Zell's Equity LifeStyle Properties is listed on the New York Stock Exchange under the ticker ELS. Sun Communities Inc. (SUI) owns 146,000 units across the U.S. and some in Canada, while Legacy Housing Corp. (LEGH) builds, sells, and finances manufactured homes.
Retail and institutional investors could see more upside from this segment as the economic inefficiencies are ironed out. ##
Additional Information with More MHProNews Analysis and Commentary
Beyond terminology errors, Raisinghani failed to mention several publicly traded firms that are involved in the manufactured home community space or produce manufactured homes. Cavco Industries (CVCO), Skyline Champion (SKY), Nobility Homes (NOBH) are publicly traded builders of HUD Code manufactured homes he didn't mention. Among manufactured home communities, UMH Properties (UMH), Flagship Communities (MHC-UN.TO), and Killiam – which has apartments as well as manufactured home communities. There are other players to be sure who are either have some publicly traded exposure and/or are private firms operating in manufactured housing in one or sometimes more capacities.
Among the comments posted on Yahoo's article above are these:
"These vultures are destroying one of the few havens left for low-income people. To promote buying these parks and then raising rents to generate higher profits at the expense of tenants who can't afford them in unconscionable. This is blackmail since most tenants can't afford to move their homes or find a new place to live. Laws in many states prevent relocation of older mobile homes."
"This is why they must limit the buying power of these investors. If they don't, this will destroy whatever "middle income" people there are. Housing builds generational wealth. You can't have a country full of rich renters, it just doesn't work."
"Why are landlords actively trying to create more homeless people? If you price everything out of everyone's range, who's going to rent your property?"
"So are we saying that there will be nothing left for the lower income levels of our society for decent housing?"
"I listened to one of these investors being interviewed on NPR about not making repairs or upkeep of these parks. They don't care about the people living there. I mean they are making so much money they really do not care if the roads flood or anything else. Counties and cities can complain about whatever they are neglecting is having a negative impact on county and city property and they don't care. Sue them but they see that as the cost of doing business. They will just raise the cost of renting their land if you do. And that is why a lot residents don't want to sue."
"There was a half-hour segment about this on Last Week Tonight a while back, felt really bad for these people. Mobile homes were supposed to be something like the last refuge for those who couldn't afford homes or rent, and now even those are just becoming another vehicle for investors to squeeze blood out of a stone that can barely be squeezed any longer."
"Basically, they will just increase the homeless population."
"Commercial investors should not be allowed to purchase any single family dwellings."
"From college to healthcare and even mobile home parks – they want it all and will take it all. Corporations in the US seek to claim every last dime before someone dies and if that's not enough, the US government will step in and provides more." ##
On 9.10.2022 at 7.17 AM, there were 188 comments like those cited above on that Yahoo Finance article. This is what longtime industry pro and observer Martin "Marty" Lavin, J.D., would caustically refer to as the industry's 'other' image campaign.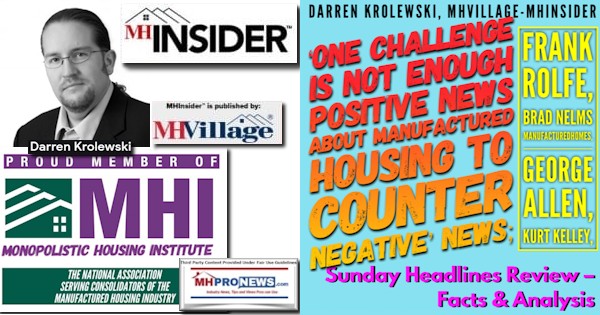 If the review of the first few dozen are any indication, then the bulk focused on the negative impacts of private equity 'vulture' capitalist involvement in manufactured housing. For balance, overlooking the problematic use of terminology, Raisinghani got many facts correct. But among the obvious goofs from a 'just the facts' industry professional's vantagepoint is the erroneous claim that "The typical mobile home park lot costs $10,000, which means 80 lots would be worth $800,000 on average." While older and smaller communities in more rural locations may be found for that type of figure, more desirable investor-sought properties are going for several times that 10K per homesite price-point.  For instance. Using the data from Sun (SUI) below, the average acquisition cost for sites during that period was about $71,856. While it must be noted that this included RV and marina sites, not just manufactured homes, it would not be uncommon cost per site for nicer manufactured home communities that the largest REITs often seek. In the UMH Properties 'case study' example shown following the Sun graphic, they said that the acquisition cost for that specific property was $17,000 per site. Note that beyond location and the perceived quality of the community asset, the percentage of occupied sites and the revenues at the time of purchase are among the factors that drives the higher costs for SUI or ELS in their acquisition model.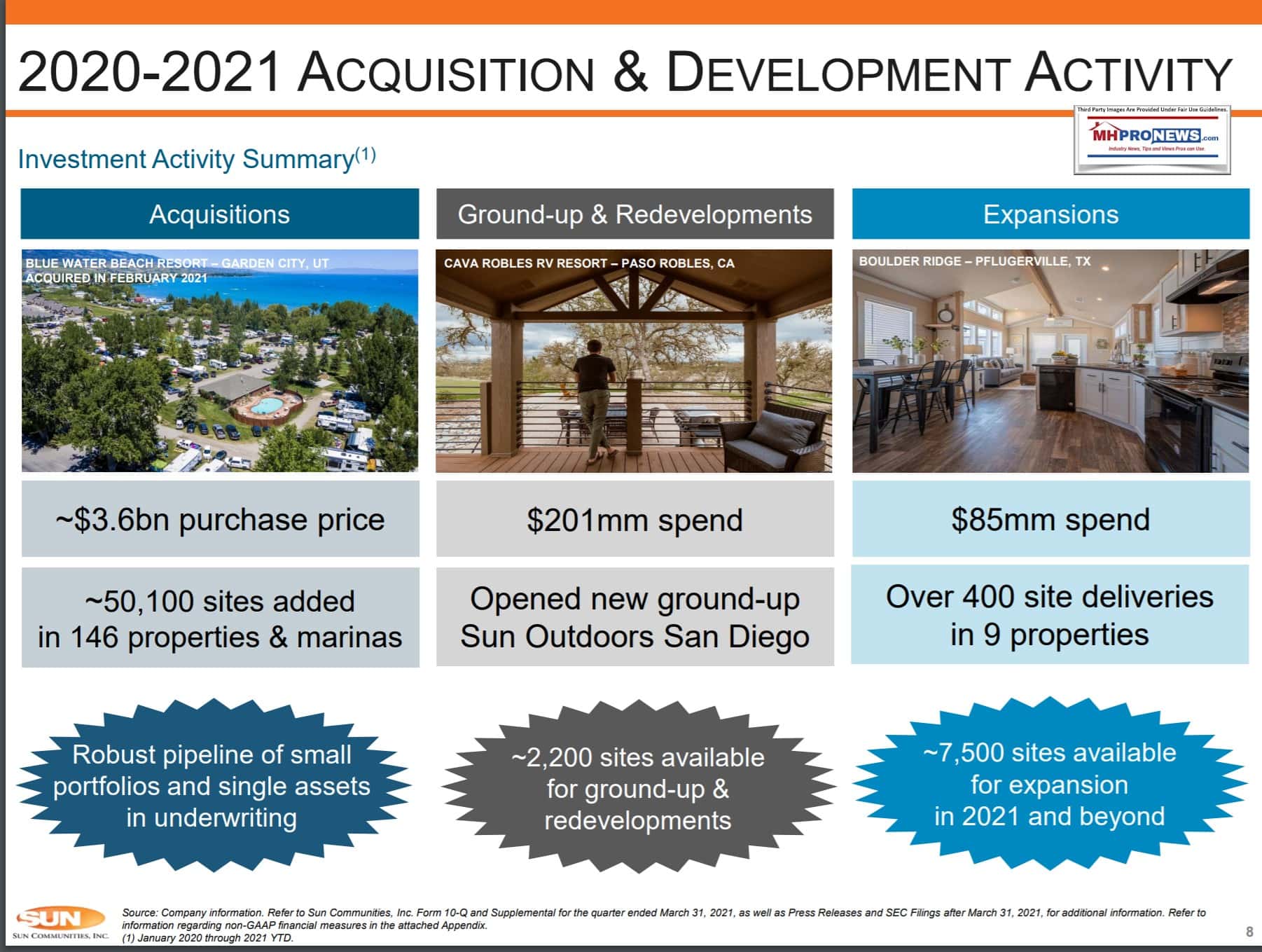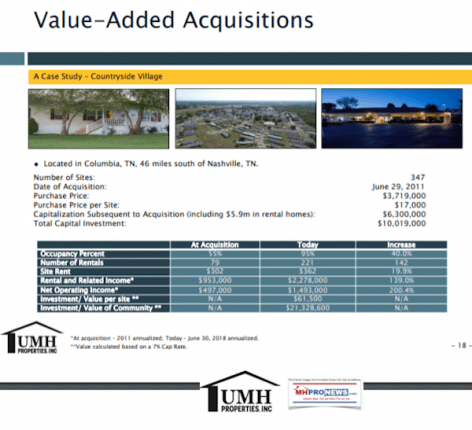 What is often overlooked in such reports is the fact that some REITs and consolidators are paying at times more to buy an existing property – due in part to occupancy – than it does to develop a site from the ground up (greenfield developing). Who said? Sun Communities CEO Gary Shiffman.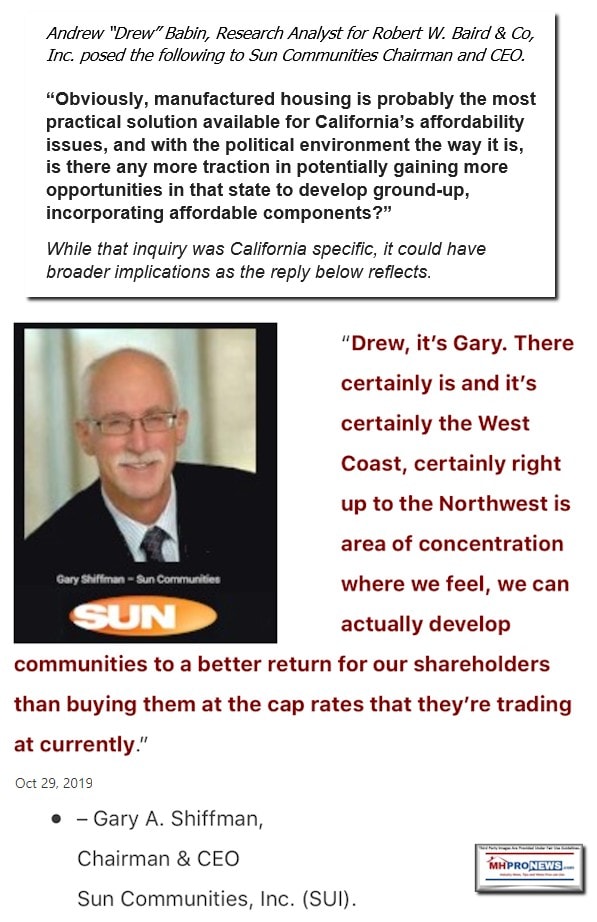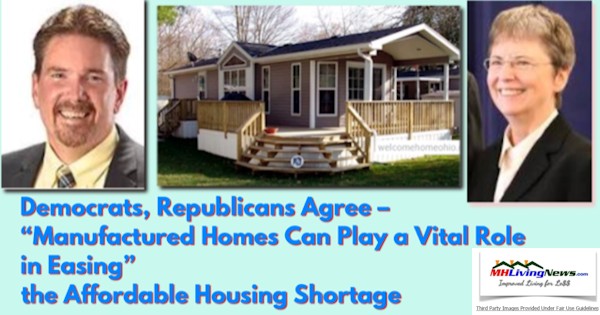 The examples shown also reveal how the Manufactured Housing Institute (MHI) has arguably failed authentically representing "all segments" of the industry because that wave of negative comments is indicative of how that Yahoo Finance audience sees the business practices of numbers of firms in our profession.
There are too many topics raised in the above that have been glossed over, but in fairness, his column was also brief (over 600 words). To learn more, see the linked reports that follow.
Investor's Business Daily Manufactured Housing Industry Snapshot Asks – 'Do Manufactured Homes Stand to Benefit as Housing Market Weathers Recession?' Clayton, Skyline Champion, Cavco, MHC REITs
MH Community Resident Claims 'Intrusive and Scary' Attorney General Says 'Draconian' as AG Keith Ellison's Officials Intervene with 'Mobile Home Park's' New Owners, Will Other States Follow?
While Conventional Housing Sales Slide, HUD Code Manufactured Housing Production Continues to Rise YoY in July 2022; plus Manufactured Home REITs, Stocks Update
TRERC Says #1 'Texas Manufactured Housing Industry Pulls Back Production' But Conflicting Data Raises SEC, Antitrust, Other Concerns – Exclusive Facts & Analysis – plus, MHC REITs, Stocks Update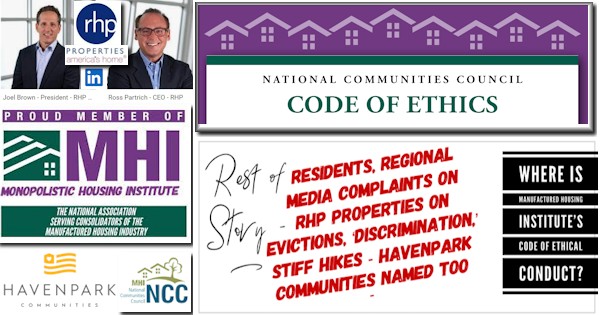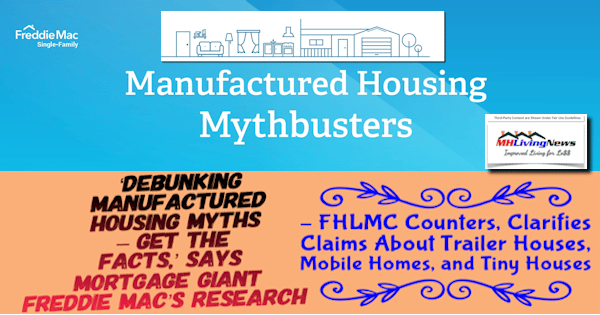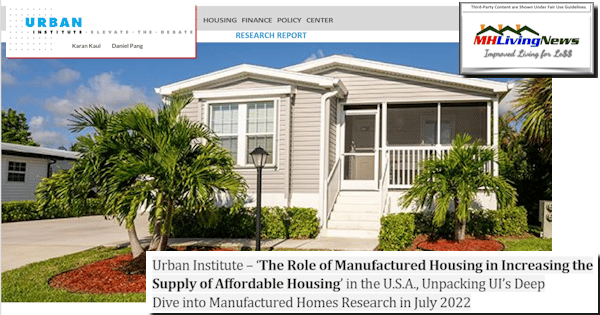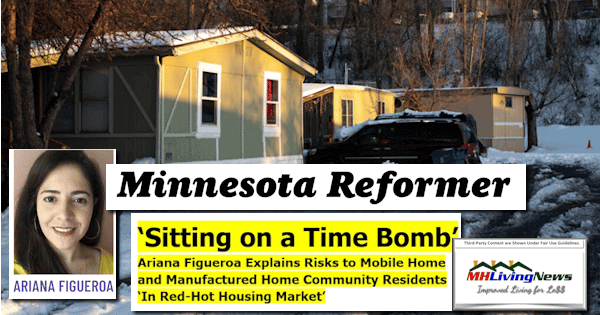 More information on stock-specific publicly traded companies are found further below.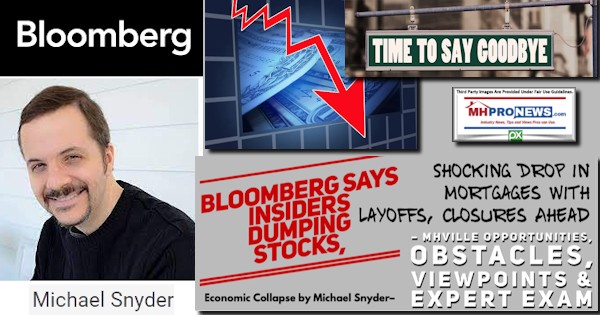 Daily Business News Macro and Manufactured Housing Markets Segment
NOTICE: Based on feedback, a modification of our Daily Business News on MHProNews recap of yesterday evening's market report is provided. It will still include our left (CNN Business) and right (Newsmax) 'market moving' headlines. The macro market moves graphics will provide context and comparisons for those invested in or tracking manufactured housing connected equities.
Reminder: several of the graphics on MHProNews can be opened into a larger size. Click the image and follow the prompts in your browser or device to OPEN In a New Window. Then, in several browsers/devices you can click the image and increase the size. Use the escape or back key to return.
Headlines from left-of-center CNN Business – from the evening of 9.9.2022
Untapped labor pool
NEW YORK, NEW YORK – JULY 28: A "help wanted" sign is displayed in a window in Manhattan on July 28, 2022 in New York City. The Commerce Department said on Thursday that the nation's Gross Domestic Product (GDP) fell 0.2 percent in the second quarter. With two GDP declines in a row, many economists fear that the United States could be entering a recession. (Photo by Spencer Platt/Getty Images

As the 2020 midterms draw closer, Biden and Democrats are attempting various efforts to stir up their base and encourage or 'buy' votes, such as through the constitutionally questioned student loan forgiveness plan. Democratic House Speaker Nancy Pelosi previously said the plan would require Congressional approval. What happened to that? Who died and made Biden a ruler by fiat? Joe Biden and some of his admin officials announced inflation is 'zero percent' for the prior month. What? Who believes that who is going to the grocery store? It was running at 9.1 percent the previous month, but many believe that the actual rate of inflation is about double that claim. Yes, gas prices have fallen, due to an apparent drop in global demand as an economic slowdown is taking place. The Washington Examiner said that a historic record 88 percent now thinks that the U.S. is on the wrong track under Biden. As the value of the dollar erodes, that impact should be considered when looking at stock market performance. Note: depending on your browser or device, many images in this report can be clicked to expand. Click the image and follow the prompts. To return to this page, use your back key, escape or follow the prompts.

Employers need workers. That's good news for these people

Massive rail strike next week could deal another blow to America's economy
Anyone who thinks we're not in a recession is 'crazy,' says RH CEO
Coming soon to banknotes around the world: King Charles
Fed officials to markets: You can't stop us
Trump media merger isn't dead yet after deal gets a lifeline
Tesla considering lithium refinery in Texas, seeks tax relief
Dollar General's newest shoppers: People making $100,000 a year
Mortgage rates reach highest level since 2008
How the world learned about Queen Elizabeth's death
Opinion: 'SNL' couldn't avoid satirizing Donald Trump before. The new season won't be any different
'You can't put toothpaste back in the tube': Why remote work is here to stay
The olive trees at the Green Gold Olive Oil Company's Finca Fuensantilla in Beas del Segura, Spain, have suffered record temperatures and a lack of rainfall this year. (Alfredo Cáliz/Panos/Redux for CNN)
IN PHOTOS Worst drought 'in living memory' threatens the world's olive oil supply
CUPERTINO, CALIFORNIA – September 7, 2022: Apple's vice president of Worldwide Product Marketing Kaiann Drance talks about the new iPhone 14 and iPhone 14 Plus during a special Apple event, as seen in this still image from the keynote video.
NEW YORK, NEW YORK – MAY 31: People sit at Nathan's Famous on the boardwalk at Coney Island on Memorial Day in the Brooklyn Borough of New York on May 31, 2021 in New York City. On May 19, coronavirus pandemic restrictions were lifted making Memorial Day the first holiday weekend without any restrictions in over 15 months. Much of the three-day holiday weekend was rained out with temperatures dropping to the 50s and 60s. (Photo by Alexi Rosenfeld/Getty Images)
Consumers spent big on having fun in 2021
MARKETS
A-LISTERS
Kim Kardashian attends The 2022 Met Gala Celebrating "In America: An Anthology of Fashion" at The Metropolitan Museum of Art on May 02, 2022 in New York City.
Kim Kardashian's next gig: Wall Street investor
Serena Williams' farewell match smashes ratings
Actor's new look bums out the internet
Why celebrities are so into private equity
Bob Iger: Buying Twitter 'would've been irresponsible'
IN MEMORIAM
Marilyn Loden
Marilyn Loden, who popularized the term 'glass ceiling,' dies at 76
CNN anchor Bernard Shaw dead at 82
Herb Kohler, heir to faucet fortune, dies at 83
Former Tata Sons chairman dies in car accident
Lukoil chairman dies after Moscow hospital fall
Headlines from right-of-center Newsmax 9.9.2022
King Charles III Signals His Reign Will Offer Change of Tone
Charles III greets the public outside Buckingham Pace on Friday, looking less royal than he did presidential. (AP)

"In the business world, the rear-view mirror is always clearer than the windshield." – Warren Buffett. That begs a key question. Why don't more people LOOK at the rearview mirror so they can learn more about the patterns that influence what's ahead? Note: depending on your browser or device, many images in this report can be clicked to expand. Click the image and follow the prompts. To return to this page, use your back key, escape or follow the prompts.

When Charles traveled to Buckingham Palace for the first time as the new king Friday, his limousine snaked through a sea of spectators then stopped short of the palace gates before he got out and shook hands with well-wishers. Charles looked more like a U.S. president on the campaign trail than the latest steward of a 1,000-year-old hereditary monarchy. [Full Story]

Queen Elizabeth II (1926-2022)
King Charles Names William and Kate Prince and Princess of Wales
King Charles Names William and Kate Prince and Princess of Wales
Emotional Charles Bids Farewell to 'Darling Mama'
Andrew Neil: Charles Honored Queen With 'Continuity' Vow | video
Greg Kelly: 'Real Personal Affection' Between Trump, Queen
'A Servant Queen': World Pays Tribute to Queen Elizabeth II
'The Crown' Pauses Production Because of Queen's Death
Reagan Biographer: Reagan Was Queen's 'Favorite' President | video
Trump: 'Deeply Saddened' for Loss of 'Historic' Queen

More Queen Elizabeth II (1926-2022)
Newsmax TV
Rudy Giuliani: Recalling 9/11, Being Knighted | video

In instances such as Apollo, Berkshire Hathaway, Blackstone or others, manufactured housing may only be part of their corporate interests. Note: depending on your browser or device, many images in this report can be clicked to expand. In some cases, you will need to select 'open in a new window,' and then click to expand.  Click the image and follow the prompts. To return to this page, use your back key, escape or follow the prompts.

Gary Sinise: 2,500 Meals to 220 NYC First Responder Stations | video

Rob O'Neill: Terrorism Threats Remain Years After 9/11 | video
Babin: Biden Violating Oath by Ignoring 'Border Invasion' | video
Woody Johnson: Queen Could Impress and Put You at Ease | video
Troy Miller: Biden Has Put Faith Under Attack | video
Devin Nunes: Dems, DOJ, Media Working Together on Trump Leaks | video
Newsfront
Over 70 House Dems Push Against Manchin Deal
A group of over 70 House Democrats signed a letter calling on party leaders not to include permitting reforms pushed by Sen. Joe Manchin, D-W.Va., in an upcoming funding measure…. [Full Story]
As Biden Touts Ohio Intel Plant, a Fellow Dem Questions His '24 Plans
President Joe Biden made an election-year visit to an overwhelmingly [Full Story]
BYU: No Evidence of Racist Slurs Against Duke Player
Brigham Young University on Friday released the results of its [Full Story]
Trump Feared Biden, 'Deep State' Would Destroy Russian Probe Documents
Former President Donald Trump was worried that his enemies would [Full Story]
Related
DOJ Appeals Ruling That Called for Special Master in Trump Doc Probe
5 Times the FBI Didn't Raid Presidents, Aides Over 'Classified' Document Disputes |Platinum Article
Special Master to Newsmax: Executive Privilege Cases Come Up 'Once Every 50 Years'
US Claims More Classified Records May Be Missing in Trump Probe
Korea Says It Will Never Give Up Nukes to Counter US
North Korean leader Kim Jong Un stressed his country will never [Full Story]
Where Have All the Debates Gone?
Since Richard Nixon and John F. Kennedy were beamed into the living [Full Story] | Platinum Article
Conservative Groups Press Lawmakers to Reject WH's Ukraine Aid Request
Several conservative groups are pressing lawmakers to reject the [Full Story]
Ukraine Scores 'Substantial Victory' in Kharkiv: Russian-Installed Official
A Russian-installed official in the Russian-controlled part of [Full Story]
Related
US Army to Send Armored Vehicles to Ukraine
US: Hundreds of Thousands of Ukrainians Forced to Russia
Pentagon Chief Austin: Ukraine's Success in Kherson, Kharkiv Encouraging
Milley: 'Russian Strategic Objectives Have Been Defeated'
Blinken, in Kyiv, Unveils $2B in US Military Aid for Europe
Chicago Passes Texas Migrant Busloads on to a Suburb
The sanctuary city of Chicago is reportedly shipping migrants bused [Full Story]
Politico: House Republicans Up Spending by $28M on TV Ads This Fall
House Republicans are spending big on TV ads this fall ahead of the [Full Story]
Suspect in Memphis Shooting Rampage Gets Public Defender
A Tennessee man accused of killing four people and wounding three [Full Story]
Lawmakers, Iranian-Americans Ask Biden to Ban Raisi From UN Appearance
A bipartisan group of lawmakers and more than 500 Iranian-American [Full Story]
2 Activists Disrupt NFL Game to Protest Factory Farm Trial
Two female animal rights activists on Thursday interrupted the first [Full Story]
NY Governor Declares Disaster Emergency After Polio Found in Wastewater
New York Governor Kathy Hochul declared a state disaster emergency on [Full Story]
Georgia Poll: Herschel Walker Now Leads Sen. Warnock by 3
The Georgia Senate race has moved a whopping six points since July, [Full Story]
Oberlin College to Pay Local Bakery $36.59 Million After Years-Long Legal Battle
In a drawdown of legal hostilities, Oberlin College said Thursday [Full Story]
Pope Tells Diplomats of Russia-Ukraine Nuclear War Risks
Pope Francis spoke to his diplomatic representatives about the role [Full Story]
Second Person in US Dies After Monkeypox Diagnosis
A second person in the United States infected with monkeypox has died [Full Story]
Lawmakers Seek Probe of Airline Handling of COVID Funds
The leaders of two congressional committees want a federal probe into [Full Story]
Chip Maker Plans N.C. Factory Amid EV Demand Surge
S. power chip maker Wolfspeed Inc. on Friday said it will build a [Full Story]
Tesla Seeks Tax Relief to Build Lithium Refinery in Texas
Tesla Inc. is considering setting up a lithium refinery on the gulf [Full Story]
China's Communist Party to Amend Its Constitution at October Congress
China's ruling Communist Party will amend its constitution next month [Full Story]
Florida Poll: Sen. Rubio Leads Rep. Demings in Tight Race
The Senate race in Florida is so close it is virtually tied [Full Story]
Justice Gorsuch: Supreme Court's Draft Leak Still Being Investigated
An internal Supreme Courtinvestigationintothe leak of the draft [Full Story]
Oz Pushes Fetterman to Debate This Month
Mehmet Oz is calling for Pennsylvania Lt. Gov. John Fetterman to [Full Story]
Rick Scott: Media 'Vultures' Hyping Fictional GOP Rift With McConnell
Rick Scott, R-Fla., chair of the National Republican Senatorial [Full Story]
NASA Hopes to Launch Lunar Mission by End of Month
NASA announced on Thursday that the agency is making repairs on the [Full Story]
Newsmax Beats Fox News in Ratings During Trump Rally
Newsmax was the third most watched cable network during the Trump [Full Story]
Related
Trump Lashes Out at Fox News for 'Pushing' a 'Democrat Agenda'
After Trump Praise, 'Return' Soars on Bestseller Lists
Large Groups of Migrants Strain Busiest Border Section
Large groups of people who have entered the U.S. illegally are [Full Story]
Group of Hunter Biden Laptop Dissenters Now Leading DC-Based Spy Museum
Recent additions to the International Spy Museum's advisory board [Full Story]
Operation London Bridge: 10 Days of Mourning, Pomp to Follow Queen's DeathOperation London Bridge: 10 Days of Mourning, Pomp to Follow Queen's Death
Queen Elizabeth II's death on Thursday ended the longest reign of any [Full Story]
More Newsfront
Finance
Tesla Seeks Tax Relief to Build Lithium Refinery in Texas
Tesla Inc. is considering setting up a lithium refinery on the gulf coast of Texas, as it looks to secure supply of the key component used in batteries amid surging demand for electric vehicles…. [Full Story]
Yields Curve Inverts Further, Inflation Data in Focus: 8.1 Percent Expected
Asia LNG Spot Prices Fall on Softer Demand; Eyes on EU Emergency Meeting
Canada's Jobless Rate Unexpectedly Jumps as Economy Sheds More Jobs
Oil Supported by Supply Threats, Still Set for Weekly Drop on Demand Fears
More Finance
Health
Get Your Flu Shot: It Also Lowers Your Risk for Stroke
As flu season approaches, a new study is pointing to a possible bonus from vaccination: a lower risk of stroke. Researchers in Spain found that among nearly 86,000 middle-aged and older adults, those who got their annual flu shot were less likely to suffer an ischemic stroke…… [Full Story]
CT Scan Lung Screening Catches Cancer at Earlier, Treatable Stage
COVID Associated With Higher Risk for A-Fib
Study: Artificial Sweeteners Linked to Heart Disease
US May Expand Monkeypox Vaccine Eligibility to Men With HIV, STDs
##
NOTE 1: The 3rd chart above includes the Canadian stock, ECN, which purchased Triad Financial Services, a manufactured home industry lender
NOTE 2: Drew changed its name and trading symbol at the end of 2016 to Lippert (LCII).
NOTE 3: Deer Valley was largely taken private, say company insiders in a message to MHProNews on 12.15.2020, but there are still some outstanding shares of the stock from the days when it was a publicly traded firm.  Thus, there is still periodic activity on DVLY.
Note 4: some recent or related reports to the equities named above follow.
Triad Financial Services Q2-2022 FINANCIAL RESULTS, per ECN Capital – Several Bright Spots in Manufactured Home Market Highlighted, Including Communities, Retail, Land-Home, Floor; MHStocks Update
'Blackrock Weaponizing ESG'– State AGs Probe MHCommunities Owner, Private Equity Giant Blackrock on Possible Antitrust, Securities, Fiduciary Violations, See AGs' Document; plus MHStocks Update
Cavco Quarterly Results, Facts, and Trends Include SEC Suit Update, Manufactured Home Production Volumes, Financial Figures, Corporate Data and Manufactured Housing Analysis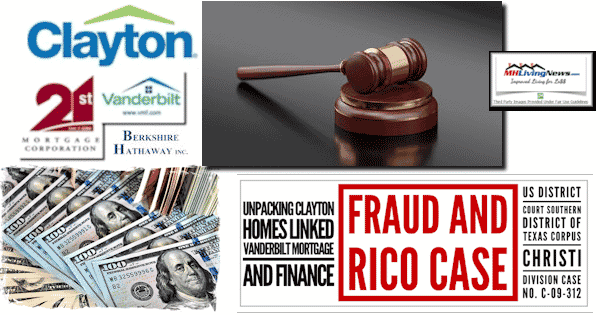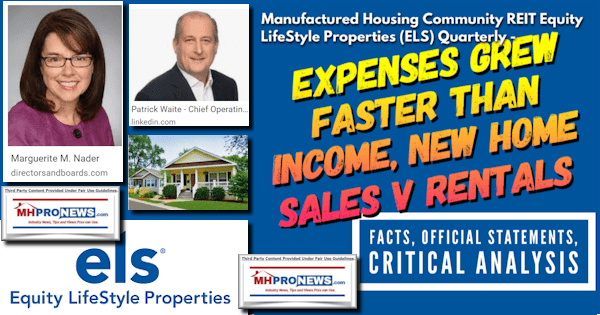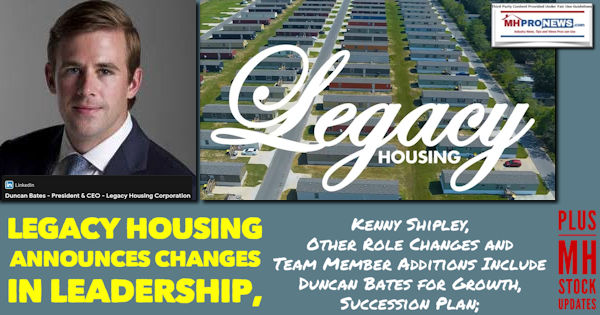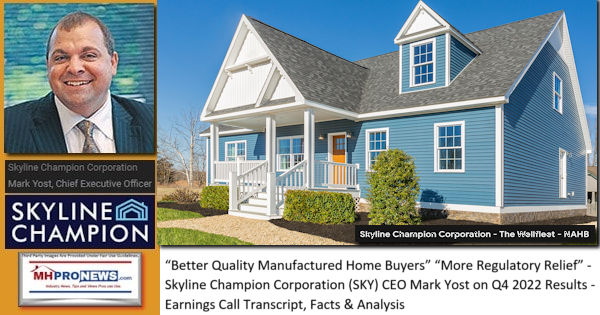 Manufactured Home Communities (a.k.a. 'Mobile Home Parks' – SIC) – Exploring UMH Properties; Fellow Manufactured Housing Institute Member Yes! Communities Suits and Settlements; plus MH Markets Updates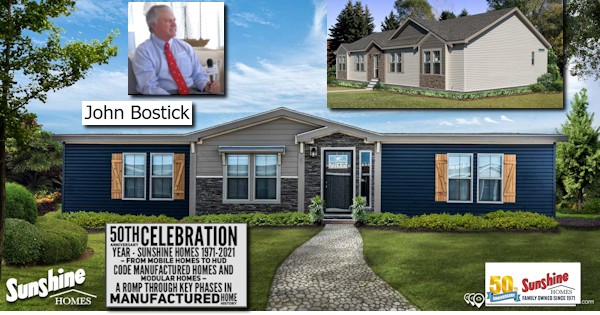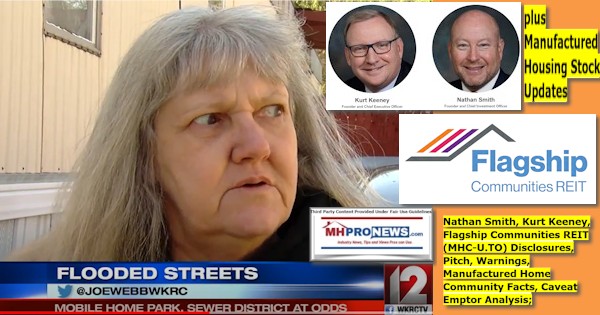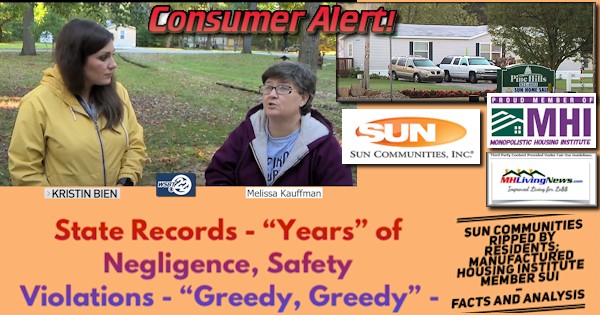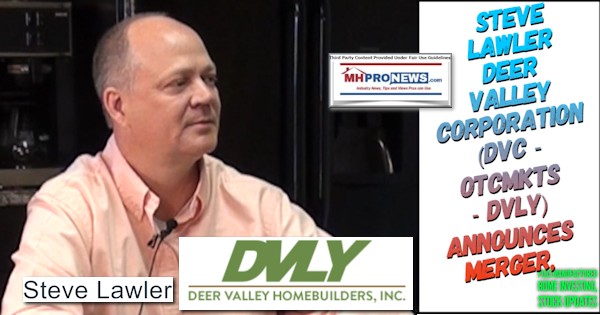 2022 …Berkshire Hathaway is the parent company to Clayton Homes, 21st Mortgage, Vanderbilt Mortgage and other factory-built housing industry suppliers.
· LCI Industries, Patrick, UFPI, and LP each are suppliers to the manufactured housing industry, among others.
· AMG, CG, and TAVFX have investments in manufactured housing related businesses. For insights from third-parties and clients about our publisher, click here.
Disclosure. MHProNews holds no positions in the stocks in this report.
· For expert manufactured housing business development or other professional services, click here.
· To sign up in seconds for our industry leading emailed headline news updates, click here.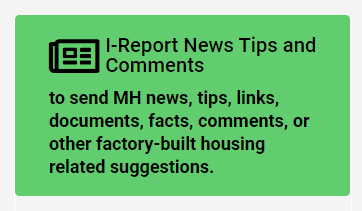 That's a wrap on this installment of "News Through the Lens of Manufactured Homes and Factory-Built Housing" © where "We Provide, You Decide." © (Affordable housing, manufactured homes, stock, investing, data, metrics, reports, fact-checks, analysis, and commentary. Third-party images or content are provided under fair use guidelines for media.) (See Related Reports, further below. Text/image boxes often are hot-linked to other reports that can be access by clicking on them.)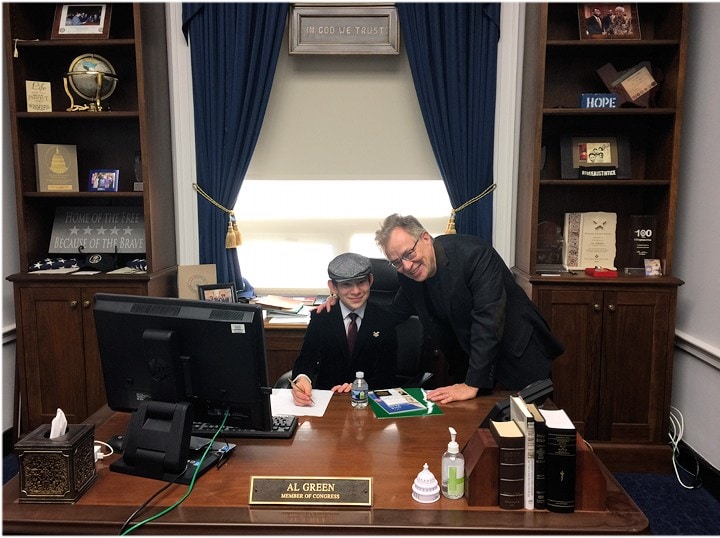 By L.A. "Tony" Kovach – for MHProNews.
Tony earned a journalism scholarship along with numerous awards in history. There have been several awards and honors and also recognition in manufactured housing. For example, he earned the prestigious Lottinville Award in history from the University of Oklahoma, where he studied history and business management. He's a managing member and co-founder of LifeStyle Factory Homes, LLC, the parent company to MHProNews, and MHLivingNews.com. This article reflects the LLC's and/or the writer's position and may or may not reflect the views of sponsors or supporters.
As Conventional Housing Slides, Manufactured Housing Sales Continue Mo – State-by-State and National Data June 2022 – Facts, Forecast, and Analysis; plus MHVille REITs, Stock Market Update
Factual and Viewpoint Insights from August 2022 in MHVille Manufactured Housing Pros, Public Officials, Investors, and Curious People Seeking Affordable Manufactured Home Knowledge and Trends