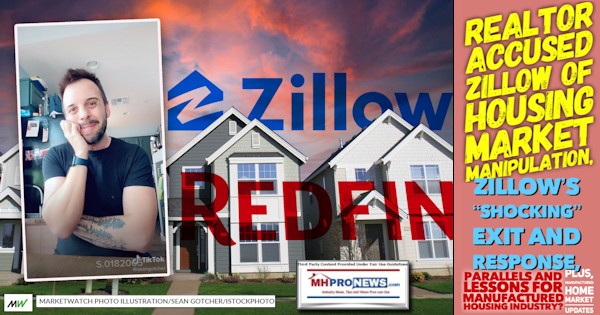 The Redlands Daily said on 10.27 that "Zillow's zeal to outbid for homes backfires in flipping fumble." Days later, "On Tuesday, American online real estate marketplace Zillow Group Inc. (ZG) made an announcement that shocked investors," said GuruFocus on 11.5.2021. "It [ZG] plans to exit its homebuying business entirely, cutting 25% of its workforce in the process, as it foresees increased dangerous unpredictability in housing prices going forward."  But another report on the 'surprising' Zillow exit from the house buying and flipping business is the one that a realtor accused Zillow of market manipulation. Further, Zillow's stated thinking about "dangerous" volatility and unpredictability are warning signs for housing in general that has manufactured housing implications too.
But there are other factors that the various mainstream and alternative media sources may or may not have considered. Zillow's claimed failure in their iBuying model bears examination. But consider that it isn't just Zillow, there are other institutional buyers that are doing something similar. Those deep pocket financial factors are arguably part of what is driving up mainstream housing. Then, there is the question of throttling, which perhaps only MHProNews has drawn attention to, as part of our monthly manufactured housing market report linked below.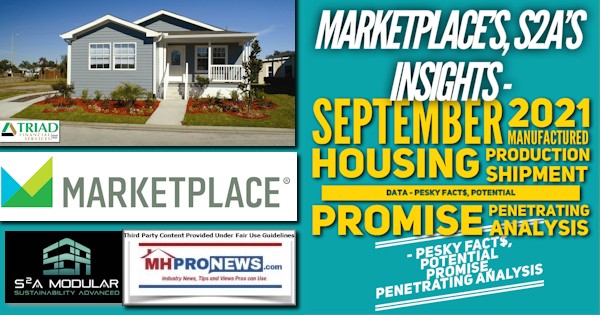 This post will examine a range of sources as it relates to Zillow and the broader housing market. Among them is  the allegation made by a Nevada real estate agent that went viral on social media a few weeks ago, and was referenced against this week by Distractify in its article on Zillow's announced exit from its iBuying program. Both the claim and the denial by Zillow and Redfin will be provided from more mainstream sources such as MarketWatch and Business Insider.
In the light of those claims, some applied economics 101 and related reasoning will be provided as part of our analysis. Then, that will be compared to what was occurring in the manufactured housing market in the late 1990s and for a time into the early 2000s.
Additionally, we will tease the featured portion of our report for Sunday, 11.5.2021 which will be focused on evidence and reactions from Clayton Homes and the Manufactured Housing Institute (MHI).
Following that will be our MHProNews Daily Business News market snapshots and left-right news headline bullets.
With that outline, let's jump back in time a few weeks to MarketWatch's 9.27.2021 report which obviously occurred before the exit of Zillow from their much touted iBuying plan.
The Real Deal, a well-established real estate investment focused publication, reported in an article updated on 5.24.2021 that "Institutional buyers are flooding single-family market." They said: "A report by Redfin shows investors dropped a record $77 billion on homes in the past six months, adding to the housing crunch."
In a MarketWatch report updated on 9.27.2021, said: "No, Zillow isn't buying all the homes in your neighborhood. But the rise of so-called iBuyers does raise regulatory questions." That was under the headline: Viral TikTok video accuses Zillow and others of manipulating the housing market. Here's what's really going on." At that time, the social media-post by real estate agent Sean Gotcher had "In a video that's garnered more than 2.4 million views on TikTok, Nevada real-estate agent Sean Gotcher criticizes the iBuying business model, in which companies such as Zillow and Redfin buy and sell homes for a profit. "If you could rig the residential housing market that easily, the Realtors would have done it long ago," says Gilles Duranton, a real-estate professor at the University of Pennsylvania's Wharton School."
MarketWatch said: Gotcher was "suggesting that companies such as Zillow are using the data they glean from people's perusal of home listings on their sites to make decisions about which houses to buy as iBuyers."
Whatever the accuracy level of his concern, consider what manufactured housing platforms such as the "Mobile Home Park Store" or MHVillage generate in terms of data that might prove useful to their owners. Given what has become known about Google, Facebook, and others monetizing and utilizing information from posts, searches, and data, is Gotcher's notion – or their possible implications for manufactured housing – so far-fetched?
Gotcher's first post, shown above, In subsequent videos, Gotcher takes on Zillow and Redfin more directly, criticizing their respective business practices.
"I'm happy to see the conversation that's occurring at every printer in every real estate office about data storage, mixed with buying power and recognizable marketing is finally happening outside our office doors so more can participate in the discussion," Gotcher, an agent for Level Up Real Estate in Henderson, NV, told MarketWatch via email.
This TikTok video below is a follow up by Gotcher.
MW made several points in their report, beyond those noted above. Among them, in no particular order of importance, are the following.
"Many users claimed that Zillow was purchasing "all of the homes," and said they planned to boycott the platform."
Zillow buying all the homes so none of us can afford to live anywhere should radicalize every single last one of you!!!!!

— Alicia Lutes (@alicialutes) September 23, 2021
💯 market manipulation.

Corporations shouldn't be able to purchase single-family homes for exactly this reason (see video).

Houses should not be traded like assets by corporations with endless sums of cash.

People can't outbid companies.#StopTheiBuyers #Zillow #iBuyer https://t.co/W4NZxN7cPb

— meganjelene (@meganjelene) September 23, 2021
Clearly, 'all the homes' is an exaggeration at best. But there is no denying that institutional buyers with deep pockets are spending tens of billions in the housing market.
Back to pull quotes from MW:
The companies themselves are open about this approach. "We're honest with sellers that they'll likely net more by listing on the market with an agent," the Redfin spokesperson said.
Companies like Zillow and Opendoor typically buy homes at a slight discount relative to the market value, and then sell them for a small premium.
These companies aren't interested in buying just any home. For example, only 3% of properties that were in foreclosure or bank-owned on Auction.com were purchased by iBuyers between January and May of this year, according to Daren Blomquist, Auction.com's vice president of market economics.
"The internet has empowered millions of consumers with more information, transparency and tools in real estate to help them make smarter real estate decisions, many provided by Zillow for more than a decade," a Zillow spokesperson told MarketWatch in an email. "Unfortunately, the internet can also sometimes be a source of misinformation and falsehoods — as is this case."
'Intentionally overpaying for homes would be a terrible business model.'
— RedFin spokesperson
Blomquist said: "Most of the distressed properties sold on our platform are in need of significant renovation and it would appear that the iBuyers are by and large not focused on the distressed market."
Blomquist's analysis also found that iBuyers target newer homes than other cash buyers. But these companies aren't buying megamansions either. They focus very much on the middle of the market, where there's more liquidity, Piskorski said.
'iBuyers certainly don't have enough market share to wield the type of pricing power that the video describes.'
— Daren Blomquist, Auction.com
There are times that a source, say Blomquist, may make a comment that is on the surface seemingly accurate, but is nevertheless a deflection. Gotcher's initial video doesn't name Zillow, even if it seemingly implied them.
Back to MW pull quotes:
companies such as Opendoor are taking a long-term approach to the model.
Even if these companies wanted to manipulate home prices, they wouldn't find they had a great deal of capacity to do so. A recent report from Zillow found that the four largest iBuyers — Zillow Offers, RedfinNow, Offerpad and Opendoor — accounted for just 1% of all home purchases nationwide. And that was a record high.
To be sure, there are higher concentrations in certain markets. In four markets — Atlanta; Phoenix; Charlotte, N.C.; and Raleigh, N.C. — iBuyers' market share is at or above 5%.
But once more, given that claim, even if accurate, that ignores the point that the largest iBuyers are hardly the only institutional investors in the marketplace. That's the point that The Real Deal made some 6 months ago.
In part, MW confirmed that concern. More pull-quotes.
·        Why are home prices on the rise?
The fact that the video struck such a nerve likely speaks to the anxiety many Americans feel because of the rising cost to rent or buy a home.
But the cause of the housing-affordability crisis is much larger than the business dealings of companies like Zillow. Simply stated, the country has a major housing shortage. A recent report from Realtor.com estimates the deficit to be more than 5.2 million homes.
Note that MHProNews and our MHLivingNews sister site has pointed out that this 5.2 million estimate is odd at best. Yes, Realtor has published such a report, as MHProNews previously reported last June.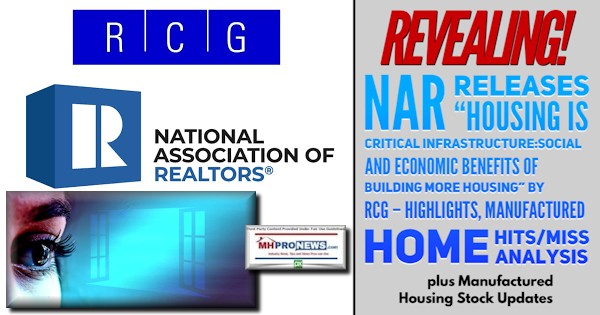 But the National Association of Realtor (NAR) chief economist, Lawrence Yun, Ph.D., said a few years ago that the shortage of housing units was over 8 million. There has hardly been any evidence that the housing gap has narrowed. Indeed, with undocumented or illegal immigrants pouring across the southern border, the housing crisis is doubtlessly getting worse, not better for that and other factors. It seems clear that if construction has not kept pace with demand, that the gap would widen, not narrow.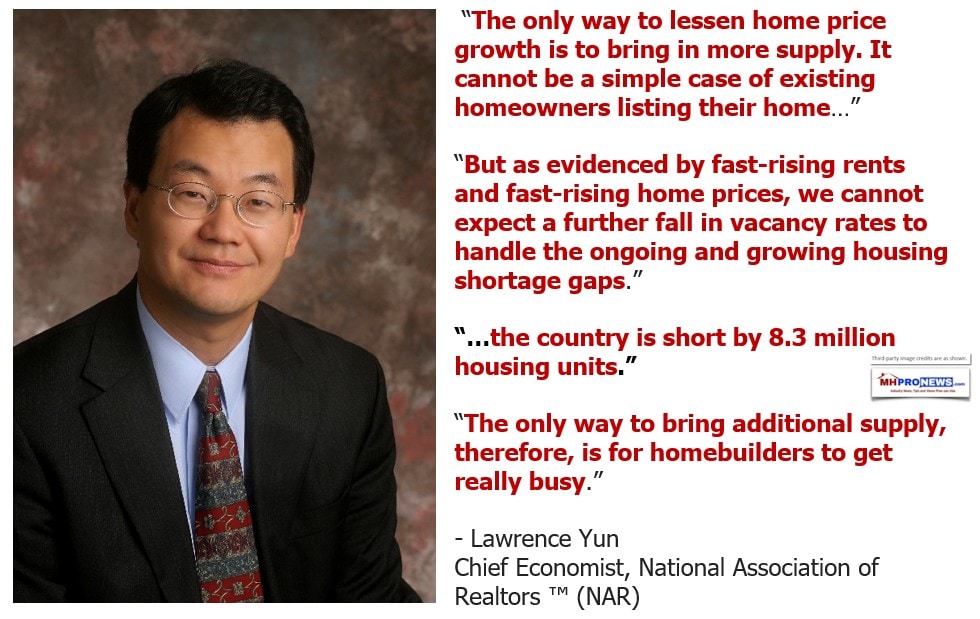 At a minimum, where it the intellectual curiosity by mainstream media that seeks to explain why there are claims of housing unit shortages that range from some 4 to 8+ million units? MHProNews doesn't claim to have an answer that question, but it is raising the issue.
Back to statements made in MW:
It took many years for builders to begin scaling their operations back up, and in the meantime people were still getting married and having kids or otherwise reaching the home-purchase life stage. Then came the COVID-19 pandemic, which prompted many people either to rethink their housing completely or to push forward the clock on a move they had planned for the future. So with many people suddenly flocking to purchase homes, there wasn't much to go around, creating competition that drove prices sky high.
Home builders have responded to the uptick in demand but have faced shortages of building materials and labor that are slowing the pace of construction.
Amid all this, cash buyers, including iBuyers, have likely played a role in pushing prices even higher. The percentage of all-cash buyers in the market now is at the highest level since 2013, Blomquist said. "Cash buyers are having to pay a premium above estimated market value to be the first in line to secure the limited inventory available," Blomquist said.
"This speculative behavior is contributing to the rapid price appreciation, but it wouldn't be possible without the severe supply-demand imbalance in the housing market," he added.
The arms race to become the Amazon of real-estate
While iBuyers haven't yet achieved the necessary scale to influence the market in a profound way, it's not impossible to imagine such a scenario in the future.
"There is an arms race right now of who will become the Amazon of real estate," Piskorski said. "That's why all these companies like Zillow or Redfin want to have everything in house."
Whether any of these companies can successfully scale up their business models in the long term isn't yet clear. "The business model has not been tested really in a recession," Piskorski said. Last year, iBuyers did temporarily shut down operations at the very beginning of the pandemic, but they came back on line as the real-estate market quickly rebounded.
"For consumer-finance reasons, there will be a lot of scrutiny," Piskorski said.
While much of the MW report above holds together, it fails to look at other issues that are arguably related. Among them is the lack of HUD Code manufactured housing sales and the impact on the overall marketplace. Also, the impact of so-called throttling by conventional builders. While to some the southern border is a topic to be avoided because it is politically charged, facts are whatever they are. Clearly, a porous border impacts the overall demand for housing, along with other economic, governmental services, jobs, and other demands.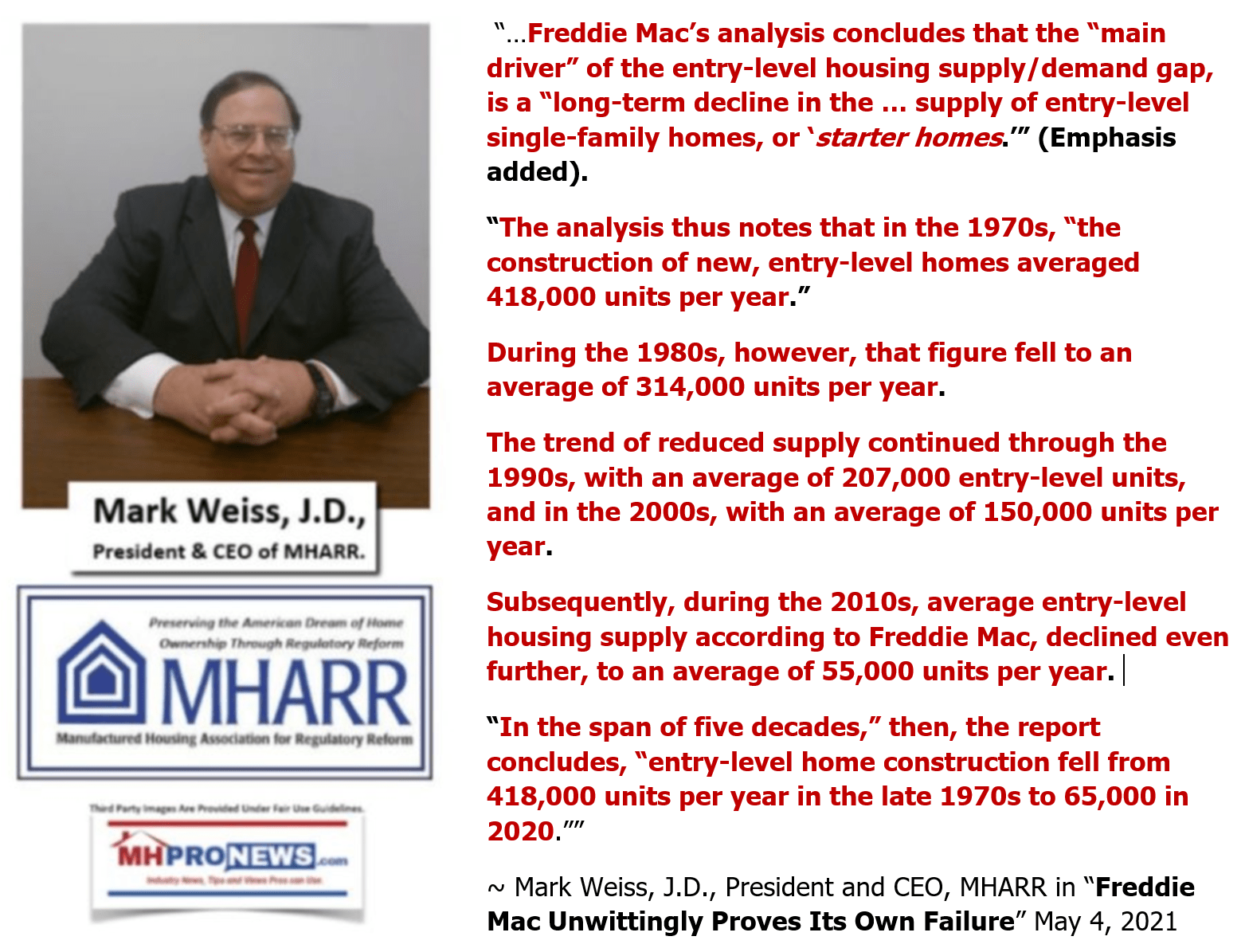 Mark Weiss, Inspector Renault, Casablanca, and Freddie Mac's Affordable Housing Shock CEO Manufactured Housing Association for Regulatory Reform (MHARR) Unpacks GSE Admission
Additionally, what several of the mainstream and alternative media reports have not mentioned in the cited reports is that some institutional investors are not buying to flip houses. Rather, they are buying housing to rent.
So, a lack of housing is driving up both existing and new conventional housing.
It is increasing the cost of rental housing, and in as much as supply chain, labor, and other issues are impacting manufactured housing too, prices in our profession have risen significantly.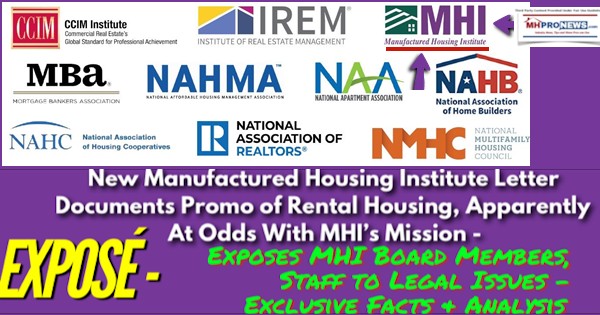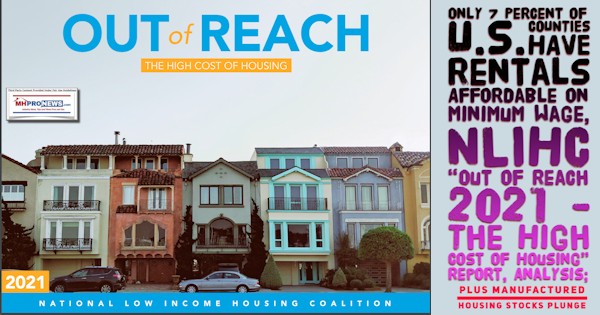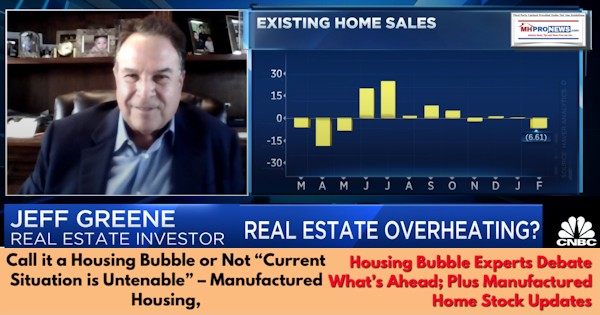 That backdrop from MW and other sources sheds significant light on the more recent developments.
Per Distractify on 11.3.2021, which cited the Gotcher TikTok video, some added points.
Zillow shut down its iBuying program through the end of 2021.
Thanks to a labor shortage, Zillow initially paused its flipping operations through the end of 2021. What's more, the company is also selling many of the properties it currently has in its portfolio for less than it purchased them for. As a result, the company's stock price has taken a nosedive in recent days, making it clear that Zillow's housing market manipulation definitely wasn't successful in giving them enormous power in the real estate market.
More recently, Zillow announced that it would be permanently closing its home-buying operation because of enormous volatility in the housing market. The company also said that it would be laying off 25% of its workforce. These steps were all in an effort to steady the business, which missed its earnings targets during a recent call with investors.
Analytically, the above has some potential problems, as it doesn't say Zillow's alleged market manipulation. That noted, several sources have pointed out that Zillow has expressed concerns over the housing market overheating.
With the insights above, the following from Ben Wink via Business Insider on 11.3.2021 are helpful.
"The housing market is so red-hot it broke Zillow's algorithm that predicted how fast prices would surge," was their headline.
Business Insider's bullets were:
Zillow announced Tuesday it will close its iBuying unit and lay off 25% of staff after huge losses in the chaotic market.
It was using algorithms to find homes for fast flipping, but the market's wild price changes were just too unpredictable.
The volatility "far exceeds what we anticipated," CEO Rich Barton said, adding that it made algorithmic buying too risky
The following pull quotes from that same report are useful in understanding the dyanmics at play, both for Zillow, but also for the broader discussion on housing market manipulation and/or the impact of so many institutional buyers investing in housing.
Per BI,
Zillow thought it had revolutionized the homebuying experience with advanced algorithms. But it was no match for the pandemic-era market.
Zillow Offers was meant to be the company's secret weapon for flipping homes. Launched in 2018, the business used algorithms to value homes, purchase certain properties, and sell them soon afterward for a healthy profit. The company aimed for this instant-buying, or iBuying, arm to become a new cash cow. It was targeting annual revenue of $20 billion.
But maybe Zillow should have paid attention to how house-flipping grew smaller and smallerduring the pandemic.
Of the hundreds of homes listed through Zillow Offers, nearly 64% were being marketed for less than Zillow bought them for, according to Insider's analysisof Zillow's inventory in October. The company announced on October 17 it would pause buying homes for the rest of the year.
Mere weeks later, Zillow said it would shut down the iBuying business
BI said that their algorithms could not keep up.  But perhaps of greater interest is the red flag over volatility. Keep in mind, MHProNews previously spotlighted that some housing investors think that the market is overheated, and may crash.
Back to quotes from BI, reflected by the bullets below.
"Fundamentally, we have been unable to predict future pricing of homes to a level of accuracy that makes this a safe business to be in," Zillow CEO Rich Barton said in a Tuesday earnings call, alluding to how prices have been rising so fast, the algorithm actually ended up overpaying for homes at massive scale.
In the company's third-quarter earnings report, Barton noted the unpredictability of forecasting prices "far exceeds what we anticipated," and that growing Zillow Offers "would result in too much earnings and balance sheet volatility."
In a sign of what an existential risk this unit was becoming, Zillow also announced plans to lay off 25% of its staff. Barton said this algorithm had a "high likelihood, at some point, of putting the whole company at risk, not just the [iBuying] business."
Forecasting the pandemic-era market is no small feat. Prices have surged at record pace through much of 2021 as buyers rushed to capitalize on low mortgage rates. Decades of underbuilding left the market with a massive shortage of homes. When new houses hit the market, intense competition has fueled bidding wars that only drive prices higher.
BI pointed to signs of 'cooling.' Note that they expect to lose about half a billion dollars in just 6 months from the buying and flipping adventure. This will be tied into a mild parallel with manufactured housing in the late 1990s and early 2000s.
The rally has cooled off in recent months. Prices rose a record 19.8% year-over-year in August, according to the S&P CoreLogic Case-Shiller home price index. That matched the inflation seen in July, marking the first time in five months that price growth didn't accelerate.
Month-over-month readings show a more dramatic slowdown. US home prices gained 1.2% in August, signifying a fourth consecutive month of slowing price growth and the smallest one-month jump since February.
The data suggests Zillow paused its instant-buying arm as the price boom started to ease. Its third-quarter report reflects as much. The company will write down about $304 million in the segment that includes Zillow Offers. The sum reveals just how large a hit the company took by buying homes at higher prices than it expects to sell them for.
But Barton said the problem is bigger than that: The housing market is just too crazy. "We've been unable to accurately forecast future home prices at different times in both directions by much more than we modeled as possible."
The damage isn't expected to end in the third quarter. Zillow also anticipates between $240 million and $265 million in losses in the fourth quarter from homes it plans to buy, the company said in its earnings report.
Underestimating the housing market's chaos will come at a steep cost for the company. Zillow expects to lose nearly $500 million from its Homes segment in just six months. But with major banks expecting volatility to last through 2022, it could be a case of "better late than never."
Additional Information, More MHProNews Analysis and Commentary
Zillow's announced exit from their once highly touted iBuyer program and the reports above raise a range of possible points and parallels for manufactured housing professionals. In no particular order of importance, consider these.
Zillow candidly admitted what GuruFocus described as ZG's foreseeing "increased dangerous unpredictability in housing prices going forward." In business, when a program doesn't perform as advertised, especially when it seems to be working at a loss or adversely, it is routinely pulled.
With that point in mind, why has MHI and their corporate leader continued to double-down on their obviously market-failed CrossMods plan? Especially when the industry dipped following the much touted CrossMods launch, combined with poor sales, common sense alone should have told MHI and their leaders to pull the plan.  So how can someone logically explain why MHI keep's touting this on their homepage as if it is some proven wave of the future?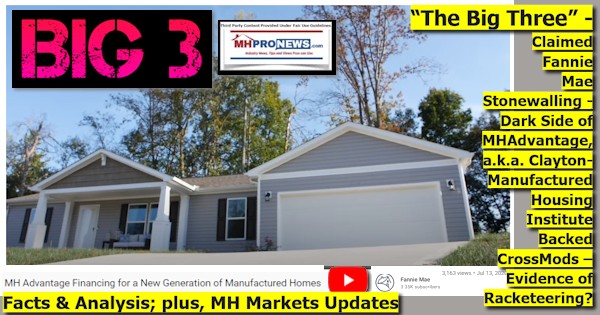 Next, even though  real estate agent Sean Gotcher did not name Zillow or Redfin, they nevertheless responded publicly to the allegations and concerns he raised. By comparison, Clayton Homes, 21st Mortgage Corporation, and MHI – to name but three – have in recent years ducked direct engagement of evidence-based concerns, that have specifically named their respective rolls. Agree or disagree with Gotcher or Zillow, they engaged in a sort of public debate. Is MHI and their dominating brands too good, or too proud, to do the same?
Given that MHI has so much access to officials in Washington, D.C. and self-described "clout," when will staff or corporate leaders in MHI initiate swift legal action to enforce what CEO Lesli Gooch called the "enhanced preemption" clause of the Manufactured Housing Improvement Act of 2000 (MHIA)? After all Tiny House Hands Up and the Institute for Justice initiates legal action in Calhoun GA. So where is an earnest MHI legal action, given all of the inside and outside attorneys available to MHI and their Big 3?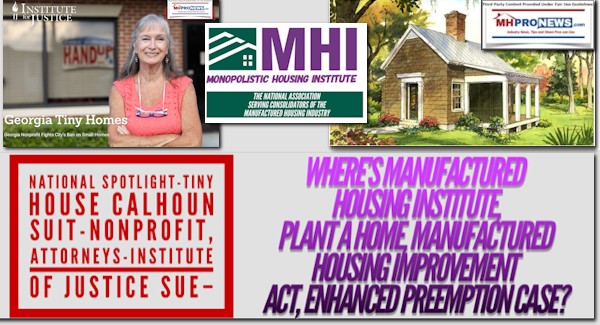 If MHI is serious about getting more lending for manufactured housing sellers, then why didn't MHI sign onto a coalition letter pushing the FHFA to enforce the law mandating Fannie Mae and Freddie Mac?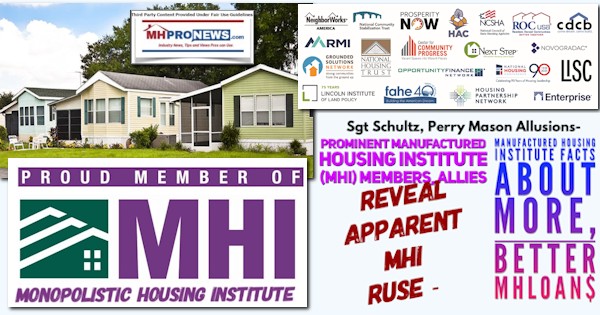 On the pending Department of Energy (DOE) rule, MHI stands accused based on documentary evidence of working against the interests of manufactured housing. Not only do they posture the opposite, they recently took credit for MHARR's requested and obtained extensions for the comments. Is there no shame at MHI? Are the so bold in their apparently misleading posturing and claims?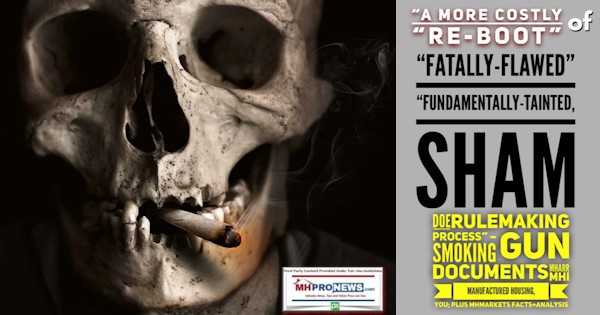 Agree or disagree with Zillow or their critics, at least they have to some extent engaged in the discussion. Zillow did what businesses often do when something fails, they pivoted. Why is it that manufactured housing's dominating brands and leaders have not done the same things?
It must be mentioned that Fleetwood and Champion of old (the pre-Berkshire era versions of those firms, not the more recent names which have been absorbed into Cavco and Skyline Champion), they tried to compete with each other to buy up retailers when manufactured housing was running hotter in the 1990s. That strategy, the argument can be made, ultimately did not work. What is occurring in manufactured housing is different than the allegations against Zillow contended. Namely, that the industry is being depressed and that is what is leading to consolidation. See the related reports below to learn more. Programming Notice. Stay tuned for a report on what Clayton Homes, 21st, Berkshire, and MHI have said in relation to the evidence-based allegations against Thomas "Tom" Hodges and how that reflects on the broader industry. ##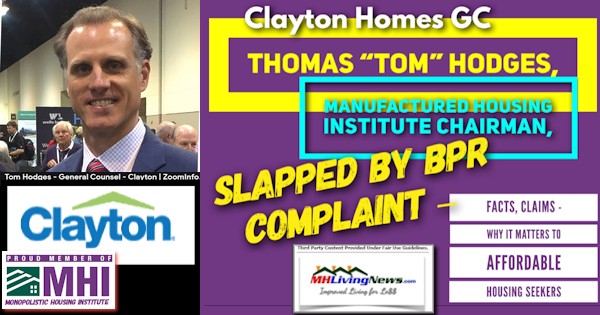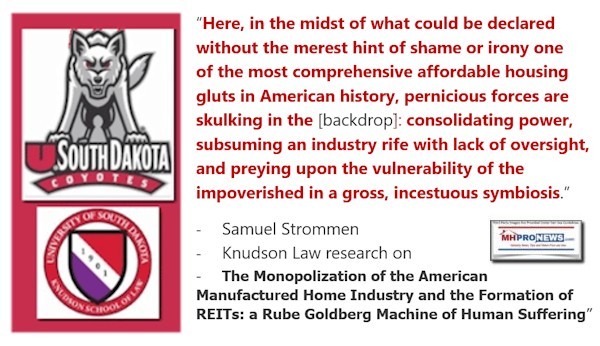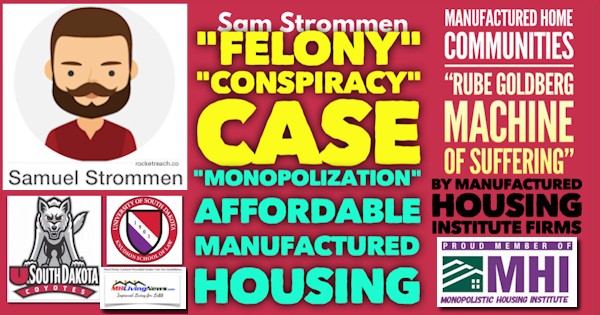 Next up is our business daily recap of yesterday evening's market report, related left-right headlines, and manufactured housing connected equities.
The Business Daily Manufactured Home Industry Connected Stock Market Updates.  Plus, Market Moving Left (CNN) – Right (Newsmax) Headlines Snapshot. While the layout of this daily business report has been evolving over time, several elements of the basic concepts used previously are still the same. For instance. The headlines that follow below can be reviewed at a glance to save time while providing insights across the left-right media divide. Additionally, those headlines often provide clues as to possible 'market-moving' news items.
Market Indicator Closing Summaries – Yahoo Finance Closing Tickers on MHProNews…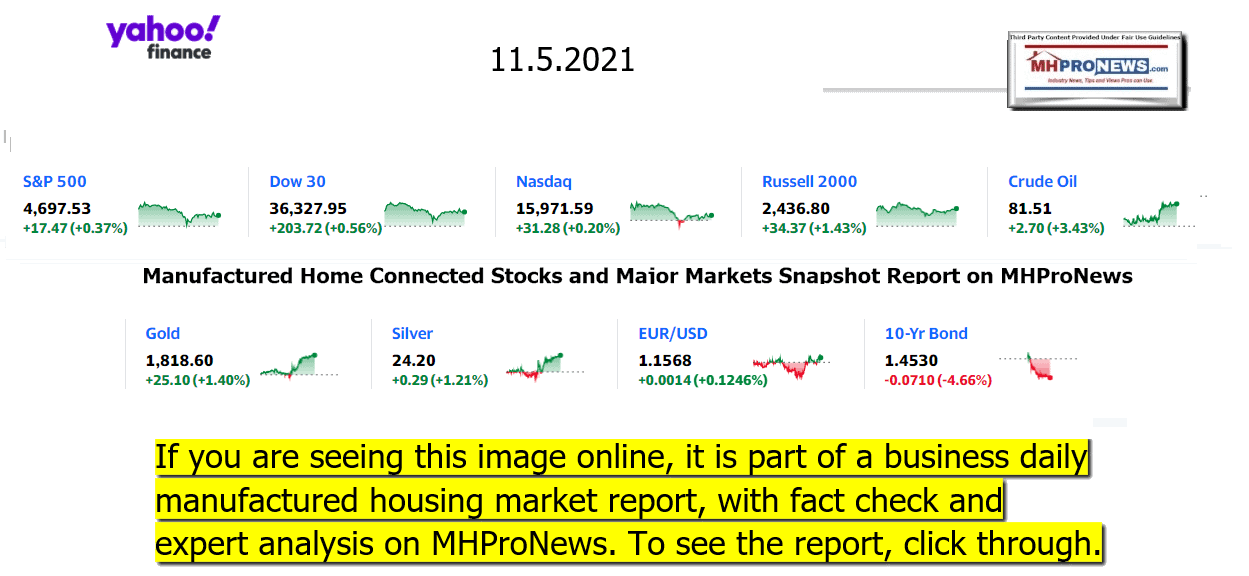 Headlines from left-of-center CNN Business – from the evening of 11.5.2021
Investors cheer
Trader John Santiago, left, works on the floor of the New York Stock Exchange, Wednesday, Nov. 3, 2021. Stocks are opening slightly lower on Wall Street as investors look over another big batch of earnings reports from U.S. companies, which contained some disappointments. (AP Photo/Richard Drew)
Stocks rally to new record highs on strong jobs data and Pfizer Covid pill news
There could be a seismic shift in the labor market. Here's why
Joe Biden and the American economy just got a double dose of good news
America adds 531,000 jobs to the economy in October, beating economists' predictions
Who will pay for testing under Biden's new vaccine mandate for businesses?
Want a better paying job? First you need to figure out how much you really make
Bitcoin scam: Kroger confirms press release was faked
World food prices are up 30% in a year
US productivity dropped to its lowest level in 40 years
Pfizer shares soar on positive test results for Covid pill
Another Chinese real estate developer is in serious trouble
Silicon Valley is not on trial in the Elizabeth Holmes case. Classic fraud is
Content by LendingTree
How To Reduce Your Monthly House Payment
'I barely function some days': Covid 'long haulers' struggle to work amid labor shortage
At truck hauls a piece of John Deere equipment from the factory past workers picketing outside of the John Deere Davenport Works facility on October 15, 2021 in Davenport, Iowa. More than 10,000 John Deere employees, represented by the UAW, walked of the job at yesterday after failing to agree to term of a new contract.
John Deere considers using overseas plants and US strikebreakers
SAN ANSELMO, CALIFORNIA – APRIL 06: Becky Friese Rodskog rides her Peloton exercise bike at her home on April 06, 2020 in San Anselmo, California.  More people are turning to Peloton due to shelter-in-place orders because of the coronavirus (COVID-19). The Peloton stock has continued to rise over recent weeks even as most of the stock market has plummeted. Peloton announced that they will temporarily pause all live classes until the end of April because an employee tested positive for coronavirus (COVID-19).  (Photo by Ezra Shaw/Getty Images)
The Peloton movement may be over. Shares plunge
RISE OF AI
Eric Schmidt: AI is not ready to make profound decisions
Facebook is shutting down its facial recognition software
Can Facebook's algorithms help fix its problems?
These high school students are fighting for ethical AI
This website helps you imagine what extreme climate change will do to your home
THE FED
Why the Fed is winding down the party on Wall Street
Yellen: Inflation is high, but this isn't the '70s
The Fed begins stepping on the brakes
The era of free money is ending
The Fed is banning its policymakers from buying individual stocks
Headlines from right-of-center Newsmax – evening of 11.5.2021
Biden's Bet That Economy Would Boost Democrats Falls Flat
COVID Mandates Under Fire
Judge Tosses Challenge to Ban on School Mask Mandates
WSJ: Biden Vaccine Mandate 'Dubious Reach of Federal Power'
Ted Cruz Looking to Block Vaccine Mandates for Kids
Republican Governors Lead Attack on Biden Vaccine Mandate
11 States File Suit Against Biden's Business Vaccine Mandate
What Vaccine Mandate Means for Firms and Workers
Arizona Won't Stop Using COVID Money for Anti-Mask Grants
AG to Sue Over OSHA Standard
5-Year-Olds to Be Required to Show Vax Cards in SF
More COVID Mandates Under Fire
Newsmax TV
Jordan: Spending Bill Will Prove Bad for Americans | video
Donalds: Worker Vax Mandates Will Lose in Court | video
Lt. Gov.-Elect Sears: Didn't Run to Make History | video
Murphy: 'Ignorant' Biden 'Inept or Lying' About Migrant Pay | video
Hartzler: Time to End 'Archaic' Military Draft Registration | video
Scalise: GOP Fights for Americans, 'Biden and Pelosi Don't Care' | video
Arrington: Biden 'Disconnected' From 'Rogue' Administration | video
Meuser: Voters Got Bernie Sanders, Not Biden | video
More Newsmax TV
Newsfront
Build Back Better Won't Allow Funds for Religious Facilities
The Build Back Better Act prohibits the use of funds to renovate or improve "buildings or facilities that are used primarily for sectarian instruction or religious worship," Fox News reports…. [Full Story]
Biden's Bet That Economy Would Boost Democrats Falls Flat
The U.S. economy was supposed to help President Joe Biden and [Full Story]
No Toilet for Returning SpaceX Crew, Stuck Using Diapers
The astronauts who will depart the International Space Station as [Full Story]
Report: Dem Governors Deny Deprioritizing Florida, DeSantis in Midterms
The Democratic Governors Association denied a report that it would [Full Story]
Donalds to Newsmax: Worker Vaccine Mandates Will Lose in Court
The Biden administration will face a court challenge over its mandate [Full Story] | video
Kinzinger Only the Latest Anti-Trump Republican to Exit Office
Nearly one year after several Republican lawmakers tried their [Full Story] | Platinum Article
Witness: Man Killed by Rittenhouse Challenged Group to Shoot Him, Used Racial Slur
A witness in the trial of teenager Kyle Rittenhouse said on Friday [Full Story]
Amazon's 'Mayor Pete' Documentary Obscures Supply Chain Crisis, Grenell's Role
The soon-to-be released Amazon documentary "Mayor Pete" is being [Full Story] | Platinum Article
Former FDA Commissioner Gottlieb: Pfizer Pill Means COVID Pandemic's End 'In Sight'
Former Food and Drug Administration Commissioner Dr. Scott Gottlieb [Full Story]
Florida Judge Tosses Out Challenge to State's Ban on School Mask Mandates
A challenge by six Florida school districts to the state's ban on [Full Story]
Family, Friends Gather to Honor Trailblazer Colin Powell
Friends, family and former colleagues gathered Friday at Washington [Full Story]
US Senate Bill Would Limit Big Tech Mergers
Two U.S. senators have introduced bipartisan legislation that seeks [Full Story]
Boebert Challenger Suspends Campaign, Blames Redistricting
The approval of Colorado's redistricting map has forced Rep. Lauren [Full Story]
Amazon Seeks US Approval to Deploy 4,500 More Satellites
com is seeking approval from U.S. communications regulators to [Full Story]
Trump: Democrats Would Rather Fight GOP Than Make Country Great
Former President Donald Trump lashed out at Democrats on Friday for [Full Story]
Marjorie Taylor Greene Visits Jan. 6 Inmates
Marjorie Taylor Greene, R-Ga., visited the Washington, D.C., [Full Story]
Biden Urges Lawmakers to Pass Bills If Worried About Cost of Living
President Joe Biden on Friday urged U.S. lawmakers worried about [Full Story]
Kanye West Says He Still Supports Trump, Slams #MeToo Movement in Interview
Kanye West is not holding back. [Full Story]
Dem Governors Won't Invest in Unseating DeSantis
The Democratic Governors Association is not planning to contribute [Full Story]
Kroger: 'Bitcoin Cash' Release Is Fraudulent
Kroger Co said Friday a press release saying it would accept "bitcoin [Full Story]
US Hiring Rebounded in October, with 531,000 Jobs Added
America's employers stepped up their hiring in October, adding a [Full Story]
Activists Block Manchin's Maserati, Demand He 'Fight for Us'
A group of young protesters, demanding that Sen. Joe Manchin "fight [Full Story]
11 States File Suit Against Biden's Business Vaccine Mandate
Attorneys general in 11 states filed suit Friday against President [Full Story]
Report: Border Patrol Released 283K Migrants Into US Over Past 12 Months
Border Patrol released into the U.S. more than 283,000 migrants who [Full Story]
Poll: Abbott Ahead of O'Rourke by 9 Points in Race for Texas Governor
Forty-six percent of registered voters in Texas support Republican [Full Story]
Chess Legend Kasparov: Humans Bigger Threat Than AI
Russian chess legend Garry Kasparov was beaten by a supercomputer – [Full Story]
Abba's Bjorn Says New Album May Be Last Recording
Swedish supergroup ABBA released their first studio album in 40 years [Full Story]
China Says it Will Hold Supporters of Taiwan's Independence Criminally Responsible for Life
China will make people who support Taiwan independence criminally [Full Story]
Son and Colleagues to Eulogize Soldier-Diplomat Colin Powell
Friends, family, and former colleagues are honoring Colin L. Powell, [Full Story]
Report: US Cancels Vaccine Maker's Multimillion Dollar Deal
The federal government has canceled a multimillion dollar deal with [Full Story]
House Votes Expected Friday on Both Spending Bills
The House is expected to vote Friday on the social policy and [Full Story]
More Newsfront
Finance
Norwegian Cruise Eyes Return to Profitability in Second Half of 2022
Norwegian Cruise Line Holdings Ltd on Wednesday forecast a return to profitability in the second half of 2022, as the U.S. travel and tourism industry claws back from the impact of the COVID-19 pandemic…. [Full Story]
Lauren Fix, The Car Guru … on Gas Price Hikes and Computer Chip Shortages
More Vaccines, Fewer Mask Rules as US Keeps Fighting COVID
Local Governments Scramble on US Home Rental Aid After 'Use-it-or-Lose-It' Order
GSK Says Anemia Drug Shows Positive Safety Profile
More Finance
Health
Pfizer Says Antiviral Pill Cuts Risk of Severe COVID-19 by 89%
A trial of Pfizer Inc's experimental antiviral pill for COVID-19 was stopped early after the drug was shown to cut by 89% the chances of hospitalization or death for adults at risk of developing severe disease…… [Full Story]
6 Superfoods To Boost Immunity During Cold and Flu Season
Gene Linked to Doubling Risk of COVID-19 Death Found by UK Scientists
Study Compares Effectiveness of Bypass, Stenting for Heart Disease Patients
How to Survive the Time Change This Weekend
Manufactured Housing Industry Investments Connected Equities Closing Tickers
Some of these firms invest in manufactured housing, or are otherwise connected, but may do other forms of investing or business activities too.
NOTE: The chart below includes the Canadian stock, ECN, which purchased Triad Financial Services, a manufactured home industry lender
NOTE: Drew changed its name and trading symbol at the end of 2016 to Lippert (LCII).
NOTE: Deer Valley was largely taken private, say company insiders in a message to MHProNews on 12.15.2020, but there are still some outstanding shares of  the stock from the days when it was a publicly traded firm.  Thus, there is still periodic activity on DVLY.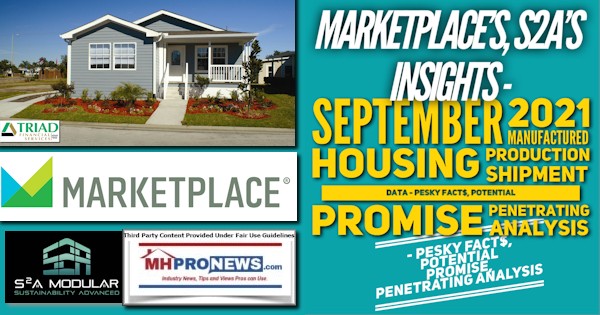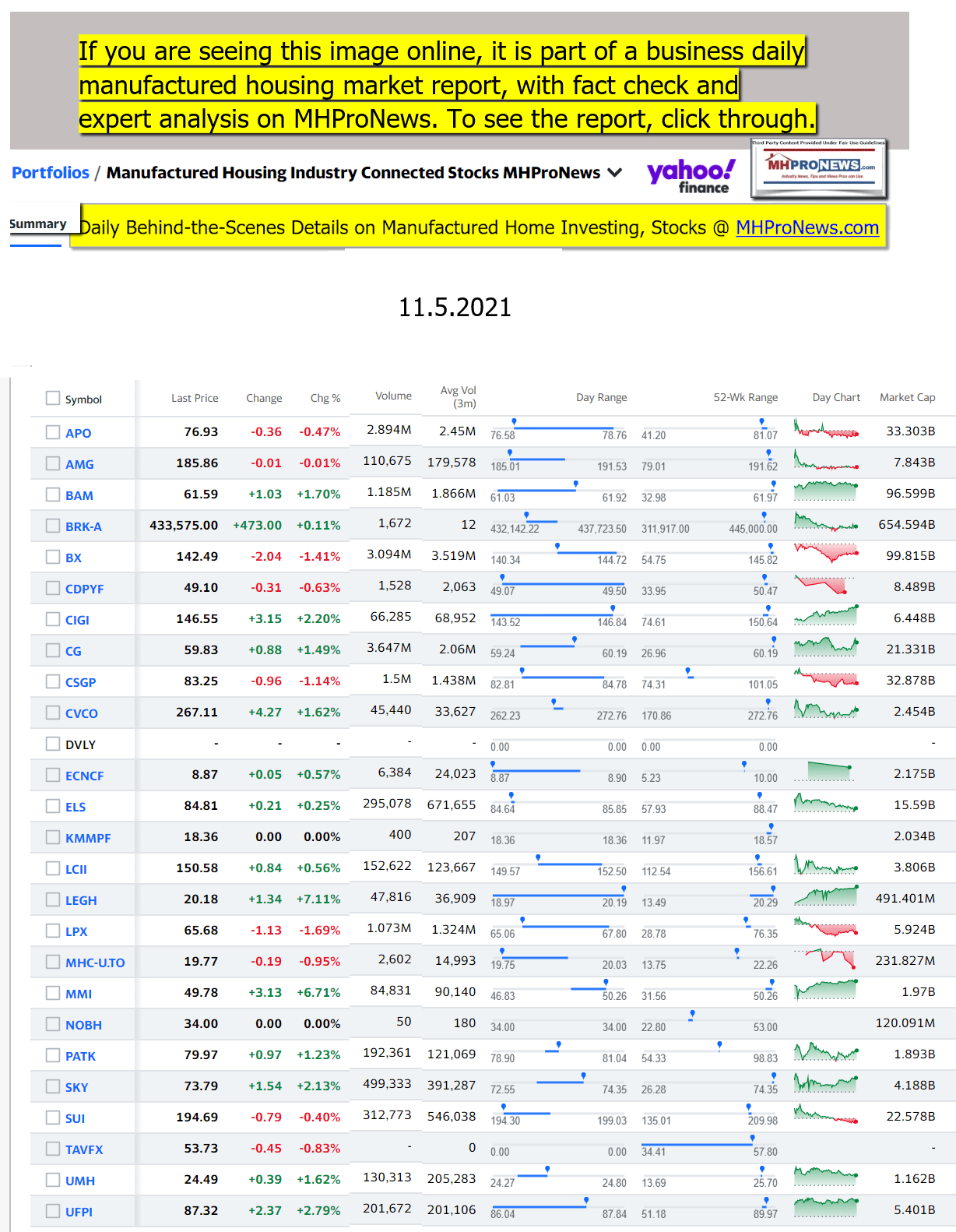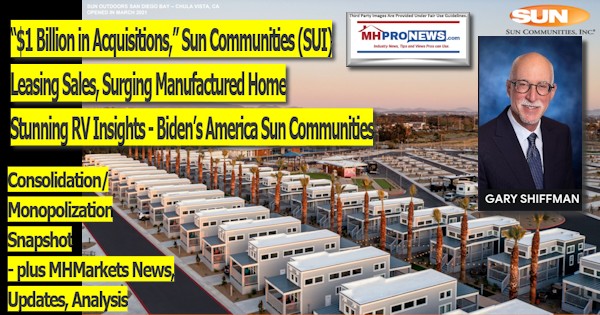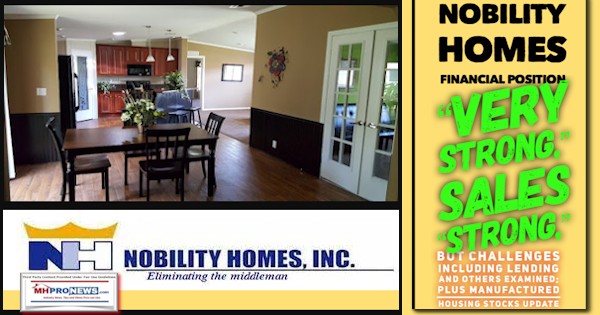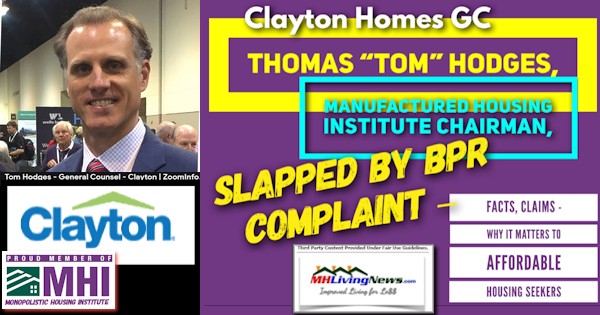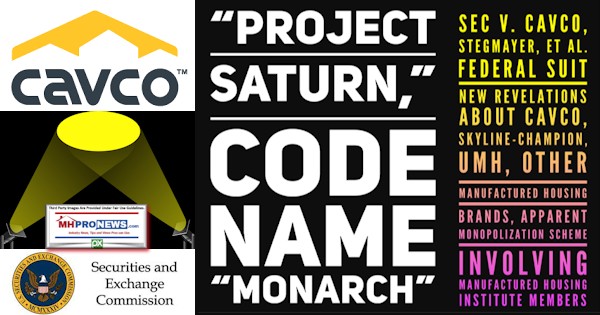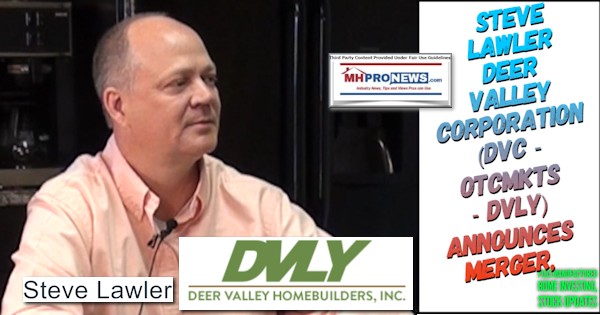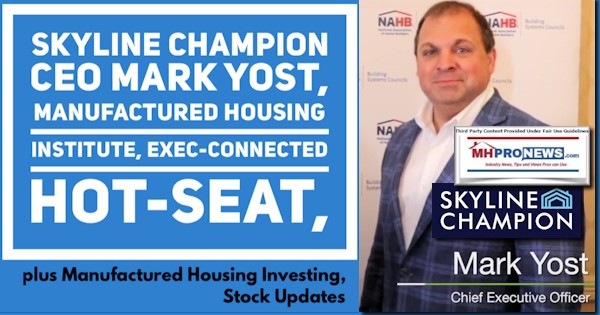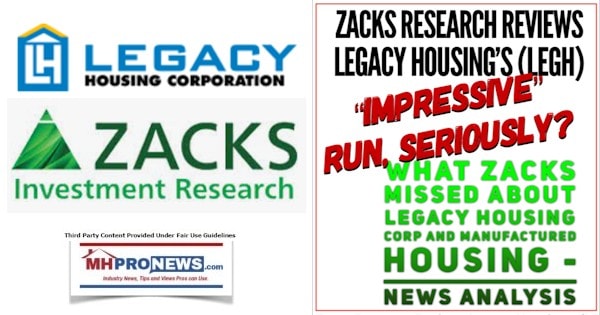 As the Summer of 2021 draws to a close…
Berkshire Hathaway is the parent company to Clayton Homes, 21st Mortgage, Vanderbilt Mortgage and other factory built housing industry suppliers.
· LCI Industries, Patrick, UFPI, and LP each are suppliers to the manufactured housing industry, among others.
· AMG, CG, and TAVFX have investments in manufactured housing related businesses. For insights from third-parties and clients about our publisher, click here.
Enjoy these 'blast from the past' comments.
MHProNews. MHProNews – previously a.k.a. MHMSM.com – has celebrated our 11th year of publishing, and is starting our 12th year of serving the industry as the runaway most-read trade media.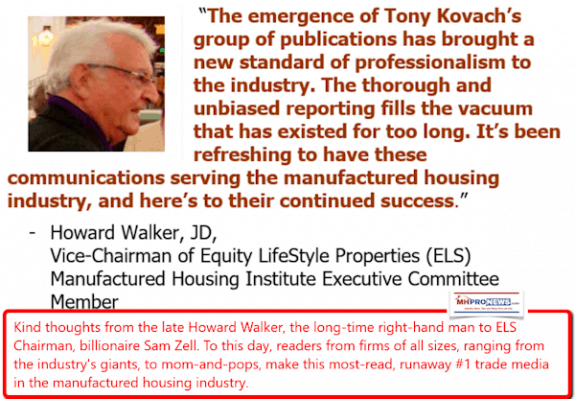 Sample Kudos over the years…
It is now 11+ years and counting…
Learn more about our evolutionary journey as the industry's leading trade media, at the report linked below.
· For expert manufactured housing business development or other professional services, click here.
· To sign up in seconds for our industry leading emailed headline news updates, click here.

Disclosure. MHProNews holds no positions in the stocks in this report.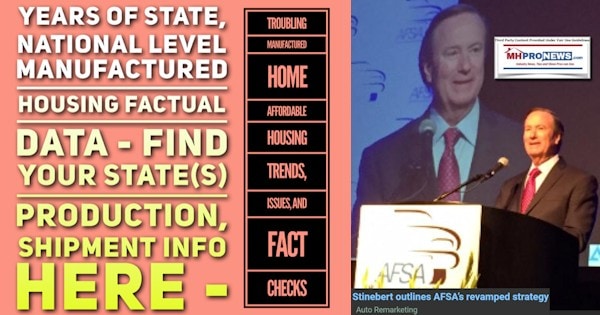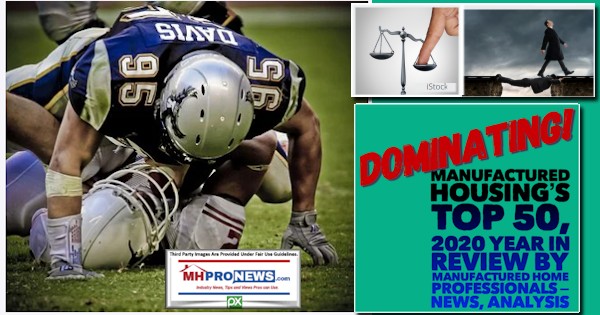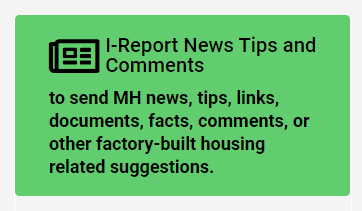 That's a wrap on this installment of "News Through the Lens of Manufactured Homes and Factory-Built Housing" © where "We Provide, You Decide." © (Affordable housing, manufactured homes, stock, investing, data, metrics, reports, fact-checks, analysis, and commentary. Third-party images or content are provided under fair use guidelines for media.) (See Related Reports, further below. Text/image boxes often are hot-linked to other reports that can be access by clicking on them.)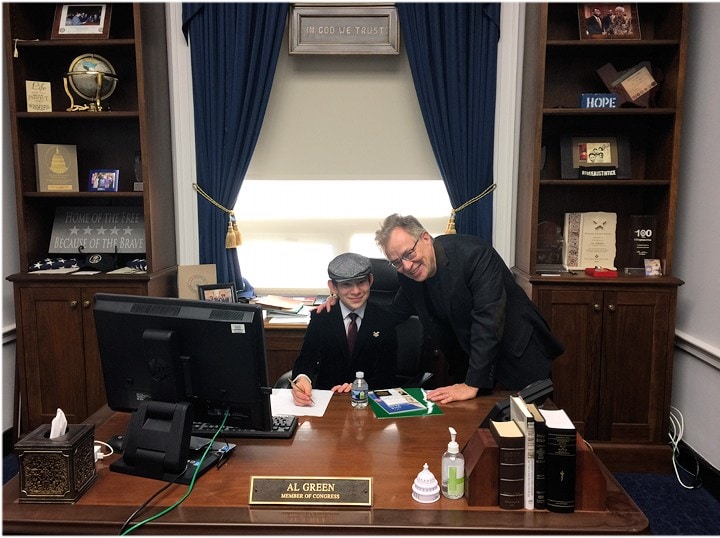 By L.A. "Tony" Kovach – for MHProNews.
Tony earned a journalism scholarship along with numerous awards in history. There have been several awards and honors and also recognition in manufactured housing. For example, he earned the prestigious Lottinville Award in history from the University of Oklahoma, where he studied history and business management. He's a managing member and co-founder of LifeStyle Factory Homes, LLC, the parent company to MHProNews, and MHLivingNews.com. This article reflects the LLC's and/or the writer's position, and may or may not reflect the views of sponsors or supporters.