Interest in national news has dropped, per several sources. While the reasons vary, a common point is because trust in news sources are often low. Another factor is that millions are sick and tired of the steady diet of bad news. Like it or not, what happens in our nation obviously impacts to various degrees the manufactured home industry. So MHProNews, which has periodically shared news reports on topics that are not directly related to manufactured housing is testing out this Saturday a 'news roundup' of stories that even those who follow mainstream media more closely may have missed. How these relate to manufactured housing will be made more apparent by additional information and linked reports from MHProNews/MHLivingNews.
In no particular order of importance are these topics:
Ex-Obama-Biden Admin official, and CNN Commentator Van Jones describes Life for Blacks Under Biden
Biden approval among Hispanics – the latest polling.
Mortgage Demand – a leading indicator for housing demand and sales velocity – new data.
Karma Flashback? 1 Year Ago Biden Said This About Those Who Got Covid Vax and Boosters.
Congressman Questions William "Bill" Gates III, Warren Buffett strategic ally, on why he's making big farmland purchases.
Biden's plans for bypassing Congress to 'fight climate emergency.'
Big Communist Chinese Plan Announced That Undermines Claims of Global Climate Change Threat
With that 'news roundup' plan, let's dive right in.
The first in a series of reports made available to MHProNews through our strategic agreement with the WND NewsCenter is the following.
WND
CNN's Van Jones: Life 'worse' for blacks under Biden
Economy has 'really walloped the community'
By Art Moore Published July 21, 2022 at 7:44pm
The poor economy is a "special heartbreak" for African-American voters, in part because of the trust they put in Joe Biden, says CNN contributor and longtime Democratic activist Van Jones.
First of all, he said in a segment Thursday, "the pain is more intense."
"The rising gas prices, food prices really walloped the black community in a particular way," Jones said.
"But the hope was so much higher," he said. "You have a community that came out in huge numbers in 2018, huge numbers in 2020, expecting things to get a lot better and, instead – economically, at least – it didn't come true. It got worse.
"And so, you're going through a summer now of real heartbreak with black voters – the polls show that," he said.
"And I think Biden has got to take that very seriously."
See Jones' remarks:
CNN's Van Jones says the economy has gotten "worse" for Black Americans since Biden took office.

"The rising gas prices, food prices have really walloped the Black community" pic.twitter.com/IEA1RynEd8

— RNC Research (@RNCResearch) July 21, 2022
Sen. Tim Scott: 'Unprecedented progress' for blacks under Trump
In June 2020, amid the COVID pandemic and racial turmoil in the wake of the death of George Floyd, a Rasmussen poll of likely voters shows a remarkable 41% of blacks approved of the performance of then-President Trump.
In the 2016 election, Trump won only 8% of the black vote, a typical figure for Republican candidates.
While some might have viewed the survey by the "conservative" Rasmussen as an outlier, its finding in December 2019 of 34% approval among blacks was affirmed by an Emerson College poll that had it at 35%. And a Marist poll at the time found 33% of non-white voters in approval of the president.
At the time, Black Republican Sen. Tim Scott of South Carolina praised Trump's work for the black community in an interview, saying "the last three years of progress have been unprecedented in my lifetime."
Scott said there needs to be "a concrete conversation about the policies of Vice President Joe Biden versus the policies of President Trump."
"If we have that conversation, there will be a clear delineation about progress that has been made on behalf of of the most vulnerable communities in this country under President Trump, and some of the challenges that were inspired and enacted by Vice President Biden," he said. "So that would be a clear contrast and one that would be worthy of actual investment of time, energy to hear that debate."
Meanwhile, one of Biden's key black supporters, Rep. James Clyburn – credited with rescuing the former VP's flailing campaign by endorsing him in South Carolina – said he "cringed" at Biden's assertion in an interview that black voters "have a problem figuring out whether you're for me or Trump, then you ain't black."
Among Trump's accomplishments for blacks, Scott said, are permanent funding for historically black colleges and universities and the creation of 7 million jobs, two-thirds of which went to minorities and to women.
"We had an increase the labor force participation rate among African-Americans," Scott said. "Home ownership, I believe, was up by two points under this administration. Access to a quality education improved, help for sickle cell anemia secured under this president, so when you look at the actual accomplishments – put aside all of the vitriol, all of the rhetoric, all of the things that some may find distasteful – the actual policy positions have been incredibly concrete.
"And I would say this has been the best policy position of a president in my lifetime, and that's what I know from just personal experience and having watched this for the last 30 years of my life."
Senior Trump campaign official Katrina Pierson, who is black, said Trump's support among blacks was "going in the right direction."
Pierson noted Trump had respect in the black community long before he ran for president, with Don King and Jesse Jackson counted among his friends. But when he ran for the presidency, she said, the Democrats smeared him as a "racist."
"He couldn't understand it at first, and it's very frustrating," said Pierson. "But it came with the baggage of running as a Republican.
"It went through a couple of years, during the campaign, where Trump's a racist, he hates brown people, but yet he's doing all of these things that the first black president never did for black people, and so you kind of have this new perspective on who Donald Trump is," she said.
Trump also had the support of superstar rapper Kanye West, who advised black Americans in an appearance in New York City not to vote Democrat. And in an interview, he said black Americans have been "brainwashed" by Democrats who are making them abort their children. ##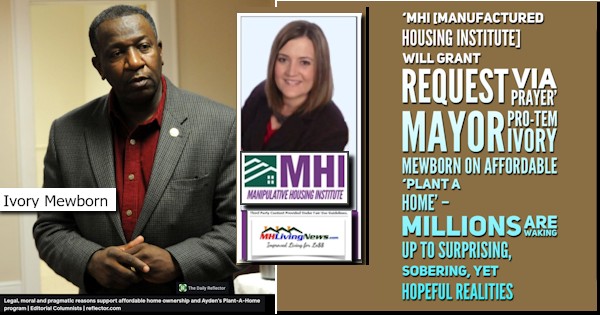 Next up is this report about Democrats and Biden's sagging support among Hispanics, which may foreshadow what's ahead with Blacks and other minorities.  From the WND NewsCenter to MHProNews is the following. Note: while this plays into the argument by those who say there is a 'red wave' coming in November that will sweep Democrats out of power in the U.S. House and possibly the U.S. Senate too, it should not be considered a 'done deal' until voters actually vote and those votes are properly tallied.
Biden's approval among Hispanic voters plunges to 19%
And 45% would prefer GOP control of the Senate
By WND News Services
Published July 21, 2022 at 11:12am
By Laurel Duggan
Daily Caller News Foundation
President Joe Biden's approval rating fell to 19% among Hispanic voters in a Wednesday Quinnipiac poll.
Hispanics were the least likely demographic to approve of Biden, the poll of 1,523 Americans found. Among Hispanic respondents, 19% approved of Biden's handling of the economy, 23% approved of his foreign policy, 45% approved of his coronavirus response and 22% approved of his handling of gun violence.
I had a great meeting with the Congressional Hispanic Caucus yesterday afternoon. We're working together to fix our broken immigration system, ensure the Bipartisan Infrastructure Law is implemented equitably, and more. pic.twitter.com/EtzMSh4wtl

— President Biden (@POTUS) April 26, 2022
Hispanic respondents also appeared to prefer former President Donald Trump to Biden, with 38% holding a favorable view of Trump, the poll found. This demographic also favored Republicans in the coming midterms, with 45% wanting Republican control of the Senate and 43% preferring Democrat control.
This demographic also had more favorable views of the Supreme Court compared to Biden; 32% of Hispanics approved of how the court was handling its job, compared to 17% of black respondents and 42% of white respondents.
White and black voters were more likely to approve of Biden compared to Hispanics, at 29% and 61% respectively, the poll found.
Biden has fared poorly in other recent polls, hitting an all-time low in economic approval ratings Monday and consistently polling poorly among Hispanics. He won 63% of the Hispanic vote in 2020, but his approval rating in this demographic has been steadily declining.
The poll was conducted July 14-18 and had a margin of error of 2.5%.
The White House did not respond to the Daily Caller News Foundation's request for comment.
This story originally was published by the Daily Caller News Foundation. ##
Next are facts on mortgage applications slowing velocity that clearly have housing and manufactured home insights. Courtesy of the WND NewsCenter to MHProNews is the following.
FEARS OF THE FUTURE
Mortgage demand falls to lowest level since 2000
Refinance loans continue to drop
By WND News Services Published July 21, 2022 at 4:57pm
(BREITBART) – Higher interest rates and very high home prices dragged down demand for mortgages for the third straight week, data from the Mortgage Bankers Association indicated Wednesday. Mortgage applications fell 6.3 percent for the week ending July 15, 2022, the MBA said.
Applications for a mortgage to purchase a home dropped 7 percent for the week. Compared with a year ago, applications are down 19 percent.
Refinance loans, which are extremely sensitive to mortgage rates, continued to fall. The refinance index fell four percent from the previous week and is 80 percent lower than a year ago.
Next up, as manufactured housing industry professionals know, climate change and the DOE energy rule have been front and center in U.S. politics for years, but increasingly so during the Biden-Democratic control of the U.S. House, Senate and White House.  While some in media and in power assert that climate change is undisputable science, others use scientific evidence to deny that claim. Still others have pointed to the behavior of some of the elites who promote the climate alarm message as either being hypocrites or contradicting through their lifestyle and choices their own narrative. Former President Barack Obama and PINO Joe Biden's respective ocean-front residences are ludicrous and hypocritical choices if 'rising sea levels' are a serious threat. That supports the notion that climate change is a strategy with an unstated agenda rather than a genuine concern that threatens all life on the planet with extinction in a matter of years, as climate alarmists assert.
Courtesy of the WND NewsCenter to MHProNews is the following report.
Biden bypassing Congress to fight climate 'emergency'
It 'is literally and not figuratively a clear and present danger'
By Art Moore Published July 20, 2022 at 3:47pm
After failing to convince Saudi Arabia to increase oil production, President Joe Biden announced Wednesday his plans for executive action on climate change, contending he needed to act on his own because he couldn't advance his agenda in Congress.
Speaking at the site of a Massachusetts coal-burning power plant that was shut down five years ago, Biden said the world is facing an "emergency."
"As president, I have a responsibility to act with urgency and resolve when our nation faces clear and present danger. And that's what climate change is about," he said. "It is literally and not figuratively a clear and present danger."
Biden touted a plan underway to build 100 wind turbines off the Atlantic coast, each mounted on 2,500 ton concrete platforms.
In Congress, Biden's green agenda stalled when Democratic Sen. Joe Manchin of West Virginia declared to Senate Majority Leader Chuck Schumer he won't vote for any climate-change legislation or tax increases.
In a statement Friday, Biden vowed that if the Senate "will not move to tackle the climate crisis and strengthen our domestic clean energy industry, I will take strong executive action to meet this moment.
Biden stopped short on Wednesday of officially declaring an emergency that would enable him to use the Defense Production Act to increase production on solar panels and other renewable energy products.
On Monday, two Senate Democrats, Sheldon Whitehouse of Rhode Island and Jeff Merkley of Oregon, urged Biden to declare a climate emergency.
The senators also called on Biden to use the White House "bully pulpit" to advance the climate agenda.
In an interview with CNN before the speech, the White House national climate adviser, Gina McCarthy, said the president will "move forward with every power available to him" to eliminate fossil fuels.
Biden climate adviser Gina McCarthy says Biden will "move forward with every power available to him" to get rid of fossil fuels pic.twitter.com/YBQAXS9j9r

— RNC Research (@RNCResearch) July 20, 2022
Marc Morano, a former Capitol Hill staffer who now runs the climate-change skeptic site Climate Depot, criticized Biden's use of executive action.
"The Biden administration believes that when democracy fails to achieve its climate goals, it's time to bypass democracy and Congress and follow the COVID model," he said.
Morano noted that some climate activists have suggested adopting the COVID lockdowns as a model and implementing climate lockdowns to reduce emissions.
He warned that throughout history, "emergency declarations have been used and abused to crush freedom."
"For those who loved how unelected officials ruled our lives under COVID lockdowns, prepare for the attempts to make climate lockdowns permanent," Morano said.
One unelected leader who is influencing environmental policy is former Democratic senator John Kerry, who serves as Biden's special envoy for climate. Fox News reported Kerry's private jet has emitted 715,886 pounds, or 325 metric tons, of carbon dioxide since he assumed the post. Meanwhile, the typical passenger vehicle emits about 4.6 metric tons of carbon dioxide a year, according to the Environmental Protection Agency.
Kerry has predicted that the U.S. will stop burning coal by 2030. Nearly 25% of the nation's electricity comes from the fuel, and many of the largest power companies don't plan to phase out the use of carbon-based fuels until 2050.
"The problem with folks like John Kerry and the climate hypocrites who run the green movement is that they want to use the coercive power of government," ​Daniel Turner, the executive ​director of ​​Power The Future​, told Fox News.
The activists, he continued, "refuse to voluntarily live how they want the rest of us to be forced to live."
"It doesn't just make them hypocrites, it makes them, quite frankly, a threat to the rights and freedoms of people around the world," Turner said. "When John Kerry voluntarily lives the way he wants the rest of us to be compelled to live, then we can talk about his climate goals."
See Biden's remarks:
##
Additional Insights with More MHProNews Analysis and Commentary
9.11.01 Untold Lessons – After 20 Years, Betrayal and Botched Policies Reveal Corporate-U.S. Politicos Polices Harm Most Americans of All Backgrounds, Facts, Figures, and Solutions – plus MH Market Updates
There are competing narratives on the alleged climate crisis, and the push for electric cars, more solar and wind created energy is explored in greater depth in the report below. The Wall Street Journal report cited in the report below clarifies some of the practical challenges of EVs, or electric vehicles vs. gas powered cars.
Larry Tomczak–WSJ Electric (EVs) vs Gas Powered Vehicles Test, Like Telling Struggling Renter to Buy House? Lessons for MHVille From Green Agenda Examined, plus Manufactured Housing Stocks Update
The often-referenced political junky site, FiveThirtyEight said on 7.22.2022 the following:
"In mid-January, the Pew Research Center asked Americans which among 18 issues should be a top priority for Congress and the president to address, and 65 percent of Democrats selected climate change, ranking it as their fourth-most-important issue."
"For instance, even though climate change was a top priority for Democrats in the January Pew poll, it was only the 14th-most-important issue for voters overall. That's in part because Republicans do not prioritize climate change: Just 11 percent said it should be a top priority for Congress and the president, compared with 65 percent of Democrats. In fact, climate change was the most polarizing issue Pew asked about — even more so than views on dealing with the COVID-19 outbreak."
Restated, despite nearly daily hype about 'the climate crisis,' even among those who 'believe' in the 'reality' of the crisis, it only ranked as the #4 leading concern among Democratic supporters. While a few years ago, Democrats outnumbered Republicans, with the shift of over a million new registered Republicans in the U.S., the widespread skepticism or 'denial' that there is a man-made climate change is challenge for its adherents. If the majority of Americans don't think it is the top issue now – given all the hype, and that is what the polling reflects – will its backers ever persuade the vast majority of the population? Pushback to the climate agenda is growing in other nations too, as the example of farmer protests in Europe reflect. Again, more facts and evidence on the issue is found in the MHProNews report linked above.
As a kind of possible kiss of death to the hype-driven belief in a manmade climate crisis is the recent announcement out of Communist China. "China's National Energy Administration (NEA) said Thursday it approved a coal mine project worth 3.1 billion yuan ($458 million) in the country's Inner Mongolia Autonomous Region, Reuters reported," in a news item unpacked by Breitbart. MHProNews recently examined the drive in both India and China for more coal-fired electric generation plants. The details are below, but the bottom line is this. There is nothing that the U.S. can do solo that will outweigh what in carbon reduction the increased carbon output from nations like China and India. Are those nations and their leaders suicidal? Or do they rather see that the evidence for man-made climate change is so doubted that they do not think there is the kind of risk that climate activists and their backers claim? These are serious questions that impact manufactured housing professionals and all others, because energy demand touches every American.
How Serious Is Climate Change? New Data from China, India Reveals Stunning Coal Production Facts; Meanwhile, Biden DOE Racing to Implement Costly Manufactured Housing Energy Rule; MHStocks Sour
Next to claims of a climate crisis are the increasingly dubious claims that were made about the severity of COVID19 and the efficacy of the vaccinations that claimed to 'stop the spread' of COVID and its variants.  That the virus is real is not disputed. The question is, has the response to the virus been the correct one? The report below from the WND NewsCenter to MHProNews helps address those concerns as seen through the lens of statements made by candidate Joe Biden and now claimed President Biden.
WND
Biden promised 1 year ago today shots would prevent COVID
'You're OK, you're not going to get COVID if you have these vaccinations'
By Art Moore Published July 21, 2022 at 2:21pm
It was one year ago today when President Biden promised Americans that if they got vaccinated they would not contract COVID-19.
On Thursday, after four COVID-19 shots, the White House announced that the president had tested positive for the disease and was experiencing mild symptoms while isolating from his staff.
Nevertheless, Biden said Wednesday in response to a reporter's question that his plan to address a rise in COVID-19 cases was that Americans should be "getting vaccinated."
The administration finally, reluctantly, has acknowledged the shots don't stop infection or transmission but continues to insist they prevent severe illness, hospitalization and death.
TRENDING: Why are blacks still on board with Biden?
Biden's top coronavirus adviser, Dr. Anthony Fauci – who tested positive for COVID-19 last month after being quadruple vaccinated – acknowledged in a recent interview that the COVID vaccines "don't protect overly well" from infection. But he maintained they still have virtue.
"One of the things that's clear from the data [is] that even though vaccines – because of the high degree of transmissibility of this virus – don't protect overly well, as it were, against infection, they protect quite well against severe disease leading to hospitalization and death," Fauci said.
However, an analysis of Pfizer and Moderna COVID vaccine trials found the mRNA shots are more likely to land a recipient in the hospital than to provide protection from a severe adverse event. The findings were similar to those of a recent pre-print analysis that found "no evidence of a reduction in overall mortality in the mRNA vaccine trials." And a new study published in the New England Journal of Medicine found that two doses of the mRNA vaccines increased the risk of COVID-19 infection during the omicron wave.
Dr. Robert Malone, the inventor of the technology platform behind the mRNA vaccines and a leading critic of the COVID-19 shots, summarized Thursday on Gettr what current scientific research and real world data indicate.
"The highly inoculated are the ones at most risk for clinical COVID, hospitalization and death with these escape mutant variants, and they are the ones breeding the next round of escape mutants," he wrote.
Dr. Harvey Risch, a professor of epidemiology at the Yale School of Public Health, said in EpochTV interview published Wednesday that the antibodies triggered by COVID-19 vaccines are interfering with people's immune systems as newer virus variants emerge.
The White House said Biden is being treated with the antiviral drug Paxlovid, which is produced by Pfizer. Fauci said he experienced a rebound of COVID symptoms after he was treated with the drug. In fact, Pfizer's own trial data showed the drug may not be effective for people who have received a COVID vaccine.
The Pfizer Paxlovid trial was stopped, pointed out Malone, due to a lack of efficacy in standard risk patients. Lab studies, he further noted, show coronavirus has been able to evade the drug in multiple ways.
Last fall, Risch was among scientists and physicians who said in Senate testimony that thousands of lives could have been saved if treatments such as ivermectin and hydroxychloroquine had not been suppressed.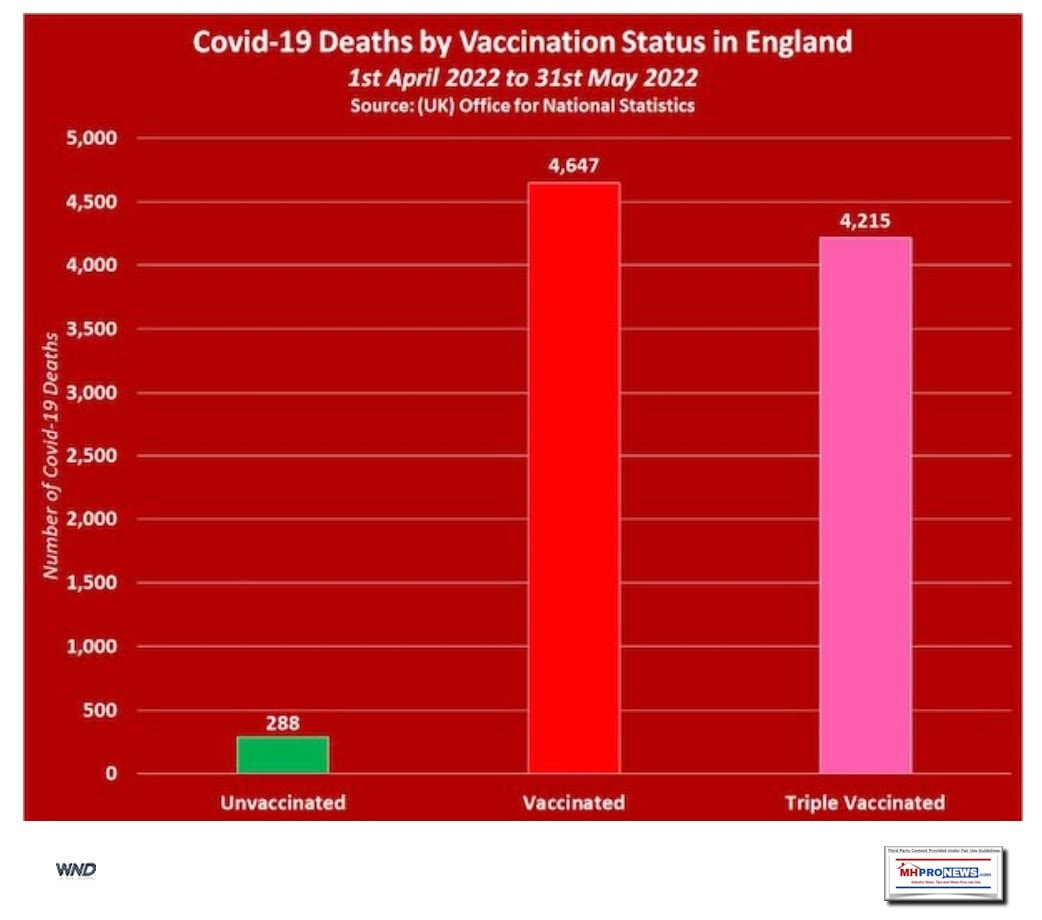 See Biden promising the vaccines will prevent infection:
It was one year ago today that Biden said this quote: "You're not going to get covid if you have these vaccinations."

Today, Biden tested positive for covid. pic.twitter.com/Q1BcBQaEXH

— Greg Price (@greg_price11) July 21, 2022
Biden, in an effort to justify his vaccine mandates and press more people to get the shots, warned last December of "a winter of severe illness and death for the unvaccinated." And he scolded the COVID vaccine skeptics by repeatedly declaring the nation is experiencing a "pandemic of the unvaccinated."
Dr. Peter McCullough, a prominent cardiologist, epidemiologist and critic of the COVID vaccines, wondered Thursday how Biden will walk back that statement.
Really many are concerned now about his physical health being breakthrough quadrupled with the acute illness, but how does one walk back this "pandemic of the unjected" comment. Never was a correct statement. Will keep it for the White House domestic propaganda files. pic.twitter.com/Wfi5ukeSsp

— Peter McCullough, MD MPH (@P_McCulloughMD) July 21, 2022
Expected breakthrough case. Symptoms always start out as mild. He will need more than PAX. Hope they reach out to the McCullough protocol so he avoids PAX rebound and progression of symptoms. Never one drug to treat this illness! Treatment principles known for years now. pic.twitter.com/6fbXbo5wns

— Peter McCullough, MD MPH (@P_McCulloughMD) July 21, 2022
Spencer Brown, managing editor of Townhall.com, spotlighted President Biden's tweet Thursday assuring American's he's "doing great" and "keeping busy."
"I'm old enough to remember when official photos of Trump working at Walter Reed when he had COVID were called 'propaganda' by the mainstream media," Brown wrote.
I'm old enough to remember when official photos of Trump working at Walter Reed when he had COVID were called "propaganda" by the mainstream media. https://t.co/RymyCcm2KD

— Spencer Brown (@itsSpencerBrown) July 21, 2022
In his interview July 12 with Fox News' Neil Cavuto, Fauci said that "even though [vaccination] didn't protect me against infection, I feel confident that it made a major role in protecting me from progressing to severe disease."
"And that's very likely why I had a relatively mild course. So my message to people who seem confused because people who are vaccinated get infected – the answer is if you weren't vaccinated, the likelihood [is] you would have had [a] more severe course than you did have when you were vaccinated."
However the consensus among physicians and scientists has been that, regardless of vaccination status, the current BA.4 and BA.5 omicron subvariants, while very contagious, present with mild symptoms in most people.
'I will shut down the virus'
On the Powerline blog, John Hinderaker recalled that during a campaign debate, Biden blamed then-President Trump for every American COVID death, saying that anyone "who is responsible for that many deaths should not remain as President of the United States of America."
At the time, the U.S. had recorded 220,000 COVID deaths.
Biden also campaigned on promises to stop the pandemic, Hinderaker noted, saying "I will shut down the virus" and "I will beat this virus."
"Since Biden became president, more than 750,000 Americans have died from (or with) covid, per the CDC," he wrote. "If you take Biden's election rhetoric seriously, he bears responsibility for those 750,000 deaths. And maybe we should take it seriously, because without covid and the ensuing panic, and without Biden's wild covid claims and promises, he would not have been elected president."
See Biden state his plan for rising COVID cases:
Yesterday afternoon, a reporter asked Joe Biden what his plan is to deal with rising COVID cases.

Biden said that the country should be "getting vaccinated." pic.twitter.com/NrEU9oJYU9

— Townhall.com (@townhallcom) July 21, 2022
'Stop extending the national emergency'
Phil Kerpen, president of the Committee to Unleash Prosperity, tweeted: "If a medically frail 80 year-old can work all day with COVID, he should stop extending the national emergency."
The federal public health emergency was set to expired in mid-July but was extended for another month. The declaration allows for the granting of emergency authorizations of drugs and vaccines and the issuance of special benefits such as health coverage through Medicaid.
In May, more than 17,000 physicians and medical scientists from around the world signed a declaration calling on nations to lift health emergency declarations, restore scientific integrity and address "crimes against humanity."
Among the signatories is Dr. Malone, who argues that the concerns raised in the declaration go beyond COVID-19, threatening constitutional rights.
The declaration asserts a "corrupt alliance" of pharmaceutical, insurance and health care institutions continues "to advance unscientific claims by censoring data, and intimidating and firing doctors and scientists for simply publishing actual clinical results or treating their patients with proven, life-saving medicine."
See the White House press briefing Thursday on Biden's COVID-19 diagnosis:
Fauci: Vaccines 'virtually 100% efficacious'
At the launch of the vaccines, Fauci, other health officials, pharmaceutical companies and media declared the coronavirus shots to be virtually 100% effective in preventing symptomatic COVID-19 then gradually lowered their estimations to as low as 20% after only six months.
Fauci is seen in a media interview touting the vaccines as "virtually 100% efficacious" and stating in congressional testimony that the "real world effectiveness is even more impressive than the results of the clinical trial."
Moderna boasted its vaccine was 100% effective in teenagers. Pfizer said its vaccine was 100% effective in preventing COVID infections. In other statements, the shots were declared to provide 100% protection against severe disease, hospitalization and death.
However, by October 2021, a study of real world data showed Pfizer's COVID vaccine was only 20% effective against infection after six months.
A CNN headline one year earlier, before the vaccines were launched, said "Past vaccine disasters show why rushing coronavirus vaccine now would be 'colossally stupid."
See the White House video of Biden released Thursday:
— TexasLindsay™ (@TexasLindsay_) July 21, 2022
Just-In President Biden will be taking the antiviral drug—Paxlovid. Stay tuned for the rebound just like Fauci experienced.

— TexasLindsay™ (@TexasLindsay_) July 21, 2022

##
The facts, evidence, and insights from the above were presaged by months of reports on these topics by MHProNews/MHLivingNews. For example, in 2020, MHProNews highlighted the organized pushback by the medical and healthcare community under the banner of the Great Barrington Declaration, which took issue with the public policies in the U.S. or other nations that resorted to lockdowns and other drastic measures in response to COVID19.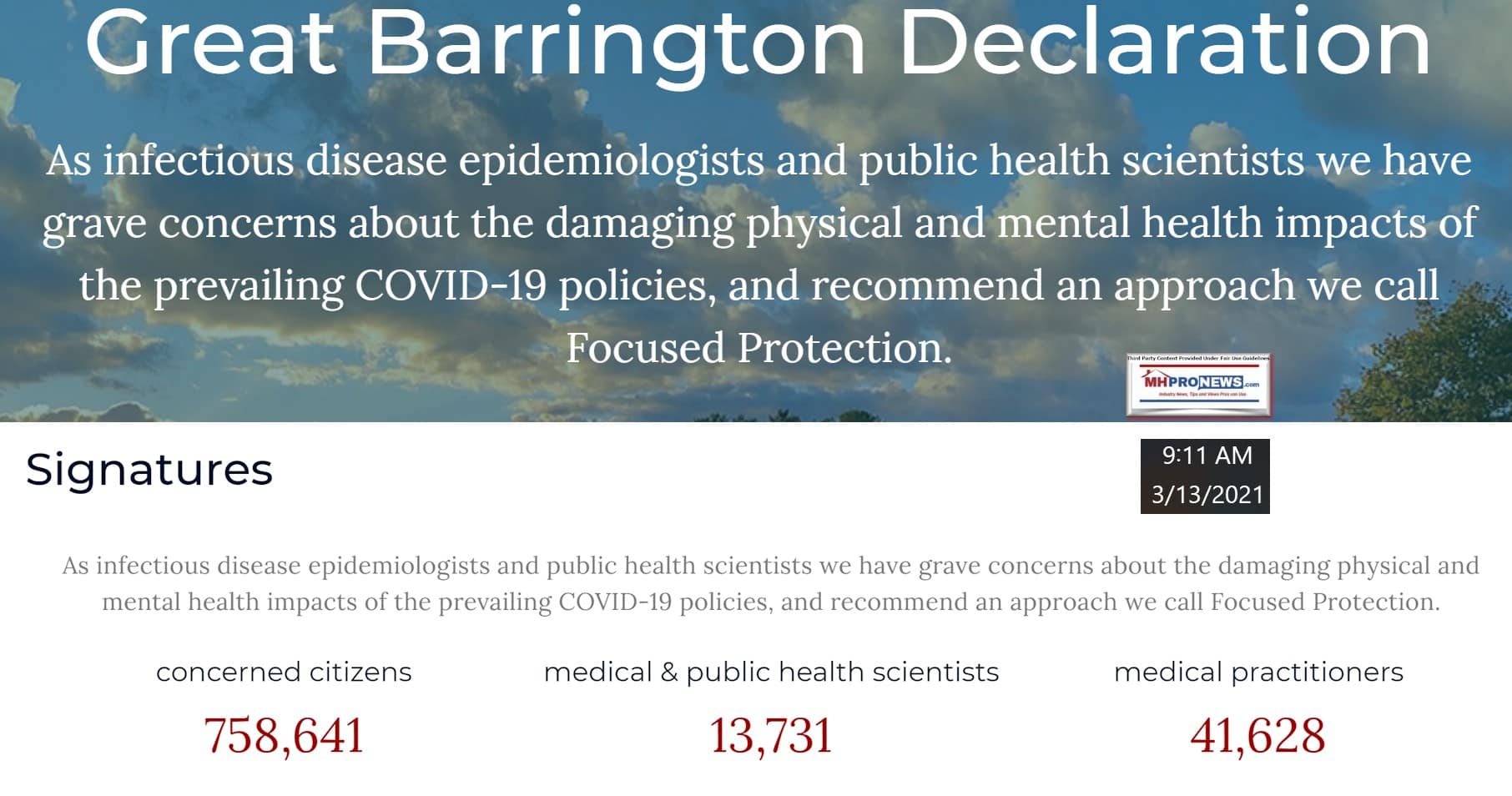 Some years ago, MHProNews highlighted this statement by now former President Obama. Obama candidly admitted that there were two world views, two views of what 'reality' amounted to.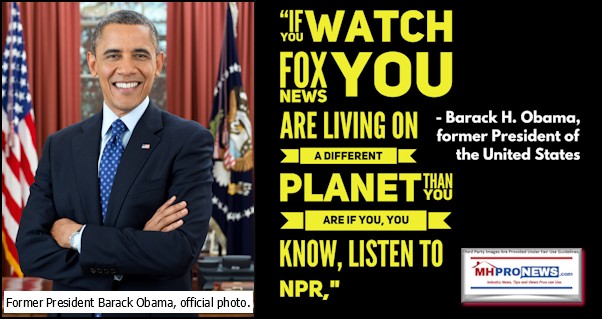 While Fox News has since moved more toward the left (but is still considered by many to be a more 'conservative' news source), Mr. Obama's point is quite apt. Obviously, he wants people to believe the leftist-Democratic narrative. But his own choices belie his support for issues like the reality – or lack of it – in so-called man-made climate change. If the seas and oceans are rising, why does he have two ocean front properties?
When even the segment of the population that votes Democratic don't think climate change is the top issue, those who push that Democratic policy narrative in business, media, big tech, and other institutions have a problem. When entire nations – think China and India – are moving in the opposite direction, and advocates like ex-President Obama and his wife Michelle are living as if there are no serious risks from the claimed rising oceans, is the time approaching when those claims are more widely viewed as mere propaganda?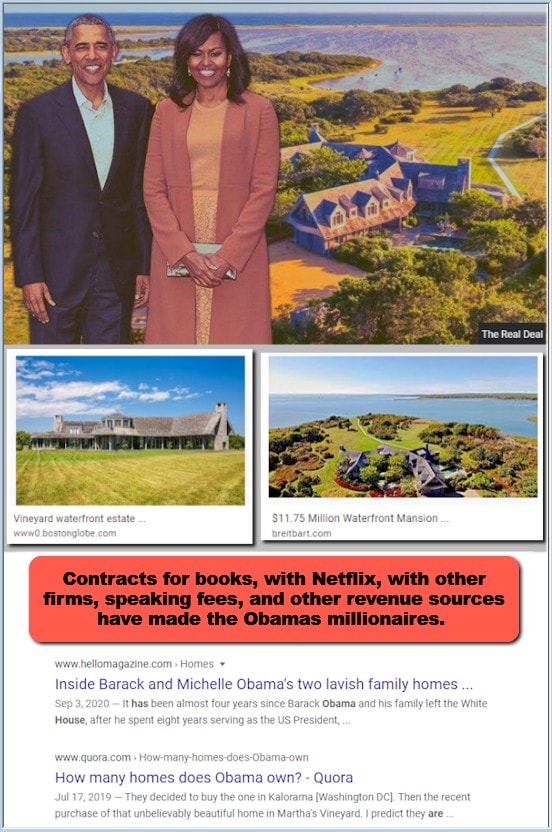 The evidence that propaganda has driven much of the political agenda in the U.S. is mounting. The reason that big tech and others have tried to censor free speech is because it is the only way to keep the illusion going. An important piece of evidence for that is Joe Biden's son Hunter's laptop story was widely suppressed as 'disinformation' in the run-up to the 2020 election. But more recently, left-leaning news outlets have had to walk back their feigned skepticism about Hunter's laptop and its shocking contents. Several right-leaning pundits have referred to the Bidens as "the Biden crime family" and point to deals by Hunter and his colleagues in Russia, Ukraine, and China as part of the evidence. Once more, MHProNews examined the evidence in near real time and provided reports like the one below in September of 2020 that proved to stand the test of time. What major media outlets have since had to walk back, by examining the evidence, MHProNews reported far more accurately months or years before others in media.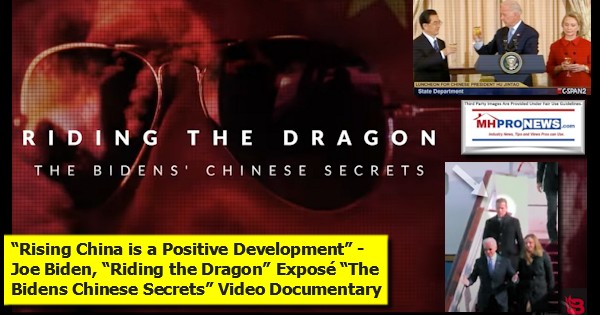 News is supposed to inform, but propagandists learned years ago in places like National Socialist (Nazi) Germany, Soviet Russia and Communist China that manipulating the 'news' can manipulate the population. That troubling reality is not entirely new. President Abraham Lincoln dealt with propaganda and sometimes bold lies in his era too. Samuel Clemens, a.k.a. Mark Twain, noted that bold lies could hold sway for a time. The goal of bold liars has long been the same. It is money and power. Who says? In our own time, Warren Buffett and his longtime vice chairman Charlie Munger, J.D.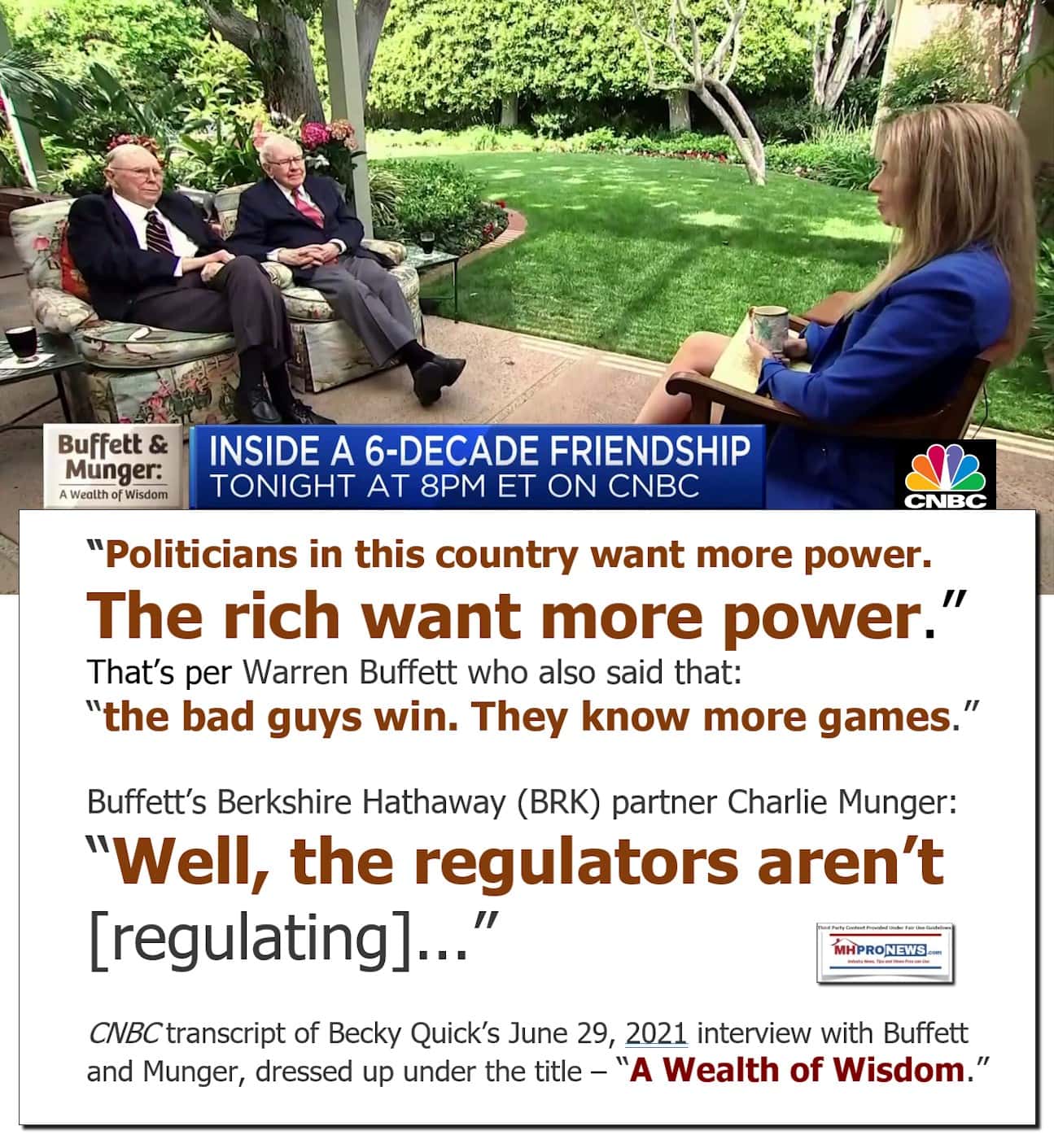 Former White House Covid Response Coordinator Dr. Deborah Birx to Neil: "50% of the people who died from the omicron surge were older, vaccinated. So that's why I'm saying even if you're vaccinated and boosted, if you're unvaccinated right now, the key is testing and paxolovid." pic.twitter.com/1oB62gFdCJ

— Neil Cavuto (@TeamCavuto) July 22, 2022
The truth of a subject is not always immediately evident. Manufactured housing pros should know that better than most, facts emerging in recent years have proven what industry proponents have touted for decades despite pushback. In a time of big, bold lies that are all too common, it takes effort to sift out what is fact from fables or fantasies that happen to benefit some special interest.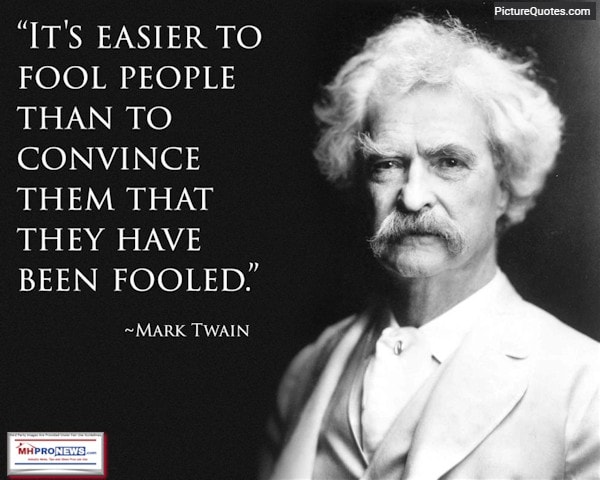 In an era of all too common 'deception and misdirection' count on MHProNews to faithfully seek the truth, shed the light that helps thinking people discern reality from mere agenda-driven fiction. We will continue to focus on manufactured housing but will do so with an eye on larger issues that obviously impact and artificially limit our industry.
Homebuilder and Home Buyer Confidence Collapsed in July 2022 Explored in 3 Graphs – Bloomberg, ZeroHedge, NAHB; plus, Manufactured Housing Stocks Update
'Excuses' – Manufactured Housing Finance 'Restrictive or Unavailable' 'One of Main Impediments' to More Manufactured Home Sales – Experts Cited in Federal Talk; Sunday Weekly MH-Headlines Recap
Sprinklers, Multifamily Manufactured Homes, and New Wind Zone Standards Ahead for HUD Code Manufactured Housing? HUD's Notice of Proposed Rulemaking (NPR); plus MHVille REITs and Equities Updates
Federal Court Grants Missouri, Louisiana Attorneys General Discovery from Joe Biden, Biden Administration Officials, Big Tech Companies in Free Speech Suit – plus MHVille REITs, Equities Update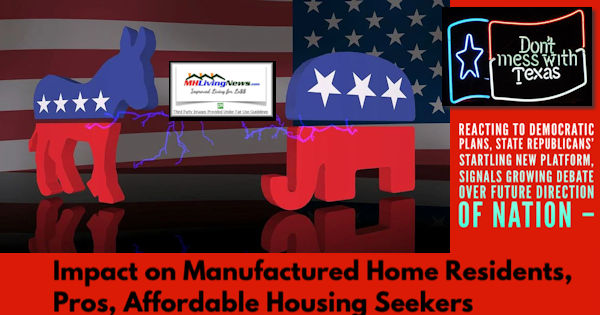 Next up is our daily business news recap of yesterday evening's market report, related left-right headlines, and manufactured housing connected equities.
The Business Daily Manufactured Home Industry Connected Stock Market Updates.  Plus, Market Moving Left leaning CNN and Right-leaning (Newsmax) Headlines Snapshot. While the layout of this daily business report has been evolving over time, several elements of the basic concepts used previously are still the same. For instance. The headlines that follow below can be reviewed at a glance to save time while providing insights across the left-right media divide. Additionally, those headlines often provide clues as to possible 'market-moving' news items.
Market Indicator Closing Summaries – Yahoo Finance Closing Tickers on MHProNews…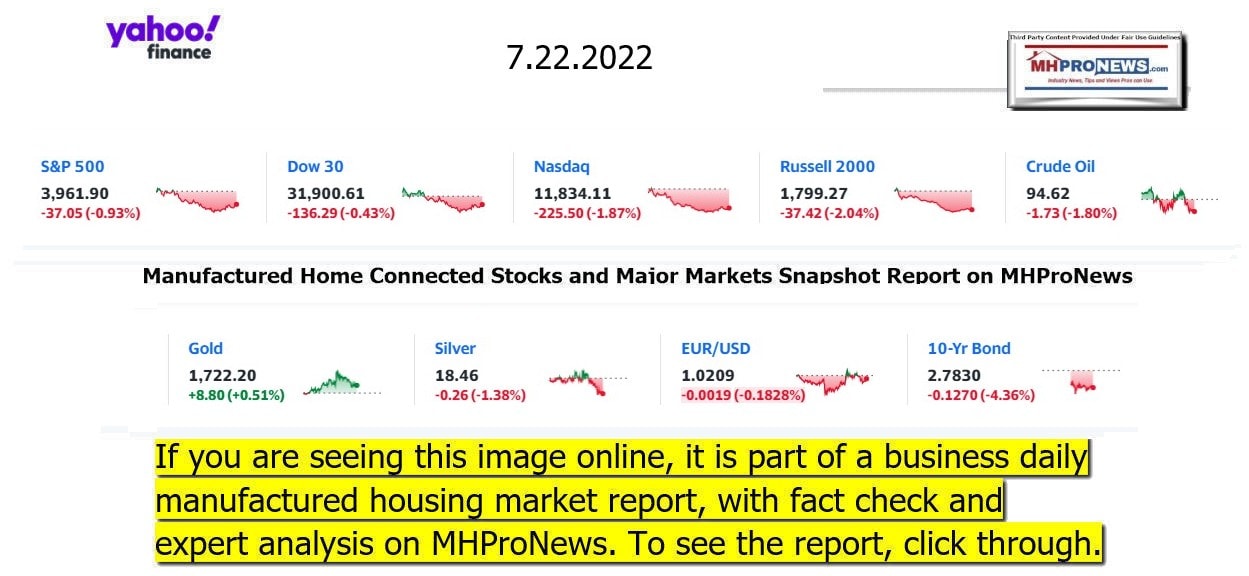 Headlines from left-of-center CNN Business – from the evening of 7.22.2022
Second thoughts
People walk to get a train in Grand Central Terminal on August 30, 2021 in New York City.
They retired during the pandemic. Now they're headed back to work
Recession warning: Some Americans are having trouble paying bills
Cadillac couldn't outsell BMW. Now it wants to top Rolls-Royce with the six-figure Cadillac Celestiq
As more coupons move online, older and low-income shoppers get left out
Big companies are starting to get nervous about the job market
What Twitter is blaming for its revenue drop
How to invest like Warren Buffett during a recession
Opinion: Without real solutions, renters will continue to be worse off
Germany bails out its biggest natural gas importer
China extends property loans at the fastest pace in three years as mortgage crisis spreads
FedEx is trimming Sunday delivery to US rural homes
Here today, gone tomorrow: China's vanishing livestreamers
A customer pays cash for a purchase at a Tractor Supply Co. store in Merced, California, US, on Tuesday, July 19, 2022.
You're not the only one who's confused about the economy. The experts are baffled, too
Herbert Diess, CEO of German carmaker Volkswagen AG, speaks in front of an ID.3 pre-production prototype during the presentation of Volkswagen's new electric car on the eve of the International Frankfurt Motor Show IAA in Frankfurt, Germany September 9, 2019.
Volkswagen's CEO is stepping down in a surprise move
We played 'Stray,' everyone's favorite new cat-centric video game. It's purrfection
RETAIL
Toys 'R' Us is coming back. Soon, it'll be almost everywhere
What the heck happened to the Gap?
The surprising reason supermarkets sell flowers
Ikea will pay you to get its old furniture back
Nobody likes self-checkout. Here's why it's everywhere
EARNINGS SEASON
The Goldman Sachs headquarters building in New York, U.S., on Monday, Jan. 17, 2022. Goldman Sachs slumps as much as 8.9% on Tuesday, the most since June 2020, after its fourth-quarter trading revenues came in lower than expected, dragged down by an 11% decline in its equities business.
Goldman Sachs still rules Wall Street: Earnings blow away forecasts
Tesla earnings fall on hit from China Covid surge
Netflix loses subscribers, but stops the bleeding
American and United airlines return to profitability
Delta earnings fall far short of expectations because of high fuel costs and service problems
Headlines from right-of-center Newsmax 7.22.2022
Steve Bannon Is Convicted of Contempt of Congress
Former White House strategist Steve Bannon speaks with reporters as he departs federal court on Friday. (AP)
Russian Invasion of Ukraine
Kremlin Rejects Report Nord Stream Turbine Is Stuck in Transit
Russian-Backed Separatists in Ukraine Block Google Search
Ukraine, Russia Set to Sign Deal to Reopen Grain Export Ports
Air Force Chief: US, Allies Consider Fighter Jets for Ukraine
School in East Ukraine Hit by Russian Strike, Bodies Found
Germany Commits $15.2B to Bail Out to Energy Giant Uniper
Syria Severs Diplomatic Ties With Ukraine in Support of Russia
CIA Head: Putin Thinks US 'Attention Deficit' Will Help Him Win
More Russian Invasion of Ukraine
Newsmax TV
RNC's Dennard: Jan. 6 Committee 'Focused on Partisan Politics'
Former Ukraine President: World Must Not Fear Putin
Bill Barr: Congress 'Not Proper Vehicle' for Jan. 6 Criminal Probe | video
John Bolton: Defusing Iran Nuke Program Might Require Force | video
Cruz: Mayorkas 'Flat-Out' Lying About Border | video
Noem: Biden Missing the Point on Climate Agenda | video
Comer: Hunter 'Left a Trail' of Evidence for DOJ | video
Dick Morris: Column on Trump's 2024 Race 'Fake News' | video
Rosendale: ATF Now Harassing Legal Gun Owners? | video
Newsfront
Judge Slams Georgia DA in Trump Election Probe: 'What Are You Thinking?'
The judge presiding over the Fulton County grand jury investigation into the 2020 election and former President Donald Trump's alleged attempt to change the outcome in Georgia slammed District Attorney Fani Willis on Thursday for participating in a fundraiser for a Democrat political candidate…. [Full Story]
Biden Improving as Mild COVID Symptoms Persist, White House Says
S. President Joe Biden's symptoms from COVID-19 symptoms have [Full Story]
Trump Responds to Hearing With Video of Democrats Denying Defeat
Former President Donald Trump overnight shared a video montage [Full Story]
New York Still Playing Second Amendment Games, Experts Say
A national group dedicated to supporting the Second Amendment has [Full Story] | Platinum Article
Accused Zeldin Attacker Released
The man accused of attempting to attack New York Republican [Full Story]
Related
Lee Zeldin, GOP Candidate for N.Y. Governor, Unhurt in Attack During Speech
US Business Activity Contracts in July for 1st Time in 2 Years
S. business activity contracted for the first time in nearly two [Full Story]
'Woke' Activists Urge Anthropologists to Stop 'Assigning' Gender to Remains
Activists are making no bones about their "woke" motivations in a new [Full Story] | Platinum Article
Florida Residents Receive One-Time $450 Checks From State
Thousands of eligible Florida families will receive a check for $450, [Full Story]
Democrats Backing Emergency Powers After Hating Them Under Trump
Democrat lawmakers have been pushing President Joe Biden to declare [Full Story]
UN Official: Iran's Nuclear Program 'Advancing at a Gallop'
Iran's nuclear program "is advancing at a gallop and we have very [Full Story]
Miami School Board Rejects Sex Ed Textbooks Over Parental Rights Law Concerns
A Florida school board has rejected two proposed sex education books [Full Story]
Justice Kagan Warns Supreme Court Must Maintain Public Confidence
Liberal Justice Elena Kagan said on Thursday that it would be a [Full Story]
New Warrant Issued for Election-Denying Colorado Clerk
A new arrest warrant has been issued for Colorado's election-denying [Full Story]
Judge Says Prince Harry Can Sue UK Govt Over Security Plan
Prince Harry can take the British government to court over his [Full Story]
Dick Morris: Hillary Clinton Will Run Against Trump Again
It will be one of the great political re-matches of all time. Hillary [Full Story]
Related
Dick Morris to Newsmax: Trump Will Face Hillary in 2024, 'Win Handily' |video
Video Report: Starbucks Closing Multiple Stores in Blue Cities
Starbucks is closing multiple stores in Democrat cities due to crime [Full Story] | video
Comer to Newsmax: Hunter Biden 'Left a Trail' of Evidence for DOJ Investigators
James Comer, R-Ky., doesn't play the "if" game when it comes to [Full Story] | video
Quick Georgia Abortion Restrictions Send Some Patients Home
Georgia's abortion law changed so abruptly Wednesday afternoon that [Full Story]
Related
Judge Blocks Louisiana Abortion Ban
Austin City Council Forwards Abortion Decriminalization
YouTube Will Pull Videos It Says Offer Abortion Misinformation
Ron Johnson Won't Oppose Same-Sex Marriage Bill
Ron Johnson told the Milwaukee Journal Sentinel on Thursday that [Full Story]
Simpson: Democrats' Gun Control Statistics Don't Add Up
Democrats, and some Republicans, are playing politics and twisting [Full Story] | Platinum Article
Group Working to Block Kamala Harris, Maxine Waters From Ballots
A super PAC intent on making President Joe Biden a one-term occupant [Full Story] | Platinum Article
Rams Unveil Super Bowl Ring That Includes Slogan Calling to End Racism
The Los Angeles Rams have unveiled this year's Super Bowl rings,which [Full Story]
Man Indicted in Rape of Ohio Girl Who Crossed State Lines for Abortion
An Ohio grand jury returned a two-count indictment against the man [Full Story]
FEMA: Flood Insurance Hikes Will Drive 1M From Market
When questioned by members of Congress, the Federal Emergency [Full Story]
Lee Zeldin, GOP Candidate for N.Y. Governor, Unhurt in Attack During Speech
S. Rep. Lee Zeldin, the Republican candidate for New York governor, [Full Story]
Trump Rips Rewrite of Electoral Count Act, Pence's Claim There Was Nothing He Could Do
Former President Donald Trump tore into the narrative of Democrats [Full Story]
Austin City Council Forwards Abortion Decriminalization
The Austin, Texas, City Council approved legislation Thursday that [Full Story]
Trucker Blockade Shuts Major California Seaport for Second Day
Truckers protesting California's new "gig worker" law blockaded the [Full Story]
Senate May Soon Fast-Track Request to Add Russia to 'Terror' List
House Speaker Nancy Pelosi, D-Calif., has spent a good portion of [Full Story]
Bodycam Footage Shows 4-Year-Old Firing at Police; Father Charged
The father of a 4-year-old is in custody on child abuse charges after [Full Story]
Mississippi Education Board Removes School Gun Ban
The Mississippi Board of Education voted on Thursday to remove its [Full Story]
How Florida Residents Are Getting Big Solar Rebate
Solar Sesame
More Newsfront
Finance
FEMA: Flood Insurance Hikes Will Drive 1M From Market
When questioned by members of Congress, the Federal Emergency Management Agency said its new update to the nation's flood insurance program will prompt more people to sign up for coverage, even though many will pay more for it…. [Full Story]
Global Slowdown Fears Darken as Cost of Living Bites
Trevor Gerszt: Now Is the Time to Buy Gold and Silver
Social Media Stocks Set to Weigh on S&P 500, Nasdaq at Open
More Finance
Health
Surprising Symptoms of the Dominant BA.5 COVID-19 Variant
As the BA.5 COVID-19 variant becomes dominant, making up 80% of COVID-19 cases in the U.S., according to USA Today, President Joe Biden announced that he is positive for COVID. Biden reports that his symptoms ─ a runny nose, fatigue, and an occasional dry cough ─ have been…… [Full Story]
How to Stay Safe During Record High Temperatures
Why You May Be Waking Up Tired
Europe Drug Regulator Recommends Vaccine for Monkeypox
Studies: Oral Vaccine Shows Promise, Hypertension Doubles COVID Hospitalization Risk
MHProNews has pioneered in our profession several reporting elements that keep our regular and attentive readers as arguably the best informed in the manufactured housing industry. Among the items shared after 'every business day' (when markets are open) is our left-right headline recap summary. At a glance in two to three minutes, key 'market moving' news items are covered from left-of-center CNN Business and right-of-center Newsmax. "We Provide, You Decide." © Additionally, MHProNews provides expert commentary and analysis on the issues that others can't or won't cover that help explain why manufactured housing has been underperforming during the Berkshire era while an affordable housing crisis and hundreds of thousands of homeless in America rages on. These are "Industry News, Tips, and Views Pros Can Use" © features and others made and kept us the runaway #1 in manufactured housing trade publisher for a dozen years and counting.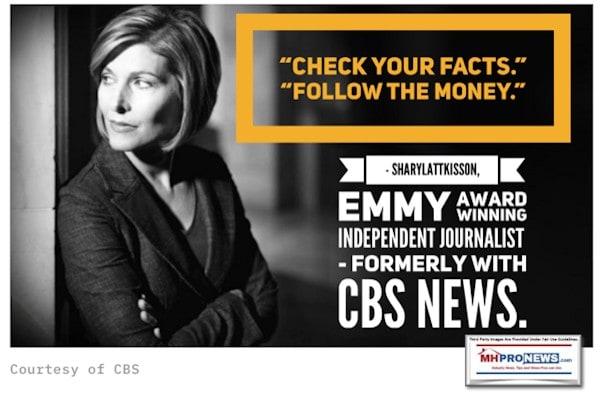 Manufactured Housing Industry Investments Connected Equities Closing Tickers
Some of these firms invest in manufactured housing, or are otherwise connected, but may do other forms of investing or business activities too.
NOTE: The chart below includes the Canadian stock, ECN, which purchased Triad Financial Services, a manufactured home industry lender
NOTE: Drew changed its name and trading symbol at the end of 2016 to Lippert (LCII).
NOTE: Deer Valley was largely taken private, say company insiders in a message to MHProNews on 12.15.2020, but there are still some outstanding shares of  the stock from the days when it was a publicly traded firm.  Thus, there is still periodic activity on DVLY.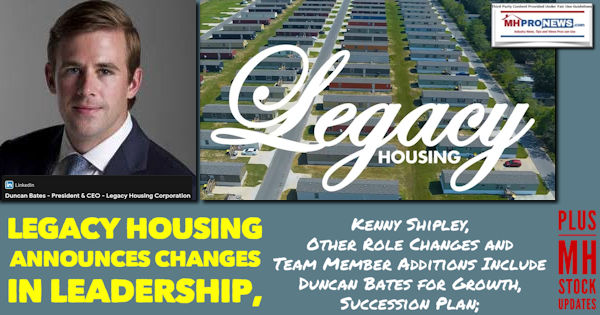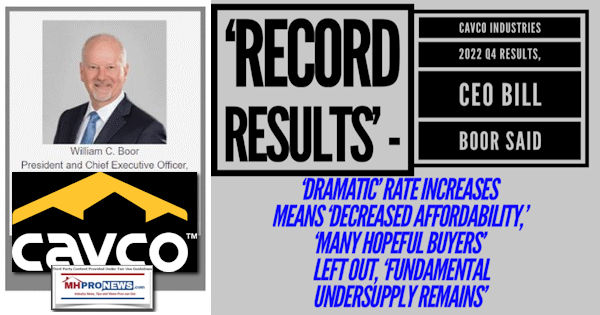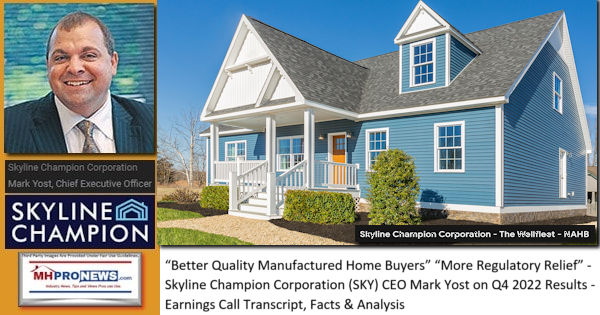 Manufactured Home Communities (a.k.a. 'Mobile Home Parks' – SIC) – Exploring UMH Properties; Fellow Manufactured Housing Institute Member Yes! Communities Suits and Settlements; plus MH Markets Updates
'Announcing!' 'Manufactured Community Owners' Association of America' 'Finally Bringing Fight To Manufactured Home Community Sector of the Industry' – plus Sunday Weekly Manufactured Housing Headlines Review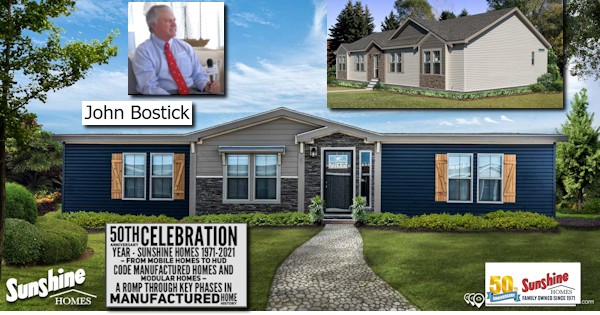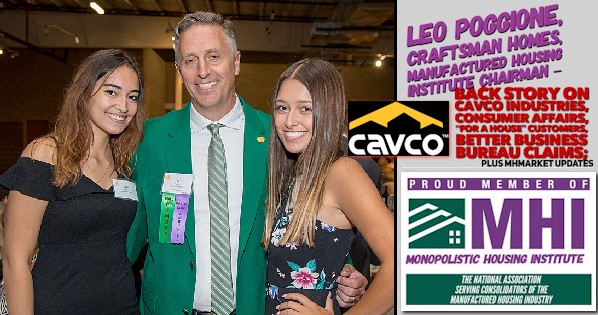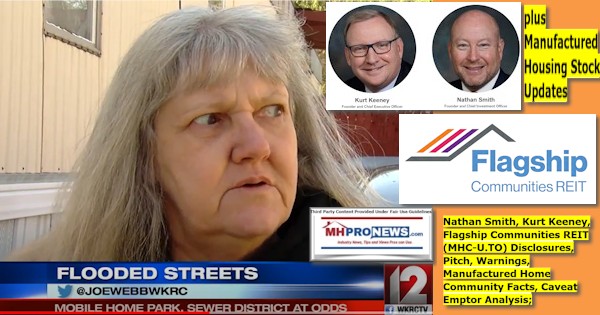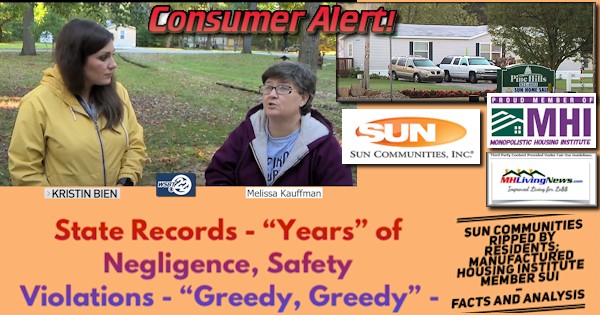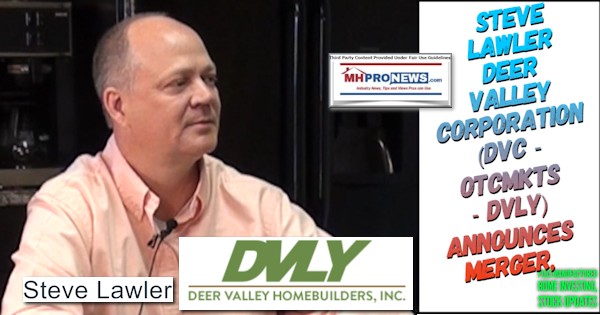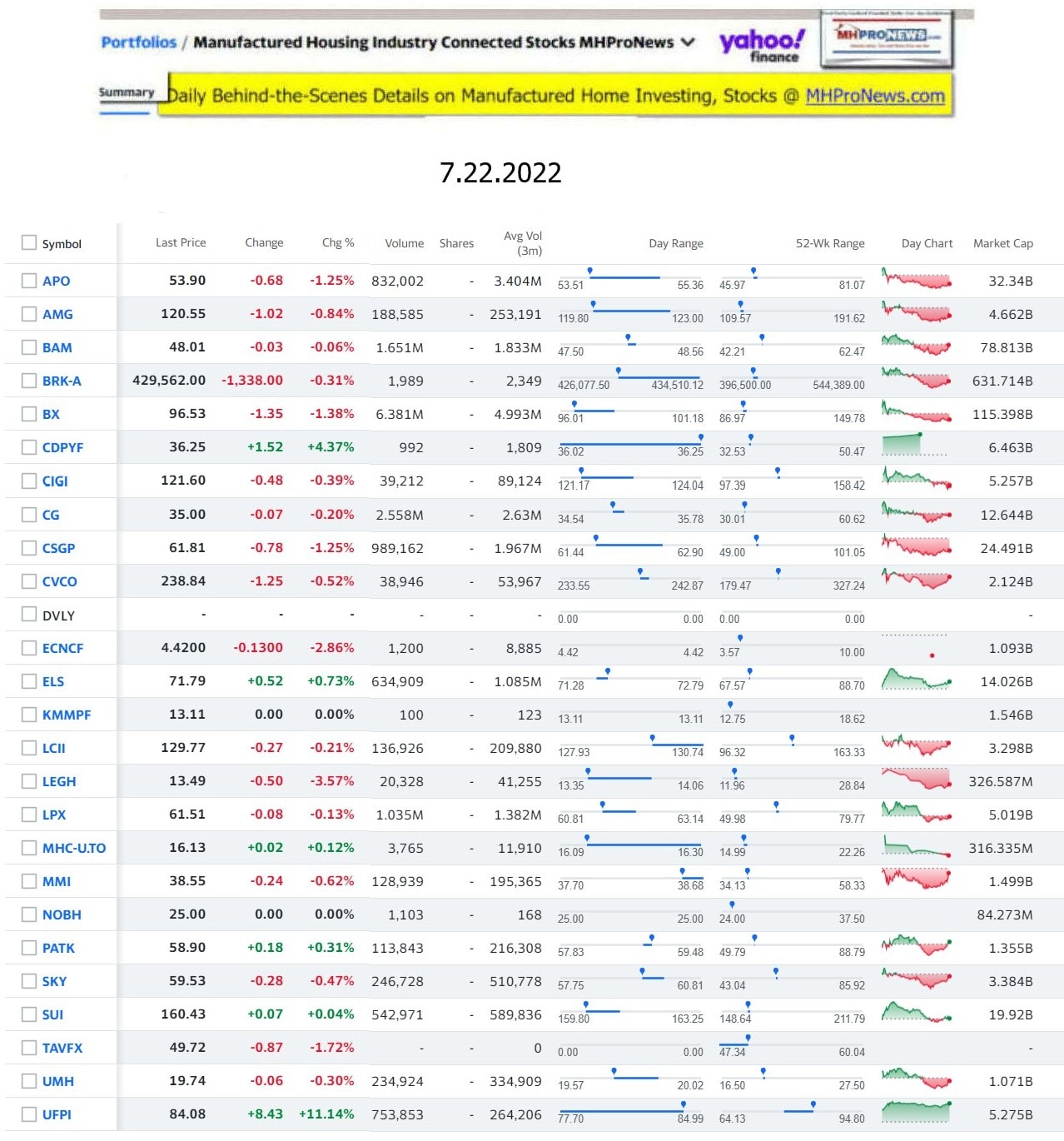 2022

…

Berkshire Hathaway is the parent company to Clayton Homes, 21st Mortgage, Vanderbilt Mortgage and other factory-built housing industry suppliers.


·

LCI Industries, Patrick, UFPI, and LP each are suppliers to the manufactured housing industry, among others.




·

AMG, CG, and TAVFX have investments in manufactured housing related businesses.

For

insights from third-parties and clients about our publisher

, click here.


Enjoy these 'blast from the past' comments.

MHProNews. MHProNews – previously a.k.a. MHMSM.com – has celebrated our 11th year of publishing and have completed over a dozen years of serving the industry as the runaway most-read trade media.
Sample Kudos over the years…
It is now 12+ years and counting…
Learn more about our evolutionary journey as the industry's leading trade media, at the report linked below.
· For expert manufactured housing business development or other professional services, click here.
· To sign up in seconds for our industry leading emailed headline news updates, click here.

Disclosure. MHProNews holds no positions in the stocks in this report.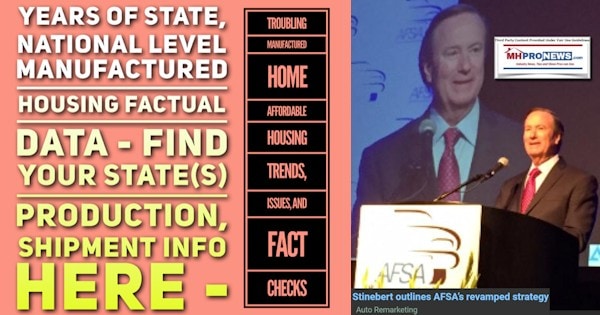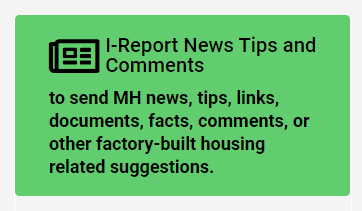 That's a wrap on this installment of "News Through the Lens of Manufactured Homes and Factory-Built Housing" © where "We Provide, You Decide." © (Affordable housing, manufactured homes, stock, investing, data, metrics, reports, fact-checks, analysis, and commentary. Third-party images or content are provided under fair use guidelines for media.) (See Related Reports, further below. Text/image boxes often are hot-linked to other reports that can be access by clicking on them.)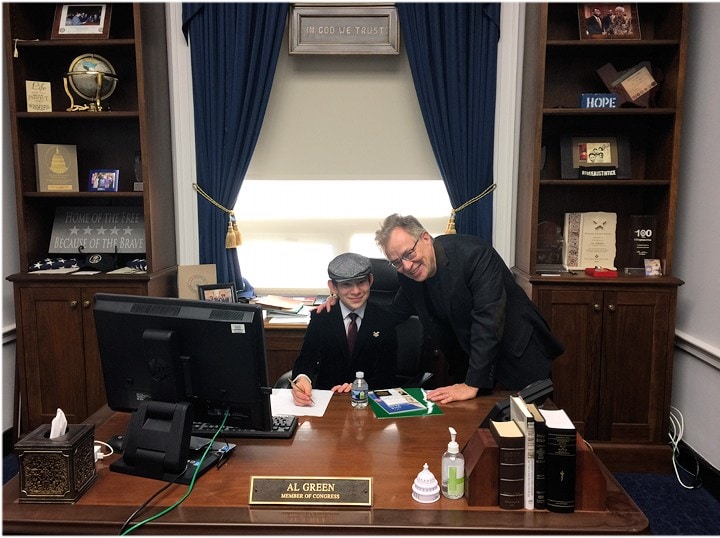 By L.A. "Tony" Kovach – for MHProNews.
Tony earned a journalism scholarship along with numerous awards in history. There have been several awards and honors and also recognition in manufactured housing. For example, he earned the prestigious Lottinville Award in history from the University of Oklahoma, where he studied history and business management. He's a managing member and co-founder of LifeStyle Factory Homes, LLC, the parent company to MHProNews, and MHLivingNews.com. This article reflects the LLC's and/or the writer's position and may or may not reflect the views of sponsors or supporters.