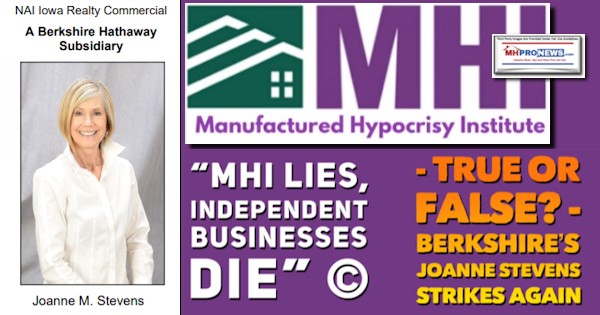 "NAI Iowa Realty Commercial is a Berkshire Hathaway Subsidiary," says Joanne Steven's "Manufactured Home and Mobile Home Park" May 2020 "newsletter."
Preface. Someone can be the nicest person in the world, and wittingly or unwittingly still be a tool or pawn for others with greater power.
Furthermore, history is replete with examples of popular figures who said seemingly insightful or popular things who were nevertheless wrong, deceptive or even evil in their motivations.
Scripture has admonitions about so called "wolves in sheep's clothing." Even agnostics, atheists or other forms of unbelievers can find tremendous insight from that ancient bit of wisdom.
There have long been those who for whatever reason posture one thing while saying or doing something quite different. That's why this publication has often cited the point made by Manufactured Housing Institute (MHI) award winner Marty Lavin, J.D.  who said "Pay more attention to what people are doing than what they saying," "Or never mind what people saying, watch what they doing." As a relevant side note, Lavin kindly advised this writer of an accidental misuse – a typo – involving an earlier version of that phrase, during which he provided the alternative versions used above – each emphasizes the value of the insight. Like so many others, Lavin doesn't necessarily agree or disagree carte blanche with what we publish, and the same is true of our citing sources. We stress the value of another piece of Biblical wisdom, namely, learning to "separate the wheat from the chaff." Because all mere mortals produce both.
It should be clear that as a publisher, MHProNews believes in the value of a free press. But a free press doesn't come without risks. Among the risks of an independent media are 'house organs' – essentially propaganda tools for various business or political interests.
In the digital era, digital media can be started and maintained fairly inexpensively compared to some other investments. Even if they lose money, such "mouthpiece media" can prove to be "the enemy of the people" whenever the deceptions are serious enough, to borrow a phrase periodically used by the 45th president of the United States toward specific, not all, news accounts.
The way to combat the evil of paltering, deliberately deceptive, or spin-prone media – as well as the problems of dishonest journalists or errant opinion writers – is by shining the light of truth. Fact-checks and authentic analysis are among the tools of honest media. The "solution" is decidedly not to have Facebook, Twitter, YouTube or other such platforms exercise their own form of purported censorship.
Candid and robust discussions or debates with opposing thoughts are how personalities like William F. Buckley Jr. and "Crossfire" became popular broadcasts in their era.
With that preface, we hereby begin to turn to the headline topics. Part 1 follows.
"MHI Lies, Independent Businesses Die" © True or False? 
The ways that the Manufactured Housing Institute (MHI) arguably palters, lies, spins or otherwise fails manufactured housing – especially independents and consumers – are breathtaking in breadth. But it can begin with such simple facts as these.
In an affordable housing crisis, MHI which claims to represent 'all segments of manufactured housing' or "all segments of factory built housing" has repeatedly proven that it successfully represents only consolidators.
That's why more are beginning to see MHI as "Buffett's Buffet." It is a place people are lured, err, 'attracted' by way of potentially popular speakers, respected personalities, or other forms of "Razzle Dazzle."
Attendees at MHI fundraising, err, meeting events are set at ease in often appealing locales. That yields potential tax benefits while providing side getaway options.
MHI event attendees meet for breakfast, lunch, drinks or dinner. Meaning, networking opportunities are created that result in often authentic occasions, but which nevertheless are manipulation opportunities for the few "big boys" and "MHInsiders" that use the system to entice people to sell out and/or spill their secrets.
Note that none of the good things that MHI can claim to do, i.e. create 'networking' opportunities is there any legal monopoly on. Meaning, others could and have established similar meetings. Dispensing with or supplanting MHI events with better ones offered by people genuinely interested in 'white hat' industry growth is a way of keeping what might be marginally good and making it better.
Educational sessions are held that often, but not always, feature some aspect of the MHI 'hidden in plain sight' agenda. As in the bullet above, educational events can and have been done better by others, so there is no 'need' for MHI at all for networking or education.
It was under the pretext of "education" and "marketing" their "new class of manufactured homes" scheme, err, plan now known as "CrossModTMhomes" was deployed. CrossModTM was supposed to represent "momentum" and the wave of the future. The problem is, as seems often to occur with MHI "initiatives," the "momentum" claimed in 2018 turned into a statistically documented decline in all HUD Code manufactured home sales in 2019. As our recent exclusive featuring statements from pro-MHI members and supporters reflects the program has "no traction." CrossModTM was doomed from the start. To learn more, ICYMI, see the report linked below.
Pro-MHI Members, Other Sources Sound Off on "CrossModTM Homes" – Manufactured Housing Traction or Distraction? New Insider Facts, Exclusive
The mission of MHI ought to be simple and clear. Manufactured housing already has good laws on the federal law books. Fully and properly implementing those laws ought to be the goal. Those laws include, but are not limited to the following.
The Manufactured Housing Improvement Act of 2000 (MHIA, or the "2000 reform law" or "2000 act"). The MHIA includes several key elements that offer superior consumer protections that even more expensive conventionally built housing often lacks. But among the provisions that this publication and other forward thinkers in the industry look to is the "enhanced preemption" provision of the law. "Enhanced preemption," said long-time MHI consultant Bill Matchneer, J.D. the first administrator of the Office of Manufactured Housing Programs (OMHP), was a cornerstone of the entire legislative framework. Matchneer's and other's statements along those lines make it all too clear that MHI seemingly deliberately ignores a law that could – if fully and properly implemented – spark a renaissance in new HUD Code manufactured home shipments.
The Duty to Serve (DTS) provisions of the Housing and Economic Recovery Act (HERA) of 2008. Note that both HERA and the MHIA were part of widely bipartisan bills. One was signed into law by Democratic President William Jefferson "Bill" Clinton (the MHIA), and the other was signed into law by Republican President George W. Bush (HERA). DTS in brief mandated that the Government Sponsored Enterprises (GSEs or "Enterprises") of Fannie Mae and Freddie Mac had a duty to serve manufactured housing, rural and other underserved markets.
But instead, it is MHI – arguably acting as a kind of front man for their big boy backers – that works to ignore, downplay, distract from and otherwise thwart the proper implementation of those laws using a variety of schemes. Is there evidence? Plenty of it, starting with their own website.
Before turning briefly to DTS, let's note that those lenders who have established programs that 'buy deeper' – meaning lower, credit scores, often by using larger down payments, 'land in lieu' or other such methods to secure the added risk – should not think of DTS as a threat to their business model. Rather, it is a potential compliment to it. Just as manufactured housing has an advantage over some other forms of housing, in as much as it can be financed without owning or mortgaging the underlying real estate, so too DTS would attract more credit worthy buyers to manufactured homes. Part of the fallacy of the DTS scheme, err, plan advanced by big boy "MHInsiders" now called "CrossModTM" is that DTS was clearly designed to support all of manufactured housing, not some special class that didn't even exist when DTS was passed.
By failing to support all manufactured homes, the Modular Home Builders Association Executive Director Tom Hardiman correctly reasoned that MHI was abandoning the millions of owners of HUD Code manufactured homes. Ouch, but isn't that the logical conclusion?
Former MHI vice president Danny Ghorbani recently laid out the ways that MHI, Fannie and Freddie have dodged the Duty to Serve (DTS) manufactured home lending.
Ghorbani left MHI decades ago, and thanks to the visionary leadership and support of a few independents created what is now the Manufactured Housing Association for Regulatory Reform (MHARR). Part one of our exclusive interviews with the 50+ year veteran who literally broke new ground in manufactured home community developments, in leading trade shows that have no equal today, and then in the fight for regulatory reform is linked here. The second part of that topic is linked below.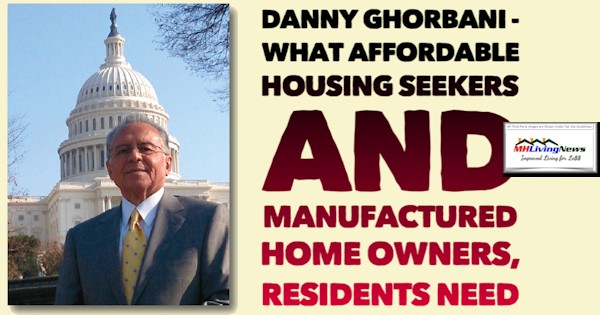 Implementation of good existing laws coupled with an authentic educational and marketing effort could lead manufactured housing into a new golden age of record production and sales growth. That has long been the mantra of MHProNews, P.E.P. = "Protect, Educate, and Promote." MHProNews advocated that while an MHI member, and has continued to do so ever since. The difference is that this publication's leadership came to the painful conclusion that MHI was arguably routinely failing and misleading their own members.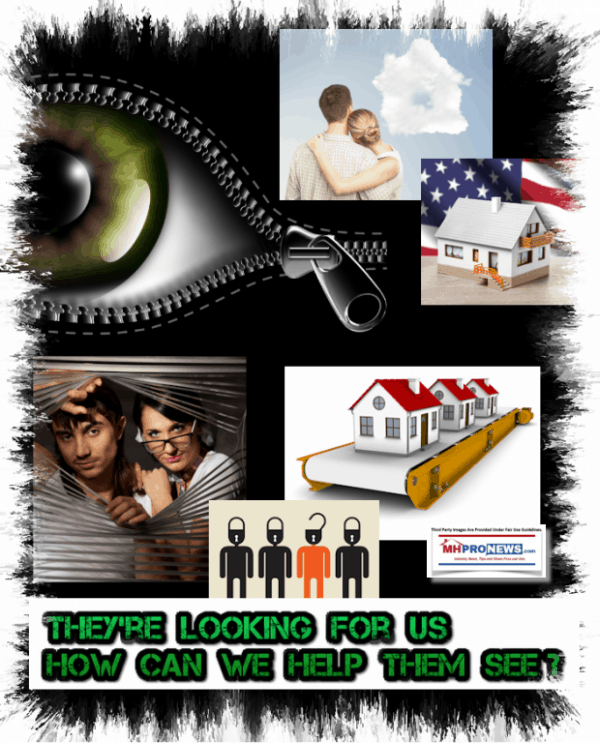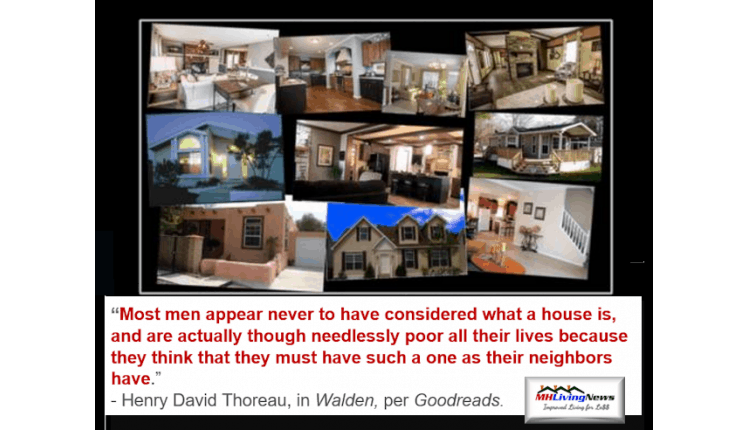 It was Harvard researcher Eric Belsky who pre-Berkshire Hathaway's acquisition of Clayton Homes and their associated lending said he expected manufactured housing to surpass conventional housing. Think about that…per the Census Bureau, "840,000 single–family homes [were] completed in 2018."
Belsky's vision is not so different than what a Fannie Mae Foundation researcher previously pointed to, as the "quotable quotes" report linked below details. Lisa Tyler and Scholastica "Gay" Cororaton are two more researchers whose names are oddly absent from the MHI website, even though their research ought to be proclaimed from the roofs of every post-production manufactured housing trade association.
Affordable Manufactured Housing's Puzzling Contemporary Condition Revealed by Quotable Quotes from Residents, Professionals, Expert Researchers, Advocates, Public Officials, Graphics, and Reports
Those are additional reasons why a P.E.P. focused post-production trade groups needs to come into existence. There is plenty of such third-party research, but either by duplicity, short-sightedness or whatever other claim or allegation one might propose, MHI routinely fails to use the obvious tools already at hand that could lead the industry past 500,000 new HUD Code manufactured home shipments per year on towards 1,000,000 manufactured homes annually. That may sound far-fetched only to those who don't see the big picture. When some 7 to 8 million new "affordable" housing units are necessary, and with more people leaving densely packed cities due to COVID19 and other causes, a golden age of manufactured housing awaits.
It is precisely the fact that the MHI of the past once cited Belsky, and have since removed/kept their names off their own website that reveals the purportedly deviously Machiavellian methods of the Arlington, VA based association. That's why the charges of deceptive, distracting, photo and video "ops" that lead to no serious results, and purportedly outright lies are sticking to the trade group that arrogantly claims to "champion" the industry.
The result of MHI's "efforts" as measured by the facts? An ever-greater consolidation of the industry into ever fewer hands, and stunted or even negative shipment growth.
Thus "MHI Lies, Independent Businesses Die" © could become a fair argument – an indictment of sorts – based on years of evidence and failed performance. If they want to debate that, let them see if they can do better than pro-MHI member Andy Gedo did in his public debate.
What Andy Gedo – ManageAmerica Partner, Manufactured Housing Institute Supporter – Revealed About Clayton, Cavco and Skyline Champion Manufactured Homebuilders
Joanne Stevens – Berkshire Owned NAI Iowa Realty Commercial
It is de rigueur for commercial property sellers like Stevens to explain why now is the best time to list, sell or buy. Thus, part of what she had to say this week is no surprise.
Quoting her at length is the following.
Buyers in Today's Market

What's it like for selling a park these days?
"There is very little difference today vs. say, 90-days ago before the COVID-19 changed the world. That means the prices are as good as ever! Most mobile home park owners report strong collections with year-over-year collections for April 2020 the same. The test will be in May & June as the economy commences re-opening.
A good mobile home park buyer/investor has certain characteristics that separates them from less serious and less financially qualified investors. Some of these characteristics are:
Experience: They own parks. They know what they are doing.
Timely: They don't waste time. They keep things moving and avoid delays.
And (drum roll…) many of them will pay the commission.
Here are some of the Buyers in today's market.
The All CASH: Some buyers will write the check. There will still be the usual due diligence (income & expense reports, review of leases, etc.) as if a loan were to be placed on the property. These buyers will buy the park without it being subject to obtaining financing. For park sellers, this may increase the certainty of the sale and makes for a faster closing.
The PARK OWNED HOMES: There are buyers that are agreeable to buying parks with a lot of the homes being park owned (POHs). If you are selling a park with POHs, get all of the home titles for the homes you acquired. This will speed up the closing.
The NON-PAYERS: Sometimes park owners put off selling their park if they are a significant number of non-payers or delinquent tenants (those 2 or more months behind). There are buyers that are capable of dealing with non-payers. It won't prevent them from buying your park."
##
Now compare her thoughts and insights to what Marcus & Millichap's Michael Glass told MHProNews in the fact-packed report linked below.
MMI Exec Michael Glass' Exclusive Analysis on COVID19 Impact on Manufactured Home Communities; Latest 2020 "Parks" Data & Trends
Let's briefly note that MHProNews has stressed for some time that not every MHI member is a so-called 'black hat' operation. That said, it is shocking that so many past-MHI chairs have been involved in various types of industry mainstream media black-eyes and scandals.
The screen captures above and below illustrate that prior point.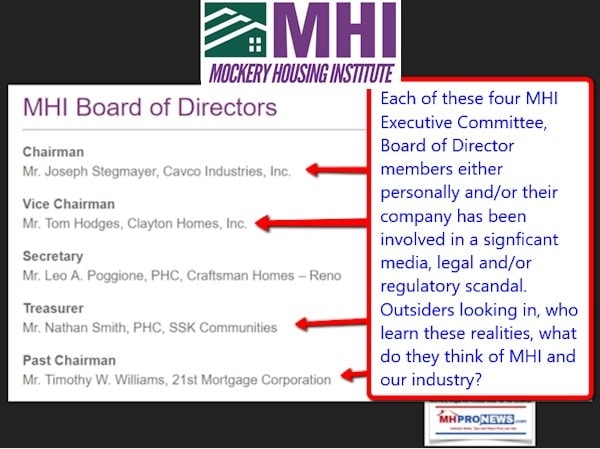 This is another reason why "white hat" brands ought to consider forging a new post-production trade group that can complement the already proven and faithful "pro-growth" efforts of MHARR.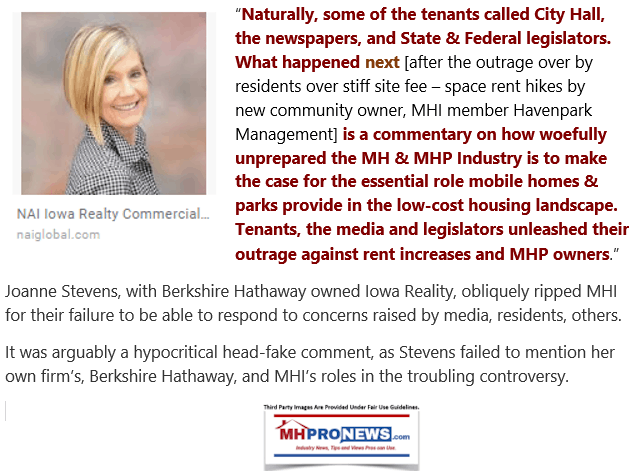 The Final Pull Quotes Today from Joanne Stevens
The same May 2020 newsletter ironically makes the point that MHProNews has stressed, only she does so obliquely. This is why clear thinking and logic are necessary in an industry where a considerable amount of deception is being deployed to harm independents and consumers while benefiting a select few "MHInsiders." © Note, that term should NOT be confused with the purportedly pro-MHI mouthpiece publication that draws so few readers that they removed their viewer data from their own website, after years of embarrassing results. There are as yet unchallenged concerns that said publisher distributes their publication to some as part of a purported "deceptive trade practice" ploy.
What Steven's fails to explain in her references to research by the National Association of Realtors about rent control is that it is routinely MHI-connected firm's behavior that is cited by lawmakers in pushing for rent control. That disclaimer noted, here is what her May 2020 issue said. Typos are in the original.
Realtor Magazine Research Highlights:
RENT CONTROL
In some states (New York, Florida, Hawaii, California, and others) it is 50% or more on rent & utilities
Rent Control is not a sustainable answer to a housing shortage
The cause of rising rents is the housing shortage
Lawmakers have kne jerk reactions to angry tenants, NOT to the root cause of rising rents
Lawmakers, who are uneducated on the root cause of rising rents, blame greedy landlords for rising rents
Lawmakers don't want to do the work of legislating funds or creating laws that would easy the housing shortage, the cause of rising rents. (lots of time and work, takes bipartisanship)
Many lawmakers either aren't into bipartisanship, which is to say leadership.
As per Realtor Magazine (March/April 2020), some cities and states are addressing the housing shortage (the underlying cause of rising rents) with some smart measures:
Allowing (or requiring) more residential density (Minneapolis, Oregon)
Allowing (or requiring) more residential density (Minneapolis, Oregon)
Permitting higher density near transportation hubs
Reducing approval times and reducing uncertainty of approvals thereby alleviating delay costs
##
The ironies in the above are numerous, and keep in mind that a mix of facts and fable or misleading conclusions is how paltering is defined.
But let's focus on this key point which was previously noted further above. If MHI were using its self-proclaimed clout and pushing for the full and proper implementation of the "enhanced preemption" aspect of the MHIA of 2000, then approval times would be cut dramatically. As our exclusive interview with Danny Ghorbani noted, the now "MHInsiders" © dominated RV MH Hall of Fame cited him with developing some 200,000 new MH sites in just 4 years.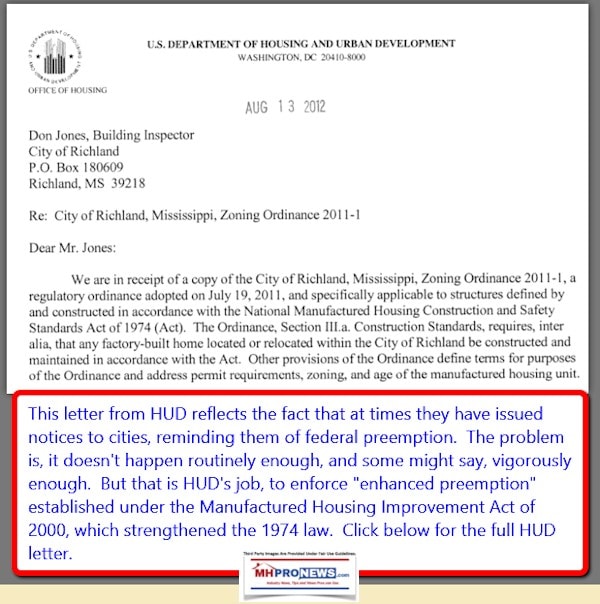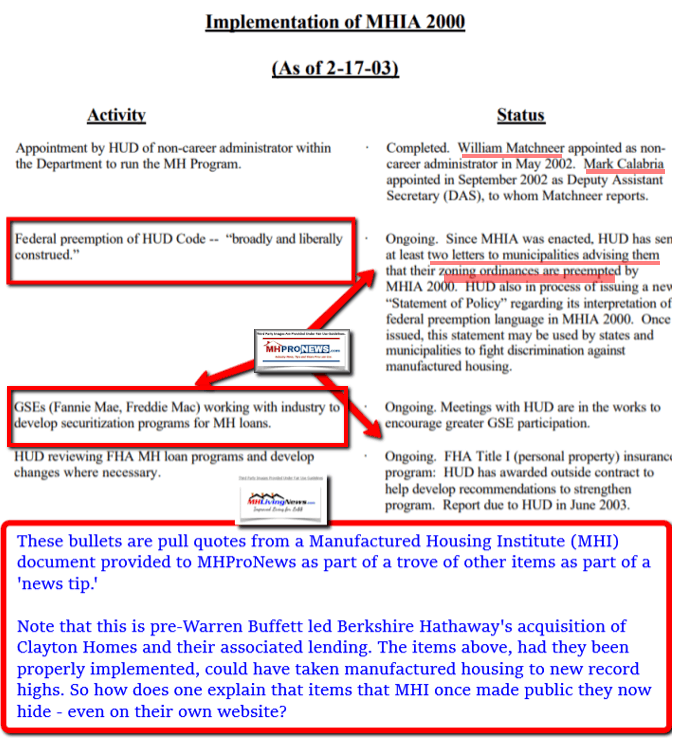 In Fairness and for Clarity…
Steven's is a genuinely pleasant person, so this analysis ought not be taken as a slam on her persona.
That noted, she's in an arguably problematic position working for a conglomerate of brands that the so-called Omaha-Knoxville-Arlington axis organizations have arguably used for years to thwart genuine industry progress. It is what Mark Weiss called the "illusion of motion" over a year ago, and that description fits as well today as it did then.
Nor are MHI's leadership failures stated to limit the influence and harm of arguably corrupt public officials.
HUD's Brian Montgomery – William 'Bill' Matchneer Exposé – If the Shoe Fits, Affordable Housing, Manufactured Homes – Impacting American Dreams?
The virtual version of the "Oracle of Omaha" led "Woodstock of Capitalism" is at hand. ICYMI or need a referesher, the reports below are worth a good look.
Warren Buffett's Buffet – Revealing Secrets, Unmasking Corruption in Business, Nonprofits or Government – Current, Former Managers or Workers Step Up with Tips, Insights and Whistleblowing
Jennifer Reingold Questioned Berkshire-Clayton Deal; MHI GSEs Rocked by Tip-Document Drop, plus Manufactured Home Investing, Stock Updates
Warren Buffet's Quotable Quotes on Business, Institutions, Behavior, and News Reporting
"MHI Lies, Independent Businesses Die" © – True or False? "We Provide, You Decide." ©
That's a wrap on this satirical yet serious look at manufactured housing "Industry News, Tips and Views Pros Can Use." ©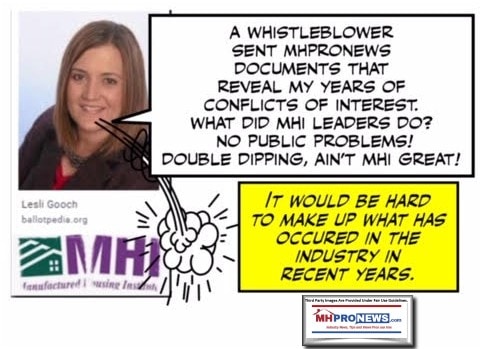 P.S

.
If MHI or their leaders disagree in any form or fashion, let them do so in public via a digital debate. This public challenge for them to defend their own record has hereby been extended, again. To Andy Gedo's credit, he tried a public debate, why don't MHI and "MHInsiders" © dare do a public debate themselves?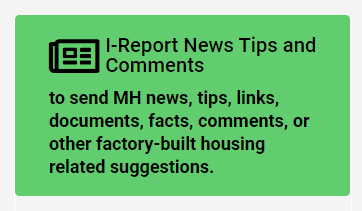 The links below the byline are relevant to this topic. ## (Affordable housing, manufactured homes, reports, fact-checks, analysis, and commentary. Third-party images or content are provided under fair use guidelines for media.) (See Related Reports, further below. Text/image boxes often are hot-linked to other reports that can be access by clicking on them.)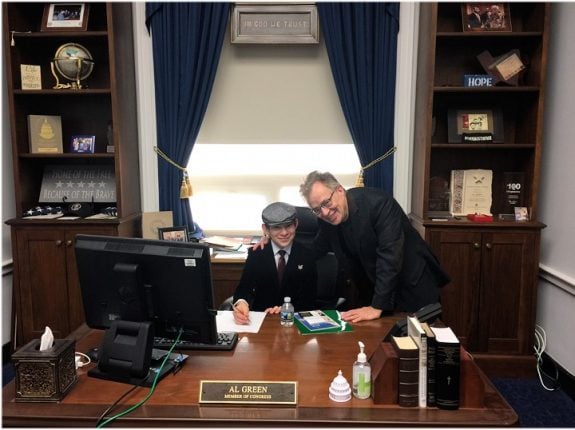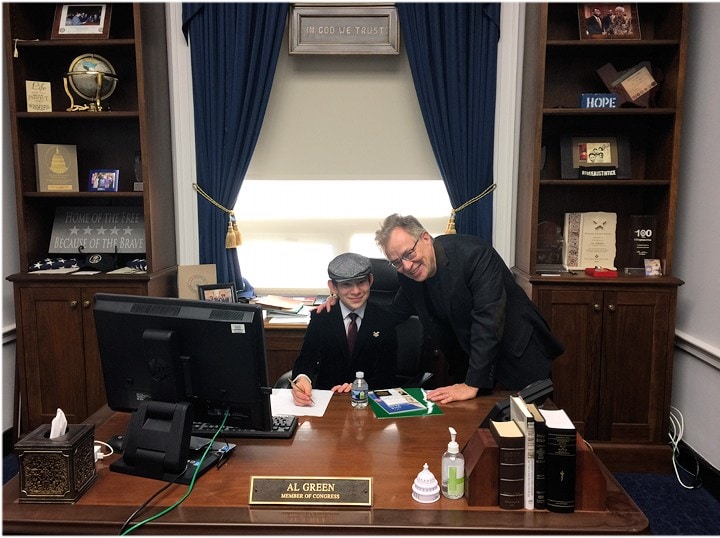 By L.A. "Tony" Kovach – for MHLivingNews.com.
Tony earned a journalism scholarship and earned numerous awards in history and in manufactured housing. For example, he earned the prestigious Lottinville Award in history from the University of Oklahoma, where he studied history and business management. He's a managing member and co-founder of LifeStyle Factory Homes, LLC, the parent company to MHProNews, and MHLivingNews.com. This article reflects the LLC's and/or the writer's position, and may or may not reflect the views of sponsors or supporters.
Connect on LinkedIn: http://www.linkedin.com/in/latonykovach
Related References:
The text/image boxes below are linked to other reports, which can be accessed by clicking on them.
What Andy Gedo – ManageAmerica Partner, Manufactured Housing Institute Supporter – Revealed About Clayton, Cavco and Skyline Champion Manufactured Homebuilders
Kevin Clayton, CEO Clayton Homes, Explains Why Replacing Sales Professionals with Automation Makes Sense
Epic! Creating 200,000 New MH Homesites in 4 Years; Allegations of Corruption by Fannie, Freddie, Others in Duty to Serve Manufactured Housing Law
Bias Confirmation, MHI's SBA PPP Funding Effort, plus Sunday Manufactured Home Headlines Review 4.19.2020
Clayton Homes (CMH) Plant Ordered Closed, Clayton Homes Headquarters Hit by COVID19-Coronavirus Outbreak
Clayton Update; Pro-Trump Independents vs Anti-Trump MH Communities Green Courte Partners CEO David Lentz? Plus, Manufactured Housing Headlines in Review 3.22 to 3.29.2029
February 2020, Latest National Manufactured Housing Production Data, MHI and MHARR Comparisons
$20 Trillion COVID19 Suit Against China, Distinct Congressional Reps Letter Blames China, plus Manufactured Home Stock, Investing Updates
'Fundamentally Good Businesses Will Have Terrible Year,' Private Equity Moving for Bargains, plus Manufactured Housing Investing, Stock Updates
Are Manufactured Housing Supply Chains in China Threatened by Coronavirus?
Wrongful Death COVID19 Case Alert to Landlords, Producers; News Tips, AG Barr Warns Christian Rights Violations on Easter – Sunday Headlines Review 4.5 to 4.12.2020