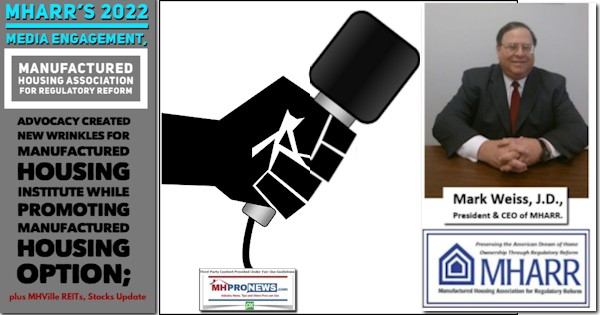 The Manufactured Housing Association for Regulatory Reform (MHARR) media engagement efforts in 2022 apparently created new wrinkles for the Manufactured Housing Institute (MHI), their corporate leaders, and for public officials to consider.  How so? Via routine press releases on monthly national manufactured housing production and top ten shipment states data on HUD Code manufactured homes, MHARR increased its visibility by filling a void more normally be served by a post-production trade group.  A series of screen captures herein will illustrate the point made by this editorial fact check and analysis.
Before the takeover (acquisition) of Clayton Homes and their affiliated lenders (21st Mortgage Corporation and Vanderbilt Mortgage and Finance or VMF) by Warren Buffett led Berkshire Hathaway (BRK), MHI and MHARR would from time to time not only agree but would work together on key issues of importance to manufactured housing. A key example is the Manufactured Housing Improvement Act (MHIA) of 2000, which MHARR sometimes refers to as "the 2000 reform law."  The document below, provided to MHProNews, was once posted publicly on the older MHI website before they did a face lift some 5 or so years ago. That document illustrates the point that MHARR and MHI would at times 'team up' to get something done for the entire manufactured housing industry and our industry's consumers in Washington, D.C.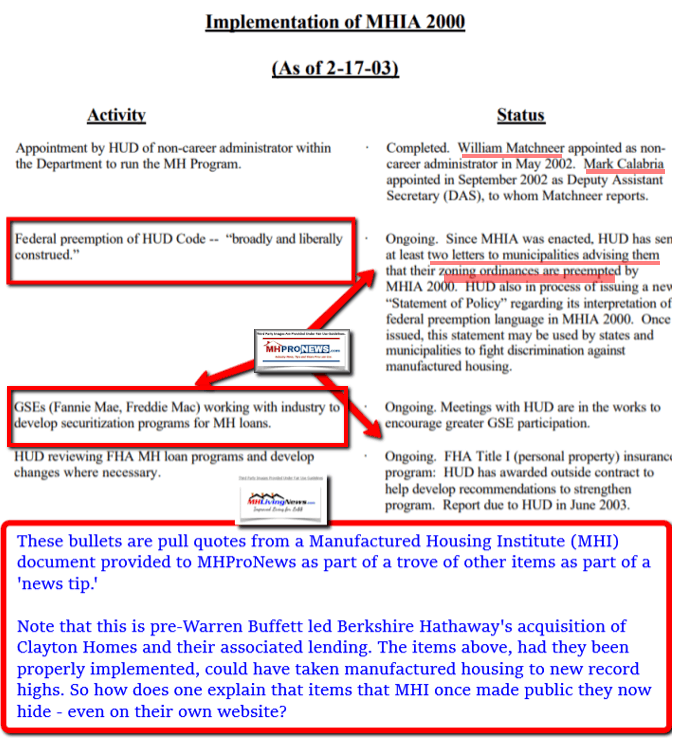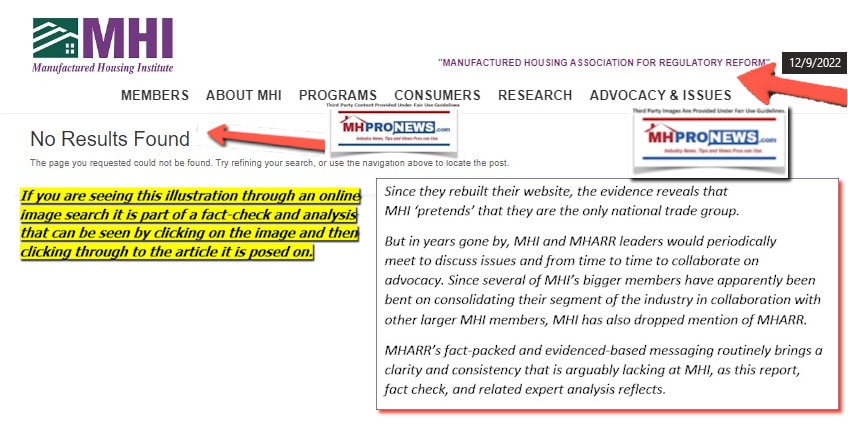 But as the 21st century advanced MHI pivoted on several issues.  MHI stopped issuing to the industry their own production/shipment data reports. They used to look like the one below.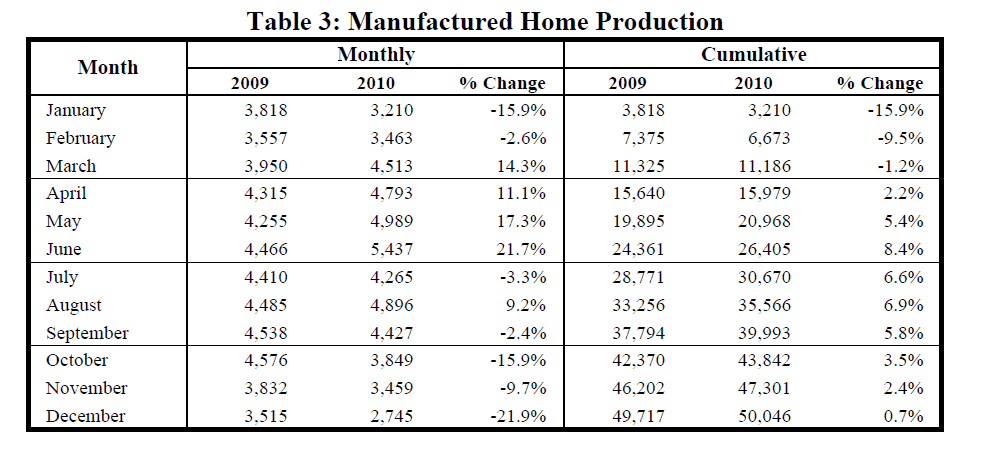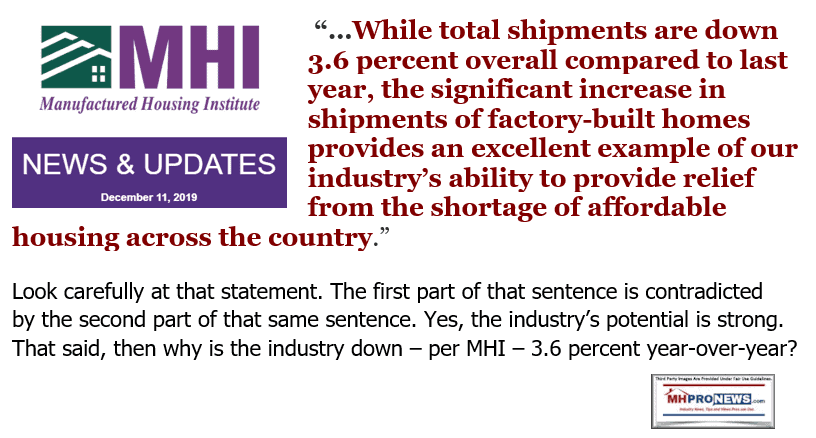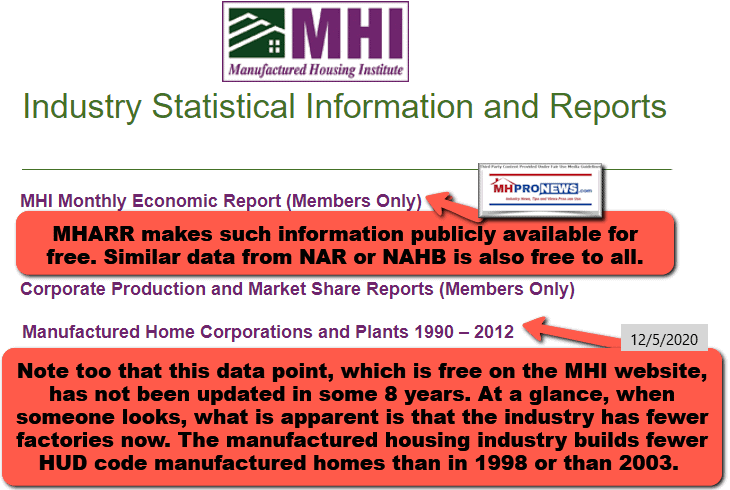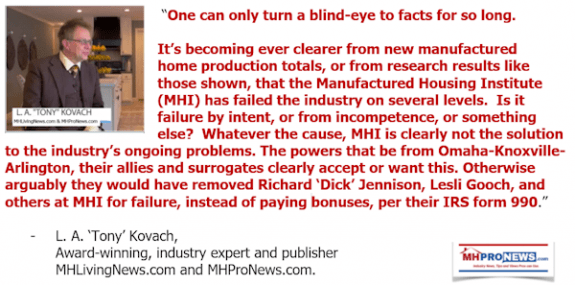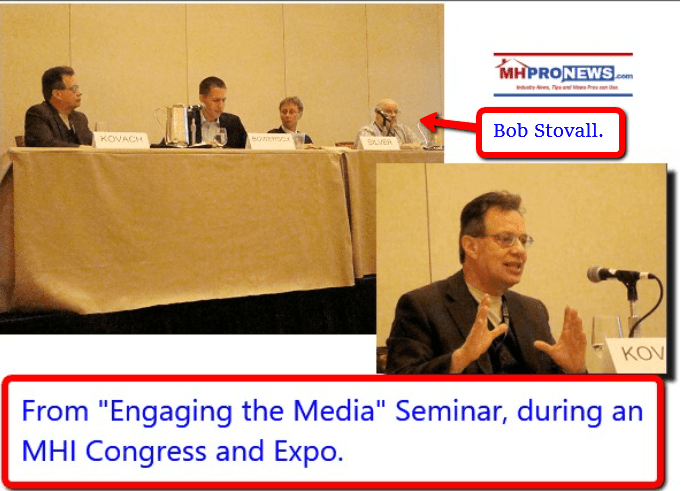 Thus, MHARR's publication of production and shipment data via news releases to the industry's trade media and to mainstream media begins to stand out in the media landscape.

By contrast, what can MHI point to that has been accomplished by that trade group with their self-proclaimed 'housing coalition' that they periodically tout?
Where, for example, is that housing coalition on helping MHI get the Department of Energy manufactured housing rule modified or killed? Silence.
Where is that housing coalition when it comes to helping MHI get the Manufactured Housing Improvement Act (MHIA) so-called "enhanced preemption" provision enforced? Silence.
Where is that housing coalition that MHI brags about in helping MHI get the Duty to Serve (DTS) Manufactured Housing mandated by the Housing and Economic Recovery Act (HERA) of 2008? Not quite silence, because some nonprofits formed a coalition that pushed the regulators of Fannie Mae and Freddie Mac, the Federal Housing and Finance Agency (FHFA) into at least a superficial pivot on their DTS plan for manufactured housing. Why didn't MHI join that coalition?
These are the types of questions that MHI strives to duck publicly, and which for the most part, their de facto trade media allies provide cover for them. That noted, while MHI can pretend that MHARR doesn't exist, periodic press releases by MHARR in 2022 have made that approach arguably look, well, foolish or worse.  As a FedExed letter by MHARR to FHFA said, "MHI does not represent the entire manufactured housing "industry." That post by MHARR on their own website was amplified by a press release on the topic. That press release was picked up by numbers of news outlets and others.

These are examples that beg the question. Given that MHARR does exist, that MHARR is demonstrably pro-manufactured housing, and demonstrably in favor of robust manufactured housing growth, consider this inquiry. What excuses can MHI leaders give for not teaming up with MHARR instead of MHI teaming up with conventional housing providers? MHI is silent on that point, aren't they?
MHARR's persistence is a demonstrable plus. Just a small fraction of the size of MHI in staff and budget, MHARR has nevertheless apparently successfully pushed MHI to pivot on several occasions in the past 25 years. How was that accomplished? Simply by publicly putting out the facts and evidence and letting industry professionals and others ponder what MHARR said and does vs. what MHI has said or done.
It remains to be seen if that methodology will work this time, as MHI has stubbornly resisted the MHARR pressed notion that the industry needs to employ savvy litigation to stay the DOE energy rule.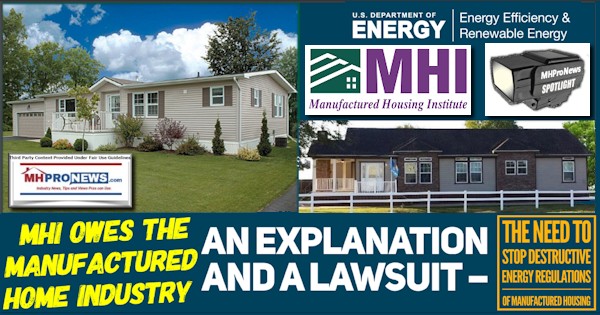 But if MHI keeps up their illusory game of 'pretending' that MHARR doesn't exist (or their similar ploy of pretending that MHProNews/MHLivingNews don't exist), they will arguably sooner or later develop several problems. For example.
Republican lawmakers and public officials have increasingly been making the point that publicly traded firms that are going along with the ESG agenda are shortchanging their shareholders and are violating their fiduciary responsibilities. A similar same argument would apply to MHI and publicly traded MHI member brands.
While Google has been known to arguably quash or limit certain topics that their allies want throttled, the increasing presence of smaller rivals like Freespoke makes that harder. Additionally, with Democrats like Dr. Robert Epstein and Republicans now aware of that issue, it is more likely to be noticed. Comparative search tests like those shown on this page make the search engine algorithm maneuver by Google somewhat trickier. MHProNews has periodically used not only Freespoke, but Duck Duck Go, Bing, or Yahoo searches to compare to Google results. All such efforts document the reality revealed on a given date. The point is that MHARR's own website supplemented by periodic press releases creates a digital trail.
There are other methods, including, but not limited to, the point that MHProNews has long carried MHARR and MHI items. In recent years, MHProNews/MHLivingNews has done periodic fact checks comparing and contrasting the messaging and efforts of the two national trade organizations. Put differently, there are years of records on MHProNews that could in time prove embarrassing to MHI, or could make them the target of public probes or plaintiffs' lawsuits.
Note that on occasion, some pro-MHI trade media pick up and share the MHARR production and top ten shipment states report. ManufacturedHomes has clients that are MHARR members. Nevertheless, ManufacturedHomes arguably tilt toward MHI in a variety of ways.  For instance, they fail to hold MHI accountable on their well-documented by third-parties and/or MHProNews/MHLivingNews MHI's apparent fumbles, favoritism, misses, collusion with consolidators, and malfeasance in ignoring enforcement of their own so-called Code of Ethical Conduct. These are just some of the errors of MHI that are steadily being exposed by MHARR, either solo, apart from, or in conjunction with others.
By sharing information that MHI has failed to do in recent years, MHARR has created a wedge that has the potential to open inquiring minds. In no particular order of importance:
A) Why does MHI partner with competitors of manufactured housing (multifamily housing, conventional single-family housing, condos, townhouses, etc.) instead of teaming up with MHARR?
B) Why does MHI fail to use their legal resources (staff and outside attorneys) to get the industry's rights under federal law fully enforced?
C) Why does MHI say they want more competitive lending, but then behaves in a way that fits the description by CFED/Prosperity Now's Doug Ryan?
D) Why does MHI have an antitrust statement, and then seemingly turns a blind eye to the steady consolidation of the industry by their dominating brands?
E) Why did MHI's former president and CEO, Richard "Dick" Jennison, say the industry could achieve 500,000 new HUD Code manufactured home shipments, but then fail to do the various promotional, regulatory, and advocacy steps needed to achieve that level of sales?
F) Good journalism is routinely about following the evidence and following the money trail which often reflects motivation for behaviors. The opposite of good journalism is to act as a mere press agent for MHI or any other group's behavior. MHProNews exposed MHI's apparent deception with respect to their Dodd-Frank 'reform' bill they dubbed Preserving Access to Manufactured Housing Act. That occurred while prominent MHI members and MHI itself were sponsors of MHProNews/MHLivingNews. Restated, this publication followed the facts and evidence and did what pro-growth and pro-consumer minded trade publishers should have done, under those circumstances. But all too often, most of the bloggers and publications in MHVille are merely thinly veiled mouthpieces for MHI. That said, when MHARR is mentioned by Kurt Kelley's MHR, ManufacturedHomes, or on George F. Allen's blog, it can serve as a reminder – intended or not – of these other listed bullets.
G) Amazingly, every one of those other publications' have leaders who have at various times praised this publication and/or MHLivingNews precisely for taking on the tough issues in a fair-minded fashion.
All that and more can come into focus because of MHARR's consistent and persistent advocacy, information, and messaging campaign. MHARR has not sold out to outside interests. MHARR has stated pro-consumer and pro-growth efforts that could raise "all boats," independents among production/retail/finance/vendors and their larger corporate rivals alike. Put plainly, MHARR has not sold its soul or shortchanged any legitimate interests. Why is it that MHI can't say the same thing?
To date, MHI has given no hint that they will pivot on the claims regarding DOE, enhanced preemption, more financing, or producing an authentic vs. faux image/educational campaign. As a result, is it any surprise that the RV industry has soared beyond manufactured housing?  In 1998 when the manufactured housing industry hit its last high water mark, RVs trailed MH by a ratio of about 3 MH for every 2 RVs sold. Today, that ratio has completely changed, with RVs often leading manufactured housing by a ratio of 5 to 1. Part of the explanation for that was the relative effectiveness of the RVIA vs. the relatively poor performance by MHI.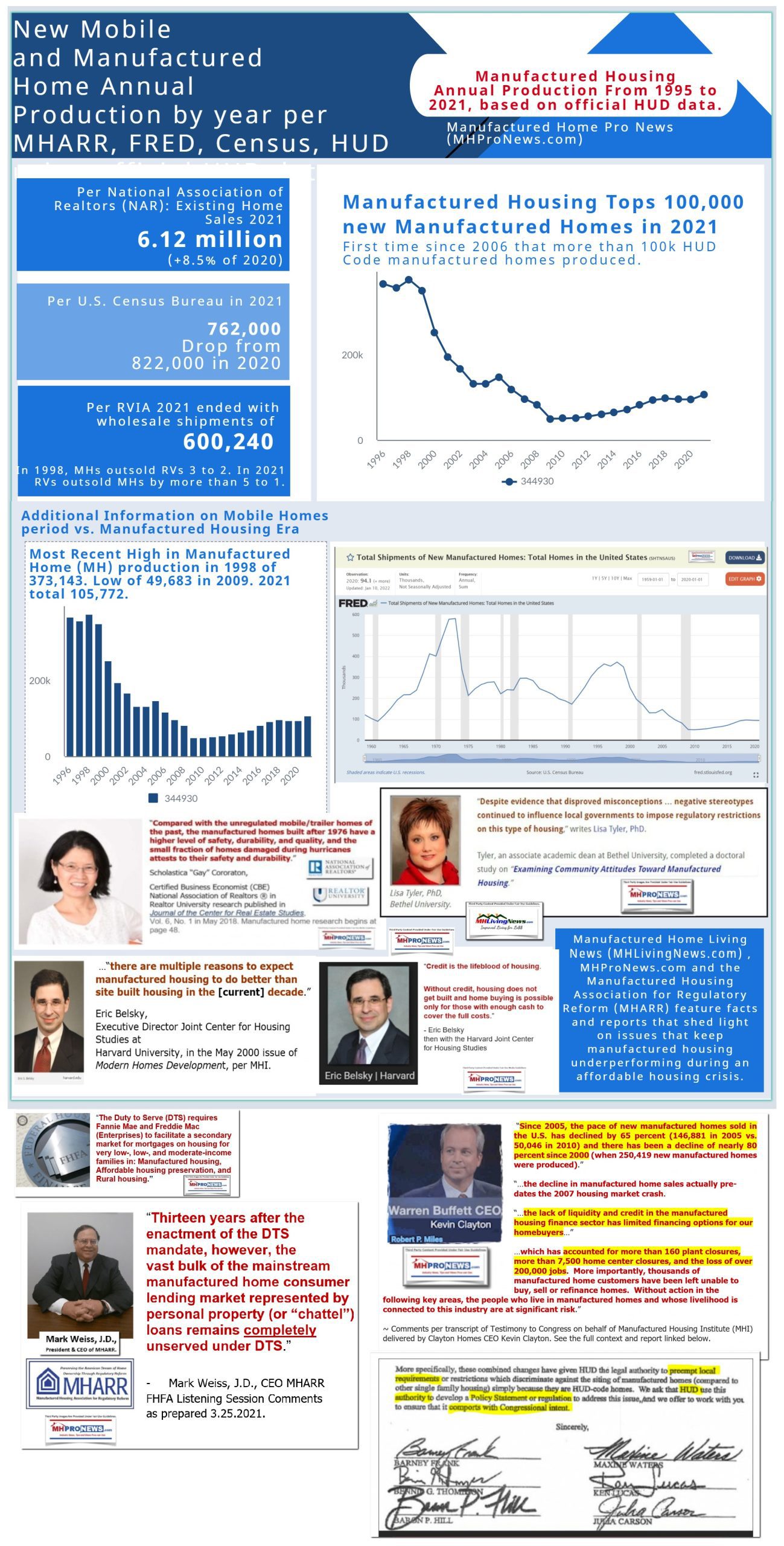 If there are talks between MHI and MHARR, they are well hidden. There are no known whispers heard that MHI wants to mend the fences that they have arguably knocked down with MHARR and its members. It is entirely possible that MHI will continue its kabuki theater of posturing efforts that produce the tepid results revealed by the RV vs. MH graphic above.
These are the facts, evidence, and applied common sense of the reality on the ground in MHVille.
MHARR's information-advocacy efforts may once again result in an MHI pivot, as they have before.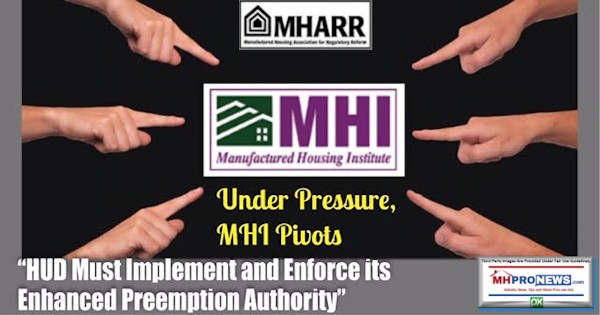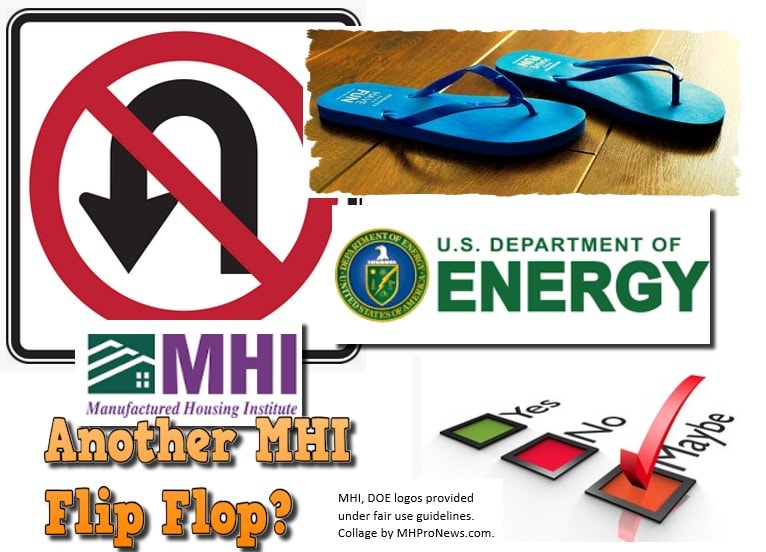 But if MHI fails to act in a commonsense fashion and correct its apparent errors then MHI and their corporate and staff leaders are arguably opening themselves up to an array of civil and/or criminal actions by public officials and/or plaintiffs' attorneys.
Much of that is made possible by what may seem to be a modest but nevertheless important effort to simply share facts and evidence. Intentional or not, pro-MHI trade mouthpieces that fail to connect such dots only reveal their own weaknesses. Additionally, since MHI plays the immature junior high school act of pretending that MHARR, MHProNews, and MHLivingNews don't exist, they are walking into the proverbial dead end at some point.
a) With a new Congress coming,
b) with state attorneys general and some state treasurers acting against big businesses,
c) with recent information drops from within Twitter, the FBI, and others exposing collusion between big businesses, their nonprofits, bureaucrats, information sources, "Establishment" candidates and public officials ever more on display, and
d) with affordable housing in crisis while manufactured housing continues to underperform,
these bullets and others could prove to be too many landmines for MHI and their corporate masters to navigate. 19th century figures such as Republican President Abraham Lincoln and the famous author Samuel Clemens a.k.a. Mark Twain could yet again be proven correct. The Scriptures and moral wisdom from world religions could once again have their wisdom confirmed.
Time will tell. If they fail to pivot, may some face the fate that other corporate misbehavior has merited?
How Long a Prison Term May Some Manufactured Housing Execs Get from Successful Prosecution? Law360 Clue-11 & 13 Year Prison Terms for Convicted Corp Criminal Fraud; plus MHVille REITs, Stocks Update
Again, future events will answer those questions.
Programming notice: new evidence and fresh cases of problematic behaviors in MHVille are in reports that are on tap here on MHProNews. Don't expect to find these reports and related expert analysis anywhere else in MHVille's trade publications or bloggers, save MHProNews/MHLivingNews. Watch for them.
Telling Manufactured Housing Story Honestly, Persuasively, Beneficially and Profitably with Facts, Evidence, Bright Line Distinctions – plus Sunday Weekly Manufactured Home Recap
Manufactured Housing's Next BIG Regulatory Battle That MHARR's Spotlighted and Which MHI Conveniently Ignored in Recent 'Manufactured Housing Institute News;' plus Sunday Weekly Headlines Recap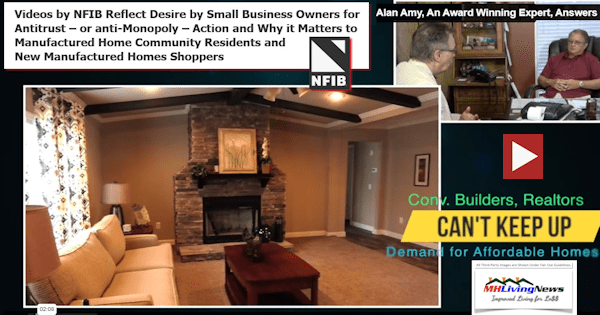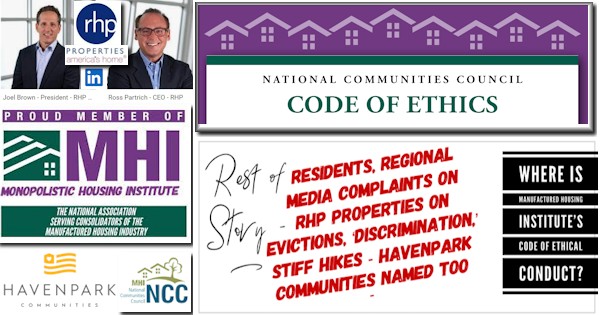 Daily Business News on MHProNews Markets Segment
The modifications of our prior Daily Business News on MHProNews format of the recap of yesterday evening's market report are provided below. It still includes our signature left (CNN Business) and right (Newsmax) 'market moving' headlines. The macro market moves graphics will provide context and comparisons for those invested in or tracking manufactured housing connected equities.
In minutes a day readers can get a good sense of significant or major events while keeping up with the trends that are impacting manufactured housing connected investing.
Reminder: several of the graphics on MHProNews can be opened into a larger size. For instance: click the image and follow the prompts in your browser or device to OPEN In a New Window. Then, in several browsers/devices you can click the image and increase the size. Use the 'x out' (close window) escape or back key to return.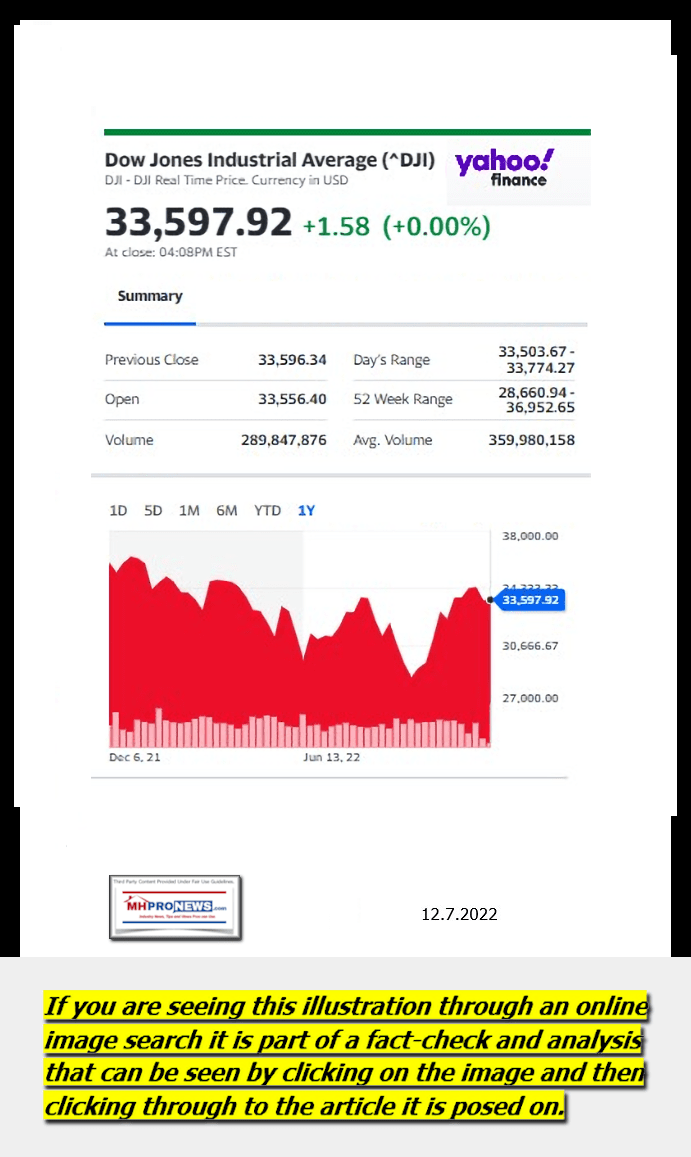 Headlines from left-of-center CNN Business – from the evening of 12.8.2022
Blockbuster deals
Gamers wear headsets as they sit at a bank of monitors and play Activision Blizzard Inc.'s Heroes of the Storm computer game at the Gamescom video games trade fair in Cologne, Germany, on Wednesday, Aug. 5, 2015.
FTC sues over Microsoft's $69 billion acquisition of Activision Blizzard, challenging one of the largest tech mergers in history
Crude oil tanker Ottoman Sincerity is pictured in the northern anchorage as she waits for to cross Bosphorus Strait, in Istanbul, Turkey December 6, 2022.
Oil tankers are getting stuck in the Black Sea. That could become a problem
The pipeline pumping station for the Keystone operations in Steele City, Nebraska, in July 2012. Steele City is a strategic location for the Keystone Pipeline projects.
Keystone Pipeline shuts down after oil leak, halting flow of 600,000 barrels a day
The Pentagon is seen from a flight taking off from Ronald Reagan Washington National Airport on November 29, 2022 in Arlington, Virginia. The Pentagon is the headquarters of the U.S. Department of Defense and the world's largest office building.
Pentagon awards multibillion-dollar cloud contract to Amazon, Google, Microsoft and Oracle
Jim Beam offers novel fix for holiday blues: hug-simulating pajamas
Secretary of the Treasury Janet Yellen, left, and Treasurer of the United States Chief Lynn Malerba show of money they autographed during a tour of the Bureau of Engraving and Printing's (BEP) Western Currency Facility in Fort Worth, Texas, Thursday, Dec. 8, 2022. Yellen unveiled the first U.S. currency bearing her signature, marking the first time that U.S. bank notes will bear the name of a female treasury secretary.
Yellen sees her signature printed on US bills for the first time
NEW YORK, NEW YORK – MAY 02:
Elon Musk attends The 2022 Met Gala Celebrating "In America: An Anthology of Fashion" at The Metropolitan Museum of Art on May 02, 2022 in New York City.
Elon Musk is no longer the richest man on the planet, according to Forbes
Residential apartment buildings are seen on July 26, 2022 in New York City.
The average rent in Manhattan jumped to $5,249 in November
VIDEO
The AI chatbot coming for your job, 'Swifties' take on Ticketmaster, and Apple sued for AirTag stalking
Mortgage rates fall for the fourth week in a row
Stocks surge after five day losing streak
Bankruptcy worries swirl around used car retailer Carvana
Demand for Rent the Runway is up, but the company is still losing money
First on CNN: Defense bill takes aim at Russia's pot of gold
When China and Saudi Arabia meet, nothing matters more than oil
US lawmakers want answers from FTX's Sam Bankman-Fried
The mass unbanning of suspended Twitter users is underway
Kim Kardashian and other celebrities beat crypto investors' lawsuit
Why we think we're in a recession when the data says otherwise
Congress is debating new retirement rules. These 7 changes are on the table
Disney+ just overhauled its subscription options. Everything you need to know
Biden administration urges Supreme Court to narrow Big Tech's liability shield in pivotal Google case
Google to merge mapping service Waze with maps products teams
Video: TikTok's 'How much is your rent?' is the new MTV Cribs
In Case You Missed It
LABOR UNIONS
The New York Times Building in New York City on February 1, 2022. – The New York Times announced on January 31, 2022, it had bought Wordle, a phenomenon played by millions just four months after the game burst onto the Internet, for an "undisclosed price in the low seven figures." Created by engineer Josh Wardle, the game consists of guessing one five-letter word per day in just six tries.
New York Times journalists stage historic 24-hour strike after management and union fail to reach deal
UK strikes to hit ambulance services, hospitals and trains in the run up to Christmas
Microsoft could soon have its first union
How an arcane 96-year-old law stopped the rail strike
Delta, pilots reach labor deal with 34% pay hike
FAST FOOD
McDonald's franchisee violated child labor laws, investigation finds
Chick-fil-A is selling merchandise for the first time ever
Exclusive: Wendy's is selling its first-ever holiday Frosty
This is what McDonald's drive-thru of the future could look like
This $5.99 T-shirt will get you free Denny's breakfast for a year
Video: Chipotle is testing a robotic tortilla chip maker. See it in action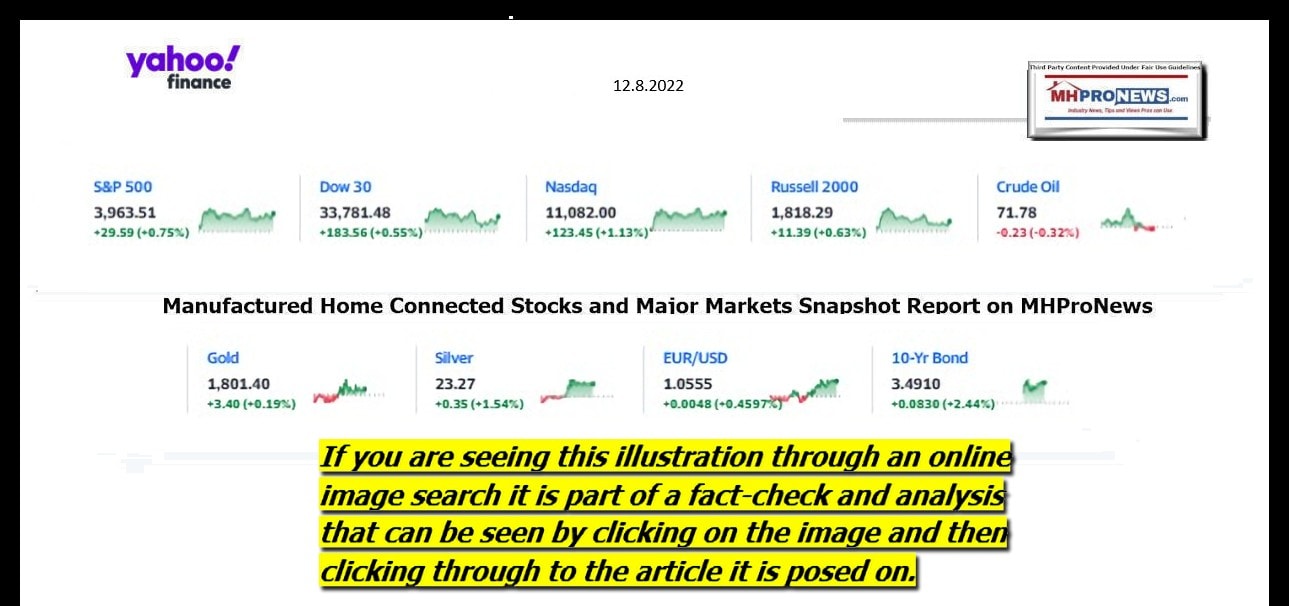 Headlines from right-of-center Newsmax 12.8.2022   
James Lankford to Newsmax: Biden Upped Ante for Prisoner Swaps
President Joe Biden gave up a "Merchant of Death," but not for Marine vet Paul Whelan, Sen. James Lankford, R-Okla., laments. [Full Story]
Related Stories
Paul Whelan Disappointed 'More Has Not Been Done' for Him
US Swaps Russian Arms Dealer Viktor Bout for Brittney Griner
Saudis, UAE Say They Mediated Griner Swap
Cotton: 'Democrats Will Agree to Set Your Worst Killers Free'
Jeff Van Drew to Newsmax: Biden Let 'Evil Man Go'
A Detailed Look at Russia's Viktor Bout
Newsmax TV
Kirk Cameron: 'Woke' Public Libraries Choose Drag Queens Over Bible
Kirk Cameron: 'Woke' Public Libraries Choose Drag Queens Over Bible | video
Waltz: Griner-for-Bout Hostage Swap a 'Victory' for Putin
Jeff Van Drew: Biden Let 'Evil Man Go' in Griner Exchange | video
Pete Sessions: House Committee Likely to Subpoena FTX Founder | video
Rail Workers' Lawyer: Unions' Vote 'Up for Grabs'
Alan Dershowitz: New Trial May Come for NXIVM Leader | video
James Lankford: Biden Ups Ante on Prisoner Swaps | video
Andrew Clyde: Border Crisis 'Self-Inflicted Wound' | video
Ukraine MP Rudik: Putin Sees Himself as Peter the Great | video
Newsfront
Leader Kevin McCarthy to Newsmax: House GOP 'Will Hold People Accountable'
House Minority Leader Kevin McCarthy told Newsmax that Republicans "will hold people accountable" in the Biden administration through the Oversight Committee next term… [Full Story] | video
Related Stories
Guy Reschenthaler to Newsmax: McCarthy Gives GOP Brightest Future
Stocks Rise on Wall Street, but Remain Lower for the Week
Stocks closed higher on Wall Street but remain lower for the week [Full Story]
YouGov Poll: DeSantis Leads Trump in GOP Battle to Secure 2024 Nomination
Florida Gov. Ron DeSantis has eclipsed former President Donald Trump [Full Story]
Twitter Had 'Back Channels' at FBI, 'Other Arms of Govt'
A former top Twitter official's admission that met regularly with [Full Story] | Platinum Article
McConnell Backs Down on Big Tech Pushback
Senate Minority Leader Mitch McConnell reneged Tuesday on a promise [Full Story]
Related
Meta Board Calls for Overhaul of 'Cross-Check' System for VIPs
Hawley: Section 230 Helps Platforms 'Escape Any Real Accountability'
Which GOP Sens Are Dems Targeting on Immigration?
A bipartisan duo in the Senate is working furiously to thread the [Full Story] | Platinum Article
Oil Spill in Rural Kansas Creek Shuts Down Keystone Pipeline
An oil spill in a creek in northeastern Kansas shut down a major [Full Story]
Netanyahu Secures Majority, Seeks More Time to Form Government
Israel's incoming Prime Minister Benjamin Netanyahu signed up enough [Full Story]
Mauna Loa Lava No Longer Imminent Threat to Hawaii Highway
Lava from Hawaii's Mauna Loa volcano is no longer feeding a flow [Full Story]
Democrats Crafted Georgia Blueprint for Warnock's Victory
Democrats have figured out the blueprint to win Georgia. The state [Full Story]
FTC Sues to Block $69B Microsoft-Activision Blizzard Merger
The Federal Trade Commission said Thursday it is suing to block [Full Story]
House Report Rips Daniel Snyder, NFL After Inquiry
Washington Commanders owner Daniel Snyder "permitted and participated [Full Story]
Vanguard Praised for Leaving 'Woke' Climate Initiative
The coalition against Environmental, Social,and Governance (ESG) [Full Story]
House Passes Defense Bill, Ends Military Vax Mandate
A bill to rescind the COVID-19 vaccine mandate for members of the [Full Story]
Putin Claims Nuclear War Risk Is Increasing
President Vladimir Putin insisted that Russia's nuclear weapons are [Full Story]
Related
Former Russian Diplomat: Desperate Putin Will Use Nukes
Ukraine MP to Newsmax: Putin Sees Himself as Peter the Great |video
Pope Bursts Into Tears Praying for Ukraine
UN Report: Russian Forces Killed 441 Civilians Early in Ukraine War
US Swaps Russian Arms Dealer Bout for Brittney Griner
Russia freed WNBA star Brittney Griner on Thursday in a dramatic [Full Story]
Related
Whelan Disappointed 'More Has Not Been Done' for Him
US Marine Vet Paul Whelan Still Held in Russia, Talks Ongoing
Saudis, UAE Say They Mediated Griner Swap
Jeff Van Drew to Newsmax: Biden Let 'Evil Man Go' |video
Cotton: 'Democrats Will Agree to Set Your Worst Killers Free'
Detailed Look at 'Merchant of Death' Viktor Bout
Video Report: Peru's First Female President Sworn In
Dina Boluarte was sworn in as the first female president of Peru [Full Story] | video
Related
Peru President Removed, Arrested for 'Rebellion'
Biden Releasing $36 Billion to Aid Union Pensions
President Joe Biden's administration Thursday announced the infusion [Full Story]
Miami Mayor Tells Elon Musk 'It's Time' to Move Twitter
Miami Mayor Francis Suarez is trying to convince Twitter CEO Elon [Full Story]
Study: DNA Shows Greenland Was Warm 2M Years Ago
Ancient DNA discovered in Greenland's permafrost reveals a warmer, [Full Story]
Committee Considers Rotating Host Cities for Winter Olympics
The International Olympic Committee said it's open to returning the [Full Story]
Blinken: US to Call Sweden, Finland NATO Allies Soon
S. Secretary of State Antony Blinken on Thursday said he is [Full Story]
Diplo's Wife Sentence Suspended in Fatal UK Crash
A U.S. diplomat's wife on Thursday narrowly avoided jail in Britain [Full Story]
India ATM Now Dispenses Gold Coins
From the outside, it looks just like a regular cash dispenser, but [Full Story]
Judge Unseals Docs in Colorado Bar Shooters' Case
A judge unsealed a dropped bomb threat case Thursday against the [Full Story]
Warren Demands Account of Banks' Crypto Ties
S. Senators Elizabeth Warren and Tina Smith are demanding an [Full Story]
FDA Clears Bivalent COVID Shots for 6-Month-Olds
The U.S. health regulator has authorized COVID-19 shots from Moderna [Full Story]
Saudi-Huawei Deal Deepens China Ties on Xi Visit
Saudi Arabia and China showcased deepening ties with a series of [Full Story]
Noem Calls for Review of South Dakota Investments
South Dakota Republican Gov. Kristi Noem on Thursday called for an [Full Story]
US NATO Ambassador Not Concerned for Alliance if Trump Wins in 2024
Julianne Smith, U.S. ambassador to NATO, said she is "not worried" [Full Story]
Celine Dion Reveals She Has Rare Neurological Disorder
Fighting back tears, Celine Dion shared in an emotional video to fans [Full Story]
The Portable Heater That Has Taken America by Storm
Smart Lifestyle Trends
More Newsfront
Finance
Battered Stock Tax-loss Selling Could Spur January Snap-back
Investors who sell underperforming U.S. stocks to lock in tax benefits before year-end may be adding to recent pressure on equities while sowing the seeds of a January rebound in some corners of the market…. [Full Story]
Costco Misses Quarterly Revenue Estimates
Deflating Financial Bubbles, Fed on Track for Soft Landing
Pete Sessions to Newsmax: House Committee Likely to Subpoena FTX Founder
GM CEO Sees New-Car Sales Reviving in 2023
More Finance
Health
Study: Supplements That Help, or Harm, the Heart
Manufacturers make all kinds of health claims, but can taking a dietary supplement actually lower your heart disease risk? A comprehensive analysis of prior research suggests that in certain cases the answer is yes. Some types of supplements – such as omega-3 fatty acids,…… [Full Story]
Scientists Trace Just How Far Flushing Toilets Spray Germs Into the Air
New Evidence Vitamin D May Protect Aging Brain
Breast Cancer Survivors Can Safely Pause Meds to Get Pregnant
Study: Antibody Drug Boosts Survival for Type of Advanced Breast Cancer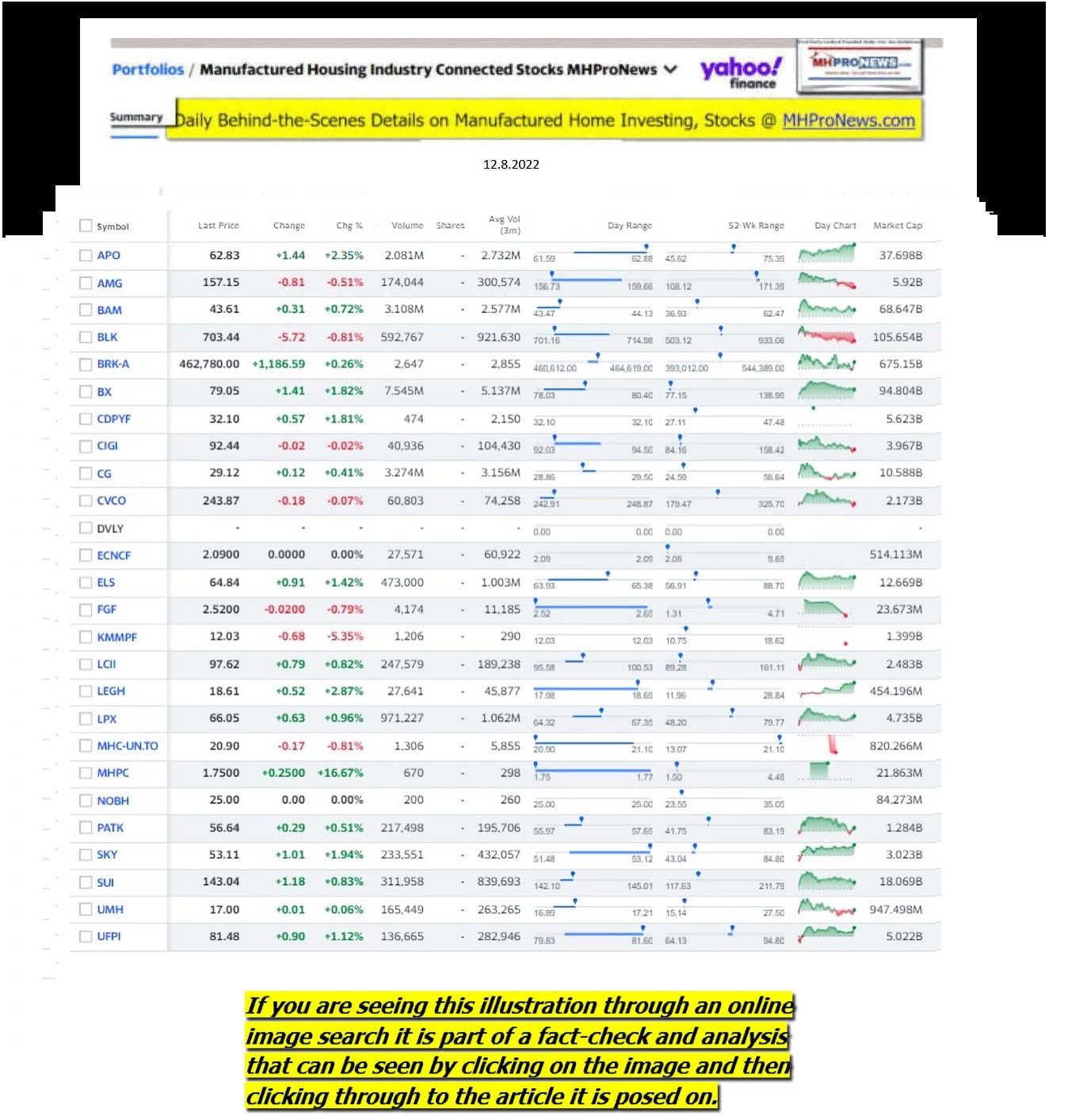 ====================================
NOTE 1: The 3rd chart above includes the Canadian stock, ECN, which purchased Triad Financial Services, a manufactured home industry finance lender
NOTE 2: Drew changed its name and trading symbol at the end of 2016 to Lippert (LCII).
NOTE 3: Deer Valley was largely taken private, say company insiders in a message to MHProNews on 12.15.2020, but there are still some outstanding shares of the stock from the days when it was a publicly traded firm.  Thus, there is still periodic activity on DVLY.
Note 4: some recent or related reports to the equities named above follow.
Manufactured Housing Properties-Results for Three and Nine Months Ending September 30.2022–Exploring 'Mobile Home Park' Manufactured Home Community Investing; plus MHVille REITs, Stocks Update
Telling Manufactured Housing Story Honestly, Persuasively, Beneficially and Profitably with Facts, Evidence, Bright Line Distinctions – plus Sunday Weekly Manufactured Home Recap
Manufactured Housing's Next BIG Regulatory Battle That MHARR's Spotlighted and Which MHI Conveniently Ignored in Recent 'Manufactured Housing Institute News;' plus Sunday Weekly Headlines Recap
'Changes Will Benefit Customers,' Boost Sales-Legacy Homes CEO Duncan Bates – LEGH 'Delivered 22.5% Return on Equity in 1 Yr' – Corp Q3 2022 Insights, Analysis; plus MHVille REITs, Stocks Update  
'No Assurance Inflation Will Not Affect Our Future Profitability Financial Position'=Cavco Industries 10-Q, Solitaire Deal, More CVCO Data; Supreme Court Ruled-SEC Regs on False-Omitted Remarks
Skyline Champion Provides Quarterly Results, Adding Retail Centers, Improved Delivery Times-CEO Mark Yost Says 'Can Outperform Conventional Housing' Explored; Plus MHVille REITs, Stocks Update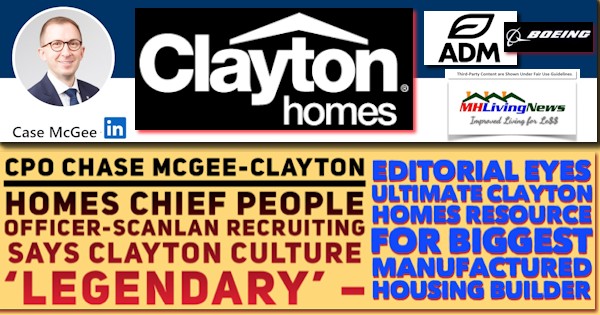 Triad Financial Services Q2-2022 FINANCIAL RESULTS, per ECN Capital – Several Bright Spots in Manufactured Home Market Highlighted, Including Communities, Retail, Land-Home, Floor; MHStocks Update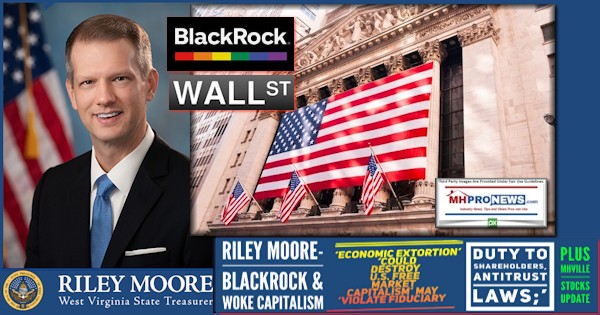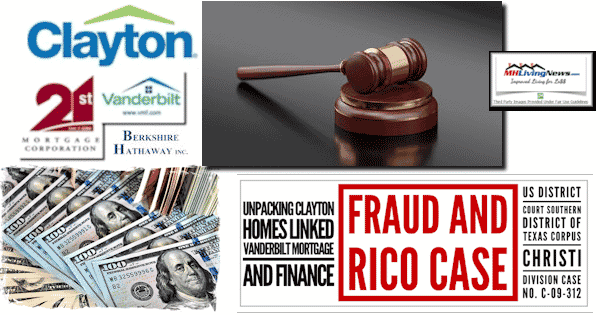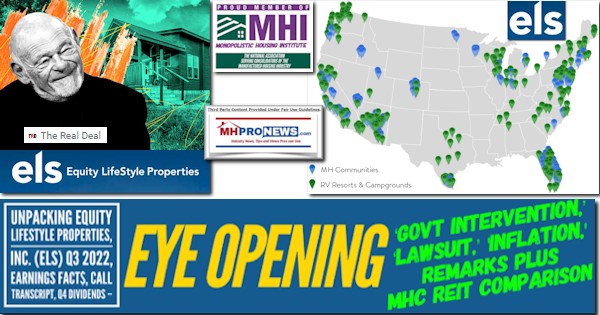 Manufactured Home Communities (a.k.a. 'Mobile Home Parks' – SIC) – Exploring UMH Properties; Fellow Manufactured Housing Institute Member Yes! Communities Suits and Settlements; plus MH Markets Updates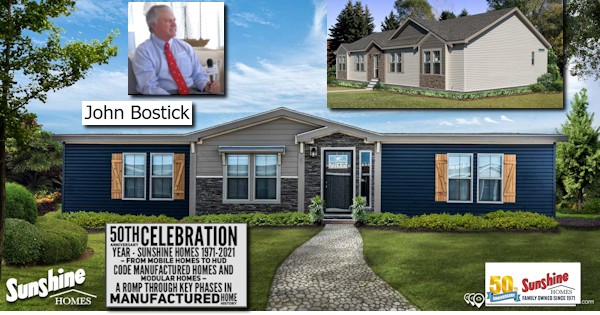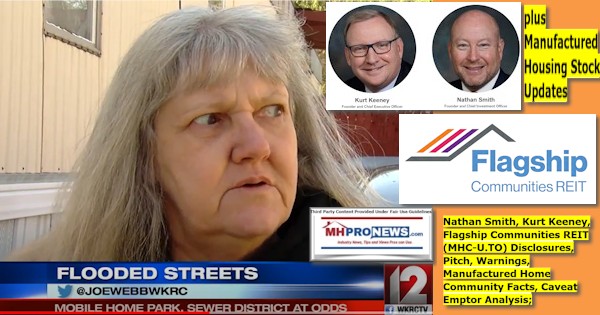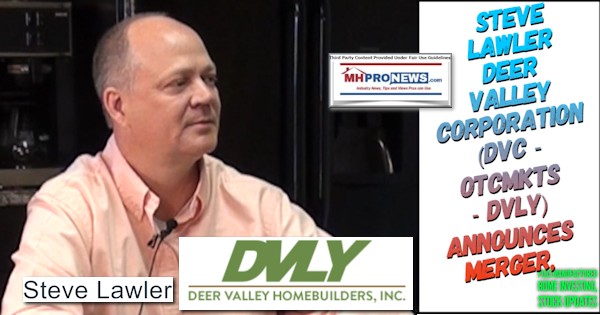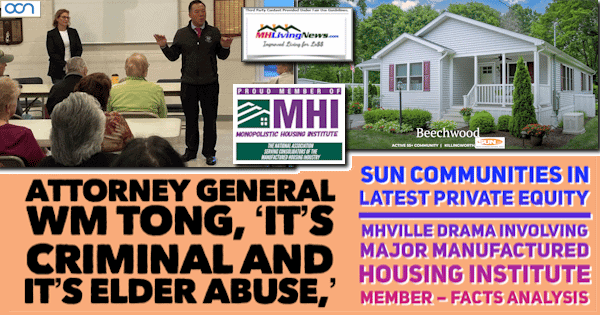 2022 …Berkshire Hathaway is the parent company to Clayton Homes, 21st Mortgage, Vanderbilt Mortgage and other factory-built housing industry suppliers.
· LCI Industries, Patrick, UFPI, and LP each are suppliers to the manufactured housing industry, among others.
· AMG, CG, and TAVFX have investments in manufactured housing related businesses. For insights from third-parties and clients about our publisher, click here.
Disclosure. MHProNews holds no positions in the stocks in this report.
· For expert manufactured housing business development or other professional services, click here.
· To sign up in seconds for our industry leading emailed headline news updates, click here.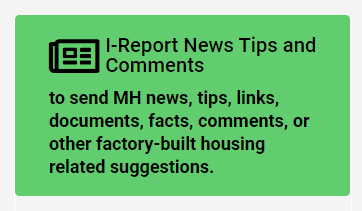 That's a wrap on this installment of "News Through the Lens of Manufactured Homes and Factory-Built Housing" © where "We Provide, You Decide." © (Affordable housing, manufactured homes, stock, investing, data, metrics, reports, fact-checks, analysis, and commentary. Third-party images or content are provided under fair use guidelines for media.) (See Related Reports, further below. Text/image boxes often are hot-linked to other reports that can be access by clicking on them.)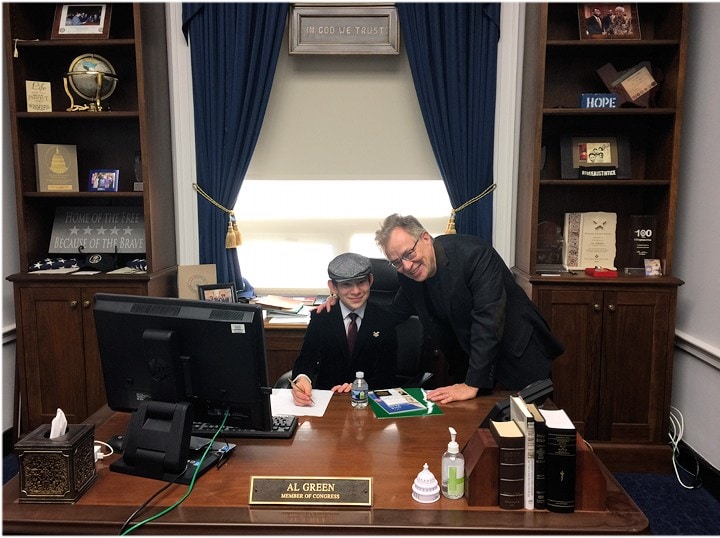 By L.A. "Tony" Kovach – for MHProNews.
Tony earned a journalism scholarship along with numerous awards in history. There have been several awards and honors and also recognition in manufactured housing. For example, he earned the prestigious Lottinville Award in history from the University of Oklahoma, where he studied history and business management. He's a managing member and co-founder of LifeStyle Factory Homes, LLC, the parent company to MHProNews, and MHLivingNews.com. This article reflects the LLC's and/or the writer's position and may or may not reflect the views of sponsors or supporters.
Manufactured Home Production Growth Continues in September 2022, per Manufactured Housing Association for Regulatory Reform-Added Facts, Analysis, plus MHVille REITs, MH Connected Stocks Update
Consumers 'Fears for the Future'-Mortgage Payments Surge Since 2021, Buyers Get Priced Out–Conventional Housing Woes are Manufactured Home Pro Opportunities; plus MHVille REITs, Stocks Update