Northwestern Mutual Life Insurance corporation paid $96 million on July 20 to acquire the Aberdeen at Ormond Beach 55-and-older community in Ormond Beach, Volusia County, FL property records show. The Daytona Beach News Journal said is the "biggest real estate sale in Voluisia [sic] County history."
It's a big deal by national manufactured home industry standards too.
The News Journal said the amount paid for Aberdeen far surpasses the county's previous record real estate deal: $61 million that NorthStar Realty Finance Corp. paid in 2013 for the 6,285-acre Restoration development site in Edgewater, FL. "Holy crap," is what Dick McNerney, a commercial real estate agent with Adams, Cameron & Co. Realtors, said upon hearing how much the Aberdeen manufactured home community sold brought from Northwestern Mutual.
Some Aberdeen community residents – who are living in manufactured homes on lease land – are not so thrilled.
"I think everybody's worried about the sale but it's only been a few weeks so there's nothing to criticize, at least not yet," said resident Marilyn Juengst. She and her husband John reportedly move to Aberdeen at Ormond Beach 55-and-older community in 2018.
The Juengsts previously lived at the Plantation Oaks of Flagler 55- and-older community in Flagler Beach. That community is also owned by Northwestern Mutual. The insurance giant paid $26.4 million to acquire the 377-lot Plantation Oaks of Flagler in 2012, according to the News Journal.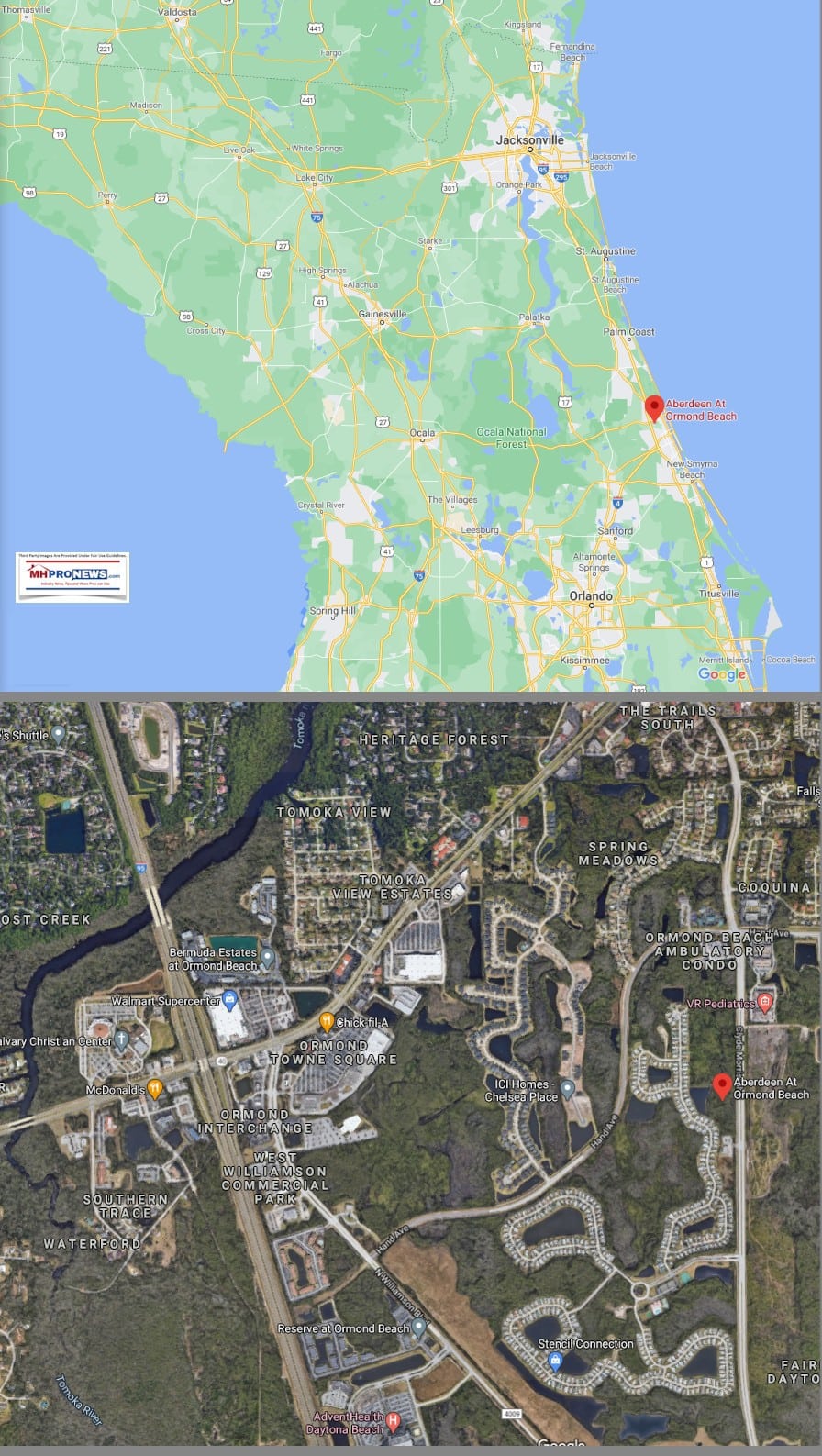 "We moved to Aberdeen because that place [Plantation Oaks of Flagler] was a mess," said Juengst. "There was constant controversy between the management and residents over every single thing. It just wasn't a happy place. I was on the board of the homeowners association there and I didn't think they (the property management company brought in by Northwestern Mutual) kept the community up."
That property management firm was Murex Properties, per the News Journal. Murex is prominent in the Florida Manufactured Home Association (FMHA) and is also a member of the Manufactured Housing Institute (MHI) National Communities Council (NCC). "At one point, I [Juengst] asked them [Murex] if they had a plan for maintaining the community. They said they do things as they come [up]."
MHProNews contacted Northwest Mutual about the deal. A management source with that firm said the following.

Tony – we like to maintain a low-profile – "the Quiet Company" 
We are active in the lending and acquisition of quality 55+ manufactured home communities.
 We have not sold any [manufactured home communities]."

Northwest Mutual declined further comment on other details, such as how many manufactured home community (MHC) properties they have, or controversies raised by residents like Juengst and the News Journal about Murex's management of that location. As noted, Northwest Mutual is using Murex to manage Aberdeen at Ormond Beach.
While the number of properties owned by insurance giant Northwest Mutual is uncertain, MHProNews identified at least 2 other MHC properties not mentioned by the News Journal.
One is in the report linked here, the other is a 102 space community purchased in 2018 in Sarasota, FL from longtime owners Michael and Gina Cook, according to the Herald Tribune. The August 21, 2018 report said that "The Riverside Oaks manufactured home community, at 27205 Jones Loop Road in Punta Gorda, has 102 spaces on 18 acres," and sold for some $10 million dollars.
More About Aberdeen
Tom Gwin is the president of the resident homeowners association at Aberdeen. He said he wants to wait before forming an opinion on Northwestern Mutual and its property management company.
In contrast to other resident's stated concerns, Gwin said that "Murex has a great reputation," adding, "It's too early to pass judgement. All the contacts I've had with them so far have been positive. Their history is that they improve the communities they own which is a comfort to me. The message I gave to them is this may be a business for them, but it's my home."
Aberdeen is a 300-acre gated community located just north of Daytona Beach's fast-growing LPGA Boulevard, a corridor that has attracted new homes, luxury apartments, and commercial development in recent years.
The seller was also the community's developer, an entity known as Aberdeen at Ormond Beach Limited Partnership. The developer paid $2.9 million to acquire the land in 1994, according to Volusia County property records. "The previous owners were a limited partnership, but they ran it like a mom-and-pop," said Juengst. "The old management here (at Aberdeen) was super. The park is absolutely beautiful. It's like a hamlet in the middle of the city. It's literally a park with a lot of conservation spaces and lots of lakes. The place is so gorgeous."
Juengst stated that there are residents upset that at least two of the community's longtime "key staff" – the previous management team – are leaving at the end of the month. "They knew everyone by name," Juengst said.
Dana Matlock, a longtime resident and a former homeowners association president at Plantation Oaks of Flagler, said Murex Properties has done an acceptable job maintaining the community, but "we never see Northwestern Mutual." Matlock said the original developers there, Parker Mynchenberg and the late Ronnie Bledsoe, were very engaged.
"They were amazing owners. They were very friendly. They used to throw a residents appreciation party for us every year," Matlock said. "When Northwestern Mutual took over, the relationship changed. They (Northwestern Mutual) did build us a dog park a few years ago, but we were a happier community before."
"We had a prospectus so Northwestern Mutual had to keep our rent the same, but what they did raise was the market rents for new residents," Matlock added. "I'm still just paying $587 a month, but the new people could pay up to $300 a month more."
Florida law provides for a prospectus that gives potential and current residents numerous rights and insights. That is something not common in other states.
Patricia Keough-Wilson, local district president for the Federation of Manufactured Home Owners of Florida (FMO.org), said corporations are 'swooping in' to acquire manufactured home communities. That's an increasing concern among resident throughout the state.
But as MHProNews readers know, that is a pattern playing out in other parts of the U.S. too.
"They've got deep pockets. Some of them care, but most look at us simply as revenue producers," said Keough-Wilson, who lives in the Lighthouse Pointe 55-and-older manufactured home community in Port Orange.
"They can come in and raise rents. They charge what they call "market rates" but we can't get it defined," Keough-Wilson said. "We have people on the verge of homelessness at every single park. The rent goes up and up and up and some are on fixed pensions."
Additional Information, MHProNews Analysis and Commentary
Publications like the News Journal who are writing for a broader cross-section of America than manufactured home specific publications address, provides statements and details that are aimed in part to inform readers that manufactured homes are not the same as the trailers or mobile homes of yesteryear.  That's fine. Indeed, it is arguably good journalism.
But because they aren't specialized publishers, and with the number of reporters dwindling in mainstream media, reports may lack some added context and details that would shed light on issues raised by those who have been interviewed for comments on the $96 million dollar deal like the one Northwest Mutual closed for that manufactured home community.
For instance, they mentioned third-party research that points to an expectation that manufactured homes are likely to surge due to the millions harmed in the wake of the Chinese coronavirus impacted Americans. They also noted that Time Magazine in 2017 published an article hailing manufactured homes as "The Home of the Future."
But long before COVID19 hit, such stories have been periodically published by researchers and mainstream media. But as time rolls on, those predicted 'surges' in manufactured home sales don't materialize.
Indeed, Zillow documented that interest in manufactured housing has declined. The fact remains that manufactured housing on the production side is operating at a lower level today in total shipments than what was occurring in 2003 when the giant Berkshire Hathaway conglomerate paid some $1.7 billion to purchase Clayton Homes, 21st Mortgage Corporation, and Vanderbilt Mortgage and Finance, and then paid some $373 million to get Oakwood Homes Corporation. Berkshire also acquired the vertically integrated Oakwood lending arm. That began the 'moat' stratagem based acquisition race in production, retail, communities, and lending in manufactured housing.
Jennifer Reingold Questioned Berkshire-Clayton Deal; MHI GSEs Rocked by Tip-Document Drop, plus Manufactured Home Investing, Stock Updates
It wasn't just Fast Company that said that the strong arm tactics that purportedly went into the Warren Buffett led buyout of Clayton Homes, Kevin Clayton made a similar admission, as the transcript of the video interview found below makes plain.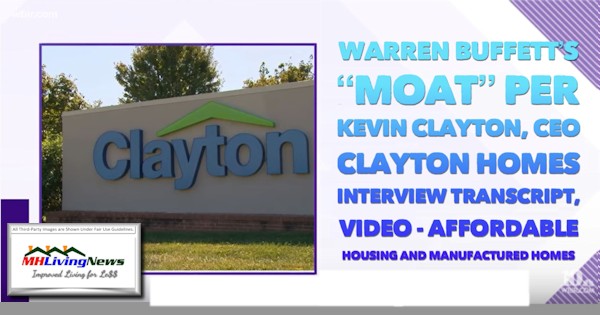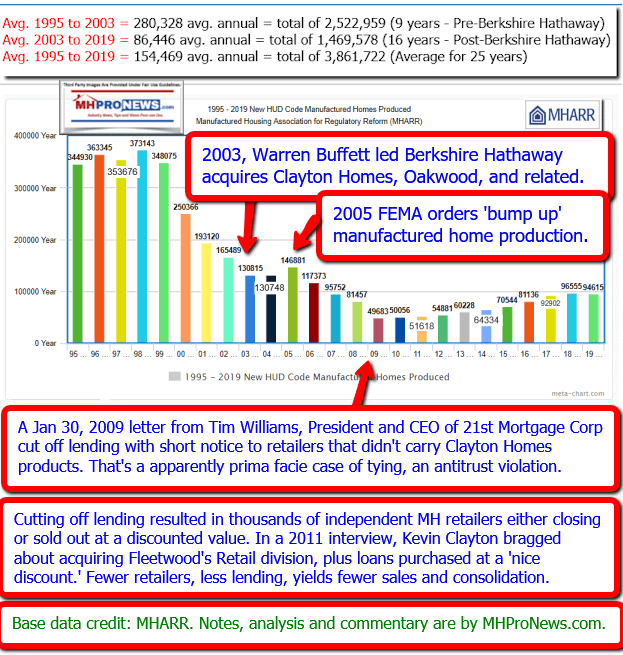 Hundreds of New Manufactured Home Communities Opened, But How Many Have Closed? Industry Research Result$
New Year to Date July 2020 Manufactured Home Production Data Compared to Mainstream Conventional Home Building and Post-COVID19 Housing Trends
The News Journal noted that Time Magazine interviewed Frank Rolfe about the supposed future of manufactured homes in their 2017 report.  Rolfe bragged about the higher rates of return on manufactured home communities – which he likes to call mobile home parks, or even trailer parks. Rolfe says they produce a higher rate of return than other forms of real estate investing.
"What's more, the stigma [of mobile home parks] works to the advantage of investors," Rolfe told Time. "Because local authorities seldom approve new parks, supply remains constant even as demand grows and grows."
But Rolfe doesn't just talk about 'stigma,' he has actively encouraged investors never to build a new community. That stated stance would once more benefit moat-builders, while harming independents, residents, renters, taxpayers, and others.
Investors, Frank Rolfe's Mobile Home U Thinking on "Why You Should Never Build A Mobile Home Park"
These are such significant statements by Rolfe and his ilk for white hat independents, residents, affordable housing advocates, lawmakers. and public officials to grasp that they should be circled, underlined, and placed in a quote box.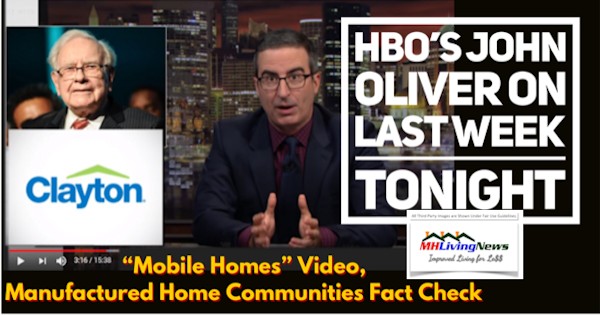 Why? Because there is what appears to be an apparent wink-and-a-nod trend among some more aggressive manufactured home community owners that tells them that they should stir up bad news. Bad news adds to the stigma that Rolfe is describing. It is also a form of free advertising for those who want to attract investors and don't care about reputation as much as the capital needed to make the next deal.
This is perhaps why the Manufactured Housing Institute (MHI) and their National Communities Council (NCC) have a so-called "Code of Ethical Conduct" has reportedly never been enforced. That is according to a state association affiliate of MHI, as well as an MHI board member to MHProNews.
It is also worth noting that an affiliate of MHI in the Manufactured Housing Executives Committee (MHEC) flatly stated to MHProNews that they don't expect MHI to enforce that code of conduct which on paper precludes behavior that would cast a dark light on the manufactured home profession.
Put differently, there is a growing body of evidence that certain MHI members are okay with negative publicity, because it is part of the 'stigma' that keeps newcomers from coming into the field. That in turn limits the industry's size and growth potential. In turn, that fuels consolidation.
While some of those deals occur at a premium price, like this Northwestern Mutual deal, others no doubt have occurred at valuations that were lower because financing, inventory, stigma, and other issues play together in a fashion that creates barriers of persistence, exit, and entry. See the report linked below for related insights.
Alice Sparks – Sources Reveal Drama Behind SSK Communities Push to Rebrand as Flagship Communities – Nathan Smith, Kurt Keeney-Planned TSX IPO
That it all ties into the "Castle and Moat" mantra that Buffett and his investing acolytes and fellow travelers follow is made plain by Frank Rolfe and his partner Dave Reynolds.
Frank Rolfe Roars-COVID-19, Warren Buffett's "Castle and Moat," and Manufactured Home Communities, A.K.A. "Mobile Home Park" Investing
This is potentially significant on several levels for those who think, as an FMO leader said, that there is no laws being broken.
Speaking about the Aberdeen deal and others like it, "That's the trend," said Jerry Durham, president of the statewide Federation of Manufactured Homeowners of Florida.
"All these communities started by mom-and-pops years ago are being sold to institutional investors. We're concerned about it, but there's nothing we can do. There's nothing illegal about it. "Corporations like Northwestern Mutual are making investments in the communities, but at the same time they're raising rents. Their profit motors are quite different. We understand that," Durham said.
"But for residents, once you've been in these communities 10 to 15 years, your income tends to become fixed. And when you compound annual rent increases of say 3% over 10 to 15 years, it begins to add up."
That trend is playing out in not only Florida, but in Iowa, California, and in states from coast-to-coast.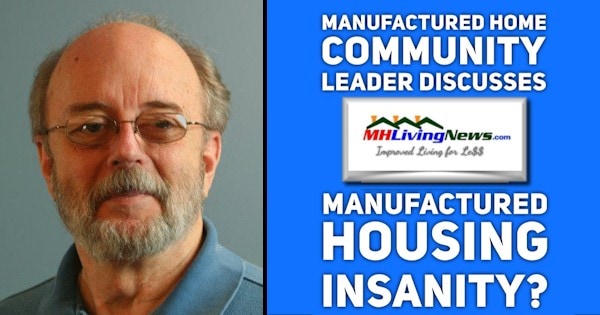 MHProNews has had periodic calls from public officials probing these problematic practices.
Attorney General Tom Miller Slams "Predatory" Manufactured Home Community Operators, plus Manufactured Housing Investing, Stock Updates
One assistant attorney general told MHProNews, after reading some of our reports and asking this writer questions for over 35 minutes, that she saw not only possible antitrust violations, but also other potential illegalities too.
Complaints to State and Federal Officials, Agencies About Corrupt Practices in Manufactured Housing Industry Growing
A longtime MHI member and community owner told MHProNews by email that when a manufactured home community is sold in this current climate that it is common that it "would have been in competition with many other buyers, thus [the community] would not been bought on a cash flow basis but would have been a financial drain. Further, it is common that new buyers cannot operate the property as cheaply as the old owners, a further loss."
"As rents are pushed to get even, tenants make greater demands and actions they would overlook become stirring causes. Authorities and politicians are called, lawyers retained and the cover blows off."
There was more, but those generic items are among the points not often mentioned in mainstream or even other industry commentaries.
Big Surge in Manufactured Home Community Deals, Insider Details Others Missed
A common thread in many of these moves is MHI. Murex Properties, for instance, is an MHI member. So too are "Frank and Dave," SSK/Flagship Communities, and several others who have made the news in a less than positive way in the last few years. Based on all that is known, it begs the question if there is a wink and a nod at play involving MHI and some of their affiliates that may violate antitrust and/or other laws?
The bottom line from the perspective of pressures on the affordable manufactured home market is this. What numbers of astute manufactured home resident leaders and the Manufactured Housing Association for Regulatory Reform (MHARR) have observed comes into focus. Namely, that without more communities and home site opportunities coming online, sufficient to meet the growing demands, this trend of ever-rising costs to buy a limited – and dwindling – number of existing manufactured home communities naturally results in higher site rents.
Those pressures are economic and impact other parts of the industry, current residents, potential ones, and taxpayers too. Because when the supposedly 'free market' is being manipulated in ways that undermine the marketplace, taxpayers end up footing the bill through subsidized housing.
This pattern may over time also lead to the manufactured home community market becoming 'overheated,' a concern which Rolfe raised himself, but which he denies is occurring.
Because too few home sites are coming online, and barriers for placement grow due to 'stigma' and other issues, independent producers, retailers, suppliers of manufactured homes along with others eventually get harmed.
This largely misunderstood set of interconnected phenomenon may play a role in the upcoming 2020 elections. It most certainly will play out in the regulatory environment that exists post-election.
MHProNews will continue to monitor and track such developments, including those from so-called "Quiet" companies that are seeking to keep a lower profile while purportedly following the same trend noted and linked from the reports herein.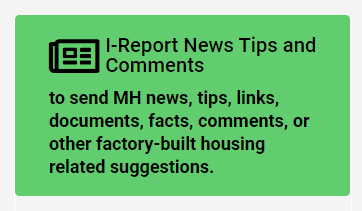 There is always more to know. Stay tuned with the runaway largest and documented number one most-read source for authentic manufactured home "Industry News, Tips, and Views Pros Can Use" © where "We Provide, You Decide." © ## (Affordable housing, manufactured homes, reports, fact-checks, analysis, and commentary. Third-party images or content are provided under fair use guidelines for media.) (See Related Reports, further below. Text/image boxes often are hot-linked to other reports that can be access by clicking on them.)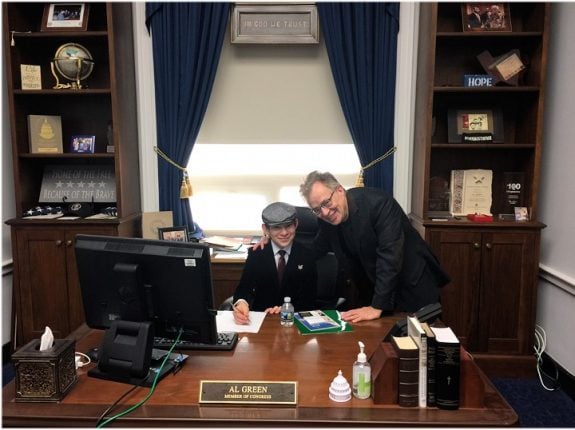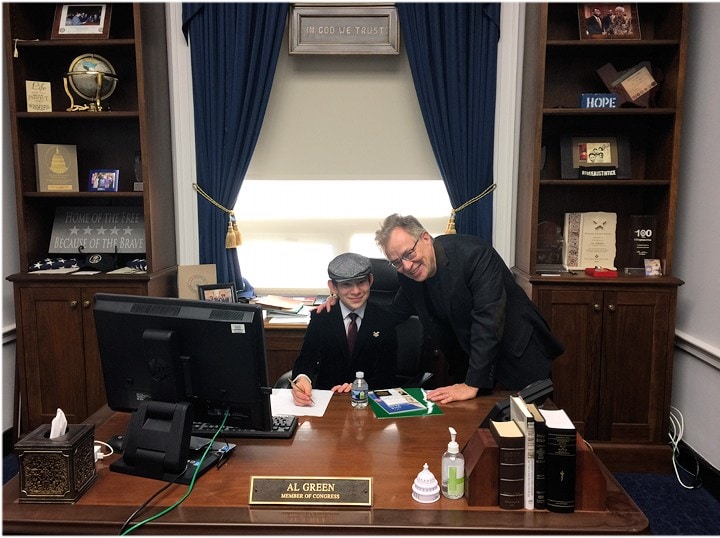 By L.A. "Tony" Kovach – for MHProNews.com.
Tony earned a journalism scholarship and earned numerous awards in history and in manufactured housing.
For example, he earned the prestigious Lottinville Award in history from the University of Oklahoma, where he studied history and business management. He's a managing member and co-founder of LifeStyle Factory Homes, LLC, the parent company to MHProNews, and MHLivingNews.com.
This article reflects the LLC's and/or the writer's position, and may or may not reflect the views of sponsors or supporters.
Connect on LinkedIn: http://www.linkedin.com/in/latonykovach
Related References:
The text/image boxes below are linked to other reports, which can be accessed by clicking on them.
Manufactured Housing Institute Warns Members – Pondering Legal Action, Insider Insights
Grotesque Failure – Ken Cashin, Nathan Smith Revealed Manufactured Housing Institute Fear of Manufactured Housing Association for Regulatory Reform's Federal Arguments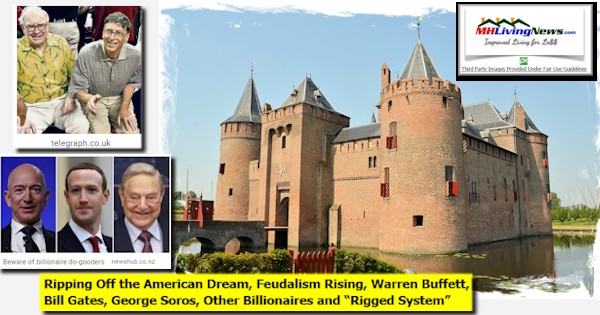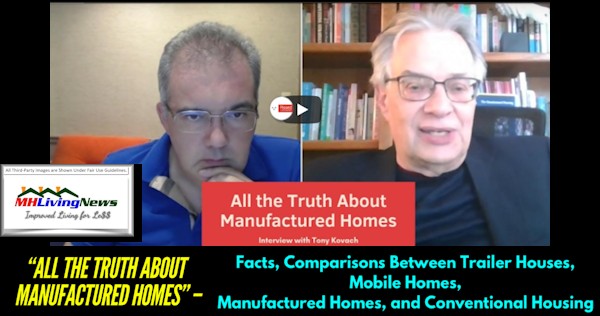 Nathan Smith, SSK Communities, and Manufactured Housing Institute (MHI) Slam New National Manufactured Home Communities Group in Written Statement
Frank Rolfe, MHU/RV Horizons Protest by MHAction; Nathan Smith/SSK/MHI Flashbacks?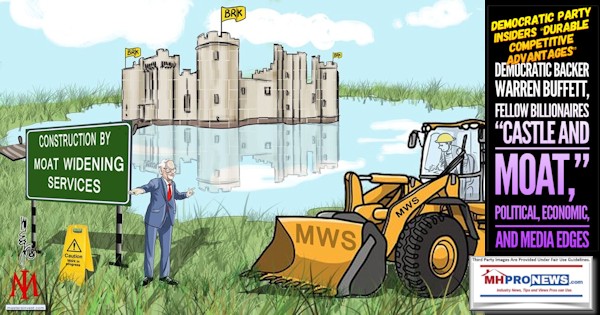 Illusions, Collusions – "Heads I Win, Tails You Lose" – "Never Let a Serious Crisis Go To Waste" – Gates, Buffett Massive Money Grabs?
Nathan & Mary Lee Chance Smith, Leaders in 'Anti-Trump Resistance,' Manufactured Housing Impact?
Communities, Assoc Exposé – Whistleblower "Leaks" – Lesli Gooch Manufactured Housing Institute (MHI) CEO and Sheila S. Dey, Executive Director Western Manufactured Housing Communities Association (WMA)
Barriers to Entry, Persistence, and Exiting in Business, Affordable Housing, and Manufactured Homes
Complaints to State and Federal Officials, Agencies About Corrupt Practices in Manufactured Housing Industry Growing
Buffett/Berkshire Bust! Stunning Charges – Frank Rolfe, Dave Reynolds, Impact Communities Lawsuit Against Residents; MHAction Connection Evidence