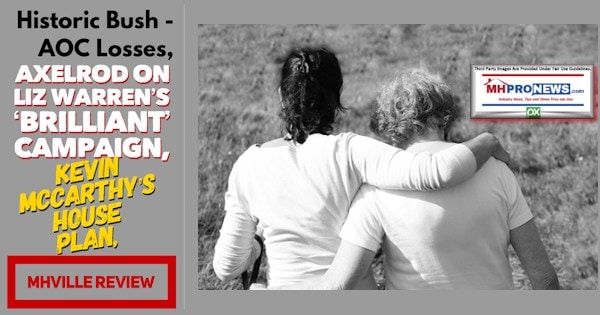 Right or wrong, like it or hate it, business and politics to a large degree have become inseparable in America in 2019. So at least a minimum level of engagement and understanding are useful to those professionals who seek business as a career and/or for investment purposes.
In early 2015, many thought Jeb Bush would be the GOP's presidential nominee. Jeb had the Bush family name recognition and business background. He had a track record as Florida's governor. He had bundles of campaign donations waiting in the wings. But after bruising primary debates, lots of events, tens of millions of dollars spent, Jeb ended up with a mere three delegates. The Hill said the cost-per-delegate for Jeb Bush's campaign averaged out a staggering $50 million dollars each.  
When some think former Vice President Joe Biden is 'inevitable,' one can muse on Jeb's experience.  Or ponder Senator Hillary Clinton's inevitability in 2008. Or Secretary Clinton's equally 'sure thing' bet in 2016 after the Access Hollywood video of then candidate Donald J. Trump surfaced late in the campaign.
Inevitability in politics is often an illusion. Far more lose in politics than win.
A sitting president in a good economy may well be a closer thing to a lock on victory. But to remain objective, a large percentage of the country still think President Trump colluded with Russians to take the election away from Hillary. That's a testament to many factors, including but not limited to, left-wing media and social influence. Years of repeating 'Russian collusion' worked on millions. It is troubling evidence you and we are living that propaganda can work, but it doesn't work all the time on everyone.  Since early on in human history, there have been twists on reality – spin, lies, and deception – in politics and business.  That likely influence honest Abe Lincoln to say what he did below.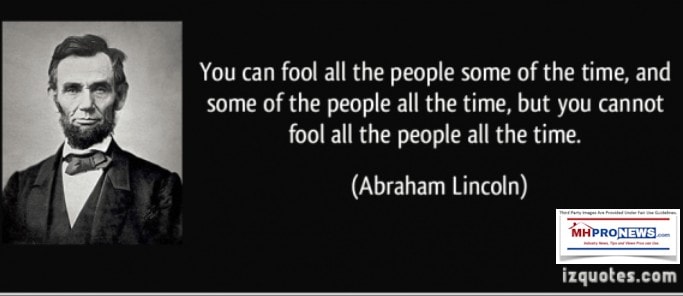 Alexandria-Ocasio Cortez (AOC) is too young to run for the White House.  But if the election were held next week, her word could carry weight with potentially millions of followers on the Democratic side. That said, AOC lost two key staffers this week. "Two of Rep. Alexandria-Ocasio Cortez's top staffers are leaving her office. Saikat Chakrabarti, her chief of staff, and Corbin Trent, her director of communications," per the left-of-center The Intercept.
The ubiquitous Drudge Report pointed us to an article on right-of-center Breitbart to learn that Minority Leader Kevin McCarthy's plan to retake the U.S. House of Representatives in 2020. "There are 31 seats that Democrats sit in today that President Trump carried," McCarthy told Breitbart. "Of those 31, 13 of them President Trump carried by more than six points. So, here you have the socialist wing of the [Democratic] party trying to take them further left, when the only way they have the majority is actually winning in Republican areas—areas that would be swing districts."
Minority Leader McCarthy version of political math works like this. Republicans hold 198 seats in the House, with 218 seats needed to be the majority.  
·        If Republicans take back those 13 seats from Democrats in districts that President Trump won by more than six percent,
·        plus seven more from the remaining 18 districts that Democrats represent that Trump won,
·        while holding what they currently have, and find some way to net gain 20 seats, they can retake the majority in 2020.
It is also true that Republicans have some retirements already announced for the 2020 cycle.
Reps. Will Hurd (R-TX), Martha Roby (R-AL), Pete Olson (R-TX), Paul Mitchell (R-MI), Susan Brooks (R-IN), and Mike Conaway (R-TX) announced plans to retire so far. Rep. Justin Amash of Michigan left the GOP this year, becoming an "independent." Amash is a POTUS Trump critic who called for the 45th president's impeachment.  All of that once more points to the fact that there are no sure things in politics. 

David Axelrod, Former President Obama Advisor 
David Axelrod is a CNN commentator, director of the University of Chicago's Institute of Politics, among his other interests. He was an advisor to former President Barack Obama. He's considered to be an astute Democratic strategist. Several media outlets reported that Axelrod said recently that former VP Joe Biden's debate performance 'may be the best that he [Biden] can do.' Axelrod also praised Senator Elizabeth Warren's presidential campaign plan to date.
Former first lady Michelle Obama has said once more that she is not running. We'll see. The fact that Mrs. Obama's name keeps coming up is itself a signal that there is unrest and uncertainty in the Democratic field. 
Biden may not get the respect he should have earned in Democratic circles, but one thing he may be spot on about is this.  The 2020 race will be about who captures the soul of America. Biden's campaign launch video replayed the old trope of President Trump's purported racism; a claim that several black leaders and Hispanic ones alike dispute, including normal Democratic supporters. Right or wrong, millions believe the claim of President Trump's racism to be true: once more, a testimony to the media and culture's ability to influence people who two decades ago had no such impression of private citizen Trump. Repeating misinformation often enough arguably harms manufactured housing, but it also harms others in various professions, including in politics. As millions have come to know, some will repeat half-truths or outright falsehoods, hoping that helps their campaign.
It is one of several reasons why a historic perspective is useful.
There are those who think that 2020 will come down to a pile of Democratic promises of free stuff plus repeated accusations of racism, misogyny, xenophobia, while alleging that Donald Trump stole a little old lady's lollipop when he was in junior high school. That might work, especially with Google, Facebook, and other big tech help. An untold number of developments could occur with China, Russia, North Korea, and Iran, to name but a few broiling global sore spots. The border could witness something horrific that the president could be blamed for, and the list of possible 'surprises' could go on. 
Summed up, the Congress in 2020 and the Oval Office are up for grabs.
Does Either Major Party Get This?  They Both Should…
It is debatable how much either major party grasps how winning the votes of most manufactured homeowners, renters, and others who are economically or otherwise disaffected could tip the election in their favor. Renters and manufactured homeowners are over 1/3 of the population. Wealth inequality could be addressed by unique methods that either the GOP or Democrats could deploy, outlined at this link here.  Rephrased, either side could pull serious votes, enough to win swing districts and battleground states.  So our industry could – given real leadership – play a key role in 2020.
Politics has been aptly described as an often dirty, no-holds barred, full-contact sport where some will resort to lies and deception in order to win. Be that as it may, the truth has a way of being stubborn. We believe the truth well told can set someone free.  Evidence-based facts, reason, and a sound presentation can make a difference.
It would be great if long before the 2020 voting, if Democrats and Republicans could come together to address timely issues related to affordable housing that point to manufactured homes potentially pivotal role in lifting millions up. Time will tell who gets that notion and who – if any – will properly act upon it.  Readers should bear in mind our mantra, that ideally, manufactured homes should be a non-partisan or bipartisan endeavor. It is also necessary to separate the wheat from the chaff from all sources, people, and things.
That snapshot shared, with no further adieu, let's look at the week that was news applies to MHVille in the week that was from 7.28.2019 to 8.4.2019.
What's New on MHLivingNews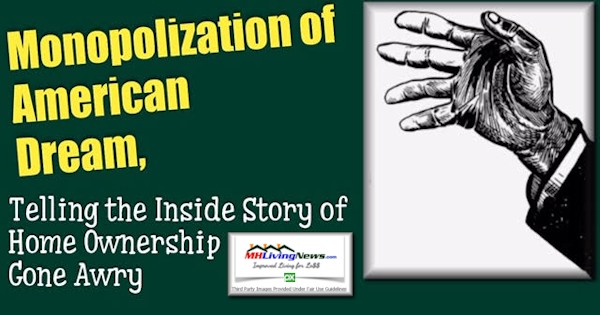 What's New on the Masthead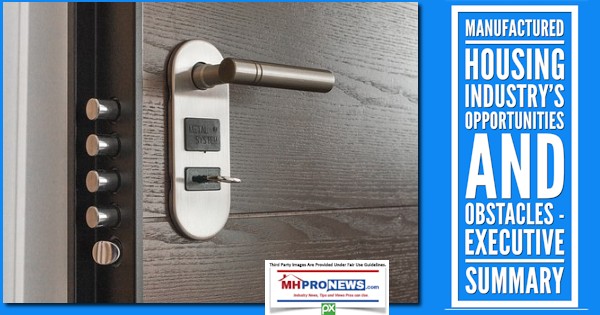 What's New from Washington, D.C. from MHARR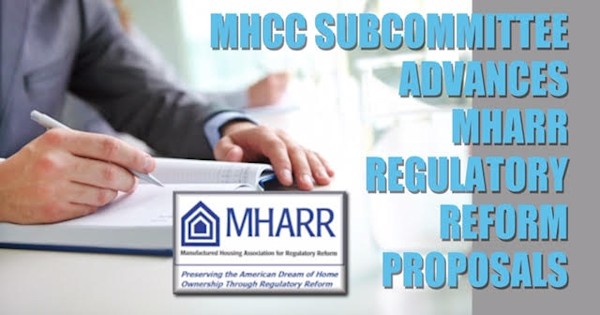 What's New on the Daily Business News on MHProNews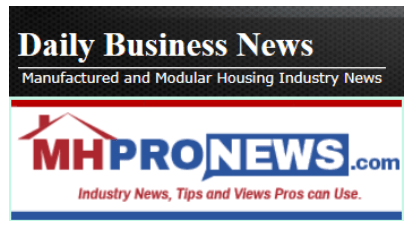 Saturday 8.3.2019
 Conglomerate People Love, Hate – Google's 'Bias,' 2020, Investing, and Manufactured Housing
Conglomerate People Love, Hate – Google's 'Bias,' 2020, Investing, and Manufactured Housing
Friday 8.2.2019
Kudlow on Deepening U.S.-China Trade War, plus Manufactured Home Stock Updates
Celebrating Citizenship, USCIS Naturalization Ceremony, and MHVille
Long-Time HUD Attorney's Formal Statement on Manufactured Housing Enhanced Preemption
Thursday 8.1.2019
Strange-But-True Manufactured Home Fire in Land Lease Community
Howard! Where are you? Dems Attack Each Other, Trump Thumps More Tariffs, Oil, Stocks Drop, plus Manufactured Home Stock Updates
Addressing Manufactured Housing Institute Performance, Legal Concerns with Association Leaders, Attorneys
#1 Manufactured Home Producer Texas Reports Continued Declines, w/Bright Spot?
Wednesday 7.31.2019
How Long Before a Millennial Can Save a Down Payment for a Home?
Dem Debate Highlights 7.30.2019 'FedEx Election to Donald Trump' – 2020 Hopeful Hickenlooper, Fed Rate Cut…But, plus Manufactured Home Stock Updates
Cavco Industries-Destiny Homes Deal, Background, Details, Analysis Others Lack
Manufactured Homes Aren't "Trailers" in "Trailer Parks" – HUD Secretary Ben Carson on Affordable Housing, Manufactured Homes, Zoning and Placement Barriers
Tuesday 7.30.2019 
Increasing Manufactured Home Sales – Oversight, Regulatory Connections Impacting MHVille
Manufactured Housing Consensus Committee Meeting Advances MHARR Regulatory Reform Proposals
THIEL v GOYINGS – Modular Housing High Court Victory, Additional Details from Modular Home Builders Association
Monday 7.29.2019
'Emotions kill,' Billionaire Ray Dalio, 'Income Inequality National Emergency,' plus Manufactured Home Stock Updates
"Legalized Looting: Mobile Home Rent Increases Require Wall Street Reforms" Says Senator Warren
Developer Nick Sinatra Sues City Over Manufactured Home Deal
Chinese Flat-Packed Prefabs Target U.S., International Markets – Video, Details
Sunday 7.28.2019
Facts are Stubborn Things, Manufactured, Modular Home Professionals Celebrate Victories
That's all she wrote, with a little help from that other guy, in the week that was for "News Through the Lens of Manufactured Homes and Factory-Built Housing" © where "We Provide, You Decide." © ## (News, analysis, and commentary.)
Submitted by Soheyla Kovach for MHProNews.com.
Soheyla is a managing member of LifeStyle Factory Homes, LLC, the parent company to MHProNews, and MHLivingNews.com. Connect with us on LinkedIn here and here.
Related Reports:
Click the image/text box below to access relevant, related information.
'Alexa, Make Breakfast for Me,' Past, Present, Future and Manufactured Housing Developments, News
Unfinished Business – Celebrating Life, Orange Cats, Web-Tech, and Manufactured Housing
Sounding Off! Going "On the Record" – Manufactured Housing Controversies, Opportunities