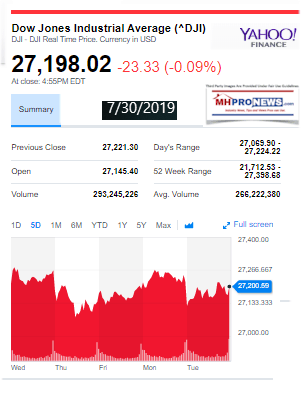 Tonight and tomorrow night on left-of-center CNN news will be the second round of Democratic debates. Yesterday, we spotlighted Senator Elizabeth Warren (MA-D), and pledged to provide a report from the White House, which will be found below, along with a report that features Democratic 2020 hopeful, Rep Tulsi Gabbard (HI-D). For the next 15 months, politics will dominate the airwaves, as investors, professionals, and millions of others try to sort out the tea leaves of which way the political winds are blowing. On a mostly down day for the major markets, we'll look at what 1600 Pennsylvania Ave's media machine provided, along with a video interview of Congresswoman Gabbard, who is ripping big tech's "monopoly."
Every evening our headlines snapshots from two major media outlets on each side of the left-right news spectrum reflects topics that influence, reflect, or move investor sentiment.  In moments, you can get insights-at-a-glance.  This sets the broader context for manufactured housing markets, in keeping with our mantra, "News through the lens of manufactured homes, and factory-built housing." ©.
We begin with left-of-center CNN followed by right-of-center Fox Business.  We share closing tickers and other related data courtesy of Yahoo Finance, and more. 5 to 10 minutes reading this MHProNews market report every business night could save you 30 minutes to an hour of similar reading or fact-gathering elsewhere.
Headlines from left-of-center CNN Business.
·        Disney is unstoppable
·        'The Lion King' is the studio's fourth billion-dollar film of 2019. It won't be the last
·        What we know about Paige Thompson, the alleged Capital One hacker
·        Worried about the Capital One hack? Here's what to do
·        OPINION Taking Social Security numbers public could fix our data breach crisis
·        7 of the biggest hacks in history
·        Trump rips Federal Reserve as they mull rate cut
·        Under Armour is struggling against Nike and Adidas in the United States
·        The pound is getting slammed. That's bad for Britain
·        Stock buybacks are reaching dangerous levels
·        Huawei sales soar 23% despite US restrictions on its business
·        Facebook gets closer to letting you type with your mind
·        Wait, so, why is the Fed cutting rates, exactly?
·        Coke and Pepsi abandon the plastics lobby
·        Gucci hires diversity chief after blackface scandal
·        Investors may have let a hospital go bankrupt. Now, they could profit
·        Amazon's incredible, vanishing cardboard box
·        The hidden cost of America's addiction to fast shipping
·        2020 candidates are addressing housing
·        10 years later, America's booming economy still bears scars of the Great Recession
·        Holiday Inn owner ditches tiny hotel soaps and shampoos
·        Pepsi's latest product: Water in a can
·        Zara wants its clothes to be sustainable by 2025
·        Amazon's incredible, vanishing cardboard box
·        SPECIAL REPORT An unlikely cure for the world's
Headlines from right-of-center Fox Business.
·        FED PREPARED TO CUT INTEREST RATES FOR FIRST TIME IN A DECADE
·        Online bank's new savings account's interest rate 30 times US average
·        All about the Benjamins: Printing of $100 bills is soaring
·        Democratic candidates in second primary campaign debate
·        Democratic candidates in second primary campaign debate
·        Federal Election Commission filings show just how much each candidate has been spending for the last few months leading up to the second round of debates.
·        Was the women's soccer team actually paid more all along?
·        Detroit's economy: Where is the money in the Motor City?
·        How some rich parents 'cheat' to cut kids' college bill
·        Economists use beer to explain how socialism affects societies
·        Plant-based meat vs. real meat: Which is better for you?
·        Christian rap tune's copyright upheld; Katy Perry awaits the 'bill'
·        Nevada gun store that sold rifle to California food festival shooter: 'Rot in hell'
·        Buyers beware: These 5 cities are in danger of a housing crash this year
·        How much AOC's Green New Deal could cost the average American household
·        Satellite spies watching your every move?
·        Beyond Meat sees $2B of market value evaporate after announcing stunning share offering
·        NFL's Roger Goodell to answer questions in Saints-Rams blown call lawsuit: Reports
·        Plant-based meat vs. real meat: Which is better for you?
·        Parents reportedly transferring guardianship of college-bound children to get financial aid
·        Detroit: By the numbers
·        Impact of the Capitol One data breach for consumers
·        Delivery drivers taking a bite out of your food?
·        Satellite spies watching your every move?
·        Not a Capital One customer? How you could still be affected by the hack
Yahoo Finance Closing Tickers on MHProNews…

Tonight's Business/Market/Political Impact Spotlight –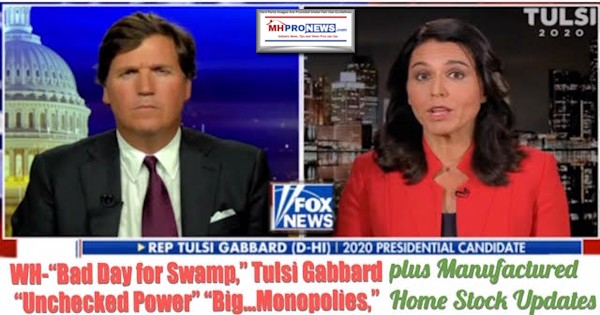 "I'm taking action because the unchecked power of Big Tech companies over our public discourse is a danger to our core American values of free speech and fair elections. This isn't about me — I'm fighting on behalf of all Americans & our freedoms," says Tulsi Gabbard's YouTube page with the video below. It spotlights a familiar topic for MHProNews readers, one covered by several in the mainstream, but most of MHVille trade media either ignores or spins.
That's juxtaposed by the White House's recent take on how the Mueller hearings went last week.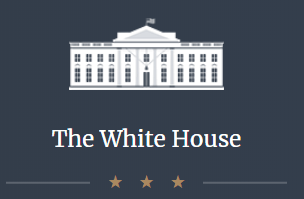 A bad day for the Swamp
It's hard to understate just how badly today went for Congressional Democrats. It took a pressure campaign from the left to get former Special Counsel Robert Mueller to agree to testify before Congress in the first place. Now that he has, the reactions to today's hearing from across the political spectrum were as ruthless as they are revealing.
Here are a few of those reflections:
· "Impeachment is over. I don't think Nancy Pelosi is going to stand for her members bringing forth something that is going to obviously lose." – ABC News' Terry Moran
· "I think the Democrats have to be disappointed that [Mueller] didn't more vigorously defend his process and the team." – former Sen. Claire McCaskill (D-MO)
· "Aside from difficult to watch testimony, there has been no new information and no elaboration on the 448-page report." – CNN Commentator Alice Stewart
·  "There were also times when it seemed like [Mueller] was unfamiliar with parts of the investigation." – CNN's Jake Tapper
·  "One has to wonder, too, where Democrats go from here." – Politico's Blake Hounshell
If Democrats were looking to make headlines with today's political theater, they got them. "This is Painful," Mediaite reports in a pundit round-up. "A Sometimes Halting Mueller Parries Questions," The Washington Post writes. "Democrats And Media Admit: Mueller's Testimony Was A Total Disaster," Townhall reports.
They're right. After taking 22 months, calling more than 500 witnesses, issuing more than 2,800 subpoenas, and spending more than $30 million in taxpayer money, Congressional Democrats didn't get the result they were hoping for from the Special Counsel's report. In response, they spent more than 6 hours today pressuring Mueller to say something different than what his team concluded in their 448-page analysis.
They came up empty. 
While Democrats looked foolish, that isn't what made today a bad day for the Swamp. It's a bad day because, once again, Washington put itself first. Americans are sick of partisan theatrics and desperate for our leaders to keep their promises to the voters who sent them here. Instead, Congress spent yet another day arguing about the results of an election that happened more than two and a half years ago.
In that time, President Donald J. Trump's attention has been on the working-class Americans who put their trust in him. There is plenty of work left to be done, but the results so far are encouraging:
· More than 6 million new jobs have been created since Election Day 2016.
· The 3.7 percent unemployment rate remains near its lowest mark in 49 years.
· Unemployment has hit record or near-record low rates for historically marginalized groups including African-Americans, Hispanics, and women.
· U.S. stock markets continue to break record highs.
· Manufacturing job growth soared to a more than two-decade high last year.
And that's just the economy. From criminal justice reform that will make America's streets safer while giving former inmates a second chance at life, to veterans choice programs that are holding the VA accountable to our nation's heroes, President Trump is working each day to keep his promises to voters.
Imagine how incredible America could be doing if Congressional Democrats joined us?
"Not buying it: Voter skepticism about Mueller investigation grows, says Politico poll"

Rep. Kelly Armstrong to Mueller: "Federal recusal law exists for a reason."

Rep. Matt Gaetz: What Mueller's probe left out
Related Reports:
Publicly Traded Manufactured Housing Firms – Which Source Do You Trust More? Why? MHI, MHARR, Others
Google Under Fire, $50 Million Rep Tulsi Gabbard Suit, Peter Theil Cries Foul too, plus Manufactured Home Stock Updates
Treasury Secretary Mnuchin "Absolutely Right" AG Investigating Antitrust Issues, plus Manufactured Home Stock Updates
Legal Insurrection – Will Senator Warren, Other 2020 Presidential Hopefuls Business Deals Hurt Democrats in 2020?
"Abrogation of Good Corporate Governance," Billionaire Icahn Blasts "Buffett Deal," plus Manufactured Home Stock Updates
Manufactured Housing Industry Investments Connected Closing Equities Tickers
Some of these firms invest in manufactured housing, or are otherwise connected, but may do other forms of investing or business activities too.
·        NOTE: The chart below includes the Canadian stock, ECN, which purchased Triad Financial Services.
·        NOTE: Drew changed its name and trading symbol at the end of 2016 to Lippert (LCII).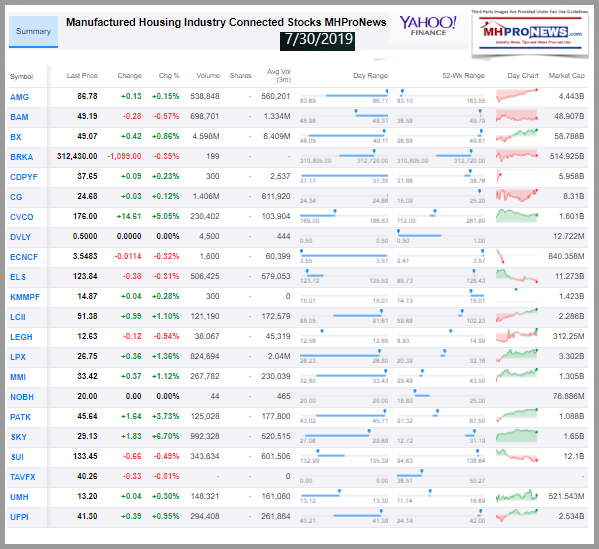 Updated:
Berkshire Hathaway is the parent company to Clayton Homes, 21st Mortgage, Vanderbilt Mortgage and other factory built housing industry suppliers.
· LCI Industries, Patrick, UFPI, and LP all supply manufactured housing.
· AMG, CG and TAVFX have investments in manufactured housing related businesses.
Your link to an example of industry praise for our coverage, is found here and here. For the examples of our kudos linked above…plus well over 1,000 positive, public comments, we say – "Thank You for your vote of confidence."
· For expert manufactured housing business development or other professional services, click here.
· To sign up in seconds for our industry leading emailed headline news updates, click here.
· Disclosure. MHProNews holds no positions in the stocks in this report.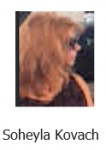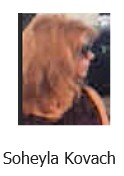 "We Provide, You Decide." © ## (News, analysis and commentary.)
(Image credits and information are as shown above, and when provided by third parties, are shared under fair use guidelines.)
Submitted by Soheyla Kovach, co-managing member of LifeStyle Factory Homes, LLC and co-founder for MHProNews.com, and MHLivingNews.com.