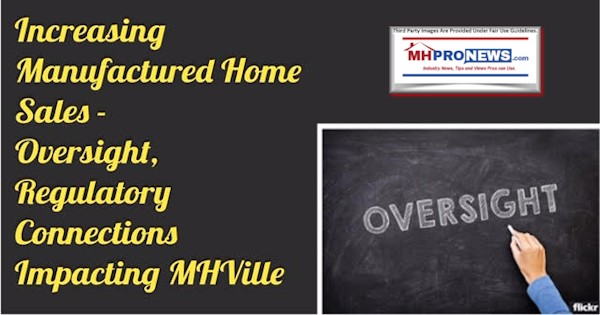 For thousands of manufactured home operations, including independents of various kinds, increasing new HUD Code home sales in a profitable, sustainable, ethical fashion is a routine goal.
Among the roadblocks to achieving that are zoning, placement, and related issues.  As a recent report, linked below, reflected a growing trend of limiting our banning manufactured homes is occurring in states from coast-to-coast.
Texas, Florida Cities Plan Manufactured Home Ban, Legacy Housing, FMHA, Lance Inderman/Jessup Housing React
Certainly financing and perception issues are also among those that play a role in limiting manufactured housing.  With the industry just days away from the latest new home shipment data for June, 2019, these issues are weighing on the minds of many.
Manufactured Homes Can Grow in Value, Says Omaha World Herald – Berkshire Owned – Sheds Light on Manufactured Housing Dilemma
As a recent report reflected, on paper, there are several items that appear to be quite similar between the Arlington, VA based Manufactured Housing Institute (MHI) and the Washington, D.C. based Manufactured Housing Association for Regulatory Reform (MHARR).
With those points noted, the question arises, why has MHI pivoted recently on enhanced preemption? For a deep dive, see the report linked below.
Superficially, manufactured housing is an easy to understand product, service, and industry. It costs far more to build a house on site – so-called 'stick building' – then it does to build one in a factory and was permanently installed on a buyers preferred home site.
Objectively, there are several factors at play with the Manufactured Housing Institute (MHI) recent pivot on suddenly spotlighting preemption. One are the deregulatory comments (DRCs) that are getting attention in Manufactured Housing Consensus Committee (MHCC), which includes ones like the following. Note the very specific mention of federal preemption, and correcting HUD's guidance on that topic?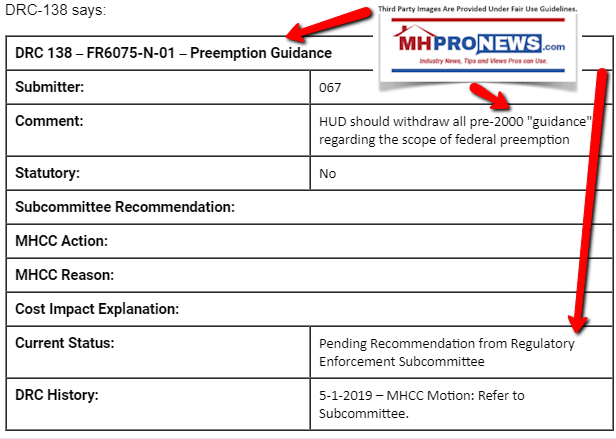 The June 2016 deregulatory comments letter to HUD by MHProNews publisher, L. A. 'Tony' Kovach linked here, included these two point below, among others.
"…Second, as a practical matter, the HUD Code manufactured home program will never change for the better while the current career administrator and the current revenue-driven contractor are in place." It should be noted that Danner has since been removed. MHARR and some others asked for that too, but it was not part of MHI's push, as their EVP Lesli Gooch told the Washington Post.
Here was another point publisher Kovach made.
There should be a clear mandate for HUD's general counsel that works with the manufactured housing program to enforce the enhanced preemption that is called for by the MHIA 2000.
There have been several communications to HUD by MHProNews and MHLivingNews, beyond our reports.  This is an example.  It is on the docket for discussion. Each point had relevance, but note #1.  Note that this is designated by HUD as DRC #1.
DRC 1 – FR6030-N-01 – Regulatory
Date: 6/13/2017
Submitter:
Soheyla Kovach
Comment:
1) The solution to the affordable housing crisis can in many cases be accelerated by using HUD code manufactured homes, the enhanced preemption of the Manufactured Housing Improvement Act of 2000 (MHIA 2000). Certainly preserving existing housing and other factors are needed too, but manufactured homes ought to be front and center.

2) Enforcement of the law (MHIA 2000) and draining the swamp at HUD's program management are essential.

3) MHI ought not to be trusted, see the above, as they have allegedly worked in collusion with HUD and others to the detriment of independent businesses and producers.

4) Educate those in the program about the realities linked above.

Understanding of the realities of the product vs. the history from the mobile home era. Enforcing the law. Leveling the playing field. Draining the swamp at HUD. Don't allow back-handed, alleged de-facto collusion between MHI and HUD (or other agencies). Do those things, and the manufactured home program will thrive. Millions will buy. Millions of jobs will be created. The federal budget for HUD and affordable housing programs will naturally be reduced over time, thanks to the work of the free market. To paraphrase Mark Weiss from MHARR said, set manufactured housing free. The industry is not asking for handouts. We want to be regulated, that's to the benefit of consumers and honest industry builders. But make that regulation reasonable and per the MHIA 2000 law, not regulatory overreaches that harm independents to the advantage of larger operations.
Rephrased, there have been years of efforts, with increased tempo in recent months from MHARR as well as MHProNews, MHLivingNews and others.  See the report, linked here for a deeper dive that can be shared with the general public.
That's the final installment tonight of manufactured housing "Industry News, Tips, and Views Pros Can Use" © where "We Provide, You Decide." © ## (News, analysis, and commentary.)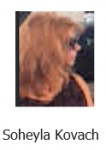 Submitted by Soheyla Kovach for MHProNews.com.
Soheyla is a managing member of LifeStyle Factory Homes, LLC, the parent company to MHProNews, and MHLivingNews.com. Connect with us on LinkedIn here and here.
Related Reports:
Click the image/text box below to access relevant, related information.
Sounding Off! Going "On the Record" – Manufactured Housing Controversies, Opportunities
Facts are Stubborn Things, Manufactured, Modular Home Professionals Celebrate Victories
"Revolving Door" – 2019 Research by Public Citizen Spotlights Swampy Problems
"Incestuous" Lobbying? Kings of K Street, Revolving Door, Big Tech, Berkshire Hathaway – Follow the Money