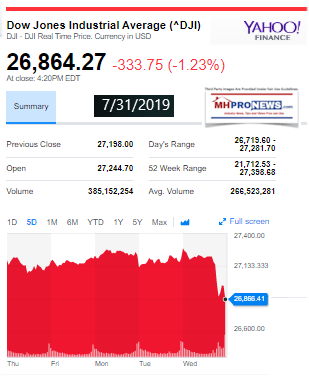 Let's be clear. Market watchers aren't saying that stocks dropped because of last night's Democratic debates.  That's why we bundled last night's debate highlights with Fed Chair Jerome Powell's comments, which were taken as cold water for further rate cuts after only .25 percent drop announced today. On a day when the markets broadly declined, we'll look at those two topics this evening as our focus.
Every evening our headlines snapshots from two major media outlets on each side of the left-right news spectrum reflects topics that influence, reflect, or move investor sentiment. In moments, you can get insights-at-a-glance. This sets the broader context for manufactured housing markets, in keeping with our mantra, "News through the lens of manufactured homes, and factory-built housing." ©.
We begin with left-of-center CNN followed by right-of-center Fox Business. We share closing tickers and other related data courtesy of Yahoo Finance, and more. 5 to 10 minutes reading this MHProNews market report every business night could save you 30 minutes to an hour of similar reading or fact-gathering elsewhere.
Headlines from left-of-center CNN Business.
·        The Fed cuts rates
·        For the first time since 2008, the Federal Reserve cut interest rates by a quarter-point
·        Dow plunges after Powell says not to expect further rate cuts
·        LIVE UPDATES Why is the Fed cutting rates? It's the money supply, stupid!
·        What lower interest rates mean for you
·        Trump's attacks on the Fed are about to get worse
·        Christine Romans: Trump's economy is just 'average'
·        LOOKING BACK The last time the Fed cut rates was in 2008. Here's how CNN covered it then
·        ANALYSIS The economy isn't broken. Washington sure is trying to fix it
·        IN DEPTH How stocks performed under each president
·        A 100-year-old company will be the first US business to export rice to China
·        Walmart, Amazon and Ikea sued over Edison bulbs
·        Dollar General's $5 beauty line is going viral
·        The UK auto industry is facing a slow death
·        Two of Europe's most popular online banks are coming to America. Can they succeed?
·        Former Audi CEO Rupert Stadler charged with fraud over diesel scandal
·        Democratic debate on CNN drew 9.2 million viewers on first night
·        OPINION Our lax cybersecurity policies put our elections and our data at risk
·        Body of missing Indian coffee tycoon found
·        GE burns through another $1 billion. But its outlook is improving
·        4 of the biggest mistakes a CEO can make
·        Samsung sees 'challenges' ahead after profit drops 56% in second quarter
·        Apple grows business as iPhone sales decline
·        Huawei sales grow 23% despite US restrictions
·        Forget touchscreens: This case controls a smartphone with buttons and dials
·        Apple is buying Intel's smartphone modem business
·        Stock buybacks are reaching dangerous levels
·        Stocks could get interesting again after the Fed cuts rates
·        $1 trillion deficits are back. Here's what you need to know
·        In this market, nearly everything is up. How long can that last?
·        How to avoid a recession: End the trade war
Headlines from right-of-center Fox Business.
·        The Fed just lowered interest rates: Why you should care
·        The Fed cuts interest rates for the first time since the financial recession
·        History suggests that rate cuts are followed by rising stock prices
·        Stocks tumble as Fed's Powell talks rate cut
·        Capital One: Another data breach response misses the mark
·        Grading Capital One's response to the data breach that hit 100 million customers.
·        Apple's gigantic pile of cash keeps shrinking
·        Debate ratings vs 'Bachelorette' ratings: Which drew more viewers?
·        Kanye West experimenting with 'Star Wars'-inspired housing concept called living 'bubbles'
·        Grant Thompson dead at 38; a look back at his YouTube career
·        Email scams on the rise: Here's what to do if you get one
·        The $80G ring 'Bachelorette' Hannah Brown could have had: What you need to know
·        Impossible Foods 'magic ingredient' approved by FDA
·        Victoria's Secret Fashion Show not happening this year: Shanina Shaik
·        Are you 'adulting?' What you need to do to qualify
·        Democrats' freebie wish list: Proposals and price tags
·        Debate night 2: Here's how much money tonight's candidates have spent
·        US manufacturing at 'frontier' of aging American workforce: Why that's a problem
·        Federal Reserve has talked itself into a corner, Charles Plosser says
·        Woody Allen's $68M lawsuit against Amazon just got more difficult
·        Alleged 9/11 mastermind could help victims who sued Saudi Arabia
·        Are colleges partly to blame for the financial aid scam?
·        China sees Trump as a weak president?
·        Dating has gotten too expensive for millennials?
·        Samsung Galaxy Tab S6 tablet revealed
·        Apple's gigantic pile of cash keeps shrinking
·        Apple's cash pile shrank for the sixth straight quarter.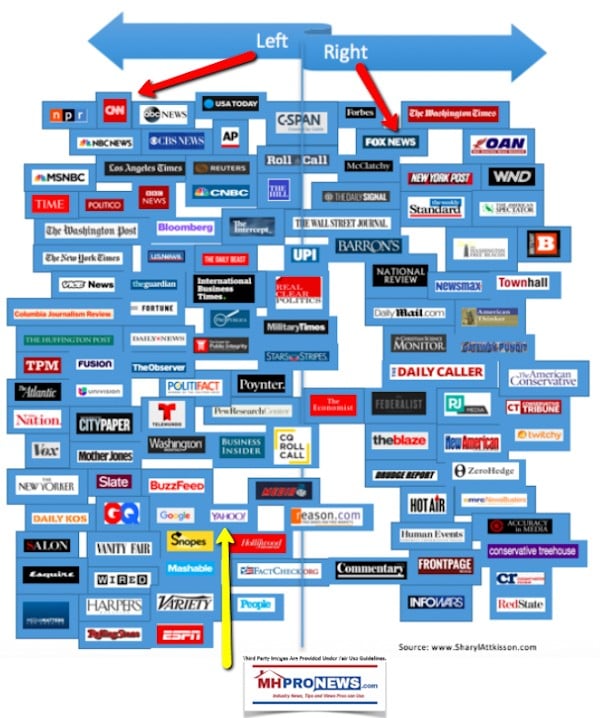 Yahoo Finance Closing Tickers on MHProNews…

Tonight's Business/Market/Political Impact Spotlight –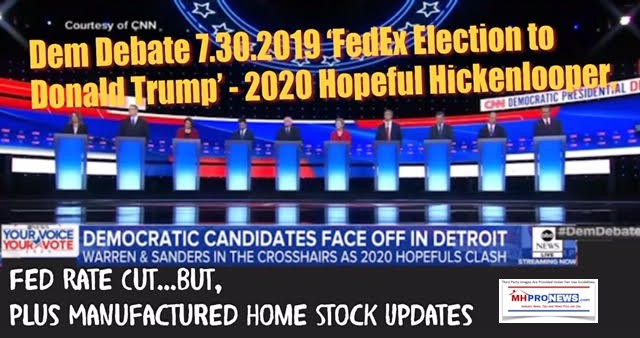 "Medicare for all"…"free everything" and "…impossible promises will turn off voters," said former Congressman John Delaney. He is labeled by ABC as a centrist, but keep in mind that he is 'moderate' by the standards of a more aggressively left-leaning or progressive wing of the Democratic Party where the energy seems to be.
Delaney and former Democratic governor of Colorado John Hickenlooper may well have been the more moderating voices of reason last night, but that doesn't mean that they got the most applause. Many are happy to 'shoot the messenger' – metaphorically, at least – in politics when someone says what a more activist audience doesn't want to hear.
Left-of-center ABC News summed it up like this: "Moderate candidates like John Hickenlooper and John Delaney claimed the policies of progressives like Bernie Sanders and Elizabeth Warren could deliver President Trump a second term." "Why do we have to be the party of taking something away…" from people, said Delaney to Senator Bernie Sanders, talking about the tens of millions who have health plans that they like and want to keep.
Ouch.
Tonight, front-runner and former Vice President Joe Biden will be on stage.  Expect him to be the target tonight, just as Senators Warren and Sanders were the targets last night.
Let's segue now to the Fed's decision to cut rates by .25 percent, but signaling that this may be it.
The Fed
"That refers back to other times when the FOMC has cut rates in the middle of a cycle and I'm contrasting it there with the beginning of a lengthy cutting cycle. That is not what we're seeing now, that's not our perspective now," Powell said."You have to look at not just the 25 basis-point cut, but look at the committee's actions over the year," said CNBC.
"We started off [the year] expecting some rate increases. We then moved to a patient setting for a few months and now we've moved here," he added "As we've moved to more accommodative policy, the economy has actually performed as expected with that gradual increase in support."
When will either major party look at issues like this: is the Federal Reserve really how we want monetary policy decided? That is worthy of a robust debate. For unelected officials to make decisions that move the markets, that at a minimum bears questioning.  For those with a sense of history, keep in mind that what the Federal Reserve Act was supposed to do was avoid recessions; instead, it seems we have had more of them and often deeper ones, like the one that became the Great Depression.
Manufactured Housing Industry Investments Connected Closing Equities Tickers
Some of these firms invest in manufactured housing, or are otherwise connected, but may do other forms of investing or business activities too.
· NOTE: The chart below includes the Canadian stock, ECN, which purchased Triad Financial Services.
· NOTE: Drew changed its name and trading symbol at the end of 2016 to Lippert (LCII).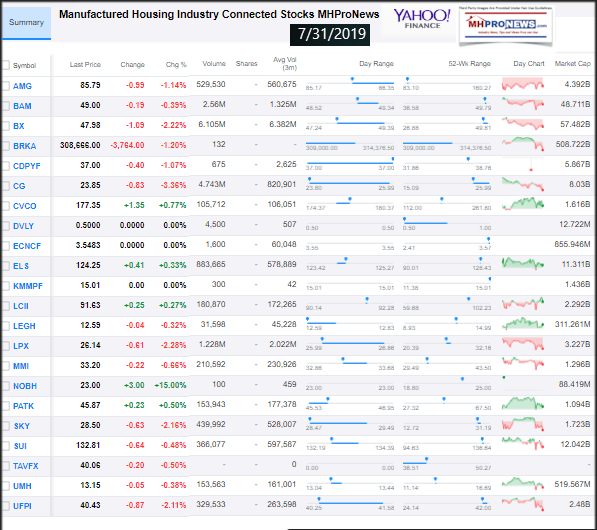 Updated:
Berkshire Hathaway is the parent company to Clayton Homes, 21st Mortgage, Vanderbilt Mortgage and other factory built housing industry suppliers.
· LCI Industries, Patrick, UFPI, and LP all supply manufactured housing.
· AMG, CG and TAVFX have investments in manufactured housing related businesses.
Your link to an example of industry praise for our coverage, is found here and here. For the examples of our kudos linked above…plus well over 1,000 positive, public comments, we say – "Thank You for your vote of confidence."
· For expert manufactured housing business development or other professional services, click here.
· To sign up in seconds for our industry leading emailed headline news updates, click here.
· Disclosure. MHProNews holds no positions in the stocks in this report.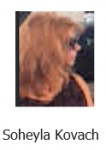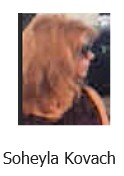 "We Provide, You Decide." © ## (News, analysis and commentary.)
(Image credits and information are as shown above, and when provided by third parties, are shared under fair use guidelines.)
Submitted by Soheyla Kovach, co-managing member of LifeStyle Factory Homes, LLC and co-founder for MHProNews.com, and MHLivingNews.com.