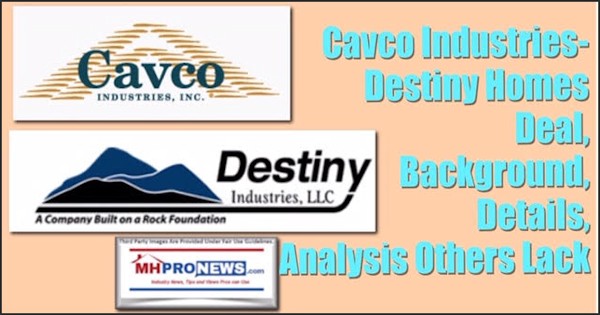 In a press release to MHProNews, Cavco Industries (CVCO) has announced a planned deal to close on August 2, 2019 to acquire "substantially all of the assets and liabilities of Destiny Industries, LLC ("Destiny Homes" or "Destiny")."
The deal is significant in several respects. MHProNews will first provide the formal statement. That will be bracketed and followed by additional background, analysis, and commentary not found in their media release.  The graphic below is from Cavco earlier this month, and prior to this deal, which lays out some general facts. It was not part of their media statement this week.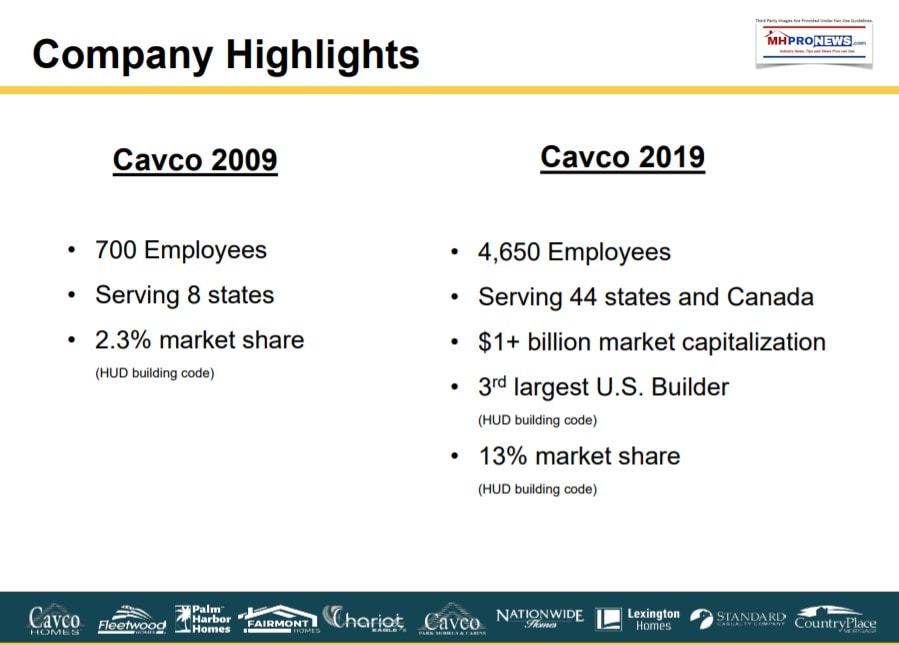 Cavco Industries Announces the Planned Acquisition of Destiny Homes
PHOENIX, July 29, 2019 (GLOBE NEWSWIRE) — Cavco Industries, Inc. (Nasdaq: CVCO) today announced the intent to purchase substantially all of the assets and liabilities of Destiny Industries, LLC ("Destiny Homes" or "Destiny"). The purchase is scheduled to close on August 2, 2019. Located in Moultrie, Georgia, this single plant operation provides affordable, manufactured and modular housing to independent retail distributors in the Southeastern United States. 
"We look forward to welcoming Destiny Homes into the Cavco family of companies," said Bill Boor, President and Chief Executive Officer. "Destiny Homes has a strong reputation and a very talented management team. The combined operations will further enhance Cavco's product line-up and distribution in the Southeastern United States housing market."
The current management and homebuilding team, led by president Donnie Edwards, will remain with Destiny Homes. Mr. Edwards commented, "We are very pleased to be joining Cavco. The combination of our companies will provide new and exciting opportunities to continue the growth we have experienced in recent years, not only for our appreciated customers but also our valued employees."
The purchase price, which will be paid in cash at closing and funded with Cavco's internal capital, was not disclosed. Destiny's products will continue to be marketed under the Destiny Homes brand name. The transaction is subject to the satisfaction of customary closing conditions.
About Cavco Industries, Inc.
Cavco Industries, Inc., headquartered in Phoenix, Arizona, designs and produces factory-built housing products primarily distributed through a network of independent and Company-owned retailers. The Company is one of the largest producers of manufactured homes in the United States, based on reported wholesale shipments, marketed under a variety of brand names including Cavco, Fleetwood, Palm Harbor, Fairmont, Friendship, Chariot Eagle, Lexington and soon, Destiny Homes. The Company is also a leading producer of park model RVs, vacation cabins and systems-built commercial structures, as well as modular homes built primarily under the Nationwide Homes brand. Including Destiny Homes, the Company will employ nearly 5,000 people and operate twenty manufacturing plant locations along with retail home centers, housing finance and homeowner insurance businesses. Additional information about Cavco can be found at www.cavco.com.
About Destiny Industries, LLC
Destiny Industries, LLC, founded by brothers Bill and Donnie Edwards in 1978, operates one manufacturing facility located in Moultrie, Georgia and employs over 250 people. Destiny Homes produces and distributes manufactured and modular homes through a network of independent retailers in the Southeastern United States. More information about Destiny Homes can be found at www.destinyhomebuilders.com.
##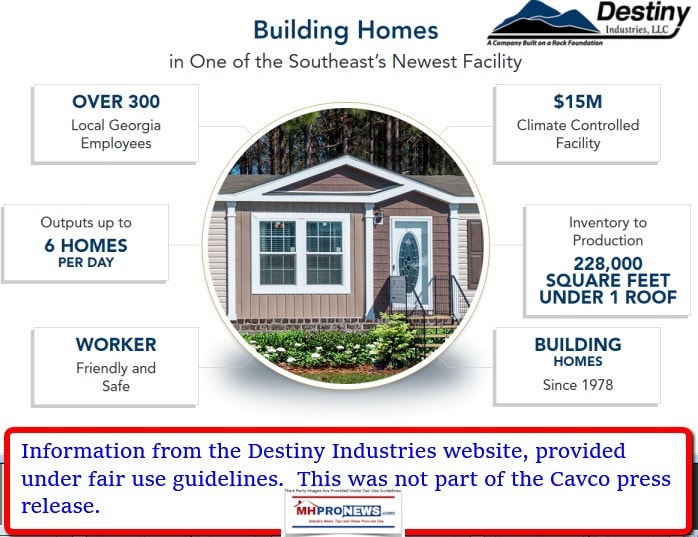 It is no secret that Cavco Industries has been under a microscope with regulators, investors, shareholders plaintiffs attorneys, and others since the announcement last November 8, 2018 of the SEC subpoena to Joe Stegmayer and Cavco. About a dozen different law firms announced "investigations" on behalf of shareholders who allegedly lost money in the rapid drop in the value of their stock.
As the law firm of Glancy Prongay & Murray LLP stated it, "On November 8, 2018, Cavco revealed that it had received a subpoena from the SEC's Division of Enforcement on August 20, 2018, requesting certain documents relating to trading in the stock of a public company, and that then-Chief Executive Officer Joseph Stegmayer had received a subpoena regarding similar issues on October 1, 2018. Cavco stated: "At this time, the Company believes that Mr. Stegmayer traded in certain publicly traded stock in his personal accounts as well as in accounts held by Cavco at a time when the Company had agreed to refrain from such trading."
The share value graphic below tells part of the stock's roller coaster ride tale before and since that date.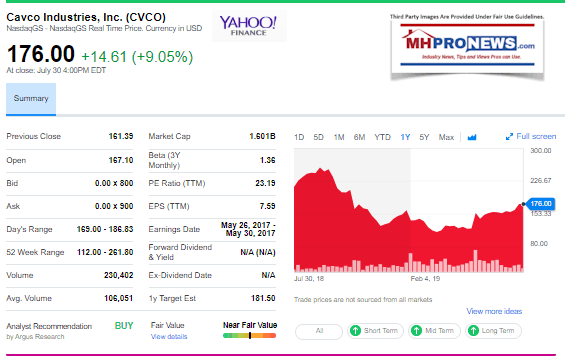 The company has been making several internal moves to protect against ongoing risks caused by what a Cavco insider deemed a "debacle."
This announced deal is clearly part of the continued consolidation of the manufactured housing industry's production, along with a parallel trend in several other sectors of the manufactured home business.  It arguably puts pressure on several organizations, both for and nonprofit. 
Stegmayer stepped down as Cavco's chairman, president, and chief executive officer (CEO), but has remained on with the firm.  
Notably, Stegmayer has remained visibly on as the Chairman of the Board of the Manufactured Housing Institute (MHI) Executive Committee. As a glance at the executive committee reflects, several of the members have had or are currently under some form of legal cloud. That cloud may be regulatory and/or civil liabilities in nature.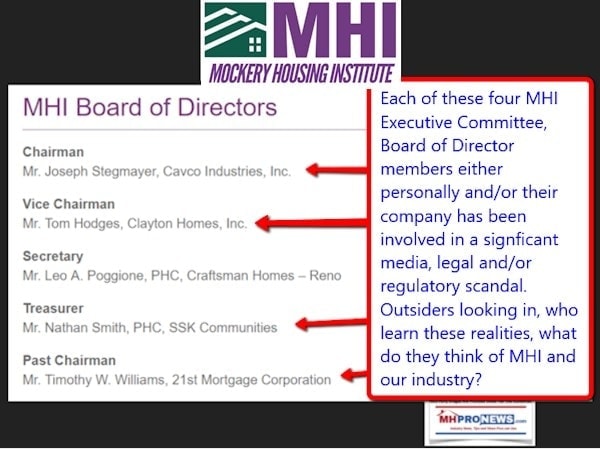 Stegmayer was a former president with Clayton Homes before joining what is now Cavco.  There has been speculation among some manufactured home industry professionals if Clayton and Cavco were working in some degree in coordination to consolidate the manufactured housing industry's production – and perhaps by extension – influencing other industry sectors between them. Smoke is not direct evidence in that regard.
That noted, there are several clues in Stegmayer's statements over the years that could be interpreted as being in keeping with purported efforts to limit the growth of the manufactured home industry. A statement made by Stegmayer in the video made about the Innovative Housing Showcase (IHS) on the National Mall in June is potentially revealing in that regarding. See the report, linked below.
Joe Stegmayer, Cavco Industries, MHI Chairman, Insights from Innovative Housing Showcase
The recent announcement by MHI of an apparent pivot by Arlington, VA based trade group of a letter from them to HUD Secretary Ben Carson is noteworthy.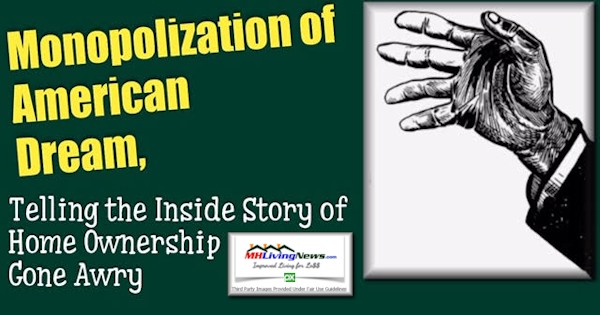 All of this has a bearing on how other publicly traded firms in the industry may be impacted.
Publicly Traded Manufactured Housing Firms – Which Source Do You Trust More? Why? MHI, MHARR, Others
That this occurred during what has been 9 months of consecutive year-over-year declines in new manufactured home production must be noted. Whatever the purchase price and terms have been, what would Destiny – or other companies that were acquired by larger firms in recent years – truly worth if manufactured housing wasn't under pressure from Warren Buffett led Berkshire Hathaway's deployment of the strategic moat in manufactured housing?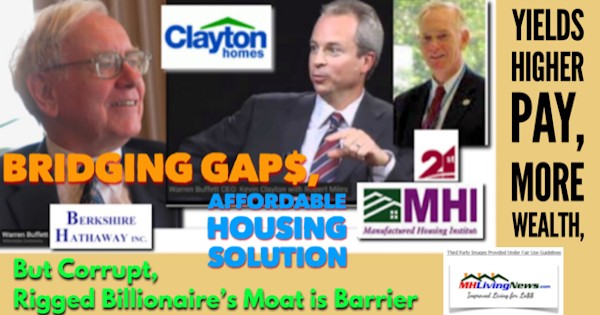 The report below can be broadly understood in two parts, the first outlines general industry information, and is followed by specific facts that reflect evidence of how Clayton has grown from 13 percent to near 50 percent (+/-) of manufactured housing production since Berkshire acquired them in 2003. Consolidation in the industry has grown ever since. The close of this deal between Cavco and Destiny will narrow the difference between Cavco and the Skyline Champion combination.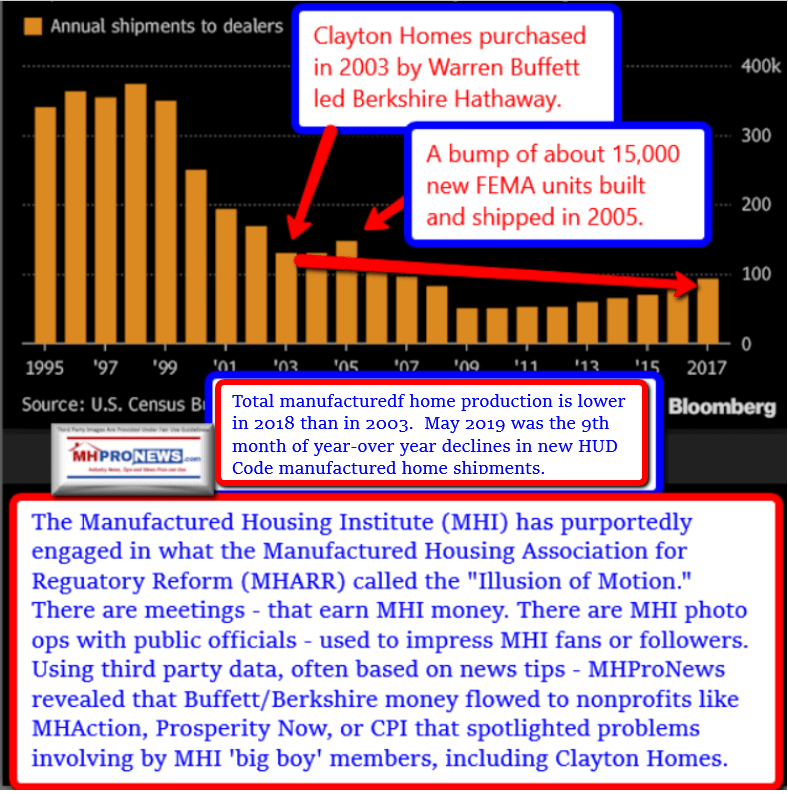 A more detailed look at the developments about the purported years of fig leaves on zoning, placement, financing, and other regulatory issues linked to MHI are found in the related reports below the byline.  Bear in mind Stegmayer's leadership at the MHI executive committee in pondering those reports linked below the byline and notices.
That's a wrap on this hump-day episode of the ongoing drama of manufactured housing "Industry News, Tips, and Views Pros Can Use" © where "We Provide, You Decide." © ## (News, analysis, and commentary.)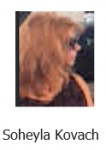 Submitted by Soheyla Kovach for MHProNews.com.
Soheyla is a managing member of LifeStyle Factory Homes, LLC, the parent company to MHProNews, and MHLivingNews.com. Connect with us on LinkedIn here and here.
Related Reports:
Click the image/text box below to access relevant, related information.
News Tip – Cavco Industries Legal Woes with SEC, Insider Insights
New Investigation, Insider Trades, Hedge Fund Dumps Cavco Industries (CVCO)
Sounding Off! Going "On the Record" – Manufactured Housing Controversies, Opportunities
Facts are Stubborn Things, Manufactured, Modular Home Professionals Celebrate Victories