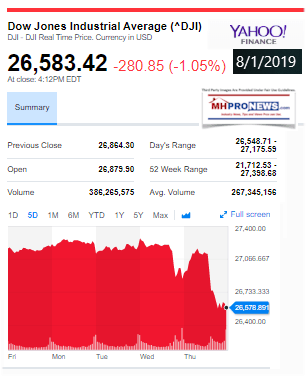 Democrats battling last night on the debate stage was expected. Stocks rose early in the day.
President of the United States Donald J. Trump business unit used to own several casinos. Perhaps it is no surprise, then, that what often looks like river boat gambles occur in the form of tweets and press statements from that famed residence and offices located at 1600 Pennsylvania Ave. in Washington, D.C. The announcement today of more tariffs against China sent markets south, with some debate highlights, which will be our features for this evening.
Every evening our headlines snapshots from two major media outlets on each side of the left-right news spectrum reflects topics that influence, reflect, or move investor sentiment. In moments, you can get insights-at-a-glance. This sets the broader context for manufactured housing markets, in keeping with our mantra, "News through the lens of manufactured homes, and factory-built housing." ©.
We begin with left-of-center CNN followed by right-of-center Fox Business. We share closing tickers and other related data courtesy of Yahoo Finance, and more. 5 to 10 minutes reading this MHProNews market report every business night could save you 30 minutes to an hour of similar reading or fact-gathering elsewhere.
Headlines from left-of-center CNN Business.
·        Dow seesaws on tariff news
·        The Dow was up 300 points. Now it's down 300 — all because of a tweet
·        Blame Trump for the Fed's broken monetary policy compass
·        Trump says he will go ahead with tariffs that hit iPhones and toys
·        US and China agreed trade talks were 'constructive,' but little else
·        Oil prices nosedive 8% on Trump tariff threat
·        Does Jerome Powell really believe what he's saying about rate cuts?
·        Lawmakers have questions for Capital One. They're also eyeing Amazon
·        Jeff Bezos just sold $1.8 billion worth of Amazon stock. Here's why
·        Bionic arm helps amputees touch and feel
·        A game changer is coming for electric car owners
·        eBay claims Amazon managers illegally tried to recruit its top sellers
·        ANALYSIS Tariff Man is back. US consumers will pay for it
·        Lowe's is laying off thousands of workers
·        Soleil & Ewok; Wheeler, 13, poses with her new team, Faze Clan, in New York.
·        Meet the 13-year-old professional 'Fortnite' player
·        Here's how to run a more effective meeting
·        4 of the biggest mistakes a CEO can make
·        We all do it. But is swearing at work really ok?
·        To hug or not to hug: A 5-step guide to embracing at work
·        Where the CEO sits matters
·        Americans are buying more expensive trucks. That's great news for GM
·        GM stops production at a 78-year-old plant
·        BP wants to charge China's electric cars
·        The UK auto industry is facing a slow death
·        Ford shows off electric F-150 pickup by towing a freight train
·        CNN anchor flies with stunt jet team. It didn't go well …
·        Robotic cameras capture images of 500-year-old ship
·        See the new Corvette Stingray
·        Can Aldi & Amazon save this department store?
·        An electric Ford F-150 tows train cars.
·        Watch an electric pickup truck tow a 1 million pound train
Headlines from right-of-center Fox Business.
·        TRUMP ANNOUNCES CHINA TARIFFS ON REMAINING $300B WORTH OF GOODS
·        Dow flips from big gain to big loss after Trump announces more China tariffs
·        Here's what to expect in the July jobs report
·        Medicare-for-all means 'Medicare-for-none': HHS Secretary Alex Axar
·        Engineer fired by Google slams tech giant over alleged 'bullying' of conservatives: Report
·        Allegations of anti-conservative bias continue to swirl around Google.
·        Lowe's laying off thousands of workers, eliminating assembly jobs: Report
·        These cars are the most likely to be stolen: Is yours on the list?
·        Mayor Pete spends more money on private jets than any other Democratic presidential candidate
·        Trump in Cincinnati: From Dem debates to the Fed, what to expect
·        These cars are the most likely to be stolen: Is yours on the list?
·        Arizona targets Purdue Pharma, Sackler family in Supreme Court lawsuit over opioid profits
·        Joe Biden dazed and confused at Dem debate?
·        Look good for less: Dollar General's makeup makes splash online
·        Here's how much Amazon stock Jeff Bezos just gave his ex-wife
·        Chick-fil-A takes bite out of In-N-Out, named America's favorite fast food restaurant
·        Trump bashes Fed's rate cut
·        This good sign for the US economy could be bad for your paycheck
·        Victoria's Secret Fashion Show: Supermodels and rockstars can't keep up ratings
·        Fortnite Season 10 released, exciting gamers investors
·        Epstein bankrolled Harvard, scientists to bioengineer his own human race
·        Are colleges partly to blame for the financial aid scam?
·        China sees Trump as a weak president?
·        Dating has gotten too expensive for millennials?
Yahoo Finance Closing Tickers on MHProNews…

Tonight's Business/Market/Political Impact Spotlight –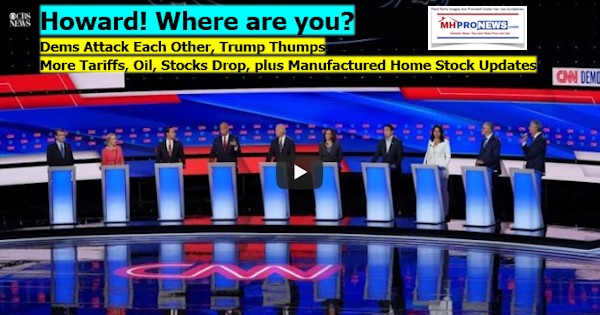 It wasn't pretty. Entertaining? Yes.  Pretty? No. 
From left-of-center CBS News Democratic Debate in Detroit Night 2 Recap.
From left-of-center ABC News Night 2 recap, "Both Harris and Biden were targets of constant attacks as their rivals targeted their records and plans to defeat President Trump in 2020."
Let's keep it simple about the Detroit Democratic debates for now. Where is Howard Schultz?  What happened to that independent run?
If Democrats keep doing what they have been doing, they are eating each other as badly – or at times, worse? – as some Republicans did in their debates during the 2016 election cycle.  More moderate Democrats are bluntly saying that they won't win independents over if they hold to the positions of some of the more progressive candidates. It is easy to imagine, as we watch these debates, how the GOP will use video clips of Democrats attacking Democrats in attack ads next year, if not sooner.
Several Democratic advisors and commentators have expressed concerns over how the field is shaping up.  Michael Moore has said that Michelle Obama needs to get in and run.  Beyond her denial of interest, what motivation would the former first lady have?  She and the former president have contracts worth tens of millions of dollars. While it is entirely likely that a run by Mrs. Obama would result in her winning the nomination, would they risk that if a campaign against the 45th president proved to be unsuccessful?
That said, let's pivot to what moved the markets.  From left-of-center CNBC.
·        Oil dropped on Thursday after President Donald Trump announced additional tariffs of 10% on the remaining $300 billion in Chinese goods would be added in September. 
·        WTI crude fell 7.9% to $53.95. 
·        "The oil market has been the highest hit asset around from the trade war and this only exacerbates the situation," said John Kilduff Founding Partner of Again Capital.
While Fed Chair Powell can send markets moving too, or some mega billionaires can as well with surprising statements, there are not too many world leaders that can send oil markets or stocks up or down as readily as President Trump can with a tweet or a few words.
Note that the president has a rally this evening in Ohio that will be carried on one of the CSPAN channels. 
Related Reports:
Dem Debate Highlights 7.30.2019 'FedEx Election to Donald Trump' – 2020 Hopeful Hickenlooper, Fed Rate Cut…But, plus Manufactured Home Stock Updates
'Green New Deal Fantasy,' "Revenge Politics," Says Democrat Schultz Pondering Independent 2020 Run, plus Manufactured Home Stocks
Senator Kamala Harris Releases Details of New Home Ownership Plan
Manufactured Housing Industry Investments Connected Closing Equities Tickers
Some of these firms invest in manufactured housing, or are otherwise connected, but may do other forms of investing or business activities too.
· NOTE: The chart below includes the Canadian stock, ECN, which purchased Triad Financial Services.
· NOTE: Drew changed its name and trading symbol at the end of 2016 to Lippert (LCII).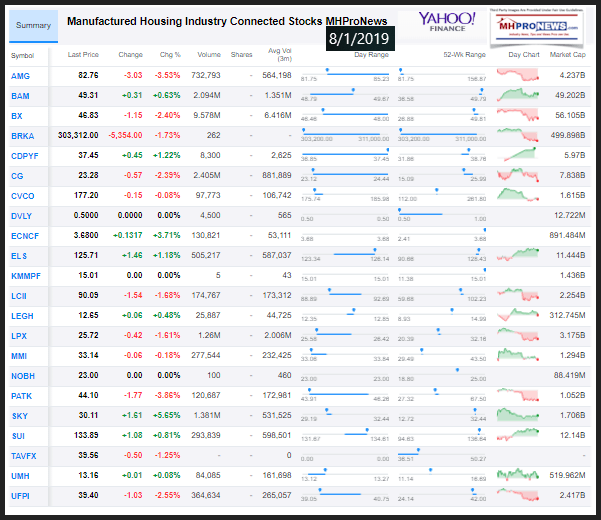 Updated:
Berkshire Hathaway is the parent company to Clayton Homes, 21st Mortgage, Vanderbilt Mortgage and other factory built housing industry suppliers.
· LCI Industries, Patrick, UFPI, and LP all supply manufactured housing.
· AMG, CG and TAVFX have investments in manufactured housing related businesses.
Your link to an example of industry praise for our coverage, is found here and here. For the examples of our kudos linked above…plus well over 1,000 positive, public comments, we say – "Thank You for your vote of confidence."
· For expert manufactured housing business development or other professional services, click here.
· To sign up in seconds for our industry leading emailed headline news updates, click here.
· Disclosure. MHProNews holds no positions in the stocks in this report.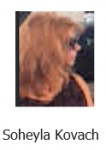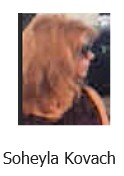 "We Provide, You Decide." © ## (News, analysis and commentary.)
(Image credits and information are as shown above, and when provided by third parties, are shared under fair use guidelines.)
Submitted by Soheyla Kovach, co-managing member of LifeStyle Factory Homes, LLC and co-founder for MHProNews.com, and MHLivingNews.com.

Connect with us on LinkedIn here and here.