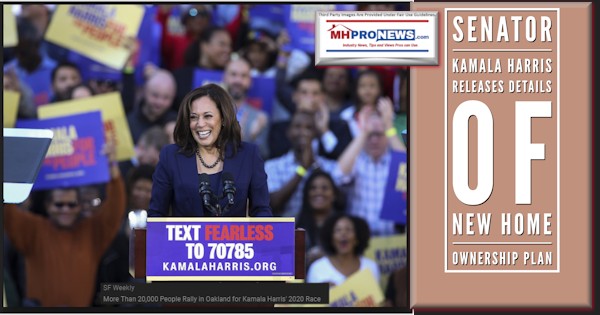 With increased visibility after her debate performance in Miami comes increased pressure on the campaign of Senator Kamala Harris (CA-D) to set herself apart from others in the crowded 2020 Democratic presidential primary hopeful field.
The Harris campaign has released a plan that is being met with mixed reviews.  It seeks to address an issue that can readily be documented, some of the facts of which she has laid out in her campaign website for media and others to analyze.
Let's begin with the full statement of the Harris campaign, per their website, which follows the collage from the Harris campaign site, below.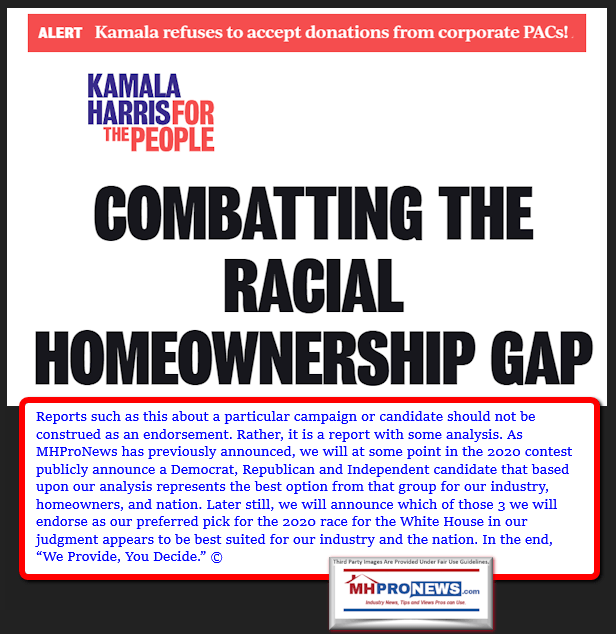 COMBATTING THE RACIAL HOMEOWNERSHIP GAP
Kamala Harris knows economic justice and racial justice go hand in hand.  A sign of economic justice in our country is the distribution of wealth, which is the measure of a person's or family's financial net worth.  Wealth makes it easier for people to move between jobs and places, handle an emergency financial situation, and retire with dignity.  But on our current trajectory, by 2053, the bottom 50% of Black households' liabilities will equal or exceed assets.  Overall Black households will continue to have just a fraction of the wealth held by white households.
One major cause for this is historic redlining – the Home Owners' Loan Corporation's practice of identifying neighborhoods, often majority Black neighborhoods, where traditional lenders should not lend.  Redlining has resulted in households of color receiving just 2% of the FHA loans extended between 1934-1962, and formerly redlined neighborhoods are sites of deep racial disparities in home value and lending activity.
The second main cause was the G.I. Bill, which is credited with providing millions of low-income returning veterans with access to wealth-building opportunities that helped to create the American middle class.  Veterans of color, however, were largely excluded because, under the G.I. Bill, private lenders were free to refuse mortgages and loans to Black borrowers.
Black and minority families were also disproportionately impacted by the subprime mortgage crisis and the subsequent Great Recession. Throughout the subprime market, Black borrowers were subjected to higher cost and higher risk loans than white borrowers, even when both had similar levels of creditworthiness. During the years of recovery, 2009-2011, the wealth gap between white households and households of color widened in part due to housing-market weakness.
Today, nearly three-quarters of white households (73%) are homeowners, while under half of Black households (45%) and Latinx households (47%) are homeowners.  This percentage of Black homeowners has remained basically unchanged since 1968.
If we eliminate racial disparities in homeownership rates, median Black wealth would grow $32,113 per household, and the wealth gap between Black and white households would shrink 31%.  Median Latinx wealth would grow $29,213 per household, and the wealth gap between white households would shrink 28%.
HERE'S HOW WE'LL DO IT:
We'll invest $100 billion to provide down-payment and closing-cost assistance to four million homebuyers who rent or live in historically red-lined communities.
Our plan will create a 100-billion-dollar U.S. Housing and Urban Development (HUD)-administered grant to provide up to $25,000 in down payment assistance and closing costs. According to research from the Urban Institute, in early 2018, first-time homebuyers bought houses worth $245,320 with an average down payment of $22,561, and an interest rate of 4.43%.
This $100 billion investment will provide at least 4 million families/individuals living in federally-supported or renting housing in these historically red-lined communities with down payment and closing cost assistance.
In order to qualify for the program:
The grantee must be purchasing a principal residence.
The grantee must have lived for at least the preceding 10 years in a historically red-lined community that remains low-to-moderate income.
Grantee families cannot have an annual income of over $100,000 or $125,000 in high-cost areas.
Grantee individuals cannot make over $50,000 or $75,000 in high-cost areas.
The max grant is capped at either $25,000 or 20% of the loan value plus closing costs.
The maximum home price to qualify for the grant is $300,000 for consideration of high-cost areas.
Consistent with our more inclusive credit-calculation proposals below, an individual or family would need to demonstrate an ability to pay the mortgage with the lender.
We'll amend the Fair Credit Reporting Act to require the credit scores reported by credit reporting agencies to include payments of rent, phone bills, and utilities.
Credit scores are often calculated by taking into account payment history on items such as credit cards, student loans, auto loans, and mortgage payments. However, not all consumers have accumulated these assets.
Today in America, 26 million people are "credit invisible" and 19 million people have "unscorable" credit files, including those who are deemed to have insufficient information or a "thin credit file."
Many "credit invisible" consumers pay rent, utilities, and cell phone bills, in full and on time, but this responsible payment history is not positively reflected in their credit score.
Expanding the calculation of credit scores to include payments made on rent, phone bills, and other utilities will increase access to credit for those with a limited or "invisible" credit history or poor credit scores.
We'll require lenders to calculate debt to income on a monthly basis and expand the sources of income for purposes of the calculation.
Lenders currently calculate debt to income as total debt against one year of income. The resulting ratio tends to disproportionately negatively impact Black and Latinx
We'll require mortgage underwriters, when using Federal Housing Administration (FHA) loans, to calculate a borrower's debt-to-income ratio by using monthly expenses against monthly income.
Mortgage underwriters will also be required to include in their income calculations non-W2 income like earnings from non-traditional work, and Black and Latinx workers are more likely to participate in the gig economy.
This change to a debt-to-income ratio using monthly expenses against monthly income will impact 7.5 million Black households and nearly 5 million Latinx households.
We'll strengthen anti-discrimination lending laws and implement stricter enforcement.
We'll update the Home Mortgage Disclosure Act (HMDA) to require that each loan receive a unique loan identifier to track the loan. These loan identifiers are intended to protect against redlining and "steering"— a process where listing agents steer consumers into risky and high-cost loans.
The HMDA currently requires any bank or credit union that makes more than 25 loans a year to report detailed loan characteristics such as interest rates, points and fees, loan terms as well as borrower characteristics like credit score, age, gender and ethnicity.
We'll expand HUD's fair housing program to make public housing more inclusive by banning discrimination based on gender identity, marital status, source of income, and sexual identity.
We'll direct HUD, the Federal Reserve, and the Federal Housing Finance Agency to conduct audits and fair housing tests to prevent discrimination at the point of sale.
We'll make sure that the U.S. Department of Justice has the resources it needs to implement Stricter enforcement of housing anti-discrimination laws.
And we'll prohibit regulatory relief for large banks and lenders that have had a history of wrongfully guiding borrowers into predatory loans.
And to ensure these new homebuyers have the necessary financial literacy to stay in their homes, we'll increase funding for the Housing Education and Counseling (HEC) program.
The HEC program is aimed at providing financial literacy for first-time These additional dollars will be used to expand the program to include all low- and middle-income homeowners seeking educational resources.
According to one study, participants in the housing education program were one-third less likely to become 90 or more days delinquent during the two years after they obtained their home loans.
##
Right-of-center Fox News' Tucker Carlson last night took a straight shot at Senator Harris' plan. He said that it was biased based largely upon race.  Carlson also noted that her plan included provisions that sounded eerily like prior plans by politicians – mentioning President George W. Bush – that supported home buying that may not prove to be sustainable.
Others are more enthusiastic, saying that it addresses an underlying, systemic problem that has gone unaddressed for over 50 years. That said, such a claim begs the question, why wasn't this addressed during the Obama-Biden Administration?
What is unclear about this plan – from a manufactured home industry perspective – is will this allow for the purchase of factory-built homes, including HUD Code manufactured homes?  Or is this only for conventional housing? 
Kamala Harris, Rising
Several questions about this plan merit a deeper look. In an upcoming report, we will look at a previously proposed.
Prior to Tom Steyer's announcement this morning that he is entering the race, there were Democratic insiders that said that Kamala Harris and Elizabeth Warren are among the more electable candidates from the 2020 field.  While former Vice President Joe Biden still leads in several polls, his numbers are falling. and his campaign is arguably stalling in a series of self-inflicted wounds by 'gaffs' that his opponents, including Harris and Senator Cory Booker, have pounced on.
That noted, Steyer's wealth may make his campaign path potentially easier. "Thomas Fahr Steyer is an American billionaire hedge fund manager, philanthropist, environmentalist, liberal activist, and fundraiser," says Wikipedia. Popular with environmentalists, response to Steyer's run will be worth following.
On the GOP side, there are some rumblings of potential challengers to President Donald J. Trump, but no one has made a credible case yet to take on a Republican incumbent. Possible independent runs by candidates, such as Howard Schultz who has suspended – for now – campaign efforts.  Perhaps Schultz is waiting to see how the Democratic side of the race develops.
The top five Democratic hopeful at this time arguably are Joe Biden, Kamala Harris, Elizabeth Warren, Bernie Sanders, and Pete Buttigieg. Willie Brown, a Democratic insider who has ties to Harris, said prior to the Steyer announcement that the 'dream ticket' for his party for an expected contest against President Trump would be Kamala Harris for president and Pete Buttigieg as her VP.
Articles about GOP housing plans, some of which specifically cited manufactured homes, are found below the bylines and notices.
Housing plans such as this one floated by Harris, which appears in part aimed to solidify support among the black community, will be important for affordable housing professionals to monitor.  That's "News through the lens of manufactured homes, and factory-built housing" © where "We Provide, You Decide." © ## (News, analysis, and commentary.)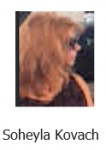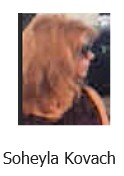 Submitted by Soheyla Kovach for MHProNews.com.
Soheyla is a managing member of LifeStyle Factory Homes, LLC, the parent company to MHProNews, and MHLivingNews.com.
Connect with us on LinkedIn here and here.
Related Reports:
Click the image/text box below to access relevant, related information.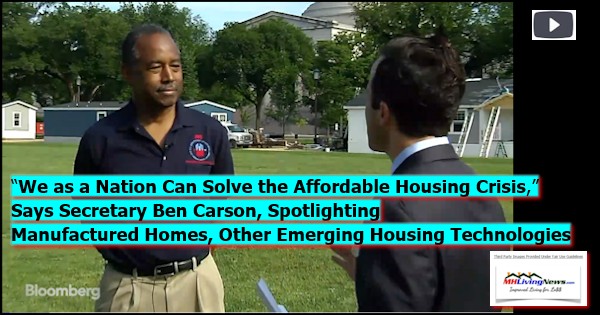 Hold the headline for 125 words. Poisoning the well. Salting the fields. Those are but two of several ancient methods some enemies used to harm their opponents. The notion behind those vile tactics was if you could kill off their drinkable water or their food supply, someone could effectively destroy their enemy.
'Affordable Housing Impacts Every State and Community, Urban and Rural Alike' – Senator Maria Cantwell (WA-D) – New Bipartisan Bill Examined
Senator Kamala Harris, Amazon, PreFabs, and Manufactured Housing – "ForgetAboutIt…"
President Trump Mulls Federal Action Intervening on Homeless Crisis in U.S. Cities
Washington, D.C., July 1, 2019 – The Manufactured Housing Association for Regulatory Reform (MHARR) in a June 26, 2019 communication to both houses of Congress (copies attached), has called on legislators to take no action on pending proposed bills that are at best unnecessary and, at worst, harmful and damaging to both the mainstream HUD Code manufactured housing industry and the lower and moderate-income American families that rely on those homes for affordable homeownership.
MHARR participated in a conference call on June 25, 2019, conducted by the U.S. Department of Housing and Urban Development (HUD), during which White House officials announced the impending issuance of an Executive Order (EO) to create a "White House Council on Eliminating Regulatory Barriers to Affordable Housing."