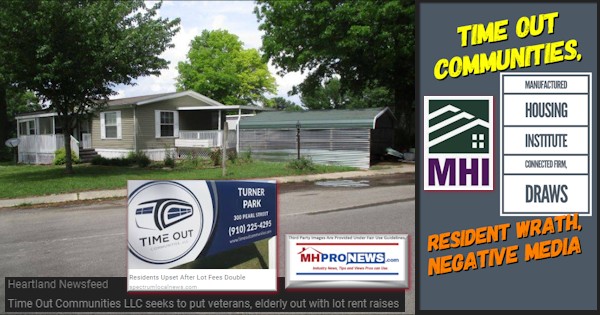 "Join MHI and top-level executives from the companies below at the 2018 NCC Fall Leadership Forum.  One of a kind event with top-notch education and endless networking," says a post on the Manufactured Housing Institute (MHI) website. Among the firm's listed? Time Out Communities, LLC.
The firm's website says, "Our communities are clean, safe, family friendly, and affordable."
But that's not the image being projected by a report by ABC News or the Associated Press (AP). Nor are those media outlets alone.
Heartland news previously said, "The reason the lot rents are rising are due to a purchase of the two parcels of land by out-of-state investors Time Out Communities, LLC" in a report dated June 28, 2018. The article reported claims that the elderly and veterans were being put out by the Time Out's purportedly aggressive actions.
The Better Business Bureau (BBB) has no ratings for the fairly new brand.
The left-of-center Washington Post also has a new article today that headlined, "Mobile home1 residents hit with soaring rent after hurricanes," after the "Florida-based company Time Out Communities bought the park1…"
MHProNews has reached out to the firm for comment about the report below. Hours later, as of publication time, there has not been a response.  Readers can be updated, based upon any follow up from Time Out Communities, LLC. The first video below is one of their promotional items.
With that snapshot, let's dive into what the left-of-center ABC News and AP News report said their new report about Time Out Communities.
Mobile home1 residents hit with soaring rent after hurricanes
With a fixed Social Security disability income of about $791 a month, Lesane said it's impossible for him to pay that.
"If I had to pay $465 I couldn't even pay the lights in this place," he said, gesturing to the dim lighting inside his trailer, where trash bags covered windows to keep the trailer cool on a sweltering 100-degree day.
Time Out owns 23 properties in low-income Robeson County, many of which were bought in the past two years. At the same time, the county was one of the hardest-hit areas during hurricanes Matthew in 2016 and Florence in 2018.
All but two of the properties are in Lumberton, where residents say an affordable housing crisis caused by the hurricanes has been exacerbated by Time Out, a Fort Lauderdale, Florida-based company.
In an emailed statement, Time Out said rents were raised consistent with current market rates and that some of the additional revenue will go toward community improvement.
North Carolina Housing Coalition Executive Director Samuel Gunter said it's not uncommon to see property investors "start snatching stuff up," after a disaster because they see a chance to make money.
"In the aftermath of a disaster, folks are flooded, those land values are depressed, and if you have capital, there's economic opportunity there," Gunter said, adding that lower-income communities often live in disaster-prone areas such as flood plains.
"Folks may not be able to do repairs themselves, and if someone comes at them with the right offer, it can be tempting to take," he said.
Gunter said many advocates are worried about the dynamic between mobile home owners who rent land in these parks and park owners, since older mobile homes often can't be moved.
"People may not be able to move their homes, so you have incredible leverage over the people who rent that land," he said.
Time Out owns more than 1,200 home unit rental lots in Lumberton, where residents live in a total of 1,416 mobile home units, according to the 2017 American Community Survey figures from the U.S. Census bureau. In Lumberton, 13.5% of the population lives in mobile homes, more than double the national average.
For many, mobile homes may be the only affordable option after the county was devastated by hurricanes. There's not enough rental stock to accommodate people who have been displaced by the hurricanes, placing a strain on affordable housing resources, according to Gunter.
Of 729 units in Lumberton's public housing program, 187 were put "offline" from the hurricanes, and another 526 are occupied. For the remaining 16 units, Lumberton Housing Authority Director Sheila Oxendine said there are roughly 900 people on the waiting list.
The Robeson County Affordable Housing Coalition, formed in October 2018 after Hurricane Florence, has asked local officials to take action on Time Out's rental increases and asked the town to set up a rental assistance and transitional housing fund. Coalition administrator Mac Legerton said the local government response has been limited.
"Their capacity to respond is limited due to the lack of laws and authority over a private business," he said. "We're forming an interagency task force to review what laws are needed in North Carolina and across the nation … This business model is certainly unethical and immoral, and it should be illegal."
Lumberton city officials could not be reached for comment.
For now, residents' best hopes are to fight eviction with the help of Legal Aid of North Carolina and North Carolina Justice Center lawyers. Legal Aid has taken on 89 cases, 44 of which are still open. In some cases, lawyers have been able to show that the company gave improper notice, delaying eviction while residents search for a new place to live.
Since April, Shirley Pittman, 69, has been looking for a new place to put her home. She bought her mobile home in 1997 and doesn't know if it's in good enough condition to move. She was surprised when her monthly lot rent jumped from $210 to $465 earlier this year.
"My eyes went wide and I said, 'Oh no, I'm not going to pay, that's too much,' and I refused to sign the lease," she said.
Pittman said she has continued to pay her old rent price. After living in Turner Park for over 20 years on a fixed Social Security disability income, she received a threat of eviction from Time Out in May.
Legal Aid attorney Nicole Mueller said lawyers can't prevent Time Out from raising rent, but that issues surrounding Time Out could turn into an anti-trust class action case.
Because of the housing shortage, Gunter said entire communities are being displaced. In Schoolview, Lesane said he is leaving, and so are a lot of his neighbors, including his sister and his cousin. But before he can leave, Lesane needs several thousand dollars to move his home. So far, he said he's saved about $800 and deposited $100 to hold a lot spot in a mobile home park down the road.
"The whole place is a flood zone," he said. "I'm worried about that, but that's the only place to live."
In the meantime, he pays what rent he can and prays he won't be evicted. If he receives an eviction notice, Legal Aid said they will help.
"I just pray and keep it moving," Lesane said. "God knows how much I can take."
##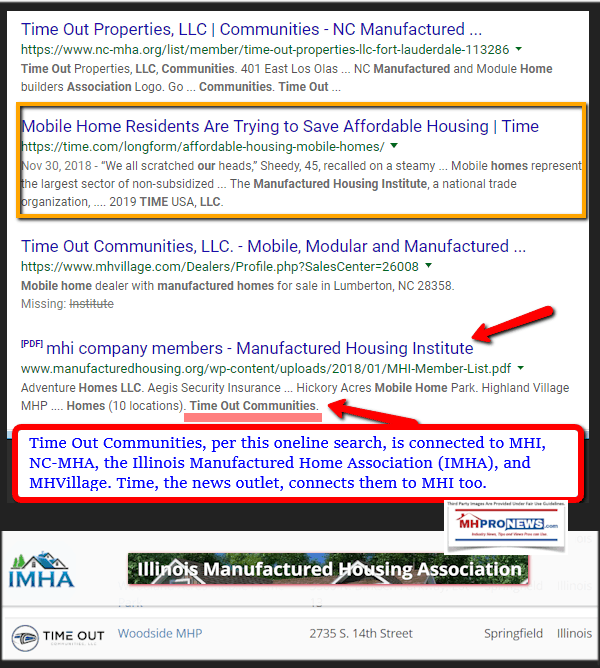 There is a phrase in this Time Out Communities video below that is arguably factually problematic. "New, spacious modern designed homes built to the highest federal construction standards."
That home in the video appears to be an entry level HUD Code manufactured home, not the "highest" federal standards. Rather, it is more likely closer to the minimum federal standards. While the minimum federal standards are safe, they aren't the highest as claimed. Put differently, that may be a violation of truth in advertising.
Senator Elizabeth Warren, a 2020 Democratic hopeful, sent several other Manufactured Housing Institute connected firms a letter recently, raising concerns about similar business practices. That letter is linked here.
No Description
Analysis
The reasons why manufactured housing shipments are down year-over-year cannot be boiled down to a single cause.  But certainly among the problems is the steady drum beat of negative news reports about operations that on the surface seem to have similar business practices as Time Out Communities, reportedly has adopted.
Why is it that these aggressive communities often seem to be MHI members and/or have other direct as well as oblique connections to the Manufactured Housing Institute (MHI)?  Keep John Oliver's viral hit video in mind.
Also recall that a Democratic congressional representative's office told MHProNews that MHI has a reputation for being "anti-consumer." What message does a report like this about Time Out send to thoughtful prospective buyers that do their home work about a company and the trade groups that they may be connected with?  When problematic companies are connected to state associations and/or MHI, doesn't that feed into a possible image that appears – right or wrong – to be "anti-consumer?"
The effect of more negative news that positive about manufactured housing arguably has a cumulative toll on new manufactured home sales, which have slipped for 9 straight months in year-over year comparisons.
Manufactured Housing Production and Shipments, Official HUD Data, Report for May 2019
Certainly, the list below would be a good start for the kinds of issues that are harming the acceptance and growth of manufactured home sales:
Note that we listed regulatory issues last?  It isn't that it doesn't matter, it does.  But if the industry's image and education – for example – were improved, then much of the rest would fall into place. When the industry's homes are properly understood, and when white hat firms are being considered, the industry's story is largely a good one.
Which brings us back to the problematic operations that seem to behave in purportedly 'black hat' ways, such as Time Out Communities.  Something might be legal, but it may not be ethical. Controversial Havenpark's defense to Senator Warren, so far is, that they are abiding by existing laws.
Enforce the Law
The irony is that the full and proper enforcement of existing laws would cure much of what ails manufactured housing. Since Warren Buffett bought into the industry in 2003, the industry is smaller than it was 15 years ago. Yet the Berkshire Hathaway market share has grown dramatically.  Are those coincides?  Or is that factoid connected to the bulleted list, above?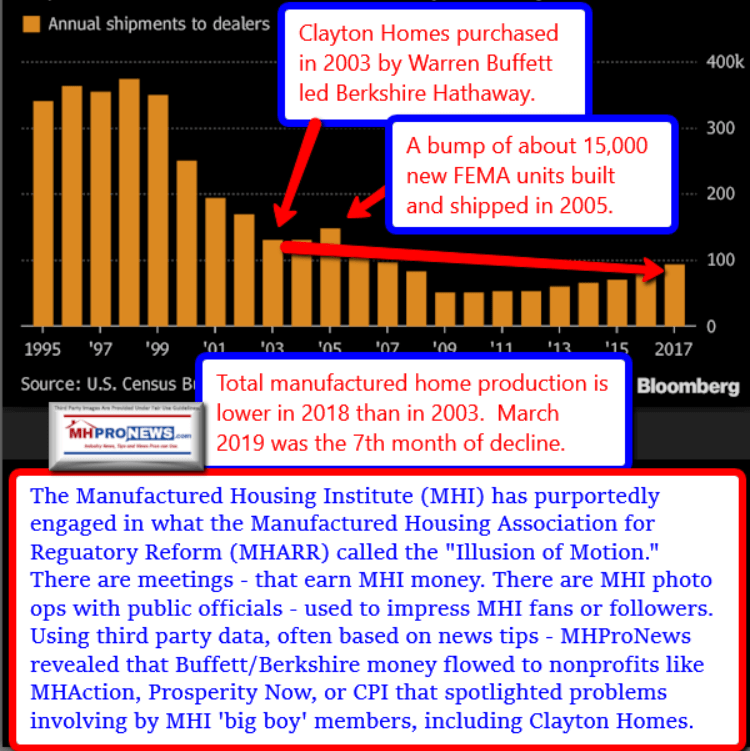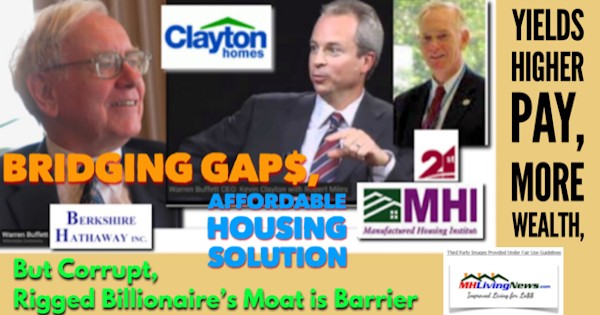 Has Buffett and his minions found a way to weaponize several issues including financing, but others too, to hobble and consolidate at a discount the manufactured home industry? There are those who have studied the report linked above, and have answered that with, yes.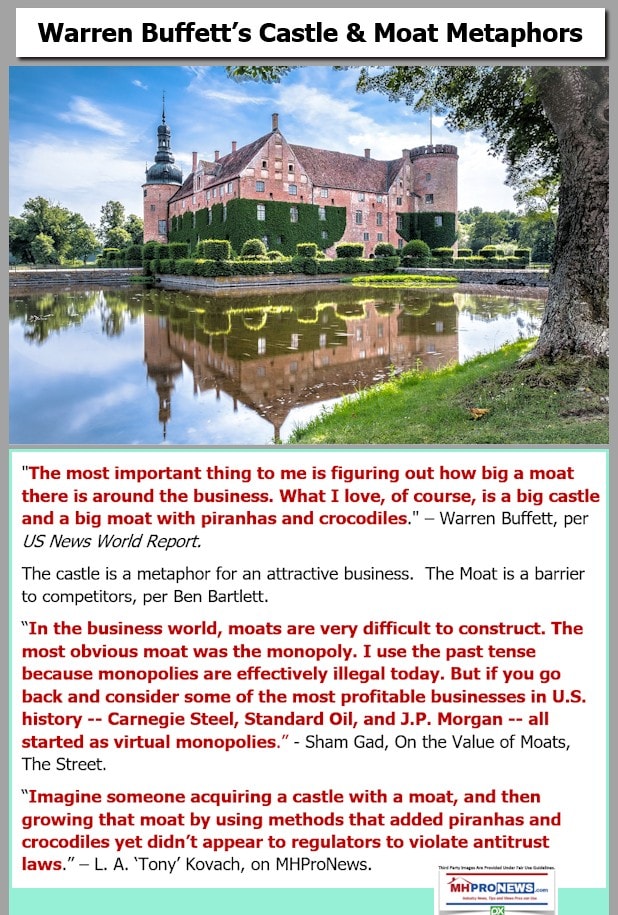 Buffett led Berkshire is widely seen as dominating MHI and several state associations too. Does any significant behavior or posture fail to gain the approval of Omaha's Knoxville based firm's first?
Investigations
There have already been, and still are, several federal investigations that have been requested and or are underway connected to Clayton and their lending.  But these are just the tip of the iceberg, according to sources.  There is already more than enough smoke to call for Congress to investigate matters like Time Out, MHI, and Berkshire Hathaway owned brands in manufactured housing.
That said, the behavior of high profile MHI member companies, like the one below, begs for a bipartisan group of lawmakers to reach out with subpoena power and investigate.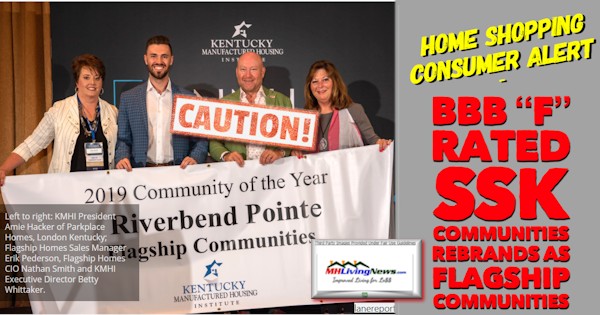 Federal investigations in the form of public hearings could help the white hats remaining in our industry to navigate the image, educational, and other remaining issues. Given good federal investigations that seek the good and the bad, what remains could be accomplished by private enterprises forging where necessary, new alliances and trade groups that would supplant what MHI claims to do. Because based  on history and bottom line results, arguably has failed to do for years.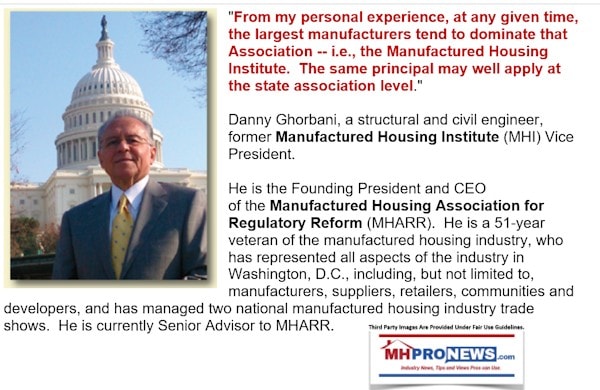 The only option isn't that lawmakers and public officials do investigations.  But it is a useful step if they hold balanced public hearings. Manufactured housing will arguably not achieve its potential to serve the public until 'black hat' behavior is addressed.  Therefor, those hearings should not only call in 'black hats' to testify under oath but should also inquire about white hat firms' experiences. A well-adjusted global view of the industry needs to be developed.
Finally, and not least, the public at large has a stake in this, as do the 22 million who already live in a manufactured home or a pre-HUD code mobile home.
Time Out Communities is arguably an example of a broader pattern of problematic behavior that is often tied to MHI related firms. That's not to say that every MHI firm is a black hat, or that every professional working for a purported black hat firm wears one too.  The wheat must be separated from the chaff.
That noted, Time Out Communities and others have found a business model that may be profitable for them, but is purportedly problematic for the white hats that remain in our industry and for ever larger numbers of our industry's homeowners.
There's work to do. "We Provide, You Decide." © ## (News, analysis, and commentary.)
1) Terminology error is in the original report. There have been no mobile homes built in the United States since June 15, 1976. There are some communities that truly have mostly pre-HUD Code "mobile homes" in them.  But the bulk of land-lease communities have mostly manufactured homes. They are not 'parked,' as an RV is.  Rather, those homes are there for the long term. Manufactured home community (MHC) or land lease communities are the more appropriate terms.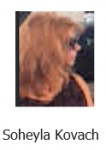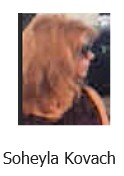 Submitted by Soheyla Kovach for MHProNews.com.
Soheyla is a managing member of LifeStyle Factory Homes, LLC, the parent company to MHProNews, and MHLivingNews.com.
Connect with us on LinkedIn here and here.
Related Reports:
Click the image/text box below to access relevant, related information.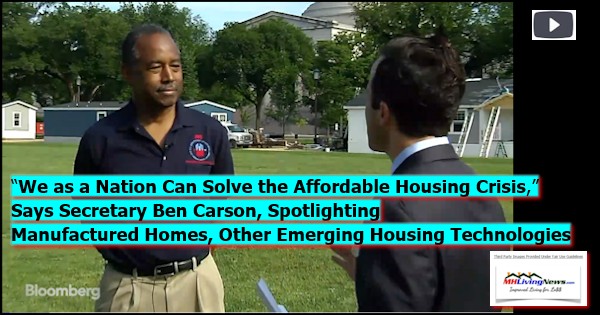 Hold the headline for 125 words. Poisoning the well. Salting the fields. Those are but two of several ancient methods some enemies used to harm their opponents. The notion behind those vile tactics was if you could kill off their drinkable water or their food supply, someone could effectively destroy their enemy.
'Affordable Housing Impacts Every State and Community, Urban and Rural Alike' – Senator Maria Cantwell (WA-D) – New Bipartisan Bill Examined
Senator Kamala Harris, Amazon, PreFabs, and Manufactured Housing – "ForgetAboutIt…"
President Trump Mulls Federal Action Intervening on Homeless Crisis in U.S. Cities
Washington, D.C., July 1, 2019 – The Manufactured Housing Association for Regulatory Reform (MHARR) in a June 26, 2019 communication to both houses of Congress (copies attached), has called on legislators to take no action on pending proposed bills that are at best unnecessary and, at worst, harmful and damaging to both the mainstream HUD Code manufactured housing industry and the lower and moderate-income American families that rely on those homes for affordable homeownership.
MHARR participated in a conference call on June 25, 2019, conducted by the U.S. Department of Housing and Urban Development (HUD), during which White House officials announced the impending issuance of an Executive Order (EO) to create a "White House Council on Eliminating Regulatory Barriers to Affordable Housing."