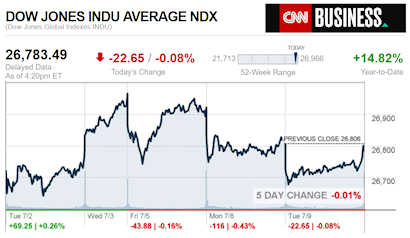 Just as the first defection from the 2020 Democratic party hopeful list was announced, billionaire Tom Steyer has announced his own run for the Oval Office as a Democrat. The green energy activist will compete with former VP Joe Biden and Senator Bernie Sanders on our evening report tonight, as Biden's millions made since leaving office in 2017 were revealed, and Sanders weighed in on another billionaire looking for a new address at 1600 Pennsylvania Avenue. With business confidence dipping, which will be covered in an upcoming report, as political and other concerns rise, Steyer, Sanders, and Biden will be our focus for this evening.
If you're new, already hooked on our new spotlight feature – or are ready to get the MH professional fever – our headline report is found further below, after the newsmaker bullets and major indexes closing tickers.
The evolving Daily Business News market report sets the manufactured home industry's stocks in the broader context of the overall markets.  Headlines – at home and abroad – often move the markets.  So, this is an example of "News through the lens of manufactured homes, and factory-built housing." ©
Part of this unique evening feature provides headlines – from both sides of the left-right media divide – which saves busy readers time, while underscoring topics that may be moving investors, which in turn move the markets.
Readers say this is also a useful quick-review tool that saves researchers time in getting a handle of the manufactured housing industry, through the lens of publicly-traded stocks connected with the manufactured home industry.
This is an exclusive evening or nightly example of MH "Industry News, Tips and Views, Pros Can Use." © It is fascinating to see just how similar, and different, these two lists of headlines can be.
Want to know more about the left-right media divide from third party research?  ICYMI – for those not familiar with the "Full Measure," 'left-center-right' media chart, please click here.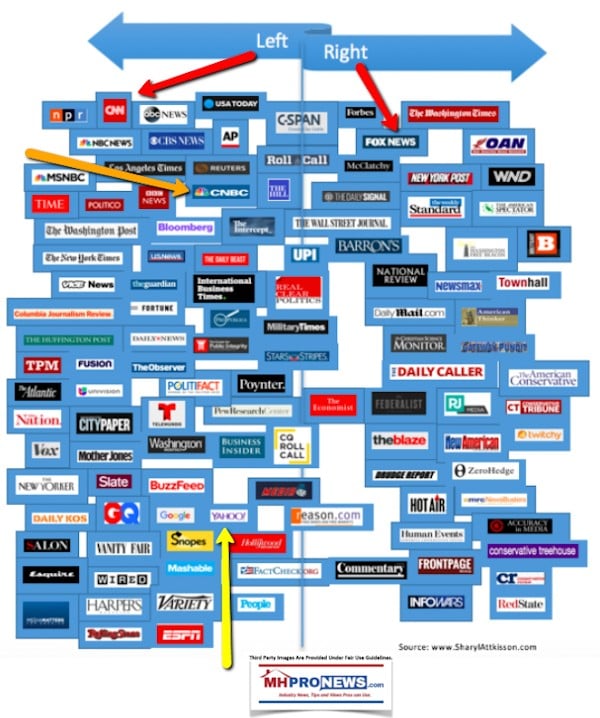 CNN Business
Morgan Stanley's big downgrade
As the market breaks records, the bank is slashing its outlook for global stocks
Boeing's sales have taken a huge hit from the 737 Max crisis
Alphabet's plans to track people in its 'smart city' ring alarm bells
Dow logs third day of losses ahead of Powell testimony
Inside the Fed's 'hall of mirrors' problem
He designed the iPhone. Now, he's leaving Apple
Apple's cheapest Mac is now over $1000
Billionaires are saving journalism. Yes, that's right
WarnerMedia banks on HBO's brand name for new streaming service
Uber expands 'no talking' rides and launches helicopter service
Burger King is now selling $1 tacos nationwide. Here's why
Volkswagen's last Beetle to leave the factory this week
The Bible could be a victim in Trump's trade war
Bitcoin's wild roller coaster ride is crazier than ever
Mini Cooper goes electric
Time is running out on a tax credit for Tesla buyers
Toyota sets aggressive new target for electrified cars
Ferrari's first plug-in hybrid supercar is also its most powerful
Wall Street's love affair with Tesla is over
POET Iowa plant
His farm was failing. Now he runs the world's largest biofuel producer
How he got 200,000 people to buy ugly produce
This business trains former inmates to be beekeepers
40 years ago, he built a recording studio in a VW bus. Today, he runs a $725 million music empire
Fox Business
TRUMP CAN'T BLOCK TWITTER USERS OVER POLITICAL DISAGREEMENTS, COURT RULES
Qatar to double US investment citing trust in US economy
Qatar buys Boeing aircraft in 'very large transaction,' Trump says
JOE BIDEN EARNED MILLIONS AFTER LEAVING WHITE HOUSE, TAX RETURNS SHOW
Biden is among the wealthiest of the top 2020 Democrats.
Ocasio-Cortez indicates support for targeting energy companies with liability lawsuits
Apple co-founder Steve Wozniak: 'Get off Facebook'[overlay type]
Apple co-founder Steve Wozniak: 'Get off Facebook'
High-tax state SALT exodus: How many frustrated taxpayers call each week
During Fed Chair Powell's congressional testimony, expect more of the same
Federal appeals court hearing ObamaCare case, may strike individual mandate
Chick-fil-A is giving out free food today
Bernie Sanders likes Tom Steyer, but doesn't want more billionaires in politics
Volkswagen halts production of iconic Beetle follow decreased demand for small cars
Ross Perot's billion-dollar journey, from top salesman to business magnate
MLB legend on juicing baseballs: 'Pitching isn't what it used to be'
Women's World Cup final most-viewed match this year, tops men's final
BMW reveals its first MINI electric car to start production this fall
Ross Perot's political legacy
Tim Scott looks to recruit minority GOP candidates
US approves possible $2 billion arms sale to Taiwan
Today's markets and stocks snapshot, at the closing bell…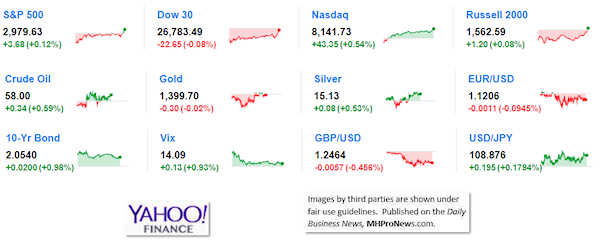 Today's MH Market Spotlight Report –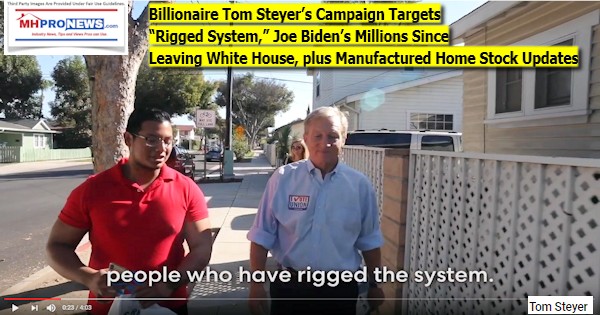 "Tom's led grassroots campaigns that have taken on big corporations and won by going directly to the voters — he knows that when more people like you have the power in our democracy, the system works better for everyone," said the Tom 2020 campaign to MHProNews this afternoon.
In this campaign announcement video, Steyer makes his pitch for unrigging a system that he says will push power back down to the American people.  Note that in covering this or other 2020 candidates, showing their video or their statements are not to be construed as an endorsement by MHProNews, but rather as reflective of their own campaign's position.
Meanwhile left-of-center CNBC reports today that:
·        Former Vice President Joe Biden and his wife Jill made more than $15 million in the two years after the former vice president left office. 
·        Biden easily made the most money last year among Democratic presidential candidates who have released their tax returns so far. 

While there is plenty of time for the Biden campaign to recover from a series of self-inflicted wounds, sinking poll numbers and other indicators would suggest that his third run at the White House won't be any more successful than his prior two.
Senator Bernie Sanders (VT-I, caucuses with Democrats and is running for the Democratic Party nomination for president) has taken aim to Steyer's launch.  He says he is a friend of "Tom," who shares his views on the environment and other issues.  But Sanders says he is opposed to more billionaires being in the race.
Sanders has dipped a bit in some polls, as Senators Kamala Harris and Elizabeth Warren have surged. Mayor Pete Buttigieg outraised Sanders and others, but Sanders claims more donors than other Democrats so far, with the average donor giving under $20.
MHProNews will monitor the policy stances of the Steyer campaign, who is expected to be strong on environmental issues, on the roll-back of the Citizen's United decision, and other Democratic mainstays.  But his campaign website is light on many policy positions.  We'll see how that evolves on the day when billionaire Ross Perot died, the independent candidate who arguably tilted the 1992 election to Bill Clinton by siphoning off some would be votes from the late President George H. W. Bush reelection bid. May Perot rest in peace.
Senator Kamala Harris' newly announced housing plan is linked from the related report which can be accessed by clicking the text-image box below.  Some housing related initiatives from the Trump Administration are likewise linked below for balance. "We Provide, You Decide." ©
Related Reports:
Senator Kamala Harris Releases Details of New Home Ownership Plan
'Affordable Housing Impacts Every State and Community, Urban and Rural Alike' – Senator Maria Cantwell (WA-D) – New Bipartisan Bill Examined
Congress, HUD, Trump Administration Warned – "Profoundly Damaging Unintended Consequences" – Manufactured Housing Industry, Lower & Moderate-Income Americans
President Trump Signs Executive Order on Affordable Housing Crisis, Ray of Light for Manufactured Housing? Plus, Manufactured Home Stock Updates
President Trump Mulls Federal Action Intervening on Homeless Crisis in U.S. Cities
Unpacking New White House Council on Affordable Housing Initiative and Manufactured Homes
Will New State Rent Control Laws Conflict With Presidential Affordable Housing Initiatives? Who Has What Agenda?
Yahoo Finance Closing Ticker for MHProNews…
NOTE: The chart below includes the Canadian stock, ECN, which purchased Triad Financial Services.
NOTE: Drew changed its name and trading symbol at the end of 2016 to Lippert (LCII).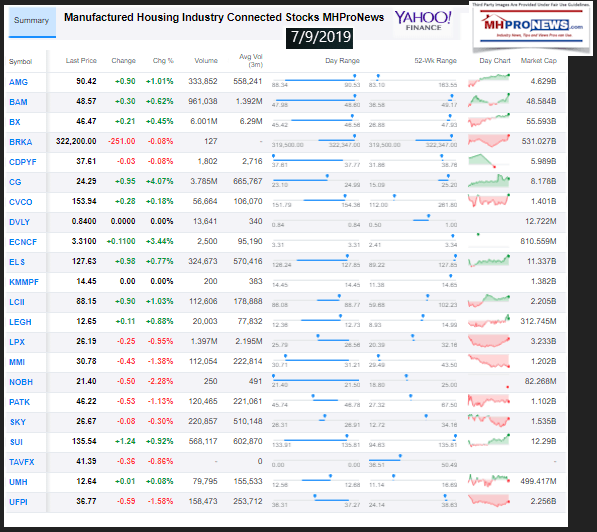 Updated:
Berkshire Hathaway is the parent company to Clayton Homes, 21st Mortgage, Vanderbilt Mortgage and other factory built housing industry suppliers.
LCI Industries, Patrick, UFPI, and LP all supply manufactured housing.
AMG, CG and TAVFX have investments in manufactured housing related businesses.
Your link to industry praise for our coverage, is found here.
For the examples of our kudos linked above…plus well over 1,000 positive, public comments, we say – "Thank You for your vote of confidence."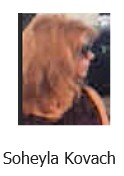 "We Provide, You Decide." © ## (News, analysis and commentary.)
(Image credits and information are as shown above, and when provided by third parties, are shared under fair use guidelines.)
Submitted by Soheyla Kovach to the Daily Business News for MHProNews.com.