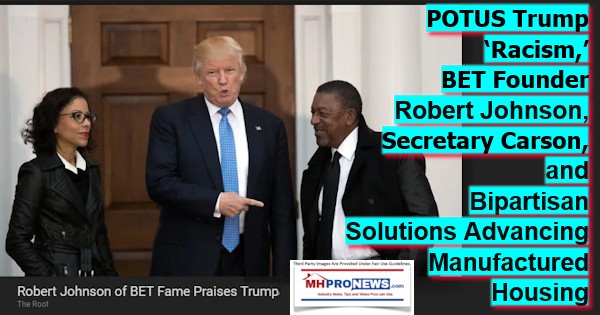 Saying something is true doesn't make it true. Repeatedly making a claim is a proven effective propaganda ploy, but tragic truism should stand as a warning for Americans and manufactured home pros to be cautious of propaganda methods and other techniques of manipulation.
Whoopi Goldberg of the View is known for her starring role in various movies, and Star Trek the Next Generation fame.  She is but one of scores of progressive and media personalities who has ripped President Donald J. Trump as a racist. Goldberg has done so for years, as have others. Her views, the late Senator John McCain's daughter and others on that program are shown for balance in this report in the video clip below.
But HUD Secretary Ben Carson is just one of numbers of black and other ethnic leaders who work with President Trump day by day and have known him for years. They not only dispute the racist claim, they reject it and spotlight convincing evidence and his business history to the contrary. 
In fairness, it isn't only certain Democrats and their supporters who make this kind of emotionally charged claim. Some in the 45th president's own party have made similar hyperbole-charged allegations. Megan McCain in the first video above underscores that point. But when closely examined, those who jump onto that personality attack bandwagon routinely have some emotional and/or political agenda of their own.  Again, in fairness, Republicans have made their own hyperbolic claims at various times too.  This is political theater, used in politics, business, or other areas of life too.
That's where discernment ideally enters the picture.
History sheds light on such issues. Before running for public office and becoming president, Donald J. Trump was praised for his promotion of women and minorities. His circle included Oprah Winfrey. Trump was a Democrat, not unlike President Ronald Reagan, who later became Republican.  The 'race card' is getting tired, when Democrats are playing it even against each other.  Why not focus on policies and performance instead of personalities and styles?
Readers should bear in mind our belief that affordable housing is a nonpartisan or ideally a bipartisan issue, as it in fact long as been with our industry. Examples will be spotlighted further below.
Bipartisanship Useful or Necessary to Solve Key Problems
MHProNews has repeatedly noted for years, in word and deed, that affordable housing and manufactured homes potentially vital role in that struggle is a nonpartisan issue. The industry should and has for decades sought support across the left-right political divide.
For example, it was a Republican dominated House, with Democratic support and a Democratic President Clinton's signature that passed the Manufactured Housing Improvement Act (MHIA) of 2000 into law.
Members of both major parties and Republican President George W. Bush signed the Housing and Economic Recovery Act (HERA) of 2008 into law, which gave manufactured housing the Duty to Serve mandate for the Government Sponsored Enterprises of Fannie Mae and Freddie Mac, administered by the Federal Housing Finance Agency (FHFA).
Racism as a Political Tool, vs. Policy Initiatives
Dr. Alveda King is the niece of the civil rights celebrity, Dr. Martin Luther King. She is but one of several black leaders who have said that the racism claims lodged against the president are simply not true.
Kanye West and the 45th president seem to have a strong connection. He's rejected those claims too. 
As noteworthy is Black Entertainment Television (BET) founder Robert Johnson praising President Trump's economic policies, as well as rejecting claims that he is a racist.
Johnson said in the video above that a lot of people won't like the president's style, but that he gets things done. That's an apt point. In a distantly similar way, there are those who don't always concur with the 'style' here on MHProNews, but one must discern the difference between style and substance. Style or typos aside, facts, evidence and performance should outdo style.
That noted, the reality is that many are swayed by style, for or against.  That's why charismatic figures often gain an audience in the first place.
Despite the posturing and political theater that has long marked Washington, D.C. and American politics, elected officials can often be quite pragmatic.  Congressional leaders may denounce each other on camera and later cut deals off camera.  That's reality.
BET founder Johnson identified himself as a long-time Democrat in this video. He says people are looking for someone who will deliver for the people and the country.  Johnson said he's a centrist Democrat, and the party has "moved too far to the left" so that he doesn't have a favorite Democratic candidate "at this time."
Secretary Carson, Opportunity Zones, and Manufactured Housing
MHProNews has spotlighted this video previously, between Steve Hilton and HUD Secretary Carson.  While the topic was focused on opportunity zones and how that will help minorities and others, Dr. Carson wedges in manufactured housing into this discussion.
One might wonder, where is the Manufactured Housing Institute (MHI) on spotlighting this or other positive examples of the HUD Secretary touting manufactured homes to the general public, or even on their own website?  As we noted last week, as nice as those Homes on the Hill videos are, they have not had many plays.  By contrast, the one video above has had roughly ten times the views as all of the MHI "Innovations in Housing Showcase" have had combined.
Comparing Tiny House Promo to Manufactured Housing Promotional Results, Part II
There are good reasons to think that the Trump Administration will continue to reach out to Democratic lawmakers, despite the rhetoric on both sides, to get at least the USCMA trade deal passed into law that replaces NAFTA.  Certainly, more can and should be done.
Manufactured housing professionals need to be realistic and reach out across party lines, ignoring some of the theater, and keeping a careful eye not on promises alone, but on delivery.
Democrats have trumpeted antitrust, to their credit. More Republicans are coming on board with that.  That's an example of an area that lawmakers could spotlight purported violations of antitrust and other laws exemplified by the second half of the report linked here.
When politicos are understandably calling out aggressive business practices, like those reported here, here, here, and here, then a logical step would be to hold public hearings.
While the term racism didn't arise in this next video, it is perhaps obliquely implied by the reporter's question at one point.  The video does a good job of highlighting Dr. Carson's efforts at raising manufactured housing among other options, while chaffing at the gotcha politics and bureaucratic obstacles that are needlessly slowing progress. This is one more reason why it is reasonable to presume that Secretary Carson is being sandbagged by some at HUD. See the report linked here.
The Bottom Line?
Senators and Congressional representatives can issue subpoenas to draw out testimony and evidence that could lead to real antitrust action.  There is no need to wait for an election or a new law. It is existing law enforcement that is urgently needed.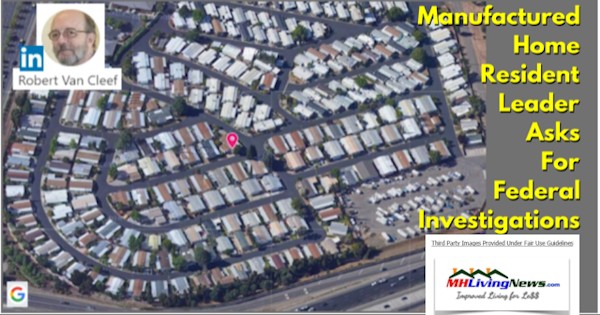 Outreaches by white hat operations and or individuals to lawmakers on both sides of the aisle can be simple.  See the report linked above, and the related reports, linked further below.
That's this "Monday, Monday" morning's first installment of "News through the lens of manufactured homes, and factory-built housing" © where "We Provide, You Decide." © ## (News, analysis, and commentary.)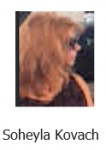 Submitted by Soheyla Kovach for MHProNews.com.
Soheyla is a managing member of LifeStyle Factory Homes, LLC, the parent company to MHProNews, and MHLivingNews.com. Connect with us on LinkedIn here and here.
Related Reports:
Click the image/text box below to access relevant, related information.
'Alexa, Make Breakfast for Me,' Past, Present, Future and Manufactured Housing Developments, News