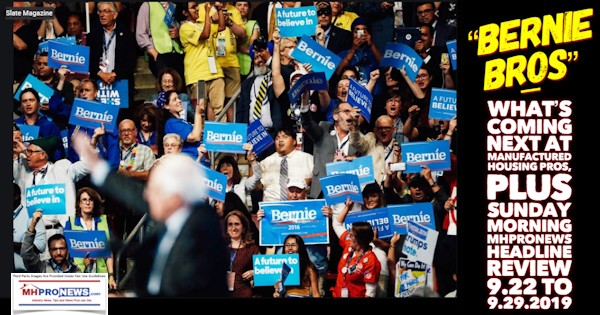 Programming notes. There will be several new reports this upcoming week that you won't find anywhere else in manufactured housing. Among them will be one that addresses the headline topic about so-called 'Bernie Bros.' Fans of Senator Bernie Sanders are pushing a plan that if adopted could devastate untold numbers of manufactured housing firms of all sizes, but most particularly smaller independents.
Another planned report focuses on the community sector.
Several reports coming will impact retailers, producers, lenders, service or suppliers to manufactured housing.
That programming note made, let's tarry a bit about 'Bernie bros' and politics.
One reason MHProNews has looked at legal, political, and economic topics for years is because those obviously influence how businesses operate. Wall Street reacts to politics. Industry pros must be aware of it too. Yet, MHProNews was the first to seriously look at such challenges in a behind-the-curtain way that has helped make us the runaway #1 news, tips, and views resource in manufactured housing.
We continue to sharpen those reports to provide useful insights to those discerning who they may want to support or oppose in the rapidly evolving 2020 race.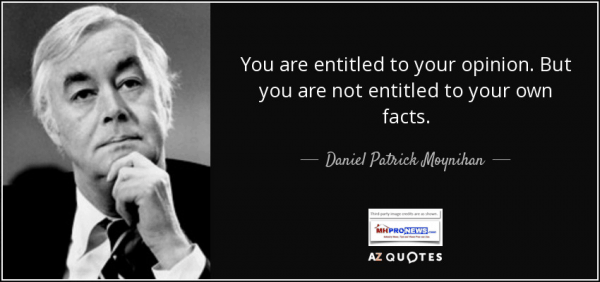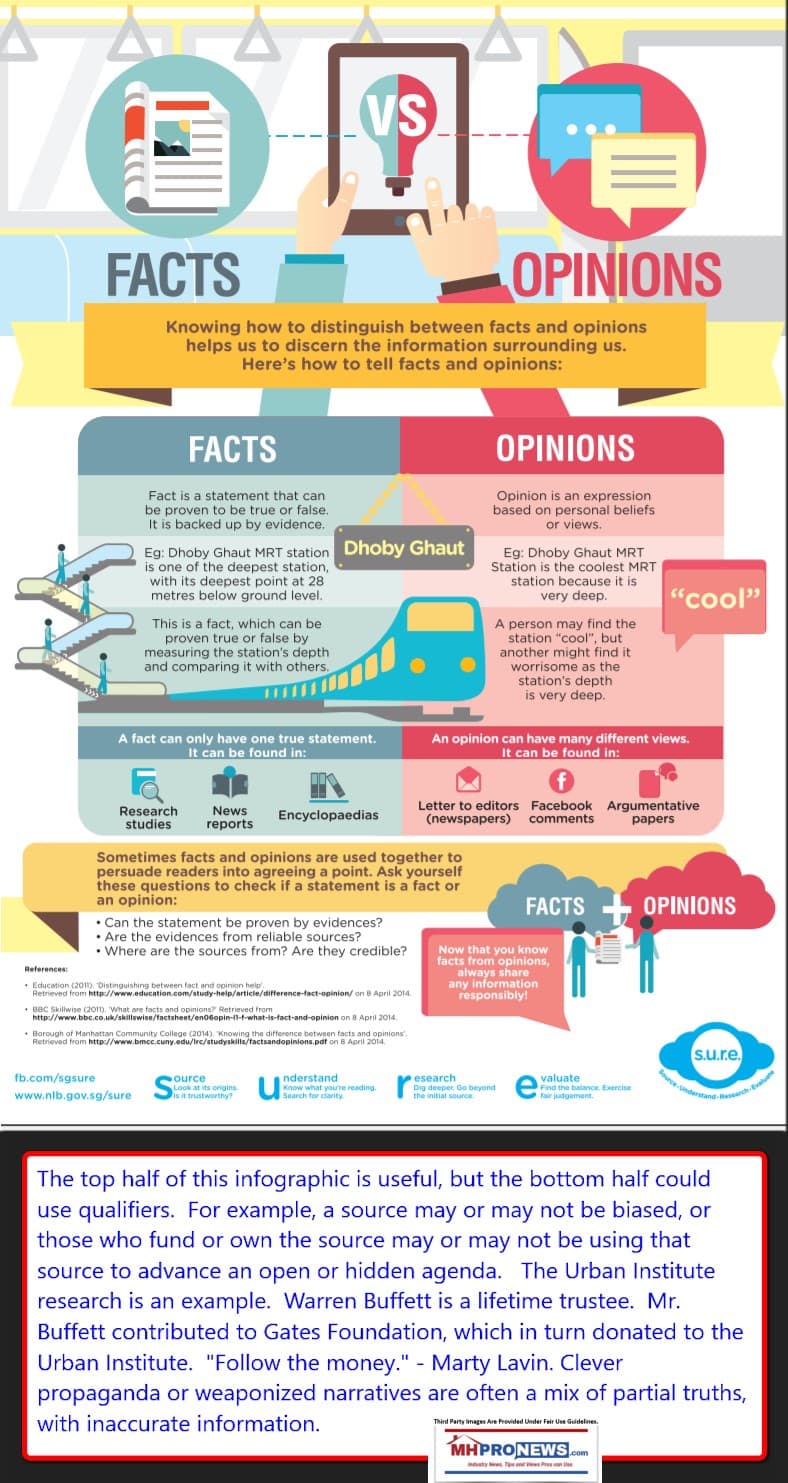 Harvard Law…
Democratic supporter and Harvard Law professor Alan Dershowitz has come out once more to debunk the concerns about the Ukrainian phone call with President Trump and related. We reported early into the Mueller probe, as long-time reader may recall, that Professor Dershowitz said not to worry. He – and we at MHProNews, citing several credible third-party sources – proved correct. Two years of razzle-dazzle jazz over what a CNN producer said early on during a hidden camera conversation was "a nothing burger." MHProNews brought you that undercover video too, why didn't others in MHVille media do so?
That wasn't partisan. Rather, that was just sound reporting based upon facts, evidence, experience, and reason. In an era of agenda journalism, it's necessary.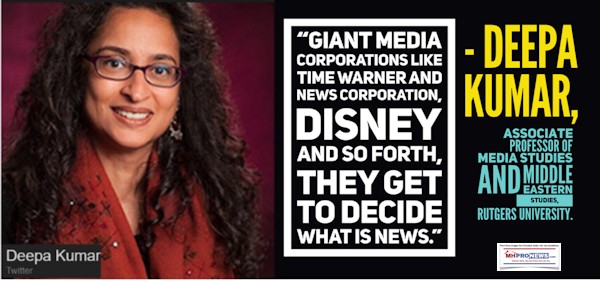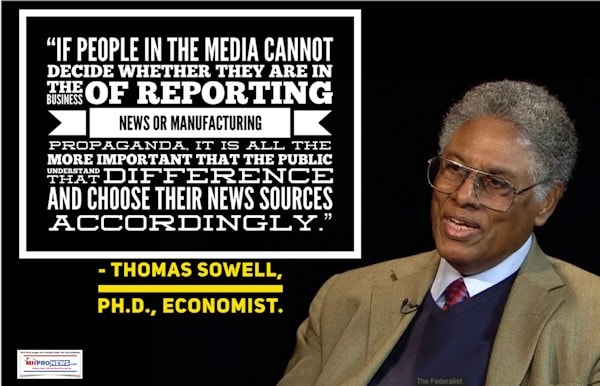 What's next? Among other things, watch as former VP Joe Biden will slowly melt under what the real story is from the Ukraine and China. The Biden family is the one that will end up with a credibility problem. Democrats have known about this for months – years actually. Some say it was part of why Biden didn't run in 2016. Now, with the Ukraine story, that whole episode is back. Who says? How about the Wall Street Journal among other sources? On both sides of the political aisle, there are those who think 'lunch box Joe' can't run the distance.  Former President Barack Obama reportedly told Biden before running, 'Joe, you don't have to do this.' Aren't there reasons why  the Obamas haven't publicly endorsed his own former VP?
"During a Council on Foreign Relations discussion on January 23, 2018, former Vice President Joe Biden spoke about his dealings in Ukraine," said the WSJ. It was Biden who was 'shaking down' a foreign government, not President Trump. The gaff-prone 2 prior presidential run loser brought all of this on himself by saying as much in the video above.
Some in media are spinning this, but that too could backfire in time. CNN's ratings are down from their highs during the peak of the Mueller probe frenzy. You can only cry wolf so many times before viewers say, enough. That's not to imply that all of their news is fake, but certainly some at that network and others knew better on Trump-Russia collusion and they still ran with it. That's a sad reality that applies to too many in media. But never forget, some in mainstream media try to do a good job, while others are showing their agendas.
But what all that means is that Senators Bernie Sanders and Elizabeth Warren are the ones to watch, far more than Biden. Thus the need to discern what those two stand for, and how it could impact manufactured housing. MHProNews will monitor as well if some 'dark horse' candidate that is more moderate in their view – perhaps former Congressman John Delaney or Rep. Tulsi Gabbard? – will emerge from their currently low levels in the public polling.
MHVille Trade Media
The reason readers and viewers like you made us #1 years ago – and keep us in the top spot – is because we bring reports that no one else in our industry does.
On MHLivingNews, you'll find a new report today that is 'good news' about manufactured housing. But you'll also find one of those vexing stories that help serious shoppers who have cash or good credit discern why manufactured homes – if they are such a good deal – then why are we selling so few manufactured homes being sold?
Too many of our rivals seem to think that repeating Manufactured Housing Institute (MHI) talking points, or following the lead of the 'big boys' is going to help the industry grow somehow. Pardon me? It has been 15 years since Berkshire Hathaway bought Clayton Homes. The industry is selling fewer homes now than back then. How is that leadership for independents?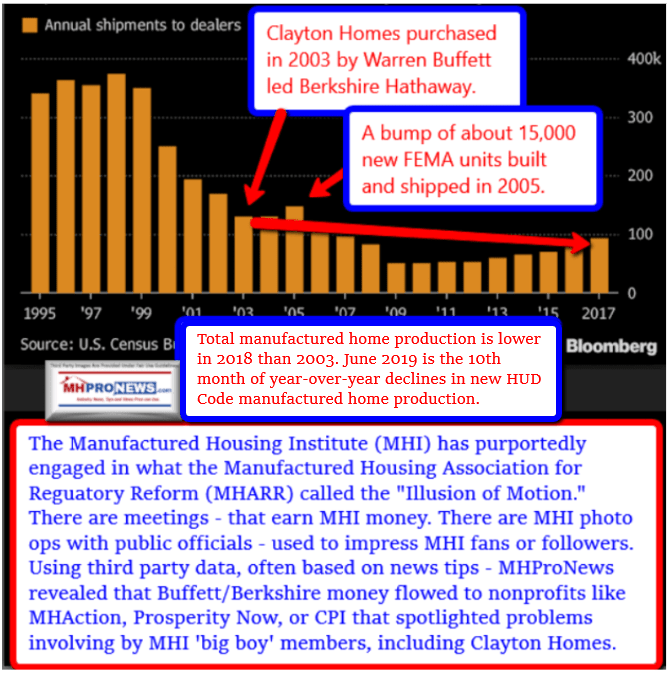 What is occurring is the consolidation of the industry. Is it by mere chance? Or is it by design?
Reports like the ones that follow shed light on such timely topics. Don't forget where you learn what's worth knowing, because the others are all too often just carrying water for the consolidators, be it there intention or not.
With no further adieu, let's turn to the headlines from the week in review from 9.22.2019 to 9.29.2019.
What's New on MHLivingNews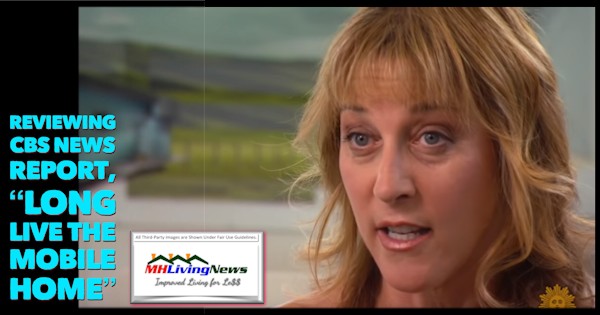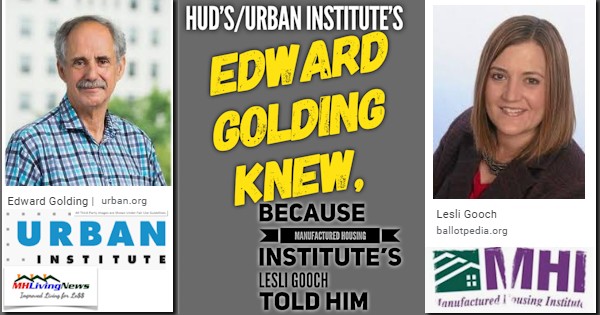 What's New from Washington D.C. from MHARR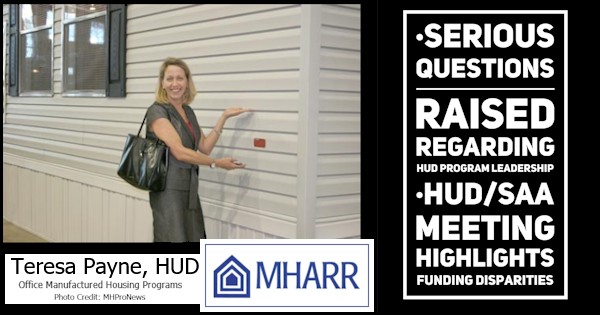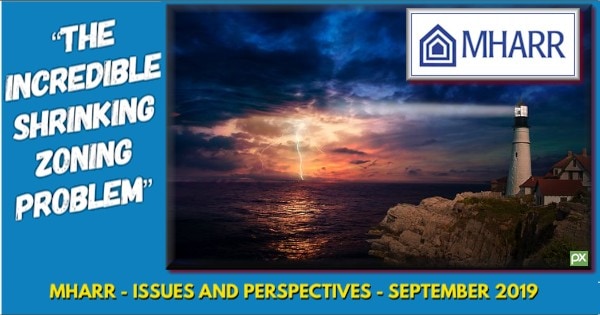 What's New on the Masthead
Virtue Signaling, George Soros, Mainstream Media's Conundrum, and Affordable Manufactured Housing
What's New on the Cutting Edge of Marketing and Sales
Priceless, But Free Advice on the Value of Correct Mobile Home vs. Manufactured Home Terminology, Educational
What's New on the Daily Business News on MHProNews
Saturday 9.28.2019
Surprising Demo – National Association of Realtors Reveals Manufactured Homes Living Less Costly Than Renting
Friday 9.27.2019

"This Video Will Get Trump Elected," Donald the Disrupter Rips Establishment, Uber-Rich, Corporate Media, Deep State Insiders, Globalists
Bloomberg – White House Floats Limits on U.S. Investments in Chinese Firms, plus Manufactured Housing Investing, Stock Updates
Several MHVille Impacts – Warren Surges Past Biden, Wall Street Warns Dems 'May Support Trump' if She Wins Nomination
Vise Squeezing Independents and Residents – Messages with Manufactured Home Community Leaders
Thursday 9.26.2019
President Trump's Administration Has Cut Regulations, But Increased Others – Net Results?
Senator Rick Scott-China Like Business Partner that Embezzles, Says Don't Buy Chinese – plus Manufactured Home Investing Updates
HUD-Corporate-Nonprofit Triangle – MHI's Lesli Gooch Surprising Letter Drops, Places HUD-GSE-Nonprofit Exec in Crosshairs
Manufactured Home Communities, Production, Suppliers Investing Alerts – Manufactured Housing Institute
Wednesday 9.25.2019
Investors Shrug Off Impeachment Concerns, Congress Gets 'Whistleblower' Complaint, Stocks Rise, plus Manufactured Home Investing Updates
Senator Elizabeth Warren Takes Aim, Blasting Again MHI Member Company in 2020 Campaign Stop
Markets Rise, Transcript of Telephone Conversation with President Zelenskyy of Ukraine and President Donald J. Trump
Barack Obama Was Right – Multi-Generational Manufactured Housing Retail/Communities Business, Besieged President Trump, Competing Narratives, What Pushback Looks Like, MH Lessons Learned?
Tuesday 9.24.2019
New Manufactured Housing Wholesale Event Looms – Singles, Multi-Sectionals, Special Financing, Incentives Offered
Millionaire, Billionaire Tax Plans by 2020 Hopefuls Sanders, Warren Reviewed by CNN, Fox – plus Manufactured Home Investing, Stock Updates
CLINTEL Research – Climate Intelligence vs. Climate Activist Thunberg, plus President Trump – Great Climate Debate, Investing, Jobs, and Manufactured Housing
Trade News, Industry Investigations, Credibility, OANN's Example, and Profitable Manufactured Housing Lessons Learned
Monday 9.23.2019
Sample Manufactured Home Residents, Consumer, Legal Perspectives Reflected in Letters to the Editor
Conservatives Launch Dark Money Group to Fight Tech Censorship, plus Manufactured Home Investing, Stock Updates
Arabella Advisors – Big Money in Dark Shadows, Warren Buffett Ties – Capital Research Group
"You're a Gutless Cheat," The Sting, and Manufactured Housing
Sunday 9.22.2019
Who do you Trust? Why? Plus-Sunday Morning Manufactured Housing Headline News in Review 9.15 to 9.22.2019
Have you been traveling or on vacation? Did you miss a prior weekly headline review? You can see another one of those in the related reports, along with some hot prior topics, below the byline and notices. That a wrap on your Sunday installment of manufactured housing's #1 source for "News through the lens of manufactured homes and factory-built housing" © where "We Provide, You Decide." © ## (News, analysis, and commentary.)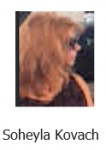 Submitted by Soheyla Kovach for MHProNews.com.
Soheyla is a managing member and co-founder of LifeStyle Factory Homes, LLC, the parent company to MHProNews, and MHLivingNews.com. Connect with us on LinkedIn here and and here.
Related Reports:
Click the image/text box below to access relevant, related information.
Ethics in Media – Politics, PR, News Troubles Americans Says New Study – Plus Manufactured Home Industry Sunday Headlines in Review 9.8 to 9.15.2019
Facts – Manufactured Home Shipment, Production Data by States, Sizes, Floors – Plus Sunday Headlines in Review
Publicly Traded Manufactured Housing Firms – Which Source Do You Trust More? Why? MHI, MHARR, Others
Fact Checks – What MHVillage's Claims Tell Manufactured Housing Industry Professionals – Cautions, Analysis