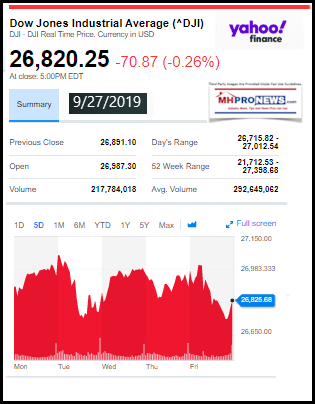 Stocks went lower for a variety of reasons, but our focus report this evening will be U.S.-China trade. As MHProNews occasionally reminds readers, numbers of manufactured home producers have products and components that they use in building HUD Code homes that are stamped 'made in China.' Further, as investors are well aware, the trade tensions between the U.S. and China have been a roller-coaster. The hope – or lack thereof – that a new deal on U.S.-China trade have sent investors to move markets up or down for months. It is against that backdrop that we probe tonight a new report from left-of-center Bloomberg that the White House is pondering aloud the option of 'limiting' U.S. investments with China. It is obviously the latest pressure play that President Donald J. Trump's Administration is using to force China to the table to make a deal that is meaningful, enforceable – or perhaps as he threatened earlier this month – to pull American interests out of China based upon a national emergency declaration. Don't forget the 45th president is a former casino owner, so the dice keep getting rolled.
Regular readers please note there are several tweaks and changes in some of the 'standard text' that follows before our left-right headlines and also in other features near the end of tonight's reports.
Every evening our headlines that follow provide snapshots from two major media outlets on each side of the left-right news spectrum that reflect topics that influence or move investor sentiment. In moments on this business evening report, you can get 'insights-at-a-glance.'
This report also sets the broader context for manufactured housing markets, in keeping with our mantra, "News through the lens of manufactured homes and factory-built housing" ©.
We begin with headlines left-of-center CNN followed by right-of-center Fox Business. We share closing tickers and other related data courtesy of Yahoo Finance, and more. 5 to 10 minutes reading this MHProNews market report every business night could save you 30 minutes to an hour of similar reading or fact-gathering elsewhere.
Perhaps more important, you will get insights about the industry from experts that care, but also dare to challenge the routine narrative that arguably keeps manufactured housing underperforming during an affordable housing crisis.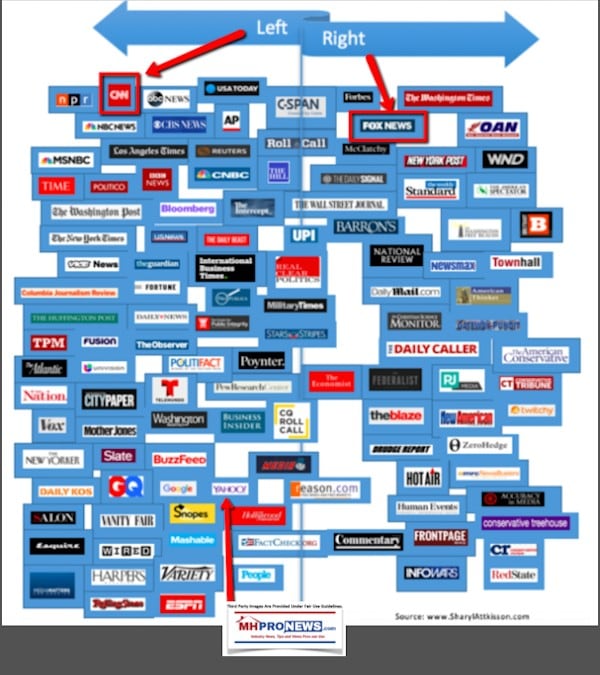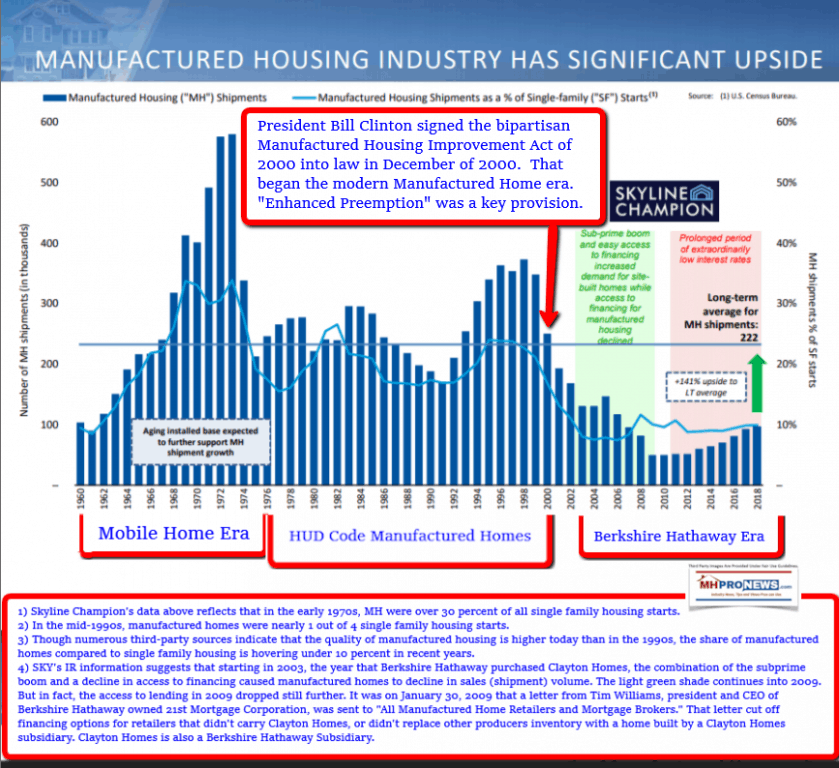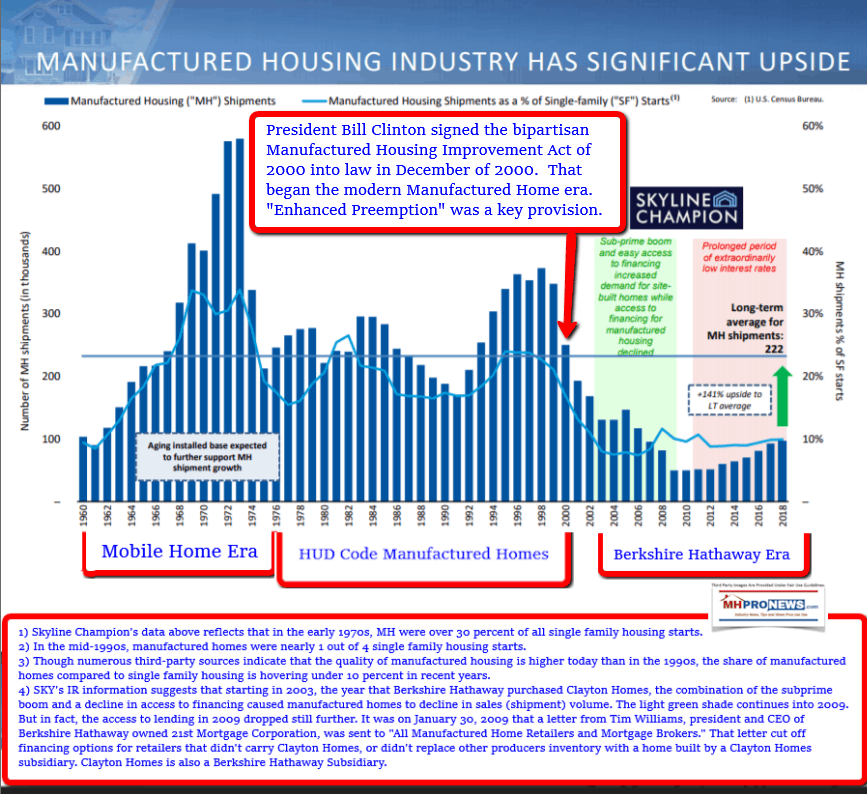 Manufactured Home Communities, Production, Suppliers Investing Alerts – Manufactured Housing Institute
Headlines from left-of-center CNN Business.
All eyes on Elon Musk – The SpaceX founder will present about Mars this weekend. Here's why you should watch
Fiat Chrysler pays $40 million fine for lying about sales numbers with help of a 'cookie jar'
Wells Fargo names financial veteran Charles Scharf as its new CEO
Ari Emanuel's talent agency is the latest IPO failure
15-ton fighting robot up for auction on eBay
Chipotle's CEO says it's leaning into what customers want: Meat burritos
Elizabeth Warren wants the SEC to crack down on Moody's and S&P
FIFA 20 is the latest entry in the world's biggest sports video game franchise
Nestle tightens controls on coffee beans after weedkiller scare
Non-profit streaming service Locast sues ABC, CBS, Fox and NBC
Elon Musk is fighting multiple really ugly court fights at once
BBC caught up in fight over calling out Trump's racist language
In 2018, dog-walking startup Wag looked like tech's next Big Thing. Then things got messy
Elon Musk says Tesla could sell a record 100,000 cars this quarter
Opinion: The FDA let the vaping epidemic go too far
CNN BUSINESS EXCLUSIVE
Chipotle's CEO says it's leaning into what customers want: Meat burritos
Wendy's has a new breakfast menu. Here's what's on it
Buffalo Wild Wings owner to acquire Jimmy John's Sandwiches
He left Beyond Meat to start a company that goes beyond meatless burgers
Taco Bell now has a vegetarian menu
THE JOB MARKET IS HOT
20190926 questions job interview
The best interview questions to ask
These jobs are the future of auto making — and a sticking point in the GM strike
This CEO raised the minimum salary of his employees to $70k and now he's doing it again
How to write the perfect resignation letter
The job market is so good, new hires aren't showing up for their first day of work
Samuel L. Jackson's voice coming to Amazon Alexa
Mattel launches line of gender-inclusive dolls
Nissan recalls 1.2M vehicles over backup cameras
How Nestlé plans to take fake meat mainstream
Portal Product Manager Phil Park demonstrates how to use a Facebook Portal TV product during a media event held in San Francisco, California on September 17, 2019. – Facebook on September 18, 2019 unveiled second-generation Portal smart screens, touting them as a way to stay connected to loved ones at the leading social network.
Facebook also pushed down costs to make new Portal, Portal Mini, and Portal TV devices more enticing to consumers at a starting price of $129. Portal and Portal Mini will begin shipping on October 15,2019 while a notepad-sized Portal TV device that turns a television into a smart screen for video calls and more will begin shipping on November 5, 2019 at a price of $149. (Photo by Josh Edelson / AFP)   (Photo credit should read JOSH EDELSON/AFP/Getty Images)
Facebook wants to put a camera in your TV
Headlines from right-of-center Fox Business.
MYLAN 'FINALIZES' PAYMENT TO SEC OVER EPIPEN SCANDAL
Stocks whip around as US considers limits on flows into China
White House reportedly considering delisting Chinese stocks from US exchanges
INSIDE CANDY SPELLING'S $23M 'WEEKEND RETREAT'
The property boasts seven bedrooms, seven bathrooms and a media room in addition to a landscaped courtyard.
Big tech companies look to an unlikely savior: The Republican Party
Why this US soccer player is calling on fans to wear MAGA hats to games
Dunkin' sued after customers allegedly lost thousands of dollars
Fed president says this city represents America right now
Watch: Here's how bad Peloton's IPO debut was
Varney: Don't hold your breath on an impeachment vote
ROCK LEGENDS RISE FROM THE DEAD ON CHARTS
Death doesn't have to mark the end of a musical artist's career. It might even provide a boost.
Exclusive: Michael Bloomberg hasn't closed the door on possible 2020 run
This NFL star is boon to ticket sales
CDC releases startling report about deadly vaping-related illnesses
The NFL may make a major schedule change
How savvy shoppers are outsmarting retailers
Movie theaters roll out guidelines ahead of 'Joker' release
Trump's blazing stock market a 'Miracle on Wall Street'
Daniel Jones' home debut causes ticket prices to soar
McDonald's deal could kill Kraft Heinz's presence in coffee business
Japanese airline introduces baby seat map to avoid infants
Forbes assistant managing editor Mike Ozanian, Dow Jones Newswires chief editor Glenn Hall and RealClearPolitics associate editor A.B. Stoddard discuss having baby seat maps on flights.
Gasparino: Biden camp bracing for Iowa, New Hampshire primary losses to Warren
FOX Business' Charlie Gasparino discusses 2020 election and Joe Biden's efforts to boost his campaign.
Trump: Iran sanctions will not be lifted
10 Market Indicator Closing Summaries – Yahoo Finance Closing Tickers on MHProNews…

Tonight's Business/Market/Political Impact Spotlight –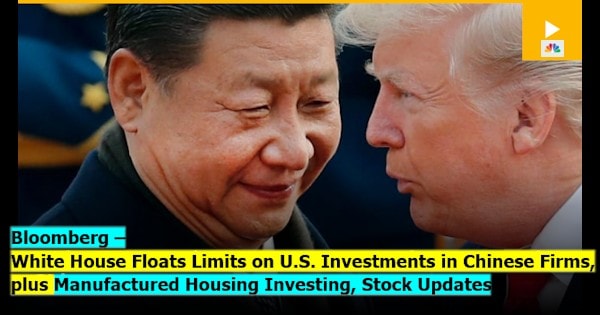 Bloomberg broke the story, while CNBC and others in business media have picked it up.
Per Bloomberg: "Trump administration officials are discussing ways to limit U.S. investors' portfolio flows into China in a move that would have repercussions for billions of dollars in investment pegged to major indexes, according to people familiar with the internal deliberations.
Trump administration officials are discussing ways to limit U.S. investors' portfolio flows into China in a move that would have repercussions for billions of dollars in investment pegged to major indexes, according to people familiar with the internal deliberations."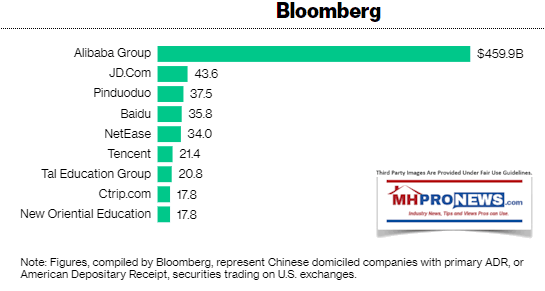 Per CNBC:
The discussion is in its preliminary stages and nothing has been decided, CNBC's source says.
There's also no time frame for their implementation, the source adds.
Restricting investments in Chinese entities would be meant to protect U.S. investors from excessive risk due to lack of regulatory supervision, the source says.
As a disclosure, several firms that MHProNews has connections with have and/or are doing various degrees of purchases of Chinese made goods. That said, our stance has been consistent, and can be summed up like this:
'Saving money' by doing business with a Chinese firm is like robbing Peter to pay Paul. Here are some reasons why.
Lower costs in China may be true enough. But those jobs, or others in products that were once built in the U.S.A. ends up meaning American workers have lost out. That in turn drives up social welfare and other costs.
Furthermore, it is U.S. residents that manufactured home builders are selling homes to, so where is the logic in building up the incomes of others overseas? Over time, doesn't it just undermine the target market audience of HUD Code builders?
Building the Chinese economy has de facto built up China's military. More American tax dollars are flowing into defense, because potential threats from China, Russia, North Korea and the like emerge. U.S. foreign policy is tied to U.S. trade policy.
It has been ludicrous that under Democratic and Republican administrations alike, that U.S. policy has undermined American workers and smaller businesses in ways that cost taxpayers more in defense, social services, and increases risk of potentially disastrous regional or global conflicts.
That doesn't even touch on the issues of Oriental spying, intellectual theft of property, cyberattacks, human rights abuses, or more.  One need not look beyond weeks of protests in Hong Kong to get a clear sense of how people there feel about China's government.  They are communists. They are not a free people.
President Trump plays some of his hand quite openly, but other ploys are more subtle. The 45th president can 'win' either way this goes. If he makes a so-called 'good deal' with China, he could be a hero on that score. But if he doesn't get a deal, and capital ends up returning to the U.S. as a result of items like what Bloomberg is reporting, that too would make him a celebrity to millions of Americans.
That doesn't mean that it is a no-risk stratagem. POTUS Trump has positioned himself in a fashion that allows him to benefit politically either way. See the related reports for more.
New?  Click the text/image box(es) below to access the report on that topic.
Related Reports:
Senator Rick Scott-China Like Business Partner that Embezzles, Says Don't Buy Chinese – plus Manufactured Home Investing Updates
Cramer – No Recession, Data Shows U.S. Economic Strength Upper Hand for POTUS Trump with China, plus Manufactured Home Stock Updates
U.S. Labor, China-American Trade, Warren Buffett, and Housing – High Cost of Short-Range Thinking?
Big Picture – China-U.S. Trade War, White House Statement, Manufactured Home Pro Alert
"Too Fast, Too Furious" Said POTUS Trump, "I Am the Chosen One" on China, plus Manufactured Home Investing Updates
Manufactured Housing Industry Investments Connected Closing Equities Tickers
Some of these firms invest in manufactured housing, or are otherwise connected, but may do other forms of investing or business activities too.
NOTE: The chart below includes the Canadian stock, ECN, which purchased Triad Financial Services.
NOTE: Drew changed its name and trading symbol at the end of 2016 to Lippert (LCII).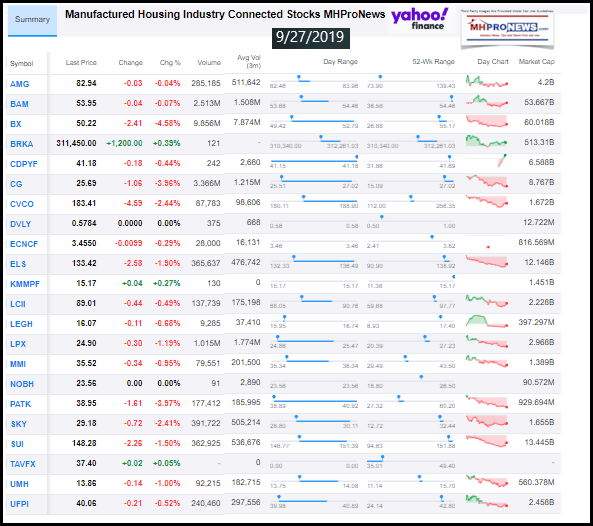 Updated for Fall 2019…
Berkshire Hathaway is the parent company to Clayton Homes, 21st Mortgage, Vanderbilt Mortgage and other factory built housing industry suppliers.
· LCI Industries, Patrick, UFPI, and LP each are suppliers to the manufactured housing industry, among others.
· AMG, CG, and TAVFX have investments in manufactured housing related businesses.
For insights from third-parties and clients about our publisher, click here.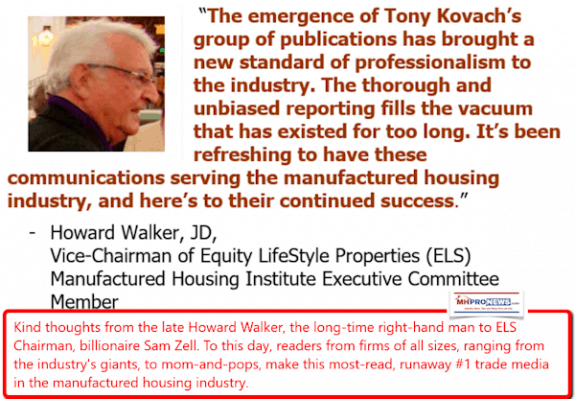 · For expert manufactured housing business development or other professional services, click here.
· To sign up in seconds for our industry leading emailed headline news updates, click here.
Disclosure. MHProNews holds no positions in the stocks in this report.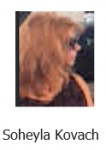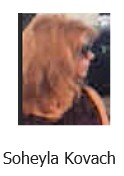 "We Provide, You Decide." © ## (News, analysis and commentary.)
(Image credits and information are as shown above, and when provided by third parties, are shared under fair use guidelines.)
Submitted by Soheyla Kovach, co-managing member of LifeStyle Factory Homes, LLC and co-founder for MHProNews.com, and MHLivingNews.com.