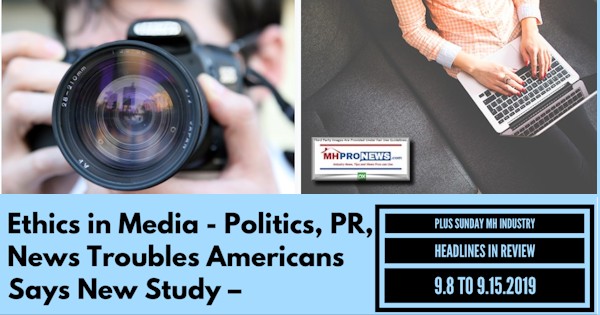 "Americans believe ethics in journalism will be worse during the 2020 presidential campaign," said a new study by Bospar entitled: "Nearly All Americans Are Troubled by the Current State of the Media." Why this matters to MHVille will be unpacked further below, after their data is reviewed.
The title is arguably an exaggeration of their own study, but that said, their survey is nevertheless insightful.
Bospar's 'about us' page says that they are "…a boutique tech PR firm with a team of highly seasoned professionals…" Hmmm, fair enough for what follows.
Bospar released the results of its Ethics in Media survey on September 9, 2019. The new data was released by Bospar ahead of its Ethics in Media panel with the San Francisco Chapter of the Public Relations Society of America and the San Francisco Press Club on Sept. 19 at 6 p.m.
ABC News anchor Cheryl Jennings will moderate the discussion. Panelists include former Wall Street Journal reporter and Message Lab CEO Ben Worthen and former KRON Executive Producer and Bospar Principal Curtis Sparrer. Those personalities are reasons enough to pay attention to what Bospar's research had to say about ethics in media.
Bospar and Propeller Insights surveyed 1,010 American adults and discovered that more than 95% are troubled by the current state of media. The highlighting below was added by MHProNews. The reasons for public concerns, according to the survey, include the following:
1. Reports on fake news – 53%
2. Reporting gossip – 49%
3. Lying spokespeople – 48%
4. Celebrity opinions – 36%
5. Left-wing agendas – 34%
6. Gotcha journalism – 33%
7. Right-wing agendas – 32%
8. Puff pieces in exchange for access to other important interviews – 31%
9. Blind items being reported in the news – 30%
10. Hit pieces – 21%
11. Rise of independent contributors versus on-staff media – 14%
And an overwhelming majority (67%) believe ethics in journalism will be worse during the 2020 presidential campaign. When asked about the impact unethical journalism has on the country, Americans cited these four concerns:
• 64%: It creates division and partisanship
• 63%: It fuels inaccuracies
• 60%: It incites hate
• 57%: It creates fear
"If ever there was a time for an in-depth discussion about ethics in the media, it's now," said James Ennis Kirkland, president of the San Francisco Press Club.
MHProNews Analysis – Bospar's Research Is Not Alone
First, Bospar and the panelists are far from alone in raising such topics. Former CBS News award-winner and now independent journalist Sharyl Attkisson has held Tedx talks on how to spot agenda media, and how to discern the truth from often slippery content. The first video by her posted has had over 1 million views, as of this date.
Attkisson also created this infographic that can help readers discern the possible agenda behind media reports.  We've long shared such research on MHProNews, because in an agenda journalism era, it is necessary to discern fact from hype, spin, and outright fiction.  That's true for our industry, as well as for the public at large.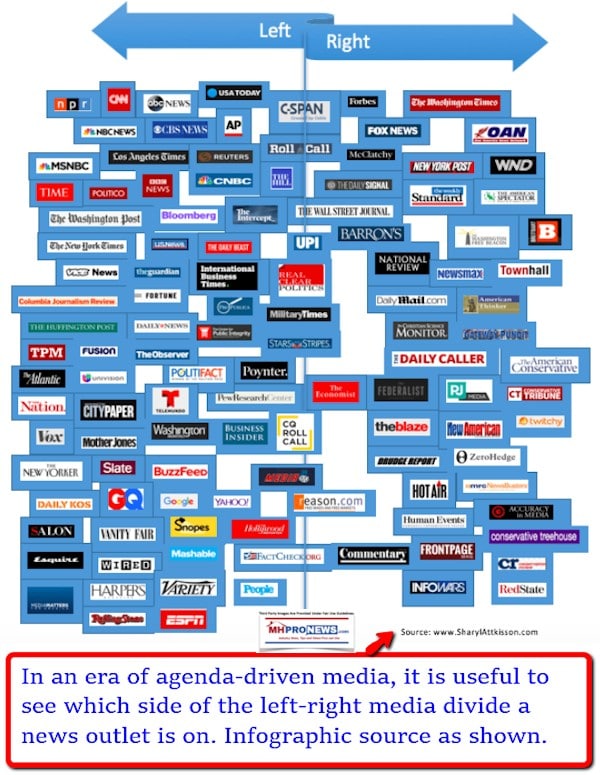 Second, conservative talker and author, Mark Levin recently published a book on a related topic. "Unfreedom of the Press" is a book by Mark Levin released May 21, 2019. It became a New York Times #1 best-seller and the number one best-selling book on Amazon.com three days before its official release," said Wikipedia. In the interview below, Levin says the media won't police itself. From former President Barack Obama (D) to voices like Levin's on the right, each side point fingers at the other on bias by their opponents. No wonder trust in media is at a low ebb? That means that outlets like ours must earn trust day-by-day.  Which brings us to what follows the video.
More from Bospar Polling
"The survey group considered local print and online journalists as the most ethical (40%), followed by local TV reporters and anchors (23%) and national print and online journalists (22%). Only 15% of Americans said national TV anchors and reporters were the most ethical." As a note, MHProNews would objectively qualify in that 'most trusted' category. Why? Arguably because even though we do some things – like turning quoted text bold and brown to make it pop – that would make the AP or Chicago stylebook writers blanch, we nevertheless follow the key tenants of the SPJ's code of ethical conduct.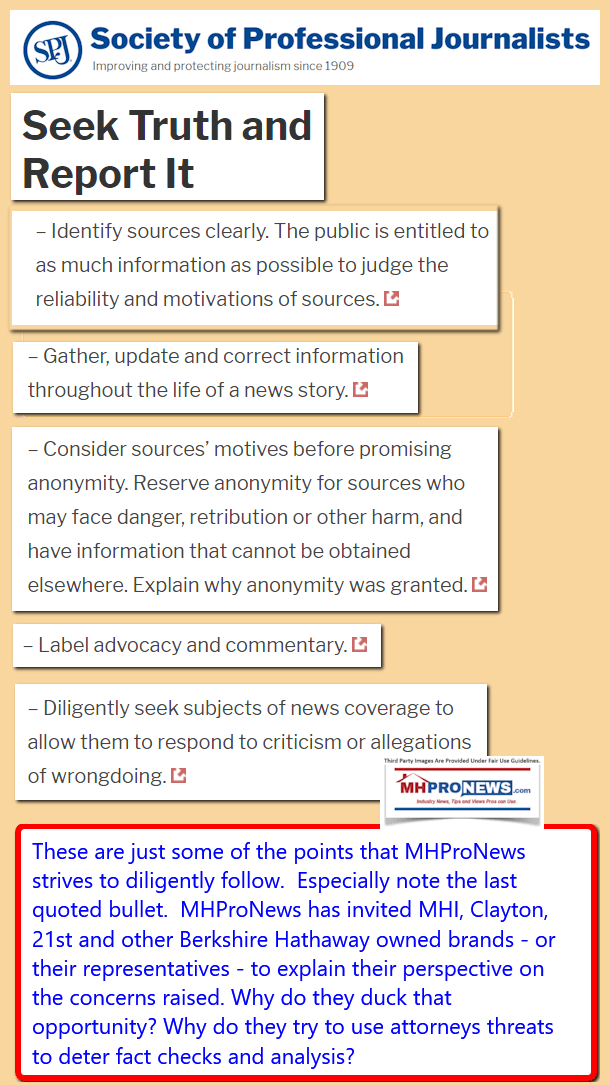 "When you look at perceptions of ethics in journalism, based on political affiliation, those aligned with the Democratic Party are significantly more likely to consider national journalists/anchors/reporters ethical, when compared to those aligned with the Republican Party or other minor parties," said Gabrielle Ayala, Principal of Propeller Insights. "This is no surprise, given the current battles being waged by all groups in politics and the media to control the narrative and position themselves as the bearers of truth."
Ranking PR and marketing people by ethics, Bospar stated the following results.
• Individuals in those roles in health services came on top (23%),
• followed by technology (17%),
• professional services (16%),
• food and beverage (9%),
• consumer/retail (6%),
• and entertainment (6%).
Americans' ethical expectations of journalism mirrored their expectations of PR and marketing. Per their research:
• Slightly more than 43% said journalism is less ethical than in the past,
• while 37% said ethics hasn't changed recently,
• and 20% said it's more ethical than in the past.
When asked about PR and marketing, the percentages were nearly the same:
• 42% said that the current state of ethics in PR and marketing is less ethical than in the past,
• while 39% said ethics hasn't changed recently,
• and 19% said it's more ethical than in the past.
"I think the reason Americans have similar ethical viewpoints of journalism and PR is that they are increasingly seeing them intertwined," said Sparrer. "However, an overwhelming percentage of Americans–86%–expect PR and marketing people to be ethical. Americans expect PR and marketing professionals to be open and honest with the media and clients."
John McCartney, president of the PRSA San Francisco Bay Area Chapter, added, "Obviously, the media plays an important role in our country. However, the media continues to be scrutinized by those in government and by almost everyone else."
Implications and Takeaways for Manufactured Housing?
When MHProNews launched in mid-October 2009, there were only one other true trade publishers remaining in MHVille. That has since changed, as today the manufactured housing industry has an array of bloggers and publishers. But most of them have a clearly discernable agenda or bias.
That's perhaps not surprising, based upon the research done by Bospar or others. Even though they didn't mention our industry per se, their general points apply. Consider anew the highlighted items above.
In the 2020 contests ahead, right or wrong, some in media have openly or more subtly declared that they are:
• opposed to the re-election of Donald J. Trump, almost regardless of who might be the voice that defeats him.
• In favor President Trump's re-election, based upon performance or for some other reason.
• In favor of Democrats, Republicans, Libertarian, or some other political party or advocacy group.
• The role that public relations plays in news is near the core of what the Bospar research stated.
That directly, and the other points indirect, all matter to manufactured housing professionals, both to giant corporations in our industry, but also to independents of small to medium size.
There will be several special reports this week found only on MHProNews in our industry's trade media. That's not a surprise. We have built up the runaway number 1 audience in our industry in part by earning trust through fact checks and search for objective evidence found nowhere else in the manufactured housing industry.  Our publisher is a widely known and acclaimed expert in this field.  That combination is powerful.  Yes, you'll find 'experts' elsewhere, but their agendas rapidly become clear to discerning eyes.
Not only are we big with industry professionals, but public officials, investors, advocates, researchers – including media – and other professionals know or have learned that they find content that is evidence-based here, and often nowhere else in MHVille.
What Are Federal Officials Researching About Manufactured Housing?
The executive summary of issues that have impacted our industry linked below makes it clear that vexing topics have often problematically been depicted or ignored by others in media – industry or otherwise. That's a problem, but not a surprise, based upon what Bospar and other researchers have learned.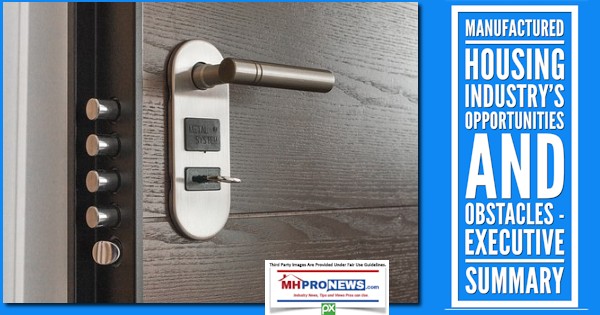 Yes, that is a bit of self-promotion, but all others in media do it too, and not as transparently as we do. It is also demonstrably true that we're the runaway leaders in manufactured housing industry media. Furthermore, the fact that publicly traded firms, industry giants and rising stars, to thousands of independents in MHVille daily logon to discover here insights on issues that they won't find anywhere else online or in print — all of that speaks volumes, doesn't it? 24/7/365 – you are never alone on MHProNews.
The fact that the Consumer Financial Protection Bureau, the National Association of Realtors, mainstream media, a doctoral dissertation candidate, and elected officials have turned to this and/or our sister site of MHLivingNews should speak for itself.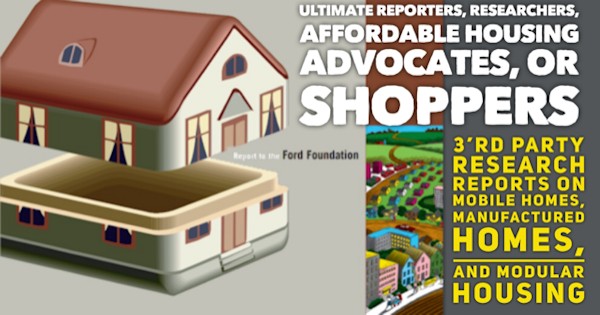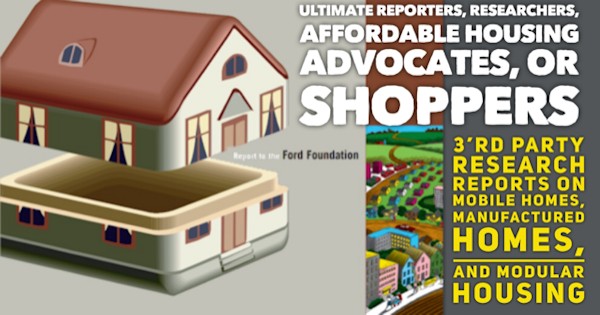 Finally, no one else in the industry's trade strives to pull the wheat from the chaff across the left-right media divide, as well as from industry sources. Yes, based upon evidence and a discernable track record, we find much of what Warren Buffett and those in the Omaha-Knoxville-Arlington axis to be arguably ethically if not legally problematic. That said, we cite Buffett and those sources accurately. We further note that some of what Buffett says about investing or life may be true, even though how he applies it may be problematic. We then note how others in media treat the man, always accurately. That's an example of ethics and trustworthiness in media, isn't it?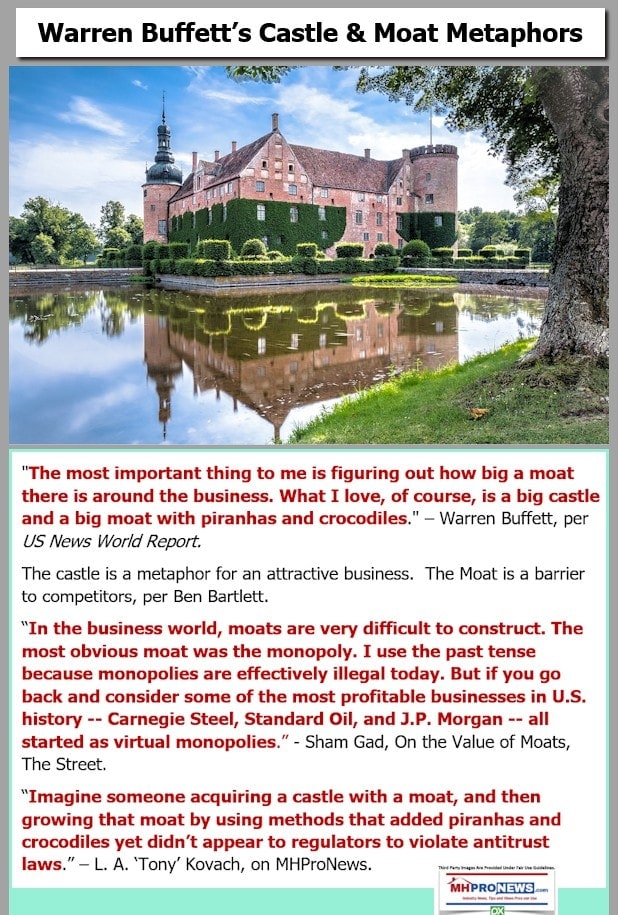 Let's not fail to mention that we label our reports accurately – we blend news, fact-checks, analysis, and commentary. Some in MHVille – as well as some beyond – tout what they say as if it was straight news. Nonsense. Who says? Bospar and others.
With that lead up, see for yourself the industry's leading resources for accurate, dependable information that has as its stated agenda the advancement of a proper and evidence-based understanding of manufactured housing. We unapologetically believe that manufactured homes done right have benefited millions already. We are confident that manufactured homes done correctly and ethically can benefit potentially an equal or greater number of Americans in the next decade as what the industry is currently serving.
That makes manufactured housing one of the best reasons for professionals, investors, consumer advocates, public officials, media, researchers, and others to discover and learn the truth about our industry, not some weaponized, self-serving pablum that serves a few limited corporate interests in arguably unethical if not illegal ways.
There is an affordable housing crisis that is well documented. Manufactured housing, per research by Democrats and Republicans alike are proven solution. So why is the industry underperforming so badly?
That's a topic no others in MHVille seriously address, to their own embarrassment. They have their reasons, not all of them are sinister, but all of them are arguably weak or self-serving vs serving the broader interests of the industry. That said, we do the heavier lifting that they others don't. Want a candy diet? You won't find that here, because we provide a buffet of intellectually satisfying options that draw more readers here daily than most of our competitors will see in a month or more.
That's all possible because of our sponsors, tips and news sources, and readers like you. Thank you, one and all. Not already on our x2 weekly in your inbox emailed headline news reading list? Sign up free in seconds at this link here. See why from the mom-and-pops to the biggest names in our industry keep up that way. Others, of course, just logon directly by the thousands daily. Either way, we're glad you're here.
With no further adieu, let's dive into the headlines for the week that was from 9.8.2019 to 9.15.2019. When you dig into what follows, you'll see a breadth of topics and coverage based upon objective and balanced information found nowhere else in our industry. No one else in MHVille, for examples, sources news across the left-right media divide like we do, every business day. Perhaps that's why feedback and third-party metrics alike tell us that readers like you have made and keep us the runaway #1 resources in all of manufactured housing. To see how much we've grown in reader engagement since our origin, or since the data shared in a report below from 2012, keep on reading to the first Friday morning report. It's eye-opening.
What's New on MHLivingNews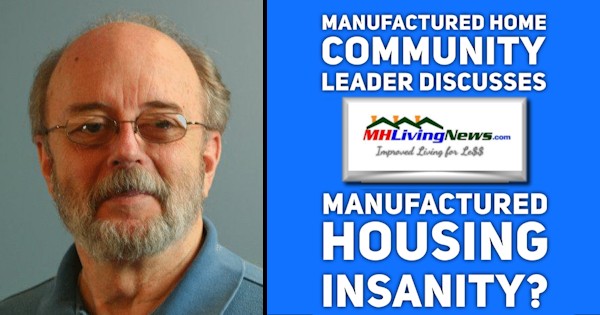 What's New in Washington, D.C. from MHARR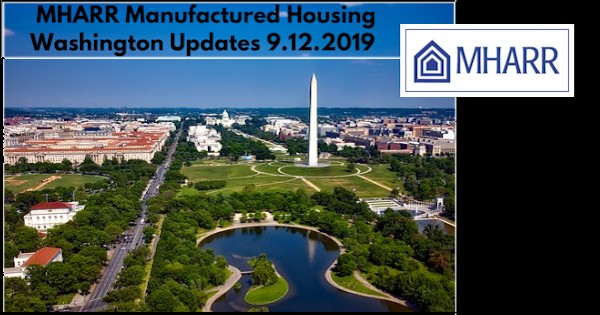 What's New on the Masthead
What's News on the Daily Business News on MHProNews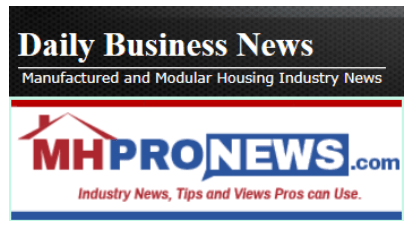 Saturday 9.14.2019
Fact Checks – What MHVillage's Claims Tell Manufactured Housing Industry Professionals – Cautions, Analysis
Friday 9.13.2019
10 Ways How Small Businesses Avoid, Reduce Lawsuit Risks, Per Small Business Center
'Hell Yes, We'll Take Your AR 15s,' 'Corrupt System,' 3rd Democratic Duel, plus Manufactured Housing Investment Updates
Nobility Homes (NOBH), Prestige Home Centers Buck National Trends, Facts & Analysis
Marketers, Leaders – What B2B Topics Attracts Manufactured Housing Industry Professionals?
Thursday 9.12.2019
Snapshot, Animated Infographic – Third Democratic Debate Tonight, plus Manufactured Home Investment Updates
Another Resident Leader, and Another Sounds Off – Mark Bowersox, Manufactured Housing Institute Presidential Contest
Mobile Home Replacement Bill, Manufactured Home Communities, Disparate Impact Regulations – NAMHCO Touts Seller Finance Bill, More
Wednesday 9.11.2019
MHARR Rips "De Facto Monopoly," "Sham Process," at HUD – Washington – Financing, Zoning, Regulatory Updates
Sen Elizabeth Warren Buzz, GOP 2 for 2 in NC Special Elections, 2020 Implications? Plus, Manufactured Home Investing Updates
MHARR's New Website – Lessons, Data, Insights for Manufactured Housing Pros Nationally
Tuesday 9.10.2019
Farmers, Businesses, Manufactured Housing, and Pending USMCA Farming People Parody Video
Big Picture, JP Dimon Says Chase Preps for Zero Percent Rates, plus Manufactured Housing Investment Updates
Details Behind Big Carlyle-Hometown Deal, Ripples in Manufactured Homes, Communities Ahead
Good Dan or Bad Dan? President Trump Tells NC Special Election Crowd – Send Message to "America-Hating Left"
Monday 9.9.2019
Next Democratic Debate Looms, Latest Democratic Polling, plus Manufactured Home Investment Updates
It's the Law – Community Leader on Hot-Button, Valuable Insights for Professionals and Advocates
MHPros, Community Owner-Operators, Take Note: Happy, Concerned Resident Leaders, Elected Official's Perspectives – What Lies Ahead?
"Opinion Masquerading as News," White House Resolute Reads, Economic Updates, and Manufactured Housing
Sunday 9.8.2019
Facts – Manufactured Home Shipment, Production Data by States, Sizes, Floors – Plus Sunday Headlines in Review
We'll, as usual, that's all she wrote…yeah, with a little help from that other guy. But don't say too much to him about his role, because it might give him a big head. Women know how to get it done and keep it real. You're looking at the proof. Until next time, that's it from your headquarters for affordable manufactured housing industry "News, Tips, and Views Pros Can Use," © where you will also find "News through the lens of manufactured housing and factory-built homes" © because "We Provide, You Decide." ©. ## (News, fact-checks, analysis, commentary, weekly Sunday morning feature plus headline news in review.)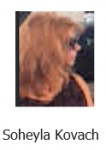 Submitted by Soheyla Kovach for MHProNews.com.
Soheyla is a managing member of LifeStyle Factory Homes, LLC, the parent company to MHProNews, and MHLivingNews.com. Connect with us on LinkedIn here and here.
Related Reports:
Click the image/text box below to access relevant, related information.
Manufactured Housing Institute Supported Bill Buffeted by Headwinds, Plus Recap and Look-Ahead
Facts are Stubborn Things, Manufactured, Modular Home Professionals Celebrate Victories
Sounding Off! Going "On the Record" – Manufactured Housing Controversies, Opportunities