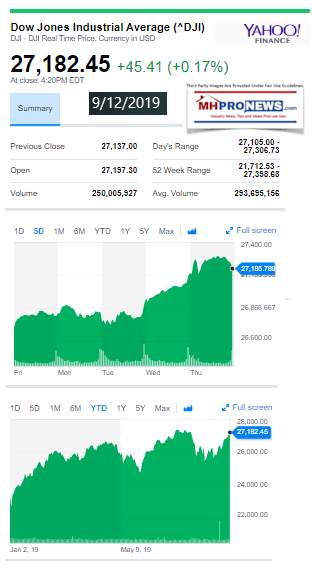 Billionaire and investment guru Ken Fisher is among those who tout the importance of keeping up with political, not only seemingly business-focused trends. Fisher is far from alone. Indeed, when you view or read MarketWatch, Fox Business, CNBC, Bloomberg, or other similar business-media platforms, there are often as many political topics as there are business focused ones. So why is it that so little political coverage found on other trade media in manufactured housing? Features like this evening market report – that has a basket of publicly traded manufactured housing tracked stocks – along with market-moving information, or topics to keep your eyes on in MHVille are found only on MHProNews. Thanks for making and keeping us #1. The Democratic debate preview for tonight is our focused feature. Don't miss the cool animation on the Democratic leaders.
Every evening our headlined provide snapshots from two major media outlets on each side of the left-right news spectrum that reflect topics that influence or move investor sentiment. In moments on this business evening report, you can get insights-at-a-glance.
This report also sets the broader context for manufactured housing markets, in keeping with our mantra, "News through the lens of manufactured homes and factory-built housing" ©.
We begin with left-of-center CNN followed by right-of-center Fox Business. We share closing tickers and other related data courtesy of Yahoo Finance, and more. 5 to 10 minutes reading this MHProNews market report every business night could save you 30 minutes to an hour of similar reading or fact-gathering elsewhere.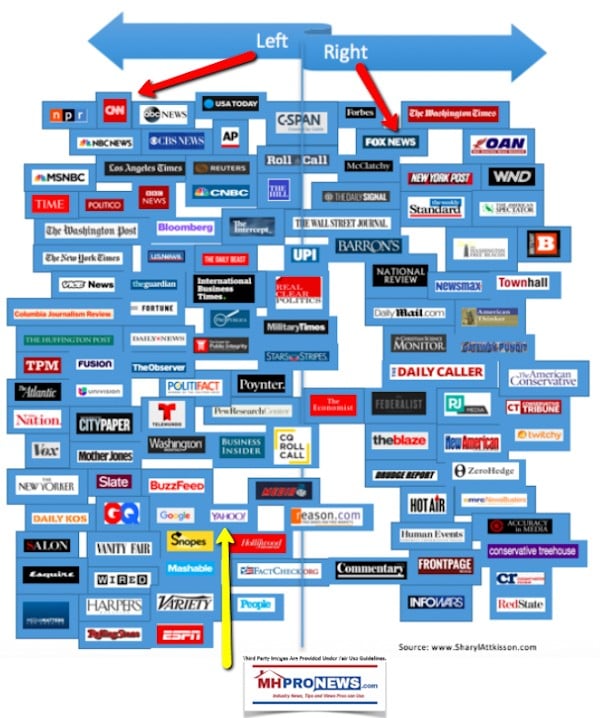 Headlines from left-of-center CNN Business.
Vaping is in trouble
There's a crackdown on flavored e-cigarettes. Altria is feeling the pain
The US deficit topped $1 trillion. The year's not even over yet
Dow hits 7th straight day of gains as US delays China tariffs
Amazon will hold a product launch event later this month
Sheila Bair: Now is the worst time to unshackle America's banks
Opinion: 4 ways Trump can punish China outside of tariffs
Is this cryptocurrency better than Bitcoin?
J. Abrams strikes wide-ranging production deal with WarnerMedia
Dorm mattresses are notoriously uncomfortable. His startup aims to change that
Progressive talk show host Krystal Ball slams Rush Limbaugh for 'slut shaming' her with false claim
Virginia Lt. Gov. Justin Fairfax sues CBS over interviews with sexual assault accusers
Old Navy plans to open 800 new stores
A 50 year bond? The US Treasury is thinking about it
145 CEOs have signed a letter demanding the government take action on gun violence
The new Nintendo Ring-Con and leg strap can be used to do yoga, including this warrior pose.
Nintendo wants people to work out with a new piece of fitness hardware
GameStop CEO says company is in 'a tough place'
Pokémon Masters is the latest mobile game to draw heavily from console
Nintendo Switch Lite: Remaking a hit for gamers on the go
'World of Warcraft Classic' draws on gaming nostalgia
The iPhone 11 is here but is it worth the upgrade?
The Apple Watch's secret weapon is its new price
The biggest thing Apple didn't announce at its iPhone event
Here's what you may have missed at Apple's big event
Here's what Apple investors should really care about
Headlines from right-of-center Fox Business.
US BUDGET DEFICIT TOPS $1 TRILLION FOR FIRST TIME IN YEARS
Walmart rolls out unlimited grocery delivery subscription
Stocks closing in on record highs
FOX Business Network names Lauren Petterson president
Trump wants negative rates — but there's a dark side[overlay type]
Trump wants negative rates — but there's a dark side
Professor reportedly used research funds to pay personal mortgage
What it could mean if 80,000 health care workers go on strike next month
4 signs you've picked the wrong side hustle
Ben Carson rips 'slimeballs' over 'furniture-gate'
This state testing face creams after poisoning leaves woman comatose
This college football team offering free tickets to fill stadium
Saudi Aramco IPO could drown in sea of Iranian and U.S. oil
Antonio Brown likely not leaving the Patriots any time soon
Professor charged with stealing Silicon Valley tech for China's Huawei
This airline could face lawsuit over unexpected fees for carry-on bags
China may resume purchasing U.S. farm goods
CEOs call for new gun laws
Wall Street Journal opinion writer Jillian Melchior thinks these business leaders are taking a big risk.
Will vaping devices be banned?
Former New York Lt. Governor Betsy McCaughey argues a vaping device ban is possible.
Investors should be 'very cautious' about high loss company IPOs: Analyst
Renaissance Capital Principle Kathleen Smith discusses her outlook for the IPO market.
Gen Z are the most likely to be influenced online compared to older generational counterparts
Members of Gen Z are the most likely to be influenced online when compared to members of Millennials, Gen X, and Baby Boomers, a recent survey found.
TiVo looks to stream into the future with a new console
TiVo's new CEO, Dave Shull, said he wants to create a spinoff of the company's patent portfolio by next year, according to a recent report.
Oracle CEO Mark Hurd taking leave
The hard charging CEO is taking medical leave.
US can trump China innovation: Condoleezza Rice
'The United States can win any competition in innovation… but we have to do it in our own way,' said Condoleezza Rice.
California bill requiring companies to treat gig workers as employees advances
Companies like Uber and Lyft would be required to treat gig workers as employees under a bill that advanced Tuesday in California.
Tesla Model S breaks record at famous California racetrack, Elon Musk says
The CEO of the American automotive and energy company, Elon Musk, took to Twitter Wednesday to relish in the news.
Foxconn falling behind on $100M pledge to University of Wisconsin-Madison
Only about $700,000 has been delivered to the university.
Disney is selling FoxNext gaming company after $71.3 billion acquisition
Disney wants to say goodbye to the video game development company it acquired only six months ago.
Blaming Google & Facebook, newspapers seek 'safe harbor' on Capitol Hill
Executives from newspapers say Facebook and Google are really to blame for their decline.
Apple unveils new iPhones
10 Market Indicator Closing Summaries – Yahoo Finance Closing Tickers on MHProNews…

Tonight's Business/Market/Political Impact Spotlight –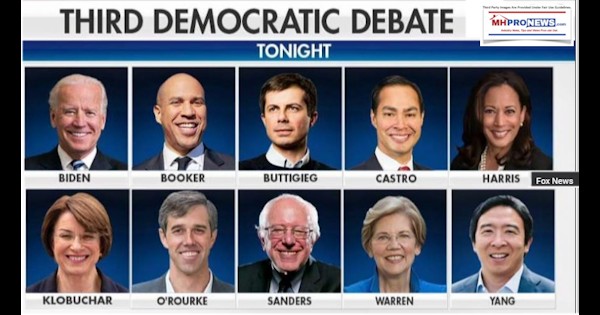 An interesting point was made by McClatchyDC about the Democratic field earlier this week. They said that Joe Biden's policies on health care, criminal justice and climate change and more make his agenda "far more liberal than Hillary Clinton's." However, the former vice president is still catching heat "from progressives who criticize Biden as insufficiently bold and center-left allies…"
Fox Business this evening pointed out that corporate America is getting more involved in politics too.
It is worth noting anew that manufactured home communities industry leader, billionaire Sam Zell of ELS fame has made a campaign donation to the more moderate among the Democrats, former Congressman John Delaney, who began as a businessman.
Manufactured Housing Connected Billionaires Donors, List of Democratic Presidential Contenders with Most Billionaire Donations
It is also worth noting that per sources cited from inside Team Trump, they say they fear Kamala Harris more than the other Democratic candidates.
Democrat Kamala Harris, Most Feared by Team Trump? POTUS touts NewsMax, OANN over Fox? ELS' Sam Zell and Manufactured Housing Headline News in Review
MHProNews said early on that we believe that the other 2020 Democratic contenders will eat Joe Biden alive. Some may think that given his strong, consistent lead in polling among Democratic rivals, that we are mistaken. No so. Take that one to the bank. There are several moves afoot among Democratic operatives to substitute someone for the stumble-prone Biden.
With that tee-up, the following this evening is per left-of-center CNBC.
Ten Democratic presidential candidates will take the debate stage in Houston on Thursday night as the primary field starts to dwindle.
It's the first time all of the top contenders, such as Joe Biden, Elizabeth Warren and Bernie Sanders, will share the same stage in 2020.
Business issues such as health care, climate change and trade will likely play a major role.
Democratic presidential hopefuls will debate for the third time Thursday as the crowded 2020 primary field starts to dwindle.
For the first time in the race, all of the top Democratic candidates will share the same stage. Ten candidates will square off in Houston, down from 20 in the initial two debates of the primary season. The three-hour event, hosted by ABC News, starts at 8 p.m. ET.
Here are the presidential contenders who qualified (listed by how they will appear on the stage from left to right):
Amy Klobuchar, D-Minn.
Cory Booker, D-N.J.
South Bend, Ind. Mayor Pete Buttigieg
Bernie Sanders, I-Vt.
Former Vice President Joe Biden
Elizabeth Warren, D-Mass.
Kamala Harris, D-Calif.
Entrepreneur Andrew Yang
Former Rep. Beto O'Rourke
Former Housing and Urban Development Secretary Julian Castro
Ya gotta love the animation that follows.  It shows how the various current top 10 Democratic contenders have shifted in position per public polling in recent weeks.  Once the animation is finished, you can place your cursor on a candidate to highlight that persons' polling trends, per Real Clear Politics.
For the flip side of the campaign and more, see the related reports, below. It's your money. We're tuning into the debates tonight. Will you?
Related Reports:
Sen Elizabeth Warren Buzz, GOP 2 for 2 in NC Special Elections, 2020 Implications? Plus, Manufactured Home Investing Updates
Next Democratic Debate Looms, Latest Democratic Polling, plus Manufactured Home Investment Updates
Legal Insurrection – Will Senator Warren, Other 2020 Presidential Hopefuls Business Deals Hurt Democrats in 2020?
Democrats Take Aim Big Business, Breaking Up Monopolies, Antitrust – plus Manufactured Housing Market Updates
Democrats React to Former VP, 'They'll Eat Joe Biden Alive,' Plus Manufactured Housing Market Updates
"More Extreme Ideas," "More Fairy Tale Economics" – Frmr Rep John Delaney on 2020 Democratic Contest, Zogby on POTUS Trump, plus Manufactured Home Stock Updates
Democrats, Independents, Elephant in the Room, Third Parties, 2020 Kickoff, and Manufactured Housing
Democrats? Republicans? Political Campaigns Manufactured Housing Institute (MHI) PAC Supported
Senate Democrats – Including 2020 Presidential Contenders – Ask CFPB Protect Consumers Against Predatory Lenders — Point Finger at Clayton Homes, Berkshire Hathaway Lending
Manufactured Housing Industry Investments Connected Closing Equities Tickers
Some of these firms invest in manufactured housing, or are otherwise connected, but may do other forms of investing or business activities too.
NOTE: The chart below includes the Canadian stock, ECN, which purchased Triad Financial Services.
NOTE: Drew changed its name and trading symbol at the end of 2016 to Lippert (LCII).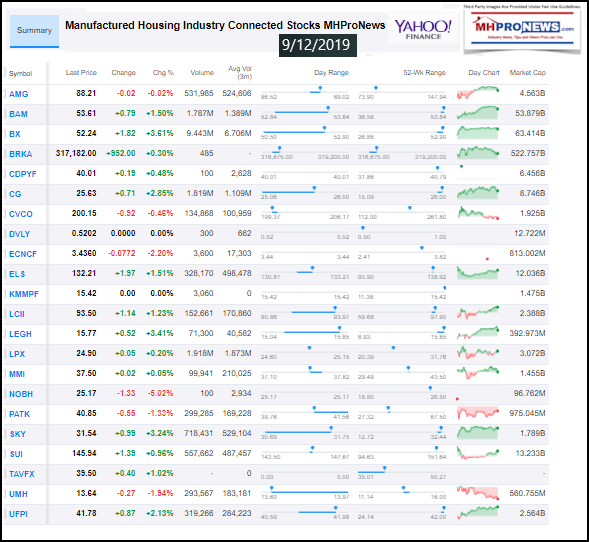 Updated for Summer 2019…
Berkshire Hathaway is the parent company to Clayton Homes, 21st Mortgage, Vanderbilt Mortgage and other factory built housing industry suppliers.
· LCI Industries, Patrick, UFPI, and LP each are suppliers to the manufactured housing industry, among others.
· AMG, CG, and TAVFX have investments in manufactured housing related businesses.
Your link to an example of industry praise for our coverage, is found here and here. For the examples of our kudos linked above…plus well over 1,000 positive, public comments, we say – "Thank You for Your Vote of Confidence."
· For expert manufactured housing business development or other professional services, click here.
· To sign up in seconds for our industry leading emailed headline news updates, click here.
Disclosure. MHProNews holds no positions in the stocks in this report.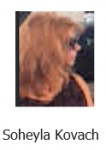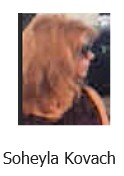 "We Provide, You Decide." © ## (News, analysis and commentary.)
(Image credits and information are as shown above, and when provided by third parties, are shared under fair use guidelines.)
Submitted by Soheyla Kovach, co-managing member of LifeStyle Factory Homes, LLC and co-founder for MHProNews.com, and MHLivingNews.com.