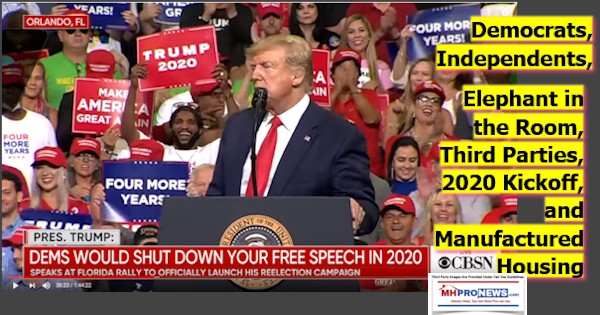 Love him.
Hate him.
The unsure and uncertain.
Whatever your view of the president, there is one thing that is certain. A single tweet from 1600 Pennsylvania Avenue – or wherever the 45th president happens to be – can change the course of the top news story for the day.
Democratic front-runner Joe Biden, per a mainstream media source, said the president's name some 86 times in a recent public appearance. As the head of the Republican Party, whose symbol is the elephant, the headline is an apt reference to President of the United States (POTUS) Donald J. Trump.
The Democrats will have their first debates on June 26 and 27 in Miami, per CNN.
While there are rumblings of a challenge of President Trump among Republicans, there is nothing serious at this time. Last night, in a packed Amway Center arena in Orlando, FL, POTUS Trump formally launched his reelection bid.
President Trump's campaign slogan this time? "Keep America Great."
"A Rigged System…"
There are several things in the United States that fits President Trump and Senator Bernie Sanders' description of a 'rigged system.'
Senator Sanders, VT-I, who is running as a self-styled Democratic Socialist for the Democratic Party nomination for president got the short end of the stick in 2016 in his race against Secretary Hillary Clinton. Former DNC Chair Donna Brazile, who has become a Fox News contributor, stressed several times during her book tour for "Hacks" that she found clear evidence that the Democratic Party and tilted the scales against Sanders.
The United States is a republic with democratic elements to the system. But for decades, there has been what Senator Rand Paul (KY-R) has called an "unholy alliance" between the two major parties. In dozens of states, 'ballot access' is not an easy process. That's no accident. That's designed to create a duopoly between Democrats and Republicans.
As political independents, we are believers that ballot access should be far more easy for third parties to achieve. At present, while it is up in the air if billionaire Howard Schultz, of Starbucks fame, will in fact follow through with his threat for a serious independent campaign for the presidency, it is worth mentioning that the last serious such effort was by another billionaire, Ross Perot.
Monopolization takes on many forms, and political monopolization is one of them. While it is not technically a monopoly, duopoly and oligopoly are variations on the theme. As the definitions below reflect, collusion between such parties can create thinly veiled forms of control over large numbers of people.
There are certainly distinctions between Democrats and Republicans, so MHProNews does not fall into the camp that claims that there isn't a dime's worth of difference between the two major parties. Of course, there are differences.
But the uber rich, their corporations, their nonprofits, and political action committees (PACs) can provide funding to candidates on both sides of an issue in a variety of ways that masks what is occurring to all but a few who pay close attention to the details.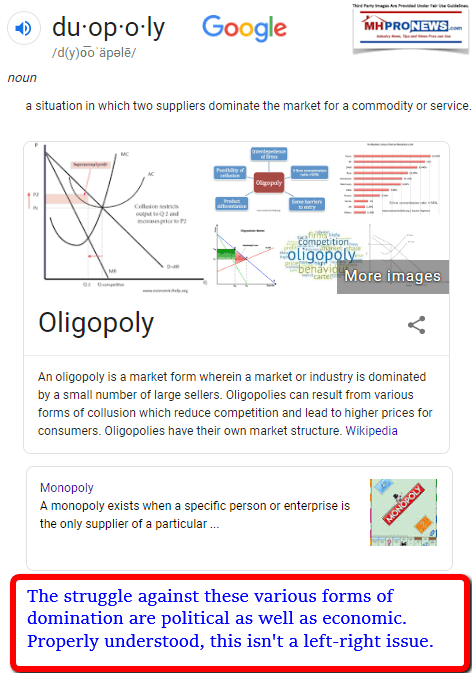 Warren Buffett, the Manufactured Housing Institute, and Politics
Warren Buffett is the well-known chairman of Berkshire Hathaway. He's routinely cited as the third richest man on earth. He is buddies with the other uber-wealthy, such as mega-billionaires Jeff Bezos or Bill Gates. With Bezos, Buffett's Berkshire now has clear ties through roughly a billion dollars' worth of stock in Bezos-led Amazon. With Microsoft founder Gates, Buffett has long had ties too. Among them are Buffett's contributions in billions of dollars' worth of Berkshire stock to the Bill and Melinda Gates Foundation, of which the Gates foundation website says Buffett is a trustee.
Bezos, Gates and Buffett are among those billionaires who routinely support Democrats. That is, within the norms of the law and morality, their right, just as some give to Republicans or others.
But there is clear and compelling evidence – publicly undisputed at this time by those in question – that the Manufactured Housing Institute (MHI) is dominated by a few power players. Chief among those are Berkshire subsidiaries, including Clayton Homes, 21st Mortgage Corporation, Vanderbilt Mortgage and Finance, and a range of other firms, including Shaw, various brokerage firms and companies like Wells Fargo that isn't owned by Berkshire, yet Berkshire routinely has nearly the legal limit in Wells Fargo stock holdings.
There are several paths that money – including for political campaigns – can easily flow through with relative difficult to detect.
By de facto controlling MHI, the Berkshire brands have effective control over their MHI PAC. There are prominent Democrats, such as former MHI Nathan Smith of SSK Communities, who are involved in the MHI PAC. Smith chairs the MHI PAC on this date, per the MHI website.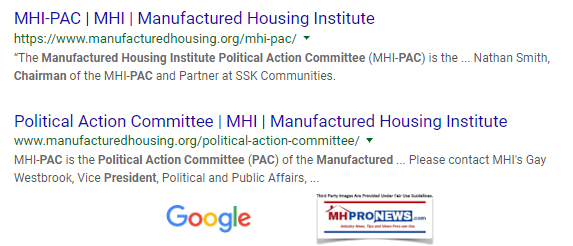 Our recent exclusive and data-driven report linked below reflects that the MHI PAC tends to donate more to Republicans than Democrats, but give to both. That means, they are buying influence with politicians in both major parties, who in turn tend to do what they want.
Democrats? Republicans? Political Campaigns Manufactured Housing Institute (MHI) PAC Supported
That must be kept in mind when issues such as the failed Preserving Access to Manufactured Housing Act come up for votes. For years, there was Buffett backing President Obama and candidate Hillary Clinton, which pledged to pass and protect from change the Dodd-Frank legislation. Meanwhile, the MHI PAC and MHI itself were lobbying to 'pass' Preserving Access. But Buffett's and Berkshire's fingerprints are also on organizations such as Prosperity Now.
Prosperity Now, Nonprofits Sustain John Oliver's "Mobile Homes" Video in Their Reports
Rephrased, Buffett and his money are on both sides of key issues to the industry. The reports linked above and below outline how this can veil artificial headwinds used by Berkshire as 'sharks in the water' in their 'strategic moat.
This is how monopolistic style power over the marketplace is forged.
President Trump, and presidential hopefuls like Democratic Senator Elizabeth Warren, can claim that they are to a degree immune from being 'bought and paid for' by major donors.
But there are so many nuanced ways that money and influence flow that it is not easy to affirm such assertions with certainty. Should Warren become her party's nominee, for example, at that point she is certainly going to be subject to all the influence groups that exert power over the Democratic National Committee (DNC).
"We Provide, You Decide"
MHProNews led the way in prior election cycles in providing political coverage and analysis in manufactured housing. Few things have more influence over business than politics does, because the laws are made and enforced by politicos and their allies.
We will provide fair and balanced coverage of President Trump's reelection effort, as well as coverage of serious independents and of the Democratic field too.
The President's kick off rally last night was carried by a CSPAN channel, but there was a glitch during part of their broadcast. So, both the Fox News and the CBS versions of the president's kickoff rally are posted below.
Note that Major Garrett, with CBS News shared some fascinating insights from Brad Parscale, who heads up the Trump 2020 campaign effort. It is worth watching, as it goes into the issue of public polling and its accuracy. The Fox News video below includes Vice President Mike Pence, who introduced President Trump and First Lady of the United States (FLOTUS) Melania Trump, who also briefly addressed the packed Amway Center.
The past roughly 2½ years has revealed that America can attract back capital that fled overseas. Jobs once thought lost, can be recovered. This is a matter of policy and law.
Complex and higher taxes,
complex regulations,
access to capital and credit,
meaningful access to the political system,
media access and influence
are all arguably tilted in the favor of larger companies and conglomerates. As a pro-manufactured housing industry publisher that is also pro-consumer, we believe there is a clear trail of evidence that Berkshire brands, working at times in concert with a relatively small group of other major players, has de facto rigged the system in manufactured housing.
The result of that is an industry has fewer shipments today than the year that Buffett led Berkshire entered the industry in 2003. At the same time, the market share of Clayton Homes has grown dramatically. Are these coincidences?
Or is it a coincidence that Berkshire's strong influence over manufactured home lending has arguably been exerted to redirect the efforts of the GSEs away from the majority of manufactured homes, as the law intended, to only a small select number of a 'new class' of far more costly manufactured homes that was and is supported by Clayton Homes and MHI?
These are matters that merit congressional and other investigations. Indeed, Clayton is being investigated by several federal agencies, some of which is covered in the mainstream news video below.
Here on MHProNews, our slogan has long been, "We Provide, You Decide." © We share the evidence, the money trail, and the facts in a way that others can follow, step-by-step. That makes your ability to plan – especially as an independent business or investor – that much easier.

But it isn't easy.
For years, we've been peeling the onion of an arguably rigged system in manufactured housing back, one layer at a time. We've given Clayton, 21st, MHI and their outside attorney a chance to respond to such concerns and allegations. Up until 2¼ years ago, they routinely responded readily and promptly. But since that time, they've been largely mute. It was during that last 2+ years that MHProNews got closer to the various methods and ways that the system has been rigged in favor of certain major players. Is it a coincidence that they've taken the 5th as we revealed more information?
Nor should the published scandals surrounding the various most recent MHI Executive Committee leaders be ignored.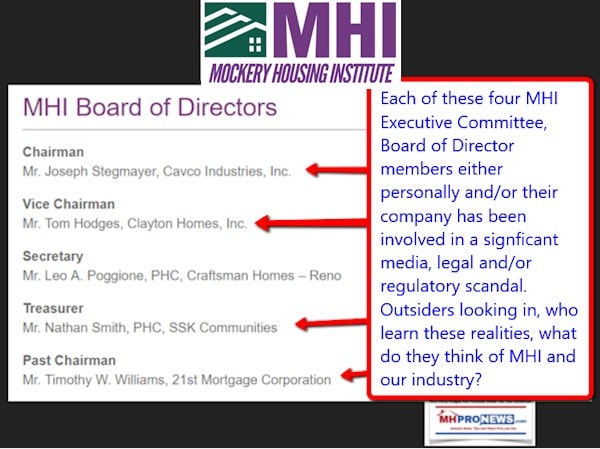 Our reports, fact-checks and analysis has perhaps resulted in a loss of ad revenues from MHI, Clayton, 21st and others that used to financially support this website. That is what it is, but it also meaningfully demonstrates that we are not swayed in our reports and analysis by advertising.
It is 'fearless' coverage that is based upon evidence, not mere opinion, that has made and kept us the runaway #1 trade media in all of manufactured housing. Buckle up, because there is more to come.
Whatever your views on the 45th president, the fact remains that he attracted enough Obama-Biden era voters to his cause in 2016 to crack the 'blue wall,' winning Wisconsin, Michigan, and Pennsylvania. Battleground states of Ohio, North Carolina, and Florida went for candidate Trump too.
While their styles are obviously different, the Democrat turned Republican Ronald Reagan, and the Democrat turned Republican Donald J. Trump have both tapped into blue collar appeal. With a field of Democratic candidates that hovers around 2 dozen candidates, the possibility for some third-party candidacies, this promises to be a memorable electoral season.
Using mainstream polls, but adjusting for their 'internals,' MHProNews in 2016 predicted the upset win of Donald J. Trump as well as the GOP victories in the House and Senate. Meanwhile, MHI and their team had two pro-Hillary Clinton speakers on their stage in Chicago mere days before the famous upset. Their high-dollar predictions proved wrong on several levels.
This is therefore demonstrably the manufactured housing industry's best coverage. Sign up for our industry leading emailed headline news at the link above or further below the byline.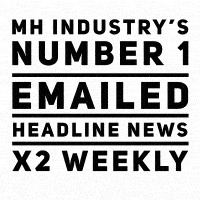 We tackle the topics other trade media in MHVille are afraid to cover with the clarity and objectivity that we do. So be right here at the home of "News through the lens of manufactured homes, and factory-built housing," © where "We Provide, You Decide." ©. ## (News, fact-checks, analysis, commentary.)
NOTICE: You can get our 'read-hot' industry-leading emailed headline news updates, at this link here. You can join the scores who follow us on Twitter at this link. Connect on LinkedIn here.

NOTICE 2: Readers have periodically reported that they are getting a better experience when reading MHProNews on the Microsoft Edge, or Apple Safari browser than with Google's Chrome browser. Chrome reportedly manipulates the content of a page more than the other two browsers do.
(Related Reports are further below. Third-party images and content are provided under fair use guidelines.)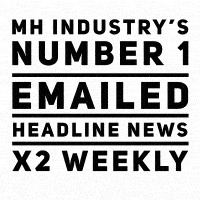 1) Marketing, Web, Video, Consulting, Recruiting and Training Resources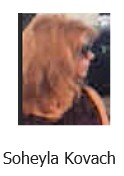 Submitted by Soheyla Kovach to the Daily Business News for MHProNews.com. Soheyla is a managing member of LifeStyle Factory Homes, LLC, the parent company to MHProNews, and MHLivingNews.com.

Related Reports

:
You can

click on the image/text boxes

to learn more about that topic.
Views From Trenches of Manufactured Housing – Factories, Retailers, MHCs, Others Sound Off
Real World Economics' Professor Ed Lotterman says "Playing Monopoly is More Than Just Rolling the Dice"
Manufactured Home Communities' Dodd-Frank Moment Looms, Senator Elizabeth Warren Takes Aim at Several Manufactured Housing Institute Community Members
Dueling Statements, NAMHCO, MHI, MHARR, Weigh In On Controversial MH Bill, "George Allen Pawn Gambit"
Senate Democrats – Including 2020 Presidential Contenders – Ask CFPB Protect Consumers Against Predatory Lenders — Point Finger at Clayton Homes, Berkshire Hathaway Lending
Washington Leak – Justice Department Prepares Major Antitrust Investigation
"Have…Giants…Stifled Competition," Antitrust Battle Lines in D.C., plus Manufactured Home Market Updates
Shocking, True State of the Manufactured Housing Industry, plus Solutions for Profitable, Sustainable Growth – May 2019
What Congressional Representatives, Senators, and Industry Professionals Should Be Asking About Duty to Serve Manufactured Housing
Washington, D.C., April 30, 2019 – The Manufactured Housing Association for Regulatory Reform (MHARR) in an April 24, 2019 communication to U.S. Department of Housing and Urban Development (HUD) Secretary, Ben Carson (copy attached), has called on the Department to federally preempt local zoning ordinances which discriminatorily exclude manufactured homes regulated by HUD pursuant to the National Manufactured Housing Construction and Safety Standards Act of 1974 and the Manufactured Housing Improvement Act of 2000.
" Let's make sure people understand what's available," said HUD Secretary Ben Carson about affordable housing, as he spotlighted manufactured homes as a key part of the Innovations in Housing display on the National Mall in Washington, D.C. " You can get one of these manufactured houses, for instance, for 30 percent less, and they are very, very resilient.
It's been more than ten years since Congress enacted the Housing and Economic Recovery Act of 2008 (HERA) and its "Duty to Serve Underserved Markets" (DTS) mandate. DTS directs both Fannie Mae and Freddie Mac to "develop loan products and flexible underwriting guidelines to facilitate a secondary market for mortgages on manufactured homes for very low, low and moderate-income families."