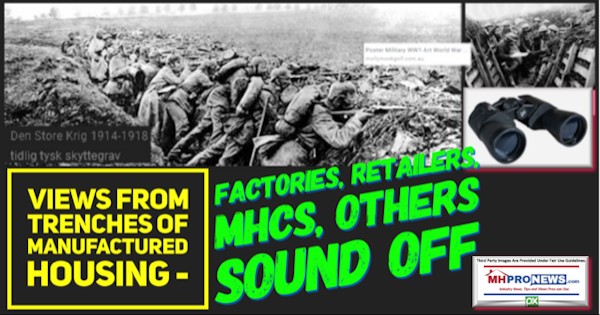 National and state level data are obviously relevant. But so too are impressions and facts that arise from street retailers, manufactured home communities, and HUD Code producers.
One multiple location retailer told the Daily Business News on MHProNews that they are having a good year. They report that most, but not all, of their locations are up over last year. That's not Clayton, which will be the focus of a separate upcoming report.
Other sources besides 'Big Blue' – code for some that means Clayton Homes – have told us that they are up, flat, or down compared to last year. One producer is reportedly 'to the saws,' per a well-connected independent retailer, while others are 30 to 45 days out.
Factory lead-times are generally down from a year ago. Depending on the part of the country and the plant, they are from about 2 weeks to 10 weeks out. A year ago, 16 weeks was far more commonly heard from numbers of HUD Code factory-builders.
While a buyers group says that they are up year-over-year last year, that must be taken with a grain of salt, as the industry is down about 10 percent nationally vs the same time next year.
A source with Legacy Housing (LEGH) said, "Tony, production here is 3-5 weeks out." As a publicly traded company, that data will eventually turn up in their SEC filings.
Here is a snapshot from a well-placed source with another non-'big blue' vertical operation. As a reminder, MHProNews turns some quotes bold and brown to make them pop, but the punctuation, spelling, etc. are all in the original:
"Orders are soft at mfg. but applications up at Retail …
It is coming…
My monitoring graphs tell me over last 20 years there is a pick of 8 to12% at mfg. that starts in mid July…. It has always been there… ripple or tsunami it happens… many speculate why it happens… sometimes it falls in Sept and sometimes it goes through winter.
Also, business has never been down in an election year … coming..
June Vacation month over
Got get ready for school this fall
Time to turn and act on plans…
No doubt the excessive rains have slowed deliveries… that is going to pass…
Sales centers got jammed with inventory during winter and those are beginning to come down… which will create some scattered opportunities for mfg. replacements.
New Vision Homes in Madill, OK may be a stressful situation to make it… I didn't say it.
This should not have happened… but a blip in the market shows how vulnerable some are…
Presido, TX. mfg. dodge a bullet on 5% tariff… Solitaire
Built in Mexico, transported over the bridge and tested and appliances installed and labeled in Presidio… (built in America) so they skate the built-in-Mexico to exploit labor.. could have killed the singles with a 5% hit….
Biggest issue with GSE is not getting us chattel in HUD homes and
Treating us like chopped liver on the upper end HUD product… missed the mark… trying to make a new class…
Went to Tunica and there were plenty of Freddie/Fannie proposed product….
And the new market …. The site builder who is squeezed on the cost of stick built…
…. Did not do anything for main stream for us… if so we may not be in a down turn… if the economy is roaring …. Where is our ray of sunshine… ???
Best kept secret…"
That source has previously blasted the so-called new class of homes, see that and more in the report linked below.
"What Are We, Chopped Liver?" MHI Member December 2018 Reactions
As a follow up, that manager was asked if zoning placement barriers hindered the industry? The response:
"You are probably correct…
It is the look, not the code.
…. But you disqualify many with the price to get the look…
Strange that a 3.5:12 pitched roof will keep out weather, but if [the] power [that be, the GSEs] does not like the look… it will not get accepted… and some customers are denied housing… why?
(not talking about subdivisions; they have to be similar to promo community at the address)
Strange, if not 100% drywall it will not qualify for the [GSEs] program… why.. who says. Why are you getting into that spec… why not let the customer choose… you cannot see it from the street… but you knocked out customers and some mfg. facilities…
Okay, we have a two year window of trial….
We will see…"
Rephrased, angst over a misdirection of the Duty to Serve financing to the new class of homes, and away from all other manufactured homes, plus and a lack of parity in placement that ought to be permitted by the enhanced preemption provision of the Manufactured Housing Improvement Act (MHIA) of 2000 are on that professionals mind. That manager is far from alone.
Manufactured Housing Professionals, HUD Secretary Ben Carson, Must Promote These Two Words
Land-Lease Community Frustration, Anger
Independently owned manufactured home communities have expressed anger and frustration over the types of headlines and concerns raised by videos like the Last Week Tonight with John Oliver's "Mobile Homes" sparked.
Several have thanked us for the reports like the one linked below.
Prosperity Now, Nonprofits Sustain John Oliver's "Mobile Homes" Video in Their Reports
A notable recent public comment from a higher profile MHI member is the one below.
Frank Rolfe, Dave Reynolds, Both Finger Manufactured Housing Institute (MHI) Failures, in Writing, Again
Concerns Over Vertical Integration and Consolidation
One can learn a lot from inbound callers, as well as from messages. The following Q & A helps reflect the view of a previously growing retailer.
Q: Member of your state association?
A. No.
Q. Do you go to factory-sponsored events?
A. YES…All events.
Q. What is the approx. radius of your prospect client base?
A. 80% of sales are within a 25 mile radius.
Q. How many homes in inventory?
A. Carry about 30+ homes in one location, and about 20 in another.
Q. How many MH communities do you know [well]?
A. 6.
How many retailers?
A. 5.
Q. This isn't a term paper, but any relevant thoughts to the above and our phone conversation are welcome.
A. Challenges:
1. Ability to grow, be profitable and have long term staying power as a business.
2. Develop a competitive advantage to most effectively serve retail customers, park owners, and different customer segments we wish to serve,
3. Rationalize our product offering to reduce inventory level by 50% by year end. We are paying about $23,000 in floor plan each month,
4. Ability to compete when competitive dealers resort to lower prices ranging about 10% less since they belong to dealer buyer groups and we do not,
5. Continue developing simple processes to follow and delegate more responsibilities with accountability,
6. Develop a more effective social media platform,
7. Train our sales team to improve how we serve customers, follow up and more self-sales staff sufficiency,
Q. Are you on our email list? (Notice: brackets are edited what follows below for clarity, otherwise the text is turned bold and brown to make it pop, but the balance is as submitted).
A. I am the only one [at his store] on your mailing list. [Note, several owners and managers forward articles to their team members].
In response to a hypothetical question, what does the realtor expect if Democrats take control of all three branches of the federal government in 2020, this source said the following. It should be noted that this retailer works in markets that has significant numbers of Hispanics, has a bi-lingual staff, and note that many of their customers are undocumented.
1. Impact to individuals – There is a high probability to increase demand for affordable housing. Legacy [Housing] financing could be a great avenue to accommodate non-citizen retail financing…more so than Vanderbilt and 21st for customers with ITIN and non-citizens. There will be more regulations similar to Dodd Frank which will favor the corporate stores vs independent retailers. The scales of business survival tip in favor or corporate stores…with more regulation.
2. Impact to U.S.-retailers will be taxed more and take incentive to grow. There will be regulation and cost to do business which will impact home affordability.
3. Future Impact to independents and business professionals – I see a market where Clayton [Homes], Palm Harbor, Titan [originally part of Champion], and in 2020 Legacy through corporate stores will generate the majority of the business over time. [Independent] Retailers will be mostly found in rural or smaller areas. I see more dealers focus on specialty markets such as: Tiny Homes and used homes.
Takeaways for Industry, Politicos, and Partisans
The Daily Business News on MHProNews are using those responses cited above not because there aren't other perspectives, of course there are. There are industry firms led by pro-Democratic, pro-GOP, independents and those that could care less about politics. But quoted above are commonly held perspectives. It comes from a part of the country that could be viewed as more open to and accepting of undocumented immigrants than others.
Democrats elected dozens of Congressional representatives in 2018 based upon the notion that they were going to behave as more pro-business political moderates. The quoted source above isn't buying it based upon the verbal and written feedback.
A non-association attorney who has numerous media and political ties told MHProNews that they expect a historic electoral college win in 2020. He said it he thought it would be similar to the Nixon vs. McGovern blowout, or Reagan vs. Mondale. When asked if he trusted the polls, the short answer was no, especially this far out (about 500 days to the election).
That same attorney said his reasoning was historically low unemployment, wages up, taxes down and other positive economic news. When asked about antitrust, housing access, or other issues that several 2020 Democrats are raising, he said he thought that was necessary for them politically, as they can't take President Trump on without shifting the subject away from economic successes. He did acknowledge that several things could occur between now and the election that might shift the momentum.
The industry's independents often see trust-busting of monopolistic operations as an important topic.
The trust in the Manufactured Housing Institute (MHI) is low among many independents, even among some in management whose companies are MHI members.
This snapshot is far from scientific in the way that Gallup, Pew, Rasmussen, or media polling operations are done. But it does reflect slices of insights that both professionals and politicos should be mindful of as they plan ahead.
These are the reports found nowhere else, except here at the manufactured home industry's largest and most-read trade media – MHProNews – your source for "News, Tips, and Views Pros Can Use," © where "We Provide, You Decide." © ## (News, commentary, and analysis.) ##
(See Related Reports, further below. Text/image boxes often are hot-linked to other reports that can be access by clicking on them. Third-party images and content are provided under fair use guidelines.)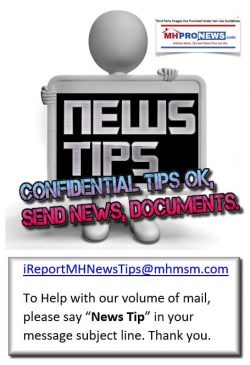 NOTICE: You can get our 'read-hot' industry-leading emailed headline news updates, at this link here. You can join the scores who follow us on Twitter at this link. Connect on LinkedIn here.

NOTICE 2: Readers have periodically reported that they are getting a better experience when reading MHProNews on the Microsoft Edge, or Apple Safari browser than with Google's Chrome browser. Chrome reportedly manipulates the content of a page more than the other two browsers do.
(Related Reports are further below. Third-party images and content are provided under fair use guidelines.)
1) To sign up in seconds for our MH Industry leading emailed news updates, click here.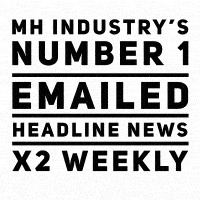 2) To pro-vide a News Tips and/or Commentary, click the link to the left. Please note if comments are on-or-off the record, thank you.
3) Marketing, Web, Video, Consulting, Recruiting and Training Re-sources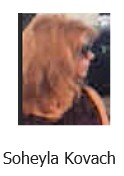 Submitted by Soheyla Kovach to the Daily Business News for MHProNews.com. Soheyla is a managing member of LifeStyle Factory Homes, LLC, the parent company to MHProNews, and MHLivingNews.com.
Related Reports

:
You can

click on the image/text boxes

to learn more about that topic.
Real World Economics' Professor Ed Lotterman says "Playing Monopoly is More Than Just Rolling the Dice"
Manufactured Home Communities' Dodd-Frank Moment Looms, Senator Elizabeth Warren Takes Aim at Several Manufactured Housing Institute Community Members
Dueling Statements, NAMHCO, MHI, MHARR, Weigh In On Controversial MH Bill, "George Allen Pawn Gambit"
Senate Democrats – Including 2020 Presidential Contenders – Ask CFPB Protect Consumers Against Predatory Lenders — Point Finger at Clayton Homes, Berkshire Hathaway Lending
Washington Leak – Justice Department Prepares Major Antitrust Investigation
"Have…Giants…Stifled Competition," Antitrust Battle Lines in D.C., plus Manufactured Home Market Updates
Shocking, True State of the Manufactured Housing Industry, plus Solutions for Profitable, Sustainable Growth – May 2019
" Let's make sure people understand what's available," said HUD Secretary Ben Carson about affordable housing, as he spotlighted manufactured homes as a key part of the Innovations in Housing display on the National Mall in Washington, D.C. " You can get one of these manufactured houses, for instance, for 30 percent less, and they are very, very resilient.
It's been more than ten years since Congress enacted the Housing and Economic Recovery Act of 2008 (HERA) and its "Duty to Serve Underserved Markets" (DTS) mandate. DTS directs both Fannie Mae and Freddie Mac to "develop loan products and flexible underwriting guidelines to facilitate a secondary market for mortgages on manufactured homes for very low, low and moderate-income families."
Washington, D.C., April 30, 2019 – The Manufactured Housing Association for Regulatory Reform (MHARR) in an April 24, 2019 communication to U.S. Department of Housing and Urban Development (HUD) Secretary, Ben Carson (copy attached), has called on the Department to federally preempt local zoning ordinances which discriminatorily exclude manufactured homes regulated by HUD pursuant to the National Manufactured Housing Construction and Safety Standards Act of 1974 and the Manufactured Housing Improvement Act of 2000.