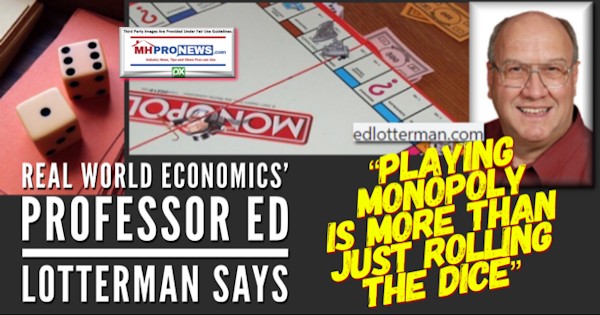 "Since 2005, Ed has been a professor of economics at Augsburg College in Minneapolis, MN, but has taught at many of the higher ed institutions in and around the Twin Cities. In his 30 years as a teacher, he's had the privilege of educating thousands of students.
Before he stood at the head of the classroom, he spent time at the University of Minnesota where he got a bachelor's degree in Latin American studies and a master's degree in agricultural economics," per the EdLotterman.com website page linked here.
Professor Lotterman recently authored an article for Twin Cities entitled "Real World Economics: Playing monopoly is more than just rolling the dice."
The Daily Business News on MHProNews noted on April 26, 2019 that: Ryan Young at the Competitive Enterprise Institute had this to say…"Both parties are making antitrust regulation a 2020 campaign issue. Neither President Trump nor most of the Democratic candidates are proposing improvements.
Let's note for our ever-growing audience, which obviously means numbers of first time readers, that quoting a source doesn't imply agreement. A quote is what it is, and presumably reflects the views of the person or organization cited. Let's further note that MHProNews has for years often turned quoted text bold and brown to make it 'pop.' Those points made, let's proceed.
Young also said, "After a two-decade lull following the Microsoft case, big antitrust enforcement cases are back in vogue. Both political parties are making antitrust regulation a 2020 campaign issue. Regulators, politicians, and voters have reasonable concerns about concentrated corporate power."
Last year, MHProNews spotlighted columnist David Leonardt's snapshot of current trends in monopolization and a look at 'trust busting' history in the report linked below.
New York Times-David Leonhardt-"The Monopolization of America," Manufactured Housing Slant
Industry professionals are well aware of the hot nature of this topic, particularly for manufactured home independents. But those 'big boys' who are increasingly being spotlighted for possible collusion and antitrust behavior are likewise following this issue with keen interest.
With that backdrop, Professor Ed Lotterman's recent column on monopoly follows, provided under fair use guidelines for media. It will be followed with some additional information and commentary.

Defense and aerospace giant Raytheon announced plans last week to merge with rival defense and aerospace giant United Technologies, creating a huge corporation, albeit a bit smaller than Boeing, and reducing competition in defense contracting.
Yet hardly anyone is raising the issue of "antitrust," as we call competition enforcement in our country.
This may be because we have seen a progressive concentration of big business into fewer and larger firms, with resulting reduced competition, in many sectors in recent decades. There has not been any real government action to stem this tide in 20 years. So why start again now?
The last was the Clinton administration's suit against Microsoft's monopolistic practices over software and operating systems. That was well along, but not yet decided, when successor George W. Bush was inaugurated in 2001. Many economists thought the suit promoted economic efficiency and many legal observers thought the Justice Department had essentially won. But limiting business pricing power was not an objective of Bush 43. The government abruptly dropped the suit.
Nothing much has happened since then, even as we have seen growing concentration in many sectors, including defense, aviation, chemicals, pharmaceuticals, agricultural seeds, fertilizers and chemicals, banking and other financial services, and many more.
That may change, however, if a Democrat is elected to the White House in 2020. Massachusetts Sen. Elizabeth Warren, a law school professor specializing in bankruptcy and consumer protection legislation, is the most vocal and specific of the many Democratic candidates in regard to curbing monopoly power. But nearly all of the other candidates make it part of their platform.
Anyone with historical perspective may note parallels between today and the Gilded Age at the end of the 1800s and into the Theodore Roosevelt administration. We are now similarly seeing high concentrations of upper incomes with business exercising great political power. This was curbed back then by the political reaction of the progressive era, one in which Republicans and Democrats played a big part. Sen. John Sherman, of Ohio, who sponsored the 1890 Sherman Antitrust Act, was a leading Republican who also served as both secretary of State and secretary of the Treasury in GOP administrations. GOP president Roosevelt prided himself on being a "trust buster" and in 1912 led a third-party revolt against his own hand-picked successor, William H. Taft, for the latter's insufficient willingness to regulate business.
Regulation of business abuses was key in the platform of Democrat Woodrow Wilson, who won that year. Alabama Democratic Rep. Henry Clayton wrote major legislation in 1914 that strengthened antitrust powers.
But issues wax and wane. By the 1970s, deregulation was in vogue. President Jimmy Carter presided over the deregulation of air, rail, trucking and barge transport. Democrats from Nevada and West Virginia sponsored the key legislation ending 90 years of railroad rate controls.
At the same time, within the economics discipline, interest in control of monopoly power waned. Many economists thought economic losses to monopoly power were small and that regulation could cause greater harm.
But now the pendulum is swinging again. Abuses of customers by financial firms such as Wells Fargo and extreme and apparently unjustified price increases for basic essential drugs such as insulin produce public and political outrage. Just last week, Minnesota Gov. Tim Walz called for a special legislative session to address the insulin problem. So expect the issue of monopoly control to re-emerge on the forefront of public debate and stay there for some time.
All this merits a review of basic terminology and economics of monopolistic issues. Start with some definitions:
Monopoly is a situation in which there is only one seller of a good. With no competition, a monopoly firm will reduce output below the level that would prevail in a free market and can sell it for a high price. That harm to the public is well known, but econ students also learn that monopoly inherently creates economic inefficiency, with waste of resources for society as a whole.
Pure monopolies are rare, but we do create them when we grant pharmaceutical and medical device firms patents while not doing anything to control prices charged for their patent-protected products. Price-regulated monopolies such as utilities are allowed because the barriers to market entry, such as building rival electrical power grid networks, are prohibitive to competitors and inefficient to operate.
The next step is duopoly, a market in which there are two producers, though not necessarily the same size. Large passenger airliner production, in which Boeing and Airbus dominate, is a duopoly. But for smaller planes, including those in the class of the Boeing 737, the barriers to entry are lower and smaller firms like Canada's Bombardier and Brazil's Embraer can compete.
Note that duopoly is different from bilateral monopoly. This is a market in which there is only one seller facing only one buyer. The Electric Boat division of General Dynamics is the only U.S. producer of submarines and the U.S. Navy is the only buyer of most classes, is an example of this.
At the Fortune 500 level, most corporations operate in situations of oligopoly. Just as oligarchy was government by a few powerful nobles, oligopoly is a market dominated by a few powerful businesses, usually corporations. Farm machinery, autos, air travel, pharmaceuticals, grain marketing, electrical equipment, petroleum, chemicals and many other sectors are dominated by a few large firms, particularly in any single geographic area. So too, increasingly, is health care.
This market structure is not static. In the 1930s, my mother, as a college debater, argued for government regulation of main-street chain stores. In the 1960s, Sears, Wards and new entrant K-mart dominated household retailing. But Target and Walmart shouldered these aside only to see themselves lose market share first to specialized big-box retailers and now to e-commerce.
"Monopolistic competition" is a situation of great competition, but not quite meeting the textbook ideal of "perfect competition." Often the only difference is a branded product rather than the "homogeneous commodity" in perfect competition. Retail groceries, gasoline, restaurants and so forth are examples of monopolistic competition.
The structure here may vary depending on the level of analysis. McDonald's, Burger King, Subway, Culvers and others are in oligopoly nationally, but at the consumer level there are dozens of individual eating places from which to choose. And even these larger national and regional providers vary in terms of individual consumer taste and level of convenience.
The incentives for a pure monopoly and the actions they do take are clear and easy to analyze. Those for oligopoly are murkier.
Yes, as a group, an oligopoly will be better off if companies cooperate to act as a single monopolist. That is what "trusts" were all about. That is what a cartel like OPEC strives to do. But as OPEC well knows, it is hard to keep members from cheating. So collusion is difficult. There were no real tools for economists to use in analyzing the dynamics within oligopoly until the application of game theory to economics in the second half of the 20th century.
There are certain situations, beyond granting patents to motivate innovation, where we tolerate monopoly, as in the utilities example above. Officers of Raytheon would argue that defense systems now are in this category. Development costs are so high and production numbers so low, that preserving multiple small firms would reduce research and increase production costs. The same may be argued by drug companies.
Industry structure varies with mergers and divestitures. These often aim for some sort of "integration."
"Vertical integration" means bringing all steps of production into one firm. At one time, U.S. Steel operated iron mines, limestone quarries and owned coal mining companies. It made raw steel but also had a bridge-building subsidiary and others that made products like barbed wire. UnitedHealth acquiring the Express Scripts on-line pharmacy falls under this rubric.
"Horizontal integration" is the merging of firms engaged in the same stage of production. McDonnell and Douglas had somewhat different product lines, but both were major airplane manufacturers. Raytheon and United Technologies are complementary in products.
There may be a two-step process. A large Mexican cement company purchased South Dakota's state-owned cement plant, one of many such acquisitions worldwide. But then it started buying up small-town ready-mix concrete plants, moving eastward along I-90. The first step was horizontal, the second vertical.
Much more could be said about such "industrial organization" issues. They will be in the news in coming months. Exactly how seriously voters take competition issues is uncertain, but expect them to play a role in the next elections. ##
By St. Paul economist and writer Edward Lotterman, originally published at this link here.
###
Once upon a time, blogger George Allen, citing the Manufactured Housing Association for Regulatory Reform at the now defunct Journal of Manufactured and Modular Housing at length, had plenty of things to say about the monopolization of manufactured housing. However, most in our industry's trade media have remained largely mute on the topic, as the report linked below documents.
"Monopoly" in Manufactured Housing Alleged by George Allen, MHI Defender's Turn by former Community-Investor, Self-Claimed EducateMHC Blogger
When CNBC's Diana Oleck asked Clayton Homes CEO Kevin Clayton about what was tantamount to a question on monopoly, his reply was captured on video. That is found in the report linked below.
Tariffs "…Will Effect Demand," says Kevin Clayton, Answers CNBC's Monopoly Question – Video – plus Manufactured Housing Market Updates
MHProNews has repeatedly asked Clayton, 21st, the Manufactured Housing Institute that they purportedly dominate, and their outside attorney to comment on the concerns linked below.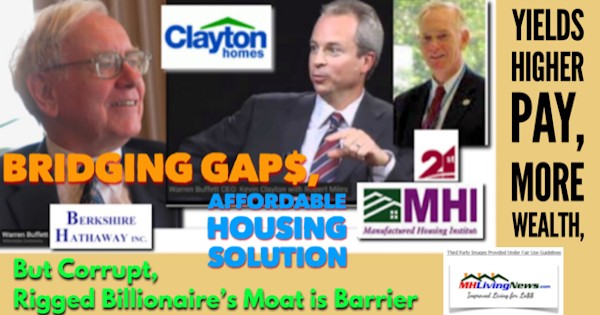 They have exercised their 5th Amendment right to remain mute in response to our offers to confirm or deny the concerns raised and evidenced in reports like the one linked above. That said periodically, for whatever reasons, others will speak up for them. One such was ManageAmerica's Andy Gedo. That exchange is linked below.
Andy Gedo, Partner at ManageAmerica, Raises Clayton Homes Monopolistic Practices Debate; Manufactured Housing Institute Related Issues
Lotterman's debatably correct in saying that there are indeed significant reasons to believe that antitrust will be a higher visibility issue in 2020. There have been mixed signals out of the Trump Administration, sometimes signaling a strong stance, sometimes more subdued. That may well be in keeping with a similar tact on a range of thorny issues.
While the hometown video from Knoxville TV doesn't mention antitrust, it does outline other federal challenges that Clayton and their lenders are facing.
Sources tell MHProNews that the Department of Justice has Clayton and Berkshire on their radar. Time will tell. MHProNews will continue to monitor this issue, as it impacts investor, owners, public officials, and the nation at large. Stay tuned.
That's today's first installment of "News Through the Lens of Manufactured Homes, and Factory-Built Housing," © where "We Provide, You Decide." © ## (News, analysis, and commentary.)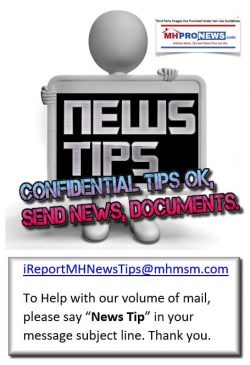 NOTICE: You can get our 'read-hot' industry-leading emailed headline news updates, at this link here. You can join the scores who follow us on Twitter at this link. Connect on LinkedIn here.

NOTICE 2: Readers have periodically reported that they are getting a better experience when reading MHProNews on the Microsoft Edge, or Apple Safari browser than with Google's Chrome browser. Chrome reportedly manipulates the content of a page more than the other two browsers do.
(Related Reports are further below. Third-party images and content are provided under fair use guidelines.)
1) To sign up in seconds for our MH Industry leading emailed news updates, click here.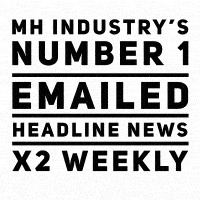 2) To pro-vide a News Tips and/or Commentary, click the link to the left. Please note if comments are on-or-off the record, thank you.
3) Marketing, Web, Video, Consulting, Recruiting and Training Re-sources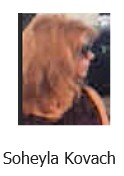 Submitted by Soheyla Kovach to the Daily Business News for MHProNews.com. Soheyla is a managing member of LifeStyle Factory Homes, LLC, the parent company to MHProNews, and MHLivingNews.com.
Related Reports

:
You can

click on the image/text boxes

to learn more about that topic.
Manufactured Home Communities' Dodd-Frank Moment Looms, Senator Elizabeth Warren Takes Aim at Several Manufactured Housing Institute Community Members
Senate Democrats – Including 2020 Presidential Contenders – Ask CFPB Protect Consumers Against Predatory Lenders — Point Finger at Clayton Homes, Berkshire Hathaway Lending
Washington Leak – Justice Department Prepares Major Antitrust Investigation
"Have…Giants…Stifled Competition," Antitrust Battle Lines in D.C., plus Manufactured Home Market Updates
Shocking, True State of the Manufactured Housing Industry, plus Solutions for Profitable, Sustainable Growth – May 2019