Let's be highly objective. It happened to Republicans in a crowded field they had for president in 2015-2016. It may be warming up now for Democrats in 2019, looking ahead to 2020. Former Vice President Joe Biden made a comment that caused two of his Democratic rivals for the Oval Office to pounce. Others have been more subtly cutting away at Biden, who has held a lead in public polling since his announcement. On a day when the VIX dropped mildly, and several major markets rose, but a more mixed day manufactured home tracked stocks, we'll look at a flap that could foreshadow what will happen next week at the Democratic presidential hopefuls' debates, and beyond that venue, on the campaign trail.
If you're new, already hooked on our new spotlight feature – or are ready to get the MH professional fever – our headline report is found further below, after the newsmaker bullets and major indexes closing tickers.
The evolving Daily Business News market report sets the manufactured home industry's stocks in the broader context of the overall markets. Headlines – at home and abroad – often move the markets. So, this is an example of "News through the lens of manufactured homes, and factory-built housing." ©
Part of this unique evening feature provides headlines – from both sides of the left-right media divide – which saves busy readers time, while underscoring topics that may be moving investors, which in turn move the markets.
Readers say this is also a useful quick-review tool that saves researchers time in getting a handle of the manufactured housing industry, through the lens of publicly-traded stocks connected with the manufactured home industry.
This is an exclusive evening or nightly example of MH "Industry News, Tips and Views, Pros Can Use." © It is fascinating to see just how similar, and different, these two lists of headlines can be.
Want to know more about the left-right media divide from third party research? ICYMI – for those not familiar with the "Full Measure," 'left-center-right' media chart, please click here.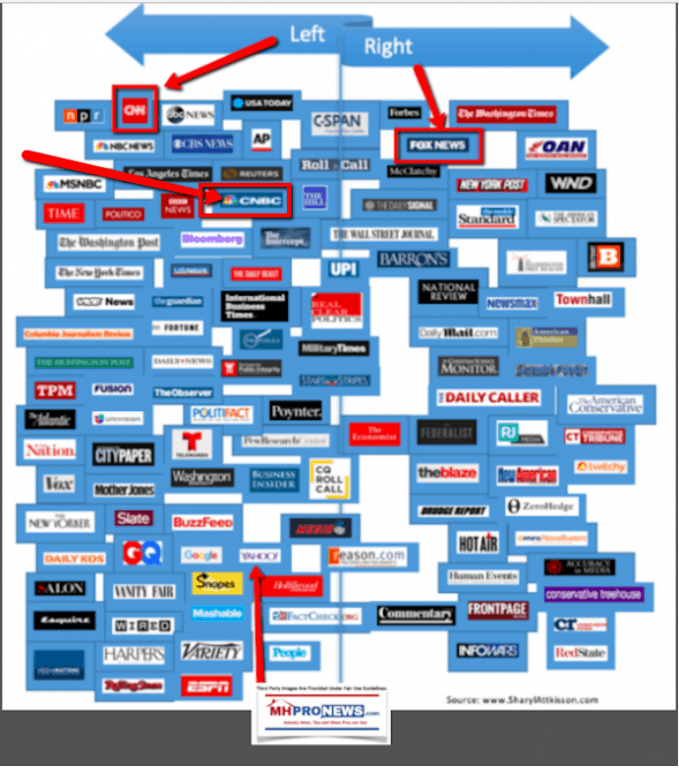 CNN Business
The Fed holds steady
Interest rates remain unchanged, but the Fed signaled potential rate cuts as pressure mounts
LIVE UPDATES Powell says the Fed doesn't target the US dollar exchange rate
'We're not looking at just one thing,' says Powell when pressed on trade
Stocks finish higher as the Fed signals possible rate cuts
OPINION Congress should eliminate the debt limit
What you need to know about Slack's upcoming non-IPO
Blackstone CEO says the trade war won't cause a US recession in 2020
US Steel is idling plants, despite tariffs designed to save them
Colgate's new recyclable toothpaste tube is nearly ready. It took 5 years to develop
The Guardian says it was warned of cyber attacks by Saudi Arabia
'Pose' director Janet Mock makes history with a multi-year Netflix deal
Panera is testing out a dinner menu
Five female anchors file age and gender discrimination lawsuit against NY1, a prominent New York station
Unconventional job interview questions that actually work
Harley-Davidson will make small motorcycles with Chinese partner
Bird scooters got kicked out of San Francisco but found a loophole back in
Lyft returns e-bikes to streets for first time since crashes
Your first ride on an e-scooter will be the most dangerous
In some new cars and e-scooters, it isn't up to you how fast you drive
Hershey's is giving its best candy bar a makeover
Toblerone and Cadbury will be made with sustainable cocoa
Why Wendy's brought back 50¢ Frosties
Halo Top goes beyond 'volume eating' with ice cream bars
Hershey's is changing the look of its candy bar for the first time in history
Fox Business
Fed leaves interest rates unchanged, signals no cuts in 2019
Can Trump legally fire Jerome Powell as Federal Reserve chairman?
Powell dismisses Trump threat, says he 'fully intends' to complete four-year term
Americans spend the most on food in these 10 cities
Harley-Davidson partners with Chinese manufacturer to build 'smaller, more accessible' motorcycles
Facebook's Mark Zuckerberg falls in Glassdoor's list of top CEOs based on employee feedback
The biggest reason why NFL players don't connect with fans
Income needed to afford a mortgage in 35 major US cities
Gundlach: Bond market has been saying Fed policy is too tight
Best Buy to repair Apple products at all US stores
YouTube faces FTC investigation into children's videos, citing privacy concerns: Report
World Series champ Keith Hernandez 'barely' gets away with being a Trump fan in New York
Miami officials pondering cashless Super Bowl LIV at Hard Rock Stadium: report
Captain Sully: Boeing Max pilots need 'muscle memory' before flying
Danny Glover, Ta-Nehisi Coates testify on slavery reparations at House hearing
Costco sells giant, 2-pound doughnuts — but only in this region
Former Hollywood exec Ryan Kavanaugh eyes China for film production
MGA CEO drops Mattel merger pursuit: The toymaker 'cannot be salvaged'
Varney: When it comes to money, America makes it rain
Iran, China trade and Fed watch: 'Will they or won't they' cut?
Drowning in debt vs. government shutdown: Which would you prefer?
Today's markets and stocks snapshot, at the closing bell…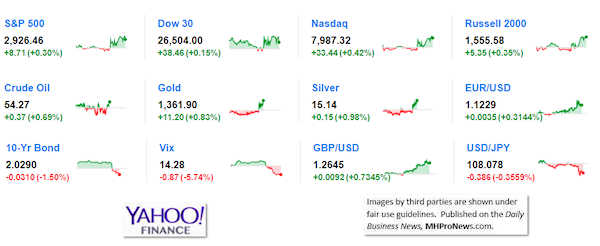 Today's MH Market Spotlight Report –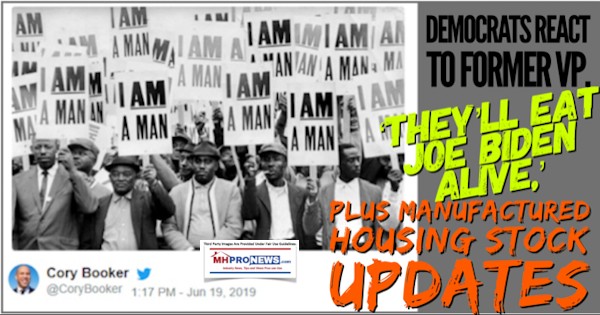 Per left-of-center CNBC today:
· Democratic presidential candidates attack presidential front-runner Joe Biden a day after the former vice president said that his ability to work with a white supremacist senator in the 1970s was an example of the type of "civility" in Congress that has since disappeared.
· New York Mayor Bill de Blasio and Sen. Cory Booker, D-N.J., both denounce Biden by name in a break with the practice most Democrats have followed on the trail thus far. De Blasio, whose wife is black, and Booker, who is black, frame their criticism in personal terms.
· "Eastland thought my multiracial family should be illegal & that whites were entitled to 'the pursuit of dead n——,' de Blasio writes.
· Booker writes in a statement that "frankly, I'm disappointed that he hasn't issued an immediate apology for the pain his words are dredging up for many Americans. He should."
Former Vice President Joe Biden has been dubbed as "Sleepy Joe" by President Donald J. Trump, and has been slammed by numerous Democrats, including Representative Alexandria Ocasio-Cortez (AOC).
But Biden came under more serious scrutiny for remarks about the late lawmakers James Eastland of Mississippi and Herman Talmadge of Georgia delivered at the Carlyle Hotel in New York City on Tuesday evening. Biden said that Eastland "never called me boy" and was able to work with Talmadge despite disagreements.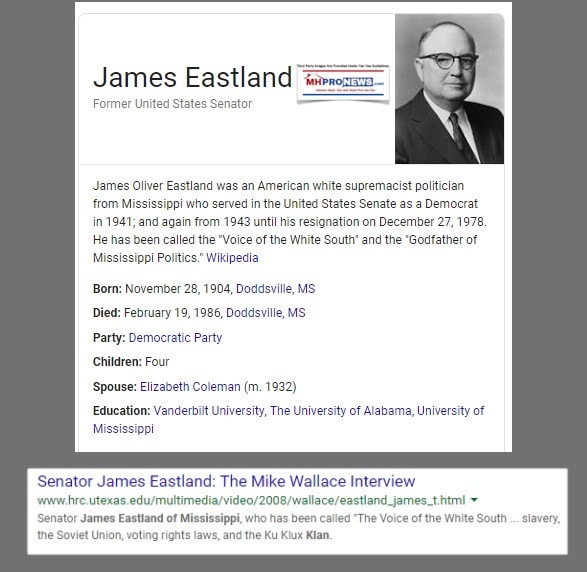 De Blasio wrote that "Eastland thought my multiracial family should be illegal & that whites were entitled to 'the pursuit of dead n——'." The New York City mayor included a photo of him with his wife, Chirlane McCray, and their multiracial children. It will take something significant to give De Blasio traction in a crowded field.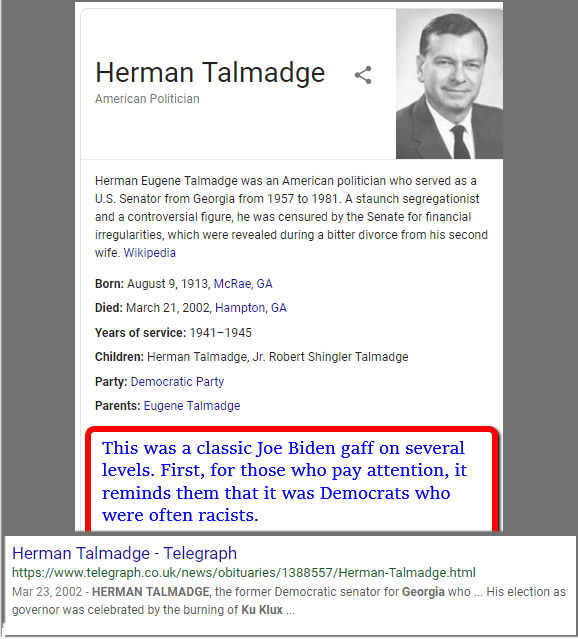 These two Democratic lawmakers provided an opportunity for any opponent to 'flip the script' on Biden, who could become a drag on a party that wants to shake it's often sadly racist heritage.
There are several in and out of the Democratic ranks who think that his own party will 'eat Joe Biden alive,' because he is so gaff prone. Time will tell.
The 2020 race is well underway, and there will be more known in the run up and aftermath of the first Democratic presidential hopefuls' debates. So far, there are reasons to think that in the next few weeks, Elizabeth Warren may be the one that continues to rise, and challenge Biden and Senator Bernie Sanders. We'll report, so stay tuned.
Related Reports:
Democrats, Independents, Elephant in the Room, Third Parties, 2020 Kickoff, and Manufactured Housing
Rising Star – U.S. Senator Tina Smith Pressing Manufactured Housing Regulatory, Legislative Issues
Democrats? Republicans? Political Campaigns Manufactured Housing Institute (MHI) PAC Supported
It's Your Money, Your Future – 2020 Democratic Presidential Debate Line Up, Plus Manufactured Home Stock Updates
Dueling Statements, NAMHCO, MHI, MHARR, Weigh In On Controversial MH Bill, "George Allen Pawn Gambit"
Yahoo Finance Closing Ticker for MHProNews…
NOTE: The chart below includes the Canadian stock, ECN, which purchased Triad Financial Services.
NOTE: Drew changed its name and trading symbol at the end of 2016 to Lippert (LCII).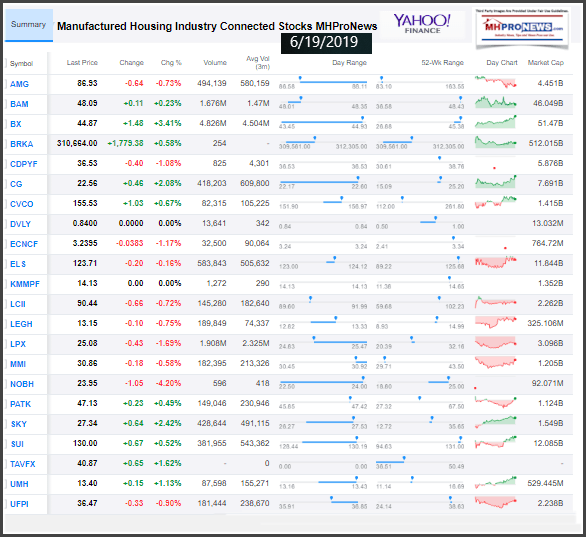 Updated:
Berkshire Hathaway is the parent company to Clayton Homes, 21st Mortgage, Vanderbilt Mortgage and other factory built housing industry suppliers.
LCI Industries, Patrick, UFPI and LP all supply manufactured housing.
AMG, CG and TAVFX have investments in manufactured housing related businesses.
Your link to industry praise for our coverage, is found here.
For the examples of our kudos linked above…plus well over 1,000 positive, public comments, we say – "Thank You for your vote of confidence."
"We Provide, You Decide." © ## (News, analysis and commentary.)
(Image credits and information are as shown above, and when provided by third parties, are shared under fair use guidelines.)
Submitted by Soheyla Kovach to the Daily Business News for MHProNews.com.