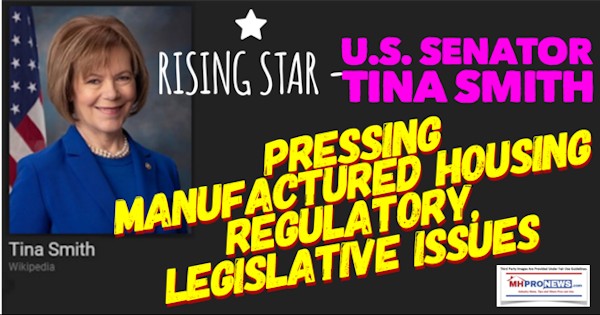 BuzzFeed News are among those in media that has described the freshmen U.S. Senator as a 'rising star' in her party.
That makes it all the more surprising that only the Daily Business News on MHProNews is essentially the only industry-focused trade media that has reported on the broader scope of issues that Senator Tina Smith (MN-D) has been involved with that directly relate to the manufactured housing industry.
Keep in mind that Smith's state is one that has a bipartisan panel of legislators that have both agreed that manufactured homes are an important part of the solution to the affordable housing crisis.
For years here on MHLivingNews and our professional sister site, MHProNews, we've worked with a simple premise. Affordable quality living is a non-partisan issue. Rephrased, that means it should be a bipartisan effort to understand and promote the most proven kind of affordable housing that America has ever known.
There are good reasons to believe that Smith is serious about the broader use of manufactured homes, which is part of the aim of S. 1804, dubbed the "HUD Manufactured Housing Modernization Act of 2019." That said, as this MHProNews report and analysis will reflect, good intentions aside, there are warning flags that must be considered in the legislation she is supporting.
Senator Tina Smith, Manufactured Housing Regulations, Increased Use
As a reminder, or ICYMI, Smith was one of the Democratic Senate lawmakers who signed onto a letter to the Consumer Financial Protection Bureau (CFPB) Director Kathy Kraninger. That letter fingered Warren Buffett, Berkshire Hathaway, Clayton Homes and related lending, notably 21st Mortgage Corp and Vanderbilt Mortgage and Finance. That report and the related letter from lawmakers is found in the linked text-image box below. As our report linked below reflects, that's an important step. But why not ask DoJ to investigate Berkshire, Clayton, et al for allegations of market rigging?
Senate Democrats – Including 2020 Presidential Contenders – Ask CFPB Protect Consumers Against Predatory Lenders — Point Finger at Clayton Homes, Berkshire Hathaway Lending
Also, Senator Smith and other lawmakers is involved in efforts that they believe will promote manufactured homes. At this point in time, while acknowledging the potential for positive outcomes, in its current form, MHProNews is not on board with this legislation for a variety of reasons.
That said, what follows is the full press release from Smith's office. It includes two letters to the FHFA and other lawmakers as downloads. All of those are important to be aware of, because Prosperity Now and the Manufactured Housing Institute (MHI) are reportedly 'in agreement' on the changes made to this pending legislation. By contrast, the Manufactured Housing Association for Regulatory Reform (MHARR) per our sources, is not yet on board with this bill.
These elements will all be spotlighted in upcoming MHProNews reports, fact-checks, and analysis. With that tee up, here is the release from Senator Smith's office.

Senators' HUD Manufactured Housing Modernization Act Would Ensure HUD Supports State and Local Governments
Wishing to Include Manufactured Housing as Affordable Solution When Applying for Federal Resources
WASHINGTON, D.C. [06/12/2019]—Today, U.S. Senators Tina Smith, (D-Minn.), Catherine Cortez Masto (D-Nev.), Tim Scott (R-S.C.), Kevin Cramer (R-N.D.), and Todd Young (R-Ind.) introduced bipartisan legislation promoting manufactured housing as part of the solution to America's affordable housing crisis.
The HUD Manufactured Housing Modernization Act of 2019 would require the Department of Housing and Urban Development (HUD) to issue guidelines for including manufactured housing in state and local governments' Consolidated Plans, which outline their housing and community development priorities, when applying for HUD funding. This legislation will ensure that manufactured housing, a significant source of affordable housing, is considered when jurisdictions develop their housing plans.
"We need to support the affordable housing market and increase housing availability in urban, rural and tribal areas," said Sen. Smith, a member of both the Senate Banking and Indian Affairs Committees. "Manufactured housing is a critical source of affordable housing all over Minnesota, and our bipartisan bill would make sure that more communities across the country think of manufactured housing as a possible solution to their housing needs."
"We're in the midst of an affordable housing crisis in Nevada, and in communities throughout America. Home prices are rising fast, and Americans are spending a greater share of their paychecks to keep a roof over their heads. It's unacceptable, and we must take immediate action," said Senator Cortez Masto. "This bipartisan legislation recognizes that manufactured housing can be part of the solution."
"Manufactured housing is an affordable housing option for over 22 million Americans, including one out of every five families in South Carolina," said Senator Scott. "Ensuring that we keep this important option open to families puts them in a safer position and a path to affordable home ownership."
"Nearly 25,000 North Dakota families live in manufactured houses, built for a fraction of the cost of a single-family site-built home. The HUD Manufactured Housing Modernization Act makes it clear that communities should consider if and how manufactured housing could fit into their affordable housing plans," said Senator Cramer.
"Solving the housing affordability crisis for Hoosiers of all income levels is going to require bold and innovative changes to our nation's housing policies," said Senator Young. "With over 2.5 million Hoosiers already living in manufactured homes — and with Hoosier workers leading the way in construction of manufactured housing — I know it's time to put greater emphasis on manufactured housing as a housing affordability solution."
Manufactured housing is a significant source of un-subsidized affordable housing, with nearly 22 million Americans living in manufactured housing. Manufactured homes also cost as little as $45,000, while a new single-family site-built home can cost $323,000. The quality of manufactured homes has improved dramatically in recent years; manufactured homes can also be more energy efficient and save families costs on utilities in the long-term.
This bill is supported by Prosperity Now, National Low Income Housing Coalition, Manufactured Housing Institute, and the National Association of Manufactured Housing Community Owners.
As Congress considers reforms to the nation's housing finance system, last week Sen. Smith outlined her top priorities. In a letter to the nation's top housing finance agency and leaders of the Senate Banking Committee—on which she serves—Sen. Smith pressed the officials to make sure any changes to the housing finance system support the affordable housing market and housing availability in rural areas, including on tribal lands. Following the Senate Banking Committee's hearings on the housing finance system earlier this year and ongoing discussions about housing finance reform, Sen. Smith is fighting to preserve meaningful gains made in the housing finance system, especially those that support the housing market in low-income, rural, and Native areas. In her letters to leaders of the Senate Banking Committee and Federal Housing Finance Agency Director Mark Calabria, Sen. Smith highlighted the importance of the federal requirement to serve underserved rural areas and low-income communities, and other initiatives currently in place that aim to alleviate the affordable housing crisis.
###
A prior 'deeper dive' report on MHI and their related surrogate's posturing on this issue is linked below.
Dueling Statements, NAMHCO, MHI, MHARR, Weigh In On Controversial MH Bill, "George Allen Pawn Gambit"
It's laudatory that this legislation has bipartisan backing, which is practically necessary in a divided federal government. However, this bill ought to beg several questions.
· Why isn't a robust application of HUD's authority under the Manufactured Housing Improvement Act (MHIA) of 2000's Enhanced Preemption provision being demanded by these lawmakers?
· Why aren't lawmakers demanding the FHFA to fully and properly implement the Duty to Serve provisions of the Housing and Economic Recovery Act (HERA) of 2008, as it relates to manufactured home lending?
The intent behind this bill, and its House counterpart, seems to be authentically pro-industry and pro-consumer. That said, as the MHIA and DTS reveal, passing a bill doesn't mean that it will be properly implemented. Furthermore, as Dodd-Frank revealed, good intention doesn't always end up with the desired outcome.
In order to properly frame such a bill, Congressional lawmakers should hold hearings on:
· Duty to Serve (DTS), and its lack of properly implementation in 11 years.
· The MHIA 2000, with a specific focus on why Enhanced Preemption has not been fully implemented.
· Clayton Homes and MHI, to see if they are involved in collusion to rig the marketplace in a fashion that leads to increasing consolidation of the industry's independents.
Clayton, their related lenders – as the report linked further above and here reflects – and MHI are clearly on the radar of several Democratic lawmakers. Rightly so. More GOP lawmakers need to scrutinize these issues. So too should more federal agencies.
As independents who are pro-industry and pro-consumer, we believe that rushing this bill in its current form could lead to several future problems. The goal may be positive, but the industry's independents, homeowners, and renters who could be potential homeowners have been battered too many times by good intentions that remained practically unfulfilled.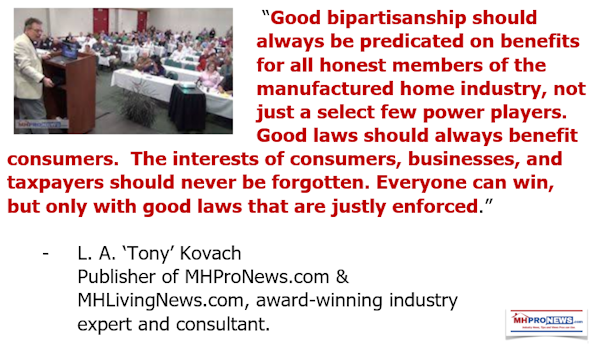 So stay tuned to the manufactured home industry's #1 most read, most trusted independent resource. It's all here at the home of "News through the lens of manufactured homes, and factory-built housing," © where "We Provide, You Decide." ©. ## (News, fact-checks, analysis, commentary.)
NOTICE: You can get our 'read-hot' industry-leading emailed headline news updates, at this link here. You can join the scores who follow us on Twitter at this link. Connect on LinkedIn here.

NOTICE 2: Readers have periodically reported that they are getting a better experience when reading MHProNews on the Microsoft Edge, or Apple Safari browser than with Google's Chrome browser. Chrome reportedly manipulates the content of a page more than the other two browsers do.
(Related Reports are further below. Third-party images and content are provided under fair use guidelines.)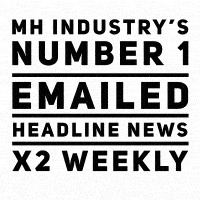 1) Marketing, Web, Video, Consulting, Recruiting and Training Resources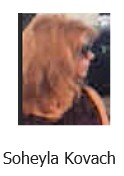 Submitted by Soheyla Kovach to the Daily Business News for MHProNews.com. Soheyla is a managing member of LifeStyle Factory Homes, LLC, the parent company to MHProNews, and MHLivingNews.com.

Related Reports

:
You can

click on the image/text boxes

to learn more about that topic.
EQUITY ALERT: Levi & Korsinsky – Investigation Possible Fraud by Certain Officers and Directors of Cavco Industries, plus MH Stock Updates
https://www.manufacturedhomelivingnews.com/bridging-gap-affordable-housing-solution-yields-higher-pay-more-wealth-but-corrupt-rigged-billionaires-moat-is-barrier/
" Let's make sure people understand what's available," said HUD Secretary Ben Carson about affordable housing, as he spotlighted manufactured homes as a key part of the Innovations in Housing display on the National Mall in Washington, D.C. " You can get one of these manufactured houses, for instance, for 30 percent less, and they are very, very resilient.
Washington, D.C., April 30, 2019 – The Manufactured Housing Association for Regulatory Reform (MHARR) in an April 24, 2019 communication to U.S. Department of Housing and Urban Development (HUD) Secretary, Ben Carson (copy attached), has called on the Department to federally preempt local zoning ordinances which discriminatorily exclude manufactured homes regulated by HUD pursuant to the National Manufactured Housing Construction and Safety Standards Act of 1974 and the Manufactured Housing Improvement Act of 2000.
Views From Trenches of Manufactured Housing – Factories, Retailers, MHCs, Others Sound Off
Real World Economics' Professor Ed Lotterman says "Playing Monopoly is More Than Just Rolling the Dice"
Manufactured Home Communities' Dodd-Frank Moment Looms, Senator Elizabeth Warren Takes Aim at Several Manufactured Housing Institute Community Members
Dueling Statements, NAMHCO, MHI, MHARR, Weigh In On Controversial MH Bill, "George Allen Pawn Gambit"
Washington Leak – Justice Department Prepares Major Antitrust Investigation
"Have…Giants…Stifled Competition," Antitrust Battle Lines in D.C., plus Manufactured Home Market Updates
Shocking, True State of the Manufactured Housing Industry, plus Solutions for Profitable, Sustainable Growth – May 2019
What Congressional Representatives, Senators, and Industry Professionals Should Be Asking About Duty to Serve Manufactured Housing