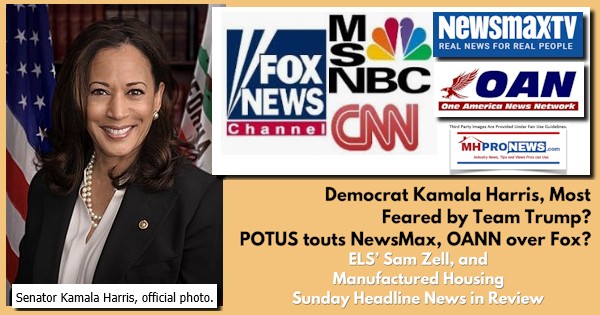 'The GOP Is Afraid of Trump "Nightmare" Kamala Harris'
— so read their headline…
As we noted last week, affordable housing is shaping up as a hot button issue for politicos in 2020. Some researchers are saying it will be a top 5 issue.  If so, that is no surprise.  For good or ill, it matters to our industry. Whatever an individual industry professional or investor may think of a major or minor party and their respective candidates, who says and does what in politics is already having some influence on consumer confidence, businesses, and thus the stock markets. So our Sunday morning headline recap this week features this snapshot of what voices across the left-center-right span have to say about what appears at this time to be the following key questions from pundits and news media.  Who will be the challenger for incumbent President Donald J. Trump? And which rival does Team Trump most fear?
With that preface, let's pick up the thread above with more from its source, below.
"I think she's dangerous, and probably maybe the most dangerous, from our view," stated LAMag about the GOP concerns over Senator Harris' ability to challenge President Donald J. Trump in a general election, if she became the Democratic Party nominee.
The right-of-center Washington Times reported similarly this week.
"The one who scares me the most in the general [election] is Kamala Harris," said their report. They cited a key player inside President Trump's reelection campaign, saying; "The top [Democratic] candidates are all flawed candidates, but the least flawed is Kamala Harris."
With former Vice President Joe Biden's gaffs, errors, and purported fabrications of reality are being called out by the left-of-center Washington Post and others across the left-center-right media divide, it should be no surprise that there are Democratic backers looking for a Biden alternative.
It is worth noting that Equity LifeStyle Properties (ELS) Chair and billionaire Sam Zell has placed a campaign bet on former businessman and Congressman John Delaney. 
Delaney has quipped on several networks that other Democratic rivals are running on "impossible promises" and "fairy tale economics." Delaney – perhaps like Senator Harris or Representative Tulsi Gabbard – are hoping to be the Biden, Senators Elizabeth Warren and Bernie Sanders alternatives.  Look like a long shot?  At one point, so was Barack H. Obama and Donald J. Trump.
Whatever one might think of the former vice president, MHProNews noted months ago after Biden's announcement that other Democrats would eat him alive.
Whatever the polling may say – and those are no better than a snapshot in time 14 months out – it is difficult to imagine him as the Democratic Party nominee. Former Obama adviser David Axelrod has said that what Biden is doing may be the best that can be hoped for from the former VP. Axelrod arguably knows Mr. Biden well.
That noted, let's pivot to the president and his interesting maneuvers in promoting other conservative cable news media before digging into the headlines from MHVille in the week that was.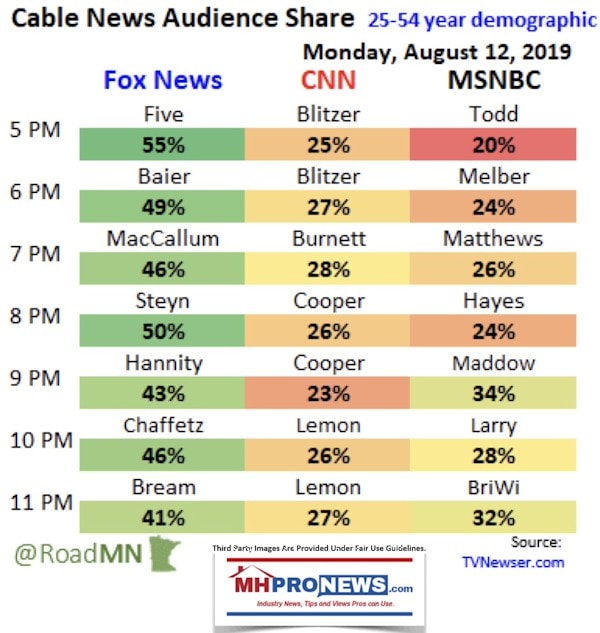 Ranks and Ratings?
In 2016 the NY Daily News said that: "There are no "mainstream media" liberals pulling the strings behind OAN, the 3-year-old digital channel available in about 15 million homes."
That same report noted that "it's by far one of the most fair news outlets around, serving up a daily diet of ad-free, non-ideological, nonstop news — without smirking, snarky anchors or much fanfare."
"Our game plan is to play it straight down the middle," OAN or OANN founder and president Charles Herring — a California-based conservative millionaire — told MediaBlast…"We did a lot of research and we found that MSNBC and Fox actually looked remarkably similar," said Herring. "It's just an anchor sharing their opinions for an hour."
The NYDaily News said that in terms of balanced content, OANN "leaves Fox News Channel, MSNBC and CNN in the dust."
That doesn't mean that they are anywhere near their rivals, but they are trying.  They have interesting items that catch one's eye, like this one from their website, posted below.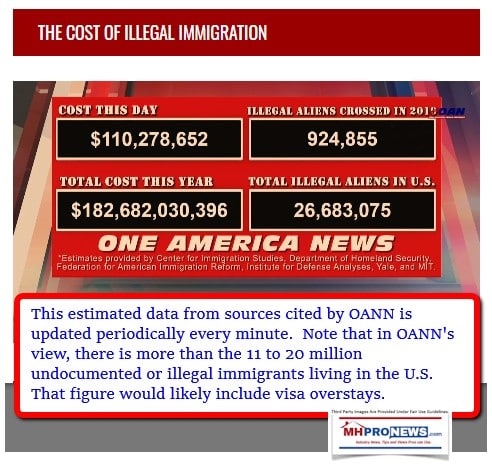 NewsMax Cable News Moves
NewsMax has their own game plan, which featuresthe likes of Bill O'Reilly, formerly the evening top star with Fox News.  That cable network has several personalities like Alan Dershowitz, Trump Administration officials, other experts in politics, business, and punditry – some of whom are often on Fox or other cable news networks.
In terms of websites, here are some indicators.  In pondering these rankings below, keep in mind that Internet Live Today says there are an estimated 1.5 billion websites world-wide. That stated, let's look at how some of these news rivals rank.
Alexa on 8.31.2019 at 3:15 PM ET rated NewsMax as follows. "This site ranks: #7,259 in global internet engagement."
That same resource rated One America News Network this way. "This site ranks: #38,305 in global internet engagement.
Compared to Fox News, per Alexa? "This site ranks #235 in global internet engagement."
Let's mention that unless some person or firm signs up for the Alexa ratings, they are at best an estimate. Furthermore, views on a website are distinct from viewers on cable news.  Fox News currently dominates CNN in cable viewers, but the CNN website reportedly gets more traffic.
Says Alexa: "This site [CNN] ranks: #102 in global internet engagement."
The Drudge Report, which we find to be a useful resource, per that same resource ranks "#658." Other metric operations provide different estimated data, placing Drudge higher and the others previously noted in different rankings too.
Why does this matter? There are several points to be gleaned.
·        Because there are public and other signals that President Donald J. Trump is putting pressure on Fox.  The 45the president has recently been berating Fox News for their polling and more. As 2020 heats up, and the media-minded mogul wants another term in the Oval Office, he knows that for millions, perception is reality.
·        Another reason this is interesting is more industry specific. MHProNews/MHLivingNews parent company has toyed at times with the notion of creating a manufactured housing news focused network.  Watching what other networks are doing across the media spectrum is insightful.  It wouldn't be as hard or costly as some might think to have good manufactured home focused programing, so long as it wasn't 24/7/365 shows. Some of those programs could be B2B, other parts could be B2C.
·        Such hypothetical content could all be placed on YouTube, Vimeo, etc. From there, it could be posted on websites, and would be part of a broader campaign to educate the public.
That segue aside, let's look deeper at these rival mainstream cable news outlets.
One America News is pleased with recent attention they've obtained from President Trump. Here's an example.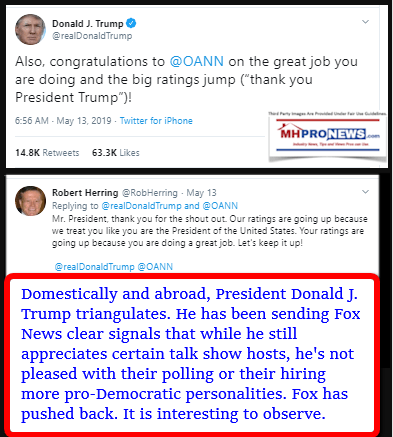 On their YouTube page:
·        One America News Network received a shout from one of the most outspoken anti-Trump talk show hosts on TV. Earlier this week on CNN, anchor Don Lemon held a panel on the president's anti-Fox News tweets. During the discussion, a Daily Beast columnist brought up the president's new favorite news channel — One America News. While some critics on the panel tried to downplay One America's rise, others gave the channel some free publicity. One America News CEO Robert Herring took to Twitter, asking "isn't it nice how generous CNN is?" Here's how it all played out.
NewsMax has likewise obtained some 'presidential love.'
Specifically, it was about this statement, cited by Real Clear Politics.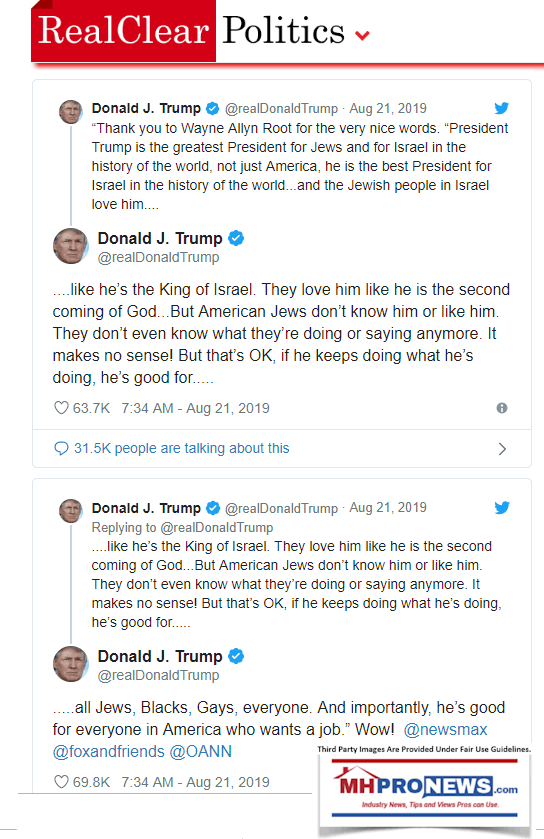 Domestically and abroad, President Donald J. Trump triangulates.  It is a quality that more in MHVille, regardless of politics, should grasp and employ.  The president also understands that you don't have to be all sunshine and roses, apparent candor – however one perceives it – helps him dominate media across the spectrum. While most of that is negative media, per research studies, he is still at about the same popularity level as Barack Obama was, with far more positive coverage.  It's a remarkable accomplishment, when pondered that way.
The Week That Was in MHVille
This past week has been packed with headlines that have pushed our audience ever higher. We once more want to thank those who took time to congratulate us on the date we began – 10 years ago – to lay the groundwork for what was launched in mid-October 2009 and has evolved into MHProNews. 
In less than a year after our launched, MHProNews dwarfed the Manufactured Housing Institute (MHI) in their self-reported media kit, which in those days gave their claimed site traffic. After MHProNews surpassed MHI, they then stopped publishing their site statistics. Interesting, isn't it?
Manufactured home industry bloggers – or more genuine trade publishers – have come and gone since 2009.
The Journal used to provide both a column from the Washington, D.C. based Manufactured Housing Association for Regulatory Reform (MHARR) and from the Arlington, VA based Manufactured Housing Institute (MHI).
Since Jim Visser decided to retire and not sell his The Journal publication, others launched. Each of them have had a notable pro-MHI tilt to them, which is their right in a nominally free society. That said, they shouldn't make claims that are not accurate about what MHI has done or is doing.  That is a periodic beef MHProNews has with those rivals who exaggerate their totals, or claim to be objective about MHI or other matters when they debatably are not.
à Speaking of other national associations, watch for upcoming announcements and developments in the post-production trade group front. The industry needs it, and it is very much in the works.
So, stay tuned.  If you aren't already on our industry-leading emailed headline news, sign up for that here to get headline updates x2 weekly in your inbox.
With several exclusive topics, plus fact-checks and expert commentary that lays out facts, not mere opinion, there is no B2B publisher in our industry today that even comes close to MHProNews.
On the B2C side, MHLivingNews stands virtually alone in industry trade media in making the case to the general public on the realities vs. the myths about manufactured homes.  Who else takes time to draw a bright line distinction between white hat operations and so-called black hat firms? Yet don't the 'good guys' in our industry need that distinction to be made? Right or wrong, mainstream and trade media often focuses on 'bad news.' Because manufactured housing is misunderstood, in our professional view, there is no choice but to make a distinction between white hats and black hats. Last point for now on a topic that merits more depth. Others in MHVille often don't take the time to explain the status of important topics by using facts, evidence, plus research that always cites sources. Rather, bloggers or writers who 'compete' with what we do may be colorful or do a fine job of self-promotion, but they often offer merely vacuous opinions that slyly mask the interests of those who compensate them for pumping out bilge that is often demonstrably wrong. Sad. Why not be man or woman enough to disclose whose interests you are promoting?
Manufactured Housing Headline News Recap
As a programing note for what follows in this weekly headline news recap feature that follows.  Regular readers should note that a key figure at the Manufactured Housing Association for Regulatory Reform (MHARR) has been on vacation this past week, and will reportedly return to work on Tuesday, weather or other factors no doubt permitting.  So, the absence of a report from MHARR's Washington, D.C. take this week should be understood for that reason.
Also, it is obvious that MHProNews is not the Weather Channel or your preferred local weather station. But for those who use their God-given gray matter, it should be equally obvious that weather impacts our industry in a variety of ways, including risk or harm done to businesses in that zone, damage to housing, and orders – including from FEMA – that may follow in the wake of a storm.  The storm article below stands on its own merits, although the current computer models for the guesstimated storms track has changed as is shown below.  The disclosure made, do check out the Dorian and climate change article, if you have not already done so.  It is both timely and timeless on a hot-button issue.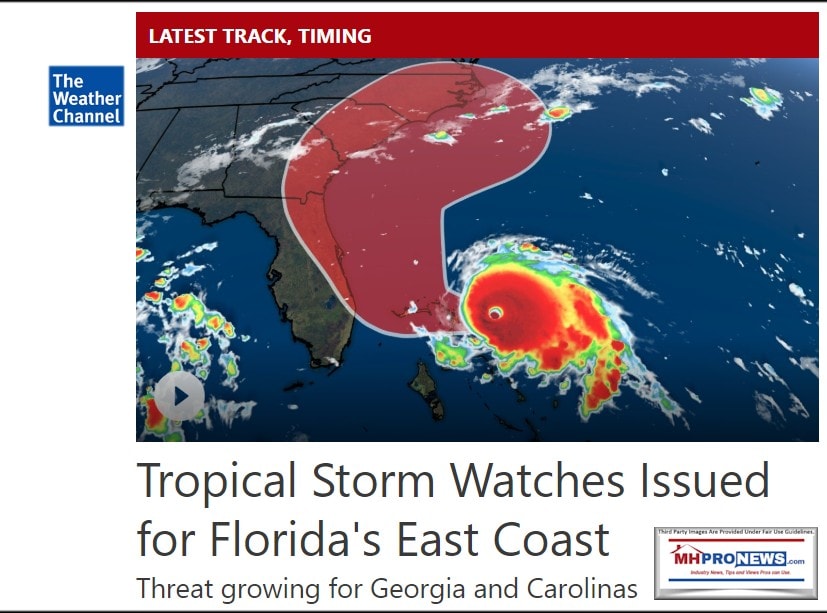 With no further adieu, let's review the week that was between 8.25.2019 and 9.1.2019.
What's New on Manufactured Home Living News 
Bacon's Rebellion, George Mason University – Struggle for Affordable Housing, HUD, and the Manufactured Homes "Enhanced Preemption" Coverup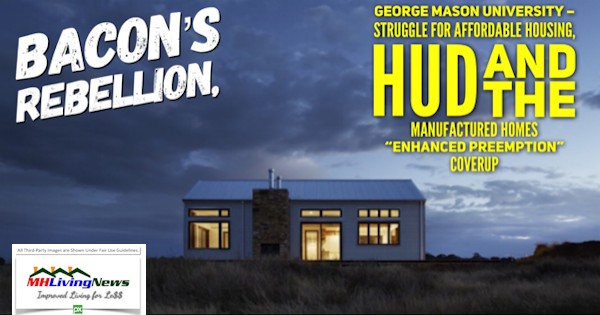 What's New on the Daily Business News on MHProNews
Saturday 8.31.2019
Sam Walton, Mr. T, Reality Checks, MH Industry Successes, and Manufactured Housing Lessons Learned
Sam Walton, Mr. T, Reality Checks, MH Industry Successes, and Manufactured Housing Lessons Learned
Friday 8.30.2019
Gen Z, Millennials, Gen X, and Boomer Homebuyer Trends Survey – Manufactured Housing Marketer, Sellers Insights
Legacy Housing, Growth in Community Sales, Developing, More Inside Insights – plus, Manufactured Home Investing Updates
Radioactive Story-Telling, Prager U's Lawsuit, and Manufactured Housing Insights
Hurricane Dorian, Climate Change, and Manufactured Housing Professional Preparation
Nasdaq – Cavco Industries (CVCO) Insider Trading, plus Manufactured Home Investing Updates
National Association of Realtors Research Exposes Manufactured Housing Institute Errors
Danger Zone, Top Gun, Manufactured Housing Professional Insights, and You
Wednesday 8.28.2019
#1 Issue in California? Cost of Housing – There, Nationally – 2019 Flashback, Stating the Obvious for MHVille
What's Ahead? MH Supplier LCII – Wall Street Analysis, plus Manufactured Home Investment Updates
Countdown to Record-Setting ?! Wholesale Manufactured Home Show Event
Science of Manipulation vs Counter-Messaging, Manufactured Housing, Investors, Professional Performance, Duck Dynasty, and You
Tuesday 8.27.2019
Sun Communities Scores 1/3rd Billion Dollar M&A, Insights, Details Beyond Media Release
Ross Kinzler – Manufactured Housing Organizational Drift? Going to the Next Level
Insider Trade, John McLaren – Sun Communities President, COO – plus Manufactured Home Investing Updates
Cutthroat Tactics – Candidates Romney, Trump, Transparency, Tax Returns, 2020, Lessons Learned for Manufactured Housing Investors, Professionals
Monday 8.26.2019
Is Manufactured Housing Investing or Professional Clarity Possible?
Big Picture – China-U.S. Trade War, White House Statement, Manufactured Home Pro Alert
After U.S. China Saber Rattling, is a Truce the Best Hope? Plus, Manufactured Home Investing Updates
Cultural Corner – O Fortuna, Hava Nageela, Mary Did You Know, and America x2
Sunday 8.25.2019
Objectivity – Obama, Trump, Controversies, Obstacles, Opportunities – Manufactured Housing Review
Here on MHProNews, we have evolved, as longtime readers know.  We dig deeper on issues that directly and/or indirectly impact our industry, its investors, advocates, current and potential home owners. We look at a news item or topic, and see how a planned report relates to other known facts.  We see if the puzzle pieces fit.  That is when we write. If you want someone to tickle you with fables and their talking point of the day, this is not that place. For those who follow the sources that say one thing and do another, or magically pivot without explaining why, then you begin to value what sets us apart from the rest of the pack. So, if you want a dose of reality that can yield actionable insights, we trust that you'll get into – or are already are hooked on a healthy addiction to reading here. 
Fact checks, and evidence based analysis makes and keeps us the #1, runaway most-read in MHVille. We don't need Greco-Roman columns, because a dose of humility is good for us all.
That's all she wrote this week. Yeah, that other guy helped some too. Thanks again for reading and sharing manufactured home "Industry News, Tips, and Views Pros Can Use," © where "We Provide, You Decide." © ## (News, weekly recap, fact-checks, analysis, and commentary.)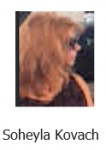 Submitted by Soheyla Kovach for MHProNews.com.
Soheyla is a managing member of LifeStyle Factory Homes, LLC, the parent company to MHProNews, and MHLivingNews.com. Connect with us on LinkedIn here and here.
Related Reports:
Click the image/text box below to access relevant, related information.
Manufactured Housing Institute Supported Bill Buffeted by Headwinds, Plus Recap and Look-Ahead
Facts are Stubborn Things, Manufactured, Modular Home Professionals Celebrate Victories
Sounding Off! Going "On the Record" – Manufactured Housing Controversies, Opportunities