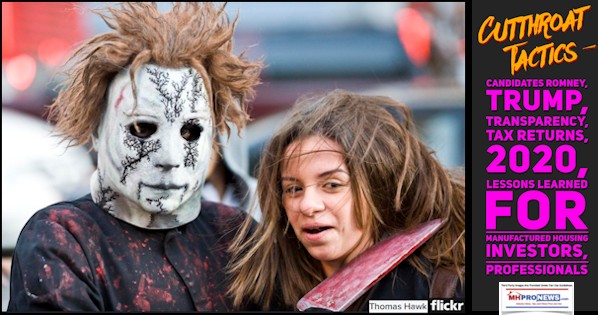 In the 2012 presidential election cycle, then candidate Mitt Romney, the former governor of Massachusetts, dutifully released his tax returns tot he public. For years, this American custom – not required by federal law – has been followed by the major party candidates of both Democratic and Republican parties. Those tax returns, once made public, became a road map for opposition research. In time, commercials and attack lines on Romney – a Bain Capital private equity fund leader – were rolled out . While perhaps those attack ads against Romney could have been done without a reliance on tax returns, road maps by their nature make navigation easier.
In an election year that many thought could go to the Republican, Romney lost to the then incumbent President Barack H. Obama. Attack ads like the one below are part of the reason why that was so, and that relates to manufactured housing in a myriad of ways.
Transparency was weaponized.  Ponder this flashback from left-of-center ABC News report on the topic.
In a race that millions thought Romney could win, he lost to the incumbent President Barack Obama.
Fast forward to 2015. After years of flirting with the notion of running for president instead of backing 'failed' candidates like Romney, Donald J. Trump with his lovely wife Melanie at his side, road down the golden escalator at Trump Tower in New York City.  The candidate began what was deemed by many an unorthodox campaign that few believed he could win.
Among the disruptive tactics used by candidate Trump? A refusal to release his tax returns.
Public records and opposition research still provided then candidate Trump opponents with plenty of ammunition. But unlike several of his GOP predecessors, Democrat turned Republican Mr. Trump took several unique tactics and made negatives more neutral, or even an advantage.  He did so in part by allowing the controversies to fuel interest and media coverage.
While there is much more to that story, that vignette is enough of a reminder that lemons can be turned into lemonade when jujitsu concepts are employed. It is also a reminder to manufactured home industry professionals as to how what may seem like innocent practices can be weaponized by an opposition. 
Never forget there are those in manufactured housing, as one non-MHARR independent put it to MHProNews, who are busy figuring out ways to put some out of business, to force some to sell out for less than their business' inherent value might be, or to keep others from pondering entry into a field that Warren Buffett and others clearly have great confidence in.
Love President Trump, hate him, or be you among the narrower group that could go either way, candidate Trump provided valuable lessons for manufactured housing investors and professionals.  Those lessons can be applied to politics, but they are also arguable useful with respect to business.  Let's see briefly do some reminders of how those lessons in weaponized transparency and opposition research apply.
Flashback to 21st Mortgage
Newcomers to this website, or those who need a refresher, ought to ponder insider reports linked below that may inform the unwitting of how information can be weaponized in business, not just politics.
CFPB and 21st, Second Shoe Drops? Flooring w/21st Mortgage Corp? Insider Tips
Or this next report is apt as well.
Clayton Homes and 21st Mortgage's Manufactured Housing "Spies"
And for those who carry Clayton Homes products, perhaps most notably the TRU line of homes, the reports that follow below and after the byline, notices and related reports will find potentially useful, perhaps even necessary to survive in a purportedly cutthroat culture.
Independent Clayton Retailers – Insiders, High Cost of Going Along to Get Along?
The contest for 2020 is already well underway. Billionaires are among those lining up to support this or that Democratic hopeful. Under either major party, federal resources have been weaponized in various forms or fashions for decades.
Manufactured Housing Connected Billionaires Donors, List of Democratic Presidential Contenders with Most Billionaire Donations
That's not meant to be a turnoff, rather, a reality check. Vote with your wallet, your mind, through clear-sighted information, and then on November 3, 2020 or early voting if you have it, vote with your ballot on Election Day.
Style or Substance? Lesson from Most Hated in America – Monday Morning Manufactured Home Sales, Marketing Meeting
It's your future. Given the monopolization of America, this is a crucial election that is coming up.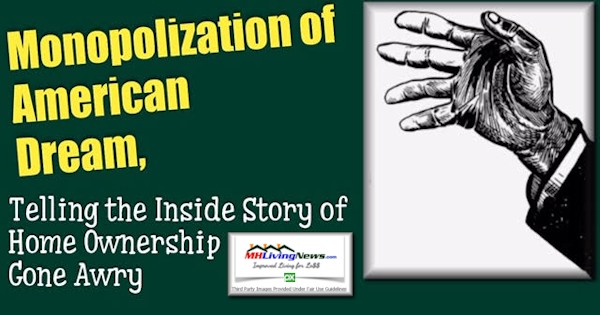 For thousands of manufactured home independents – as well as those who loathe the revelations on this site – MHProNews has become the go-to resource for a better understanding of how the manufactured housing industry really works, as opposed to the fairy tales being spun by smiling faces in the Omaha-Knoxville-Arlington axis.
"Mobile Home Militia," Retail/Production Sources, Sound Alarm Against Clayton Homes, CMH, New "Anti-Competitive Practices" Allegation
That's your first healthy dose of addictive and necessary insights found only here on your home for "News Through the Lens of Manufactured Homes and Factory-Built Housing," © where "We Provide, You Decide." © ## (News, analysis, and commentary.)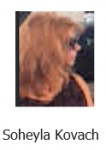 Submitted by Soheyla Kovach for MHProNews.com.
Soheyla is a managing member of LifeStyle Factory Homes, LLC, the parent company to MHProNews, and MHLivingNews.com. Connect with us on LinkedIn here and here.
Related Reports:
Click the image/text box below to access relevant, related information.
Clayton Homes Annual Report Reviews Truth Hiding in Plain Sight
Texas, Florida Cities Plan Manufactured Home Ban, Legacy Housing, FMHA, Lance Inderman/Jessup Housing React
Prosperity Now, Nonprofits Sustain John Oliver's "Mobile Homes" Video in Their Reports
Warren Buffett, Charlie Munger Video Interview at Berkshire Hathaway Annual Meeting on GSEs Lending for Affordable Manufactured Housing and Clayton Homes
Subsidized Housing vs Manufactured Homes, Community Owner Marge Clark Sounds Off
Restraint of Trade, Manufactured Housing Institute, Clayton Homes, 21st Mortgage, Vanderbilt Mortgage, and Antitrust Law
12 Reasons to Oppose a New Manufactured Home Post Production Association
White Collar Shakedown, Fear, Hobbs Act, and Manufactured Housing Independents Struggles