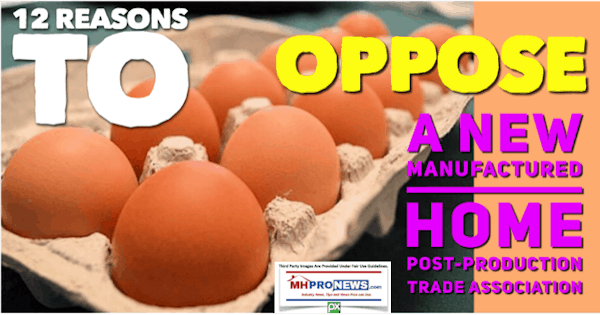 There are more reasons than this one dozen to oppose the start of a new national post-production manufactured housing trade association.  But those noted are sufficient to get the ball rolling on the timely discussion ahead of the 2019 Tunica Manufactured Housing Show.
Some of these are subtle. So, be advised, and read them with care.
1) Manufactured housing shouldn't get any bigger than it already is, at least, not anytime soon. The fact that the industry once produced over 550,000 new homes built two years in a row, or hit 372,000 plus new HUD Code manufactured homes in 1998, are not a reason enough for the Manufactured Housing Institute (MHI) to want to exceed 100,000 shipments in 2018, while RVs continue to outsell MH by some 5 to 1.
2) The Arlington, VA based MHI wants you to know that the manufactured housing industry has too many trade associations already. The fact that other housing sectors – and other numerous industries – have far more trade groups and associations than manufactured housing has is irrelevant to the fine folks in Arlington, VA.  Emotion – or if necessary, power – not logic, should rule.
3) Don't worry about the fact that manufactured homes are increasingly being zoned out of areas that once allowed or embraced them.  Or that several states are witnessing declines in new manufactured home sales, even while an affordable housing crisis is growing. Far more important that 'we should all speak with one voice in manufactured housing,' says the MHI party line.  That one voice should come from those closely-aligned with metro Omaha-Knoxville-Arlington connected operations.
4) If there is any difference in viewpoints that deviates from any official position held by MHI or Knoxville-metro based Clayton Homes, those opposing manufactured housing (MH) viewpoints should shut up, get out of the industry, be forced to sell out there financial interests at a discounted valuation, or otherwise ought to be driven out-of-business.  See number 3 above; only 1 voice is needed in all of manufactured housing.
5) MH Pros and MH Investors only need one official source of news and information. Listening to anyone other than a pro-MHI or pro-Clayton voice is treasonous. For more, ask those who have publicly and privately called for boycotts of all non-conforming manufactured housing news, analysis, and information sources. See numbers 3 and 4 above.
6) Accuracy in information is overrated. MHI is correct often enough to please Omaha and Knoxville. That must be why MHI President Richard 'Dick' Jennison and his colleagues are getting annual bonuses.  See points 3, 4, and 5 above.
7) Style should trump substance, with the pun intended.
8) The Illusion of Motion and having a good time at an MHI event that earns the Arlington based trade group hundreds of thousands of dollars a year is smart for the powers that be, and all other viewpoints don't matter.
9) Photos with leading political figures and MHI leaders ought to give confidence that all is well for MHVille.  Any other viewpoint, should see 3, 4, 5, 6, and 7 above.
10) Ignore the fact that online videos that mock or are critical of manufactured housing, or that blast Clayton Homes, often get far more views than those videos produced by MHI that praise Omaha-Knoxville-Arlington leadership.  Don't let facts like that bother you. See 3, 4, 5, 6, 7, and 9 above.
11) Pay no attention to the fact that Clayton's Market Share of manufactured housing went from about 13 percent to some 50 percent in only some 15 years.  Don't be concerned about what that trend-line might mean for your firm.  See 3, 4, 5, 6, 7, 9, and 10 above.
12) Pay no attention to the fact that Warren Buffett himself says that he only wants to buy things that are a value, meaning, at a discounted price.  The fact that low sales volume in manufactured housing happens to play into that Warren Buffett moat strategy is merely a coincidence.  There is no there, there.  There is nothing to worry about.  If you doubt that, see 3, 4, 5, 6, 7, 9, 10, and 11 above.
Want a bonus reason?
Let fear, habit, going-along-to-get-along, drinking, drugs, sex, threats, blackmail, extortion, or any other reasons motivate you to not want to rock-the-boat or change the status quo for the better.  See the related reports, below the byline and notices.  Facts don't matter, if they contradict the views of your betters from the Omaha-Knoxville-Arlington axis.  If you don't get it, look up the meaning of 'satire.'

Is that too subtle?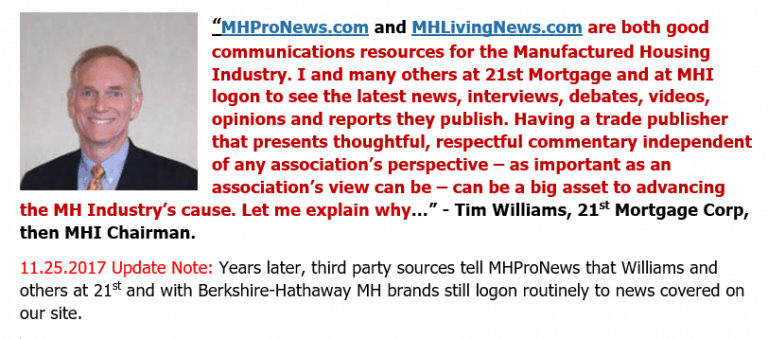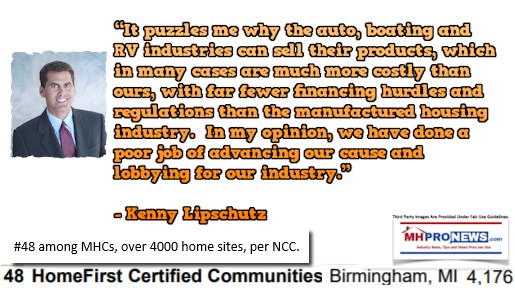 If you want to learn more about growing the industry instead of seeing it languish, and you or a colleague plan to be in Tunica during the 2019 trade show there in March, click here or the image below and send a message with "I plan to be at the Tunica Show" in the subject line.  You can share your thoughts in the body of your message.  Just say if your thoughts are on or off the record.

It takes many things to be successful in business. Experience, capital, confidence, and some guts too.  The meaning of various facts and trend lines can be twisted, or they can be taken at face value.  That's your wake up call, in this edition of manufactured home industry "News, Tips, and Views Pros Can Use," © where "We Provide, You Decide." © ## (News, analysis, and commentary.)
NOTICE: You can get our 'read-hot' industry-leading emailed headline news updates, at this link here. You can join the scores who follow us on Twitter at this link. Connect on LinkedIn here.
NOTICE 2: Readers have periodically reported that they are getting a better experience when reading MHProNews on the Microsoft Edge, or Apple Safari browser than with Google's Chrome browser. Chrome reportedly manipulates the content of a page more than the other two.
(Related Reports are further below. Third-party images and content are provided under fair use guidelines.)
1) To sign up in seconds for our MH Industry leading emailed news updates, click here.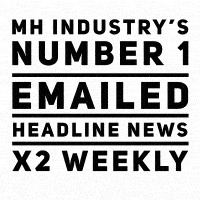 2) To pro-vide a News Tips and/or Commentary, click the link to the left. Please note if comments are on-or-off the record, thank you.
3) Marketing, Web, Video, Consulting, Recruiting and Training Re-sources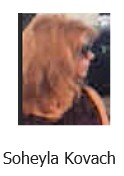 Submitted by Soheyla Kovach to the Daily Business News for MHProNews.com. Soheyla is a managing member of LifeStyle Factory Homes, LLC, the parent company to MHProNews, and MHLivingNews.com.
Related Reports

:
You can

click on the image/text boxes

to learn more about that topic.
"Mobile Home Militia," Retail/Production Sources, Sound Alarm Against Clayton Homes, CMH, New "Anti-Competitive Practices" Allegation
CFPB and 21st, Second Shoe Drops? Flooring w/21st Mortgage Corp? Insider Tips
MHI CEO Dick Jennison's Pledge – 500,000 New Manufactured Home Shipments
America woke up today to division. But perhaps 75 percent (+/-) of the nation's people could come together on a plan that demonstrably could do the following. Increase the U.S. Gross Domestic Product (GDP) by some $2 Trillion Annually, without new federal spending.
https://manufacturedhomepronews.com/masthead/grasping-true-value-of-the-green-new-deal-for-america-affordable-housing-professionals-and-advocates/
https://manufacturedhomepronews.com/masthead/conquest-capitalism-thoughts-of-chairman-warren-buffett-billionaires-campaign-to-control-trillion-dollar-affordable-housing-market/
https://manufacturedhomepronews.com/masthead/warren-buffetts-moat-understanding-manufactured-housing-requires-grasping-strategic-economic-moats/
Washington, D.C., February 4, 2019 – The Manufactured Housing Association for Regulatory Reform (MHARR) reports that according to official statistics compiled on behalf of the U.S. Department of Housing and Urban Development (HUD), HUD Code manufactured home production declined again in December 2018.
Motion – or, more accurately, activity – in and of itself, is not necessarily synonymous with, or equivalent to, realprogress, or, in fact, any progress at all.
A recent article in the Washington Post regarding the HUD manufactured housing program and the reassignment of former program administrator, Pamela Danner, vividly highlights the glaring need for a new, independent, collective, national trade association to more effectively represent the industry's post-production sector.
FOR IMMEDIATE RELEASE (202) 783-4087 Contact: MHARR Washington, D.C., September 27, 2018 – The Manufactured Housing Association for Regulatory Reform (MHARR), in a submission (copy attached) to the House of Representatives' Financial Services Committee in conjunction with a September 27, 2018 oversight hearing on regulation of the two "Government Sponsored Enterprises" (GSEs) – Fannie Mae and Freddie Mac – strongly criticized the Federal Housing Finance Agency (FHFA), for failing to implement federal law and, instead, sanctioning the GSEs' continuing discrimination against lower and moderate-income American consumers seeking to purchase manufactured homes through personal property, or chattel loans.
Washington, D.C., November 15, 2017 – The Board of Directors of the Manufactured Housing Association for Regulatory Reform (MHARR) has authorized the public release of a comprehensive internal study by the Association of the past, present and future representation of the post-production sector (PPS) of the federally-regulated manufactured housing industry.
Remember-Anything You, Richard 'Dick' Jennison, Kevin Clayton, Tim Williams, or Anyone Says Publicly at Louisville Show May Be Recorded by Audio, Video – Legal Details