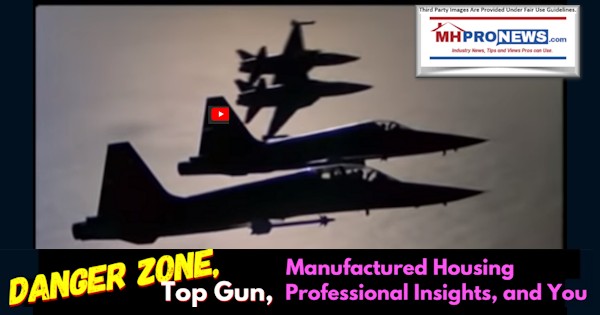 Try to picture in your mind a great or classic movie that doesn't have an equally great soundtrack.
That isn't easy to imagine, is it?
Music and video can move the emotions and make imprints on the mind. While MHProNews routinely preaches facts, evidence, reason, cui bono, common sense, and following-the-money trail, it is foolish to ignore what moves the emotions that cause people to get off the fence, and then act in an appropriate manner.
Emotion plus reason are a powerful combination.
The movie Top Gun is finally getting it's take two, but that isn't even remotely the theme for this article. Rather, one point today is that industry professionals personally need to find motivation. Further, it is a good idea for a company or organization to have it's themes too.  Tag lines, mission statements, and mottos are fine. Put that to music, ad video, and you've got pure motivational power.
The song Danger Zone is a tremendous fit for manufactured housing in several ways.  The music video is posted, followed by the lyrics, and finally some closing commentary.  At the time this article is being drafted, this version of the video – per YouTube – has had 11,356,310 views. 54k thumbs up vs. 2.3k thumbs down.  Some of our buddies in the Omaha-Knoxville-Arlington axis will likely understand.
Danger Zone
Performed by Kenny Loggins, part of the soundtrack for the Paramount Pictures movie, Top Gun.
Revvin' up your engine
Listen to her howlin' roar
Metal under tension
Beggin' you to touch and go
Highway to the danger zone
Ride into the danger zone
Headin' into twilight
Spreadin' out her wings tonight
She got you jumpin' off the track
And shovin' into overdrive
Highway to the danger zone
I'll take you
Ridin' into the danger zone
You'll never say hello to you
Until you get it on the red line overload
You'll never know what you can do
Until you get it up as high as you can go
Out along the edges
Always where I burn to be
The further on the edge
The hotter the intensity
Highway to the danger zone
Gonna take you
Right into the danger zone
Highway to the danger zone
Right into the danger zone
Highway to the danger zone
Gonna take you right into the danger zone
Highway to the danger zone
Right into the danger zone
Highway to the danger zone
Gonna take you right into the danger zone
Highway to the danger zone
Right into the danger zone
Source: LyricFind
Songwriters: Giorgio Moroder / Tom Whitlock
Danger Zone lyrics © Sony/ATV Music Publishing LLC, Warner Chappell Music, Inc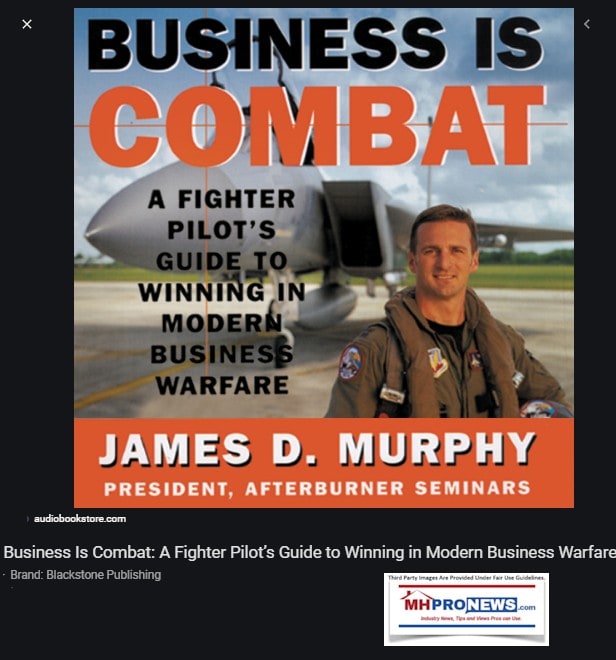 Business for some is a form of combat. That was true before the book shown above was published. The same could be said about politics, sports, or some other disciplines.
While idealism is useful, that should be couple with pragmatism.  The world is what it is, and to change it, its patently clear that changes must be made.  Repeating the same patterns of the past will only yield more of the same results.
Sample Danger Zone Video Viewer Comments
·        how many saw this as a kid and wanted to be a fighter pilot?
·        How many people here because of Top Gun 2 trailer?
·        Who's there after watching Top Gun: Maverick trailer? 😀
·        Good news boys "Musician Kenny Loggins has confirmed that his iconic song "Danger Zone" will be featured in the film."
Those comments, and dozens more like it make the point mentioned at the top of this column.  Music + video is a powerful combination. But there is more.
Talk to front-line sales people, perhaps especially male sales professionals, and don't be surprised if they have some 'get-up-and-go' music.  There may be a mix of tunes that motivates a particular person, or there may be days on end of just one song, like this one.
It's Thursday morning, heading into a long Labor Day holiday weekend.  The next report will be quite different, more serious, plus will stand as a reminder as to why Danger Zone is something that professionals can't forget.  Like it or not, some view business as a form of combat, which means you better be on your guard.  Screw up badly enough, and your business and/or career could be dead.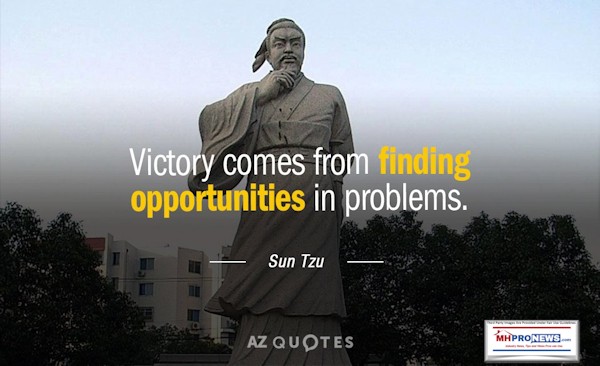 Fearful? Don't show it: face it, embrace it, and overcome.
This isn't about 'poking the bear' to see it the bear pokes back.  The industry's bears have been thinning the heard for years, just look around at the remaining independents and see for yourself. Sun Tzu had a point, "Know the enemy and know yourself; in a hundred battles you will never be in peril. When you are ignorant of the enemy, but know yourself, your chances of winning or losing are equal. If ignorant both of your enemy and yourself, you are certain in every battle to be in peril." From the Art of War, per GoodReads.
That's the first installment today of manufactured home "Industry News, Tips, and Views Pros Can Use" © where "We Provide, You Decide." © ## (News, analysis, and commentary.)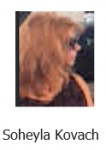 Submitted by Soheyla Kovach for MHProNews.com.
Soheyla is a managing member of LifeStyle Factory Homes, LLC, the parent company to MHProNews, and MHLivingNews.com. Connect with us on LinkedIn here and here.
Related Reports:
Click the image/text box below to access relevant, related information.
Countdown to Record-Setting ?! Wholesale Manufactured Home Show Event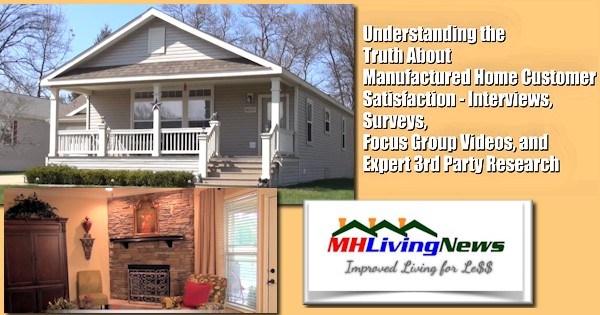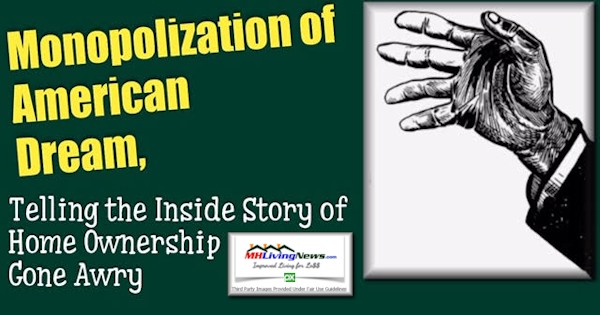 Science of Manipulation vs Counter-Messaging, Manufactured Housing, Investors, Professional Performance, Duck Dynasty, and You
Implementation of the Manufactured Housing Improvement Act of 2000, Congressional Hearing, Redux