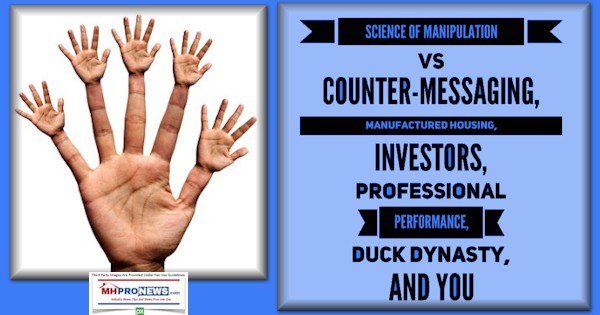 Manipulation can be a science. Meaning, there are those who study the art of manipulation, can do so using scientific principles, but may do so under a variety of different labels. Some forms of manipulation may be legal, others not. Influence and persuasion can be related and may be done morally or immorally.
In order to be more successful, manufactured housing independents must grasp how branding or other methods of influence and manipulation work. Branding is among the common methods for marketers and influence peddlers, and that too may be honestly done or not.  Two examples will make the point.
Back in the day, the phrase "cosa nostra" was arguably a form of branding. It is Italian for "our thing," meaning Mafiosi or part of the Mafia, per Wikipedia. That branding of "cosa nostra" was used to inspire fear in some, while attracting others of like mind.
A more positive example of branding are the words Xerox or Google. Making a copy with a machine was popularized by the Xerox company so well that many would say, 'make a xerox [meaning, make a photocopy] of this document for me.'  Internet searches are dominated by giant Google, and some will say 'google that for me,' meaning, do an internet search, which may be done on Yahoo, Bing, or Duck Duck Go, not only on Google's website.
That's branding.
Candidates brand themselves and each other. That occurs in business too.  So, how this relates to our part of the affordable housing industry is instructive, and will be outlined further below. Let's look at some examples to tee up the topic. 
Business Lessons from Political World
Then candidate Donald J. Trump created nicknames for his opponents, "Low Energy Jeb," "Lyin' Ted," and "Little Marco" were among those. Despite spending more far more money, "Low Energy Jeb" – who was the early favorite among many to become the GOP presidential nominee in the 2016 cycle, the Hill reported that Jeb Bush got only 3 delates. That meant that each delegate cost his campaign and donors $50 million apiece.
Ouch.  But that's instructive.  Money can be tossed out on ineffective branding, if someone else has done a good enough job of defining your business.  As our publisher and consultant L. A. 'Tony' Kovach has often said, "You either define yourself, or others will define you.  If you let others define you, don't be surprised if they do so to your disadvantage."
Branding is one thing. Repetitive messages are a form of this technique of manipulation and/or persuasion — which may or may not be related to branding as it is commonly considered.
Modern Ads, Marketing, Messaging, and Manufactured Housing
Modern advertising is in part about seeing and/or hearing about a product or service repeatedly, over and over. The goal of such repletion is that when the moment comes when a prospect needs that product or service, after hearing it over and over, it will more likely be top of mind.
What is rarely pondered by typical marketers is that there are variations on branding.
For some examples: there is:
affirmative branding,

negative branding,

there is unbranding,

and rebranding too. 
The examples above about candidate Trump negatively branding political opponents cost him almost nothing. But by making that negative branding on key opponents stick, he won his party's nomination. The real estate and media mogul did so with no previous political office held.  Mr. Trump accomplished it without releasing his tax returns, apologizing for years of womanizing, or doing the common things that other candidates often do. Agree or disagree with his policies or methods, but the 45th president has given business professionals and candidates alike several powerful lessons.
As an brief segue, one might speculate if what Democratic 2020 presidential hopeful John Delaney is doing is an adaptation of that Trump method.  Former congressman and long-time businessman Delaney has spoken about his opponents like Senators Elizabeth Warren and Bernie Sanders as believing in "Fairytale Economics" – pointing to his rivals making promises for programs that are too expensive and outrageous when examined to ever make it into law.
Just mentioning those examples may cause the proverbial light bulb to go off over the heads of manufactured home industry professionals.
But for total clarity, let's now drive the point home, specifically with respect to our part of the affordable housing industry.  Because as we've stated for years, there are millions of units needed nationally.  Odds are that there are serious needs for affordable quality housing in your market(s).
So why are so few turning to manufactured homes when thousands of people within an hour's drive of a location(s) you have are making a housing switch this year?  When the industry has a great story to tell, why is it that so few are considering manufactured homes, much less buying one?
Duck Dynasty, and Manufactured Housing Lessons Learned
The answer, once the evidence is examined, becomes clear. What follows isn't the only factor that keeps MHVille underperforming, but it is a serious one. 
More important, what follows is an item that you and your firm can practically do something about without having to rely on magic coming from Washington, or hoping some campaign will be created. 
Stop and think for a few moments.  If you've been in the industry for more than a few years, recall that Clayton Homes – as but one example – used the then popular Duck Dynasty stars to market their homes, among other methods.  Did having those celebrities plug their homes send their sales soaring through the roof?
A look at Clayton's own sales data proves that the answer is no.  Equally important is that there are areas where Clayton is being outsold by other brands.  These are clues for professional marketers who think objectively, can plan long-term, and believe that the industry could grow 5 to 10+ times more than current sales levels, in virtually any market in the country.
Duck Dynasty may have helped them on the margins, but when Clayton claims about half of all new HUD Code manufactured homes sold, and less than 100,000 manufactured housing units have been sold for over a decade, that says it all, doesn't it?  One can lament that Warren Buffett has ostensibly funded groups that in turn have attacked the manufactured home industry, but what can you practically do about it?
Plenty, with the right understanding coupled with the correct approach.
For example, years of pseudo 'news stories' about 'mobile homes' being 'tornado magnets' is enough to cause millions to never seriously consider the manufactured home option. When Zillow did their research on what percentage of housing shoppers were considering manufactured homes, it was miniscule.  You don't need to be a rocket scientist to realize that negative branding of our industry has played a role in that process.
Now take those principles – thinking for a few moments about negative branding – and apply them to other hot topics as it relates to our industry and its public perception.
3 examples from Google searchers performed this morning will serve to illustrate.  Note that by picking the news tab this yielded the result that 'informs' – right or wrong – the general public.
'Mobile home fires'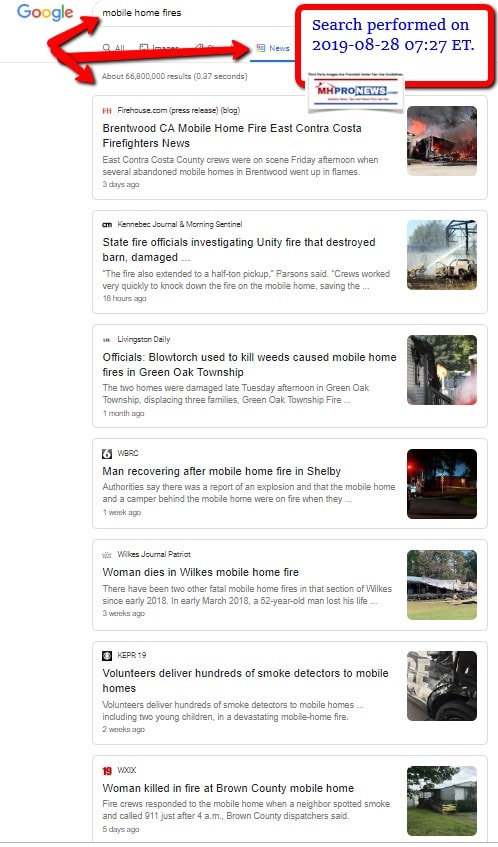 'Trailer park closing'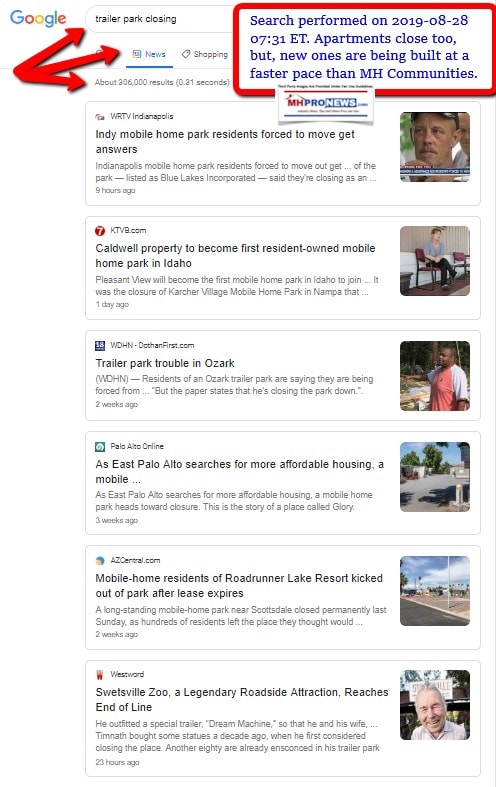 'Mobile home rent increases'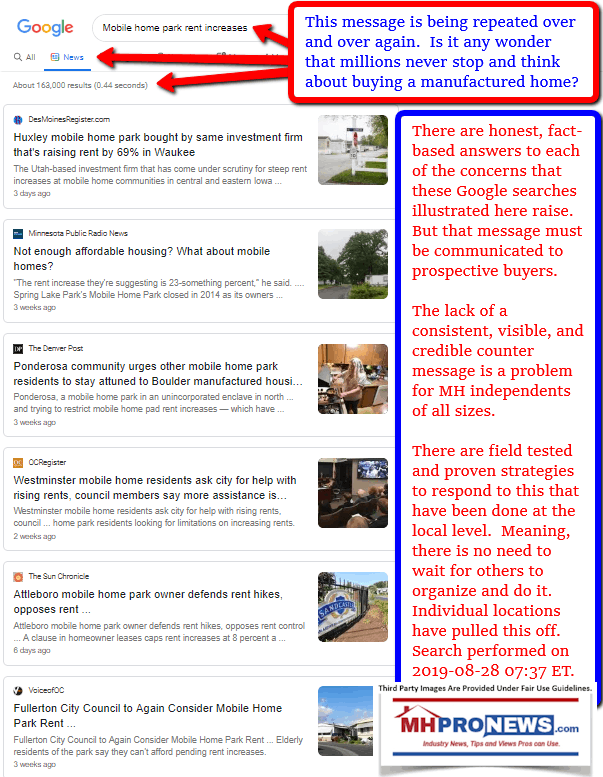 Thousands upon thousands of negative messages about manufactured home living have been published or broadcast as news, and they may not be 'fake news,' just news that is incomplete and/or uses improper terminology. By the way, that is why articles on MHLivingNews like this one matters.
There is arguably no one in our industry that have studied these issues objectivity more than the source you are looking at – MHProNews.  We have done so in conjunction with our MHLivingNews sister-site, and our professional business development services division.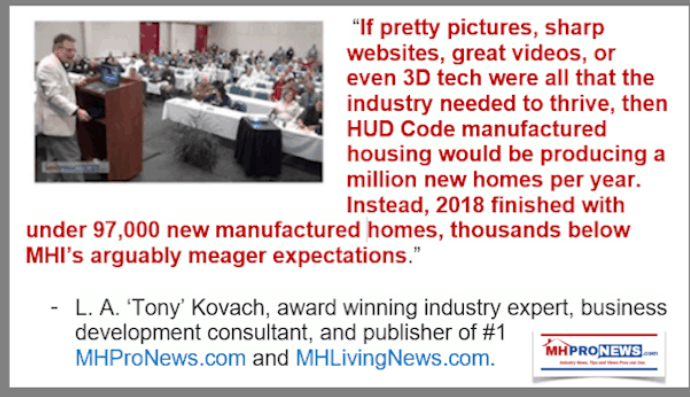 While that is on one level a plug, but on another level an objective reality too.
Because the odds are that you can't find the same level of objective, illustrated, evidence-based analysis about manufactured housing that you do here on MHProNews. If you are one of the thousands of industry pros who check in daily, isn't that part of the reason you come?  Who else provides this kind of analysis?  Pssst. Here's a secret. Even our competition are routinely reading here, that's simply a fact that they quietly admit to their 'intimates,' and that they hope won't become too public. Hey, it's natural and prudent to know what your competition does.
Ideally, every new business development client of our firm undergoes an objective SWOT analysis. Objective observation of what your current reality is will shed light on what your firm's strengths and weaknesses are.  Crafting a plan that maximizes your strengths and overcomes or neutralizes your weaknesses is the goal.  Observation is the way to begin to understand current results.  Observation, plus accurate data, and a willingness to adapt routinely points the way to serious growth.  Just as people go to a doctor, lawyer, or accountant for some things, going to a proven consultant proven to be able to grow results when plans are implemented just makes sense.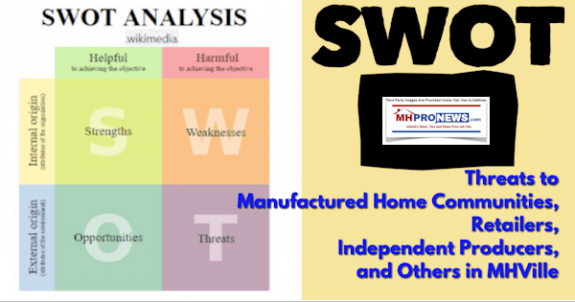 Every firm or person – ourselves included – have strengths, weaknesses, opportunities, and threats – or their own unique SWOT. Think of SWOT as the bookend to the principle of wheat and chaff.

It is arguably not possible to understand the nuances of modern manufactured housing's underperformance without deeply grasping the linked reports from this article further below. Perhaps the best example, because it was so widely seen, is the vexing John Oliver "Mobile Homes" video. But PBS, NPR, OZY media and others over the years provide similar clues that explain a key part of why manufactured housing is underperforming.
Yes, zoning, placement, finance, all of those are important issues.  But because tens of millions of Americans have been successfully manipulated or propagandized into false notions about our industry, that factor may arguably be more important then 'easy financing.'  If more well qualified buyers were shopping your sales center, community, or development, and they 'got it' about manufactured homes, the natural outcome will be that sales will soar.
Ignoring the negative realities won't make it go away.  We've strongly advocated for promoting a full use of good existing laws to address other challenges.  But let's be clear. If enhanced preemption magically was enforced by HUD starting today, and if the FHFA suddenly ordered the Government Sponsored Enterprises (GSEs) to truly fulfill their Duty to Serve (DTS) manufactured housing by making competitive chattel (personal property, home only) loans, the industry could still be performing underperforming.
Getting existing laws enforced PLUS addressing our industry's perception issues at the local level is the key.  All sales are local sales.  If you are a local or regional operation, it doesn't matter as much to you what happens across the country, as what happens at your own sales center and/or community, right?
Note that this article is less about finger pointing than it is about, 'okay, now what will you, your firm, and your location(s) do about this perception of our industry challenge?'
Pragmatic Solutions at the Location Level
Here is what the answer should be. Either on your own, or by hiring someone like our business development services unit that's experienced at education as well as marketing, that is the proven path to growth at the local level.  With all due respect, most companies need an outsider, because if you could do it yourself, you would already be doing so, correct?   
Our firm has several well-known examples of serious growth with high ROI – Return on Investment. But we also have written and video endorsements, which include some – surprise – that came from professionals who are now competitors.  That's pretty cool, right? 
Besides investing in your own team, product, or service, investing in how you coach your team and how you communicate to your market(s) is an investment that your firm is largely able to control. Overhead at a location is largely fixed, it can be managed up or down.  An investment in creating more sales can creates a higher marginal return on all sales, as well as a fatter bottom line.
The correct kind of sales recruiting, sales training, and marketing – based upon a good SWOT analysis of your specific location – is how progress is proven to be achieved.  For examples of case studies that span the years, include those that our rivals reviewed and praised in writing, contact us, or click here and then contact us. 
If you keep doing what you've always done, you will keep getting what you have always gotten. To address the realities of manufactured housing in an 'educational marketing' process, which will require local level:
·        Branding,
·        Unbranding,
·        Rebranding,
·        and finally, negative branding of those who are your competitors who merit it.
There are marginal results, and there are robust results. Time is money. Our very existence as the #1 platforms of their kind are proof that this methodology works.  It is part science, part art, and for those who commit to serious growth, it is proven effective. Enough said.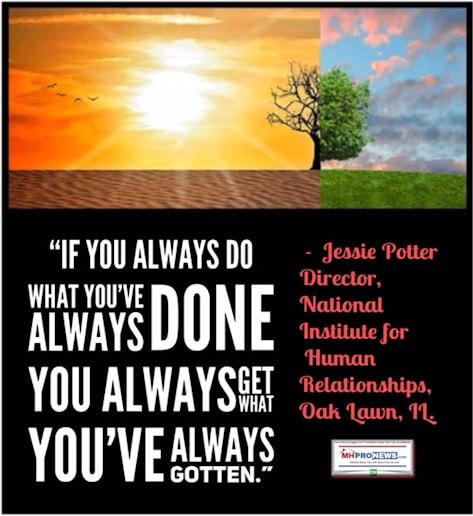 "We Provide, You Decide." © ## (News, analysis, and commentary.)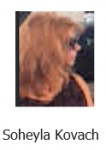 Submitted by Soheyla Kovach for MHProNews.com.
Soheyla is a managing member of LifeStyle Factory Homes, LLC, the parent company to MHProNews, and MHLivingNews.com. Connect with us on LinkedIn here and here.
Related Reports:
Click the image/text box below to access relevant, related information.