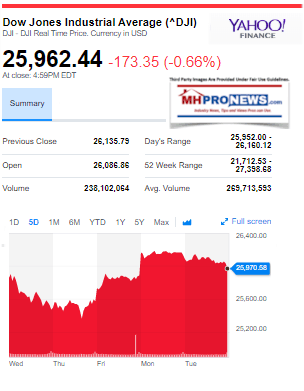 Businessman, former Democratic Congressman, and 2020 hopeful for his party's nomination John Delaney is making the rounds on various cable news shows. His message?  He hopes to be the moderate candidate who will give his party's voters an alternative to Joe Biden and to those in his party who have gone too far to the left.  Delaney's message on this score has been consistent through the first two Democratic Presidential debates.  On a day when markets dipped again, we'll take a left-right mainstream media sourcing look at Delaney's pitch to be your next president. We will also peek at Zogby's interesting new poll on President Donald J. Trump.
Every evening our headlined provide snapshots from two major media outlets on each side of the left-right news spectrum that reflect topics that influence or move investor sentiment. In moments on this business evening report, you can get insights-at-a-glance.
This report also sets the broader context for manufactured housing markets, in keeping with our mantra, "News through the lens of manufactured homes and factory-built housing" ©.  
We begin with left-of-center CNN followed by right-of-center Fox Business. We share closing tickers and other related data courtesy of Yahoo Finance, and more. 5 to 10 minutes reading this MHProNews market report every business night could save you 30 minutes to an hour of similar reading or fact-gathering elsewhere.
Headlines from left-of-center CNN Business.
·        Netflix could face trouble ahead. Here's why
·        Competition and a tough market could threaten Netflix's dominance in the streaming wars
·        China tariffs could cost American households $1,000 per year, JPMorgan says
·        US Steel temporarily lays off 200 workers in Michigan
·        Dow snaps three-day winning streak
·        How do YouTubers make most of their money? Hint: Not on YouTube
·        Beijing says it could do more to stimulate the economy after tiny rate cut
·        Baidu just gave its suffering shareholders a little bit of hope
·        Facebook commissioned a study of alleged anti-conservative bias. Here's what it found
·        Instagram hooked us on ❤️. What happens when they're gone?
·        Opinion: Lawmakers want to lower drug prices. Their plan would end up harming patients
·        The Winklevoss twins may work with Facebook again
·        This social network wants to be a safe online space for immigrants
·        The logo for General Electric appears above a trading post on the floor of the New York Stock Exchange, Friday, Aug. 16, 2019. General Electric rebounded 6.7% after reporting late Thursday that its CEO had bought 250,000 shares of GE stock. GE had taken a plunge on new concerns about its accounting practices. (AP Photo/Richard Drew)
·        GE's comeback was in full swing. Now it's in a dog fight with the Madoff whistleblower
·        Facebook finally rolls out privacy tool for your browsing history
·        How to control your own toxic attitude toward work
·        One of America's biggest gun retailers considers ending gun sales
·        Walmart says it sells 2% of America's guns and supports 'common sense' gun control
·        Goldman Sachs CEO: Gun policy must change now
·        Walmart pulls violent video game displays from its stores, but it will still sell guns
·        Walmart faces pressure to stop selling guns
·        SMART CARS
·        Mercedes caught up in privacy storm over car trackers
·        Ferrari's plug-in hybrid supercar is its most powerful
·        With its hands-free system, Nissan could beat Tesla at its own game
·        Carmakers are taking keyless entry to the next level
·        Your car and your phone are BFFs now
Headlines from right-of-center Fox Business. 
·        TRUMP CONSIDERING TEMPORARY PAYROLL TAX CUT TO STIMULATE ECONOMY
·        US stocks trade down after rally
·        Wall Street is moving closer to a Volcker Rule win
·        Market rebound expected to continue, despite economic uncertainties, JPMorgan analyst says
·        HERE ARE THE BEST, WORST MONTHS TO SELL A HOUSE
·        If you're thinking about selling your house, you'd be better off doing it in the spring and summer months, according to Bankrate.
·        Most US credit card holders make this mistake with their balance
·        World's RV capital says recession signal isn't flashing
·        American whiskey sobering sales dilemma
·        NFL may expand season, cut preseason games
·        Why restaurant chain Jimmy John's food has consumers 'going crazy'
·        Natural gas ban: These California cities consider following Berkeley
·        Harley-Davidson's 5 new models to look for in 2020
·        Apple pouring $6B into this new venture, report says
·        Here's everything Jeffrey Epstein owned with his $577M fortune
·        EU rejects Johnson's Brexit deal before G7
·        These are the 25 best cities to buy a vacation rental home
·        As US-China fight on trade, Japan is on deck
·        Weinstein wants a 'fair' trial; seeks new court for rape case
·        New Alzheimer's early-detection test, vaccine show promise: Dr. Marc Siegel
·        Justice moves to halt airline ticket company merger
·        Google is biased by design: 'The Creepy Line' Director
·        'The Creepy Line' Director Matthew Taylor on concerns of bias at Google and its potential impact on the 2020 election.
·        New Alzheimer's screening reportedly about 94% accurate
·        Bassetts Ice Cream's Alex Bassett Strange gives an inside look into America's oldest ice cream brand.
·        The thrifting revolution: How retailers are upcycling for big gains
·        Thrifting is cool again, thanks to an app that's a hit with Gen Z and millenials.
·        California homeless crisis: San Francisco tackles costly waste problem with 'poop patrol'
·        State AGs gear up to target big tech in antitrust probe
·        Authorities are likely to focus on Google, Facebook, Amazon and Apple.
·        Instagram and WhatsApp could help Facebook stave off a break up.
·        Lack of workers, not Chinese misconduct, is main US job challenge: James Freeman
·        These states were the most affected by trade with China.
·        BT&F President Brian Harker on China's IP theft and the controversy surrounding Huawei.
·        NFL players, owners open to playoff expansion: report
10 Market Indicator Closing Summaries – Yahoo Finance Closing Tickers on MHProNews…

Tonight's Business/Market/Political Impact Spotlight –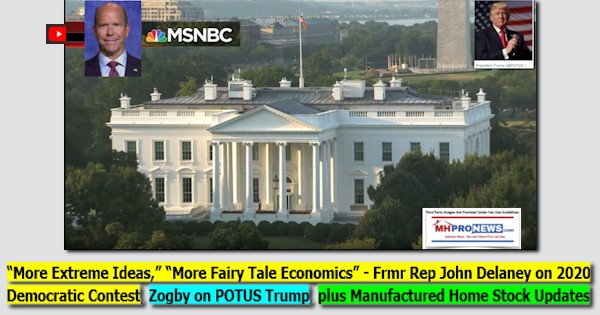 Real Clear Politics (RCP) shows the 2020 Democratic field as follows.  Part of RCP's claim to fame among political junkies is that they take the average of all recent polls to create a composite total.
On left-of-center MSNBC this morning, John Delaney made the following pitch.

There are similarities between that longer video interview above, and the more focused one with right-of-center Fox News.  RCP provides this transcript of the Fox News video.
JON SCOTT, FOX NEWS ANCHOR:  Well, John Delaney is one of Biden's rivals for the Democratic nomination.  He is also a former Maryland Congressman and businessman.  He joins us here in our studio.  Congressman, thanks very much for being with us.  What do you —
JOHN DELANEY, FORMER U.S. REP. FOR MARYLAND (D):  Thanks for having me.
SCOTT:  What do you think of what Jill Biden has to say?  She says others might have better policy provisions but her husband is the electable one.
DELANEY:  I think electability is key, and I think it's clear that a more moderate candidate is what we need to beat Donald Trump.  We have to win the center and win independent voters to beat Donald Trump.  And a more moderate candidate like myself is the — are the people to do that.  But we also need a candidate with new ideas.
The American people are really looking for a new vision, particularly an economic vision, as to how we create an economy that works for all Americans.  And we fundamentally can't be running on business as usual.
We have to be running on this notion of building a big tent (ph) Democratic Party, winning the center, and have economic ideas that are exciting but are also real solutions where we tell the American people how they're going to happen, how we're going to pay for them and how we're going to get them done.
SCOTT:  But —
DELANEY:  We can't have these impossible promises that some of the people on the left are running on.  We need new ideas, real solutions, and we need a moderate candidate to beat Donald Trump.
SCOTT:  OK, but it seems to be a year in which promising things like Medicare for all is what is exciting the Democratic faithful out there.
DELANEY:  Well, it's exciting some of the Democratic base but I think as we're having more of a conversation about Medicare for all, which I started and I have led, I think most people are realizing it's terrible policy and it's also terrible politics.
So I believe if we put someone on the top of the ticket who's running on Medicare for all, we're going to lose to Donald Trump.
I don't think we'll ultimately do that because I think the Democratic Party is starting to figure out that if you go to half the American people and tell them that their private health insurance is going to be illegal, that that's not a god way to win the center, win independents, and beat Donald Trump.
SCOTT:  We have a — you have been in the race longer than anybody else.  You were the first candidate to announce.  We have a graphic of the candidates who so far have qualified to be on stage at the next debate, and you're not among them.  Why?
DELANEY:  Well, we feel confident that we're going to make either the third or the fourth debate.  And that's what we're working towards.  I mean right now I think the race is still very early.  They're not casting votes in Iowa, which is the first caucus state, obviously, for about six months.
And I think most voters are just starting to dial into this race.  About five or six candidates are getting all the attention, Vice President Biden and a few others who are running very far to the left.
I think Democratic primary voters are just starting to focus on this race.  And we think it's early and we think we'll be in either the third or the fourth debate.
SCOTT:  So, you're not at all —
DELANEY:  And we had a good performance in the first two.
SCOTT:  You're not at all disheartened by your standing in the —
DELANEY:  No.
SCOTT:  — polls right now?
DELANEY:  No.  Listen, the only poll that really matters is what happens on the ground in Iowa.  And I've been to all 99 counties in Iowa.  No one has campaigned harder than I have in Iowa.
And I just think what people are thinking in the early states, Iowa, New Hampshire, is very different than what's kind of going on in what I call the social media primary, where there's just this kind of competition to see who can put out more extreme ideas, more impossible promises, more fairy-tale economics.
But in reality I think what most Democrats are looking for is someone who can really solve problems.  They know that's what this country needs and they know that's how we beat Donald Trump.  So I just think this whole thing is early.  There's dozen — there's two dozen candidates running.  So it's a little hard for voters to sort it all out.
But this is what's going to happen.  The field's going to get smaller.  The people who are campaigning hard on the ground in the early states and have a message that can kind of appeal to a lot of voters win the center.  That's who the Democratic Party's going to be looking for and that's who I am. ##
It is worth noting that President Donald J. Trump has been ragging on Fox News recently for their polling. Several Fox team members have vigorously defended their polling practices, which have tilted toward Democrats in head-to-head matchups with the 45th president.
Zogby has come out with polling that shows the President Trump with an edge over his Democratic rivals, but that poll at this time is deemed by some to be an outlier.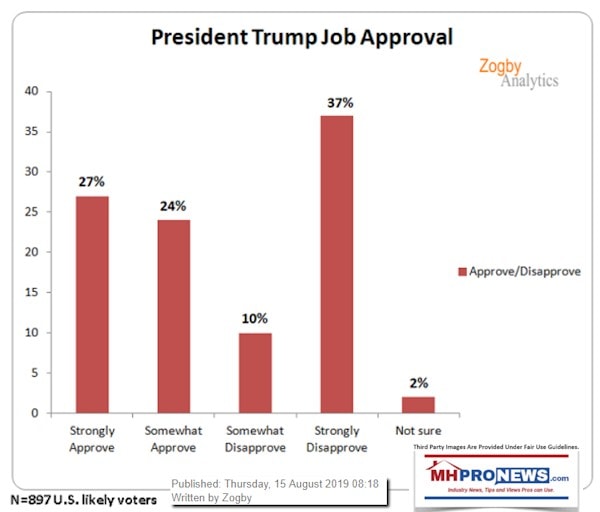 The following is an extended quote from Zogby.
President "…Trump's support with his base has increased drastically; Nearly half of Hispanics approve of Trump…"
"Overall, a slim majority (51%–27% strongly and 24% somewhat approve) of likely voters approve of Trump's job as president, while 47% disapprove-37% strongly and 10% somewhat disapprove; only 2% were not sure.
President Trump continues to score well with younger Millennial voters aged 18-29 (46% approve/50% disapprove) and Generation Z voters aged 18-24 (44% approve/53% disapprove). Usually, Trump does best with voters over 50, but in our latest poll, he is receiving solid support from voters under 50–a majority of Generation X voters aged 30-49 approved of Trump's job as president (51% approve/49% disapprove).
The President also received a good approval rating with voters aged 25-54; he received a majority job approval rating from older Millennial voters aged 25-34 (52% approve/47% disapprove) and middle aged voters aged 35-54 (52% approve/46% disapprove). Among the oldest voters surveyed-aged 65+ and 70+ , Trump's job approval rebounded (57% approve/42% disapprove and 62% approve/38% disapprove, respectively). As per usual, the president did well with men (58% approve/41% disapprove) and he continued to improve his support with all women (44% approve/53% disapprove).
When it came to the political party of respondents, 79% of Democrats disapproved of Trump, while 21% approved of Trump. An overwhelming number of Republicans approved (86% approve/13% disapprove), while Independents were more balanced in their impression of Trump's job performance (45% approve/50% disapprove). The president's numbers continue to improve with Independents, which a few months ago his approval rating was in the 30's.
Race also played a factor in Trump's job approval rating. Hispanics, this time around, were much more likely to approve of his job performance (49% approve/51% disapprove), while the president also saw his numbers jump with African Americans. This was his second straight poll with over a quarter support from African Americans (28% approve/70% disapprove). If Trump wins half of Hispanics and a quarter of African Americans in 2020, Democrats will be in trouble!"
Related Reports:
President Trump is Biggest 2020 Issue for Small Business, Says CNBC/Survey Monkey Poll
President Trump Cancels Visit to Manufactured Home Community After Dayton, El Paso Shooting Sprees
Howard! Where are you? Dems Attack Each Other, Trump Thumps More Tariffs, Oil, Stocks Drop, plus Manufactured Home Stock Updates
Dem Debate Highlights 7.30.2019 'FedEx Election to Donald Trump' – 2020 Hopeful Hickenlooper, Fed Rate Cut…But, plus Manufactured Home Stock Updates
POTUS Trump 'Racism,' BET Founder Robert Johnson, Secretary Carson, and Bipartisan Solutions Advancing Manufactured Housing
Manufactured Housing Industry Investments Connected Closing Equities Tickers
Some of these firms invest in manufactured housing, or are otherwise connected, but may do other forms of investing or business activities too.
NOTE: The chart below includes the Canadian stock, ECN, which purchased Triad Financial Services.

NOTE: Drew changed its name and trading symbol at the end of 2016 to Lippert (LCII).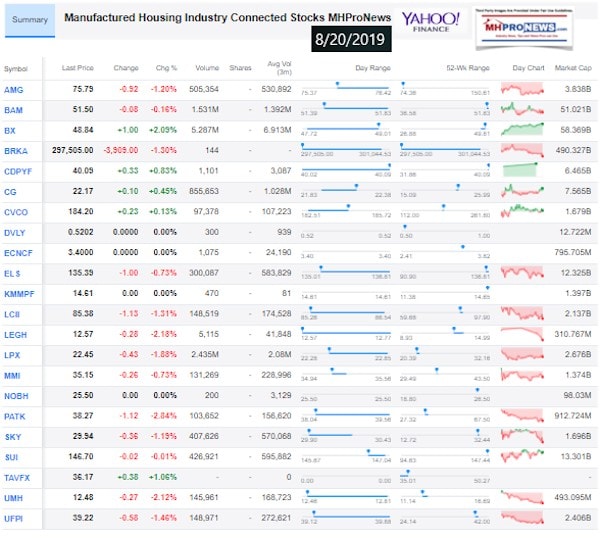 Updated for Summer 2019…
Berkshire Hathaway is the parent company to Clayton Homes, 21st Mortgage, Vanderbilt Mortgage and other factory built housing industry suppliers.
· LCI Industries, Patrick, UFPI, and LP each are suppliers to the manufactured housing industry, among others.
· AMG, CG, and TAVFX have investments in manufactured housing related businesses.
Your link to an example of industry praise for our coverage, is found here and here. For the examples of our kudos linked above…plus well over 1,000 positive, public comments, we say – "Thank You for Your Vote of Confidence."
· For expert manufactured housing business development or other professional services, click here.
· To sign up in seconds for our industry leading emailed headline news updates, click here.
· Disclosure. MHProNews holds no positions in the stocks in this report.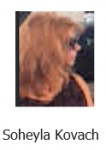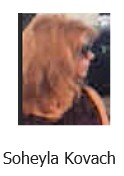 "We Provide, You Decide." © ## (News, analysis and commentary.)
(Image credits and information are as shown above, and when provided by third parties, are shared under fair use guidelines.)
Submitted by Soheyla Kovach, co-managing member of LifeStyle Factory Homes, LLC and co-founder for MHProNews.com, and MHLivingNews.com.

Connect with us on LinkedIn here and here.