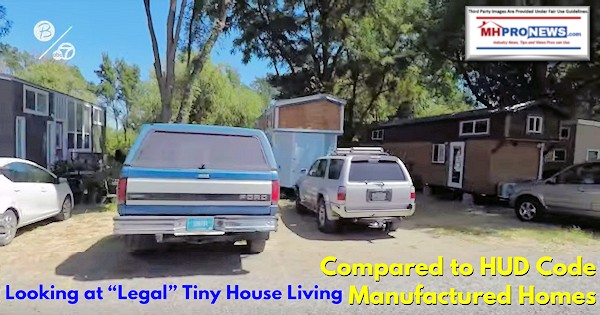 ABC 7 and The Bold Italic (TBI) teamed up to do a report on what is billed as Northern California's first 'legal' tiny house community.
To set the stage, readers are reminded of the following. 
·        Legality of tiny houses has been an issue since early on in the tiny house movement. For one example, recall the report linked below.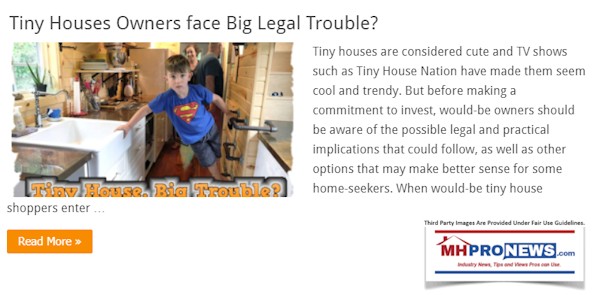 A 16×60 (hitch length) HUD Code manufactured home is about 858 square feet. 

A 14×56 is some

693

square feet.

By contrast, tiny houses as seen on TV, videos, and other media are routinely in the 150 to under 400 square foot size range.
Matt Charnock writes that "Tiny-home living is on the rise. In a 2018 study conducted by the National Association of Home Builders (NAHB), over half of Americans who were canvassed said that they'd consider living in a space less than or equal to 600 square feet."
That NAHB post Charnock alluded to said in part the following.
"Prior to the 2018 International Residential Code (IRC), a tiny home on a permanent foundation was subject to all the same requirements applicable to any other house built under the IRC. A new appendix in the 2018 IRC allows for the relaxation of certain requirements for a tiny home such as the ceiling height and staircase specifications.  The appendix (Q) can be adopted by any jurisdiction that wants to allow tiny homes to be constructed.
Tiny homes, however, may be inviable in many areas. Many local zoning laws have minimum lot size requirements, which wouldn't prohibit tiny homes, but would make them very expensive considering the cost of land."
The NAHB provided the graphic below too.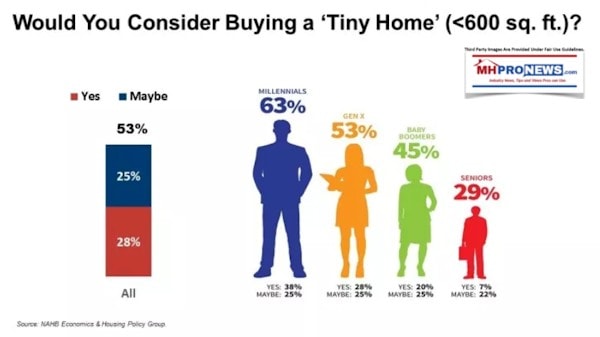 Charnock said that "the largest and longest home currently sitting at Delta Bay comes in at roughly 28 feet long and somewhere around 300-plus square feet. Or, to put that figure into a more digestible nugget, the size of a small studio apartment." He explained that the homes are built to the RVIA standards, in order to be 'legal.'
TBI also said that, "However, there's a fine line between frugal savings and nightmarish scenarios when it comes to the construction of your tiny house, so I learned. Your pipes could freeze and properly burst in the dead of an East Coast winter should you forego insulation. Thankfully, Delta Bay never sees the mercury drop below freezing."
While a HUD Code manufactured home should be heat taped and have a foundation enclosure, the concerns above and below would not be common at all with manufactured housing.
"The compost toilet may or may not reek due to how it was installed. Electrical wiring could fray inside the wooden walls and properly cause a massive fire. Mildew and mold could form throughout the home because the shower steam condenses on untreated wood panelings. The list goes on," adding, "The problems, too, aren't just related to DIY builds. I heard firsthand just how fickle and shoddy some tiny-house builders can be."
TBI says that lot rent at this community, which is mostly RVs, but has a dozen or so tiny houses in one section of the RV park, is about $650 monthly.  The cost?  They said it was $30,000 (DIY) to $45,000, or $72,000, based on this video.  But on other research we've seen, that cost could be significantly higher. By contrast, recall that the Census Bureau reports that $85,000 was the average HUD Code manufactured home in February, 2019. That 'average' manufactured home could be about 4 to 5 times the size of a tiny house.
"I hired a builder to make me my dream tiny house, something I could grow with and move wherever I ended up," said 23-year-old Sara Jade. "It was a disaster."
"Instead of taking three months to build it, it took them nine. And when it was time for me to pick it up, there was still work that needed to be done. I couldn't wait any longer, though, so I cut my losses. I still love my tiny house—don't get me wrong—but I've got some work to do still."
Several HUD Code builders, including Legacy Housing, offers there version of tiny houses. Those may or may not be built to the HUD Code.
The takeaways on this for manufactured housing industry professionals and investors are many.  To oversimplify, there are several ways that savvy marketers could turn tiny house interest into HUD Code manufactured home sales. 
We'll plan a report on this topic for MHLivingNews in the near term, for retailers and communities to link to and show to their prospects who may admit to mulling a tiny house that is on a trailer, like an RV.
That's our second installment today of "News through the lens of manufactured homes and factory-built housing," © where "We Provide, You Decide." © ## (News, analysis, and commentary.)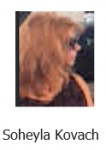 Submitted by Soheyla Kovach for MHProNews.com.
Soheyla is a managing member of LifeStyle Factory Homes, LLC, the parent company to MHProNews, and MHLivingNews.com. Connect with us on LinkedIn here and here.
Related Reports:
Click the image/text box below to access relevant, related information.
Comparing Successful Tiny House Promotion to Manufactured Home Promotion Data
Comparing Tiny House Promo to Manufactured Housing Promotional Results, Part II
MHI CEO Dick Jennison's Pledge – 500,000 New Manufactured Home Shipments
Outrageous Manufactured Home Production Decline Persists – When Will Manufactured Housing Institute, 'Big Boy Brands,' Act? June 2019 Data
Surprise! Champion Leads in #1 State of Texas, Factory Production Facts By HUD Code Manufactured Home Builder