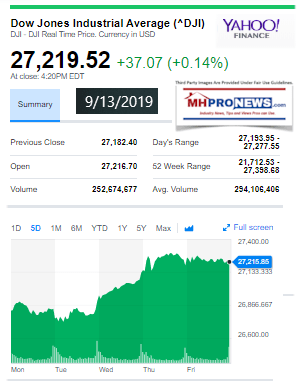 3 women. 5 protected class/minority members. 10 Democratic candidates. Climate Change. Healthcare. Trade. Gun violence. UBI and eliminating student debt. There were plenty of plans, a range of topics, featuring some stark differences. But they all had one goal in common, beyond hoping to become their party's nominee for the presidency in 2020. That commonality? Their mutually stated desire to beat the current occupant of the Oval Office. While numerous polls suggest that almost any of them could do that, here is the reality check from the day of the last presidential election in 2016. It was common polling that former Secretary Hillary Clinton would be the next president. Newsweek went so far as to have magazine covers published that proclaimed, "Madam President." For millions of Democratic supporters, last night's debate in Houston was energizing and insightful. For GOP backers or 2nd Amendment supporters, it was a freighting reminder of why they voted for President Donald J. Trump. On a day that the markets broadly rose, the 3rd Democratic debate will be our feature this evening.
Every evening our headlined provide snapshots from two major media outlets on each side of the left-right news spectrum that reflect topics that influence or move investor sentiment. In moments on this business evening report, you can get insights-at-a-glance.
This report also sets the broader context for manufactured housing markets, in keeping with our mantra, "News through the lens of manufactured homes and factory-built housing" ©.
We begin with left-of-center CNN followed by right-of-center Fox Business. We share closing tickers and other related data courtesy of Yahoo Finance, and more. 5 to 10 minutes reading this MHProNews market report every business night could save you 30 minutes to an hour of similar reading or fact-gathering elsewhere.
Headlines from left-of-center CNN Business.
Moviepass is shutting down. The once-revolutionary service will close on Saturday, and it's unclear if it will return
The IPO market is heating up, but investors are shunning unprofitable companies
The US auto industry is almost extinct in Europe
China exempts US soybeans and pork from tariffs
Stocks flirt with record highs as US-China trade tension eases
California lawmakers ban facial-recognition software from police body cams
OPINION Big Pharma is abusing patents, and it's hurting Americans
Land Rover revives one of its most iconic SUVs
House antitrust probe of Big Tech seeks documents from Apple, Amazon, Facebook and Google
ABC's ratings show that interest in the Democratic primaries is still high
Appeals court revives Seth Rich family's lawsuit against Fox News
London Stock Exchange rejects Hong Kong's $37 billion takeover bid
A GM strike could come as early as Sunday. But a union scandal makes negotiations harder
Opinion: What CEOs can learn from T. Boone Pickens
From your work BFF to your boss: How to navigate relationships in the office
APPLE'S LATEST IS HERE
The Apple Watch's secret weapon is its new price
The iPhone 11 is here but is it worth the upgrade?
The biggest thing Apple didn't announce at its iPhone event
Here's what you may have missed at Apple's big event
After Apple event, iPhone memes popped up faster than you can take a 'Slofie'
UP IN SMOKE
Vitamin E acetate is a commonly availa
Cannabis industry calls for regulation to snuff out underground vapes
Altria made a big bet on vaping. Will it still pan out?
CEO of cannabis giant Canopy is on a media blitz to ease concerns
Altria and Philip Morris are in talks about reuniting to form a tobacco behemoth
Headlines from right-of-center Fox Business.
FELICITY HUFFMAN GETS PRISON TIME IN CHEATING SCANDAL
How much 'prison coaches' get paid to help white-collar criminals prepare for jail
Apple's tricky accounting for streaming TV trial to have 'material negative impact': Goldman Sachs
Stocks near record highs as trade tensions thaw
Trump expected to unveil new round of tax cuts in 2020
Fed poised to cut rates twice more this year; here's why it matters
Walmart's rise in e-commerce: Is retail going extinct?
Inside Andrew Yang's plan to give 10 Americans free cash for a year
China blinks in trade war as pork prices spiral out of control
Popeyes' proposal gives chicken-sandwich customers heartburn
Carl Icahn latest to fuel Wall Street's New York exodus
Old Navy is getting bigger as it preps to leave Gap
Former NATO ambassador says peace talks with the Taliban aren't dead
Trump: This is how much illegal immigration costs US annually
Pepsi lets customers cash in on junk food
Eddie Money dead at 70: How the singer's music will keep cashing in
DOJ considered using fentanyl to carry out prisoner executions: Report
High tax states paying a BIG price for decades of economic incompetence: Varney
Hall of Famer calls out Odell Beckham Jr. after flap over watch
FOX BUSINESS NETWORK NAMES LAUREN PETTERSON PRESIDENT
10 Market Indicator Closing Summaries – Yahoo Finance Closing Tickers on MHProNews…

Tonight's Business/Market/Political Impact Spotlight –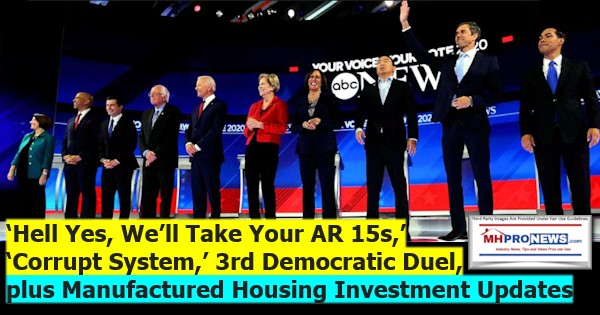 For those who don't follow the ubiquitous Drudge Report, Senator Amy Klobuchar outperformed expectations.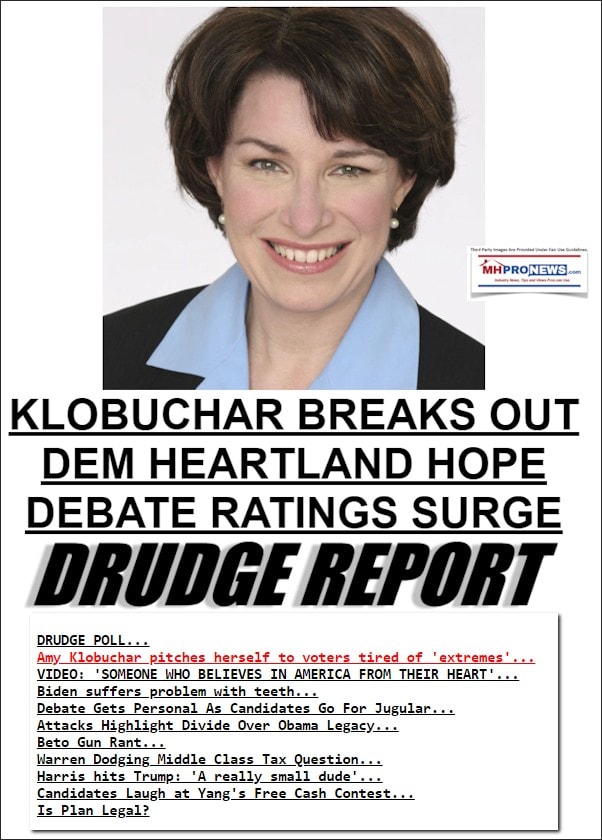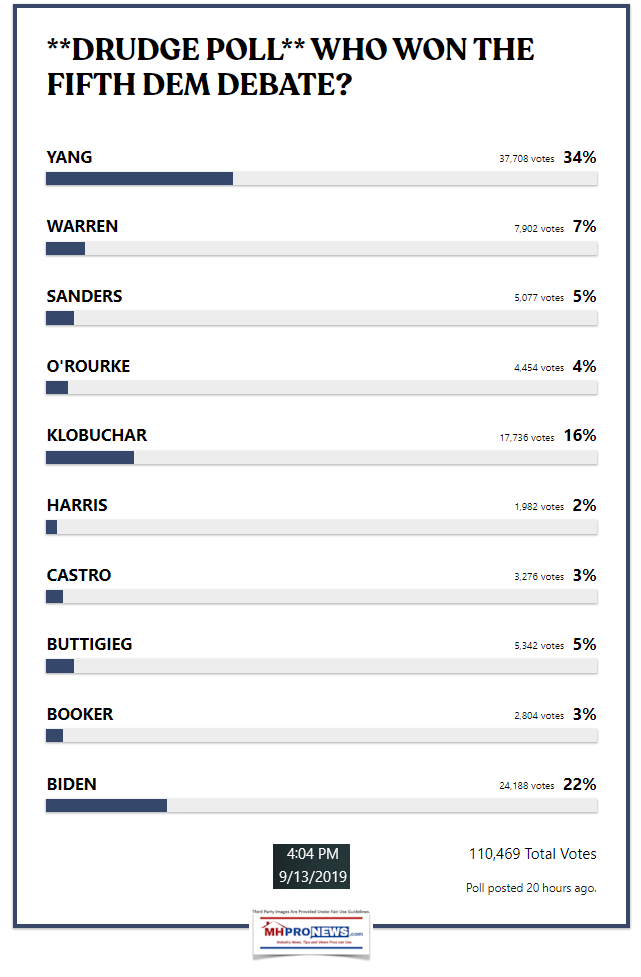 Perhaps the most viral moment was the tripled down attack by former HUD Secretary Julian Castro against his Obama Administration colleague, former VP Joe Biden. Castro questioned Biden's memory three times in a matter of a minute in the context of competeing healthcare proposals.
Former Congressman Robert "Beto" O'Rourke's star moment was the one noted in our headline at the top. "Hell yes," he said, "we'll take your AR 15s and AK47s." Cheers erupted in the crowd. But one can imagine the millions of gun owners who groaned.
Senator Bernie Sanders (VT-I), whom several on stage credited with moving the debate to the left on healthcare for all via "Medicare for All," made a ponderable moment when he called the system "corrupt" – saying that big business, billionaires, and bought and paid for politicos also controlled much of the mainstream media.
Senator Cory Booker (NJ-D) raised concerns about "consolidation," a theme that numbers of MHProNews readers keenly monitor, among other issues.
Education was an issue too.
Jorge Ramos from Univision asked an interesting question about the hot-button topic of immigration. Why should Latinos trust Democrats, after the Obama Administration had failed to keep its promises in 2008 and 2012?
Among the questions not addressed was the low unemployment, general economic growth, or housing policies.
"Sixty-five percent of CFOs say the U.S. economy will not experience a recession in 2020," said left-of-center CNBC about a survey that also said that 2/3rds believe that President Donald J. Trump will win re-election.
Here are what the New York Times felt were key moments.

The full version of last night's ABC News debate below has a reported 2.1 million views, per YouTube.

Vice President Joe Biden's closing remarks were interrupted by protestors, a factoid that made some headlines.
Another interesting takeaway? Some of the Democrats said that they wouldn't abandon the Trump Administration tariffs, although they sharply criticized the president for 'erratic' trade behavior.
CNBC's "Mad Money" analyst Jim Cramer said that Wall Street could rest easier, because Joe Biden, in his view, had done better the Senator Elizabeth Warren.
Right-of-center OANN, which dubs itself as President Trump's new favorite cable news network, had this summary of the evening.
Some of the candidates are arguably auditioning for a role as someone's vice president. Other pundits, including former Democratic Governor of Pennsylvania Ed Rendell, has said that several candidates that may have low odds are staying in this race to raise more campaign cash for other future efforts, which is a legal practice under current election laws.
It will be interesting to see how mainstream polls reflect broader Democratic sentiment after this third debate. It is our continuing view that despite his 'likability,' that VP Biden won't make it through the primary season. If he did, given his penchant for gaffs and signs that he has difficulty staying focused during a 3 hour debate, it is difficult to imagine how he would fare in a general election campaign against President Trump. If so, that opens the question, who will emerge as the Biden alternative? A progressive or more moderate candidate?
MHProNews will continue to track the evolving campaign. We'll remind readers of the 'stating the obvious' observation of billionaire Ken Fischer, who said that businesses are wise to be politically engaged. See the related reports, further below.
Related Reports:
Snapshot, Animated Infographic – Third Democratic Debate Tonight, plus Manufactured Home Investment Updates
Sen Elizabeth Warren Buzz, GOP 2 for 2 in NC Special Elections, 2020 Implications? Plus, Manufactured Home Investing Updates
Manufactured Housing Industry Investments Connected Closing Equities Tickers
Some of these firms invest in manufactured housing, or are otherwise connected, but may do other forms of investing or business activities too.
NOTE: The chart below includes the Canadian stock, ECN, which purchased Triad Financial Services.
NOTE: Drew changed its name and trading symbol at the end of 2016 to Lippert (LCII).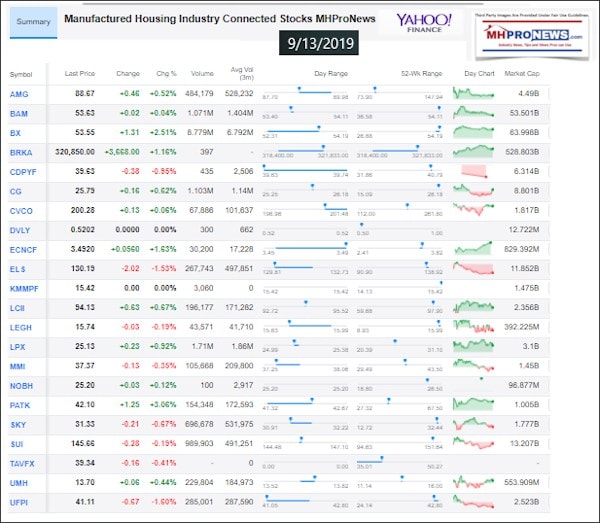 Updated for Summer 2019…
Berkshire Hathaway is the parent company to Clayton Homes, 21st Mortgage, Vanderbilt Mortgage and other factory built housing industry suppliers.
· LCI Industries, Patrick, UFPI, and LP each are suppliers to the manufactured housing industry, among others.
· AMG, CG, and TAVFX have investments in manufactured housing related businesses.
Your link to an example of industry praise for our coverage, is found here and here. For the examples of our kudos linked above…plus well over 1,000 positive, public comments, we say – "Thank You for Your Vote of Confidence."
· For expert manufactured housing business development or other professional services, click here.
· To sign up in seconds for our industry leading emailed headline news updates, click here.
Disclosure. MHProNews holds no positions in the stocks in this report.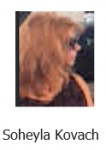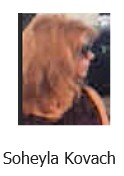 "We Provide, You Decide." © ## (News, analysis and commentary.)
(Image credits and information are as shown above, and when provided by third parties, are shared under fair use guidelines.)
Submitted by Soheyla Kovach, co-managing member of LifeStyle Factory Homes, LLC and co-founder for MHProNews.com, and MHLivingNews.com.