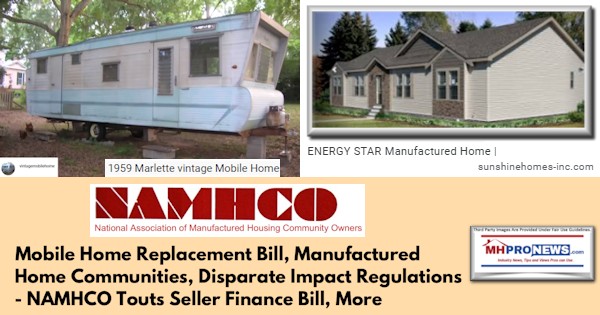 The message to members and media release from the National Association of Manufactured Housing Community Owners (NAMHCO) that follows further below can be seen as useful, raises several cautions to discerning minds, and highlights problematic issues that face the manufactured housing industry.  It is worthwhile for all manufactured housing industry professionals to contemplate.
To discern the relevance, it must be first recalled why NAHMCO has come into existence.
Among the industry's numerous state or regional trade groups are some that are manufactured home communities (MHC) focused. A pair of those broke away from the Manufactured Housing Institute (MHI) about 2 years ago. In doing so, they plainly stated that MHI was not getting the job done in protecting their interests. That was a public slap-in-the-face for the Arlington, VA based MHI trade group. Ouch.

Some of those former MHI member communities' leaders worked to forge what is now called NAMHCO. Sources with NAHMCO say that several dozen community operators are members. But no hard data has been supplied.
Nor does NAHMCO have a website, see the report linked here.
The AZ based trade group invested instead in a former MHI Vice President (VP), Tom Heinemann, who acts as their Washington, D.C. "Legislative Liaison." He is apparently a contractor to NAHMCO, per the indicators on Heinemann's LinkedIn page.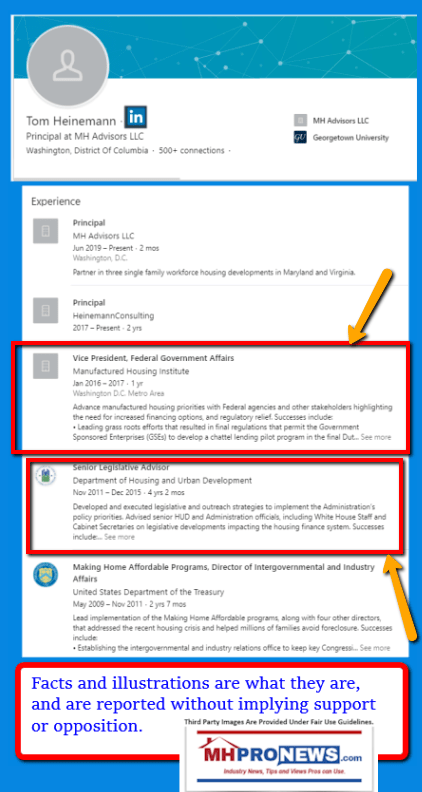 The above and what follows isn't to be construed as questioning NAHMCO's leadership sincerity. Rather, it may de facto question the prudence of their first steps. In fairness, they are new at Washington lobbying.
Community Leader Calls for Rejection of Bill Backed by Manufactured Housing Institute, NAMHCO, Prosperity Now
Recall the reports above and below. If you have not read them, or need a refresher, and/or are interested in NAHMCO on any level, they are useful reading.
Federal Bill that MHI, Prosperity Now, NAMHCO Tout – MHARR Opposes, Why?
Not much of what follows from the new trade group should be taken as more than DC talk and the early NAMHCO wish list. Why?
The fact that a bill might be introduced in October of 2019, ahead of a presidential and Congressional election year, is already a long shot per those who know D.C. politics. That doesn't mean that it may not be useful in setting NAHMCO up for 2021. But unless considerable clout – think money – is arrayed behind these bills, it is unlikely to see a presidential signature any time soon.

However, that doesn't mean that these aren't useful insights. They are on one level a clear indication of how MHI continues to fail manufactured home communities in their purported representation of a far larger group of often more powerful members.
Who says? Not only NAHMCO, but also Frank Rolfe and Dave Reynolds publicly – who are MHI/National Communities Council members. Other MHI/NCC members have privately expressed their own frustrations.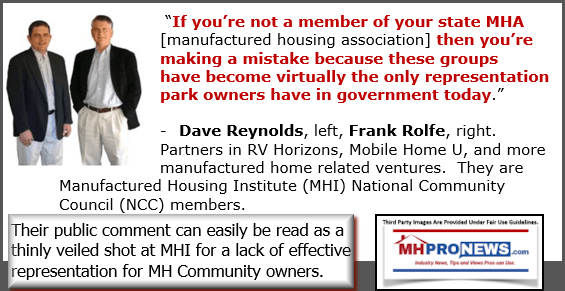 With that introduction, here below is the NAHMCO release. Read it with care, because it is a different look than MHI provides into the hopes of some communities and other interests in Washington lobbying efforts.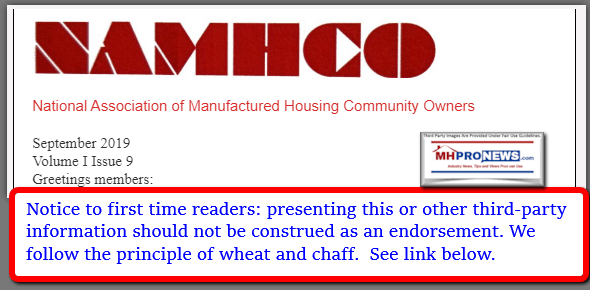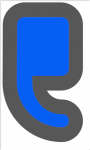 To the news:
Seller Finance Enhancement Act Being Readied for October Introduction, Permit up to 40 Seller Financed Home Sales per Year
Over the summer, NAMHCO worked with a number of Congressional House offices to make the Seller Finance Enhancement Act more favorable for NAMHCO members who seller-finance homes within their communities. Earlier drafts of the bill increased SAFE Act Mortgage exempt transactions from 3 to 24. We are working to create a tiered system where 40 transactions would be exempt from the mortgage loan originator requirements for seller-financed loans under $100,000, and 20 transactions would be exempt for seller-financed loans between $100,000 and $200,000.   The bill would further require a study of the effect the SAFE Act and Dodd-Frank Act have had on home buyers. We expect the bill to be introduced in October. In the meantime, NAMHCO will continue to work to identify original co-sponsors, and lead sponsors in the Senate.
HUD Proposes Raising the Bar for Fair Housing Complaints under the Disparate Impact Standard
On August 19th, HUD released a proposed rule that significantly alters the process by which disparate impact and fair housing complaints can be brought against housing providers. The proposed rule would add a fifth criteria to elements that are needed to prove discrimination in the provision of housing opportunities – that of restrictive land use policies. The rule also provides relief to housing providers whose policies related algorithms have unintentional adverse impacts, while also reducing data collection requirements. While the proposed rule does add a fifth criteria, that of land use, as a means to deny housing opportunity, it does so only to raise the burden of proof for complainants. Comments on the proposed rule are due in Mid -October.
Senate Offices Consider Mobile Home Replacement Legislation
NAMHCO understands that a number of Senate offices are interested in introducing legislation that would permit DOE to use grant funds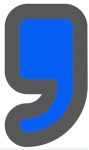 pursuant to the Energy Policy and Conservation Act to enable State administered programs to replace and dispose of obsolete manufactured and mobile homes, and replace them with ENERGY STAR manufactured homes. NAMHCO will monitor this legislation closely to ensure that communities play a role in helping homeowners replace their mobile homes. Such replacements could increase the attractiveness of communities, while also contributing to the financial stability, through reduced energy costs, for the homeowner.
NAMHCO
2158 N Gilbert Rd, #116
Mesa, AZ 85203
—————
As a pre-dawn bonus, ponder the vintage mobile home video, from which the featured image at the top was obtained. It stands as one more reminder why nomenclature should not be blithely intermixed between 'mobile home' and 'manufactured home.' There are code and legal differences that can be clearly seen in many cases.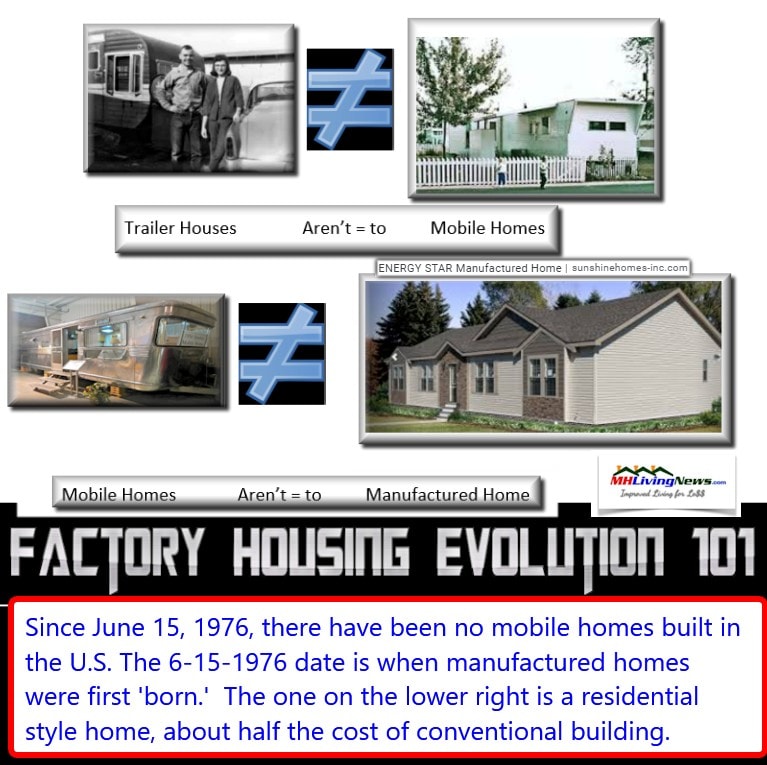 There is more on NAHMHCO and the wonders of the complex politics of manufactured housing association in the related reports, below the byline and notices. That's a wrap on your first installment for manufactured housing's runaway most-read "Industry News, Tips, and Views Pros Can Use" © where "We Provide, You Decide." © ## (News, analysis, and commentary.)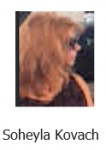 Submitted by Soheyla Kovach for MHProNews.com.
Soheyla is a managing member of LifeStyle Factory Homes, LLC, the parent company to MHProNews, and MHLivingNews.com. Connect with us on LinkedIn here and here.
Related Reports:
Click the image/text box below to access relevant, related information.
Nathan Smith, SSK Communities, and Manufactured Housing Institute (MHI) Slam New National Manufactured Home Communities Group in Written Statement
Manufactured Housing Institute Supported Bill Buffeted by Headwinds, Plus Recap and Look-Ahead
Publicly Traded Manufactured Housing Firms – Which Source Do You Trust More? Why? MHI, MHARR, Others
Manufactured Hypocrisy Institute – MHI Raised Fine Quotes, Points, But What About Actual Performance?
Manufactured Housing Institute Community-Investor 'Deal,' News Tip Explored