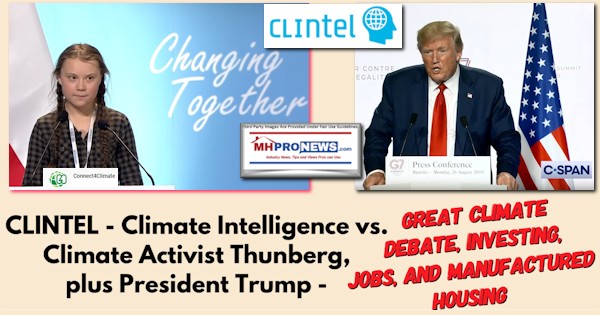 As a prologue of the 'why' ahead of the 'who, where, when, and what' of this report; energy standards, governmental controls over businesses, and public policy impacting manufactured homes are all reasons why this topic matters to investors and industry professionals.
The speech text below is the full address from now famous Swedish teenager Greta Thunberg to the United Nations. The text is from Friday's for Future at this link here. The video that follows is from that same speech, so you can see Thunberg speaking for yourself. That will be followed by the text of a new letter from some 500 scientist from around the world from an organization known as Clintel, short for Climate Intelligence. Clintel have taken a very different position, saying "There is no climate emergency." Those 500 scientists lay out the basics of their scientific posture in a letter to the U.N dated 9.23.2019. That is followed by a Q&A from President Donald J. Trump during the G7. Finally, this report will be wrapped up by an MHProNews analysis.
In other words, we are letting voices from the respective positions and the 45th president speak in their own voices.
Ladies first, so let's begin with Ms. Thunberg's UN speech.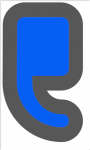 My name is Greta Thunberg. I am 15 years old and I'm from Sweden. I speak on behalf of Climate Justice Now.
Many people say that Sweden is just a small country and it doesn't matter what we do. But I've learned that you are never too small to make a difference and if a few children can get headlines all over the world just by not going to school then imagine what we could all do together if we really wanted to.
But to do that we have to speak clearly. No matter how uncomfortable that may be. You only speak of a green eternal economic growth because you are too scared of being unpopular. You only talk about moving forward with the same bad ideas that got us into this mess. Even when the only sensible thing to do is pull the emergency brake.
You are not mature enough to tell it like it is. Even that burden you leave to us children. But I don't care about being popular. I care about climate justice and the Living Planet. Our civilization is being sacrificed for the opportunity with a very small number of people to continue making enormous amounts of money. Our biosphere is being sacrificed so that rich people in countries like mine can live in luxury. It is the sufferings of the many which pay for the luxuries of the few.
The year 2078 I will celebrate my 75th birthday. If I have children maybe they will spend that day with me. Maybe they will ask me about you. Maybe they will ask why you didn't do anything while there still was time to act. You say you love your children above all else and yet you're stealing their future in front of their very eyes. Until you start focusing on what needs to be done rather than what is politically possible there is no hope.
We cannot solve a crisis without treating it as a crisis. We need to keep the fossil fuels in the ground and we need to focus on equity. And if solutions within this system are so impossible to find then maybe we should change the system itself. We have not come here to beg world leaders to care. You have ignored us in the past and you will ignore us again. We have run out of excuses and we are running out of time. We have come here to let you know that change is coming whether you like it or not. The real power belongs to the people!
Thank You!
###
The video of her talk is dated 12.15.2018.
The following is the letter from Clintel to UN leadership.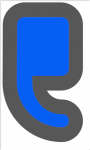 23 September 2019
Sr. António Guterres, Secretary-General, United Nations,
United Nations Headquarters,
New York, NY 10017, United States of America.
Ms. Patricia Espinosa Cantellano, Executive Secretary,
United Nations Framework Convention on Climate Change,
UNFCCC Secretariat, UN Campus, Platz der Vereinten Nationen 1,
53113 Bonn, Germany
Your Excellencies,
There is no climate emergency.
A global network of more than 500 knowledgeable and experienced scientists and professionals in climate and related fields have the honor to address to Your Excellencies the attached European Climate Declaration, for which the signatories to this letter are the national ambassadors.
The general-circulation models of climate on which international policy is at present founded are unfit for their purpose. Therefore, it is cruel as well as imprudent to advocate the squandering of trillions on the basis of results from such immature models. Current climate policies pointlessly, grievously undermine the economic system, putting lives at risk in countries denied access to affordable, continuous electrical power.
We urge you to follow a climate policy based on sound science, realistic economics and genuine concern for those harmed by costly but unnecessary attempts at mitigation.
We ask you to place the Declaration on the agenda of your imminent New York session.
We also invite you to organize with us a constructive high-level meeting between world-class scientists on both sides of the climate debate early in 2020. The meeting will give effect to the sound and ancient principle no less of sound science than of natural justice that both sides should be fully and fairly heard. Audiatur et altera pars!
Please let us know your thoughts about such a joint meeting.
Yours sincerely, ambassadors of the European Climate Declaration,
Professor Guus Berkhout                               The Netherlands
Professor Richard Lindzen                              USA
Professor Reynald Du Berger                          French Canada
Professor Ingemar Nordin                              Sweden
Terry Dunleavy                                                New Zealand
Jim O'Brien                                                     Rep. of Ireland
Viv Forbes                                                      Australia
Professor Alberto Prestininzi                         Italy
Professor Jeffrey Foss                                    English Canada
Professor Benoît Rittaud                               France
Morten Jødal                                                 Norway
Professor Fritz Vahrenholt                            Germany
Rob Lemeire                                                  Belgium
The Viscount Monckton of Brenchley           UK
There is no climate emergency
A global network of 500 scientists and professionals has prepared this urgent message. Climate science should be less political, while climate policies should be more scientific. Scientists should openly address the uncertainties and exaggerations in their predictions of global warming, while politicians should dispassionately count the real benefits as well as the imagined costs of adaptation to global warming, and the real costs as well as the imagined benefits of mitigation.
Natural as well as anthropogenic factors cause warming
The geological archive reveals that Earth's climate has varied as long as the planet has existed, with natural cold and warm phases. The Little Ice Age ended as recently as 1850. Therefore, it is no surprise that we now are experiencing a period of warming.
Warming is far slower than predicted
The world has warmed at less than half the originally-predicted rate, and at less than half the rate to be expected on the basis of net anthropogenic forcing and radiative imbalance. It tells us that we are far from understanding climate change.
Climate policy relies on inadequate models
Climate models have many shortcomings and are not remotely plausible as policy tools. Moreover, they most likely exaggerate the effect of greenhouse gases such as CO2. In addition, they ignore the fact that enriching the atmosphere with CO2 is beneficial.
CO2 is plant food, the basis of all life on Earth
CO2 is not a pollutant. It is essential to all life on Earth. Photosynthesis is a blessing. More CO2 is beneficial for nature, greening the Earth: additional CO2 in the air has promoted growth in global plant biomass. It is also good for agriculture, increasing the yields of crop worldwide.
Global warming has not increased natural disasters
There is no statistical evidence that global warming is intensifying hurricanes, floods, droughts and suchlike natural disasters, or making them more frequent. However, CO2-mitigation measures are as damaging as they are costly. For instance, wind turbines kill birds and bats, and palm-oil plantations destroy the biodiversity of the rainforests.
Policy must respect scientific and economic realities
There is no climate emergency. Therefore, there is no cause for panic and alarm. We strongly oppose the harmful and unrealistic net-zero CO2 policy proposed for 2050. If better approaches emerge, and they certainly will, we have ample time to reflect and adapt. The aim of international policy should be to provide reliable and affordable energy at all times, and throughout the world.
###
CSPAN transcript of President Donald J. Trump Q&A during G7 on climate change question.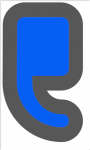 Q
Mr. President, there was a significant talk at the summit about climate change. I know in the past you've harbored some skepticism of the science in climate change. What do you think the world should be doing about climate change? And do you still harbor that skepticism?
Donald J. Trump
I feel that the United States has tremendous wealth. The wealth is under its feet. I've made that wealth come alive. We will soon be one of the – we will soon be exporting. In fact, we're actually doing it now – exporting. But we are now the number one energy producer in the world. And soon, it will be by far, with a couple of pipelines that have not been able to get approved for many, many years. It'll have a huge impact. I was able to get ANWR in Alaska. It could be the largest site in the world for oil and gas. I was able to get ANWR approved. Ronald Reagan wasn't able to do it. Nobody was able to do it. They've been trying to do it since before Ronald Reagan. I got it approved. We're the number one energy producer in the world. Soon it will be, by far, the number one. It's tremendous wealth. And LNG is being sought after all over Europe and all over the world, and we have more of it than anybody else. And I'm not going to lose that wealth. I'm not going lose it on dreams, on windmills – which, frankly, aren't working too well. I'm not going to lose it.So, Josh, in a nutshell, I want the cleanest water on Earth. I want the cleanest air on Earth. And that's what we're doing. And I'm an environmentalist. A lot of people don't understand that. I have done more environmental impact statements, probably, than anybody that's – I guess I can say definitely, because I have done many, many, many of them. More than anybody that's ever been President or Vice President or anything even close to President. And I think I know more about the environment than most people. I want clean air. I want clean water. I want a wealthy country. I want a spectacular country with jobs, with pensions, with so many things. And that's what we're getting. So I want to be very careful. At the same time –
Q
But, Mr. President, do you believe in climate change? Do you believe in climate change?
Donald J. Trump
At the same time – at the same time – you weren't called. At the same time, it's very important to me – very important to me – we have to maintain this incredible – this incredible place that we've all built. We've become a much richer country. And that's a good thing, not a bad thing – because that great wealth allows us to take care of people. We can take care of people that we couldn't have taken care of in the past because of the great wealth. We can't let that wealth be taken away. Clean air, clean water. Thank you very much everybody. I appreciate it. Thank you. Thank you very much.
###
The video is the reply to the speech above.
MHProNews Added Facts, Analysis 
Based upon evidence and reason, which are the foundations of sound science, MHProNews for some years has presented the evidence of contrarians that are pushing back against the climate change agenda activists. But in truth, there is a need only for some common sense, careful listening, and some sense of history.
During the runup to Hurricane Dorian, MHProNews provided video from PBS' Nova that documented the all-time biggest hurricane ever known, which took place over 200 years ago.
Hurricane Dorian, Climate Change, and Manufactured Housing Professional Preparation
As the representatives of some 500 scientists said in their letter above, CO2 is necessary for plant life, and all life on earth.
President Trump is prudent and correct in stressing that there is a need for clean air and clean water. The Obamas just bought a beach front mansion. If they are sincerely afraid of the rising oceans, why did the invest millions?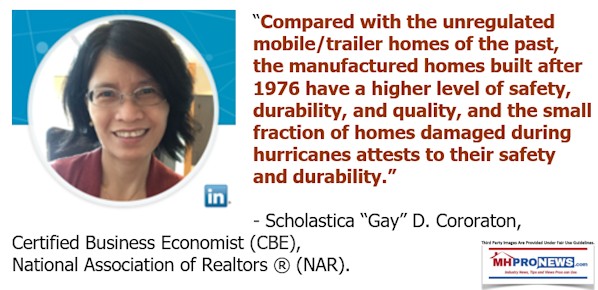 On September 11, MHProNews published a historic report from 1989 that predicted in the same dire terms what climate change fear-mongering activists have ever since.
Historic Global Warming 10 Year Warning, Said UN Report, plus Manufactured Home Investment Updates
Fear is a powerful motivator. Which is why clarity of thought is necessary to fight the phony reasons being advanced for the fear. Fear is often tied to a time deadline.
When fear is being deployed as a tactic, when the opposing voices are decried as 'flat earth' science deniers, ponder what the 500 scientists and other linked evidence said above.
As a closing note, YouTube has flagged the President Trump's and the Prager U videos with the comments shown.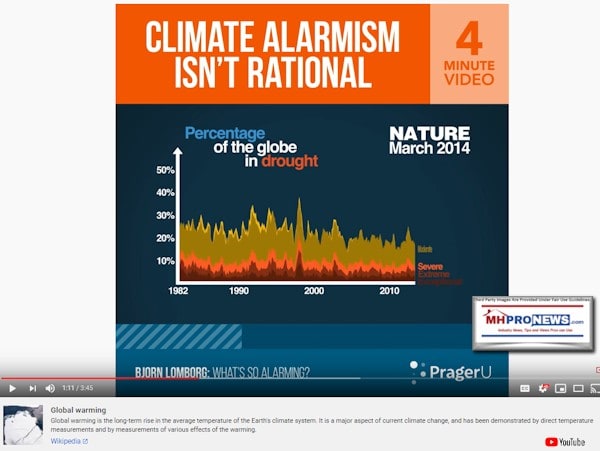 How can they claim to be an impartial information source?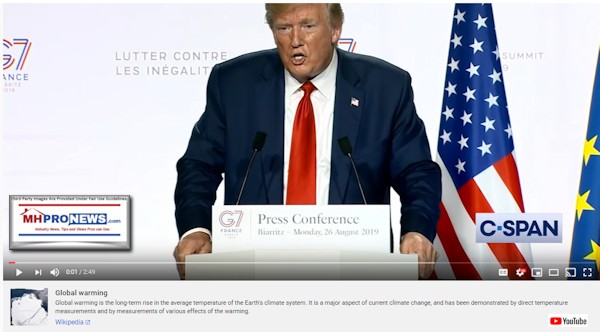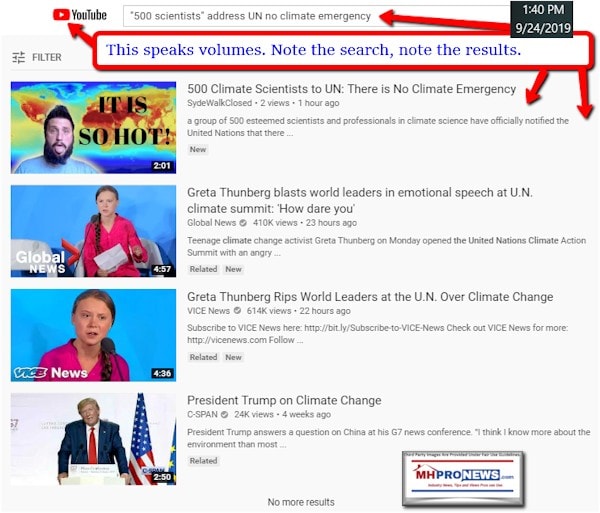 Forget Moaning About Rates, Focus on Antitrust Actions, plus Manufactured Home Investing, Stock Updates
That's your second look today at manufactured home "Industry News, Tips, and Views Pros Can Use" © where "We Provide, You Decide." © ## (News, analysis, and commentary.)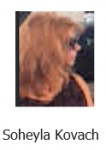 Submitted by Soheyla Kovach for MHProNews.com.
Soheyla is a managing member of LifeStyle Factory Homes, LLC, the parent company to MHProNews, and MHLivingNews.com. Connect with us on LinkedIn here and and here.
Related Reports:
Click the image/text box below to access relevant, related information.
Trade News, Industry Investigations, Credibility, OANN's Example, and Profitable Manufactured Housing Lessons Learned