It is of course important that the Fed cut the base rate and arguably may or should cut them more. But what is perhaps more pressing for manufactured housing is the topic of antitrust. The Senate has been holding antitrust hearings. Recently, an amazing 50 state attorney generals launched their own probes of giant Google under antitrust concerns that if properly understood, may just as easily be applied to Clayton Homes in the manufactured housing space. Furthermore, Amazon has helped fund a line of prefab housing. There are several reasons why industry independents – and thus investors – ought to be thinking carefully about the implication of antitrust laws, and the 'monopolization of America.' That will be our focus this evening.
Every evening our headlined provide snapshots from two major media outlets on each side of the left-right news spectrum that reflect topics that influence or move investor sentiment. In moments on this business evening report, you can get insights-at-a-glance.'
This report also sets the broader context for manufactured housing markets, in keeping with our mantra, "News through the lens of manufactured homes and factory-built housing" ©.
We begin with left-of-center CNN followed by right-of-center Fox Business. We share closing tickers and other related data courtesy of Yahoo Finance, and more. 5 to 10 minutes reading this MHProNews market report every business night could save you 30 minutes to an hour of similar reading or fact-gathering elsewhere.
Headlines from left-of-center CNN Business.
Another rate cut
The Fed cut interest rates for the second time this year as officials try to head off a downturn
Powell says he will never take rates negative
Stocks finish mixed after Fed cut rates
Dovish but not dovish enough: Why more cuts might not be coming
Powell says he's not concerned about boosting market liquidity this week
For the second day in a row, the NY Fed injected billions of dollars into the market
America's CFOs brace for a recession
How the GM strike could start a Midwest recession
Amid a privacy crisis, Facebook now wants to put a camera on your TV
UPS uniforms are getting a redesign
How Hasbro managed a stunning comeback in a post-Toys-'R'-Us world
Elon Musk teases photos of Mars rocket prototype
Get paid to watch 13 Stephen King movies
Lay's potato chip bag gets a new look
Investors turn up the heat on companies over climate change
Kroger will start selling longer-lasting avocados this week
EXCLUSIVE A rare look inside Samsung's secretive ideas lab
Kroger will start selling longer-lasting avocados this week
Dollar General has a beauty brand for under $5
Jif and Folgers are getting cheaper. That's bad news for Smucker's
Starbucks is launching a line of at-home creamers t
Kroger's big test: Will people buy plant-based meat in the meat aisle?
Want to save on a home? Buy it with some strangers
These luxury beach homes are made to cozy up to nature
Looking to sell your home? Make sure it has web appeal
This bunk bed is $1,200 a month, privacy not included
Luxury homes in the Hamptons are selling at some pretty steep discounts
Headlines from right-of-center Fox Business.
'NO GUTS': TRUMP SLAMS FED, POWELL AFTER SMALL RATE CUT
Video: Fed Chairman Powell sees a favorable economic outlook
Why you should care about the Fed lowering interest rates
How the rate cut impact car buyers
STOCKS CHARGE INTO POSITIVE TERRITORY AFTER FED CUTS RATES
Stocks gained after the Federal Reserve lowered its benchmark interest rate on Wednesday by a quarter percentage point.
Pompeo: Saudi oil attacks were 'act of war' by Iran
Airline mechanic accused of sabotaging plane may have had terror links, feds say
How much money Eli Manning has made in the NFL
Eliminate teacher taxes? CEO wants to make profession 'tax-exempt'
Here's what Bill Gates thinks about a US wealth tax
GM temporarily laying off around 1,200 workers due to UAW strike
KELLEY BLUE BOOK'S TOP CAR MODELS FOR 2020
Kelley Blue Book has just released a list of its favorite car models for 2020 as they begin to arrive in showrooms across the country.
Ed Buck arrested: Inside the Dem megadonor's fortune
Dennis Rodman's advice to future sports stars
Supermarket chain requests customers not bring guns into stores
Dozens of airline customer service agents report abusive customers
Tickets to major college football game outpace NFL this week
Hoodie designer under fire for cashing in on school shootings
Billionaire to host NYC fundraiser for Trump
Video: Stephen Colbert scorches Elizabeth Warren's tax plan
CDC indicates Juul products sold in stores not behind vaping health crisis
US has to help Saudis build a 'more robust defense:' Fmr. Amb. to Saudi Arabia
Former Ambassador to Saudi Arabia Robert Jordan discusses how the Saudi attack is impacting the world oil markets.
UAW blasts GM for using striking workers' health care as 'leverage'
FOX Business' Grady Trimble reports from the Detroit GM strike.
Dennis Rodman on Kim Jong-Un: He's open to coming to America
Former NBA star Dennis Rodman his relationship with Kim Jong-Un and Donald Trump.
10 Market Indicator Closing Summaries – Yahoo Finance Closing Tickers on MHProNews…

Tonight's Business/Market/Political Impact Spotlight –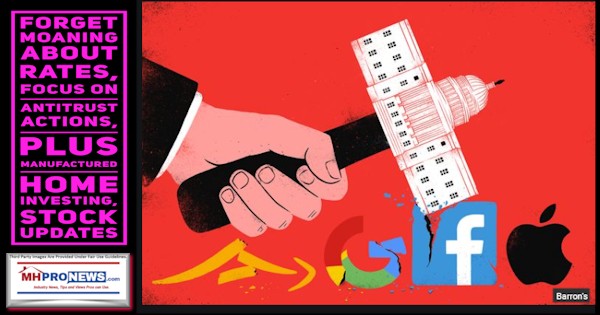 There are few issues that face manufactured housing that are arguably more important than concerns over artificial manipulation of the marketplace which arguably influences numerous trade groups, nonprofits, and others. While others in MHVille trade media ignore this concern, the fact that it is getting increasing attention across the left-right political divide ought to be reason enough for our industry's independents and investors to say, 'Hey. Given the affordable housing crisis, why aren't antitrust, deceptive trade practices, and other legal issues getting more attention in manufactured housing?'
Before diving into tonight's topic, it is worth noting that Tucker Carlson on right-of-center Fox News, right or wrong, ripped Senator Mike Lee for what he felt was an example of corruption with respect to his purportedly stance shifting on antitrust law. See that report at the link below.
Tucker Carlson on GOP Senator Mike Lee – "Maybe It's…as Corrupt as It Looks"
We'll note too that at least on paper and during interviews, several Democratic 2020 hopefuls have said that antitrust is a big issue. Several signed onto a letter to the CFPB that specifically raised concerns about Clayton and their related lending.
Senate Democrats – Including 2020 Presidential Contenders – Ask CFPB Protect Consumers Against Predatory Lenders — Point Finger at Clayton Homes, Berkshire Hathaway Lending
More voices among Republicans – Ted Cruz (TX-R) or Josh Hawley (MO-R) among them – come to mind.
That said, Senator Lee in fresh antitrust hearings on Capitol Hill has been making two interesting points.
The current structure of antitrust in the U.S. is sub-optimal, and federal regulators largely agree on that point.
That more resources are needed by antitrust regulators.
Sen Lee Oversight of the Enforcement of Antitrust Laws Opening Statement
Sen. Lee discusses Antitrust Law in Judiciary Subcommittee Hearing
We noted in our opening paragraph that Amazon has invested in prefabs, as MHProNews has previously reported. Imagine what could happen to the manufactured or modular home marketplace if Amazon decided to flex their financial muscle? So as you listen to this, be thinking about that possibility.
Amazon denies claim it boosts its own products
Last week, 50 state attorney generals launched an antitrust probe of Google. While that is the focus of what follows, once more, be thinking about how this same principle could be applied to Clayton Homes.
There are plenty of libertarian and 'conservatives' who think that the free market should be left alone, as this Fox Business video reflects. That said, what they fail to mention is that the free market was not fully in place to begin with, as these tech giants were given preferential treatment by federal and state laws for years. Now that they are goliaths, something that occurred under both Democratic and Republican administrations, there is growing alarm to the ability of the FAANGs to influence elections as well as the marketplace. So, ponder that notion as you listen to the back and forth.
Leslie Rutledge, the Arkansas Attorney General, discusses the antitrust probe of Google. She wants appropriate business practices to be reinforced.
As the Case Against Clayton Homes outlined, there are years of problematic behavior that has drawn media and Congressional attention. Why is it that it hasn't gone beyond a few sound bites?
If investors – who should still be mindful of what occurred at Cavco Industries – and independents haven't realized it yet, their business interests and investments are arguably under assault and have been for years. See more in the related report, below. Watch for yet another related report that will be published later tonight, our 'just before midnight' edition.
Related Reports:
Publicly Traded Manufactured Housing Firms – Which Source Do You Trust More? Why? MHI, MHARR, Others
Making Affordable Manufactured Housing Appealing and Great Again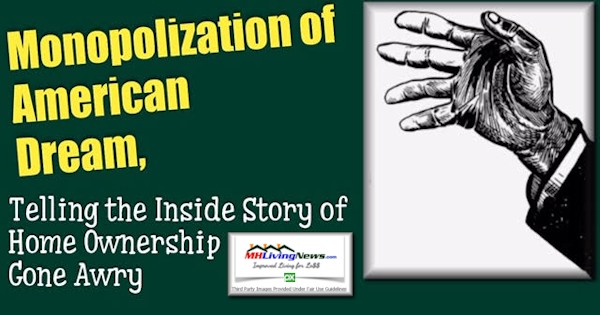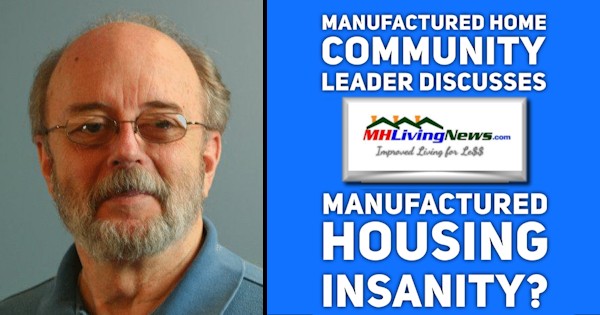 Democrats Take Aim Big Business, Breaking Up Monopolies, Antitrust – plus Manufactured Housing Market Updates
"Have…Giants…Stifled Competition," Antitrust Battle Lines in D.C., plus Manufactured Home Market Updates
Antitrust – "You Can't Penalize Success But Can Penalize Bad Behavior." Former Ast AG Bill Baer, plus Manufactured Home Market Updates
Antitrust Heats Up With Supreme Court Ruling, Monopolization Legal Experts Weigh In, Clayton-Related Comment Connection
Radioactive Story-Telling, Prager U's Lawsuit, and Manufactured Housing Insights
Restraint of Trade, Manufactured Housing Institute, Clayton Homes, 21st Mortgage, Vanderbilt Mortgage, and Antitrust Law
Manufactured Housing Industry Investments Connected Closing Equities Tickers
Some of these firms invest in manufactured housing, or are otherwise connected, but may do other forms of investing or business activities too.
NOTE: The chart below includes the Canadian stock, ECN, which purchased Triad Financial Services.
NOTE: Drew changed its name and trading symbol at the end of 2016 to Lippert (LCII).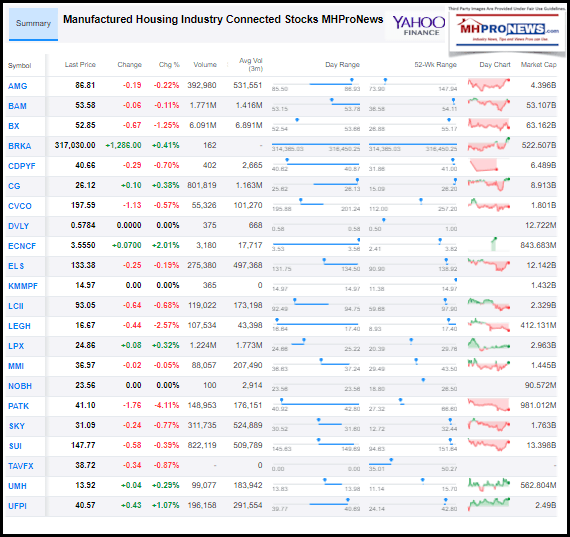 Updated for Summer 2019…
Berkshire Hathaway is the parent company to Clayton Homes, 21st Mortgage, Vanderbilt Mortgage and other factory built housing industry suppliers.
· LCI Industries, Patrick, UFPI, and LP each are suppliers to the manufactured housing industry, among others.
· AMG, CG, and TAVFX have investments in manufactured housing related businesses.
Your link to an example of industry praise for our coverage, is found here and here. For the examples of our kudos linked above…plus well over 1,000 positive, public comments, we say – "Thank You for Your Vote of Confidence."
· For expert manufactured housing business development or other professional services, click here.
· To sign up in seconds for our industry leading emailed headline news updates, click here.
Disclosure. MHProNews holds no positions in the stocks in this report.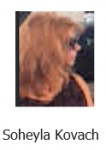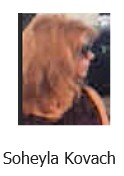 "We Provide, You Decide." © ## (News, analysis and commentary.)
(Image credits and information are as shown above, and when provided by third parties, are shared under fair use guidelines.)
Submitted by Soheyla Kovach, co-managing member of LifeStyle Factory Homes, LLC and co-founder for MHProNews.com, and MHLivingNews.com.