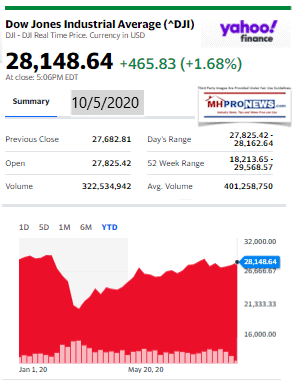 Tonight's twin mainstream news spotlight reports raise as many or more questions as they seem to answer.
First, the World Health Organization (WHO) says that they estimate that some ten percent of the global population has been infected by COVID19, which President Trump and others have referred to as the Wuhan Virus, China Coronavirus, or CCP Virus (Chinese Communist Party). That last designation may gain added credibility since two Chinese doctors have said that they have evidence that COVID19 was genetically engineered in the Wuhan Institute of Virology. That concern was raised early on by informed voices from India to the United States.
More specifically to the WHO claims is this report from the left-of-center Associated Press (AP). Quoting the bullets in their October 5, 2020 report are as follows.

•          The head of emergencies at the World Health Organization said Monday its "best estimates" indicate that roughly 1 in 10 people worldwide may have been infected by the coronavirus — more than 20 times the number of confirmed cases — and warned of a difficult period ahead.
•          Ryan said southeast Asia faced a surge in cases, Europe and the eastern Mediterranean were seeing an increase in deaths, while the situations in Africa and the Western Pacific were "rather more positive."
•          The estimate — which would amount to more than 760 million people based on a current world population of about 7.6 billion — far outstrips the number of confirmed cases as tallied by both WHO and Johns Hopkins University, now more than 35 million worldwide."
One must keep in mind that the WHO was off and tardy on several of their early reports on the emerging pandemic. Their tardy response – critical, given that the WHO exists for precisely these sorts of scenarios – was one of the failures that allowed the pandemic to infect so many millions, which has contributed to over 200,00 dead Americans and over 1 million global deaths.
Estimates out of case numbers and death tolls out several nations, including, but not limited to, Communist China, are deemed low by some observers.
But the notion that perhaps 760 million have already contracted the virus should be a wakeup call to those in the U.S. who are weaponizing the virus for political purposes.  For instance, while some might critique President Trump for projecting optimism in the face of the virus on several occasions early on or more recently, that doesn't change the fact that the virus apparently originated in China.
There are reasons to believe that some in the U.S. government and in the private sector, as MHProNews and our MHLivingNews sister site reported early on, were aware of the pandemic well before the president was informed. There are mainstream media reports that point to that, which makes sense given that entire sections of the federal government are dedicated to detecting these sorts of scenarios as early as possible precisely to mitigate the risk of what has occurred.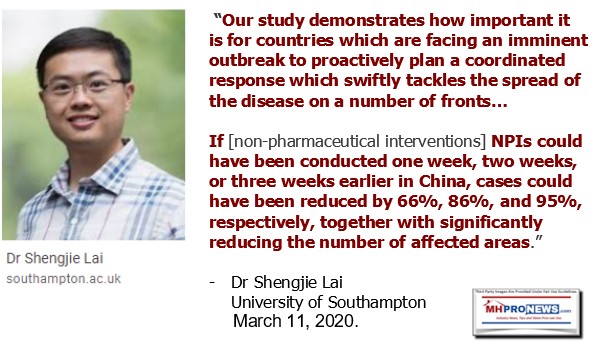 The latest "estimate" from the WHO only underscores the magnitude of their failure, and the deadly betrayal of the Chinese Communists of the world when they allowed the virus to escape while they locked down their own nation, and began buying up and hording personal protective equipment (PPE), and other pandemic related items.
The incident provides a stark reminder of what MHProNews reported just late last week. Namely, that there is a need to "flatten the fear" about the pandemic. The vast majority of those who contract the disease recover, even if they are older.
"Flatten the Fear" Says Jobs Creator Network Foundation, plus Manufactured Home Investing Stock Updates
American and global economies have been upended by failed and deceptive handling of the COVID19 "plandemic," as some have sarcastically called it.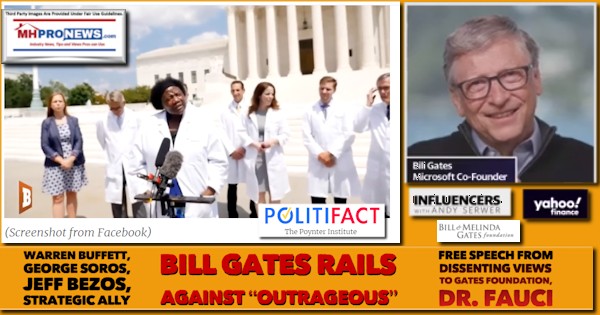 To what end, one might ask? It has resulted in the largest transfer of wealth in modern times. Our recent MHLivingNews report reflects that over $1 trillion dollars more wealth has been garnered, per third-party data, by the top twelve "oligarchs," which includes Warren Buffett, Bill Gates, Jeff Bezos, and Mark Zuckerberg.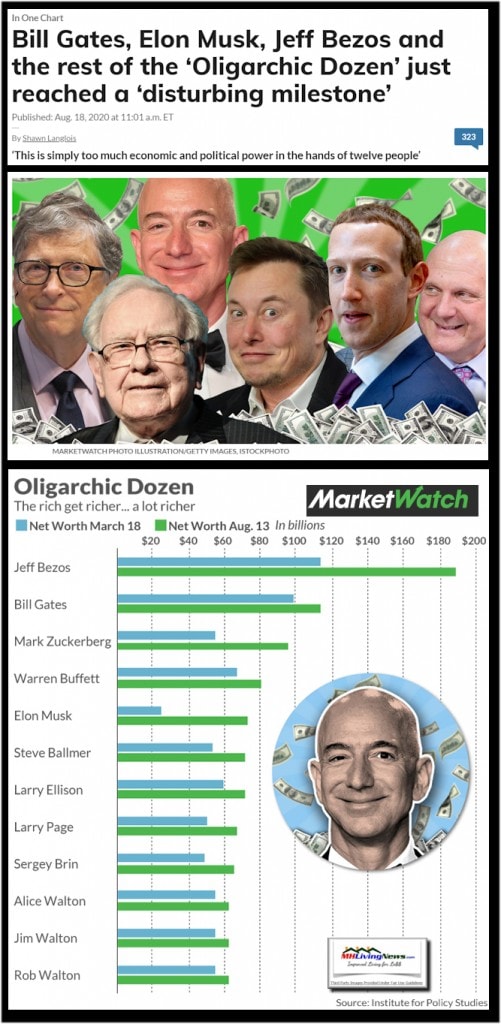 As MHProNews said early on in this global crisis.  America and the world are witnessing could be described as a Bio-Economic and Propaganda attack unlike anything in known world history. As a U.S. ambassador said at the time, this is the "crime of the century."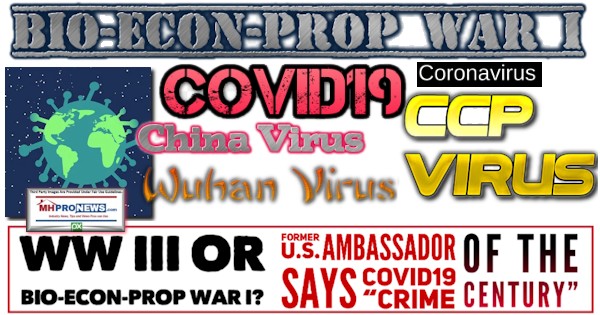 Rephrased, the emerging data and news only confirms that prior reports and analysis published by MHProNews.  Carefully reading and logical analysis of the available information on national, as well as industry issues, makes such reporting possible for our readers.
The featured focus tonight is on the related topic of what CNN, Nate Silver's FiveThirtyEight and others think this might mean for markets and the 2020 race. That featured focus follows our quotable quotes, left-right headline recap, and the first two of our three market summary graphics at the closing bell today. The manufactured home industry specific stocks at the close follow the featured focus and related reports.
Quotes That Shed Light – American Social, Industry, National Issues..
COVID-1984 Blues – Daily Torch & ALG's Robert Romano asks: "Will the Virus Ever Allow the U.S. Economy to Fully Reopen Again?"
Headlines from left-of-center CNN Business
Regeneron shares surge
New York state based biotech company, Regeneron is working on an antibody therapy to treat, and possibly prevent, Covid-19.
Trump has ties to the maker of the experimental drug he's taking as part of his Covid-19 treatment
'SNL' returns to mock the presidential debate
This startup is taking on the big banks. And it's working
Companies just did $1 trillion in deals despite the pandemic. Here's why
One of Big Tech's top moneymakers is getting a pandemic boost
A Slack outage is making remote work difficult on Monday
London refuses to give Indian ride-hailing app Ola a new license
Movie theaters are struggling to survive the pandemic. Many won't
The United States is taking aim at China's biggest chipmaker
McDonald's teams up with singer J Balvin for new meal
Top milk supplier Fonterra is selling its dairy farms in China
95-year-old syrup company found a sweet spot during the pandemic: Your kitchen
New York Times reporter infected with Covid-19 says the White House is not doing contact tracing
LA Times editor who's overseen turnaround and scandal at the paper announces search for successor
White House physician Sean Conley(C) answers questions surrounded by other doctors, during an update on the condition of US President Donald Trump, on October 4, 2020, at Walter Reed Medical Center in Bethesda, Maryland. – US President Donald Trump has resumed making calls and tweeting from hospital, but doctors say his progress on Sunday will be crucial to see if he develops a more severe form of Covid-19. (Photo by Brendan Smialowski/AFP/Getty Images)
What Trump's battle with Covid-19 means for Wall Street
A Regal Cinemas movie theater is viewed during a new coronavirus pandemic, Friday, Oct. 2, 2020, in Winter Park, Fla. (Phelan M. Ebenhack via AP)
Regal and Cineworld cinemas are shutting down across the US and UK
A view of Zico Coconut Water bottles at the Daily Front Row Summer Premiere Party at Jimmy At The James Hotel on June 7, 2017 in New York City. (Photo by Dia Dipasupil/Getty Images)
Coca-Cola is discontinuing Zico, its coconut water brand
Buyers flock to the market; August pending home sales hit a record
Headlines from right-of-center Fox Business
MARKETS
Dow jumps 465 points as Trump prepares to head home
Stimulus talks continue between Pelosi, Mnuchin
LIFESTYLE
H&M fined $41M for tracking workers' personal lives using company database
POLITICS
Coronavirus relief deal remains elusive as Pelosi, Mnuchin continue negotiations
REAL ESTATE
Condos could make comeback in if single-family home prices keep rising
OPINION
US Steel CEO: What coronavirus has taught us about our domestic supply chain
LIVE NOW
BIDEN IN FLORIDA
VIDEO
Joe and Jill Biden speak in Miami with election less than a month away
WORTH THE WAIT?
MEDIA
'Tenet' crosses $300 million at global box office
KEEP YOUR CASH
SPORTS
49ers' Levi's Stadium to go completely cashless when fans return
CHRISTMAS IN OCTOBER?
RETAIL
Pandemic pushes start of holiday shopping earlier than ever
MANSION MARCH
TECH
Protesters outside Jeff Bezos' Beverly Hills home demand living wage
'UNFATHOMABLE'
NEWS
California wildfires have burned more than 4 million acres
'VERY VILE'
FOOD & DRINK
Domino's pizza delivery driver caught rubbing ice cream container on crotch
'ALWAYS WITH US'
TECH
Tim Cook remembers Steve Jobs 9 years after his death
MAKE MONEY
MARKETS
FOX Business enhances portfolio tracker, real-time market data
MARKETS
Tight Senate races more important for stocks than presidency: analysts
POLITICS
White House press secretary Kayleigh McEnany says she's tested positive for coronavirus
CARS
Icahn, ex-protege fuel trucking-merge drama
ECONOMY
Business leaders feel sidelined in COVID-19 recovery in NYC
MARKETS
American oil refineries race to produce renewable diesel ahead of Canadian competition: report
RETAIL
Coca-Cola announces plans to discontinue this beverage
MEDIA
Regal Cinemas to close in the US and UK after 'No Time To Die' delay
ECONOMY
Disney announces major layoff in Florida–here's what the damage could be
CARS
Honda confirms 17th US death in Takata air bag rupture
ECONOMY
Democrat congresswoman knocks McConnell over airline furloughs amid coronavirus-relief negotiations
MEDIA
Coronavirus-impacted movie theater owners group chief blames Gov. Cuomo for 'No Time to Die' delay, financial trouble
EUROPE
Ireland may be heading for a second coronavirus lockdown
TRAVEL
Coronavirus infections, travel restrictions making aviation outlook worse than expected: Airbus executive
MARKETS
Pope: Market capitalism has failed in pandemic, needs reform
MARKETS
Boosted by positive reports from Trump doctors, oil fears dissipate as commodity rises 2% Monday
LIFESTYLE
NYC Central Park horse carriage drivers return to work after coronavirus shutdown
TECH
Facebook says government breakup of Instagram, WhatsApp would be 'complete nonstarter'
POLITICS
Remote work and security challenges, White House faces the consequences of Trumps latest COVID-19 test
BUSINESS LEADERS
Larry Ellison's TikTok bid puts Oracle chairman back in the spotlight
SPORTS
Ex-MLB pitcher Charles Haeger found dead after sought in woman's shooting death
ECONOMY
Millions of Americans in non-essential jobs feeling pain of coronavirus: report
MARKETS
FOX Business enhances portfolio tracker, real-time market data
Market Indicator Closing Summaries – Yahoo Finance Closing Tickers on MHProNews…
Featured Focus –
Where Business, Politics and Investing Can Meet
The anti-Trump world has lit up with theories and questions, perhaps understandably so, about how President Donald J. Trump contracting COVID19 occurred and what it means for the election.
FiveThirtyEight, a political junky resource followed by media and others, said on October 2, 2020 the following.
"Let's start with one of the big questions: What does this mean for the election?
natesilver (Nate Silver, editor in chief): So for some reason I'm finding it hard to think through the electoral implications this morning. Maybe I need even more coffee. My thoughts right now are mostly some combination of:
Seriously how the F*CK does this happen? Shouldn't everybody in the president's orbit have been tested constantly?
And, OF COURSE this happened because 2020 and because the president clearly was not taking that many precautions
perry (Perry Bacon Jr., senior writer): My overall answer is, "I have no idea how this affects the election." This is truly unprecedented, as far as I know, in American elections — the president getting a serious virus weeks before the election. I can't think of any leader abroad who has gotten a virus like this weeks before the election either (though I am not an expert on elections outside of the United States)."
Well, apparently Bacon and Silver have either forgotten or didn't know that Prime Minister Boris Johnson in the United Kingdom contracted COVID19 earlier this year. Nor is he the only national leader to catch the Wuhan coronavirus, which the graphic below from Statista illustrates.
President Trump said today "Don't Be Afraid of COVID" which could be a new rallying cry for the incumbent on the campaign trail. That fits the data-driven report posted by MHProNews on Friday.
Which tees up the CNN report today on the 45th president.
"President Donald Trump's battle with Covid-19, the most serious health threat facing a sitting US president in decades, is yet another market-moving wild card on Wall Street," said CNN's report earlier today. It is worth recalling that during the Hong Kong flu, Democratic President Lyndon Banes Johnson (LBJ) appeared in public without social distancing or a mask too.
After playing up the 'drama' of the development, several paragraphs in, CNN noted his plan – now a reality – to leave the Walter Reed hospital at 6:30 PM ET.
"I feel better than I did 20 years ago!" the president tweeted.
U.S. stocks hit session highs shortly after Trump's tweet. The Dow finished up 466 points, or 1.7%, on Monday — marking its best day since mid-July, said CNN.
"President Trump's illness and the unprecedented political rancor over the election may be too much for people to bear," Mark Zandi, chief economist at Moody's Analytics, wrote in a report Sunday. "If as a result they lose confidence in the recovery and pull back on their spending, investment and hiring, then the recovery will unravel."  The following bullet, a quote from CNN, long after the headline is perhaps the most telling part of their article.
But the opposite could be true as well. If Trump is able to quickly return to the White House and fully recover from Covid-19, it could deliver renewed confidence to nervous Americans.
Bingo. Sure, a range of voters will respond in a variety of ways. But the national attention focused on the president's surprise illness and rapid return to the White House, properly handled by the Trump Administration and campaign, could be a Godsend to their reelection. With millions fearful, this spotlights that even in the 70s and up age group, far more recover in the U.S. than die. That's not to downplay the seriousness of the illness.
But it is to reveal that the fear of the virus may be worse than the virus itself in terms of its impact on the economy. President Trump has often said that the death toll is far too high, but he points the finger of responsibility at China.  One death is too many, he's stated. But now that the pandemic is here, it must be navigated. That's what the Trump Administration has sought to do. This could well bring an interesting new wrinkle to the reelection effort.
The vice presidential debate on Wednesday between VP Mike Pence (R) and Senator Kamala Harris (CA-D) is going to take on increased importance. Stay tuned.
Related, Recent, and Read Hot Reports
China vs USA, Antitrust Looms, AP Highlights 'Competing Versions of Reality,' Sunday Weekly MHVille Headlines Review
"More Punitive Regulatory" Regime Looms Warns New Manufactured Housing Industry Insider
James O'Keefe-Project Veritas Sting Video Spotlights Pay-for-Ballot Allegations Against Rep Ilhan Omar; plus, Presidential Debate Preview, Manufactured Home Investing, Stock Updates
White Billionaires vs Blacks, Minorities, "Uncle Tom" "Gaslighting" "Misdirection and Deception" – "Uncle Tom" Videos Review, plus Sunday Headline Recap
Attorney Jamie Smith – RBG Fan – Explains Joining Satanic Temple; Judge Amy Coney Barrett Connection, plus Sunday Weekly Headlines Review
U.S. Senate Homeland Security and Governmental Affairs Report Obtained, Purported Corrupt and Illegal Acts by Bidens, plus Manufactured Housing Investing, Stock Updates
Dark Money-Billionaires Buffett, Gates, Soros Funding Black Lives Matter, Antifa – Named by AG Barr in Riots, Looting – Hijacking Peaceful George Floyd Death Racial Justice Protests
'Dawn of the New Middle East,' says President Trump After Signing Peace Deal with Bahrain, UAE, Israel – Why It Matters – plus Manufactured Home Investing, Stock Updates
Are More Blacks Moving to President Trump? "I have done more in three years for the black community than Joe Biden has done in 47 years—and when I'm reelected, the best is yet to come!" Plus Manufactured Home Investing, Stock Updates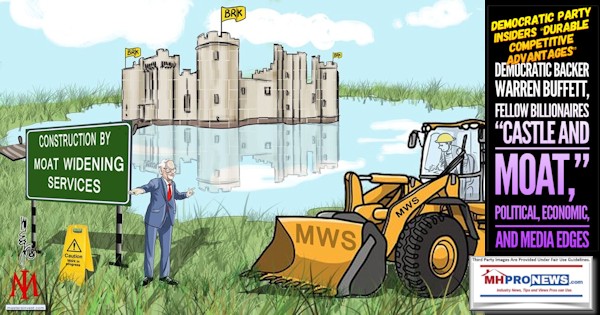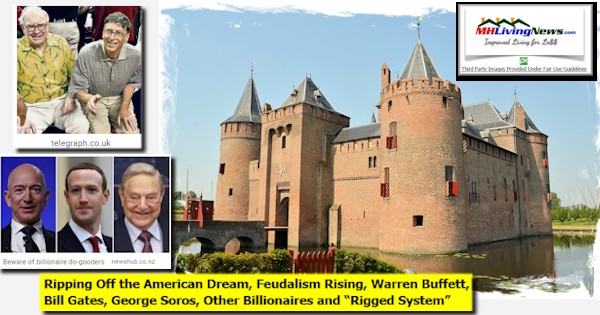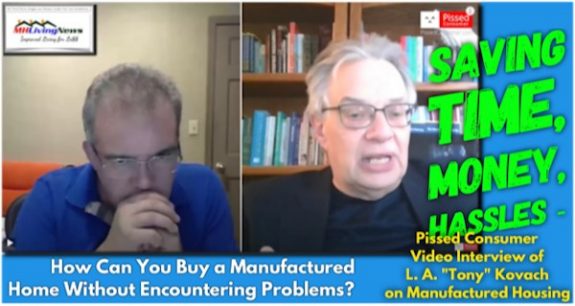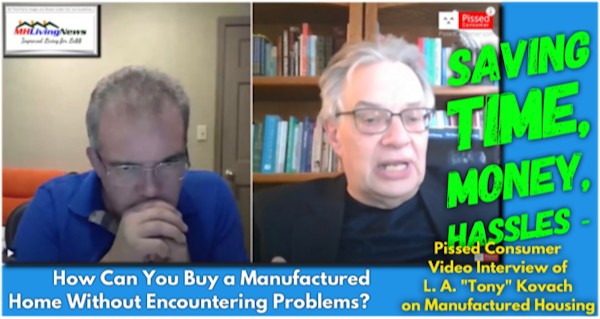 Manufactured Housing Industry Investments Connected Closing Equities Tickers
Some of these firms invest in manufactured housing, or are otherwise connected, but may do other forms of investing or business activities too.
NOTE: The chart below includes the Canadian stock, ECN, which purchased Triad Financial Services, a manufactured home industry lender
NOTE: Drew changed its name and trading symbol at the end of 2016 to Lippert (LCII).
Fall 2020…
Berkshire Hathaway is the parent company to Clayton Homes, 21st Mortgage, Vanderbilt Mortgage and other factory built housing industry suppliers.
· LCI Industries, Patrick, UFPI, and LP each are suppliers to the manufactured housing industry, among others.
· AMG, CG, and TAVFX have investments in manufactured housing related businesses. For insights from third-parties and clients about our publisher, click here.
Enjoy these 'blast from the past' comments.
MHProNews. MHProNews – previously a.k.a. MHMSM.com – has celebrated our tenth anniversary and is in year 11 of publishing.
Learn more about our evolutionary journey as the industry's leading trade media, at the report linked below.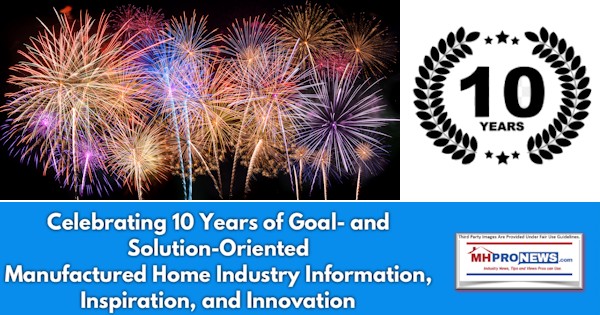 · For expert manufactured housing business development or other professional services, click here.
· To sign up in seconds for our industry leading emailed headline news updates, click here.

Disclosure. MHProNews holds no positions in the stocks in this report.
2019 Year-End Totals Reveals Decline in New HUD Code Manufactured Home Production, Shipments vs. 2018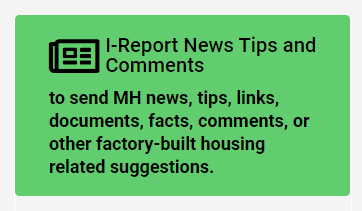 That's a wrap on this installment of "News Through the Lens of Manufactured Homes and Factory-Built Housing" © where "We Provide, You Decide." © (Affordable housing, manufactured homes, stock, investing, data, metrics, reports, fact-checks, analysis, and commentary. Third-party images or content are provided under fair use guidelines for media.) (See Related Reports, further below. Text/image boxes often are hot-linked to other reports that can be access by clicking on them.)
By L.A. "Tony" Kovach – for MHLivingNews.com.
Tony earned a journalism scholarship and earned numerous awards in history and in manufactured housing. For example, he earned the prestigious Lottinville Award in history from the University of Oklahoma, where he studied history and business management. He's a managing member and co-founder of LifeStyle Factory Homes, LLC, the parent company to MHProNews, and MHLivingNews.com. This article reflects the LLC's and/or the writer's position, and may or may not reflect the views of sponsors or supporters.