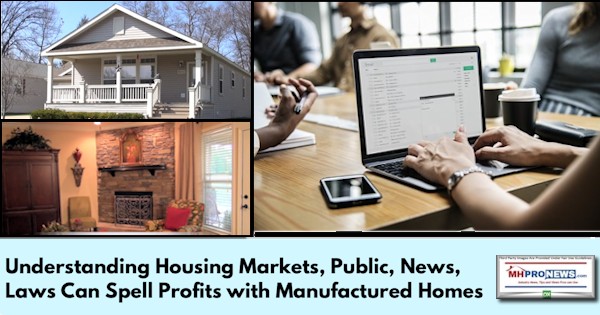 One paragraph Executive Summary. With an estimated 111 million Americans living in rentals, and millions more planning to upsize, downsize or otherwise move during a given year, the opportunities in affordable quality housing are impressive. Problems are opportunities in disguise for those professionals and investors with the know-how, goal, and solution orientation. In order to more fully tap into the opportunities that the affordable housing crisis has created, one must properly understand and navigate public perceptions, media influence, cultural, zoning, finance, and business rivals. Additionally, one must grasp how laws and regulations of all kinds help or hinder manufactured home companies. Misunderstandings about manufactured homes can be clarified by evidence-based education that occurs one-on-one or via larger groups. No hype or pressure is needed to increase manufactured home sales. Rather, the process should be based upon mutual benefits of service provider and home seekers that results in a growing number of happy customers.
Various field tests in recent years have demonstrated that the issues that have hobbled manufactured housing can be successfully and profitably navigated.  The opportunities in the manufactured housing industry have been tapped by a range of firms of all sizes.
Some 22 million in mobile and manufactured homes are living proof of the most proven form of permanent affordable housing.  Agree or disagree with their politics or other actions, the fact that billionaires like Warren Buffett and Sam Zell have invested billions in manufactured homes, and continue to increase their investments, are reasons to believe that the industry's potential is real.
To understand the good, bad, ugly, and meh – one should first consider the following scenario.
The Tale and Reality
There is a tale that goes something like this.  Once upon a time in America, a small business could grow into a medium or even into a big business if it wanted to do so by serving the public properly where a need exists. Indeed, there are plenty of examples – from inside manufactured housing or outside of the industry – that demonstrate that point.  So that story isn't fiction, its a demonstrable reality. 
Other businesses happy with their market should have no illicit pressure or need to expand. We personally know numbers of professionals happen to be a one location success.
But every business in any profession faces certain ongoing risks or hurdles.  There are barriers or hurdles for an entry in a market for a new business.  There are barriers or pressures to maintain a business successfully after it is open and running successfully. There are also barriers or pressures for an existing business too. 
If the pressure on an existing business is high enough, and the return on investment and the risks are significant enough, even a successful business that operated for years and years may opt to exit either by closure or selling out.  Hold those thoughts.
For some years now, the state of American law and regulatory enforcement has impacted numerous professions in a serious way.  For those who think only in terms of manufactured homes, or factory-built housing, keep in mind the significant changes that occurred in the health care sector after ObamaCare was passed. Agree or disagree with the law, there is no debating that medicine, insurance, and other parts of healthcare are different than before the "ACA" was enacted.  If you are not feeling that personally, the next time you are in an experienced doctor's office, ask her or him, beyond 'advances in medicine,' has healthcare as a profession changed in the last 10 years?  Don't be surprised if most say 'yes' instantly, especially if they are or were in private practice. Paperwork, insurance, and other regulatory burdens have exploded.  Those regulatory and documentary burdens are among the reasons why the medical profession is consolidating. More and more hospitals, for example, are owned by some conglomerate. One could cite banking, finance, or several other examples found at the link here, but that is enough of an example for industry professionals and investors to make the following points.
With that backdrop, let's now segue to modern manufactured homes and why investment opportunities in affordable housing are at arguably the best place they have been in over a decade.  Consider the following points.
1)    Manufactured housing is not unique in it being impacted by a combination of pressures noted above.
2)    What makes manufactured housing quite unique is that the potential for manufactured homes and factory home building in general are so great, that perhaps only the tech sector and health/wellness have as big or greater upside potential. The National Low Income Housing Coalition said in April, 2019 that some 7.2 million affordable housing units are needed now.  
3) "NAR Chief Economist Lawrence Yun said…only 9.6 million new housing units added in the past decade; compared to 15 to 16 million that would have been needed," according to HousingWire on Feb 12, 2019.
4) "Currently, there are 1.1 million housing starts, while household formation is running at about 1.3 million, a deficit of 200,000 units related to household formation alone," said SCRealtors, using National Association of Realtors (NAR) data in March 2019.
5)    "In addition, about 450,000 housing units are needed to replace units lost to obsolescence or that are demolished (0.36% of housing stock of 1.127 million units…)" according to the NAR.
6)    Given those facts, why is the manufactured housing industry struggling in 2019 at new home sales levels only about 25 percent of the last high in 1998? Why has manufactured housing not yet broken beyond the 100,000 annual new manufactured home shipments level for over a decade?
7)    The reasons are many and are routinely covered and analyzed in our news reports on MHProNews. Some of those specifics are found in reports that follow further below. Suffice it to say for now that billionaires continue to support and be attracted to manufactured housing.
8)    Those willing to invest in outperforming the market have been able to robustly increase sales. That is achieved through a proper understanding of what attracts and convinces the home seeking public.  That doesn't have to be national, it can routinely be accomplished at the local market level.  There is no need for a national campaign in manufactured housing, as some believe. All sales are local anyway. Therefore, what is necessary is a local campaign in the area(s) that your firm operates in.
The alternative to investing in proper approaches now is to accept a problematic status quo. If you've read this far, that suggests that the status quo is not what you want, correct?
That local market level campaign needs to be based upon an evidence, common sense, understanding, the will plus ability to navigate the legal, regulatory, media, and public perception issues. While there are no guarantees in life, with the proper methodology, a systematic approach can yield good results with qualified potential home buyers consistently.  This has been proven by over a decade of actual results, often during very difficult economic and other circumstances.
News That Shouldn't Be News
Recently, the Manufactured Housing Institute (MHI) issued a letter publicly acknowledged in a different way for the first time in years what MHProNews and a few others have pressed for; namely the following.  The Manufactured Housing Improvement Act (MHIA) of 2000 had several good aspects to it, one of the keys, said attorney Bill Matchneer, is the "enhanced preemption" portion of the law. Put simply, enhanced preemption is a legal tool that already exists that allows HUD to overcome NIMBYism. Federal law 'preempts' or supersedes local law when it comes to manufactured homes, under the MHIA.  That's huge news that shouldn't be news because the Manufactured Housing Association for Regulatory Reform (MHARR), MHProNews, MHLivingNews and some others have long promoted it.
That failure to robustly and consistently promote an existing law by the Manufactured Housing Institute (MHI) and the powers that be behind it calls into question their motivations prior to their recent letter to Secretary Carson in July, and their recent announcement to their members that they sent that letter. Anyone familiar with federal bureaucracy knows that a letter sent to HUD's secretary doesn't mean that Dr. Carson has seen or read it.  MHI is more than sophisticated enough to know that too.  So if they sincerely wanted to press Dr. Carson on that issue, why have they not done so during one of several face-to-face meetings? 
One of the areas that we agree with Warren Buffett on is the necessity to read for understanding. He reportedly reads 5 to 6 hours a day, besides phone calls, meetings, and other activities. It is our contention that without an hour a day reading here, and 15-30 minutes a day on MHLivingNews, someone in our industry can't perform to their potential. The why is that so is found above and below.
Today's report above tees up a range of weekly headlines below.

That factual background above also sets the stage for what is coming tomorrow and in the days ahead. 
With no further adieu, armed with the insights above, let's look at the headlines for the week that was from 8.11.2019 to  8.18.2019.
What's New on Manufactured Home Living News
Understanding the Truth About Manufactured Home Customer Satisfaction – Interviews, Surveys, Focus Group Videos, and Expert 3rd Party Research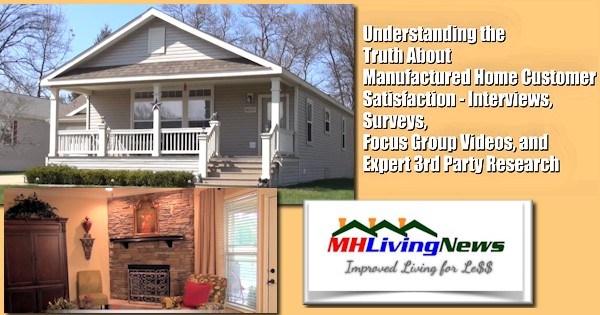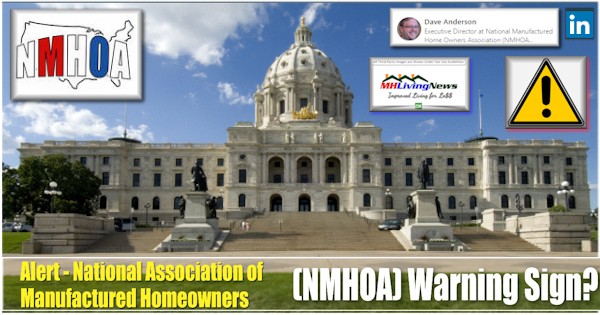 What's New in Washington, D.C. from MHARR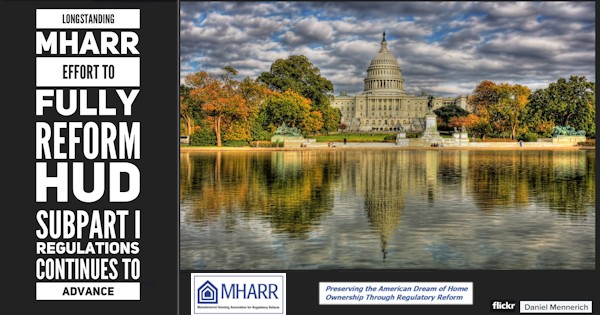 What's New on the Masthead
Choke Points – Reality Checks, Humility, Affordable Housing, Political Economics, and Manufactured Homes = Dark Opportunities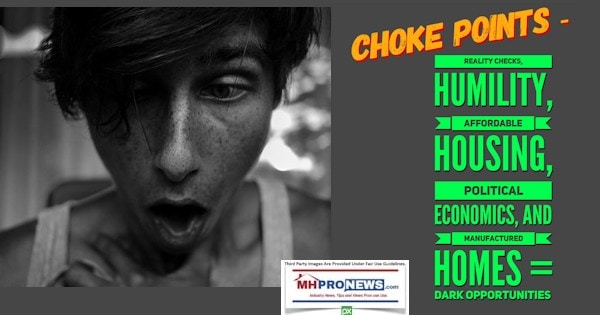 What's New on the Daily Business News on MHProNews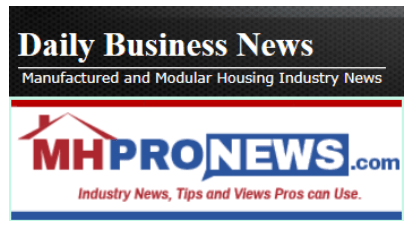 Saturday 8.17.2019
State Exec, Mainstream Media News Tip on MHI Member, What's Manufactured Housing Institute Response to Concerns?
Friday 8.16.2019
"Dearth of Supply in Housing," plus Manufactured Housing Investment Updates
"A Nation of Builders," 'Buying Greenland,' Outer Space, Real Estate, Wheel Estate, 2020 Politics, and MHVille
Recent Events Opening Opportunities in Manufactured Housing for Business, Investors, Affordable Home Seekers?
Thursday 8.15.2019
Madoff Whistleblower – GE 'Bigger Fraud Than Enron,' plus Manufactured Home Stock Updates
HUD Manufactured Housing Consensus Committee Meeting, Washington, D.C. Update
Misleading Yield Curve 'News,' vs NFIB's Monthly August 2019 Small Business, Jobs Report
"Complaint Report" How Consumer Complaints Could Become More Manufactured Home Sales
Wednesday 8.14.2019
Janet Yellen, Art Laffer, Others Say Yield Curve Inversion False Recession Signal, plus Manufactured Housing Investment Updates
Manufactured Housing's Front and Back Stories, Moving Beyond Years of Industry Underperformance
Tuesday 8.13.2019
Straight Lines, Law Enforcement, Key Manufactured Home Industry Legal, Regulatory Issues
U.S. Hits Pause on Several Chinese Tariffs, Stocks Rise, plus Manufactured Home Investing Updates
MHARR Honors Outgoing Chairman James Shea, Jr. for "Legendary" Decades of Service, Leadership
President Trump is Biggest 2020 Issue for Small Business, Says CNBC/Survey Monkey Poll
Monday 8.12.2019
Big Hong Kong, Moscow Protests Raise Spectre of More Serious Unrest, plus Manufactured Home Investment Updates
Clayton Homes Annual Report Reviews Truth Hiding in Plain Sight
Manufactured Housing – Cold, Hard Facts vs. Effective, Appealing Storytelling, and Florida Case
Second Amendment – Manufactured Housing Professionals Sound Off
Sunday 8.11.2019
Manufactured Housing Institute Supported Bill Buffeted by Headwinds, Plus Recap and Look-Ahead
That's all she wrote this week, yeah, that other guy helped some too. Thanks for checking in on the industry's runaway #1 top trade news resource, your home for manufactured home "Industry News, Tips, and Views Pros Can Use," © where "We Provide, You Decide." © ## (News, weekly recap, fact-checks, analysis, and commentary.)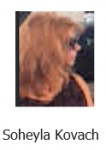 Submitted by Soheyla Kovach for MHProNews.com.
Soheyla is a managing member of LifeStyle Factory Homes, LLC, the parent company to MHProNews, and MHLivingNews.com. Connect with us on LinkedIn here and here.
Related Reports:
Click the image/text box below to access relevant, related information.
Facts are Stubborn Things, Manufactured, Modular Home Professionals Celebrate Victories
Sounding Off! Going "On the Record" – Manufactured Housing Controversies, Opportunities
Unfinished Business – Celebrating Life, Orange Cats, Web-Tech, and Manufactured Housing